Clemency Hughes wins 2022 Stal Tops Australian Young Rider Series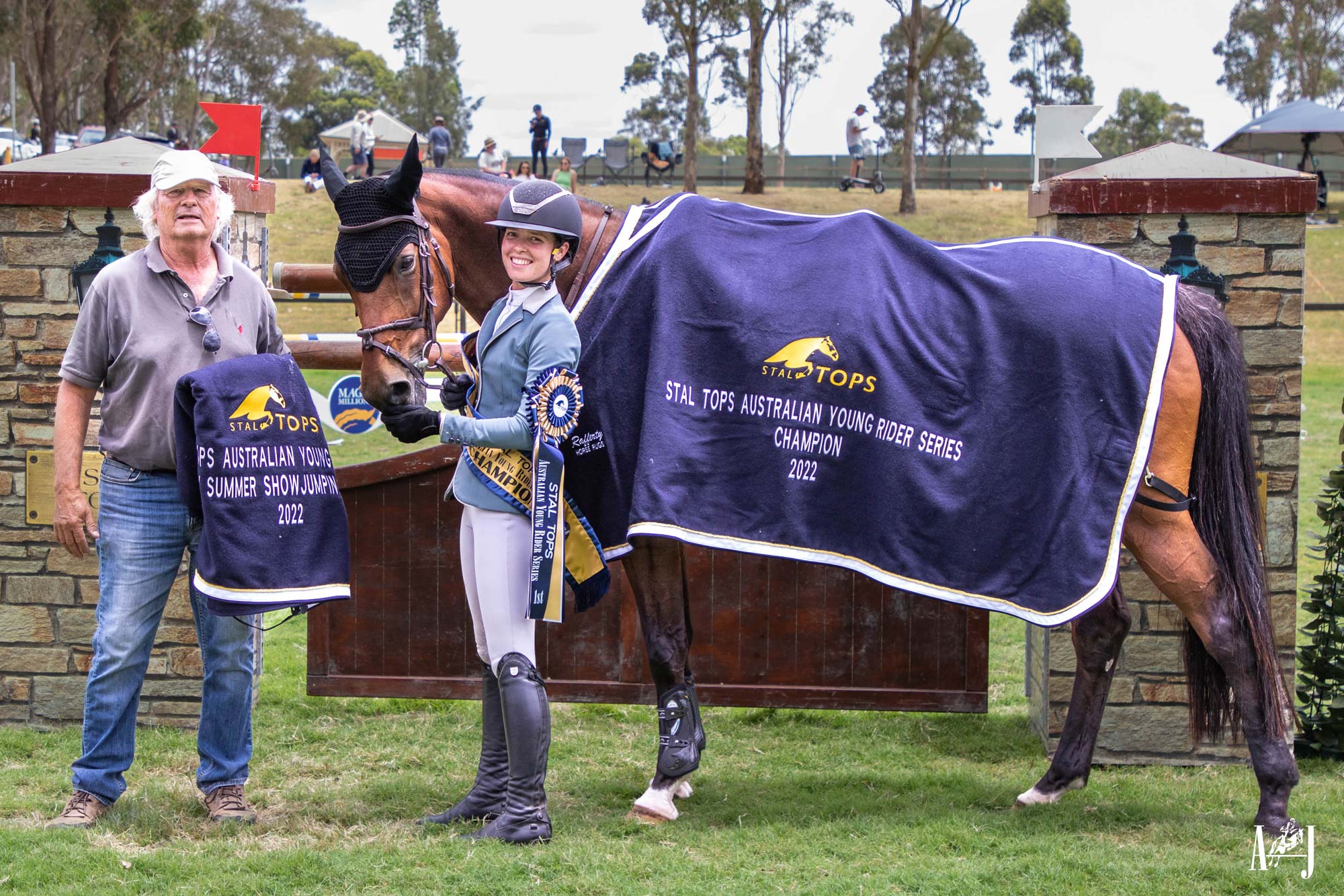 Australian Jumping
Clemency Hughes and Diamond B Corvina have claimed the 2022 Stal Tops Australian Young Rider Series by taking out the fourth and final Leg held this afternoon as part of the Jumping NSW Summer Classic Show at SIEC. It caps off a fantastic year for this combination in what is their first year competing at Young Rider level. Earlier in the year, Hughes was crowned the champion Young Rider at Sydney Royal after she and Diamond B Corvina won the Grand Prix. They followed this up by last month taking out the Australian Young Rider title at the Australian Championships.
Advertisement


Hughes and Diamond B Corvina were just one of four double clear performances in today's class, with a jump off time of 42.78 seconds securing them the win in what turned out to be a very tight contest. Second place went to Anneliese Wansey and Kolora Stud St Patrick who finished in 43.19 seconds. Victorian visitors Ginger Jilly and Diamond B Vancouver secured third, with a time nearly one second slower. Rounding off a great day for Hughes, she and YPH Capulet were the other double clear combination coming in fourth place.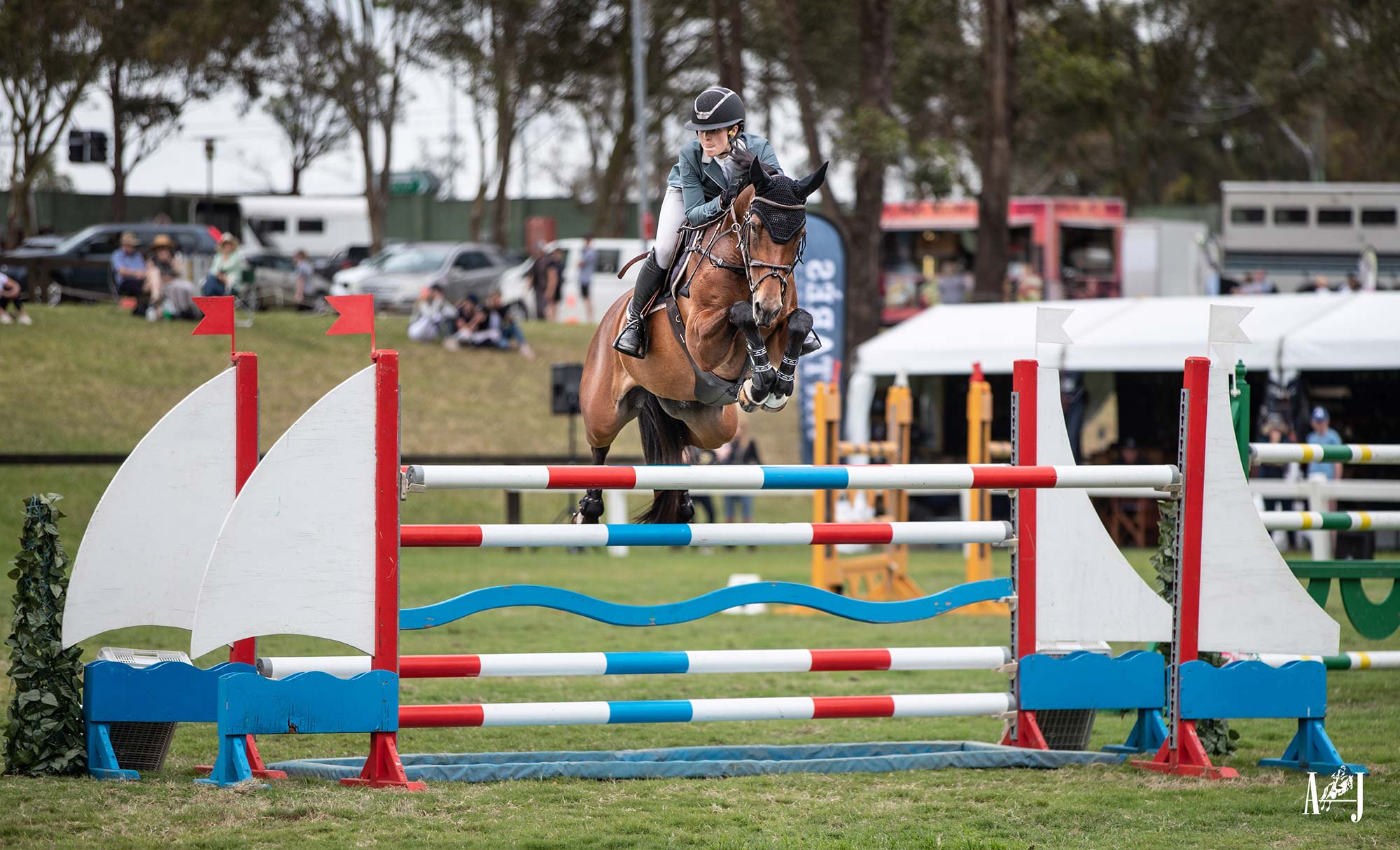 The top 10 placings in today's class were as follows:
CLASS 17: STAL TOPS YOUNG RIDER SERIES – LEG 4 – 1.35m
| | | |
| --- | --- | --- |
| PLACE | RIDER | HORSE |
| 1st | Clemency Hughes | Diamond B Corvina |
| 2nd | Anneliese Wansey | Kolora Stud St Patrick |
| 3rd | Ginger Jilly | Diamond B Vancouver |
| 4th | Clemency Hughes | YPH Capulet |
| 5th | Ashley Cutler | Kinnordy Rhena |
| 6th | Georgia Apps | Finch Farm Viduka |
| 7th | Ashley Cutler | Licandro |
| 8th | Lorna Reilly | Bellhaven Jazz |
| 9th | Chase Naylor | Misty Blue Ego Z |
| 10th | Georgia Bouzaid | Vitess |
The first placing today by Clemency Hughes and Diamond B Corvina was enough to secure them the Stal Tops Australian Young Rider title for 2022. They came into the final on 18 points and the 11 added for the victory today took them to 29 points allowing them to leapfrog the leaders going into the class, Tyla Hackett and Global PH Cocofino. Hughes' task was made easier due to the fact that Tyla Hackett returned to her homeland New Zealand and did not compete today, after picking up points in the first three legs.
It was tight for third place in the Series with three combinations finishing on 11 points. Even after applying a countback process two of these could not be split. Lucy Locke and Quero Quero who won the first Leg and winners of the third Leg, Sally Simmonds and Oaks Kingfisher, were both locked together and with one win each in their only outing for the year, seeing them awarded equal third place in the Series. Relegated to fifth place in the Series only on countback were Clemency Hughes and YPH Capulet. Rounding out the top six in the Series were Georgia Apps and Finch Farm Viduka who picked up a pair of sixth placings in the final two legs to accumulate 10 points.
Congratulations goes to the winners and all the participants for taking part in a fantastic series. Also, our appreciation is extended to Jan Tops and Edwina Tops-Alexander for their generous sponsorship of the Series.
Below is a listing of the final placings and point score for the Series:
| | | | | | | | |
| --- | --- | --- | --- | --- | --- | --- | --- |
| PLACE | RIDER | HORSE | R1 | R2 | R3 | R4 | TOT. |
| 1st | Clemency Hughes | Diamond B Corvina | 9 | 9 | – | 11 | 29 |
| 2nd | Tyla Hackett | Global PH Cocofino | 4 | 11 | 7 | – | 22 |
| =3rd | Lucy Locke | Quero Quero | 11 | – | – | | 11 |
| =3rd | Sally Simonds | Oaks Kingfisher | – | – | 11 | | 11 |
| 5th | Clemency Hughes | YPH Capulet | – | – | 4 | 7 | 11 |
| 6th | Georgia Apps | Finch Farm Viduka | – | – | 5 | 5 | 10 |
| =7th | Jess Rice-Ward | Denison Park Style | – | – | 9 | | 9 |
| =7th | Anneliese Wansey | Kolora Stud St Patrick | – | – | – | 9 | 9 |
| =7th | Ginger Jilly | Diamond B Vancouver | – | 1 | – | 8 | 9 |
| =7th | Tilley Fair | Oaks Constantino | 6 | 3 | – | | 9 |
| =7th | Georgia Bouzaid | Vitess | 5 | – | 3 | 1 | 9 |
| =12th | Anneliese Wansey | Grandiamo | 8 | – | – | | 8 |
| =12th | Milly Fisher | Yandoo Pasadena | – | 8 | – | | 8 |
| =12th | Tori Cureton | Equus Archer | – | – | 8 | | 8 |
| =12th | Bella Du Plessis | Monte Carlo MVNZ | – | 7 | 1 | | 8 |
| 16th | Jess Rice-Ward | Dusky Farm Cavalier | 7 | – | – | | 7 |
| =17th | Fuschia Criss | Dual Diamond | – | 6 | – | | 6 |
| =17th | Bella Du Plessis | Onessa MVNZ | – | – | 6 | | 6 |
| =17th | Ashley Cutler | Kinnordy Rhena | | | | 6 | 6 |
| =17th | Chase Naylor | Misty Blue Ego Z | – | 4 | – | 2 | 6 |
| =21st | Hayley Cox | Tulara Zane | – | 5 | – | | 5 |
| =22nd | Ashley Cutler | Licandro | | | | 4 | 4 |
| =22nd | Lorna Reilly | Bellhaven Jazz | 1 | – | – | 3 | 4 |
| =22nd | Hayden Parker | Tulara Spangenberg | 2 | 2 | – | | 4 |
| 25th | Georgia Bouzaid | AP Ninja | 3 | – | – | | 3 |
| 26th | Emily Baldwin | Twins Ava | – | – | 2 | | 2 |
View Comments