Equestrian Excellence at the Ekka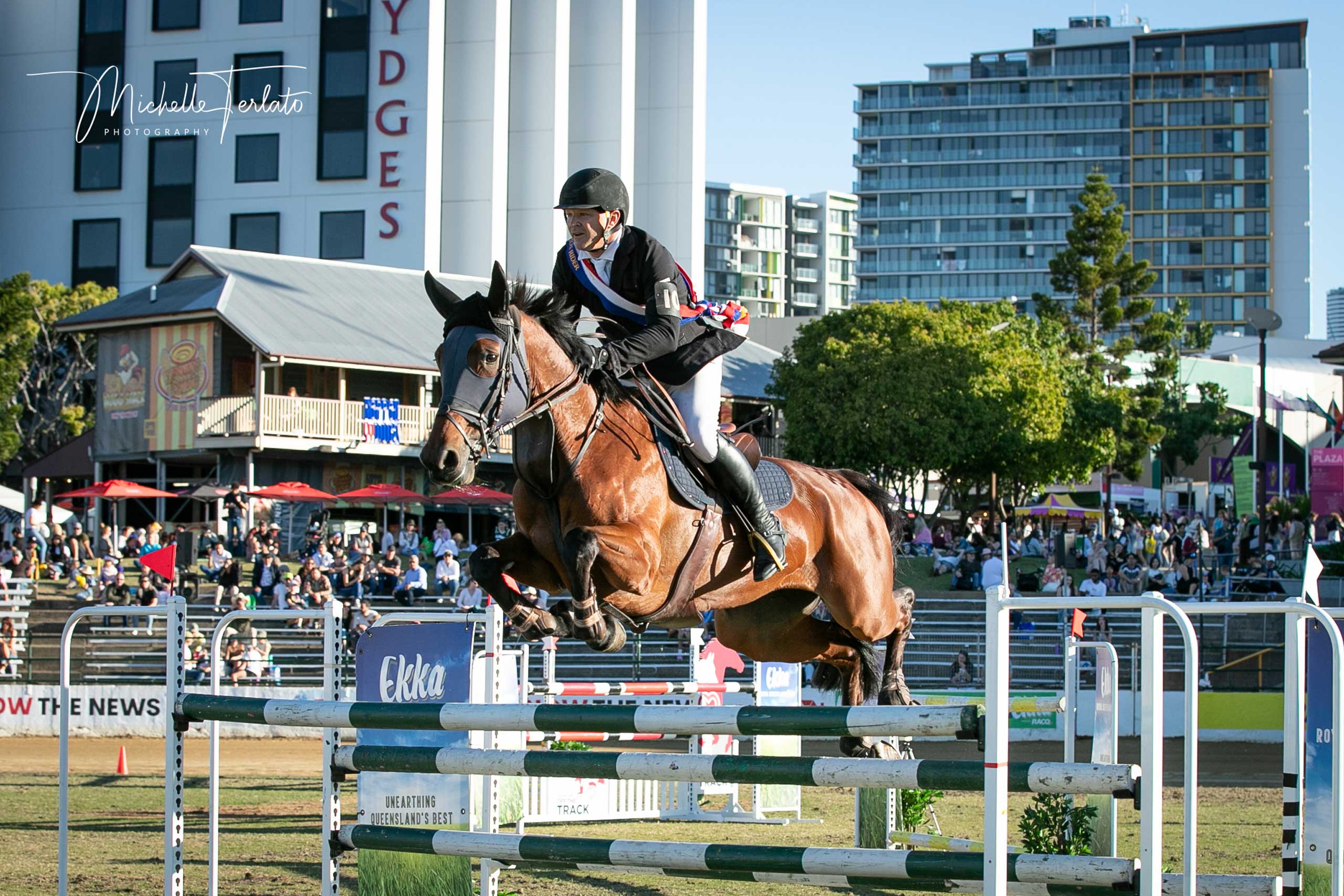 Michelle Terlato Photography
The time-honoured Ekka has a long and colourful history, which saw the first exhibition being held in 1876. In fact, this year marks the 125th year since Jumping first featured at the show, way back in 1898. While Australian Jumping was not there on that occasion, we can be sure that the Jumping program at this year's Ekka was one of the finest ever held.
Advertisement


Competitions ran for both Group A, Group B and Group C horses as well as Young Riders and Juniors. There was also a feature event for Off-The-Track horses and the Puissance and Six-Bar competitions proved to be crowd favourites.
Probably the stars of the show were the husband and wife team from Fairview Performance Horses at Glamorgan Vale, Stuart and Rebecca Jenkins. They won five classes between them as well as owning Fairview Alicana, who won the Group A championship, as well as being named the Group A Jumping Horse of the show.
NSW based rider James Arkins, who last year represented Australia at Nations Cup level, also took out five class wins on three different horses, namely Yalambi's Jaguar, Quint Horta and Rosthwaite Cover Girl, with whom he won the Group B Championship. However, the Group B Jumping Horse of the show was Cachassini 11, owned by Peter Carcary.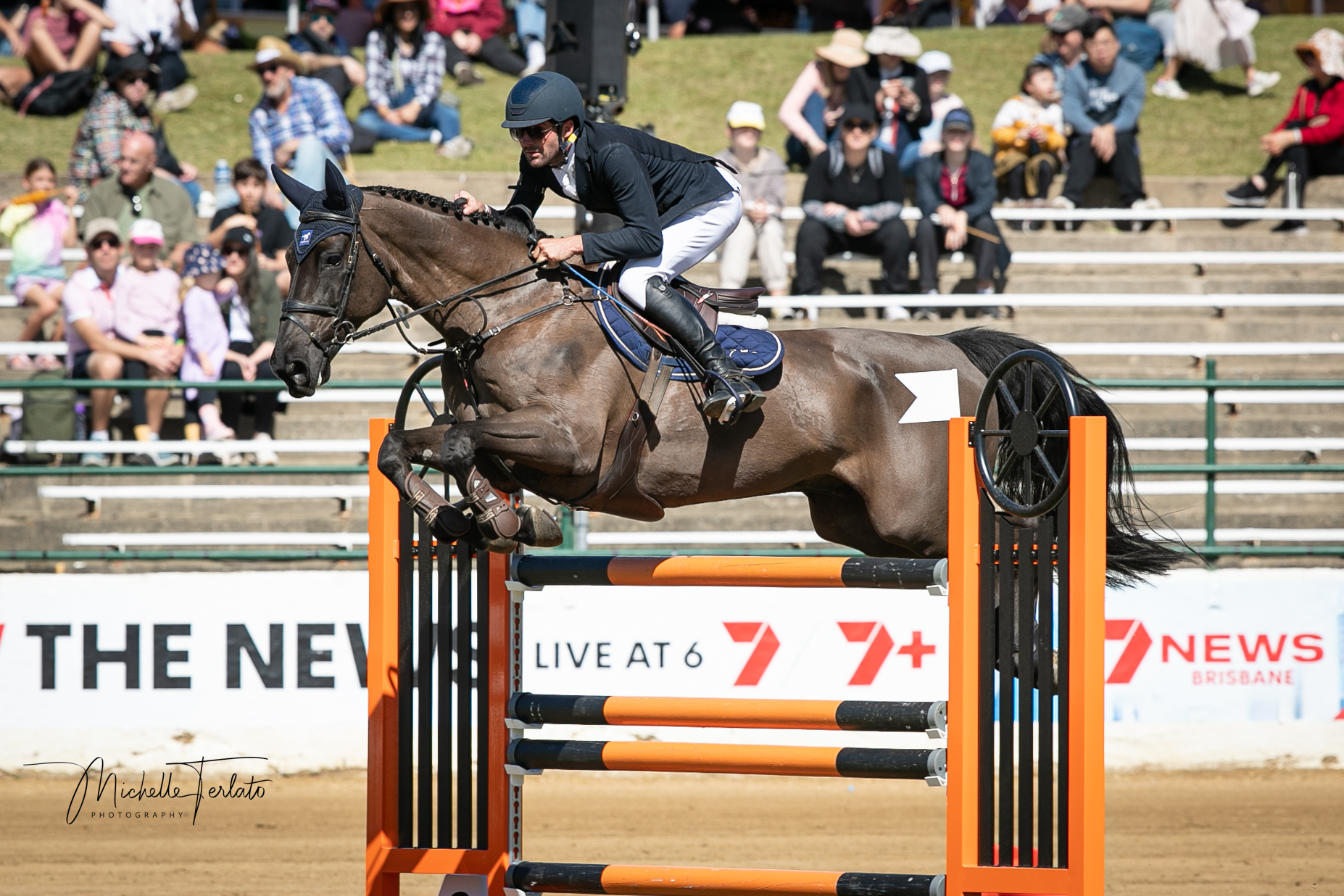 Above: James Above: James Arkins and Yalambis Jaguar.
The Group C Horse of the Show was named as Glenara Leonardo Z, owned by Brock Everingham. This horse was ridden by Samantha Dernee to take out the Group C Championship as well.
The Colin Meagher Memorial Young Rider Championship was won by Elkee Lang-McMahon and her horse, Ned O'Reilly, as well as winning a pair of the lead up classes.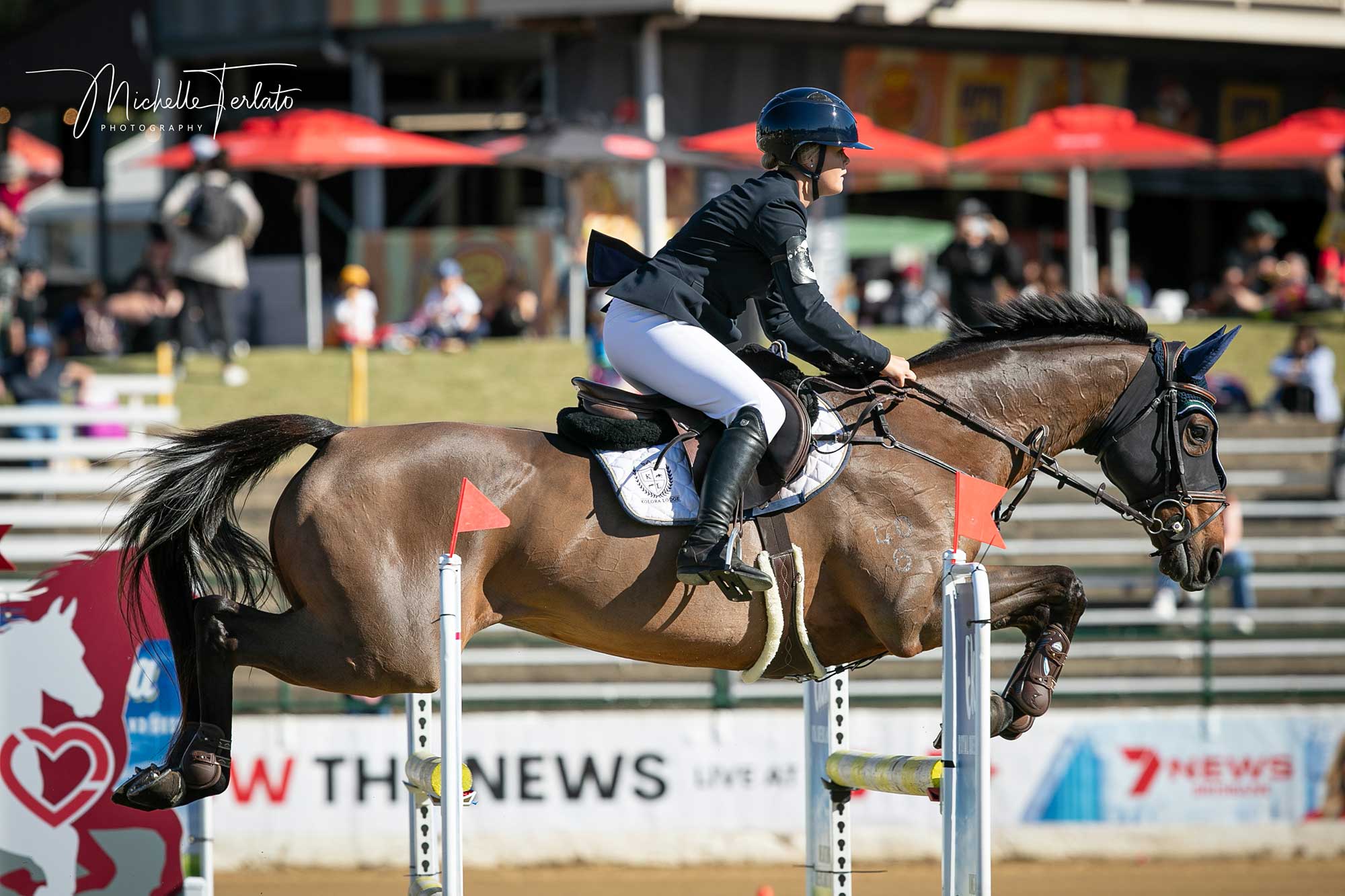 Above: Maleah Lang-McMahon and Ned O'Reilly
The winners of the Junior Championship were Skye Hosie and Athena NZPH, who also won the junior 6-Bar.
It was a great show, with all the jumping classes held on the main arena at the Showground. Although it will be a long wait, it is our understanding that, this venue will be used for the Jumping competition in just a little under 9 years when the Olympics come to Brisbane in 2032.
Congratulations to all the winners and placegetters over the course of the show. Below is a listing of the top finishers in all classes.
CLASS 700: QUEENSLAND OFF-THE-TRACK PROGRAM SHOWCASE
| | | |
| --- | --- | --- |
| PLACE | RIDER/OWNER | HORSE |
| 1st | Emily Patterson | Libertarian |
| 2nd | Maleah Lang-McMahon | Ned O'Reilly |
| 3rd | Maleah Lang-McMahon | Royal Talisman |
| 4th | Holly Taunton | Victorious Hit |
| 5th | Lorna Clifford | Waratone |
| 6th | Jessica Bott | Raise An Angel |
CLASS 701: GRAND PRIX JUMPING CONTEST
| | | |
| --- | --- | --- |
| PLACE | RIDER/OWNER | HORSE |
| 1st | Stuart Jenkins | Fairview Alicana |
| 2nd | Brock Everingham | Kannai |
| 3rd | Ron Easey | Port O Call |
| 4th | Peter Carcary | Cachassini 11 |
| 5th | Tom Sedger | Elmo |
| 6th | Christopher Holland | Elsa |
CLASS 702: HOLIDAY PRIX
| | | |
| --- | --- | --- |
| PLACE | RIDER/OWNER | HORSE |
| 1st | James Arkins | Yalambi Jaguar |
| 2nd | Brock Everingham | Kannai |
| 3rd | Tom Sedger | Check It Out |
| 4th | Ron Easey | Port O Call |
| 5th | Stuart Jenkins | Fairview Alicana |
| 6th | Rebecca Jenkins | Incredible C |
CLASS 703: GROUP A JUMPING CONTEST
| | | |
| --- | --- | --- |
| PLACE | RIDER/OWNER | HORSE |
| 1st | Stuart Jenkins | Fairview Alicana |
| 2nd | Emily Patterson | Libertarian |
| 3rd | Brock Everingham | Kannai |
| 4th | Ron Easey | Port O Call |
| 5th | Courtney Scott | Second Chance |
| 6th | Christopher Holland | Elsa |
CLASS 704: GROUP A JUMPING CONTEST
| | | |
| --- | --- | --- |
| PLACE | RIDER/OWNER | HORSE |
| 1st | Stuart Jenkins | Fairview Alicana |
| 2nd | Christopher Holland | Elsa |
| 3rd | Ron Easey | Port O Call |
| 4th | Brock Everingham | Kannai |
| 5th | Emily Patterson | Libertarian |
| 6th | Courtney Scott | Second Chance |
CLASS 705: GROUP B JUMPING CONTEST
| | | |
| --- | --- | --- |
| PLACE | RIDER/OWNER | HORSE |
| 1st | James Arkins | Yalambi Jaguar |
| 2nd | Brock Everingham | Laurel Glen Quintessence |
| 3rd | Rebecca Jenkins | Incredible C |
| 4th | Tom Sedger | Elmo |
| 5th | Cody Tincknell | Conquest |
| 6th | Peter Carcary | Cachassini 11 |
CLASS 706: GROUP B JUMPING CONTEST
| | | |
| --- | --- | --- |
| PLACE | RIDER/OWNER | HORSE |
| 1st | Rebecca Jenkins | Incredible C |
| 2nd | Brock Everingham | Laurel Glen Quintessence |
| 3rd | Tom Sedger | Check It Out |
| 4th | Peter Carcary | Cachassini 11 |
| 5th | Tom Sedger | Elmo |
| 6th | Matt Gaske | Valentino QSH |
CLASS 707: GROUP B JUMPING CONTEST
| | | |
| --- | --- | --- |
| PLACE | RIDER/OWNER | HORSE |
| 1st | James Arkins | Rosthwaite Cover Girl |
| 2nd | Matt Gaske | Valentino QSH |
| 3rd | Peter Carcary | Cachassini 11 |
| 4th | James Arkins | Yalambi Jaguar |
| 5th | Cody Tincknell | Conquest |
| 6th | Chris Tomkins | Caraca Jack |
CLASS 708: GROUP C JUMPING CONTEST
| | | |
| --- | --- | --- |
| PLACE | RIDER/OWNER | HORSE |
| 1st | Rebecca Jenkins | Denison Park Style |
| 2nd | Cody Tincknell | RR Corakai |
| 3rd | Brock Everingham | Legato Bon Concerto |
| 4th | Brock Everingham | Glenara Leonardo Z |
| 5th | Katie Clark | Katelle Grand |
| 6th | Michael Short | Belle Phlynn Park Carmichael |
CLASS 709: GROUP C JUMPING CONTEST
| | | |
| --- | --- | --- |
| PLACE | RIDER/OWNER | HORSE |
| 1st | Brock Everingham | Glenara Leonardo Z |
| 2nd | Brock Everingham | Legato Bon Concerto |
| 3rd | Callum Waddell | Landerson |
| 4th | Maleah Lang-McMahon | KS Thomas |
| 5th | Katie Clark | Katelle Grand |
| 6th | Matt Gaske | Casell |
CLASS 710: GROUP C JUMPING CONTEST
| | | |
| --- | --- | --- |
| PLACE | RIDER/OWNER | HORSE |
| 1st | James Arkins | Quint Horta |
| 2nd | Rebecca Jenkins | Denison Park Style |
| 3rd | Stuart Jenkins | Bellhaven Bondi |
| 4th | Christine Bradfield | Bradun Park Kix |
| 5th | Katie Clark | Katelle Grand |
| 6th | Brock Everingham | Legato Bon Concerto |
CLASS 711: GROUP C JUMPING CONTEST
| | | |
| --- | --- | --- |
| PLACE | RIDER/OWNER | HORSE |
| 1st | Samantha Dernee | Glenara Leonardo Z |
| 2nd | Rebecca Jenkins | Denison Park Style |
| 3rd | Maleah Lang-McMahon | KS Thomas |
| 4th | Hayley Morris | Red Hot Chilli Pepper |
| 5th | Cody Tincknell | RR Corakai |
| 6th | Brock Everingham | Legato Bon Concerto |
CLASS 712: ROYAL QUEENSLAND SHOW PUISSANCE
| | | |
| --- | --- | --- |
| PLACE | RIDER/OWNER | HORSE |
| 1st | Ron Easey | Port O Call |
| =2nd | Brock Everingham | Kannai |
| =2nd | Cody Tincknell | Screwdriver |
CLASS 713: OPEN SIX BAR
| | | |
| --- | --- | --- |
| PLACE | RIDER/OWNER | HORSE |
| 1st | Brock Everingham | Kannai |
| 2nd | Cody Tincknell | Screwdriver |
| 3rd | Ron Easey | Oz Star |
| 4th | Courtney Scott | Second Chance |
| 5th | Cody Tincknell | Conquest |
| 6th | Fuschia Criss | Dual Diamond |
CLASS 714: JUNIOR JUMPING CONTEST
| | | |
| --- | --- | --- |
| PLACE | RIDER/OWNER | HORSE |
| 1st | Olivia Hewitt-Toms | Celerity Park LM Star |
| 2nd | Skye Hosie | AMS Ajaccio NZPH |
| 3rd | Simone Sorensen | Yalambi's Karijini |
| 4th | Elkee Lang-McMahon | Royal Talisman |
| 5th | Lily Short | Hecanrockme |
CLASS 715: JUNIOR JUMPING CONTEST
| | | |
| --- | --- | --- |
| PLACE | RIDER/OWNER | HORSE |
| 1st | Lily Short | Finch Farm Delto |
| 2nd | Skye Hosie | Athena NZPH |
| 3rd | Olivia Hewitt-Toms | Lushious Lexie |
| 4th | Chris Tomkins | Keilor Bamboo |
| 5th | Skye Hosie | Aces Tulara Divine |
CLASS 716: JUNIOR JUMPING CONTEST
| | | |
| --- | --- | --- |
| PLACE | RIDER/OWNER | HORSE |
| 1st | Olivia Hewitt-Toms | Lushious Lexie |
| 2nd | Skye Hosie | AMS Ajaccio NZPH |
| 3rd | Elkee Lang-McMahon | Royal Talisman |
| 4th | Cody Tincknell | Pier Gynt Nautilus F |
| 5th | Skye Hosie | Athena NZPH |
CLASS 717: JUNIOR SIX BAR
| | | |
| --- | --- | --- |
| PLACE | RIDER/OWNER | HORSE |
| 1st | Skye Hosie | Athena NZPH |
| 2nd | Skye Hosie | Aces Tulara Devine |
| 3rd | Heidi Cronin | Finch Farm Chadwick |
| 4th | Olivia Hewitt-Toms | Lushious Lexie |
| 5th | Elkee Lang-McMahon | Royal Talisman |
| 6th | Chris Tomkins | Donegal Red |
CLASS 718: JUNIOR TAKE YOUR OWN LINE
| | | |
| --- | --- | --- |
| PLACE | RIDER/OWNER | HORSE |
| 1st | Cody Tincknell | Lady Quincella Gold |
| 2nd | Skye Hosie | AMS Ajaccio NZPH |
| 3rd | Lily Short | Finch Farm Delto |
| 4th | Olivia Hewitt-Toms | Lushious Lexie |
| 5th | Skye Hosie | Aces Tulara Devine |
CLASS 719: YOUNG RIDER JUMPING CONTEST
| | | |
| --- | --- | --- |
| PLACE | RIDER/OWNER | HORSE |
| 1st | Cody Tincknell | Conquest |
| 2nd | Chris Tomkins | Finch Farm Vroom |
| 3rd | Fuschia Criss | Dual Diamond |
| 4th | Elkee Lang-McMahon | Ned O'Reilly |
| 5th | Simone Sorensen | Viva Blue |
CLASS 720: YOUNG RIDER JUMPING CONTEST
| | | |
| --- | --- | --- |
| PLACE | RIDER/OWNER | HORSE |
| 1st | Maleah Lang-McMahon | Ned O'Reilly |
| 2nd | Cody Tincknell | Conquest |
| 3rd | Cody Tincknell | Screwdriver |
| 4th | Fuschia Criss | Dual Diamond |
| 5th | Jasmine Holland | Celerity Park Dublais |
CLASS 721: YOUNG RIDER JUMPING CONTEST
| | | |
| --- | --- | --- |
| PLACE | RIDER/OWNER | HORSE |
| 1st | Simone Sorensen | Viva Blue |
| 2nd | Maleah Lang-McMahon | Ned O'Reilly |
| 3rd | Fuschia Criss | Dual Diamond |
| 4th | Chris Tomkins | Finch Farm Vroom |
| 5th | Fuschia Criss | Amazena |
CLASS 722: YOUNG RIDER JUMPING CONTEST
| | | |
| --- | --- | --- |
| PLACE | RIDER/OWNER | HORSE |
| 1st | Maleah Lang-McMahon | Ned O'Reilly |
| 2nd | Chris Tomkins | Finch Farm Vroom |
| 3rd | Cody Tincknell | Conquest |
| 4th | Cody Tincknell | Screwdriver |
| 5th | Jasmine Holland | Celerity Park Dublais |
CLASS 800: GROUP A CHAMPIONSHIP
| | | |
| --- | --- | --- |
| PLACE | RIDER/OWNER | HORSE |
| 1st | Stuart Jenkins | Fairview Alicana |
| 2nd | Brock Everingham | Kannai |
| 3rd | Ron Easey | Port O Call |
| 4th | Courtney Scott | Second Chance |
| 5th | Christopher Holland | Elsa |
| 6th | Emily Patterson | Libertarian |
CLASS 801: GROUP B CHAMPIONSHIP
| | | |
| --- | --- | --- |
| PLACE | RIDER/OWNER | HORSE |
| 1st | James Arkins | Rosthwaite Cover Girl |
| 2nd | Rebecca Jenkins | Incredible C |
| 3rd | Peter Carcary | Cachassini 11 |
| 4th | Tom Sedger | Elmo |
| 5th | Samantha Dernee | Laurel Glen Quintessence |
| 6th | Hayley Morris | On The Point Laurent Perrier |
CLASS 802: GROUP C CHAMPIONSHIP
| | | |
| --- | --- | --- |
| PLACE | RIDER/OWNER | HORSE |
| 1st | Samantha Dernee | Glenara Leonardo Z |
| 2nd | James Arkins | Quint Horta |
| 3rd | Stuart Jenkins | Bellhaven Bondi |
| 4th | Jessica Bott | Raise An Angel |
| 5th | Brock Everingham | Legato Bon Concerto |
| 6th | Matt Gaske | Casell |
CLASS 803: JUNIOR CHAMPIONSHIP
| | | |
| --- | --- | --- |
| PLACE | RIDER/OWNER | HORSE |
| 1st | Skye Hosie | Athena NZPH |
| 2nd | Skye Hosie | AMS Ajaccio NZPH |
| 3rd | Skye Hosie | Aces Tulara Devine |
| 4th | Olivia Hewitt-Toms | Lushious Lexie |
| 5th | Chris Tomkins | Keilor Bamboo |
CLASS 804: THE COLIN MEAGHER MEMORIAL YOUNG RIDER CHAMPIONSHIP
| | | |
| --- | --- | --- |
| PLACE | RIDER/OWNER | HORSE |
| 1st | Maleah Lang-McMahon | Ned O'Reilly |
| 2nd | Holly Tomkins | Finch Farm Vroom |
| 3rd | Fuschia Criss | Dual Diamond |
| 4th | Cody Tincknell | Screwdriver |
| 5th | Cody Tincknell | Conquest |
Results sourced from ekka.com.au
View Comments