FEI jumping resumes for Aussies after COVID-19 break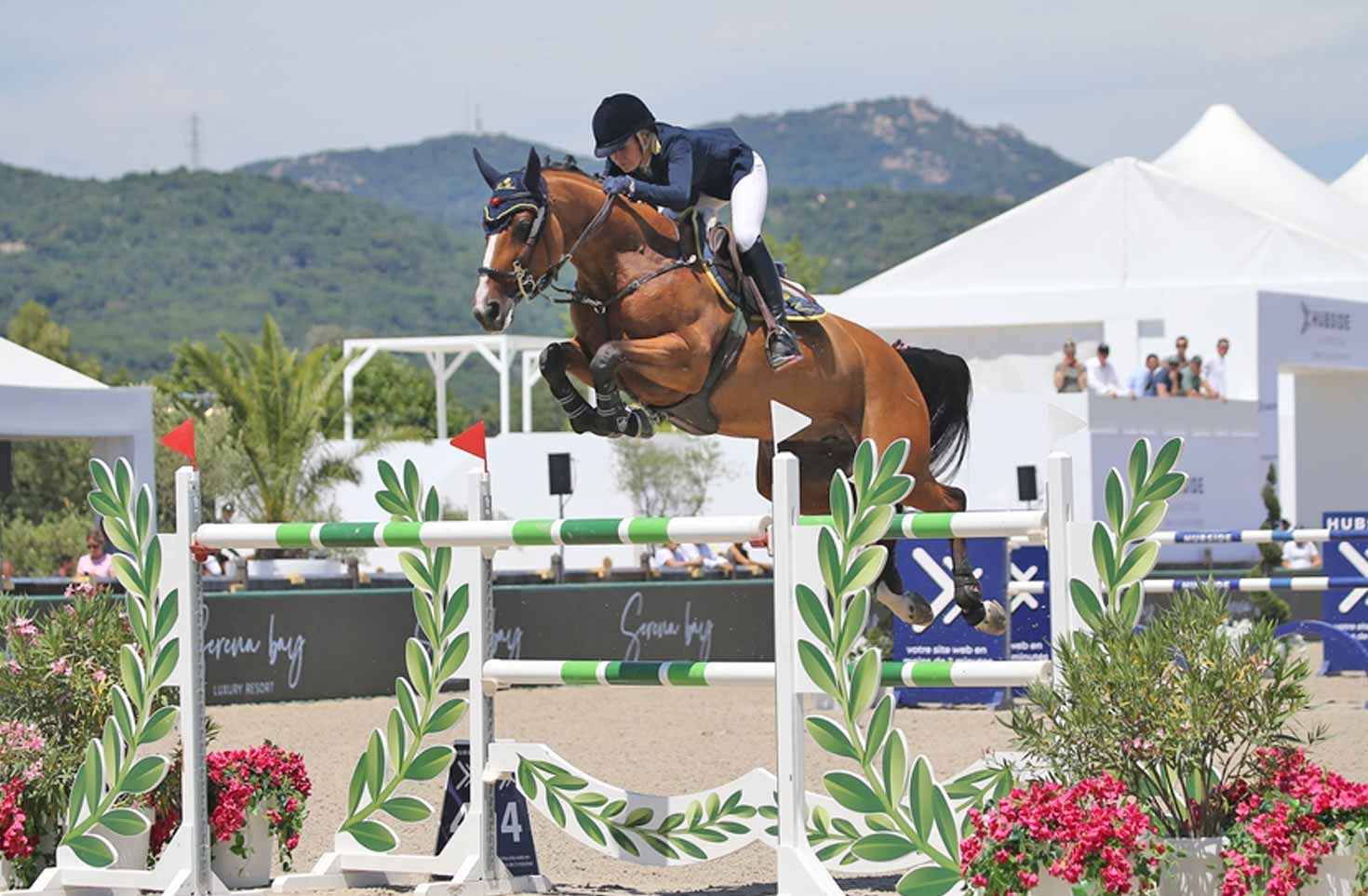 Sportfot
Edwina Tops-Alexander and Identity Vitseroel at St Tropez (Photo credit: Sportfot)
After a break of almost four months, FEI jumping has returned and two of Australia's top international riders, Edwina Tops-Alexander and Rowan Willis, have been leading the way in the return to competition.
Edwina Tops-Alexander has been competing over the past two weeks in the French Riviera resort city of St Tropez, while across the Atlantic, Rowan Willis has returned to the site of Australia's triumphant WEG performance in 2018, by competing in Tryon in North Carolina.
Advertisement


Edwina Tops-Alexander
In St Tropez, Tops-Alexander has campaigned her team of mares over the past couple of weeks. Riding 8 year old Conisha des Forets (part owned by Athena Onasis) in their first competition together and also Catenda in a couple of CSI2* classes.  In the CSI4* events, Tops-Alexander competed Identity Vitseroel and Latisha De Regor.
Identity Vitseroel is new to Stal Tops, purchased from Belgian rider Christophe Vanderhasselt, late last year. On his Facebook page, Vanderhasselt writes:"Identity Vitseroel. The best horse I ever had is leaving our stables. We wish Identity and her new owner Edwina Tops-Alexander the best of luck for the future." With Vanderhasselt in the saddle, the 11-year-old mare by Air Jordan x Darco has gone all the way from the young horse classes up to five-star Grand Prix level. This year, the pair won the CSI3* Grand Prix in Bonheiden while in 2018 they recorded big wins in Treffen, Lanaken and Lier as well as finishing numerous times on podiums across Europe. We are excited to see what the future holds for Tops-Alexander and this lovely little mare.
In the Grand Prix on Sunday Tops-Alexander and Latisha De Regor took a single rail in the jump-off of a 1.45m class to finish 16th place. Afterwards, Tops-Alexander said that she was "looking forward to stepping up to a CSI5* competition next weekend as the St Tropez competition goes into its third week."
Results for week 1 are listed below:
ST TROPEZ (FRA) CSI4*
| | | | |
| --- | --- | --- | --- |
| RIDER | HORSE | HEIGHT | PLACE |
| Edwina Tops-Alexander | Conisha des Forets (CSI2*) | 1.30m | 68/100 |
|   | | 1.30m | 25/31 |
|   | Catenda (CSI2*) | 1.30m | 91/100 |
|   | | 1.40m | 66/101 |
|   | | 1.45m GP | 37/51 |
|   | Identity Vitseroel (CSI4*) | 1.45m | 17/41 |
|   | | 1.45m | 50/60 |
|   | | 1.55m GP | 32/45 |
|   | Latisha De Regor (CSI4*) | 1.40m | 38/89 |
|   | | 1.50m | 30/46 |
|   | | 1.45m | 16/48 |
Results for week 2 are listed below:
ST TROPEZ (FRA) CSI4*
| | | | |
| --- | --- | --- | --- |
| RIDER | HORSE | HEIGHT | PLACE |
| Edwina Tops-Alexander | Cornisha des Forets (CSI2*) | 1.30m | 101/108 |
|   | | 1.40m | 56/114 |
|   | Catenda (CSI2*) | 1.40m | 49/114 |
|   | | 1.45m GP | 53/57 |
|   | Identity Vitseroel (CSI4*) | 1.45m | 33/39 |
|   | | 1.50m | 21/48 |
|   | | 1.55m GP | 40/48 |
|   | Latisha De Regor (CSI4*) | 1.45m | 24/45 |
Rowan Willis
Success has been experienced by Willis very quickly after his return to competitive jumping. The competition in Tryon has been in full swing now for three weeks and it was in week 1 that Willis took out his first class. Willis, in combination with Diablo VII sped through a jump-off in a time of 34.045 seconds to take the win in the $75,000 Tryon Resort Grand Prix, the venue's first night class of 2020.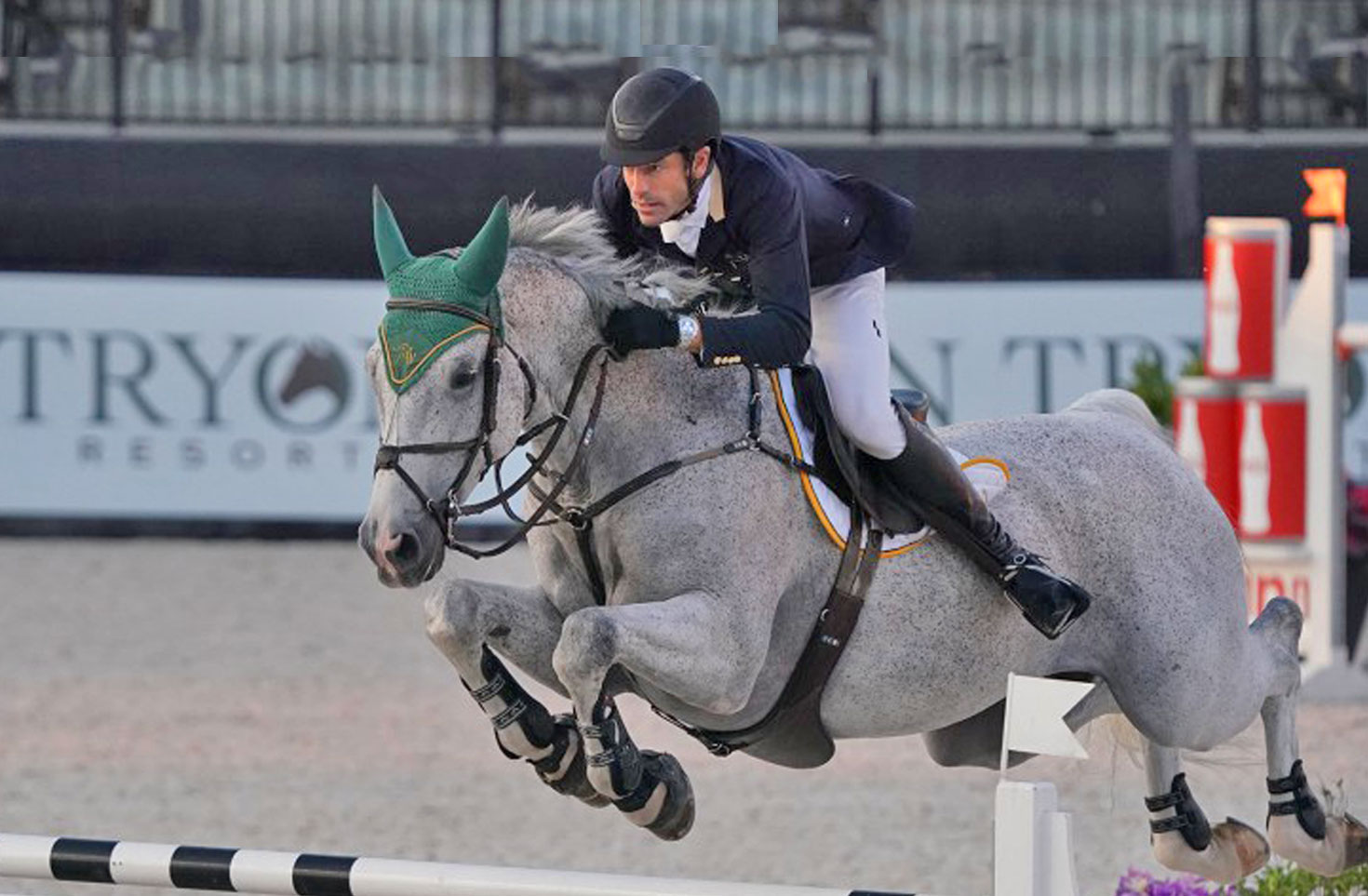 Rowan Willis and Diablo VII. Photo Source: Tryon International Equestrian Centre
Twenty combinations tested the Michel Vaillancourt designed course, with 7 combinations returning for the jump-off, sadly, in front of nearly-empty stands. Willis and the 2008 Dutch Warmblood gelding (Douglas x Cavalier) owned by himself and Lucinda Huddy managed to shave seconds off the leading time with a few speedy riders behind them in the order of go, ultimately holding onto the lead, he explained.
"It was a tough enough course; it wasn't a big field, but it was a strong field of riders. I thought it was a nice course, and it obviously suited me! But it was nice to be jumping again under the lights. I always like riding in this arena. Unfortunately we don't have the crowd right now, but it's still a good atmosphere and a lovely ring to ride in."
Advertisement


Week 3 at Tryon saw the first FEI CSI2* class of the summer season at Tryon, which goes for a total of 6 weeks. In the class, held over 1.45m, Willis and Diablo VII were one of 11 combinations clear in round 1, however, despite a very competitive time in the jump off, a rail meant that they could only finish fourth. In a promising start, Willis also finished in 26th place with the mare Ekita Eindeken Z in their first FEI outing together.
We look for to watching the progress of these two fine Australian riders as their programs return to normal over the coming months.
View Comments