Jump Off Episode 5 – Behind the scenes and highlights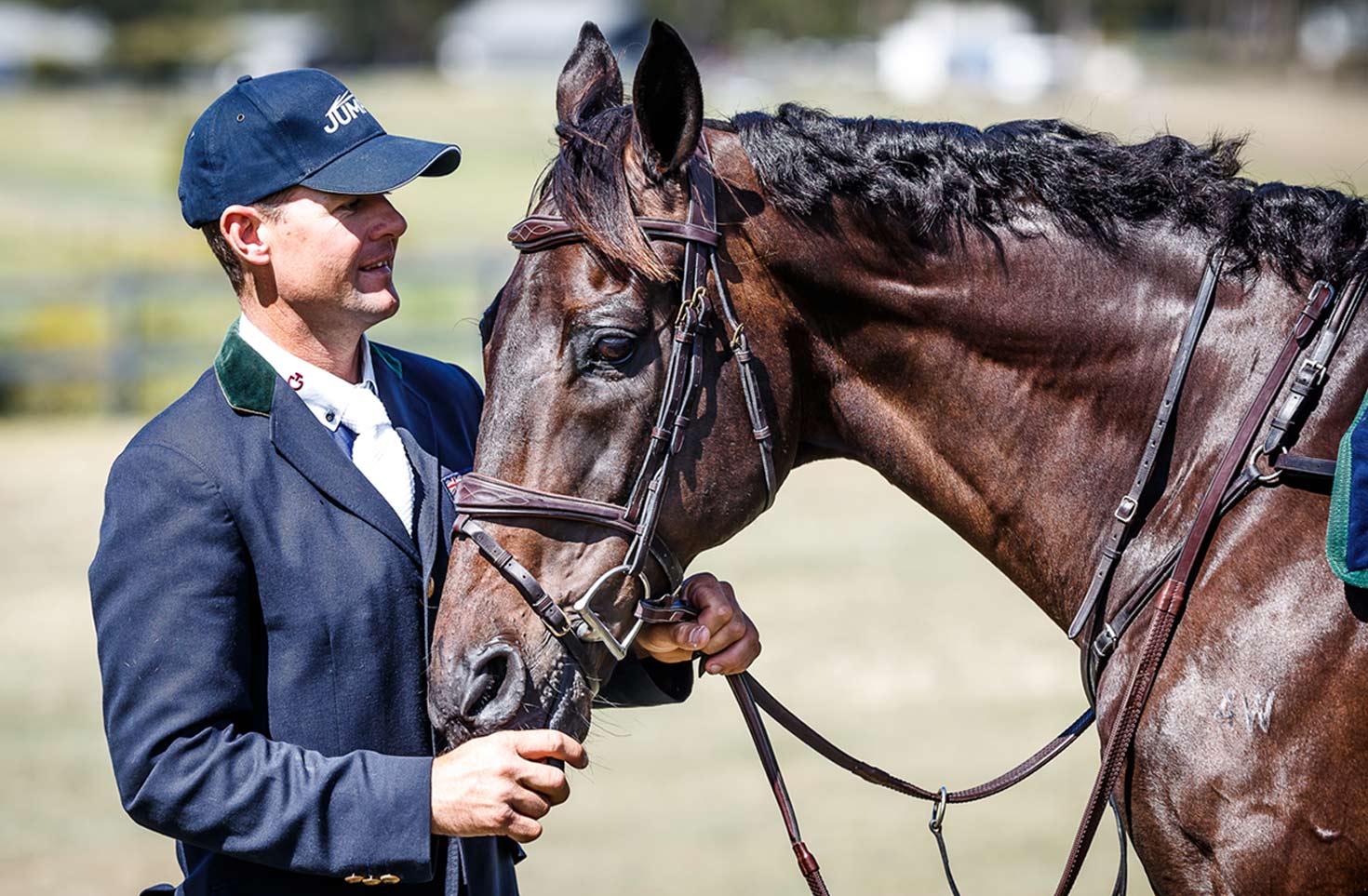 Stephen Mowbray
Last week, on Episode Four of Jump Off, riders took their horses out to experience some low level jump days – with varying degrees of success. This week, with the aim of starting to introduce the horses to the big stage, all the competitors head up to the AQUIS Champions Tour at Elysian Fields in Queensland with their horses. This trip was also an excellent opportunity for the riders to check out the competition!
Advertisement

TEAM JOHNSTONE/HAYES
Things went a a bit south for Russell Johnstone and Bolivar at Boneo Park in his second round. Bolivar (Benny) got a bit spooked by some dogs outside the arena and certainly tested Johnstone's steering skills!  Poitier (Sid) however has pulled up a bit lame and Johnstone is very pleased to receive a call about another possible horse for his team – Mr O'Postrophe (Mr O). Johnstone liked his attitude and the fact he was snapping up his front legs nicely.
At Elysian Fields, Benny has a fantastic run around the 85cm track and really pleased Johnstone. Mr O also did a great job in the 90cm – 2 phase.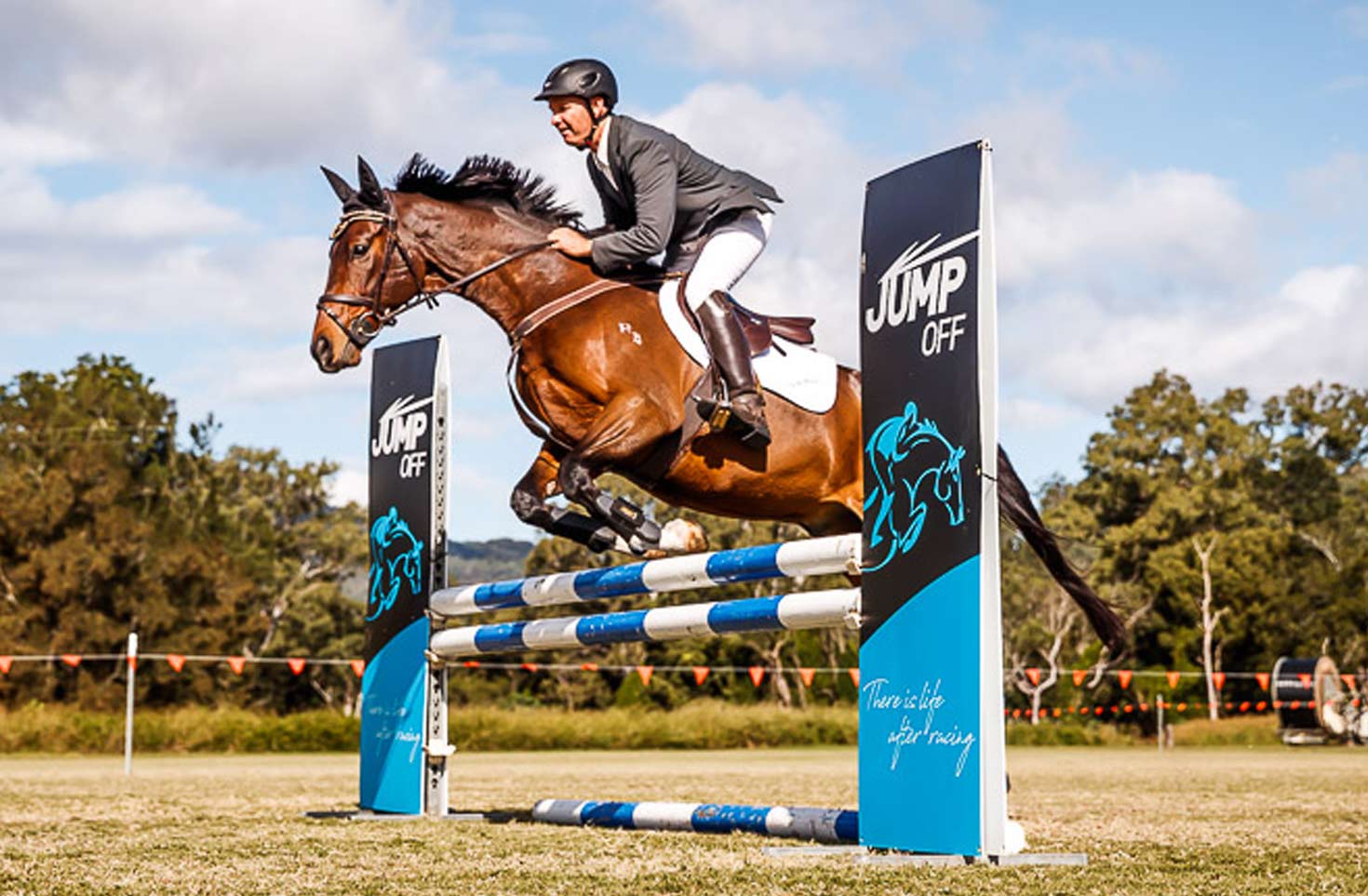 TEAM ROYCROFT/CUMMINGS
Vicki Roycroft takes a couple of her horses, Inner Circle and Stryker Rose, out to Yandoo Park Equestrian to expose them to a new environment before taking them up to the AQUIS Champions Tour.
Inner Circle, only a 5-year-old, "ticked all the boxes" with regards to what Roycroft was looking for in a horse. "He has quite a lovely natural jump and quite a lovely attitude". He performs very well for her in the arena at Yandoo Park.
Stryker Rose, Roycroft's newest recruit, travels well and besides being a little horse shy, she thinks that despite a limited preparation, she "has taken to jumping like a duck to water". Roycroft thinks both her horses are both "sweet and easy enough to ride". They both "want to try and do what you want them to do – a great attitude to have"
At Elysian Fields both Inner Circle and Stryker Rose do a good job for Roycroft, under the watchful eye of David Cameron, and she is very pleased with their attitudes at the show.
Advertisement

TEAM CAMERON/PRICE
Riotman had a great start at AQUIS – really showing some great promise – much to Vicki Roycroft's dismay haha! We look forward to seeing more of them next week.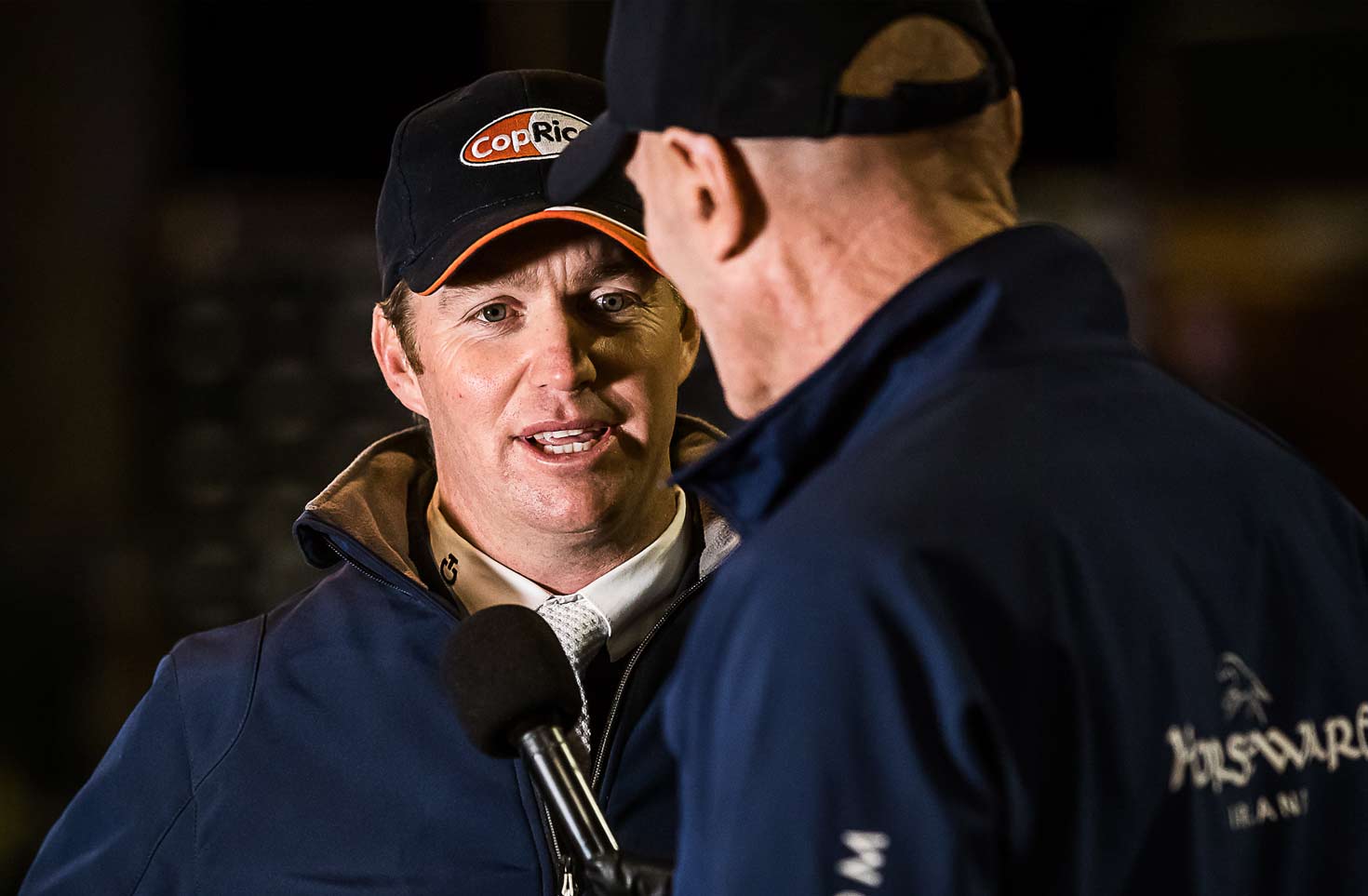 TEAM McMAHON/WEIR
After some initial wardrobe issues (much to wife Michelle's amusement -again!) Peter McMahon and Gotta Take Care (Woody) enter in the 1.10m – the only combination to tackle this height and all watching are very impressed – not to mention a little worried!
Spectacular Johnny English (Agent) although still quite green has a very good round under the watchful gaze of Russell Johnstone.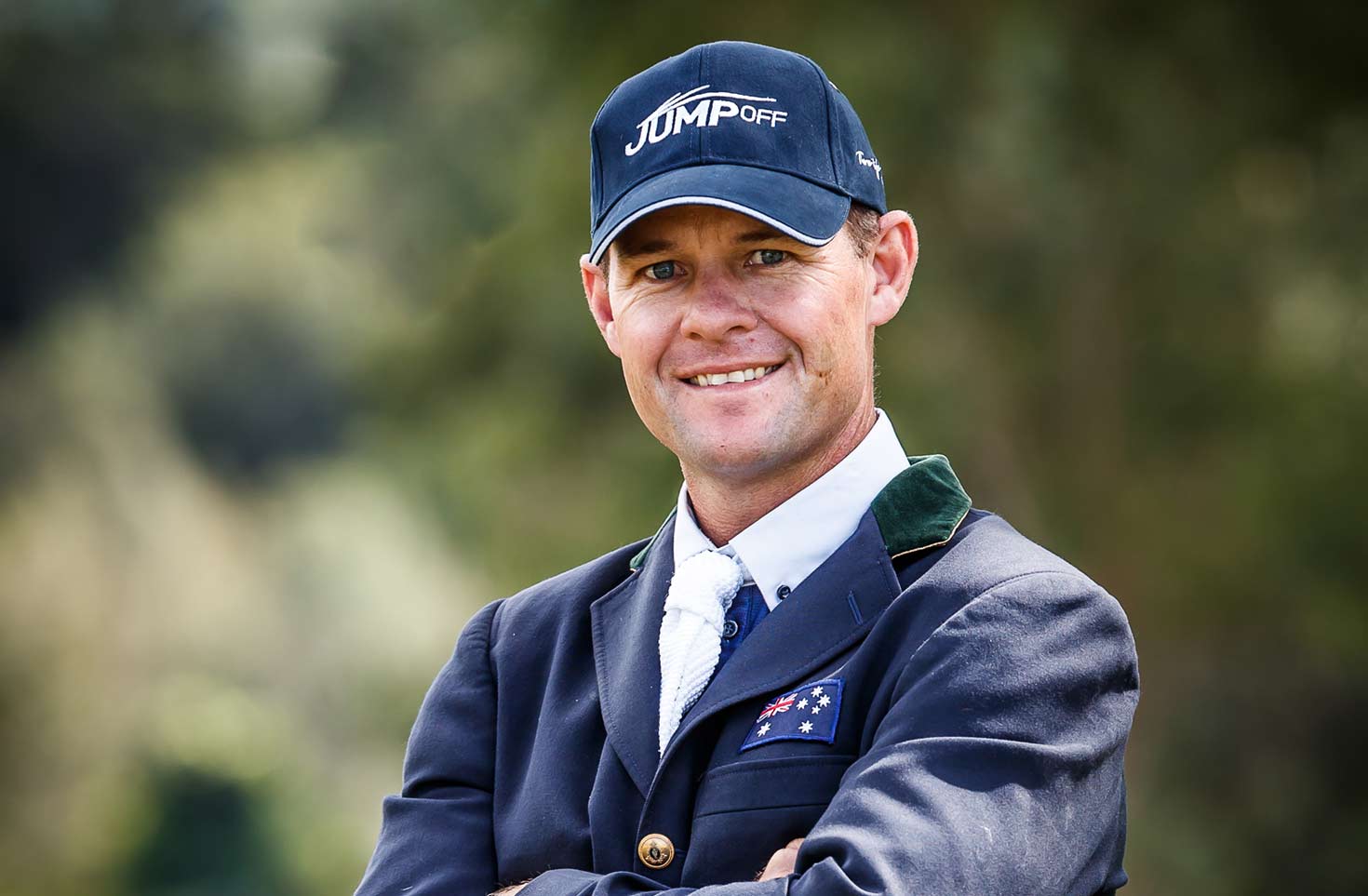 TEAM KERMOND/PAYNE
After a potentially serious fall and subsequent enforced rest, Jamie Winning takes over her husband's rides at AQUIS for the first part of the show – not a problem, given she has been working the horses during Kermond's time away competing internationally.
Peaceful Easy Feelin (Easy) and Raposo (Roland) are both a little on edge initially and team Kermond/Payne have a bit of a job ahead of them with regards to getting the horses ready for competition under the lights of Boneo Park.  A couple of friendly disagreements over tack in the Kermond camp added to the challenges faced by this team at this competition.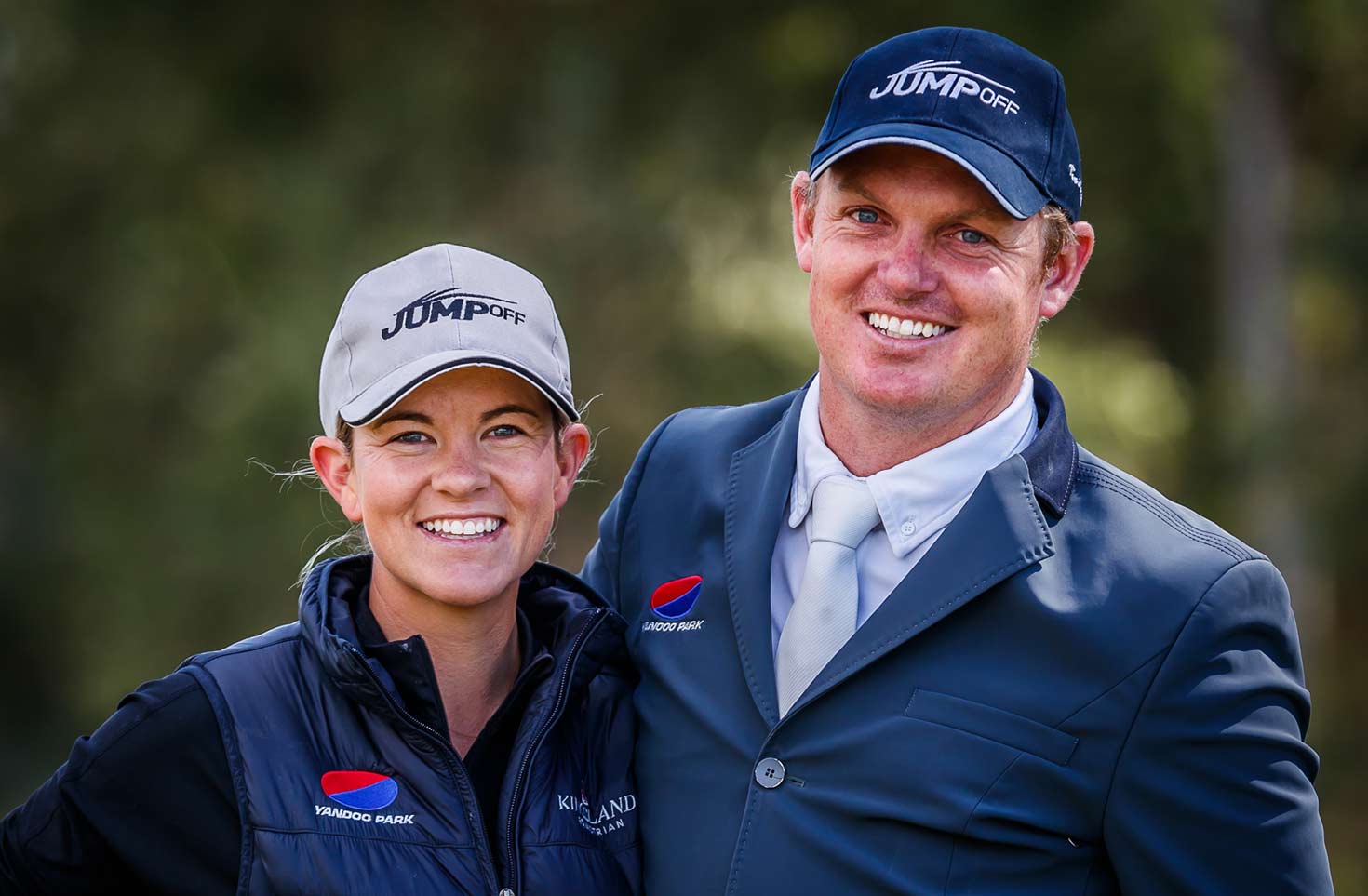 FIRST EXCLUSIVE JUMP OFF COMPETITION
Finally, the Jump-Off horses have a small competition amongst themselves on the main arena at Elysian Fields. Prize money for this class was $5,000. This is a whole new experience for them. The jumps are not high, but the challenge will be adapting to the atmosphere.
Dave Cameron and Riotman are first out. They have a lovely round to go clear in 87.03 seconds.
Viki Roycroft and Stryker Rose are next. They are faster in 78.55 but take one rail. Roycroft is happy that the horse was more focused than she thought she would be. 
Russell Johnstone rides Mr O'Postrophe in this class. They go clear in 85.97 seconds to take the lead. 
Johnny English, and Peter McMahon are next up. They finish the round in 85.00 seconds, but unfortunately, with one rail down, are currently relegated to fourth place.
NEXT WEEK ON JUMP OFF
The excitement continues as the riders continue at the AQUIS Champions Tour, continuing the preparation for the big final at Boneo Park.
Don't forget, if you missed previous episodes you can watch replays at https://7plus.com.au/jump-off. Replays of Jump Off also air on Racing.com (Ch 78) three times a week. Remember to check your local TV guide to confirm screening times for Episode 6 this Sunday on Seven Network.
View Comments