Kate Hinschen dominates at 2018 Tamworth World Cup Qualifier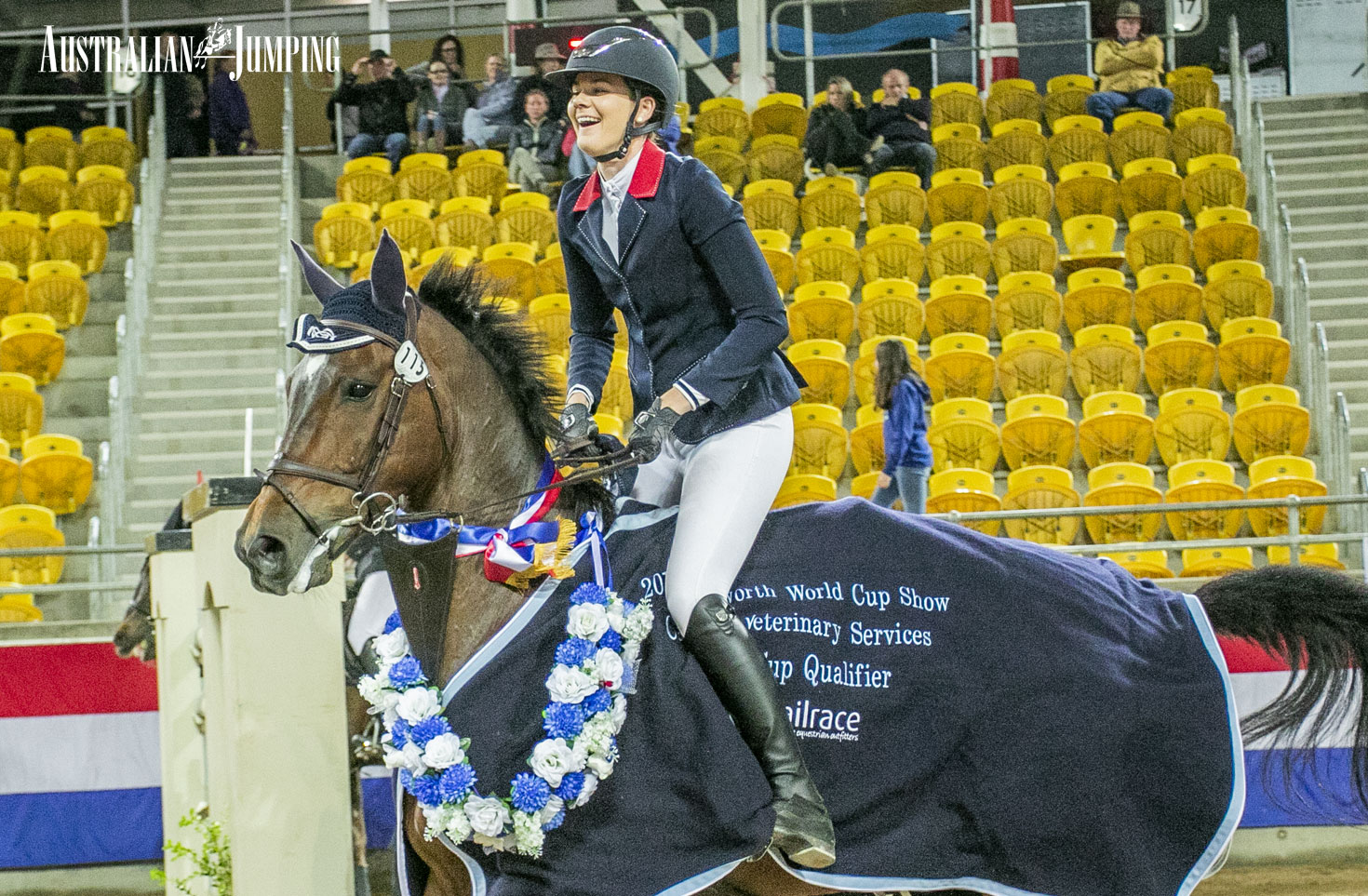 Australian Jumping
The fifth leg of the 2018/19 Australian World Cup Qualifying season was held this evening at AELEC in Tamworth. On a night where some of Australia's finest jumping talent was put to the test, only one combination managed to ride double clear, with a very deserved win going to 21 year-old Queenslander, Kate Hinschen and Finch Farm Cadel.
Advertisement

The course, designed by leading designer David Sheppard, proved to be challenging but quick. While all combinations that completed the first round went well under the time allowed (91 seconds), the fact that five combinations were eliminated in the first round and only two clears recorded, was testament to the course's technical nature.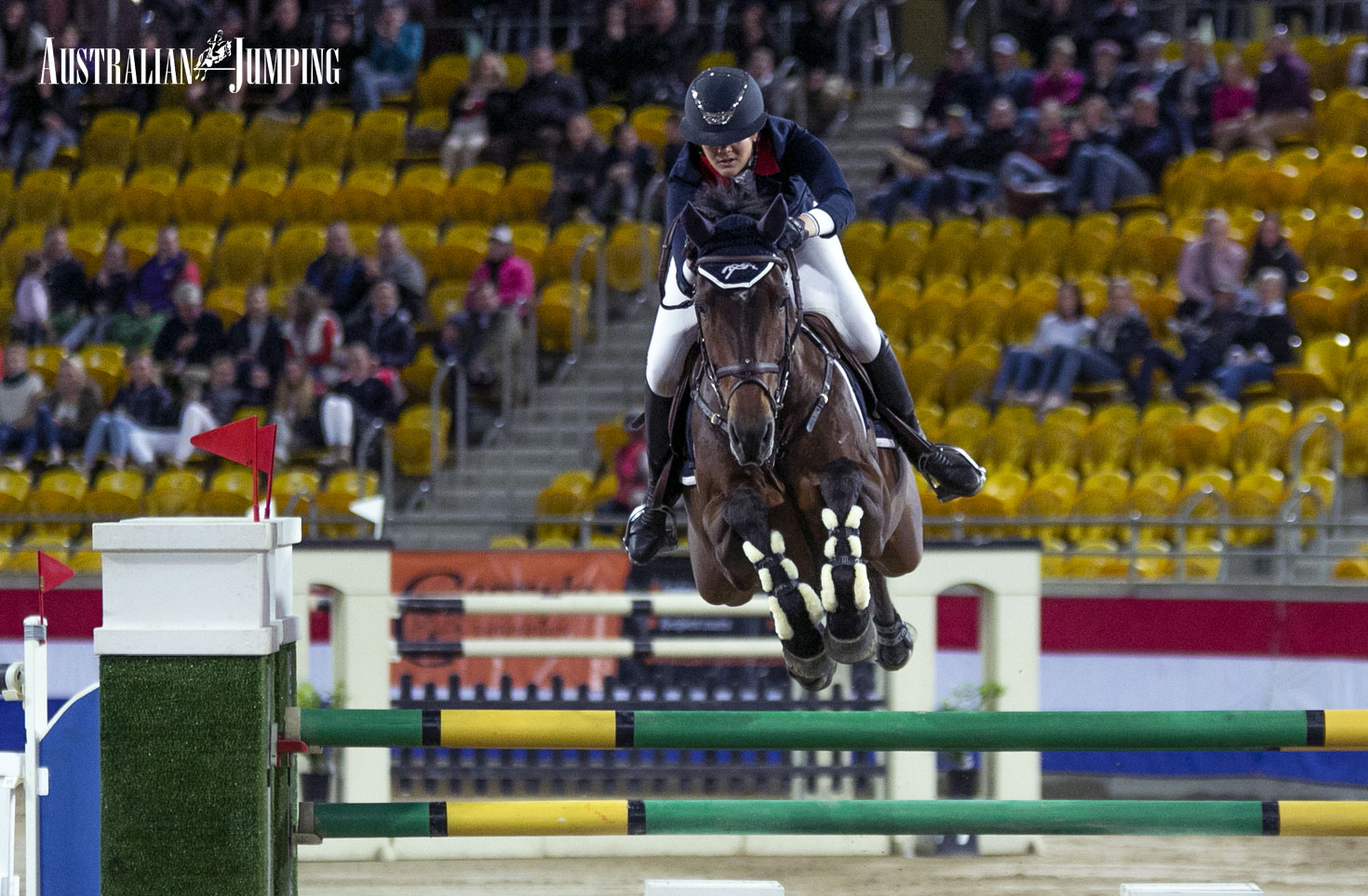 Kate Hinschen and Finch Farm Cadel
Sixteen horses and thirteen riders tacked the course and provided a fantastically entertaining night of top class jumping. Clear rounds were recorded by Kate Hinschen and Finch Farm Cadel as well as James Arkins and Waitangi Skynet. While World Cup Qualification classes usually include twelve combinations in jump-offs, the number of eliminations meant that all combinations who completed the course were invited back to try to advance their cause.
Advertisement

Hinschen and Finch Farm Cadel were able to go one better than their second placing last year behind Billy Raymont. This combination has scored solidly in each World Cup round they have competed in this year will move from fourth to third on the rankings table as a result, and within striking distance of the lead. At the presentation when asked for her reaction to the win, she said "I can't believe this has happened. I am so happy with the horse". She also thanked her sponsors, Finch Farms Cadel's owners and her parents. As part of the winning prize, Hinschen has won a service to Holsteiner Verband Stallion, Million Dollar, donated by the Gostelows from Holsteiner Verband Australia.
Kate Hinschen and Finch Farm Cadel with the Gostelows
Arkins and Waitangi Skynet were well in with a chance to win, however a single rail during the jump off cost him a shot at victory and left them in second place. Arkins who has only competed in two of five world cup qualifiers held, has scored next to maximum points for the second time.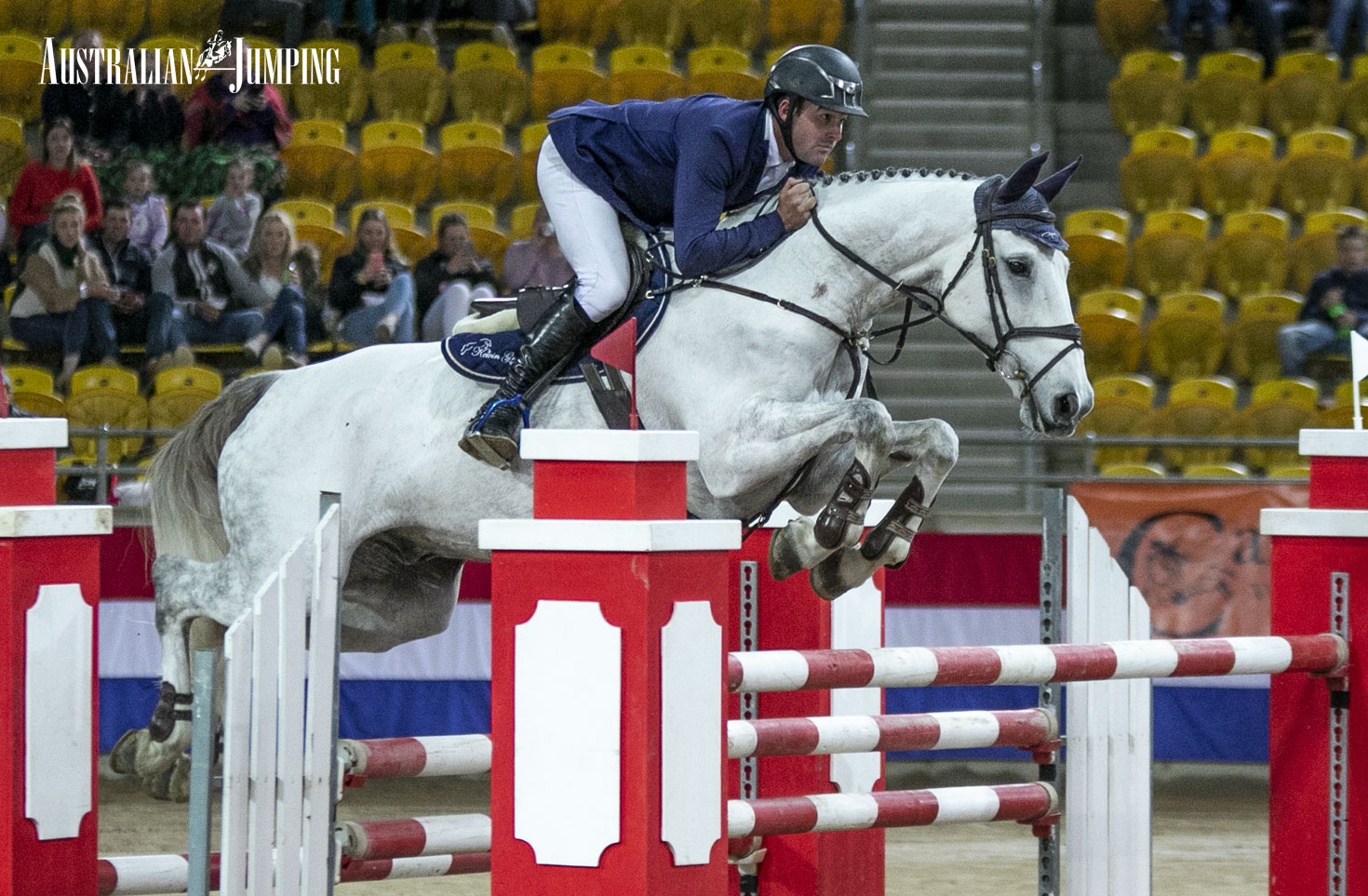 James Arkins and Waitangi Skynet
Gabrielle Kuna and Flaire, having recorded just one rail in the first round, were the only other combination to go clear in the jump-off and they finished with 4 faults, thereby securing third place. She, like Arkins, has now scored well in each of just two World Cup Qualifiers and has not done any harm to her series chances.
Erin Buswell, the youngest rider in the field at only 19, and Quero Quero, performed solidly with 8 faults (4 in round 1 and 4 in the jump off) to just pip Katie Laurie and Cera Caruso, for fourth, by just over a second. Local legend, Ron Easy and Port O Call filled sixth position.
The Carmyle Veterinary Services World Cup Qualifier, top ten places.
PLACE
RIDER NAME
HORSE NAME
1st
Kate Hinschen
Finch Farm Cadel
2nd
James Arkins
Waitangi Skynet
3rd
Gabrielle Kuna
Flaire
4th
Erin Buswell
Quero Quero
5th
Katie Laurie
Cera Caruso
6th
Ron Easy
Port O Call
7th
Clem Smith
Alite
8th
Aaron Hadlow

 

Vahlinvader
9th
Hugh Buchanan
Diamond B Carla
10th
Mitchell Peulic
Delamerie Sun
View Comments