Kermond takes the day but Chugg takes the Cup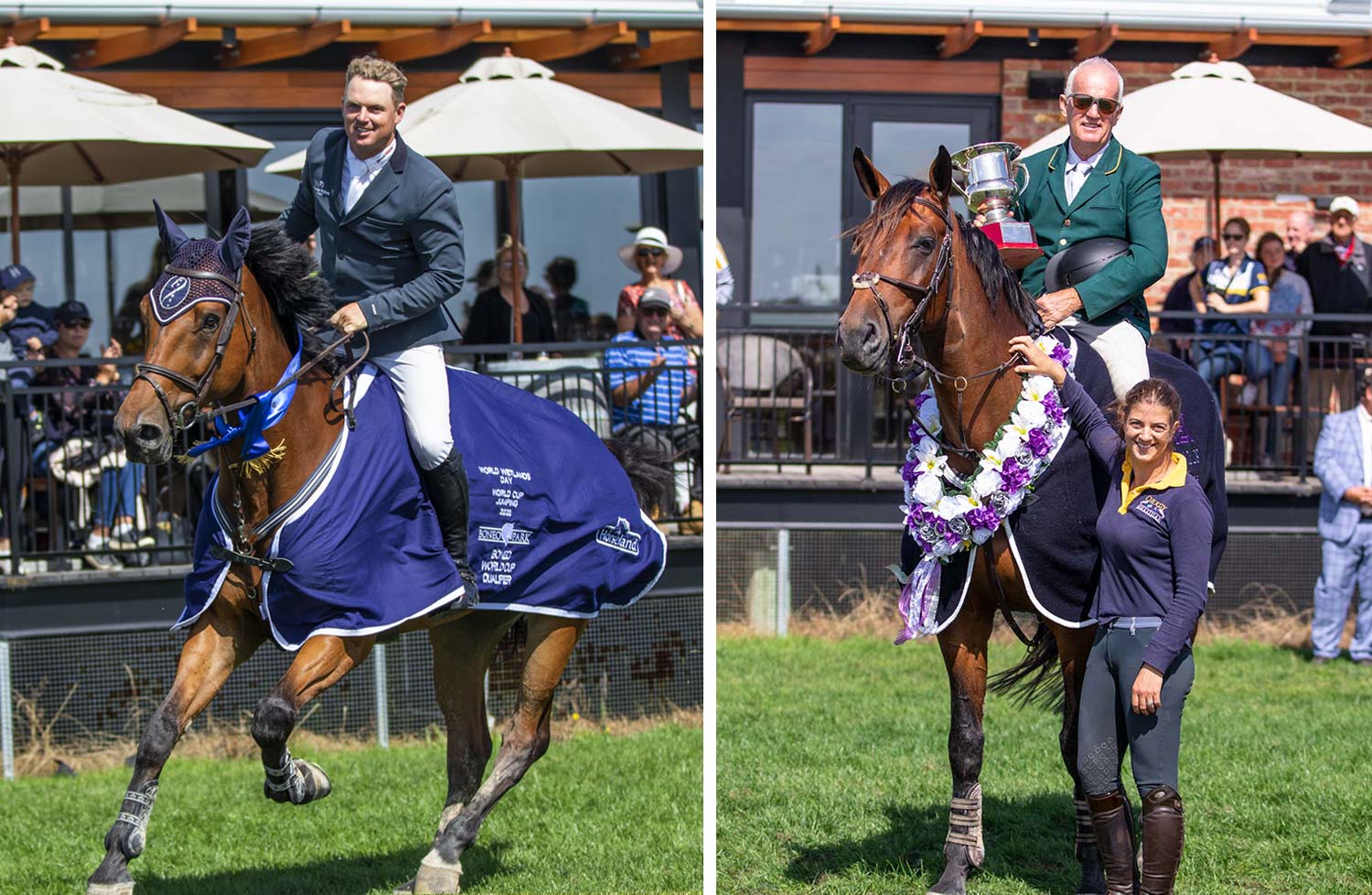 Australian Jumping
After more than six months of competition and ten rounds of exciting jumping, spread from Caboolture to Adelaide and Sydney to Sale, the Australian FEI World Cup Qualifying Series for 2019-20 wrapped up today with the final and eleventh round held as part of the World Wetlands Day Jumping Event, at the beautiful Boneo Park equestrian complex on the Mornington Peninsula.
Advertisement


In warm sunny conditions, 19 combinations entered, including the top five riders in the season leaderboard and pitting the top three riders against each other in a last round fight for the coveted position atop the leaderboard and a place at the World Cup Final to be held in Las Vegas in April.
Going into this final Chris Chugg held a nine point lead over Jamie Kermond on 84 points with Billy Raymont just a single point behind in third place. If either Raymont or Kermond could win today, they would accrue enough points to leapfrog Chugg into the lead, however Chugg could secure the title by finishing in the top four.
The time set for the David Sheppard designed course was 96 seconds and the combination of Adam Johnston and Up got things underway in front of an enthusiastic crowd. It wasn't until the tenth combination on course, Chris Chugg and PSS Levilensky that we saw our first competitors leave all the rails up, recording just a single time penalty. Next out was former Australian Senior champion pair of Amber Fuller and CP Aretino, who were the first to record a clear round. Other clear rounds were recorded by last week's World Cup Qualifier winning combination of Jamie Kermond and Yandoo Oaks Constellation and Tom McDermott and Alpha Activity who recorded the fastest clear in 87.15 seconds.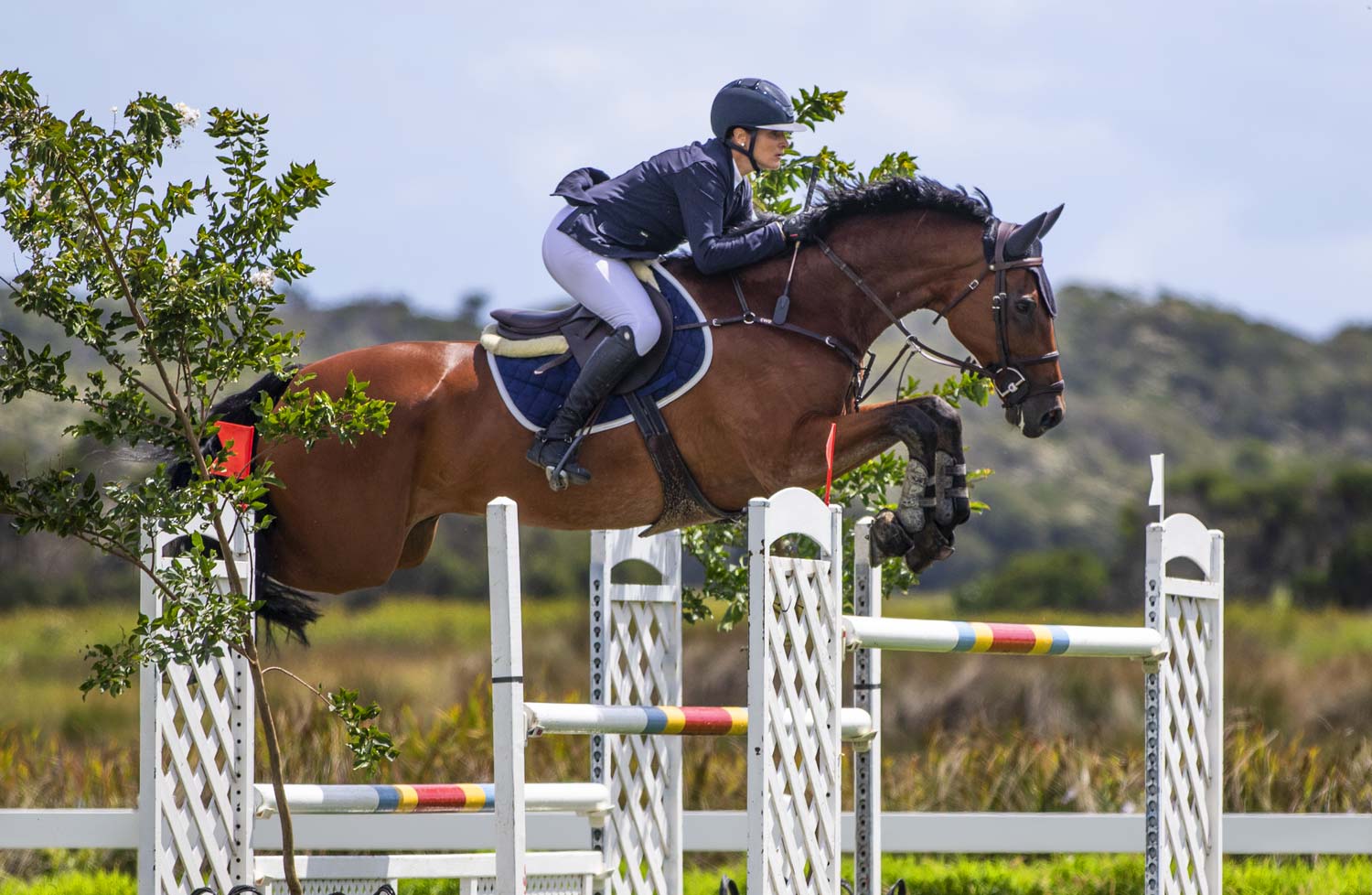 Amber Fuller and CP Aretino
A total of eleven combinations returned for Round 2 comprising of the three clear combinations, Chugg and his single time penalty, four combinations who took a single rail, Shimona Fraid and Bonaire on five penalties and two combinations who carried nine penalties into Round 2.
First to tackle the shortened course was the slowest of the two nine-faulters, Russell Johnstone and Daprice. They took a rail to take their total to 13, which meant that they were going to struggle to add to their two victories already this season. Next out was Amelia Douglass and Barrichello. Unfortunately for them, it was not their day as a refusal and a rail saw Douglass opt to retire from the competition.
Advertisement


Shimona Fraid and Bonaire proved their class by going clear in Round 2 to finish on just five penalties, putting the pressure on those to come. Fraid could not retain the lead until the end of the competition, however she went on to finish seventh and was awarded the prize as the best Rookie in the World Cup Series as a reward for her efforts.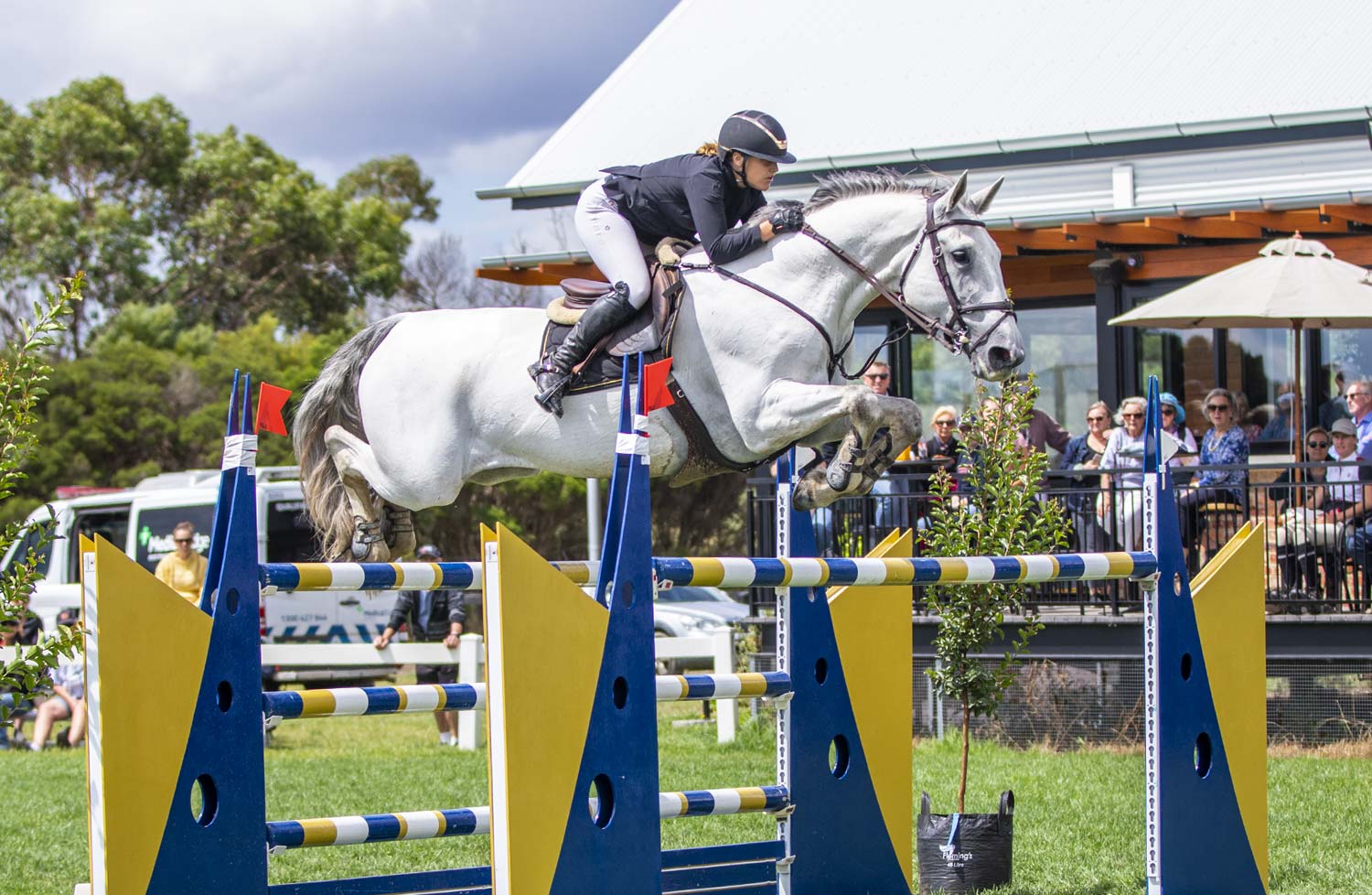 First of the four-faulters to go was the Western Australian pair of Georgie Siciliano and Gladiator P, who was making his World Cup debut. As Fraid did before them, they went clear to finish on a total of four, to take the lead. Next out was the consistent James Harvey and Tyrone VDL who finished third in the World Cup Qualifier last week, however a Round 2 rail left them on eight penalties and out of the running.
The next two combinations on course featured Billy Raymont, who started on each horse on four penalties. Duplicate clear rounds in Round 2 on first Anton and then Anssioso Z meant that both combinations finished on four penalties, however, Anton went quicker to place this pair in the lead which was exactly where Raymont needed to be from a Series perspective.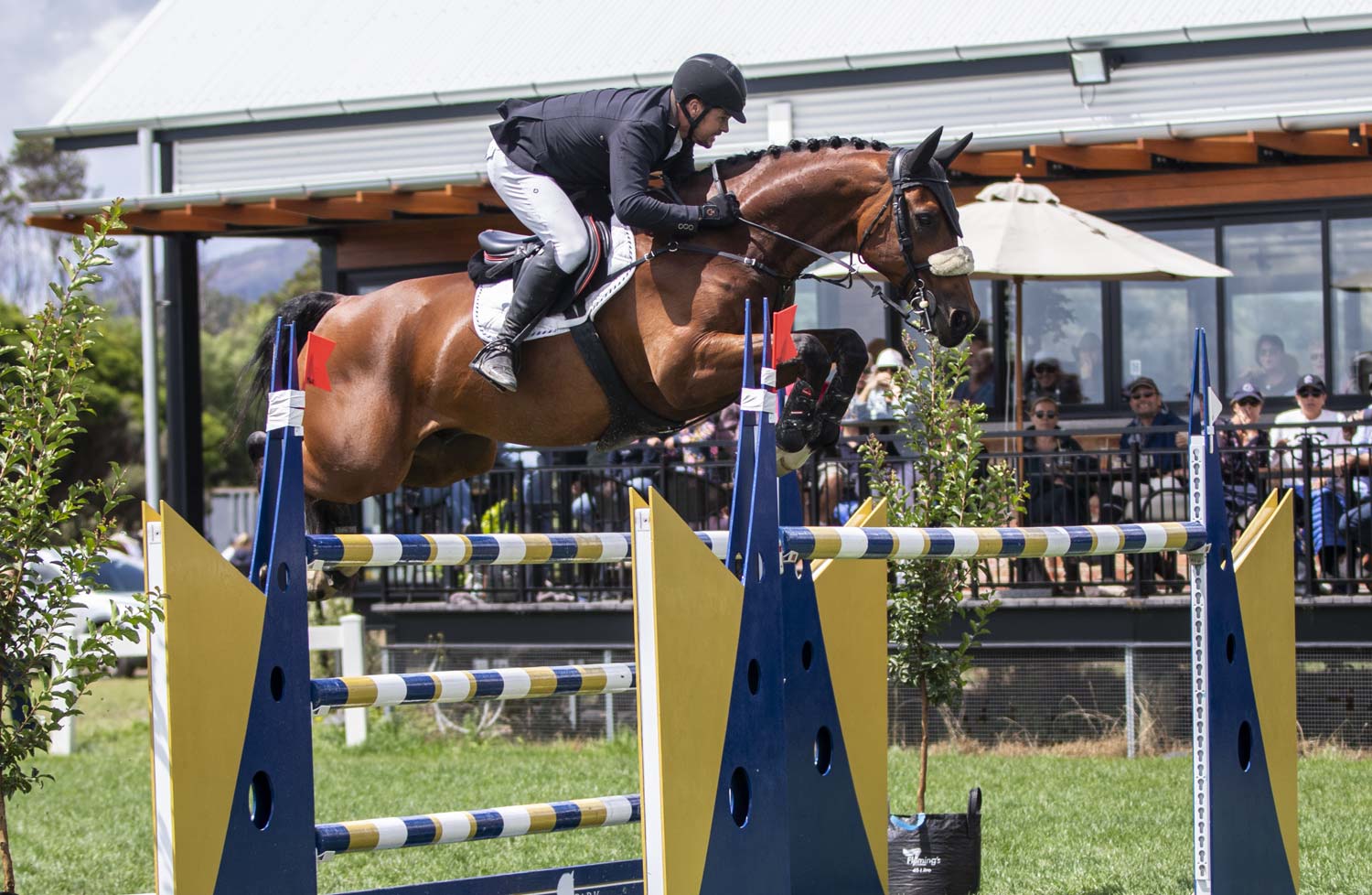 Billy Raymont and Anton
Chris Chugg and PSS Levilensky were next and they rewarded their supporters with a wonderfully controlled clear round, which meant that they finished on just a single penalty and with three combinations to come, could finish no worse than fourth. Keen followers of the World Cup series pointscore knew that Chugg had done enough to take the series victory. What remained was the battle for victory in today's round.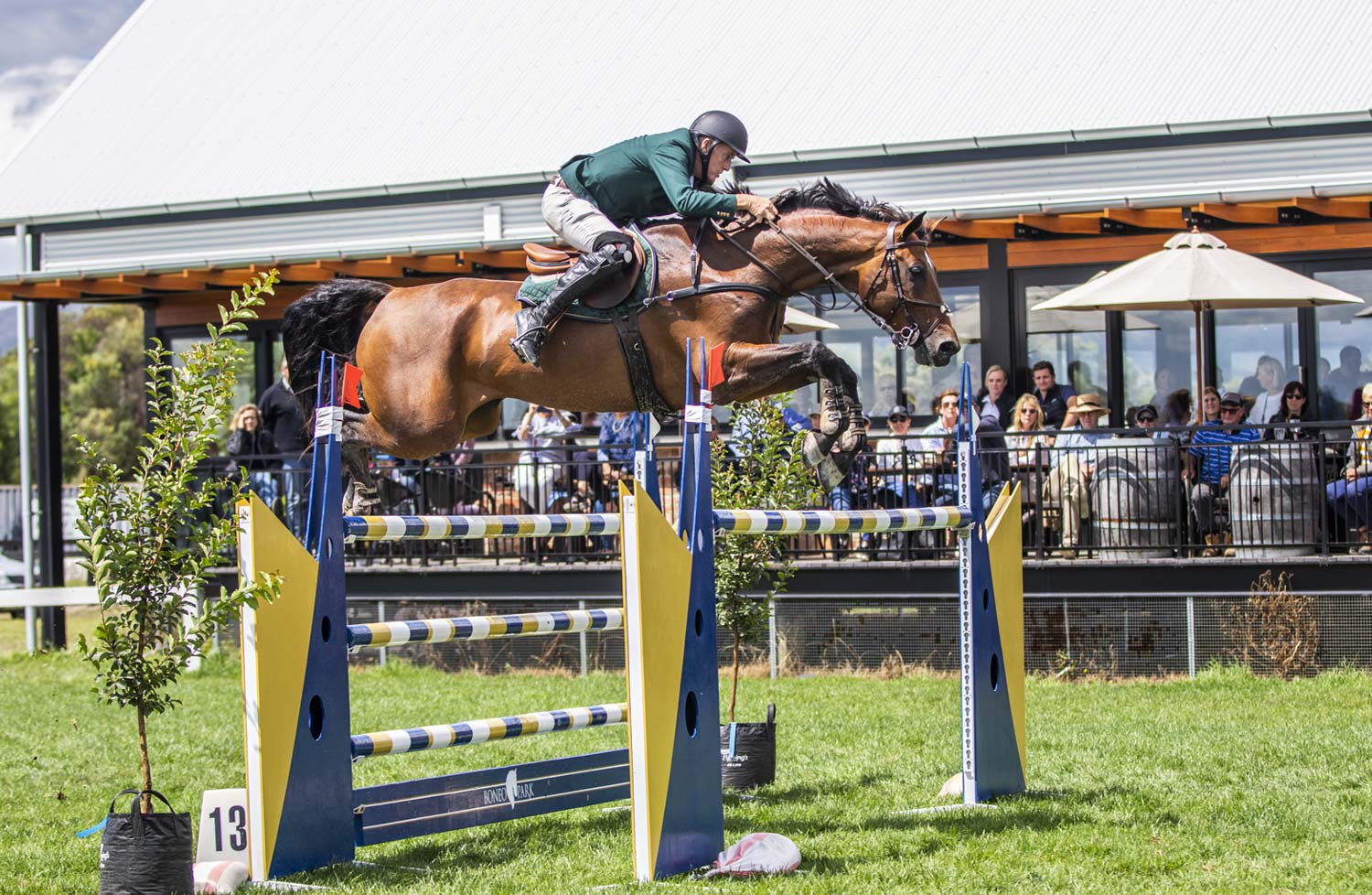 Chris Chugg and PSS Levilensky
Next out was the first of the first round clears, Jamie Kermond and Yandoo Oaks Constellation. They rode a fantastic clear round to back up their first round effort, leaving them on zero, to snatch the round leave from Chugg. Second last combination on course was Amber Fuller and CP Aretino, who emulated Kermond's performance, however, with a time 10 seconds slower than Kermond, they had to settle for second place.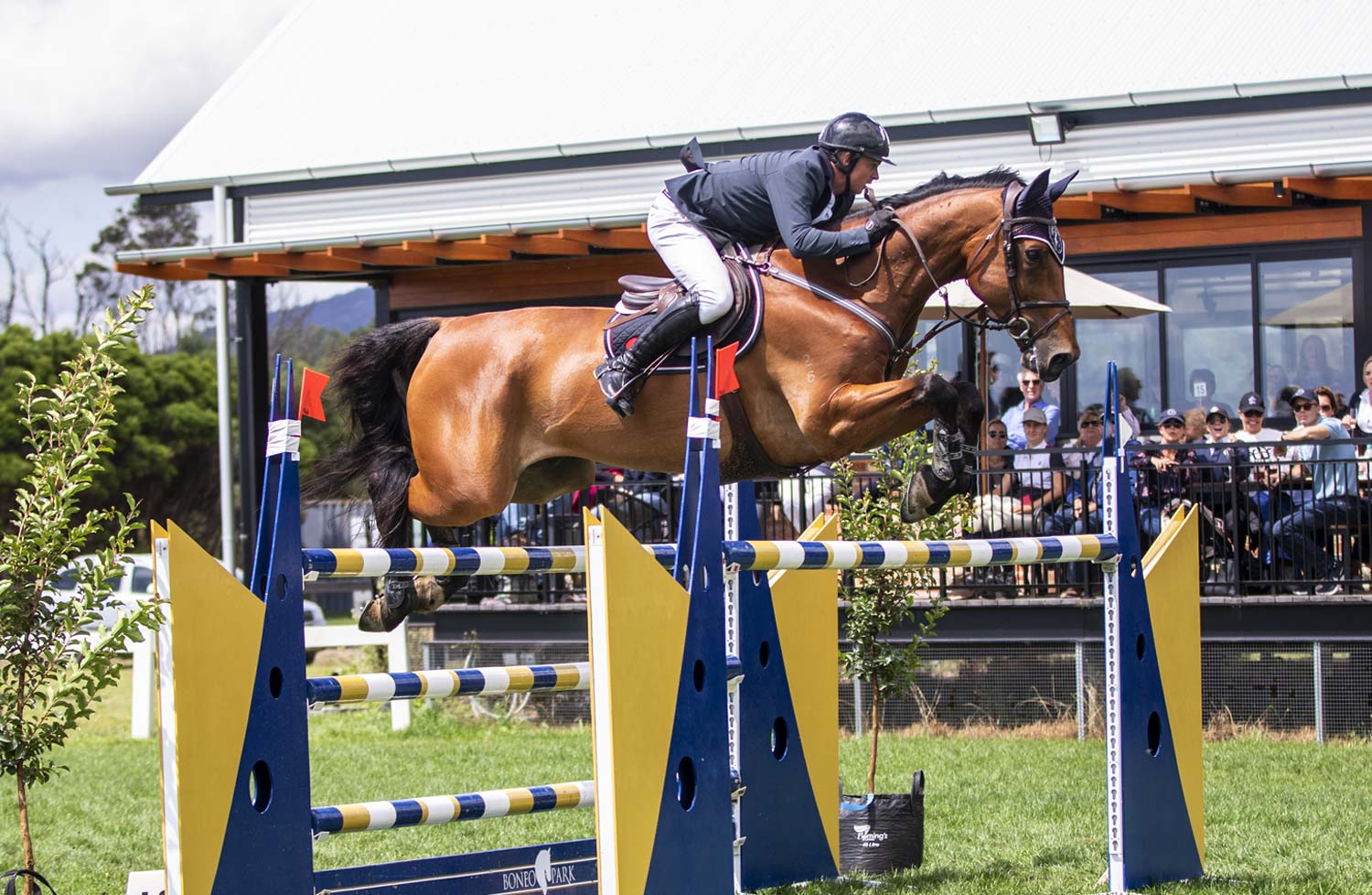 Jamie Kermond and Yandoo Oaks Constellation
The final pair on course were Tom McDermott and Alpha Activity who had the chance to become the third double clear and challenge for the victory. Just for a change, today was not McDermott's day with two rails early in the round and McDermott electing to retire.
So in the end, Kermond and Yandoo Oaks Constellation prevailed to take the win, in what has been a fantastic end to the season for them. Amber Fuller and CP Aretino, in a return to form took second place and Chris Chugg with just a single penalty finished third.
With regards to the season as a whole, Chris Chugg was crowned the Australian World Cup Series Champion for the sixth time, unofficially finishing on an even 100 points. Jamie Kermond took out second place, with the win today scoring him 20 points, but, as only the top six scores for the season count, he netted 11 points today to finish on 96. Billy Raymont, by virtue of his fourth place today came in third overall, with a total of 89 points.
Click HERE to hear what Chris Chugg had to say to us after the class about the fantastic outcome.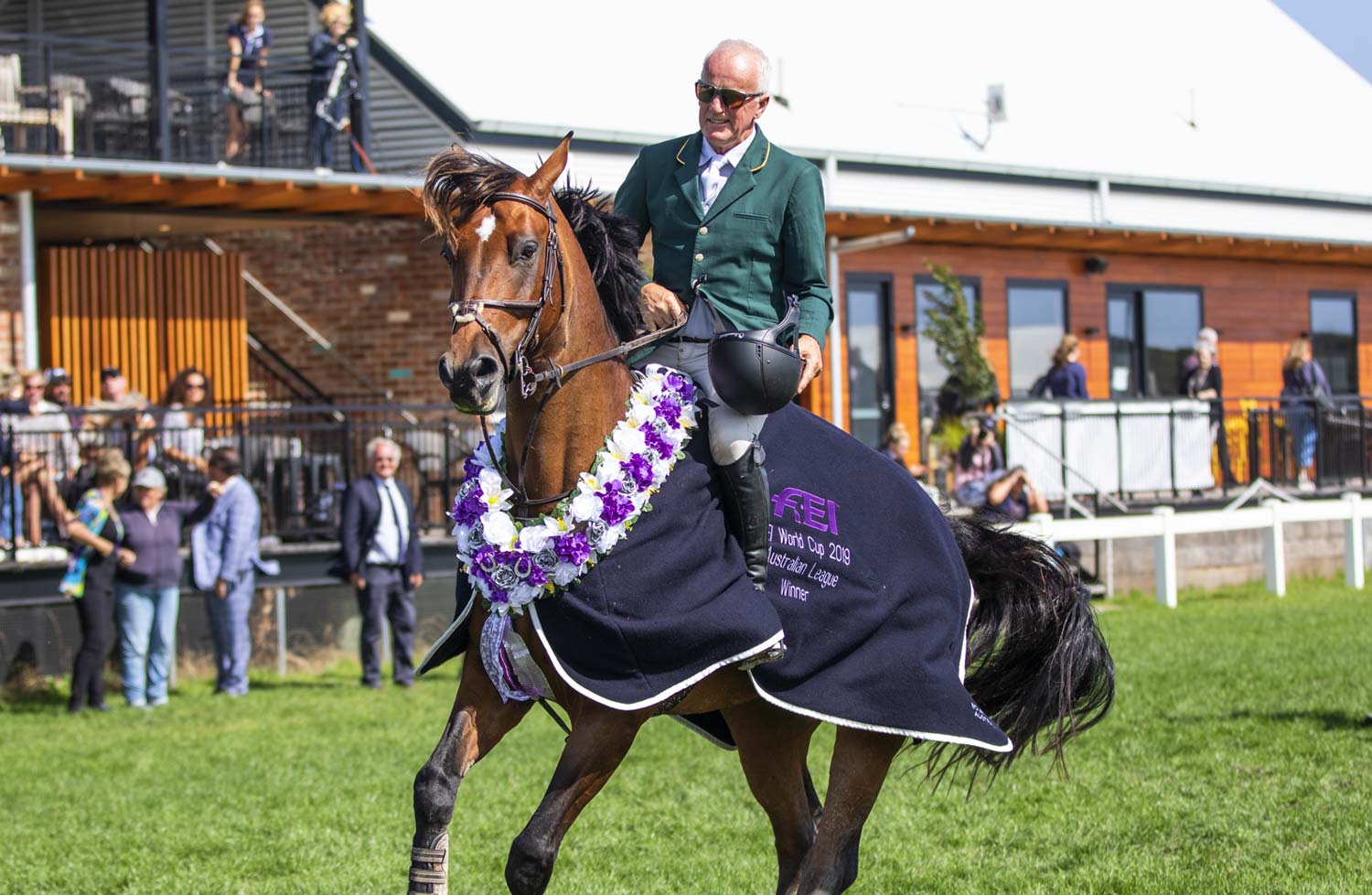 Australian Jumping congratulates all the placegetters in today's class as well as the placegetters in the series overall and will present a full wrap-up of the World Cup season in a couple of days when all the calculations are done to complete the season.
The World Wetlands Day World Cup Qualifier top 12 are as follows.
| | | |
| --- | --- | --- |
| PLACE | RIDER | HORSE |
| 1st | Jamie Kermond | Yandoo Oaks Constellation |
| 2nd | Amber Fuller | CP Aretino |
| 3rd | Chris Chugg | PSS Levilensky |
| 4th | Billy Raymont | Anton |
| 5th | Billy Raymont | Anssioso Z |
| 6th | Georgie Siciliano | Gladiator P |
| 7th | Shimona Fraid | Bonaire |
| 8th | James Harvey | Tyrone VDL |
| 9th | Russell Johnstone | Daprice |
| 10th | Tom McDermott | Alpha Activity |
| 11th | Amelia Douglass | Barrichello |
| 12th | Kate Hinschen | Finch Farm Cadel |
View Comments