McDermott in hot form going into the weekend at Willinga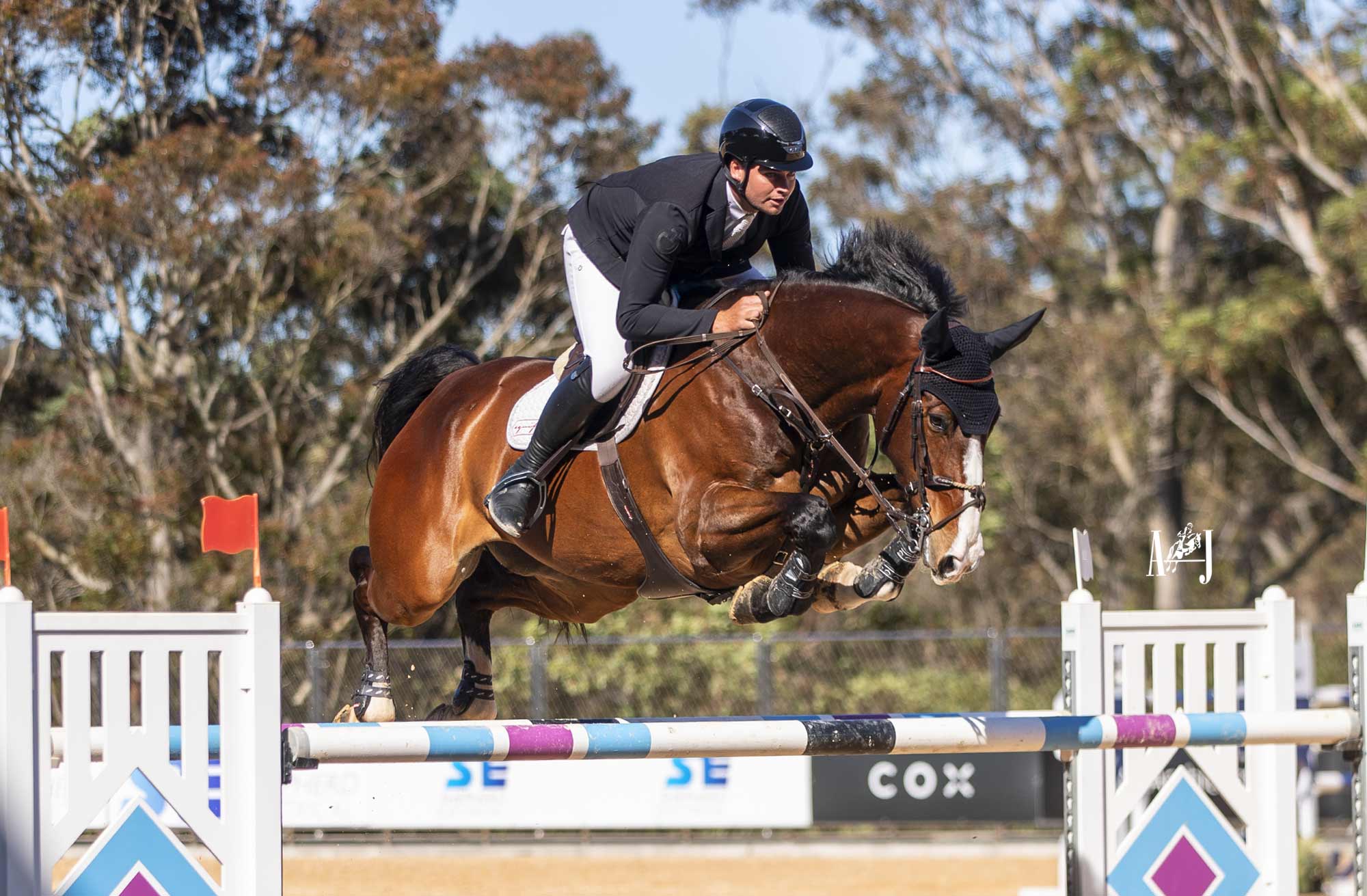 Australian Jumping
Above: Tom McDermott and Cooley Gangster.
After yesterday's fantastic action (click HERE for a full wrap of Day 1) at Jumping @ Willinga, we could hardly have expected Day 2 to have been better, however, we were mistaken. With the sun out it was a beautiful spring day at Willinga Park, with the competition of exceptional standard.
Advertisement


On the Grandstand Arena 1, the action got underway with the 1.10m Baldwin Family sponsored Junior competition. Just as she did in yesterday's 1.00m Junior class, Jasmine Spira took out the win, this time with Outlawed W, in a clear round, with just over a second to spare from second placed Sophie Baldwin and CW Conquest.
A delighted and surprised Jasmine said at the presentation that she had "just hoped for a clear round" when asked what she thought about riding at the impressive Willinga Park she said she "felt like she was at the Olympics!"

Above: Jasmine Spra and Outlawed W.
The rails then went up to 1.35m for a split class with GPI racing sponsoring the Open division, Chatham Park sponsoring the Young Rider division and Liz Watson sponsoring the division for horses 9 years and under. Just as in yesterday's Open 1.30m class, Tom McDermott took out the quinella, finishing first with Alpha Activity and second with Warraleigh Park Cortez. Tess McInerney joined Tom on the podium with a third placing with Alpha Centauri. The young rider section was won by Chase Naylor and Misty Blue Ego Z, clear in 60.32 seconds, more than two seconds ahead of second placed Clemency Hughes and Diamond B Corvina. Jamie Winning-Kermond and the very promising Yandoo Honolulu were the best of the younger horses with almost 2.5 seconds to spare from Olivia Hamood and Diamond B Bedazzled in second.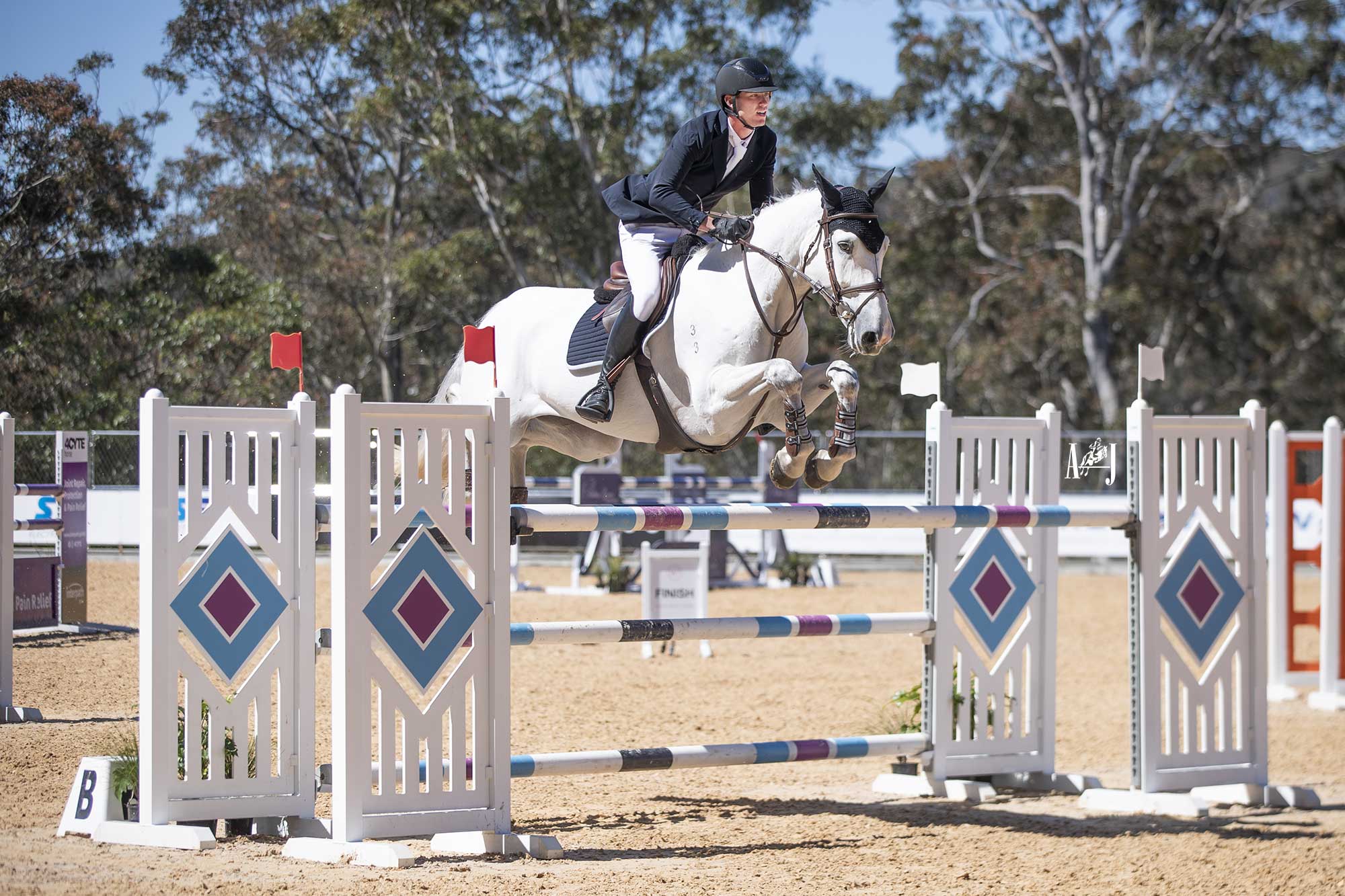 Above: Chase Naylor and Misty Blue Ego Z
Advertisement


Yesterday, when the rails were at their highest (1.40m) Tom McDermott took the win and so it was again today when the rails reached 1.45m in the 4Cyte Open class. Tom took the win with Cooley Gangster, clear in 64.37 seconds, just 0.6 seconds faster than the experienced Victorian Russell Johnstone and Daprice. McDermott was also third, this time with his magnificent stallion Cachassini II, some two seconds slower.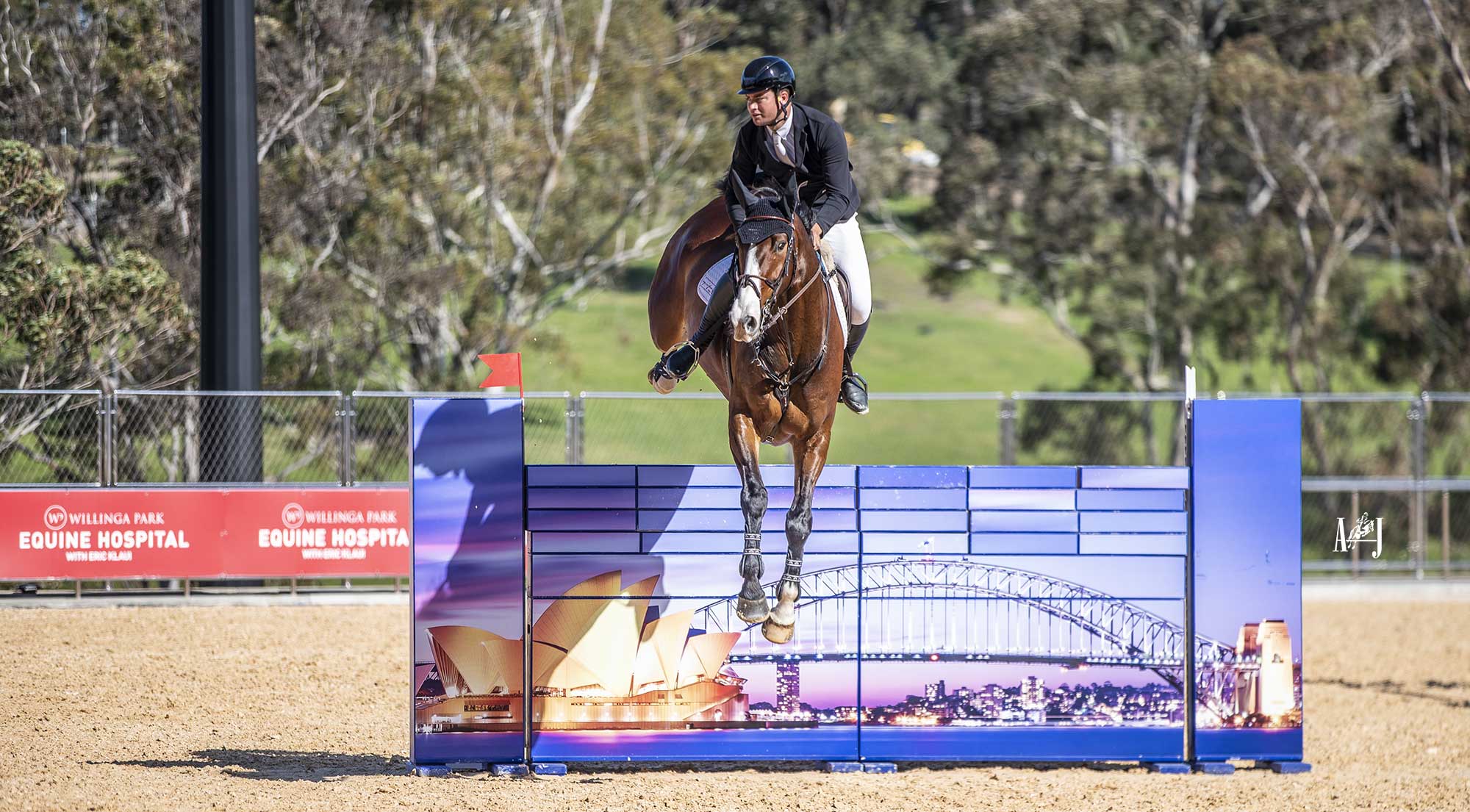 Tom McDermott and Cooley Gangster
The rails were dropped to 1.20m for the next class, the Boree Equine Junior competition. Repeating their win in yesterday's 1.20m Junior competition was the very in-form Jett Newman and Wanda, going clear and taking the win by just 0.22 seconds from Jack Barker and Tulara Colchic who finished in tenth place in the Australian Junior Championship at Boneo earlier this year.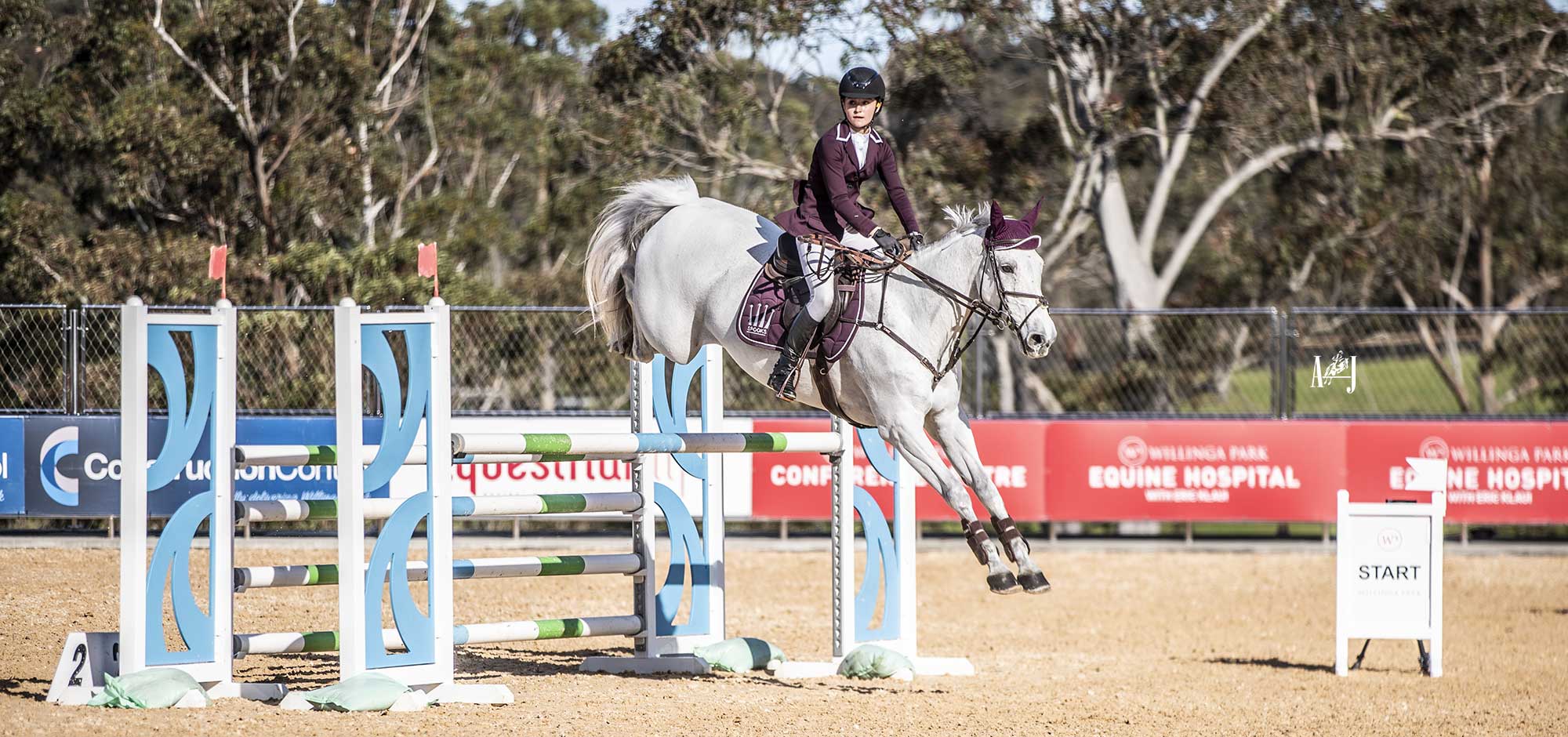 Above: Jett Newman and Wanda
The final class of day on the main arena was the Caliera Performance Horses 1.25m Open competition. In a hotly contested class, which finished under the magnificent floodlights which surround this new arena, the win went to Queenslanders Clem Smith and his gelding Quantico 12, giving this combination their second win of the show, after yesterdays 1.20m open class. In an amazing performance, while 14 combinations went clear Clem and Quantico 12 were amazingly almost 12 seconds faster than the second placed pair Krissy Harris and Corvette GHP.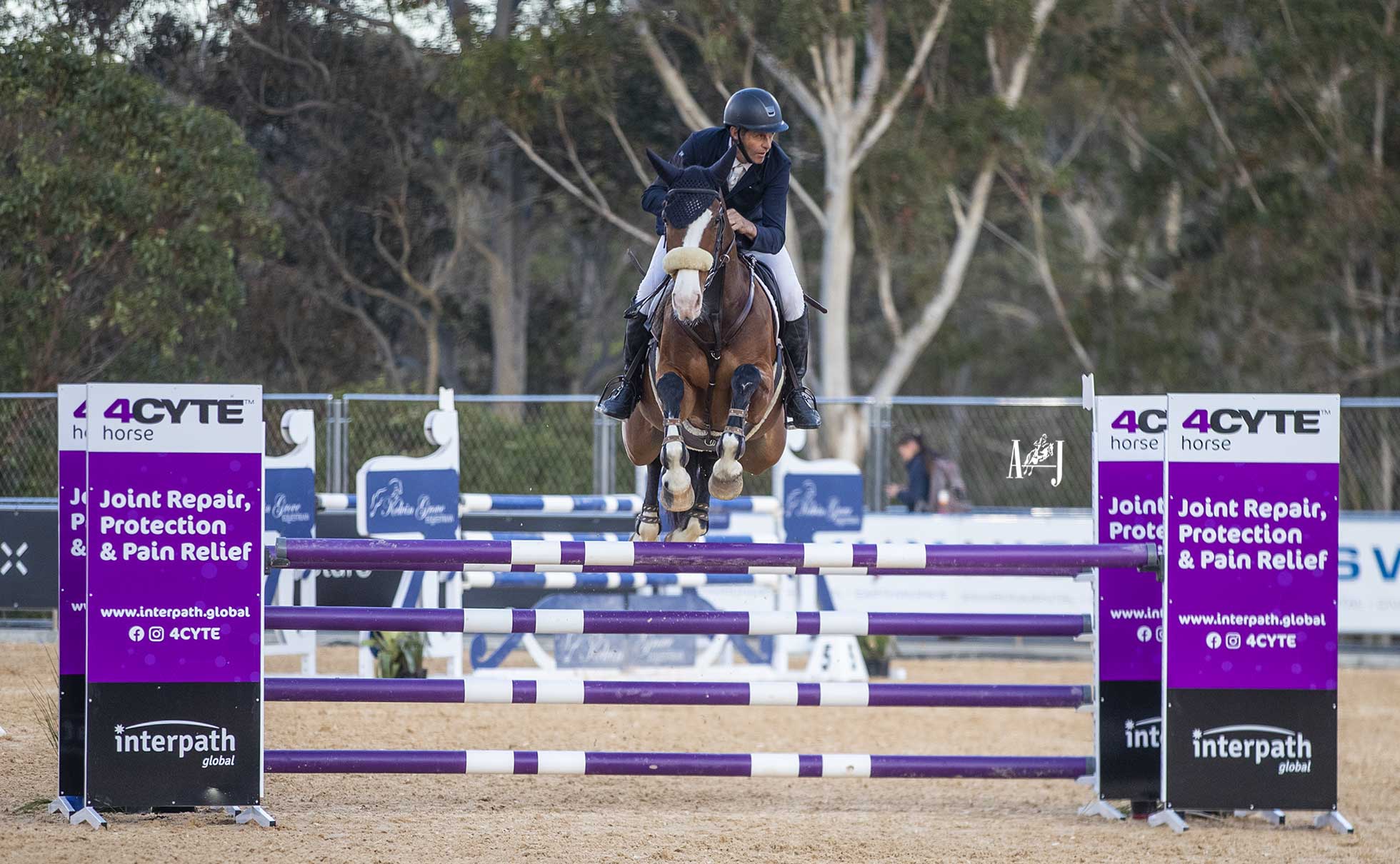 Above: Clem Smith and Quantico 12
Out on the Yandoo Park Ring 2, the rails might not have been set as high, but there was still action aplently. Proceedings started with a 1.00m class, split into Adult and Junior Sections. The adult section was won Emerson Stuchbery and Indiana Goodtimes, a horse that Andrew Inglis had success on previously. The Junior Section was won by Eventer Jada Burgun and Missile Higgins.
The Open 1.10m class went to Amelia Tsilfidis the 13 year old Victorian competing on the eye catching palomino pony, Pride Of Gold, sporting a bat on his rump!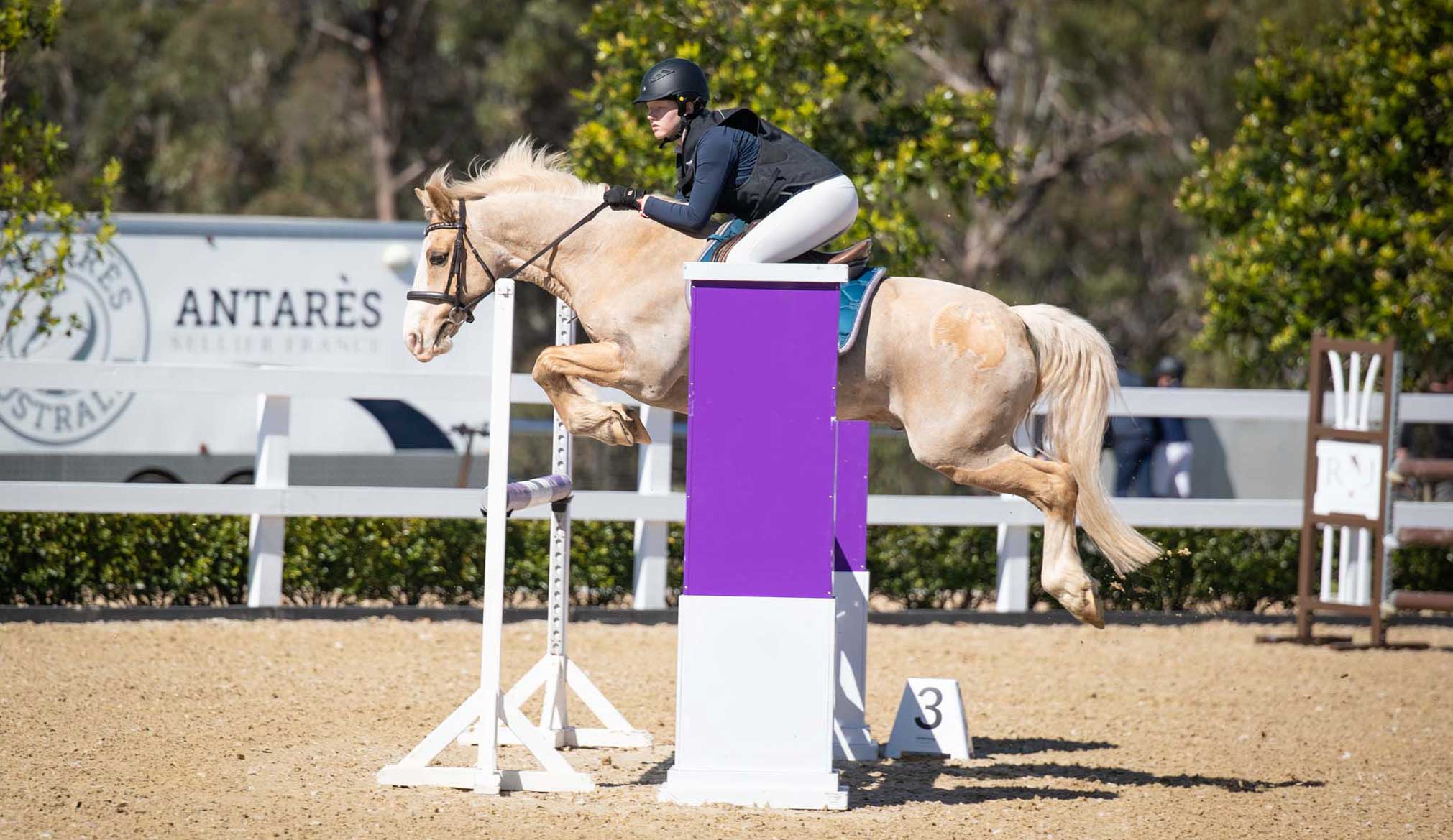 Above: Amelia Tsilfidis and Pride Of Gold
The Amateur 1.10m class went to the 2019 NSW Amateur Champion combination of Jennifer Smith and Country Platinum by just over a second from Alisa Williams and Willybling.
The Mallacoota Property Sales Open 1.15m class went to yesterday's dual winners Sophie Baldwin and CW Conquest, who are on fire at the moment. Jack Barker and Bellhaven Calisco were the winners of the young horses (5 and 6 years) section.
Advertisement


The final classes of the day on Arena 2 were sponsored by R & L Richardson Haulage and saw the rails set to 1.20m. The South Coast based combination of Deon Williams and Valley Girl, went two better than their third placing yesterday to take the win by a whopping four second margin from Kayla Hogg and Redfoo. The 5 and 6-year-old horses section was won by Alisa Williams and Willybling after their second placing in the Amateur class.
It was a great day of jumping action and we cant wait for the weekend when the major classes on the program will be decided.
Congratulations to all today's winners and placegetters as listed below.
GRANDSTAND ARENA – RING 1
CLASS 7: THE BALDWIN FAMILY – JUNIOR – 1.10m
| | | |
| --- | --- | --- |
| PLACE | RIDER | HORSE |
| 1st | Jasmine Spira | Outlawed W |
| 2nd | Sophie Baldwin | CW Conquest |
| 3rd | Charlee Dobbin | Sweet Dreams FPH |
| 4th | Joel Lamb | Classique Andor |
| 5th | Kayla Hogg | Redfoo |
| 6th | Sienna Bellis | Platinum Ego Z |
CLASS 8A: GPI RACING – OPEN – 1.35m
| | | |
| --- | --- | --- |
| PLACE | RIDER | HORSE |
| 1st | Tom McDermott | Alpha Activity |
| 2nd | Tom McDermott | Warraleigh Park Cortez |
| 3rd | Tess McInerney | Alpha Centauri |
| 4th | James Paterson-Robinson | Dublin |
| 5th | Matthew Afford | La Luna Cucinelli |
| 6th | Frida Lindgren | Mabobri De Mabribo |
CLASS 8B: CHATHAM PARK – YOUNG RIDER – 1.35m
| | | |
| --- | --- | --- |
| PLACE | RIDER | HORSE |
| 1st | Chase Naylor | Misty Blue Ego Z |
| 2nd | Clemency Hughes | Diamond B Corvina |
| 3rd | Tori Cureton | Equus Archer |
| 4th | Clemency Hughes | YPH Capulet |
| 5th | Sally Simmonds | Oaks Kingfisher |
| 6th | Chase Naylor | Checkbook |
CLASS 8C: LIZ WATSON – HORSES 9 YEARS AND UNDER – 1.35m
| | | |
| --- | --- | --- |
| PLACE | RIDER | HORSE |
| 1st | Jamie Winning-Kermond | Yandoo Honolulu |
| 2nd | Olivia Hamood | Diamond B Bedazzled |
| 3rd | Savanna Hopkinson | Bittern Park Karmen |
| 4th | Frida Lindgren | Van Damme |
| 5th | Josh Collins | Yalambis Ikon |
| 6th | Nick Taliana | Adesman |
CLASS 9: 4CYTE – OPEN – 1.45m
| | | |
| --- | --- | --- |
| PLACE | RIDER | HORSE |
| 1st | Tom McDermott | Cooley Gangster |
| 2nd | Russell Johnstone | Daprice |
| 3rd | Tom McDermott | Cachassini II |
| 4th | Rhys Stones | Othello MVNZ |
| 5th | Andrew Lamb | Spartava DP |
| 6th | Clem Smith | Oaks Conjuror |
CLASS 10: BOREE EQUINE – JUNIOR – 1.20m
| | | |
| --- | --- | --- |
| PLACE | RIDER | HORSE |
| 1st | Jett Newman | Wanda |
| 2nd | Jack Barker | Tulara Colchic |
| 3rd | Ella Hayward | Edena DP |
| 4th | Dakota Pinton | Heartline NZ |
| 5th | Aria Baker | That's Limo |
| 6th | Gemma Silk | Oscar Boscaiola |
CLASS 11: CALIERA PERFORMANCE HORSES – OPEN – 1.25m
| | | |
| --- | --- | --- |
| PLACE | RIDER | HORSE |
| 1st | Clem Smith | Quantico 12 |
| 2nd | Krissy Harris | Corvette GHP |
| 3rd | Tess McInerney | Quintation |
| 4th | Rachael Lee | Lansina |
| 5th | Ally Lamb | Glenara Chacco DP |
| 6th | Jennifer Wood | I Pod |
YANDOO PARK – RING 2
CLASS EXTRA: ADULT – 1.00m
| | | |
| --- | --- | --- |
| PLACE | RIDER | HORSE |
| 1st | Emerson Stuchbery | Indiana Goodtimes |
| 2nd | James Paterson-Robinson | Falcon Island |
| 3rd | Victoria Montano | Bling Du Rouet |
| 4th | Jacqueline Basquil | Converse |
| 5th | Andrew Inglis | Napoleon |
| 6th | Jacqui Henderson | Kolora Stud Capulet Ego Z |
CLASS EXTRA: JUNIOR – 1.00m
| | | |
| --- | --- | --- |
| PLACE | RIDER | HORSE |
| 1st | Jada Burgun | Missile Higgins |
| 2nd | Matilda Murphy | Southern Field |
| 3rd | Hannah Doolan | Embrook Stables Charlie |
| 4th | Jack Barker | Bellhaven Calisco |
| 5th | Ivy Bailey | Atlanta WWPH |
| 6th | Faith Banks | Mudgee Road |
CLASS 12A: UNICORNIUM – OPEN – 1.10m
| | | |
| --- | --- | --- |
| PLACE | RIDER | HORSE |
| 1st | Amelia Tsilfidis | Pride Of Gold |
| 2nd | Emily Baldwin | Carpina |
| 3rd | Krissy Harris | Showem Flash |
| 4th | Anneliese Wansey | Gold Play |
| 5th | Krissy Harris | Blue Flame |
| 6th | Jamie Winning-Kermond | Copabella Vindication |
CLASS 12B: UNICORNIUM – AMATEUR – 1.10m
| | | |
| --- | --- | --- |
| PLACE | RIDER | HORSE |
| 1st | Jennifer Smith | Country Platinum |
| 2nd | Alisa Williams | Willybling |
| 3rd | Rachael Vella | Vellara Delerium |
| 4th | Anna White | Body Builder |
| 5th | Melanie Heygate | Oaks Quebec |
| 6th | Giorga Gall | Along Came Polly |
CLASS 13A: MALLACOOTA PROPERTY SALES – OPEN – 1.15m
| | | |
| --- | --- | --- |
| PLACE | RIDER | HORSE |
| 1st | Sophie Baldwin | CW Conquest |
| 2nd | Gaby Herbosa | Kaloona Virago |
| 3rd | Donna Satara | Confucius |
| 4th | Abby West | Aniklas |
| 5th | Izabella Stone | Cera Carlina |
| 6th | Sally Simmonds | Vakarra Euclase |
CLASS 13B: MALLACOOTA PROPERTY SALES – HORSES 5 AND 6 YEARS – 1.15m
| | | |
| --- | --- | --- |
| PLACE | RIDER | HORSE |
| 1st | Jack Barker | Bellhaven Calisco |
| 2nd | Tallara Cameron | KPH Campari |
| 3rd | Tess McInerney | Yalambi's Kandy Ripple |
| 4th | Jamie Winning-Kermond | Jon Snow |
| 5th | Sarah McMillan | Everest JEP |
| 6th | Jess Rice-Ward | Al Fonso |
CLASS 14A: R & L RICHARDSON HAULAGE – OPEN – 1.20m
| | | |
| --- | --- | --- |
| PLACE | RIDER | HORSE |
| 1st | Deon Williams | Valley Girl |
| 2nd | Kayla Hogg | Redfoo |
| 3rd | Isabella Hughes | Beethoven |
| 4th | MaverickMIles | RR Corakai |
| 5th | Tahli Hendler | Black Currency |
| 6th | Isabella Hughes | TCG Savvy |
CLASS 14B: R & L RICHARDSON HAULAGE – HORSES 5 AND 6 YEARS – 1.20m
| | | |
| --- | --- | --- |
| PLACE | RIDER | HORSE |
| 1st | Alissa Williams | Willybling |
| 2nd | Jennifer Wood | Oaks 007 |
| 3rd | Tess McInerney | Yalambi's Kandy Ripple |
| 4th | Fuschia Criss | Amazena |
| 5th | Jennifer Wood | Carona B |
| 6th | Georgia Bouzaid | Benthen's Balou |
Results sourced from online.equipe.com
View Comments