Tom McDermott shines in Aquis Silver Tour Final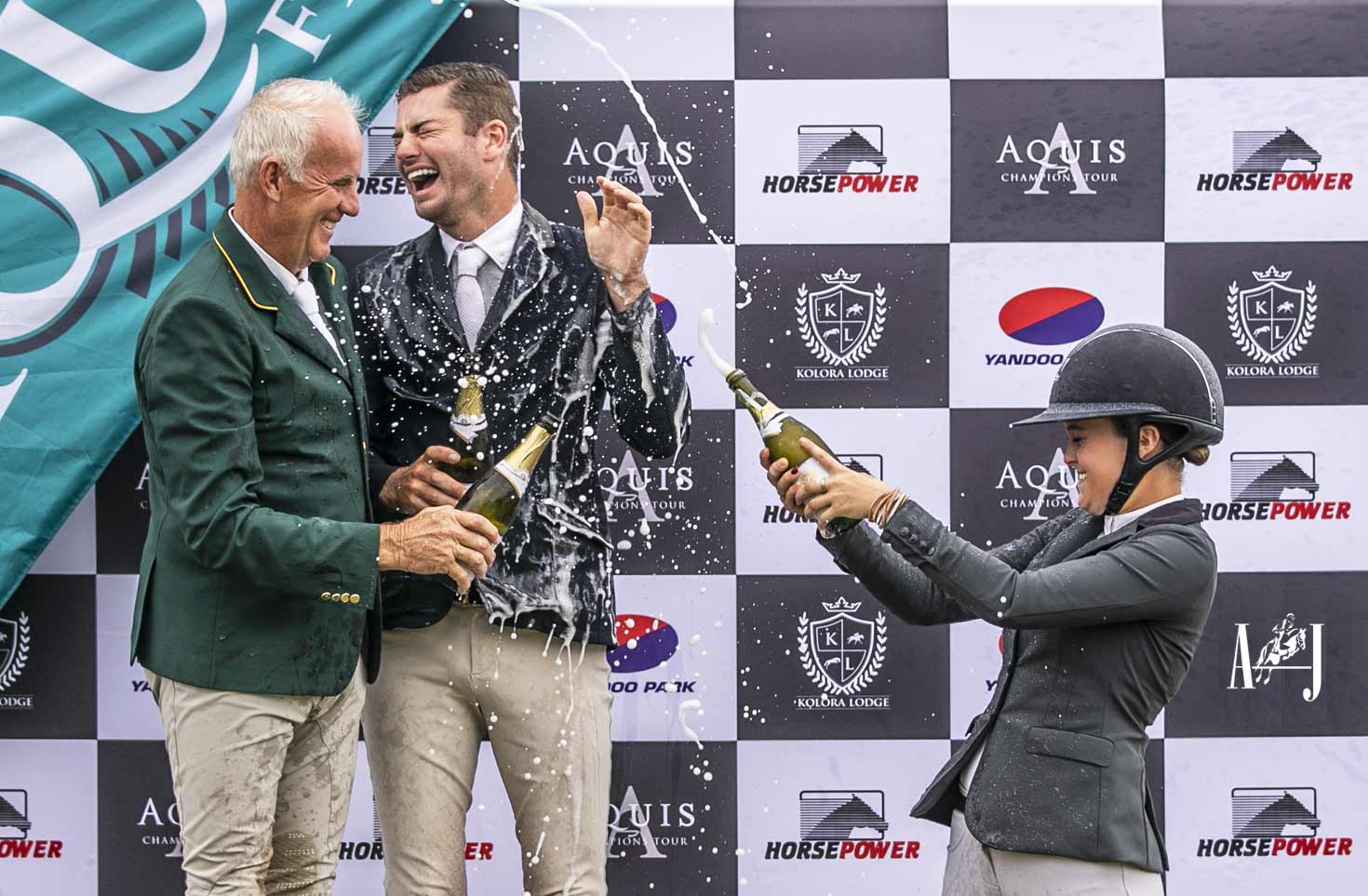 Australian Jumping
The headline class on the penultimate day of the Aquis Champions Tour was the Kolora Lodge Silver Tour Final. Earlier in the show, two qualifying class were conducted with the combined finishing rankings added to work out the top 30 combinations who were invited into today's final. There was $28,000 prize money on offer for this class, so the competition was red hot.
Advertisement

The arena crew were busy during the early stages of this class with the first eleven combinations taking at least one rail. The first clear round was recorded by last year's Gold Tour Champion, Merrick Ubank, this time in combination with Warrego Landadon. However, by the end of the first round, ten of the combinations went clear and these ten formed the field for the jump-off. The fastest of these clear rounds was recorded by yesterday's second qualifier winning combination, Katie Laurie and Cera Caruso.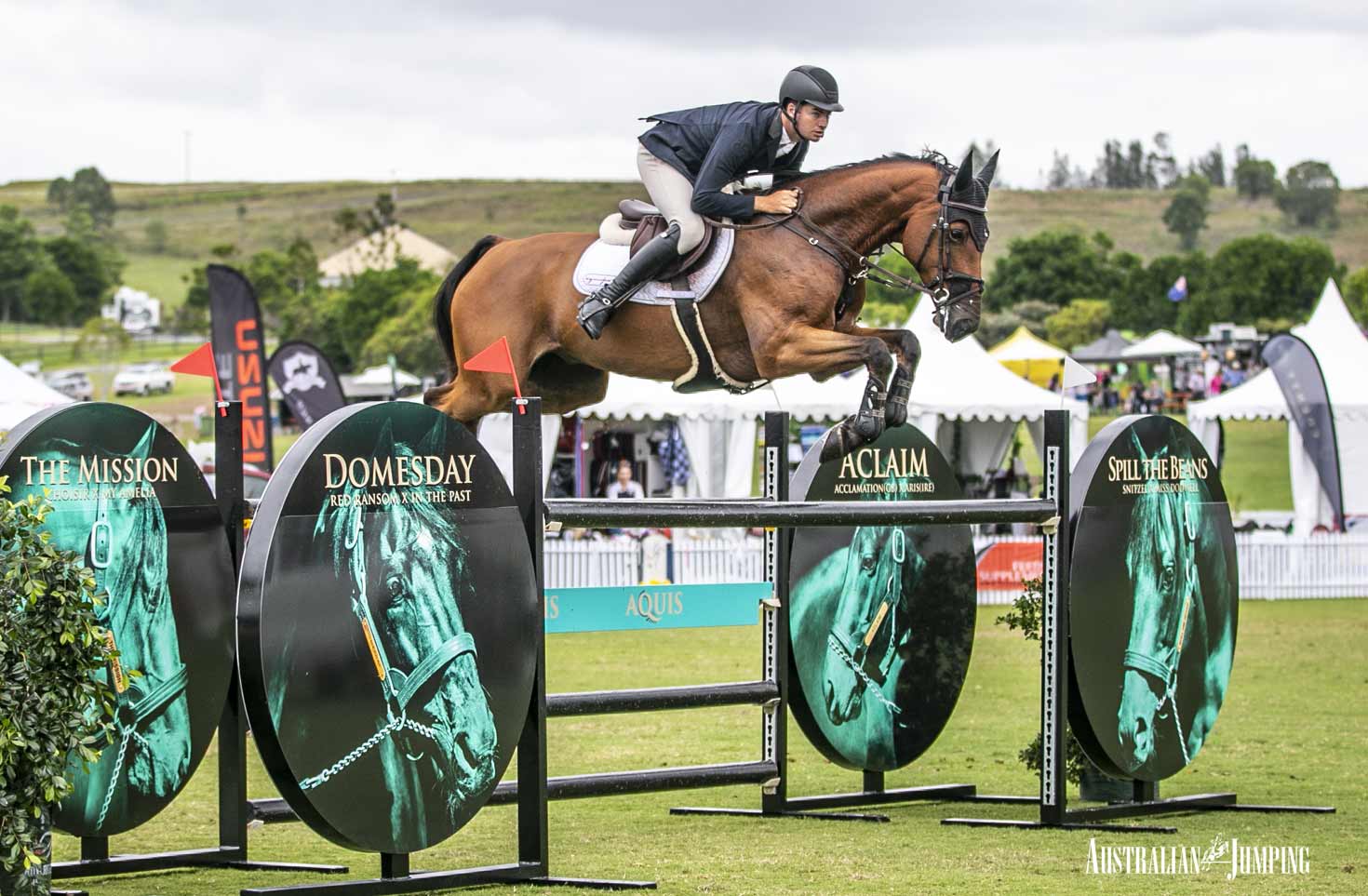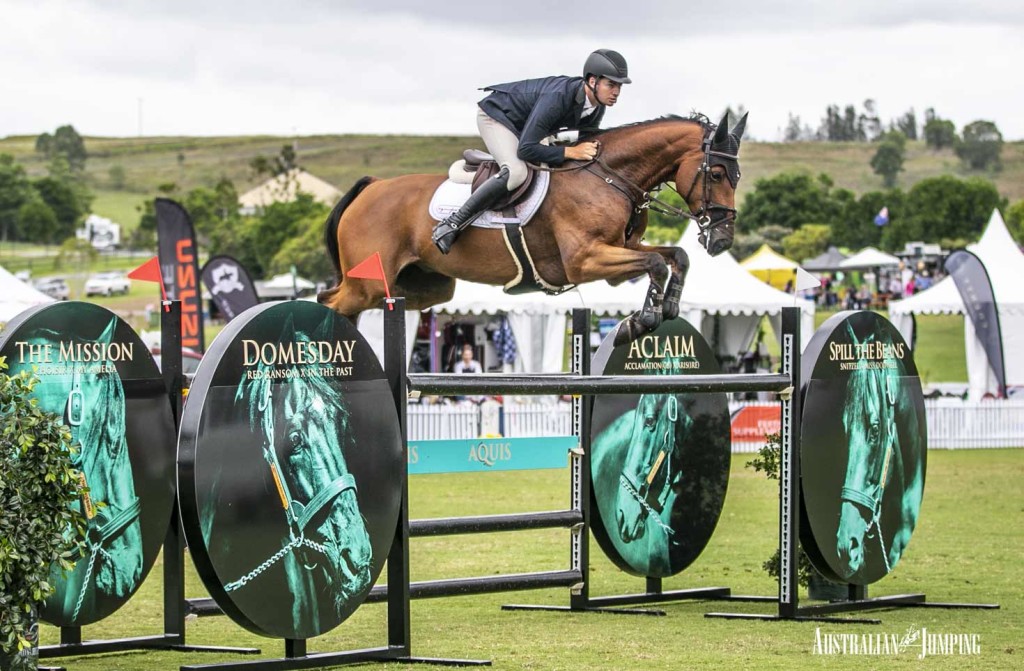 Tom McDermott and Alpha Activity
First out in the jump-off was Victorian, Brook Dobbin and Gina MVNZ who set the standard by going clear in 43.12 seconds. The experienced Chris Chugg and KG Queenie were next. They fairly sizzled around the course, clear, over 2 seconds faster than Dobbin, to take the lead. Brooke Langbecker and Beijing LS La Silla were next to ride. They went clear but in a slower time than the first two to slot into third place for the time being.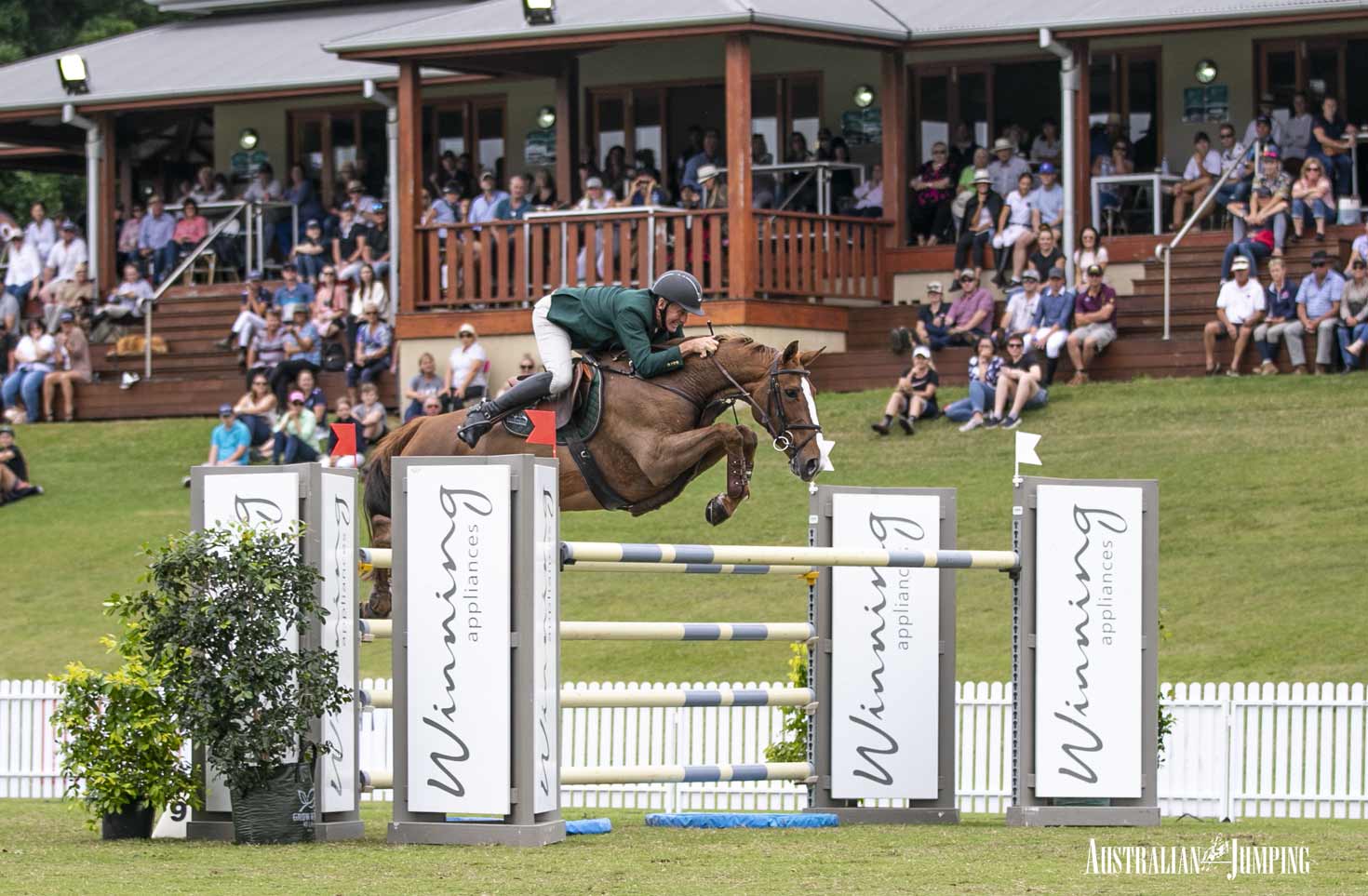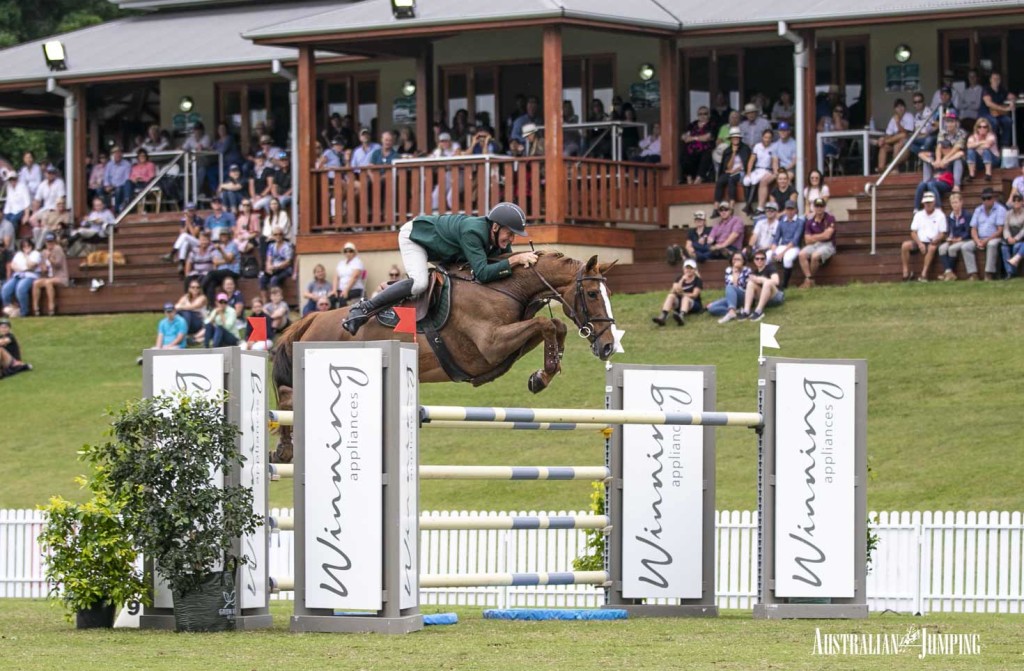 Chris Chugg and KG Queenie
Tom McDermott and Yalambi's Finnigan took a rail which meant that they would not feature on the podium. Fifth out was Jess Brown and Medusa who went clear in a time fast enough to provisionally take second place. This morning's Young Rider Tour champion, Amelia Douglass, this time riding Barrichello was next. They rode a fast and clear round, finishing in 41.01 seconds, just 0.13 seconds behind Chugg, pushing Brown back to third.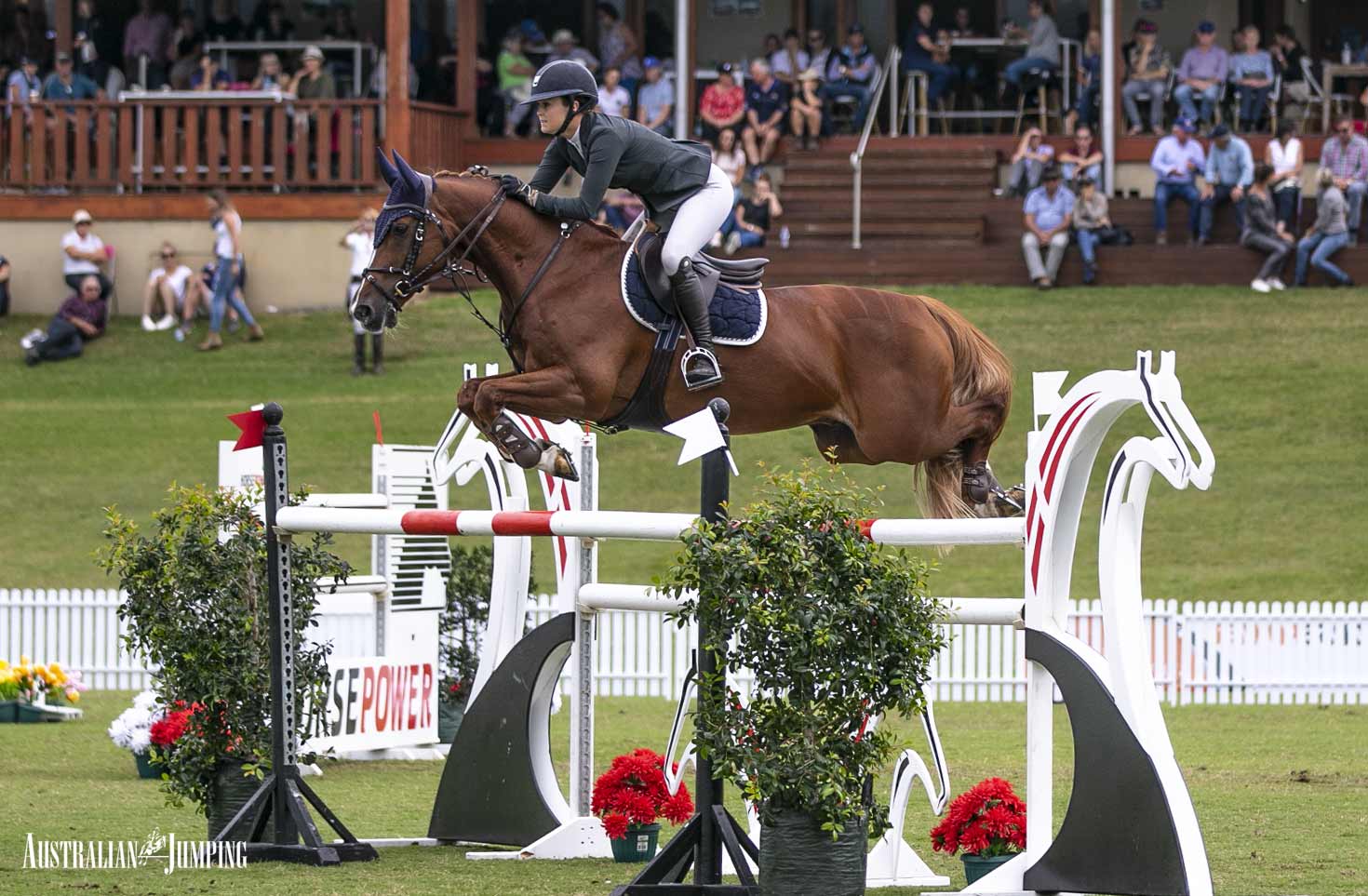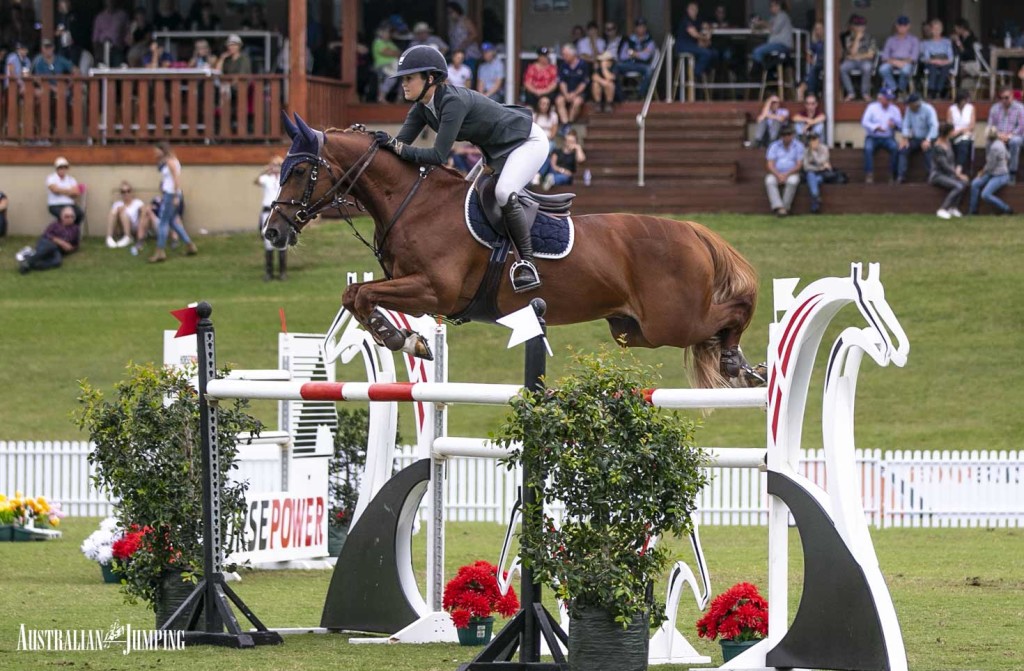 Amelia Douglass and Barrichello
After a short break Tom McDermott returned to the arena, this time on Alpha Activity. In great form after winning the Grand Prix at Aquis last weekend, McDermott attacked the course with urgency, resulting in not only a clear ride, but a time of 39.79 seconds put him in first place with more than a second to spare. Paul Brent and Fontaine Blue VDL were next, but although riding clear, their slower time meant that there was no place on the podium for them.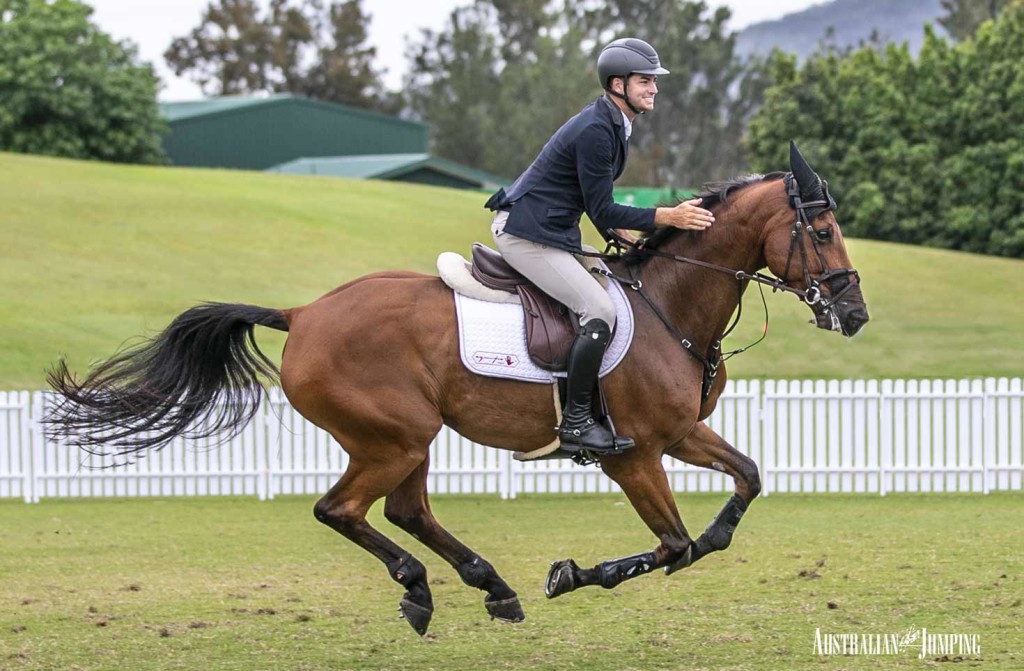 Tom McDermott and Alpha Activity
Second last out was Merrick Ubank and Warrego Landadon, who joined most of his competitors by completing a clear round, however, in a time to just put him out of the placings.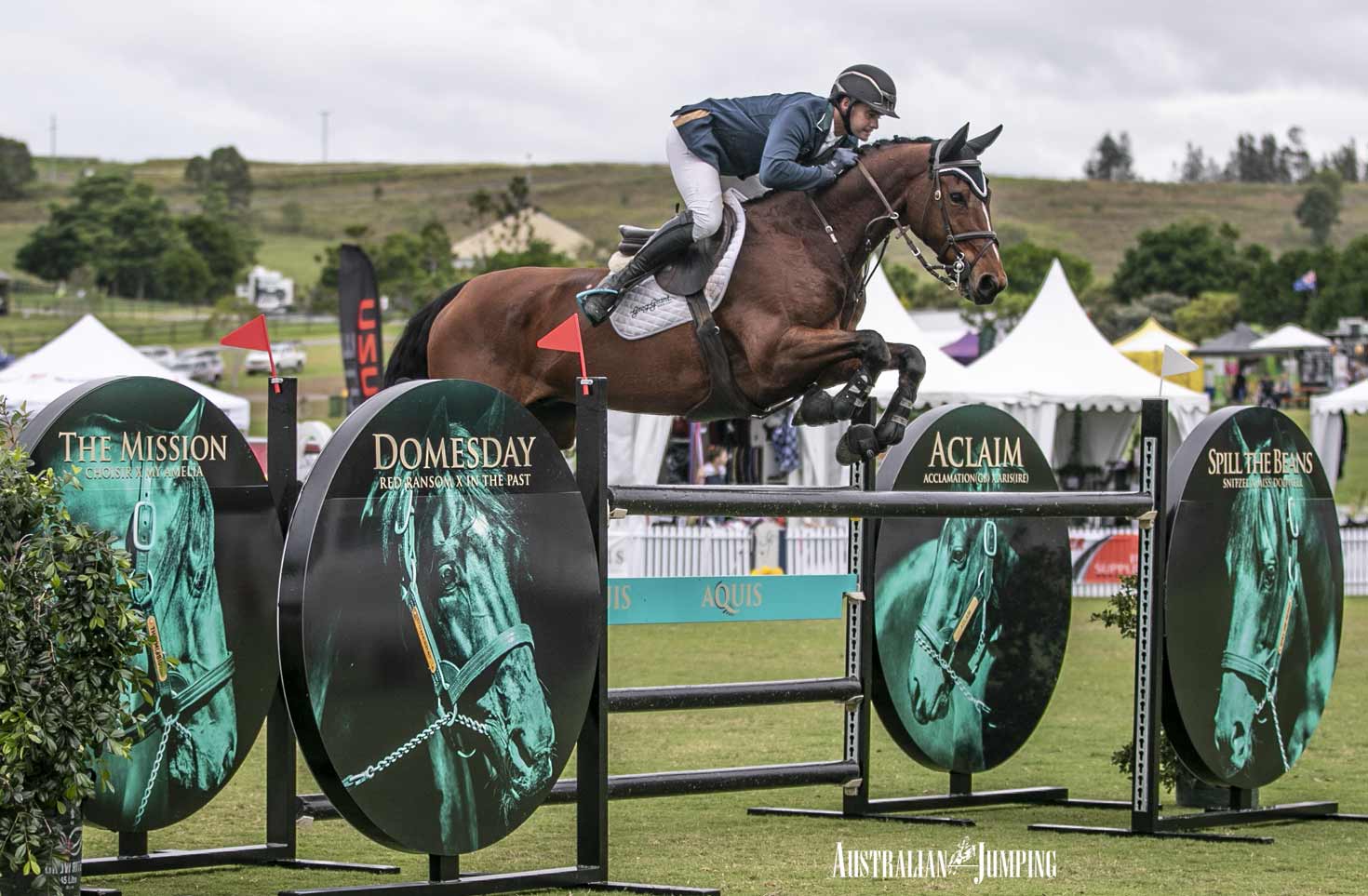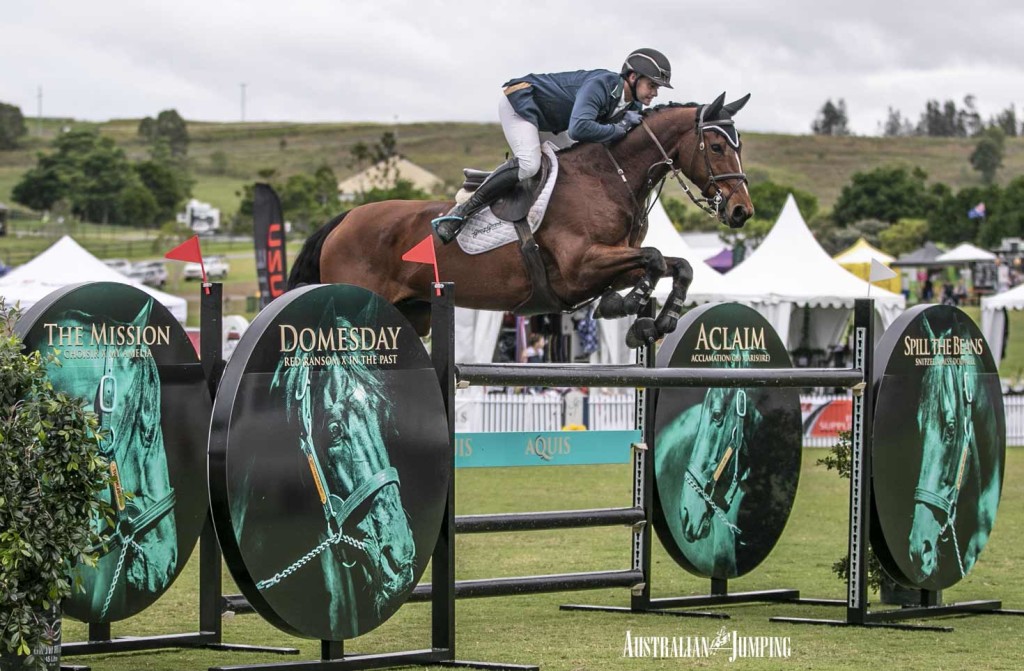 Merrick Ubank and Warrego Landadon
So it came down to the last pair, Katie Laurie and Cera Caruso. To take the win out of the hands of Tom McDermott and Alpha Activity, they needed to complete a clear round in less than 39.79 seconds. For a while it looked like it might happen as they set a fast pace around the course, however, at the third last, they took a rail handing the win to McDermott.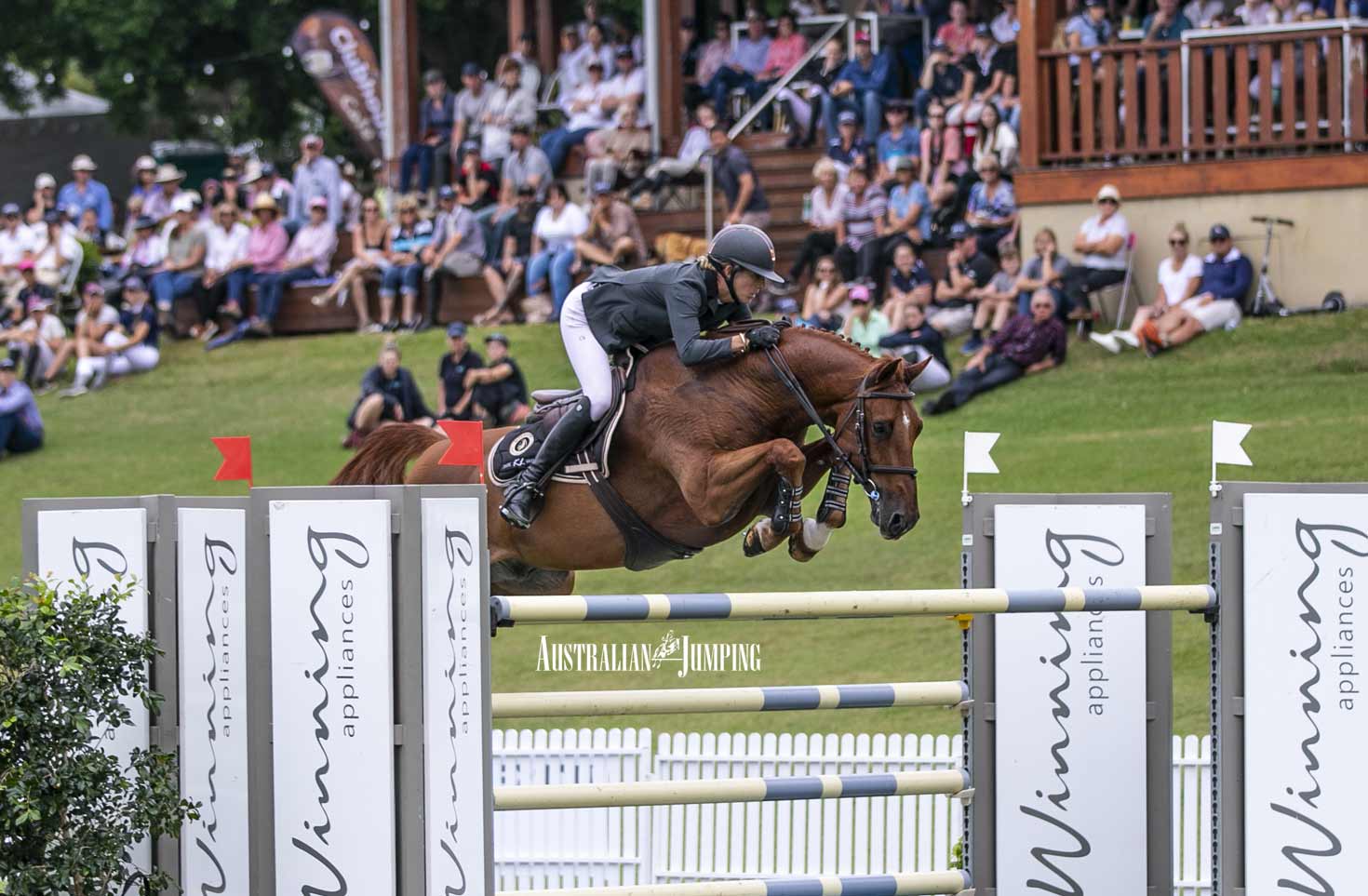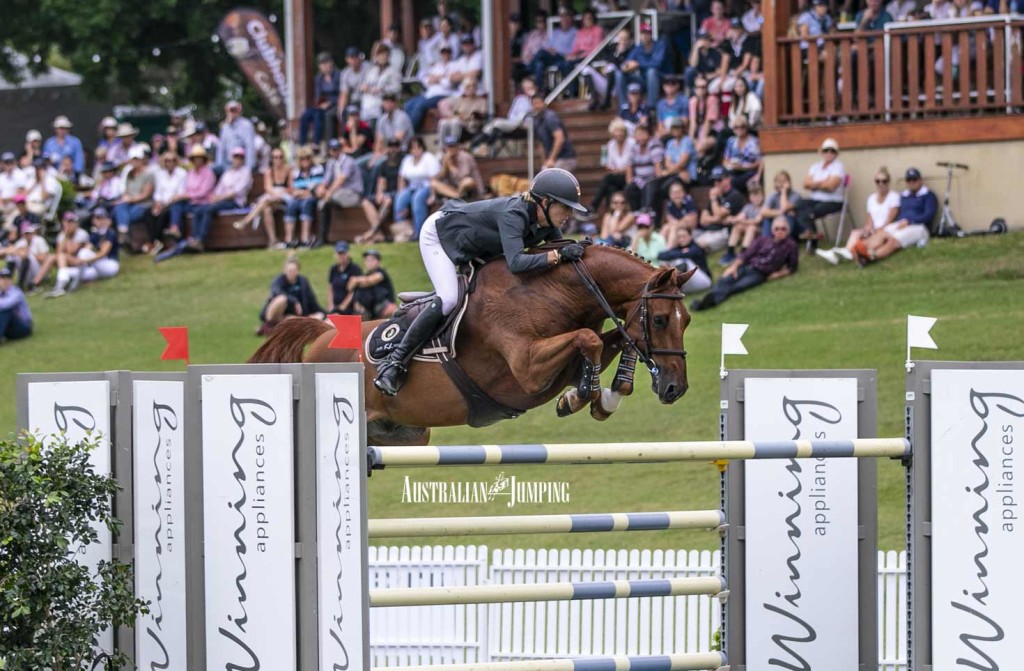 Katie Laurie and Cera Caruso
The winning combination of Tom McDermott and Alpha Activity seem to thrive on the lush jumping surface at Elysian Fields. Not only was this combination victorious in both a mini-Prix class and the Bronze Tour Final at Aquis in 2018. Winning today was also a step up for McDermott, who filled second place in the Silver tour last year on Elegance De La Charmille. McDermott also took advantage of the "Pay double entry fee to win double prize money" entry clause to double his winning prize from $8,000 to $16,000.
The top twelve placegetters in this class were:
| | | | |
| --- | --- | --- | --- |
| PLACE | RIDER | HORSE | $ |
| 1st | Tom McDermott | Alpha Activity | $16,000* |
| 2nd | Chris Chugg | KG Queenie | $8,000* |
| 3rd | Amelia Douglass | Barrichello | $3,500 |
| 4th | Merrick Ubank | Warrego Landadon | $3,000 |
| 5th | Jess Brown | Medusa | $2,500 |
| 6th | Brook Dobbin | Gina MVNZ | $1,750 |
| 7th | Paul Brent | Fontaine Blue VDL | $1,500 |
| 8th | Brooke Langbecker | Beijing LS La Silla | $1,200 |
| 9th | Katie Laurie | Cera Caruso | $900 |
| 10th | Tom McDermott | Yalambi's Finnegan | $1,500* |
| 11th | Hugh Buchanan | Diamond B Carla | $500 |
| 12th | Brooke Campbell | Copabella Voltage | $400 |
*Double entry fee wins double prize money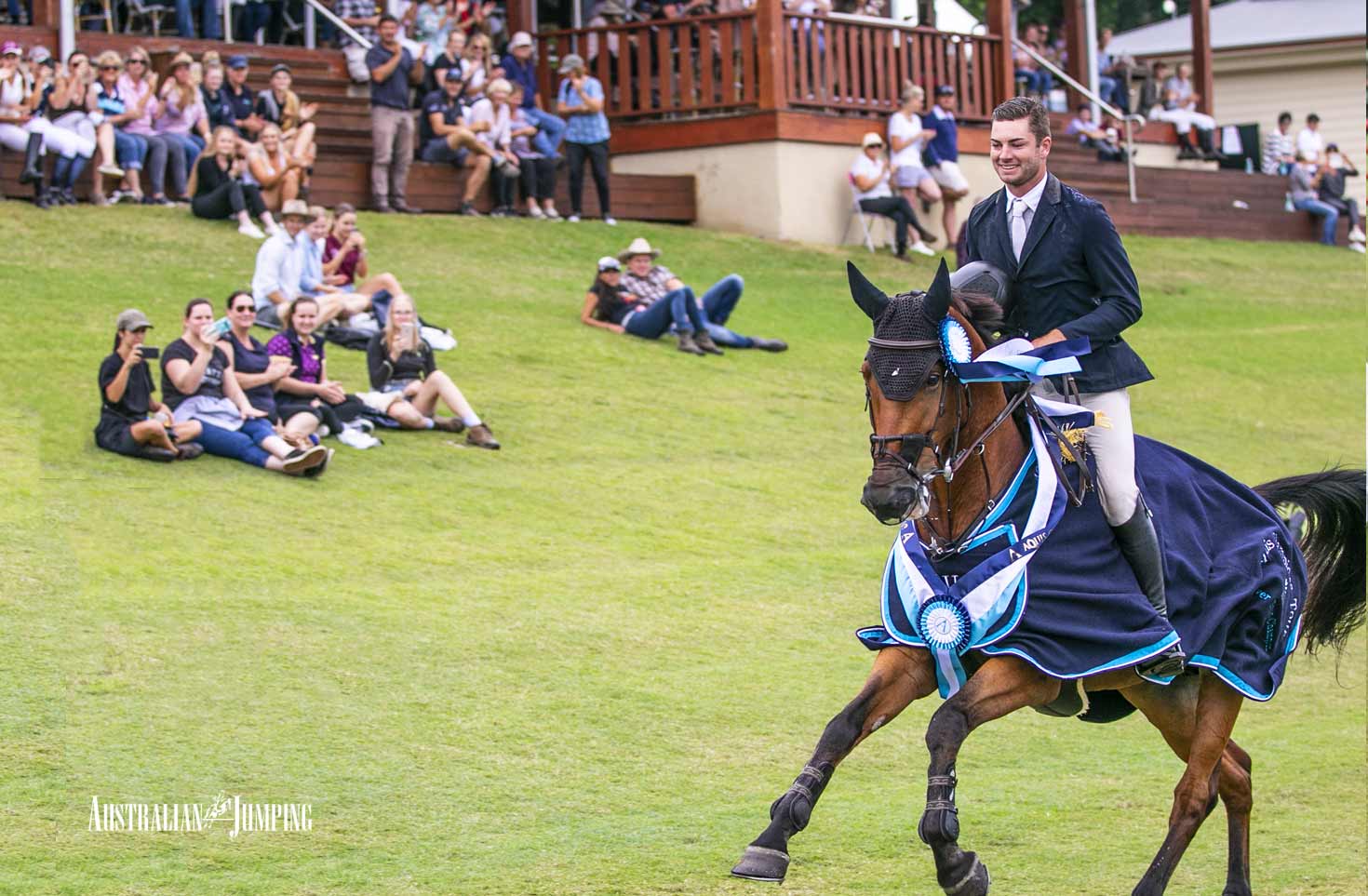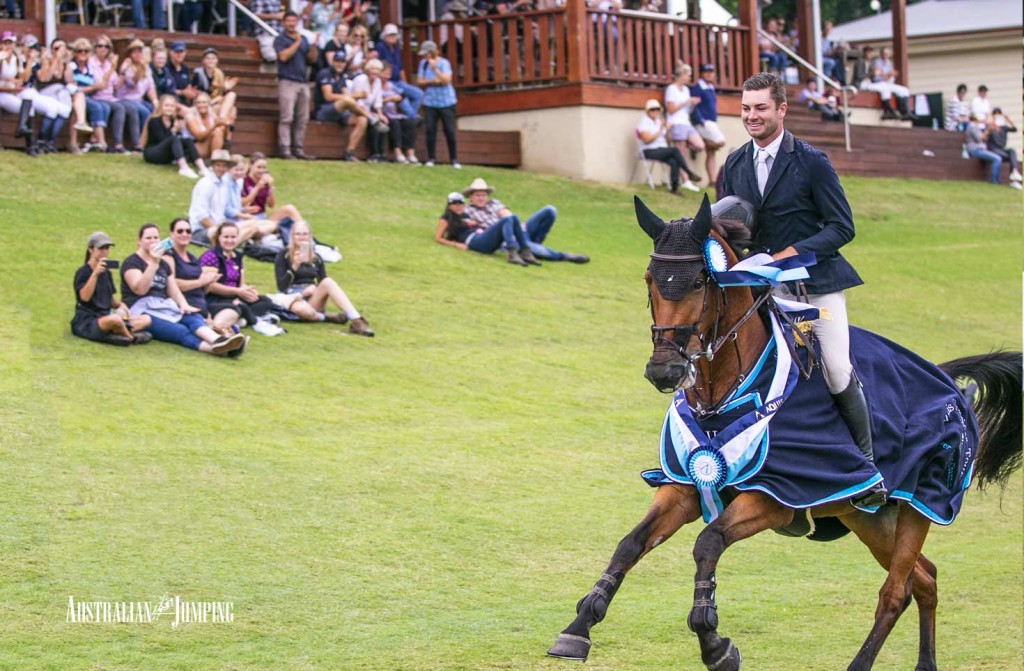 View Comments