Victorian State Titles set for a great weekend ahead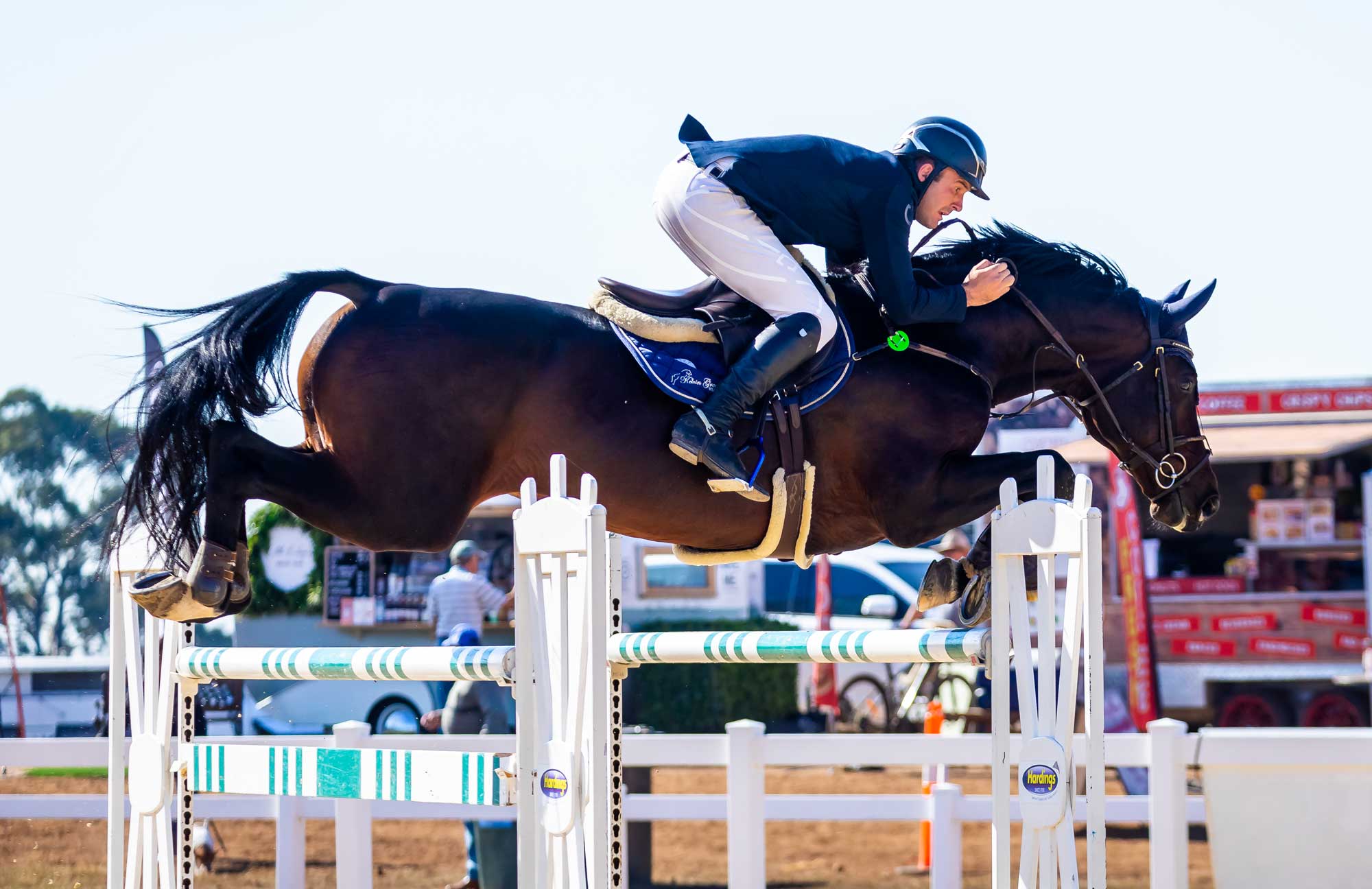 One Eyed Frog Photography
Above: James Arkins and Eurostar. Photo Credit: One Eyed Frog Photography
Another day of wonderful weather greeted riders today on the second day of competition in the Victorian Jumping Titles, held at the Werribee Park National Equestrian Centre. For a link to our Day 1 report, click HERE.
The first class in the second ring was Round 2 of the PetSTOCK sponsored Victorian Children's Championship, which was taken out in a repeat performance of Round 1 by Victorian Junior Development Squad member Zara Adnams and Digmac Disco King. Adnams recorded double clear and was almost 5 seconds faster than her nearest rival in a dominant display. Wins in both rounds 1 and 2 see this combination with a strong chance of taking the title as they prepare for tomorrow's final.
Advertisement

Round 2 of the Glenwood Park – Victorian Junior Championship was won by Sydney based Lucy Locke and Diamont, who went one better than their second placing in Round 1. A similar strong performance in Sunday's final will see them with a solid chance of taking the title.
The second round of the Tri Fixx – Victorian Young Rider Championship was won by 2019 NSW Junior Champion Anneliese Wansey and Kolora Stud St Patrick. This was a great effort by Wansey as she is still eligible for and competing in the Junior Championship, where she finished today in both third and sixth place. The Young Rider Championship will be decided with a Final on Sunday and this competition is wide open.
Advertisement


James Arkins and Eurostar had a much improved Round 2 in the Martin Collins – Victorian Senior Championship after their 13th placing in Round 1. With a double clear performance and a sizzling jump-off round, more than 5 seconds faster than the runner-up, Arkins has announced himself as a serious contender for the title. His cause was assisted by the Round 1 winning combination of Amber Fuller and CP Aretino, slipping back to eighth place today. Frida Lindgren and Ashleigh City Lights followed up their fourth placing in Round 1 with second place today, positioning them well going into Sunday's final.
Below are the first six placegetter in all today's classes.
Congratulations to all the winners and placegetters.
RING 1
CLASS 12: Tri Fixx – Victorian Young Rider Championship (Round 2) – 1.35m
| | | |
| --- | --- | --- |
| PLACE | RIDER | HORSE |
| 1st | Anneliese Wansey | Kolora Stud St Patrick |
| 2nd | Jess Rice-Ward | CP Southern Cross |
| 3rd | Madeline Sinderberry | Keilor Bamboo |
| 4th | Georgia Price | Fairbanks Lulu |
| 5th | Bella Du Plessis | Monte Carlo MVNZ |
| 6th | Georgia Hodgetts | Corinda |
CLASS 13: Martin Collins – Victorian Senior Championship (Round 2) – 1.45m
| | | |
| --- | --- | --- |
| PLACE | RIDER | HORSE |
| 1st | James Arkins | Eurostar |
| 2nd | Frida Lindgren | Ashleigh City Lights |
| 3rd | Amelia Douglass | Upper Class Z |
| 4th | Jamie Kermond | Galliano MS |
| 5th | Amelia Douglass | Barrichello |
| 6th | Paul Brent | Fontaine Blue VDL |
CLASS 14: Glenwood Park – Victorian Junior Championship (Round 2) – 1.20m
| | | |
| --- | --- | --- |
| PLACE | RIDER | HORSE |
| 1st | Lucy Locke | Diamont |
| 2nd | Chloe Versteegen | MC Pico Diamonds |
| 3rd | Anneliese Wansey | PP Master Class |
| 4th | Jack Barker | Mighty Tosca |
| 5th | Hayden Parker | Yirrkala Pippi Longstockings |
| 6th | Anneliese Wansey | Conquest |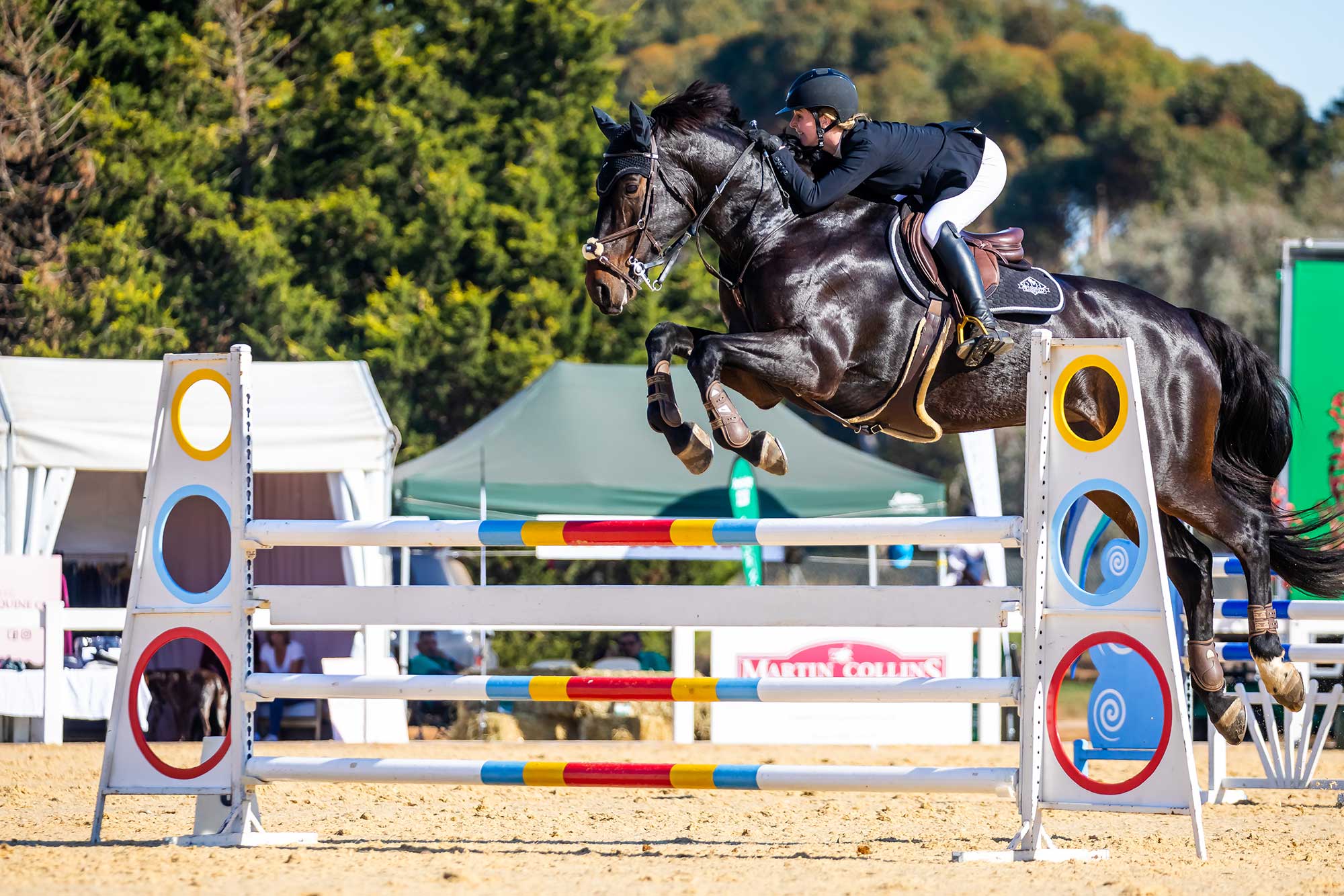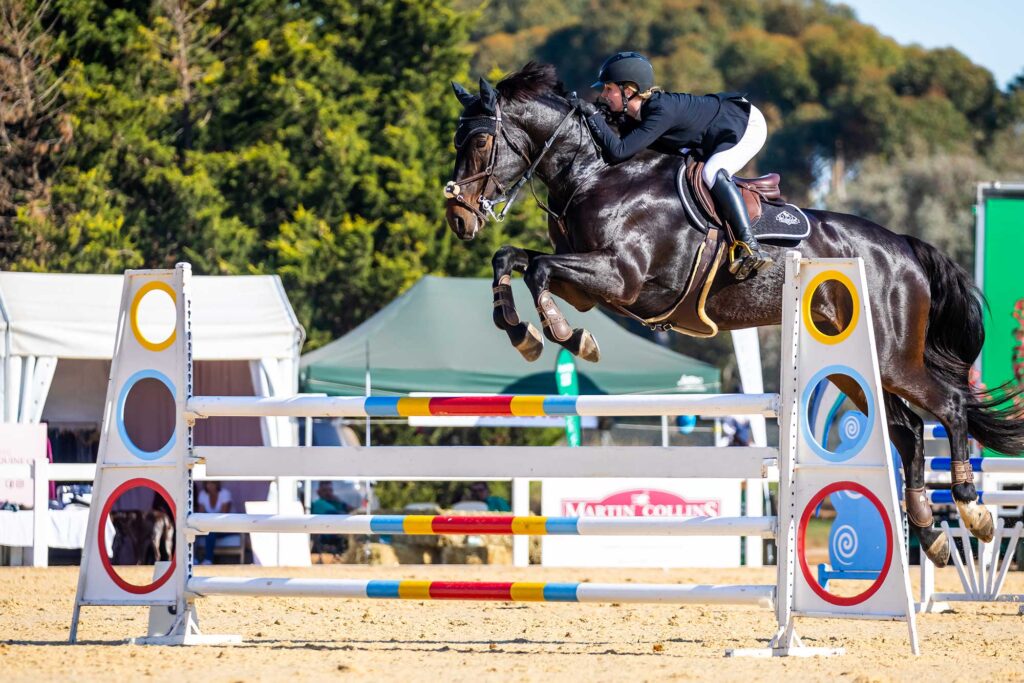 Above: Lucy Locke and Diamont. Photo Credit: One Eyed Frog Photography
CLASS 15: Kiernan Plant Hire – Mini-Prix Series (Round 2) – 1.40m
| | | |
| --- | --- | --- |
| PLACE | RIDER | HORSE |
| 1st | Frida Lindgren | Nicolossi |
| 2nd | Jess Stones | Chatina JRE |
| 3rd | Russell Johnstone | Cantara |
| 4th | Ally Lamb | Spartava D |
| 5th | Phillip Lever | Lomachenko |
| 6th | Melissa Blair | Zidora |
RING 2
CLASS 16: PetSTOCK – Victorian Children's Championship (Round 2) – 1.05m
| | | |
| --- | --- | --- |
| PLACE | RIDER | HORSE |
| 1st | Zara Adnams | Digmac Disco King |
| 2nd | Sienna Holdsworth-Rose | Atlas E |
| 3rd | Charlie Magnier | Master Stevie G |
| 4th | Tanner Robinson | Shady Creek Blue Fire |
| 5th | Sophie Baldwin | Station Master |
| 6th | Elissa Stephens | Da Vince |
CLASS 17A: 4Cyte – Stars of the Future Series (Round 2) – 1.30m
| | | |
| --- | --- | --- |
| PLACE | RIDER | HORSE |
| 1st | Madeline Sinderberry | Balentino |
| 2nd | David Boulton | Little Arrow |
| 3rd | Robert Palm | Halcyons Total Joy |
| 4th | Brook Dobbin | Velvet Cate |
| 5th | Kristy Bruhn | James' Bentley |
| 6th | Brook Dobbin | Obelix MVNZ |
CLASS 17B: Snowball Series (Horses 9-years and older) (Round 2) – 1.30m
| | | |
| --- | --- | --- |
| PLACE | RIDER | HORSE |
| 1st | Jamie Kermond | Tulara Colchic |
| 2nd | Laura Sloey | Beijing LS La Silla |
| 3rd | Airlie Robinson | Magnum MVNZ |
| 4th | Melissa Backman | Blackall Park Coloe |
| 5th | Lara Pizimolas | JEP Frapant |
| 6th | Jess Rice-Ward | Dinero |
CLASS 18: IRT – Amateur Series (Round 2) – 1.15m
| | | |
| --- | --- | --- |
| PLACE | RIDER | HORSE |
| 1st | Jessica Grant | For Fly Heldenlaan Z |
| 2nd | Daniel Leach | Killara Park Southern Stars |
| 3rd | Paige Cartwright | Kitara Boizel |
| 4th | Kelvin Blumson | Springen Matilda |
| 5th | Michael Flenley | Royal Rockstar |
| 6th | Isabella Evans | Joker XIX |
CLASS 19: Premier Floats – Milton Series (Round 2) – 1.20m
| | | |
| --- | --- | --- |
| PLACE | RIDER | HORSE |
| 1st | Tim Clarke | Camacho |
| 2nd | Jena Bloomfield | Warnie |
| 3rd | Emily Hill | W-A-T Sword |
| 4th | Tori Fair | Ramirus |
| 5th | Tori Glass | Bonnie Valley Nobuck Boris |
| 6th | Michelle Clinton-Brent | Cavalli Park Bella |
PRYDE'S EASIFEED – RING 3
CLASS 20: KER – Gem Twist Series (Round 2) – 0.90m
| | | |
| --- | --- | --- |
| PLACE | RIDER | HORSE |
| 1st | Chloe Leen | Skipcellos Foxtrot |
| 2nd | Sunday Borrack | Benmore Pizzaz |
| 3rd | Jack Barker | Genteel Mischief Above |
| 4th | Lucy Borrack | Windward Kiri |
| 5th | Bianca Welland | Snappy |
| 6th | Ingrid McElvaney | Everybody Tango |
CLASS 21: Carbine Chemicals – Stroller Series (Round 2) – 1.00m
| | | |
| --- | --- | --- |
| PLACE | RIDER | HORSE |
| 1st | Nellie Rogers | R0cket Rod |
| 2nd | Chloe Leen | Skipcellos Foxtrot |
| 3rd | Zara Yunghanns | Snowy River Nutwood |
| 4th | Sheree Gotts | High Voltage |
| 5th | Stewart Hay | RR Montaro |
| 6th | Shamley Woodhouse | Springbank Switch |
CLASS 22A: Barton Equine – Hickstead Series (Round 2) – 1.10m
| | | |
| --- | --- | --- |
| PLACE | RIDER | HORSE |
| 1st | Airlie Robinson | Yalambis Corlandia |
| 2nd | Jess Kiernan | Cera Cascaletto |
| 3rd | Charlie Magnier | Master Stevie G |
| 4th | Angela Dobbin | Riccardo M |
| 5th | Jena Bloomfield | Black N White |
| 6th | Sarah Duggan | Tulara Spangenberg |
CLASS 22B: Racing Victoria – OTT Series (Round 2) – 1.10m
| | | |
| --- | --- | --- |
| PLACE | RIDER | HORSE |
| 1st | Darcy Wade | Miss Delfyne |
| 2nd | Melissa Backman | That's Not It |
| 3rd | Anthony Bentley | Aleksandr Meerkat |
| 4th | Kristy Bruhn | Cash Splash |
| 5th | Paige Cartwright | Hakuna Matata |
| 6th | Rachael Gane | Bandido |
Results sourced from www.equussentials.com
View Comments