Waratah Showjumping Storms into Action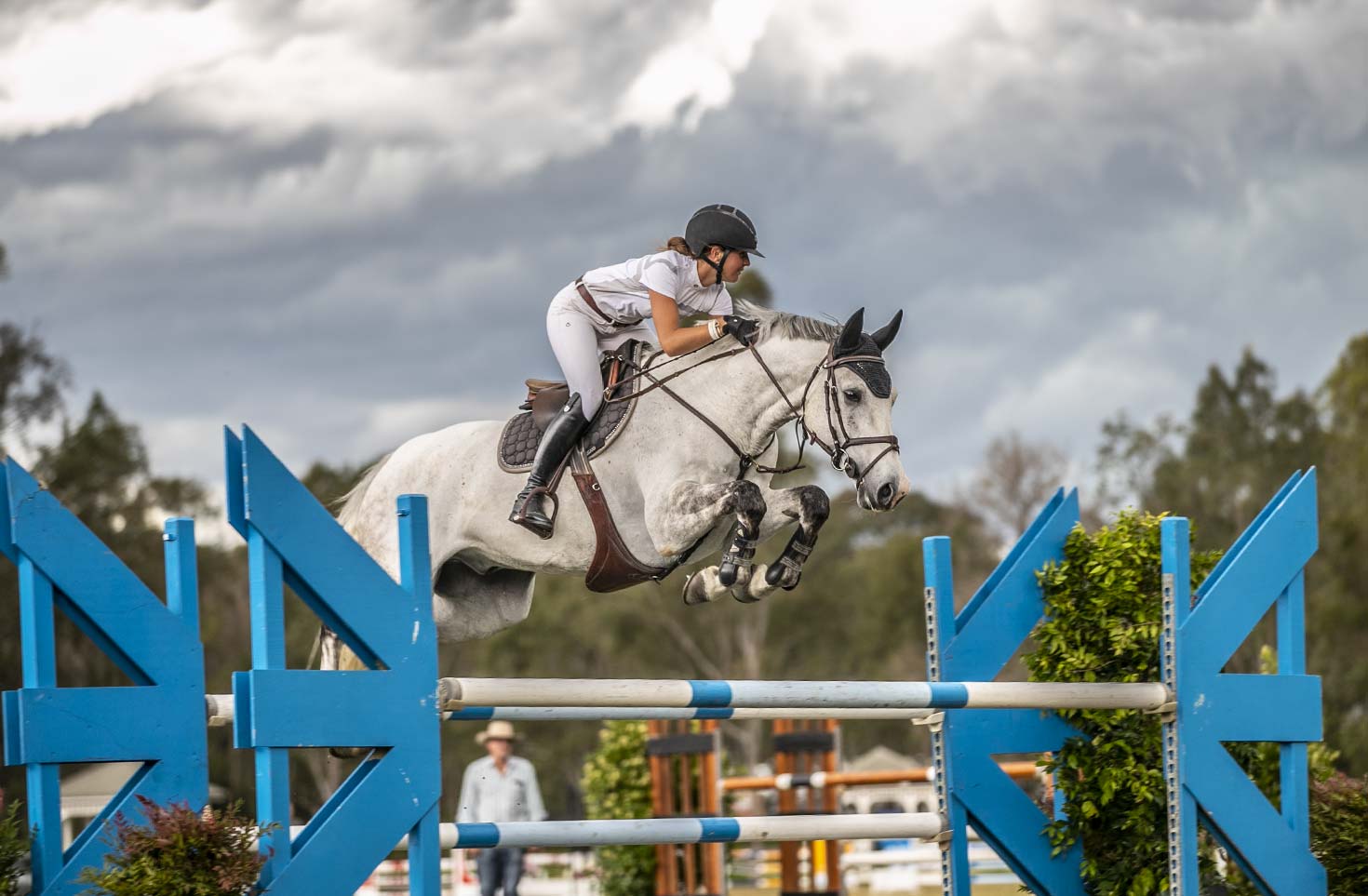 Australian Jumping
Above: Sally Simmonds and Chio MS out-jumping the storm.
The November edition of the Waratah Jumping Series kicked off today at the Sydney International Equestrian Centre (SIEC). The follow-up to a very successful show held in October, today's competition was much anticipated and despite very humid conditions, we saw a great day of jumping, attracting top competitors from around NSW.
Advertisement


The first class on Arena 1 was an open 1.20m event with 73 combinations entered. With 12 clear rounds, and no jump-off scheduled, it came down to time and the top two could not be split. Jeff Penza, who is certainly used to speed in his job as a jockey, was one of the "dead-heaters," finishing in 68.13 seconds. Riding Fireball, an OTT Thoroughbred he used to race, the pair recorded an identical time with Maverick Miles and Emcee Holly Golightly who also had a very impressive round. Less than half a second slower in third place was James Arkins and WP Grandiamo. To top off a great morning. Penza also won the first class in ring 2, pairing with Eli Lamar to win an Open 0.90m class. Penza, who often appears at Jumping events around Sydney when his racing commitments permit, will no doubt be hoping that his winning streak continues tonight when he has a mount at Canterbury Park races.
Advertisement

Class 1B was the Orangeville Performance Horses Junior division of the 1.20m class and in a dominant performance, Lucy Locke took out both first and second placings. With a time which would have won the Open division by over 6 seconds, Locke paired with the brilliant little gelding Quero Quero for the very speedy win and with the beautiful Diamont for second place. Jessica Galea, from Cattai, in combination with her mare Checka took out third place with a fantastic round, unphazed by a wayward stirrup halfway through.
The Team Priestley 1.30m Open class saw the reigning Australian Senior Champion Tom McDermott show his class. Riding BS On Air, the pair were three seconds faster than second placed Jumping legend Vicky Roycroft and Licaviv. McDermott and Warraleigh Park Cortez were third, just 1.5 seconds slower. The Junior Section of the 1.30m class was taken out by Tori Cureton and Double The Bank, who, ridden by Colleen Brook, won the Off-The-Track series at Boneo Park last November. Jess Rice-Ward and Dinero were second with Tamworth based Samantha Dernee partnering Diamond B Casanova into third.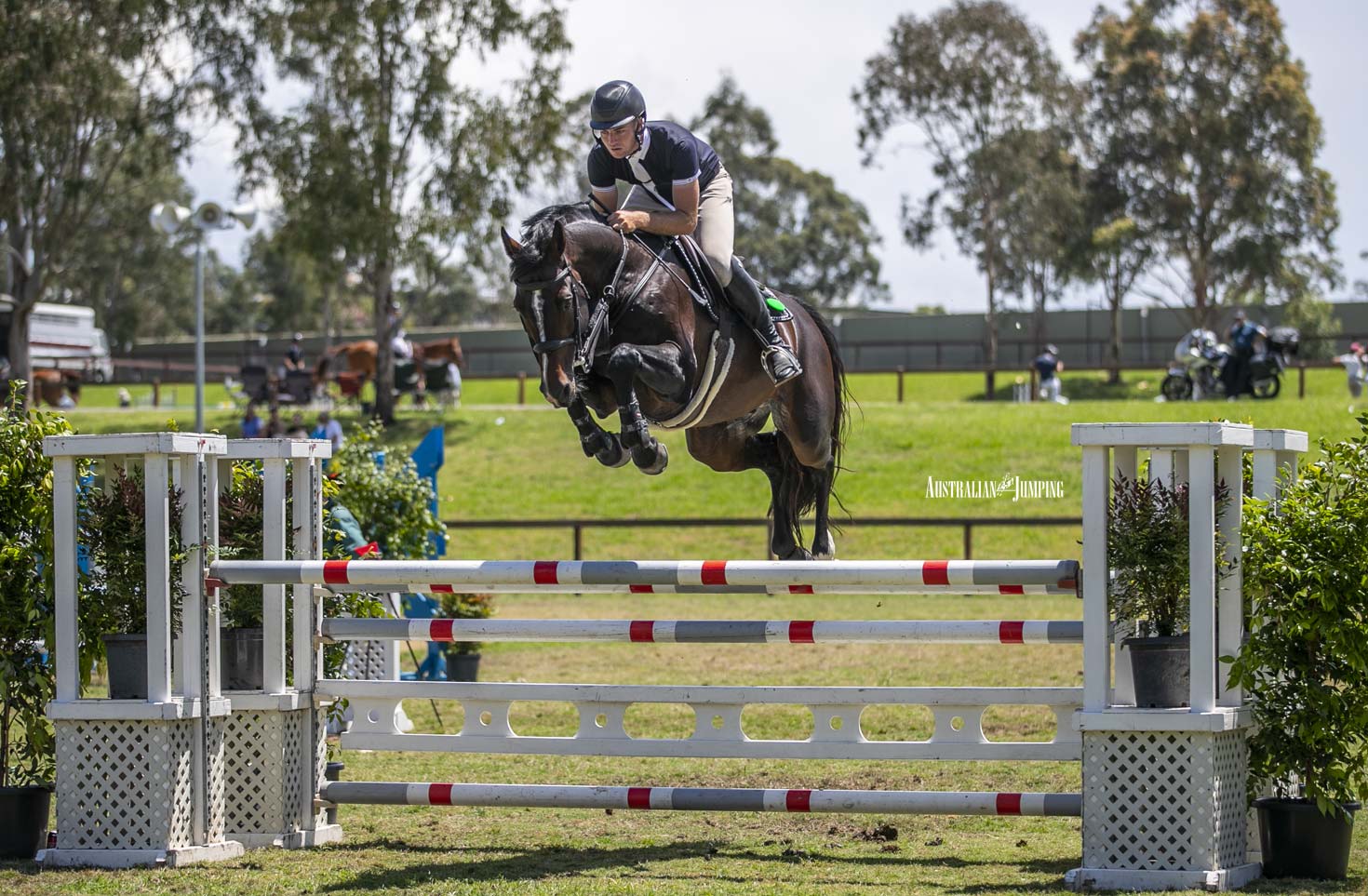 Above: Australian Senior Champion Tom McDermott with Sharon Slater's Cachassini II in the 1.30m
Unfortunately, mid afternoon saw a storm lash the grounds and as a result, the feature event of the day the 1.40m Emcee Apparel Open was not conducted. Also, the 1.10m-1.15m Class 7 A, B and C for Open, Junior and Amateur categories scheduled for Ring 2 was abandoned.
An interesting note from the results on Ring 2, Class 6A (1.05m-1.10m) was won by Elizabeth Koob on Diamond B Carino while the young horse division for 5 and 6 year-olds (Class 6C) was won by Koob's mother, Colleen Brook in combination with Connollys Karuba.
Australian Jumping congratulates all the winners and placegetters and we look forward to another day of exciting competition tomorrow
See below for a full listing of all the results from Friday.
RING 1
CLASS 1A: Open – 1.20m
The first six placings in this class were:
| | | |
| --- | --- | --- |
| PLACE | RIDER | HORSE |
| =1st | Jeff Penza | Fireball |
| =1st | Maverick Miles | Emcee Holly Golightly |
| 3rd | James Arkins | WP Grandiamo |
| 4th | Gaby Herbosa | Kaloona Virago |
| 5th | Vicki Roycroft | Converse |
| 6th | Coco Miles | Sapphire Seven |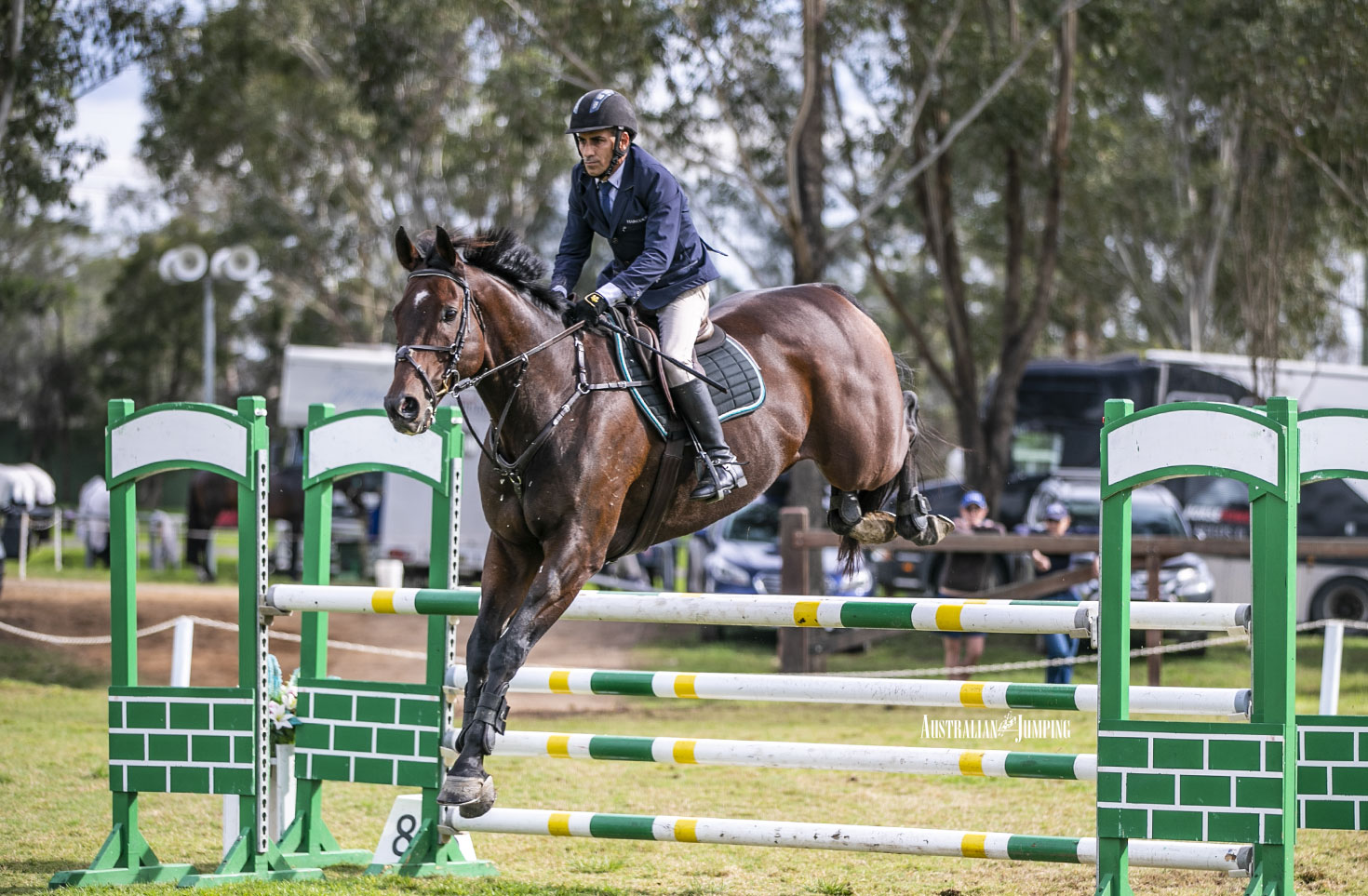 Above: Jeff Penza and Fireball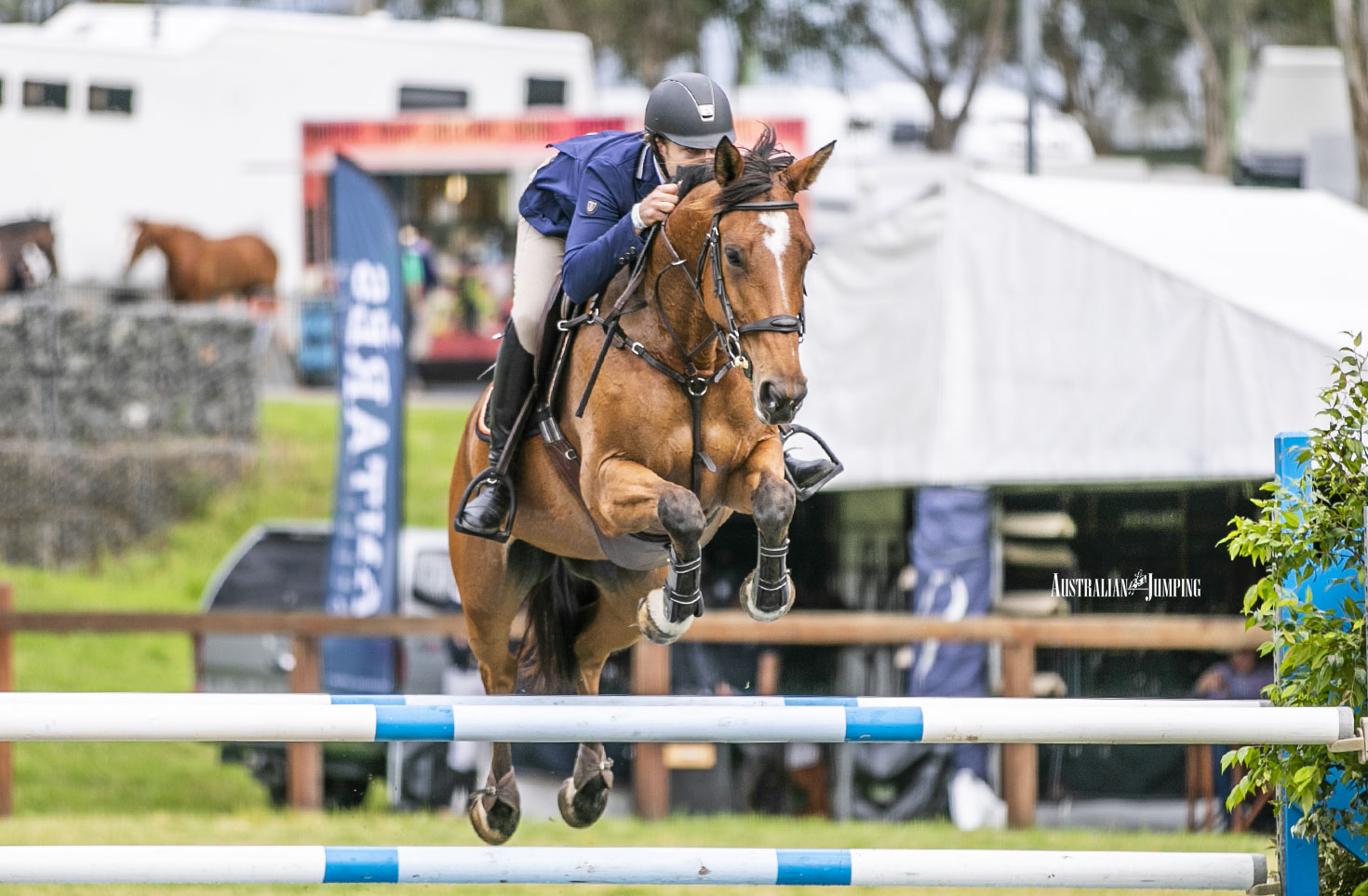 Maverick Miles and Emcee Holly Golightly
CLASS 1B: Orangeville Performance Horses – Junior – 1.20m
The first six placings in this class were:
| | | |
| --- | --- | --- |
| PLACE | RIDER | HORSE |
| 1st | Lucy Locke | Quero Quero |
| 2nd | Lucy Locke | Diamont |
| 3rd | Jessica Galea | Checka |
| 4th | Clemency Hughes | Nicolette |
| 5th | Tylah Studdert | Noonamah Valentina |
| 6th | Jack Haynes | Shes A Diva |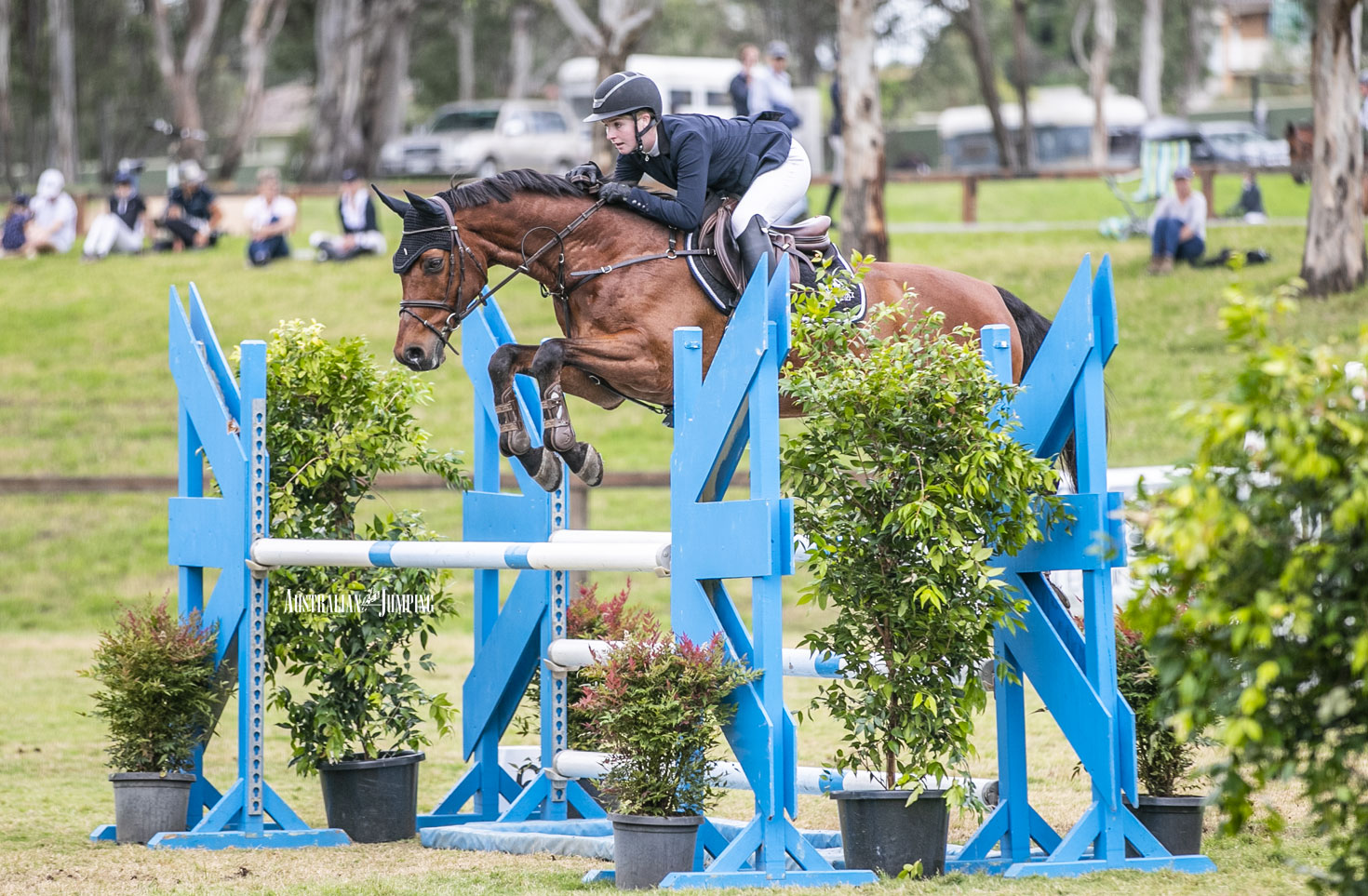 Lucy Locke and Quero Quero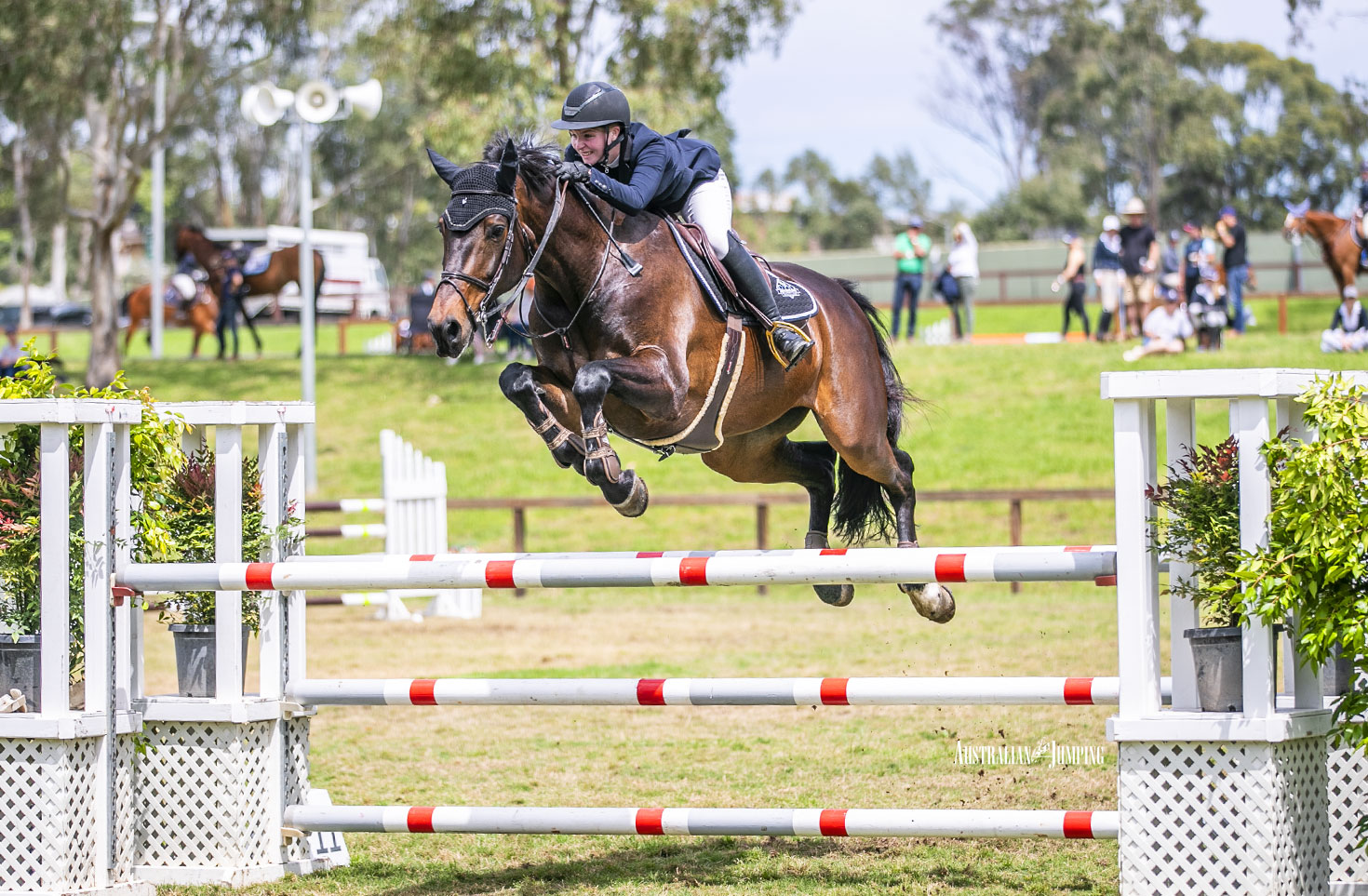 Lucy Locke and Diamont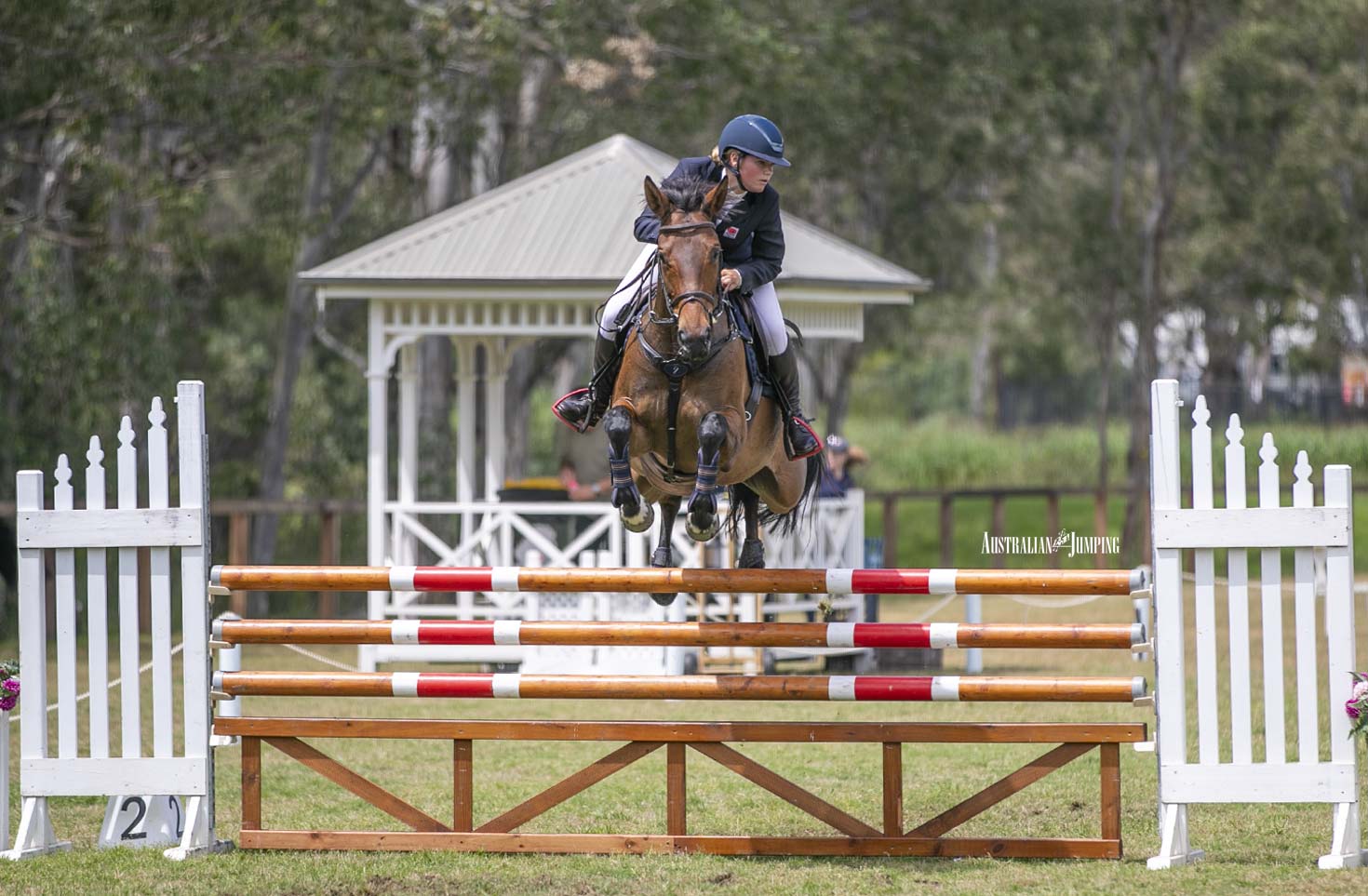 Jessica Galea and Checka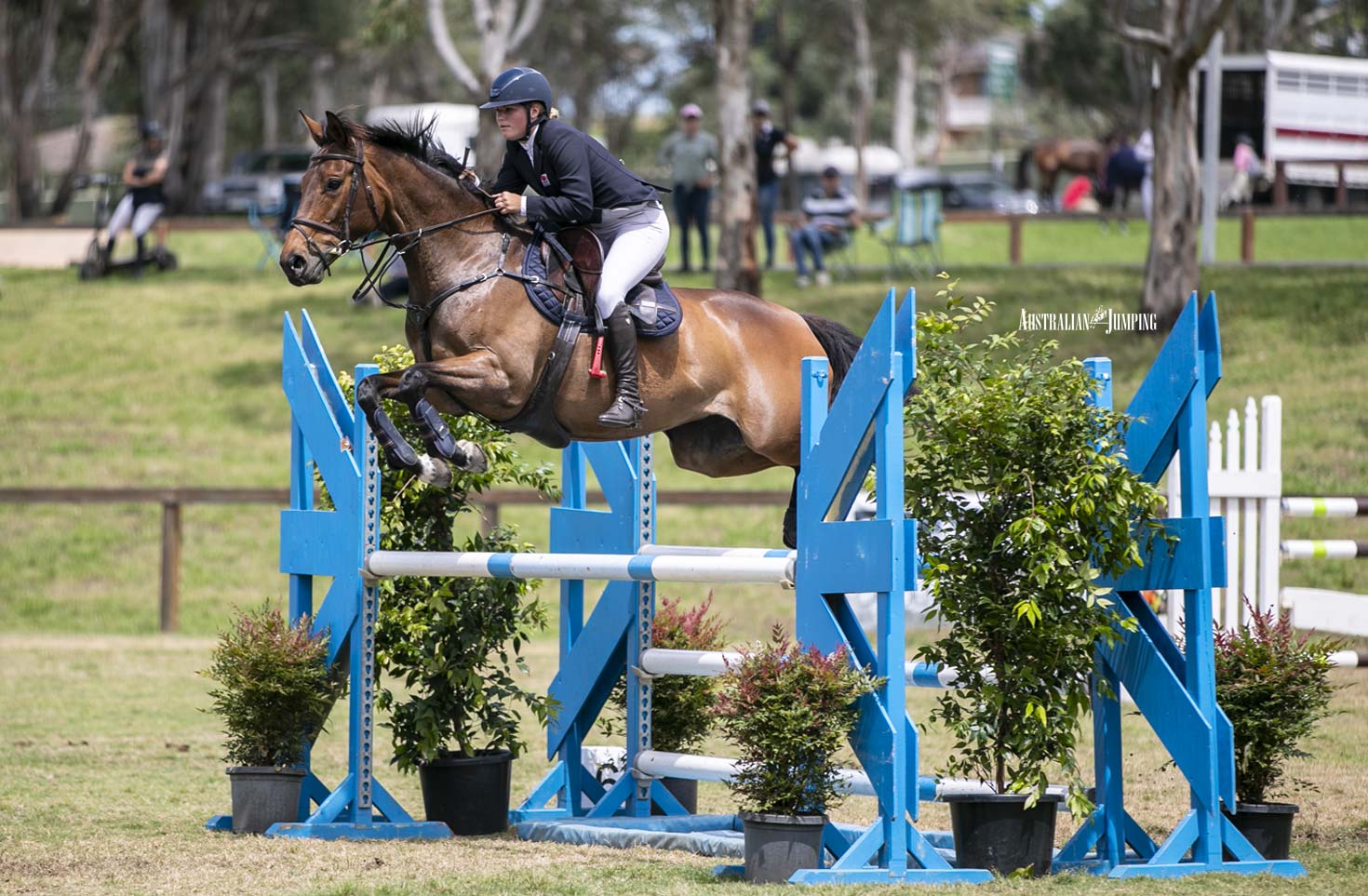 Jessica Galea and Checka
CLASS 2A: Team Priestley – Open – 1.30m
The first six placings in this class were:
| | | |
| --- | --- | --- |
| PLACE | RIDER | HORSE |
| 1st | Tom McDermott | BS On Air |
| 2nd | Vicki Roycroft | Licaviv |
| 3rd | Tom McDermott | Warraleigh Park Cortez |
| 4th | Laura Sloey | Copabella Cashmir |
| 5th | Tess McInerney | Alpha Centauri |
| 6th | David Cameron | Bensons Femme Fatale |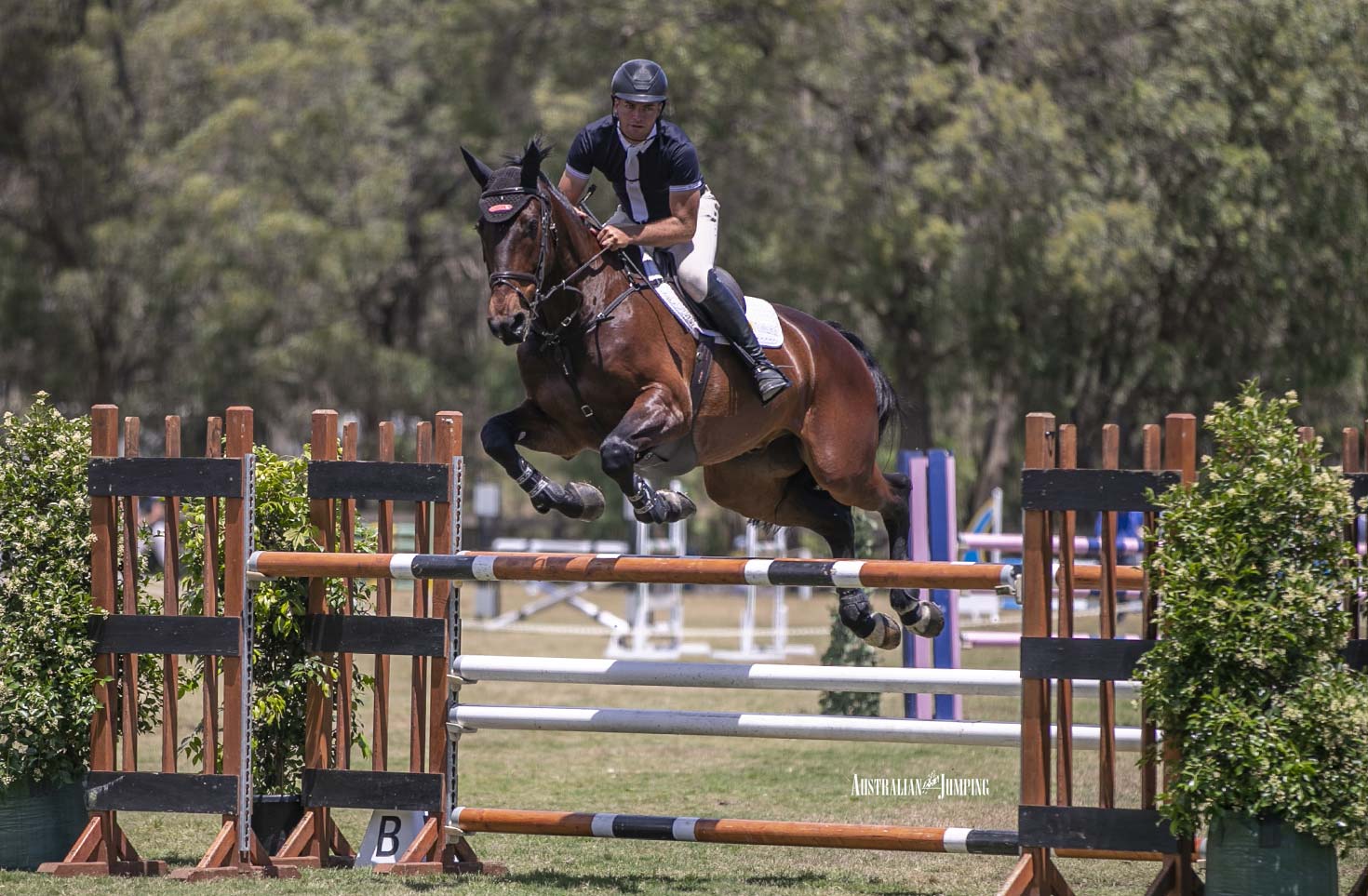 Tom McDermott and BS On Air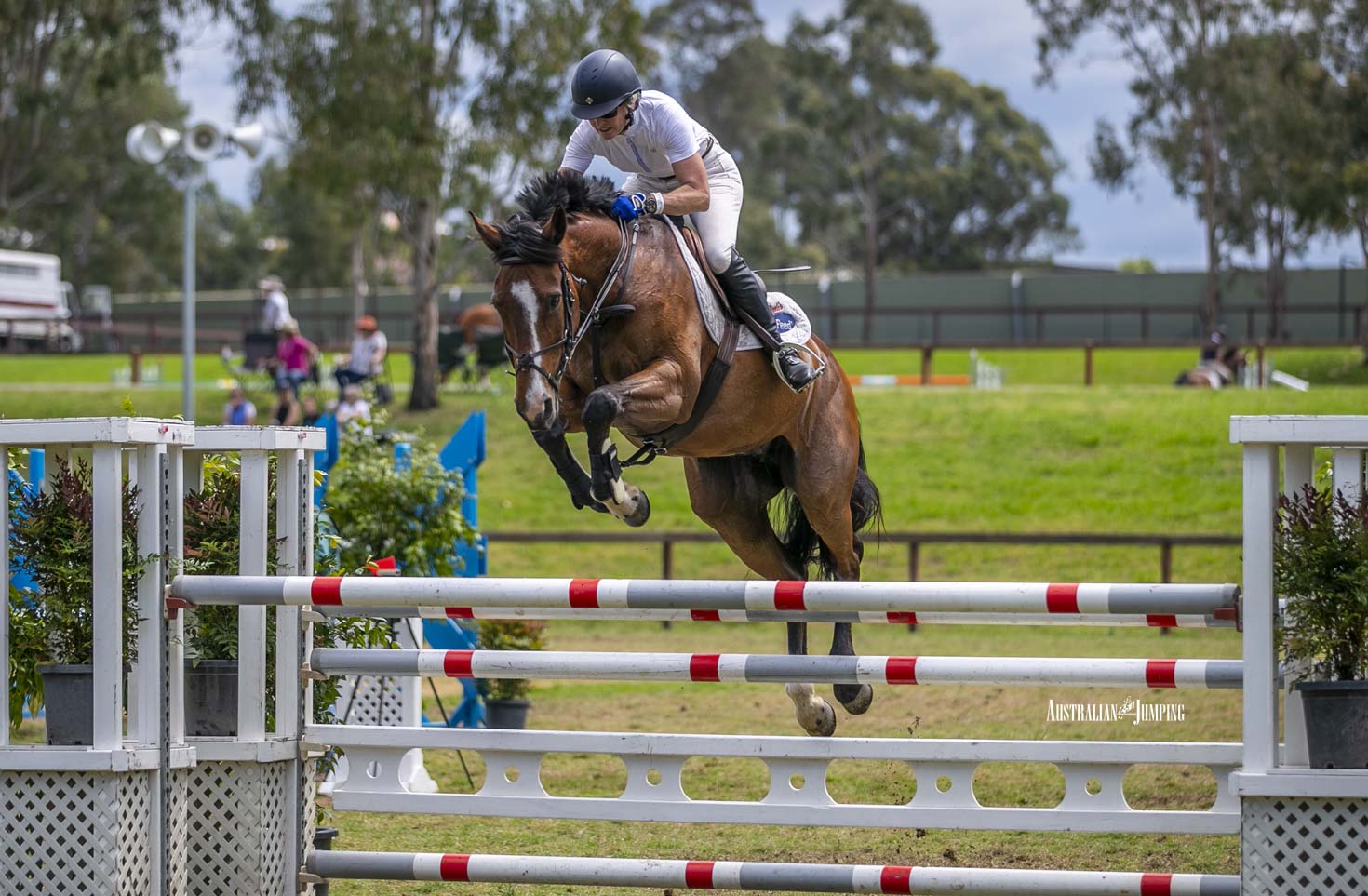 Vicki Roycroft and Licaviv
CLASS 2B: Kohnke's Own – Young Rider – 1.30m
The first six placings in this class were:
| | | |
| --- | --- | --- |
| PLACE | RIDER | HORSE |
| 1st | Tori Cureton | Double The Bank |
| 2nd | Jess Rice-Ward | Dinero |
| 3rd | Samantha Dernee | Diamond B Casanova |
| 4th | Anneliese Wansey | Kolora Stud St Patrick |
| 5th | Sally Simmonds | Chio MS |
| 6th | Clay Simmonds | Hillbreeze Chacco Delux |
RING 2 – Sponsored by Trailrace
CLASS 4A: Adult – 0.90m
The first six placings in this class were:
| | | |
| --- | --- | --- |
| PLACE | RIDER | HORSE |
| 1st | Jeff Penza | Eli Lamar |
| 2nd | Natalie Barrett | Gorsarella Emma |
| 3rd | Aoife Crotty | Play Luck |
| 4th | Amanda Madigan | Diamond B Bleubry |
| 5th | Maddie Plant | Foxground Kahtia |
| 6th | Miya Fleming | Loophole |
CLASS 4B: Junior – 0.90m
The first six placings in this class were:
| | | |
| --- | --- | --- |
| PLACE | RIDER | HORSE |
| 1st | Sophie Baldwin | Alcheringa Tradition |
| 2nd | Faith Banks | Greengrove Indeed |
| 3rd | Lochie Colquhoun | Tarampa View Patterson |
| 4th | Amelia Empringham | Penton Maximus |
| 5th | Elvire Ernst | Django |
| 6th | Ashley Cutler | Fairlight R |
CLASS 4C: Oaks Sporthorses – 4-year-olds – 0.90m
The first six placings in this class were:
| | | |
| --- | --- | --- |
| PLACE | RIDER | HORSE |
| 1st | Jamie Kermond | Jon Snow |
| 2nd | Alex Wald | Moscato B |
| 3rd | Josh Collins | Petalbomb |
| 4th | Tom Mcdermott | Yalambi's Lord Byron |
| 5th | Sarah Duggan | Fay's Diamond |
| 6th | Kaden Weaver | KPH Ding |
CLASS 5A: Hawkesbury River Saddlery Co. Open – 1.00m
The first six placings in this class were:
| | | |
| --- | --- | --- |
| PLACE | RIDER | HORSE |
| 1st | Lois Fleming | Cera Cadett |
| 2nd | Izzy Olivier | Yandoo Aphrodite |
| 3rd | Charlie Magnier | KEC Sofia |
| 4th | Charlie Magnier | Master Stevie G |
| 5th | Maddie Plant | Foxground Kahtia |
| 6th | Mackenzie Patterson Hollibone | Bolong Park Ego Cyrano |
CLASS 5B: Diamond B Farm Horses – 5-year-olds – 1.00m
The first six placings in this class were:
| | | |
| --- | --- | --- |
| PLACE | RIDER | HORSE |
| 1st | Victoria Hoy | KBL Arlo |
| 2nd | Sarah Duggan | Tulara On Trend |
| 3rd | Maddie Cox | Vamous B |
| 4th | Kate Lee | Caralina |
| 5th | Ashley Cutler | Licandro |
| 6th | Elizabeth Hoy | SF Capricious |
CLASS 6A: BJW Equine – Open – 1.05m-1.10m
The first six placings in this class were:
| | | |
| --- | --- | --- |
| PLACE | RIDER | HORSE |
| 1st | Elizabeth Koob | Diamond B Carino |
| 2nd | Charlotte Chambers | Amaretto MVNZ |
| 3rd | Jennifer Wood | Oaks 007 |
| 4th | Elizabeth Hoy | SF Capricious |
| 5th | Sabine Sault | Kirby Park Applause |
| 6th | Natalie De Souza | Romley Corsair |
CLASS 6B: The Empringham Family – Junior – 1.05m-1.10m
The first six placings in this class were:
| | | |
| --- | --- | --- |
| PLACE | RIDER | HORSE |
| 1st | Katelyn Staples | KC Spotabug |
| 2nd | Charlie Magnier | KEC Sofia |
| 3rd | Teigan Matthews | Equus Hooroo |
| 4th | Anneliese Wansey | Rosthwaite Queen B |
| 5th | Mackenzie Patterson Hollibone | Bolong Park Ego Cyrano |
| 6th | Emma Peters | Liniano ML |
CLASS 6C: Oaks Sporthorses – 5&6-year-olds – 1.05m-1.10m
The first six placings in this class were:
| | | |
| --- | --- | --- |
| PLACE | RIDER | HORSE |
| 1st | Colleen Brook | Connollys Karuba |
| 2nd | David Cameron | RR Monster |
| 3rd | Krissy Harris | RR Corakai |
| 4th | Amanda Madigan | Diamond B Bedazzled |
| 5th | Tori Cureton | Equus Archer |
| 6th | Izabella Stone | Bellhaven Chanceux |
Results sourced from Global Entries Online
View Comments