Winning ways at Willinga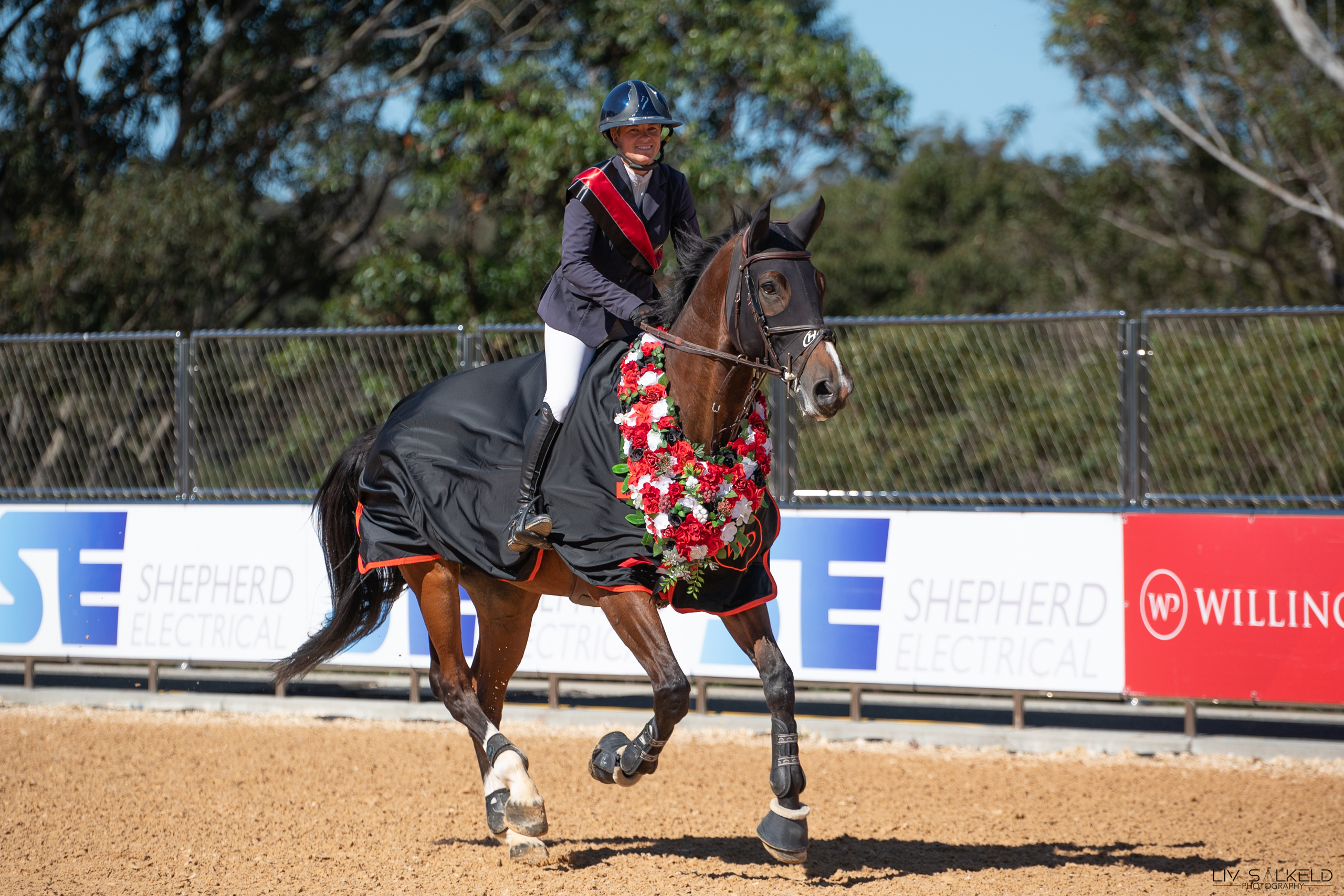 Liv Salkeld
Above: Jamie Winning-Kermond and Tulara Stolensky
Last weekend, the wonderful Willinga Park, situated on the NSW south Coast at Bawley Point, hosted its Jumping @ Willinga four-day show. Visitors came from Victoria and Queensland as well as all parts of NSW to participate in an extremely well-run show at what is probably Australia's most beautiful purpose-built equine facility.
The feature class of the show was held on Sunday afternoon, which was the Willinga Park and 4Cyte sponsored Grand Prix Spectacular, conducted over two rounds. With over $37,000 in prize money to be shared among the top 12 finishers, the competition was of a high standard with a total of 26 combinations lined up to tackle the Graeme Watts designed course. There was only combination able to complete the course clear in both the first and second rounds. The win went to Jamie Winning-Kermond and Tulara Stolensky. Despite putting in one of the slowest second rounds, their careful performance was rewarded with the win and the largest share of the prize money. Going one better than their third place in this class last year, in second was was Tom McDermott and Cooley Gangster, taking just a single rail in the second round, as did Queensland based Gemma Greighton and Dada Des Brimbelles Z in third place. Last year's winning combination, Josh Collins and Cornel finished in fifth place this year, also racking up just four faults over the two rounds.
Advertisement


Earlier in the day, the Shepherds Electrical Mini Prix Spectacular saw an impressive win to the Victorian visitors Phillip Lever and Oaks Van Dyke. In an all double clear podium, their second round time of 58.68 seconds was enough to relegate Melissa Blair and Zidora to second place, with Olivia Hamood and Yirrkala Cassey in third.
On Saturday, the Coolmore Futurity Spectacular was taken out by another pair of Victorian visitors, namely Brook Dobbin and Devos GP, who put in the only double clear performance of the class. Second place went to James Arkins and Glenara Luxury Z, with Aaron Hadlow and Kosmos filling third.
Also on Saturday, Jack Barker and Tulara Colchic were successful in the third leg of the Stal Tops Australian Young Rider Series, again with the only double clear performance of the class. For our full report on this class, please click HERE.
Adding to the success of Victorians at this show, the Wallaby Hill Children's Grand Prix Spectacular was won by the promising Olivia Curtain and Australian stock horse Xcella. Also double clear in second place were Charlie Smith and Visages Valentine, with Valentina Hercus and RBH Chaccaria in third.
The most successful rider of the show was Vellara Equine's Rachael Vella who picked up four wins. Based at Murrumbateman, Rachel scored two wins in 1.00m classes with Little Mate BLB, and another pair of wins at 1.10m, one each with Cordelia Ego Z and the other with Vellara Delerium.
Jack Barker also had a great weekend. Besides his success with Tulara Colchic in the Stal Tops class, they also picked up a win in the Young Rider 1.35m class on Friday. Pairing with Tulara For Quinar, he also had a win in a Junior 1.20m class.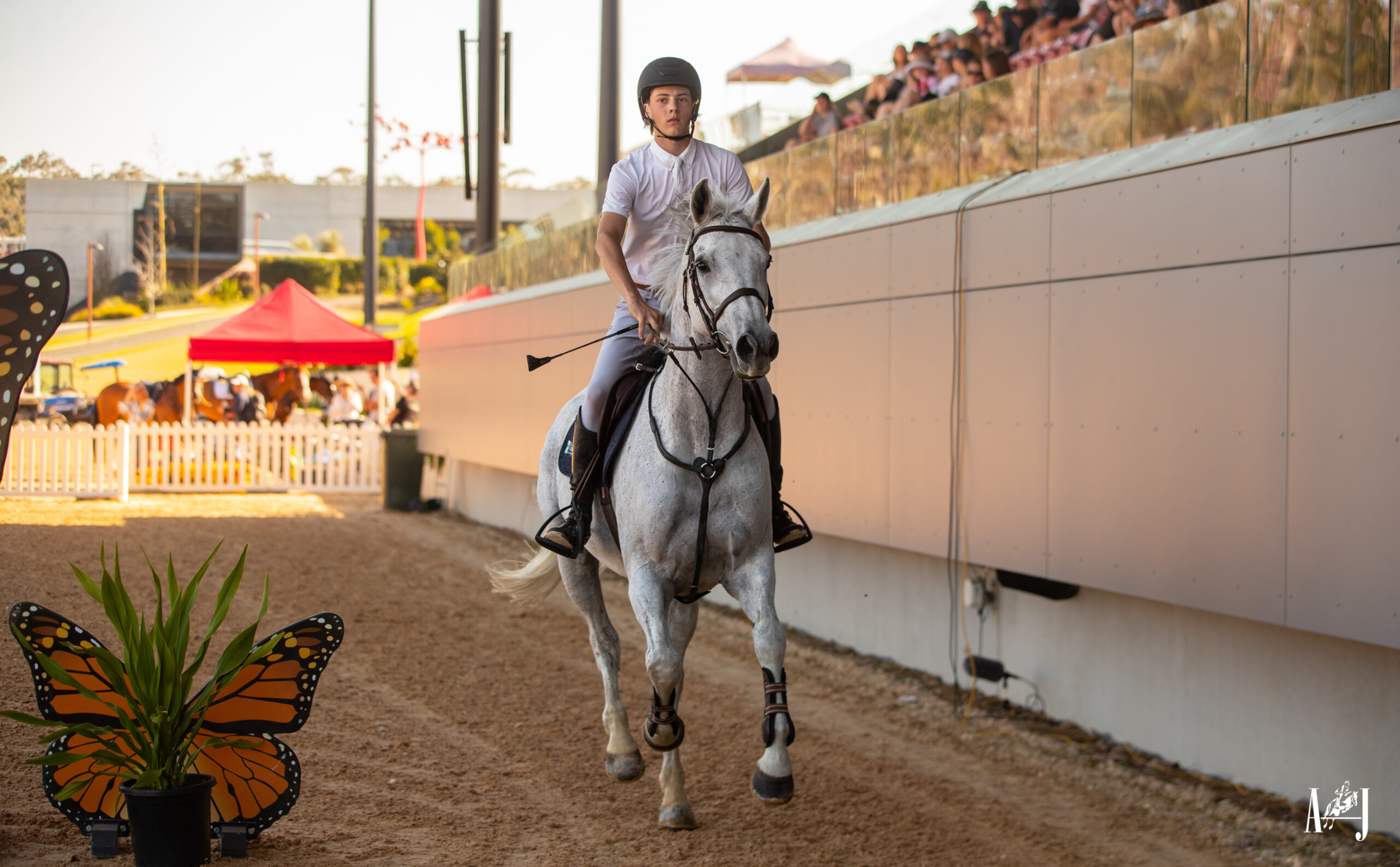 Above: Jack Barker and Tulara Colchic – focused and ready for the Stal Tops Young Rider Series Jump-off.
Another rider picking up three wins over the course of the show was Phillip Lever. Before their win in the Mini Prix on Sunday, Phillip and Oaks Van Dyke also had a win on Friday in a 1.35m class for horses under 10 years old. This was after having started the show in style with a win on Lomachenko in an open 1.40m class on the Thursday.
There were also a number of riders who appeared on the top step of the podium twice during the show. North Queensland based rider Dallas Bailey won a pair of classes for horses under 7 years at 1.15m and 1.20m with Tulara Ballora.
Courtney Cusack and Sandhills Swing dominated the Amateur classes with wins on both Saturday and Sunday at 1.10m and 1.15m.
Wins in a pair of Junior classes at 1.05m and 1.10m went to yet another pair of Victorian visitors, Alice Lawrence and Mucho Mucho Deniro.
Upper Hunter Valley based rider Charlie Magnier won 1.20m classes on both the first and last day of the show with Quinn Z. On Thursday, the win was in an Open 1.20m class, while their win on Sunday was in a class restricted to Junior riders.
While Tom McDermott and Cooley Gangster placed second in the feature class of the show, Tom was also atop the podium twice over the course of the show. He and Cooley Gangster won an open 1.45m class on Friday before a win at 1.20m on Saturday in a class for horses less than 7 years old with the mare Clasique Emerella.
Also recording a pair on wins on the program was experienced South Coast rider Dion Williams. He paired with Carona B to win an open 1.20m class before wrapping up the program by taking out the last class of the show on arena 2 with gelding Rhienstone at 1.15m.
It was a fantastic show, worthy of the magnificent property on which it was held. Congratulations goes to all the winners and placegetters, particularly Jamie Winning-Kermond for her wonderful performance in the Grand Prix.
A full listing of the top six finishers in all classes at the show are listed below.
THURSDAY RESULTS
GRANDSTAND ARENA – RING 1
CLASS 1A: COX ARCHITECTURE: OPEN – 1.20m
| | | |
| --- | --- | --- |
| PLACE | RIDER | HORSE |
| 1st | Charlie Magnier | Quinn Z |
| 2nd | Charlee Dobbin | Cloud Gate |
| 3rd | Shane Rose | Holy Moses |
| 4th | Angela Dobbin | Gabriel MVNZ |
| 5th | Brook Dobbin | Jacky S |
| 6th | Clem Smith | Casino GNZ |
CLASS 2A: CONSTRUCTION CONTROL: OPEN – 1.30m
| | | |
| --- | --- | --- |
| PLACE | RIDER | HORSE |
| 1st | Clem Smith | Quantico 12 |
| 2nd | James Paterson-Robinson | Connollys Karuba |
| 3rd | James Arkins | Yalambi Jaguar |
| 4th | Sam Whale | Idol D |
| 5th | Sarah Duggan | Oaks Diamantina |
| 6th | Gemma Creighton | It's Silkbridge |
CLASS 2B: CHATHAM PARK: YOUNG RIDER – 1.30m
| | | |
| --- | --- | --- |
| PLACE | RIDER | HORSE |
| 1st | Chase Naylor | Misty Blue Ego Z |
| 2nd | Jack Barker | Tulara Colchic |
| 3rd | Clemency Hughes | YPH Capulet |
| 4th | Chase Naylor | Checkbook |
| 5th | Ella Silk | Redgum Conan |
| 6th | Penelope Lancaster | AP Ninja |
CLASS 3: SHEPHERD ELECTRICAL: OPEN – 1.40m
| | | |
| --- | --- | --- |
| PLACE | RIDER | HORSE |
| 1st | Phillip Lever | Lomachenko |
| 2nd | Sarah Duggan | Dublin |
| 3rd | James Paterson-Robinson | Ketut |
| 4th | Russell Johnstone | Daprice |
| 5th | Brook Dobbin | Gina MVNZ |
| 6th | Gemma Creighton | Alan 111Z |
JPR EQUESTRIAN – RING 2
CLASS 1B: THE BALDWIN FAMILY: JUNIOR – 1.20m
| | | |
| --- | --- | --- |
| PLACE | RIDER | HORSE |
| 1st | Olivia Price | Chio MS |
| 2nd | Tanner Robinson | Yalambis Corlandia |
| 3rd | Ella Hayward | Edena DP |
| 4th | Mackenzie Patterson Hollibone | Vivajoy |
| 5th | Tanner Robinson | Vidacious |
| 6th | Molly Lawrence | Carabel P |
CLASS 4A: EMCO EQUINE: ADULT – 1.00m
| | | |
| --- | --- | --- |
| PLACE | RIDER | HORSE |
| 1st | Amelia Preston | Belladuroet |
| 2nd | Jacinta Kennedy | Tulara Willow |
| 3rd | Zara Hourigan | Inous Miss Ally |
| 4th | William Mathew | Red Right Out |
| 5th | Victoria Montano | Caralina |
| 6th | James Paterson-Robinson | Zora |
CLASS 4B: R & L HAULAGE: JUNIOR – 1.00m
| | | |
| --- | --- | --- |
| PLACE | RIDER | HORSE |
| 1st | Jake McEvoy | Avenly Bundy |
| 2nd | Alice Lawrence | Mr Ali |
| 3rd | Jake McEvoy | Volador |
| 4th | Olivia Curtain | Indi's Mr Zorba Jones |
| 5th | Alice Lawrence | Mucho Mucho Deniro |
| 6th | Jada Burgun | Missile Higgins |
CLASS 5A: BUCAS RUGS: ADULT – 1.10m
| | | |
| --- | --- | --- |
| PLACE | RIDER | HORSE |
| 1st | Lori James | Restauranteur SHP |
| 2nd | Jacinta Kennedy | Tulara Willow |
| 3rd | Jacinta Kennedy | Tulara Comet |
| 4th | Jamie Winning-Kermond | Miss Pippa |
| 5th | Amelia Preston | Belladuroet |
| 6th | Olivia Hamood | Diva Contina PJ |
CLASS 5B: THE BALDWIN FAMILY: JUNIOR – 1.10m
| | | |
| --- | --- | --- |
| PLACE | RIDER | HORSE |
| 1st | Zara Young | Rosthwaite Balouchi |
| 2nd | Elise Smith | Alvern |
| 3rd | Emmy Ravenscroft | Sacrefemme |
| 4th | Jasmine Spira | Outlawed W |
| 5th | Dakota Pinton | Diamond B Bedazzled |
| 6th | Neve Bailey | Cil Dara Deniro |
CLASS 6A: THE PEEL FAMILY: ADULT – 1.15m
| | | |
| --- | --- | --- |
| PLACE | RIDER | HORSE |
| 1st | Melanie Heygate | Oaks Quebec |
| 2nd | Lori James | Restauranteur SHP |
| 3rd | Jasmine Spira | Outlawed W |
| 4th | Mark Nicholls | Obama II |
| 5th | Donna Satara | Confucius |
| 6th | Gem McGufficke | Indeed |
CLASS 6B: TARRALEAH PARK: HORSES UNDER 7 YEARS – 1.15m
| | | |
| --- | --- | --- |
| PLACE | RIDER | HORSE |
| 1st | Dallas Bailey | Tulara Ballora |
| 2nd | Robert Palm | Glenara Vaquero |
| 3rd | James Paterson-Robinson | Czuko |
| 4th | Robert Palm | Halcyons Koko Dio |
| 5th | Chase Naylor | Lucifer VS |
| 6th | James Paterson-Robinson | Yirrkala Dior |
FRIDAY RESULTS
GRANDSTAND ARENA – RING 1
CLASS 7: WALLABY HILL: JUNIOR – 1.10m
| | | |
| --- | --- | --- |
| PLACE | RIDER | HORSE |
| 1st | Alice Lawrence | Mucho Mucho Deniro |
| 2nd | Tanner Robinson | Charlie |
| 3rd | Valentina Hercus | RBH Chaccaria |
| 4th | Harley McNaughton | Viewmont Apricot |
| 5th | Zoe Willis | Avonlea Snowman |
| 6th | Olivia Wiesener | Qi Dao NH |
CLASS 10A: LIZ WATSON: OPEN – 1.35m
| | | |
| --- | --- | --- |
| PLACE | RIDER | HORSE |
| 1st | Sam Whale | Idol D |
| 2nd | Clem Smith | Casino GNZ |
| 3rd | Jess Brown | Casting |
| 4th | Olivia Hamood | Yirrkala Cassey |
| 5th | Phillip Lever | Billionaire NZPH |
| 6th | Sarah McMillan | Fairview Cambridge |
CLASS 10B: DENISON PARK: YOUNG RIDER – 1.35m
| | | |
| --- | --- | --- |
| PLACE | RIDER | HORSE |
| 1st | Jack Barker | Tulara Colchic |
| 2nd | Ella Silk | Redgum Conan |
| 3rd | Georgia Bouzaid | Vitess |
| 4th | Clemency Hughes | YPH Capulet |
| 5th | Chase Naylor | Checkbook |
| 6th | Mikayla Hogg | Bellhaven Corringa |
CLASS 10C: COOLMORE: HORSES UNDER 10 YEARS – 1.35m
| | | |
| --- | --- | --- |
| PLACE | RIDER | HORSE |
| 1st | Philip Lever | Oaks Van Dyke |
| 2nd | Philip Lever | Bonita |
| 3rd | William Matthew | KPH Maddison |
| 4th | Kate Hinschen | Calouandra PS |
| 5th | Melissa Blair | Connollys Karuba |
| 6th | Amelia Douglass | Quidessa VG |
CLASS 11: 4CYTE: OPEN – 1.45m
| | | |
| --- | --- | --- |
| PLACE | RIDER | HORSE |
| 1st | Tom McDermott | Cooley Gangster |
| 2nd | Phillip Lever | Lomachenko |
| 3rd | Madeline Sinderberry | Camie Z |
| 4th | Gemma Creighton | Alan 111 Z |
| 5th | Josh Collins | Cornel |
| 6th | Olivia Hamood | Knock Out 111 |
CLASS 8: BOREE EQUINE: JUNIOR – 1.20m
| | | |
| --- | --- | --- |
| PLACE | RIDER | HORSE |
| 1st | Jack Barker | Tulara For Quinar |
| 2nd | Tanner Robinson | Yalambis Corlandia |
| 3rd | Charlie Magnier | Master Stevie G |
| 4th | Emmy Ravenscroft | Dornamour |
| 5th | Tanner Robinson | Vidacious |
| 6th | Charlee Dobbin | Castalada II |
CLASS 9: ALLAN DOBBIN REAL ESTATE: OPEN – 1.25m
| | | |
| --- | --- | --- |
| PLACE | RIDER | HORSE |
| 1st | James Arkins | Glenara Luxury Z |
| 2nd | Frida Lindgren | Wondareen Colleen |
| 3rd | James Paterson-Robinson | Yirrkala Vanity Affair |
| 4th | Ric Serrao | Jaybee Vision |
| 5th | Tallara Cameron | KPH Campari |
| 6th | Jess Rice-Ward | Dinero |
JPR EQUESTRIAN – RING 2
CLASS 12A: THE DOOLAN FAMILY: ADULT – 1.00m
| | | |
| --- | --- | --- |
| PLACE | RIDER | HORSE |
| 1st | Rachael Vella | Little Mate BLB |
| 2nd | Amelia Preston | Belladuroet |
| 3rd | Tessa Lill | Yalambi's Hugo Boss |
| 4th | Jamie Winning-Kermond | Donjolie DN |
| 5th | Victoria Montano | Caralina |
| 6th | William Mathew | Red Right Out |
CLASS 12B: BOREE EQUINE: JUNIOR – 1.00m
| | | |
| --- | --- | --- |
| PLACE | RIDER | HORSE |
| 1st | Zoe Willis | Black Boots |
| 2nd | Jake McEvoy | Avenly Bundy |
| 3rd | Georgia Wiesener | Cavalier Carolus |
| 4th | Sashi Arnott | Arden Elsa |
| 5th | Zoe Willis | Avonlea Snowman |
| 6th | Jake McEvoy | Volodor |
CLASS 13: THE PEEL FAMILY: ADULT – 1.10m
| | | |
| --- | --- | --- |
| PLACE | RIDER | HORSE |
| 1st | Rachael Vella | Cordelia Ego Z |
| 2nd | Victoria Montano | Jellystone Park Cinzano |
| 3rd | Alisa Williams | Willybling |
| 4th | Jacqueline Basquil | Converse |
| 5th | Samantha Vassallo | Croissant |
| 6th | Jamie Winning-Kermond | Parker GHP |
CLASS 14A: UNICORNIUM: OPEN – 1.20m
| | | |
| --- | --- | --- |
| PLACE | RIDER | HORSE |
| 1st | Deon Williams | Carona B |
| 2nd | Jessica Bott | Raise An Angel |
| 3rd | Jacqueline Basquil | Converse |
| 4th | Melanie Heygate | Oaks Quebec |
| 5th | Emily Quodling | Cedric Hill |
| 6th | Gemma Creighton | Latina LSH |
CLASS 14B: TARRALEAH PARK: HORSES UNDER 7 YEARS – 1.20m
| | | |
| --- | --- | --- |
| PLACE | RIDER | HORSE |
| 1st | Dallas Bailey | Tulara Ballora |
| 2nd | Madeline Sinderberry | Oaks Everest |
| 3rd | Mikaela MacNamara | SS Devina |
| 4th | Robert Palm | Glenara Vaquero |
| 5th | Tallara Cameron | La Traviata |
| 6th | James Paterson-Robinson | Czuko |
SATURDAY RESULTS
GRANDSTAND ARENA – RING 1
CLASS 15: WALLABY HILL: CHILDREN'S GRAND PRIX SPECTACULAR – 1.10m
| | | |
| --- | --- | --- |
| PLACE | RIDER | HORSE |
| 1st | Olivia Curtain | Xcella |
| 2nd | Charlie Smith | Visages Valentine |
| 3rd | Valentina Hercus | RBH Chaccaria |
| 4th | Marly Wright | Maeve Keeva Castiel |
| 5th | Harley McNaughton | Viewmont Apricot |
| 6th | Savannah Steel | Crestfieldswaitingame |
CLASS 16: COOLMORE: FUTURITY SPECTACULAR – 1.35m
| | | |
| --- | --- | --- |
| PLACE | RIDER | HORSE |
| 1st | Brook Dobbin | Devos GP |
| 2nd | James Arkins | Glenara Luxury Z |
| 3rd | Aaron Hadlow | Kosmos |
| 4th | Kate Hinschen | Calouandra |
| 5th | Phillip Lever | Bonita |
| 6th | Sarah McMillan | Kakadu BHV |
CLASS 17: STAL TOPS YOUNG RIDER SERIES – ROUND 3 – 1.35m
| | | |
| --- | --- | --- |
| PLACE | RIDER | HORSE |
| 1st | Jack Barker | Tulara Colchic |
| 2nd | Anneliese Wansey | Kolora Stud St Patrick |
| 3rd | Chase Naylor | Checkbook |
| 4th | Fuschia Criss | Dual Diamond |
| 5th | Jack Barker | Yandoo Zenzel HBC |
| 6th | Clemency Hughes | YPH Capulet |
CLASS 20B: YANDOO EQUESTRIAN SERVICES: HORSES UNDER 7 YEARS – 1.20m
| | | |
| --- | --- | --- |
| PLACE | RIDER | HORSE |
| 1st | Tom McDermott | Clasique Emerella |
| 2nd | Dallas Bailey | Tulara Ballora |
| 3rd | James Paterson-Robinson | Czuko |
| 4th | Amanda Madigan | Dimond B Chinook |
| 5th | Madeline Sinderberry | Molinda JB |
| 6th | Tallara Cameron | KPH Campari |
JPR EQUESTRIAN – RING 2
CLASS 18A: JPR EQUESTRIAN: ADULT – 1.00m
| | | |
| --- | --- | --- |
| PLACE | RIDER | HORSE |
| 1st | Rachael Vella | Little Mate BLB |
| 2nd | William Mathew | Red Right Out |
| 3rd | Alexis Clark | Oaks Visionary |
| 4th | Lilly Trevorrow | Warraleigh Park Cortez |
| 5th | Stephanie Davies | LG Good Times |
| 6th | Amanda Madigan | Diamond B Ever After |
CLASS 18B: JPR EQUESTRIAN: JUNIOR – 1.00m
| | | |
| --- | --- | --- |
| PLACE | RIDER | HORSE |
| 1st | Sashi Arnott | Arden Elsa |
| 2nd | Hannah Doolan | Yalambis Cornetta |
| 3rd | Olive Zammit | Quintor |
| 4th | Jake McEvoy | Volodor |
| 5th | Alice Lawrence | Mr Ali |
| 6th | Alexa Garcia | Spannerkop |
CLASS 19A: THE DOOLAN FAMILY: OPEN – 1.10m
| | | |
| --- | --- | --- |
| PLACE | RIDER | HORSE |
| 1st | Rachael Vella | Vellara Delerium |
| 2nd | Lori James | Restauranter SHP |
| 3rd | Abby Coates | Japatero S |
| 4th | Mikaela MacNamara | Samara's Choice |
| 5th | Amanda Madigan | Souther Field |
| 6th | Olivia Hamood | Diva Contina PJ |
CLASS 19B: NETIER: AMATEUR – 1.10m
| | | |
| --- | --- | --- |
| PLACE | RIDER | HORSE |
| 1st | Courtney Cusack | Sandhills Swing |
| 2nd | Melanie Heygate | Oaks Quebec |
| 3rd | Jessica Bott | Raise An Angel |
| 4th | Victoria Montano | Jellystone Park Cinzano |
| 5th | Jacinta Kennedy | Tulara Willow |
| 6th | Alisa Williams | Willybling |
CLASS 20A: UNICORNIUM: OPEN – 1.20m
| | | |
| --- | --- | --- |
| PLACE | RIDER | HORSE |
| 1st | Gemma Creighton | Diangella |
| 2nd | Jacqueline Basquil | Converse |
| 3rd | Ric Serrao | Jaybee Vision |
| 4th | Gemma Creighton | Latina LSH |
| 5th | Dallas Bailey | Yalambi's Kingston |
| 6th | Nicolette Evans | Jane Fonda DVD |
SUNDAY RESULTS
GRANDSTAND ARENA – RING 1
CLASS 21: SHEPHERDS ELECTRICAL MINI PRIX SPECTACULAR: OPEN – 1.45m
| | | |
| --- | --- | --- |
| PLACE | RIDER | HORSE |
| 1st | Phillip Lever | Oaks Van Dyke |
| 2nd | Melissa Blair | Zidora |
| 3rd | Olivia Hamood | Yirrkala Cassey |
| 4th | Nicholas Taliana | Adesman |
| 5th | Aaron Hadlow | Cera Stiletto |
| 6th | Gemma Creighton | Alan 111 Z |
CLASS 22: WILLINGA PARK AND 4CYTE: GRAND PRIX SPECTACULAR – OPEN – 1.55m
| | | |
| --- | --- | --- |
| PLACE | RIDER | HORSE |
| 1st | Jamie Winning-Kermond | Tulara Stolensky |
| 2nd | Tom McDermott | Cooley Gangster |
| 3rd | Gemma Creighton | Dada Des Brimbelles Z |
| 4th | Mattea Davidson | Checkamour D |
| 5th | Josh Collins | Cornel |
| 6th | Amber Fuller | Nopal Van Tallaert |
CLASS 23: EVANS PARK: JUNIOR – 1.20m
| | | |
| --- | --- | --- |
| PLACE | RIDER | HORSE |
| 1st | Charlie Magnier | Quinn Z |
| 2nd | Abbey Kuiper | Vakarra Champagne |
| 3rd | Alexandra Machlin | Lanardo |
| 4th | Hannah Doolan | Ashleigh City Lights |
| 5th | Jack Barker | Tulara For Quinar |
| 6th | Olivia Price | Chio MS |
JPR EQUESTRIAN – RING 2
CLASS 24A: ALLAN DOBBIN REAL ESTATE: ADULT – 1.05m
| | | |
| --- | --- | --- |
| PLACE | RIDER | HORSE |
| 1st | Alexis Clark | Oaks Visionary |
| 2nd | Ruby Conlon | Lamondale Mika |
| 3rd | William Mathew | Red Right Out |
| 4th | Hollie Spence | Ego Miss Moet |
| 5th | Anna Musgrove | Statford Narnia |
| 6th | Lolita Moran | Bellinis Moonstone |
CLASS 24B: LIZ WATSON: JUNIOR – 1.05m
| | | |
| --- | --- | --- |
| PLACE | RIDER | HORSE |
| 1st | Alice Lawrence | Mucho Mucho Deniro |
| 2nd | Valentina Hercus | RBH Chaccaria |
| 3rd | Georgia Creed | Colorado River |
| 4th | Hannah Doolan | Yalambis Cornetta |
| 5th | Emmy Ravenscroft | Forever |
| 6th | Emmy Ravenscroft | Sacrefemme |
CLASS 25: NETIER: AMATEUR – 1.15m
| | | |
| --- | --- | --- |
| PLACE | RIDER | HORSE |
| 1st | Courtney Cusack | Sandhills Swing |
| 2nd | Melanie Heygate | Oaks Quebec |
| 3rd | Jacqueline Basquil | Converse |
| 4th | Jacinta Kennedy | Tulara Willow |
| 5th | Anna Musgrove | Statford Narnia |
| 6th | Isabelle Mirani | Diamond B Bellissimo |
CLASS 26: JPR EQUESTRIAN: OPEN – 1.15m
| | | |
| --- | --- | --- |
| PLACE | RIDER | HORSE |
| 1st | Deon Williams | Rhienstone |
| 2nd | Dallas Bailey | Yalambi's Kingston |
| 3rd | Lilly Trevorrow | Warraleigh Park Cortez |
| 4th | Deon Williams | Carona B |
| 5th | Emily Quodling | Cedric Hill |
| 6th | Abby Coates | Japatero S |
Results sourced from online.equipe.com
View Comments