A cracking weekend at Caboolture World Cup Show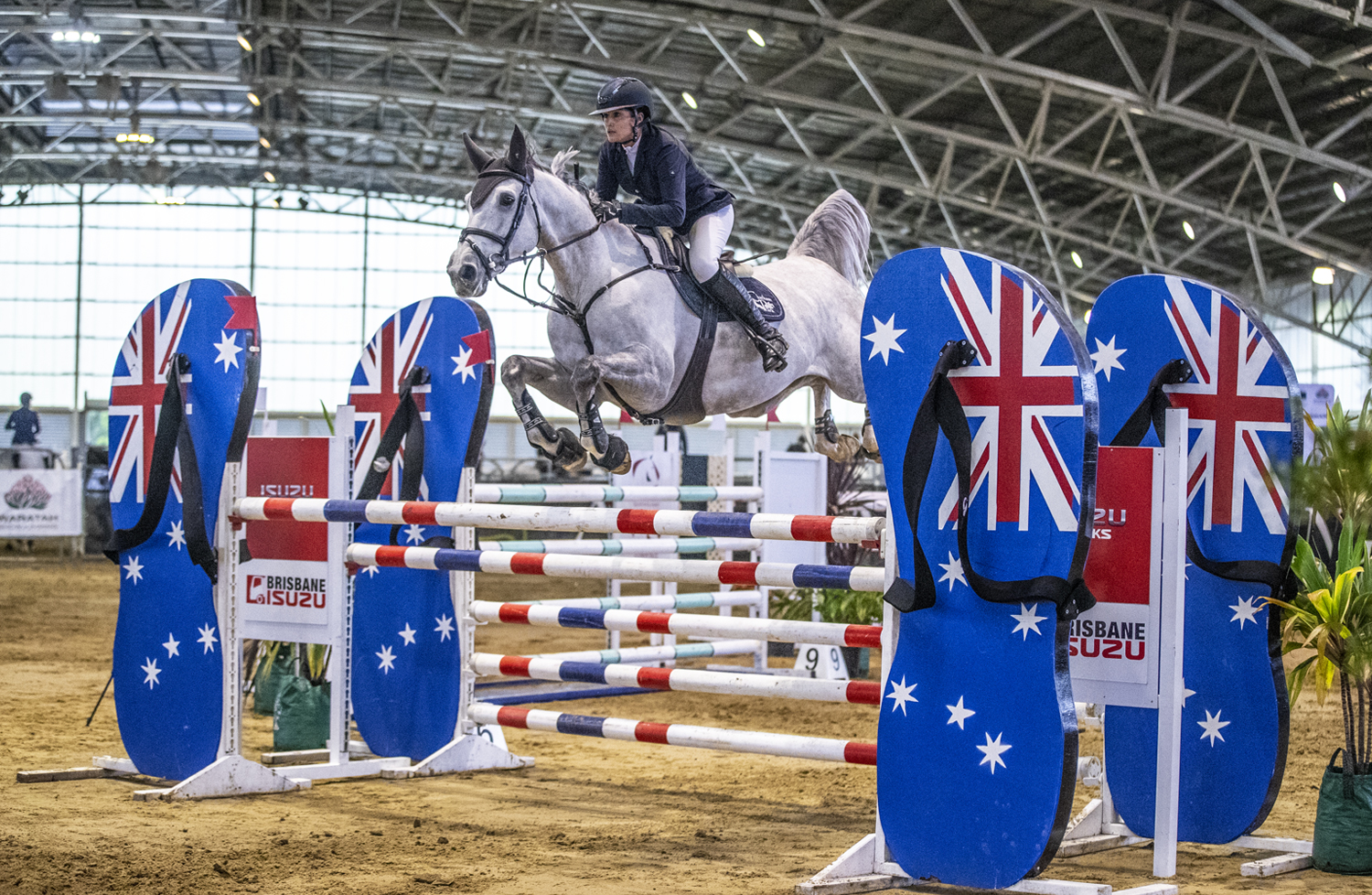 Australian Jumping
Above: Amber Fuller and Nopal van Tallaert
A brilliant four days of jumping action came to a conclusion on Sunday when the 2021 Festival of Showjumping and Caboolture FEI World Cup Show wrapped up at the Queensland State Equestrian Centre (QSEC). While the weather was less than kind on Friday, the Peachester Lodge Indoor Arena was not impacted and the two outdoor grass arena classes managed to proceed in constant light drizzle.
Advertisement


The show opened on Thursday with three huge classes in the indoor Arena and with a total of 267 combinations entered, proceedings went well into the evening. Finch Farm sponsored all three classes with the 1.15m going to Young Rider, Lucy Locke and Diamont. The 1.25m class was won by James Arkins and Yalambi Jaguar and the 1.35m taken out by Billy Raymont and YPH Capulet.
Friday saw the Juniors hit the arena with the day starting with a fine win by NSW's Charlie Magnier and Master Stevie G. Queensland rider Cody Tincknell and Barabadeen Sir Lancelot were successful in the 1.30m Young Rider class, before Amber Fuller filled both first and second placings in the Icepak sponsored open 1.40m class with Nopal van Tallaert and Upperclass Z.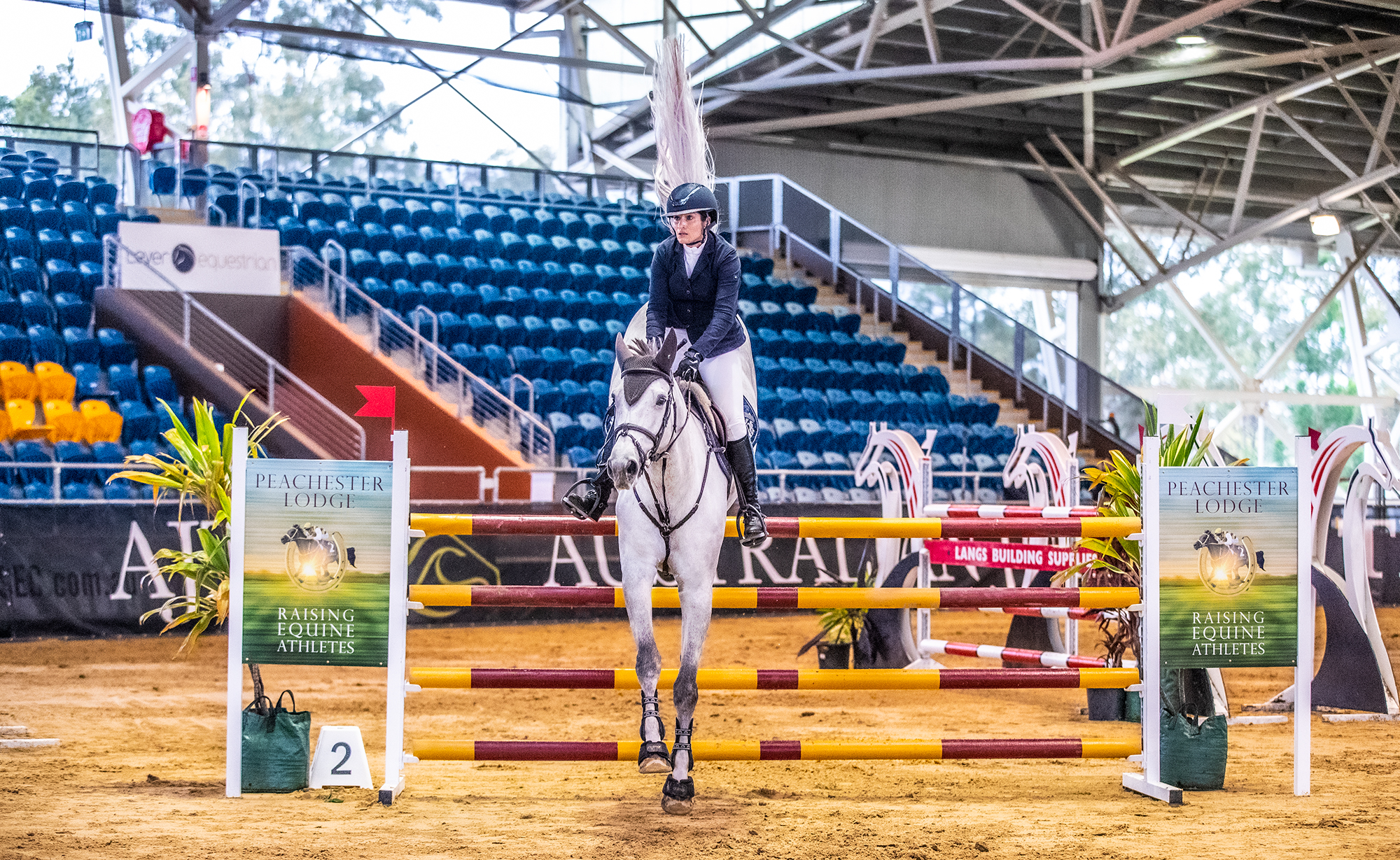 Amber Fuller and Nopal van Tallaert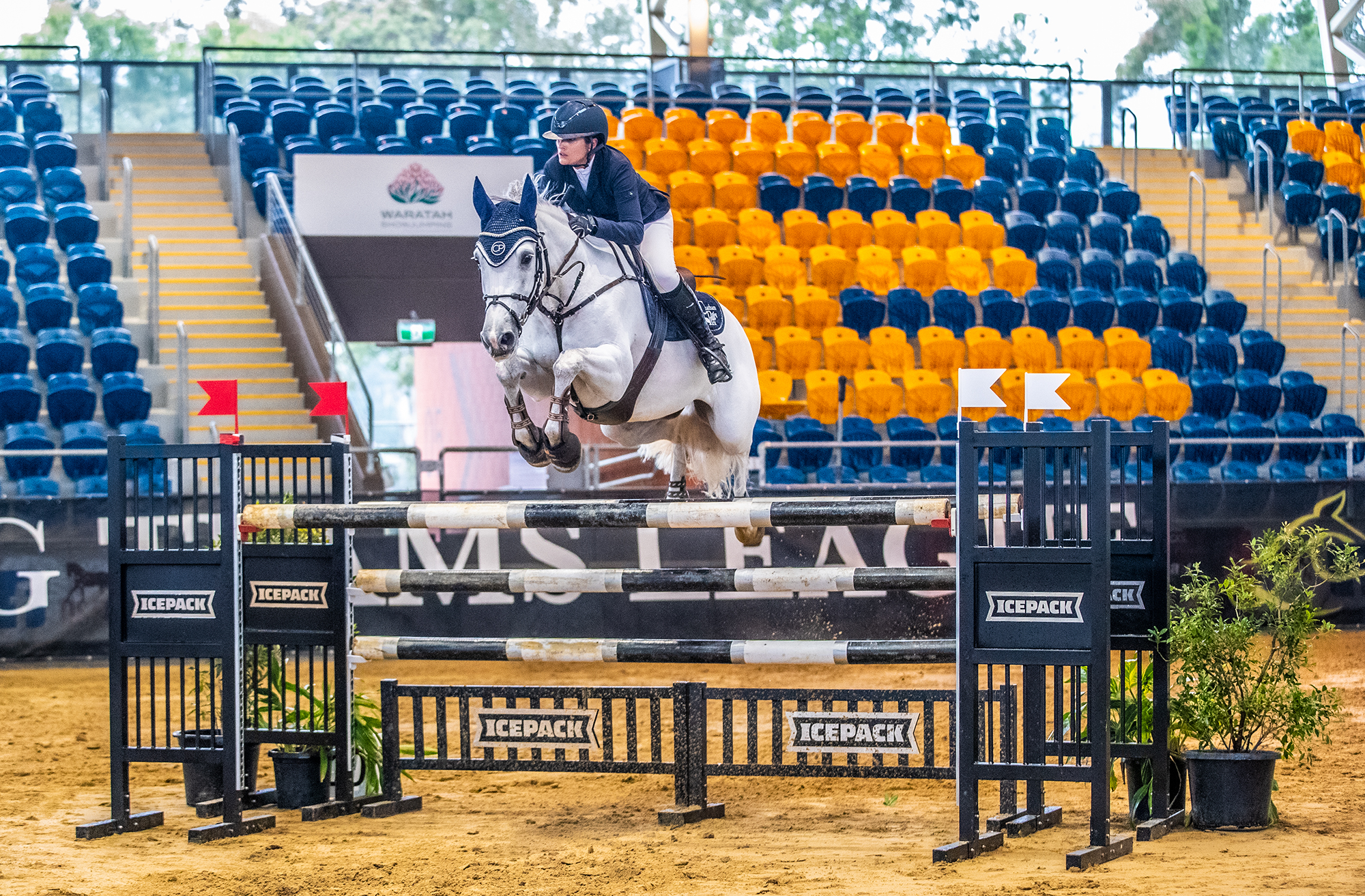 Amber Fuller and Upperclass Z
In the evening, the first Leg of the 2021 Australian Jumping Teams League was held and the new format proved a winner with the large crowd watching on. The last combination on course, Willinga Park's Billy Raymont and Anton created AJTL history by being the first team to finish with a team total of minus 4, thanks to three perfect rides before Raymont successfully negotiate the Geopro joker fence to score the -4 bonus. For a full report on this exciting class, click HERE.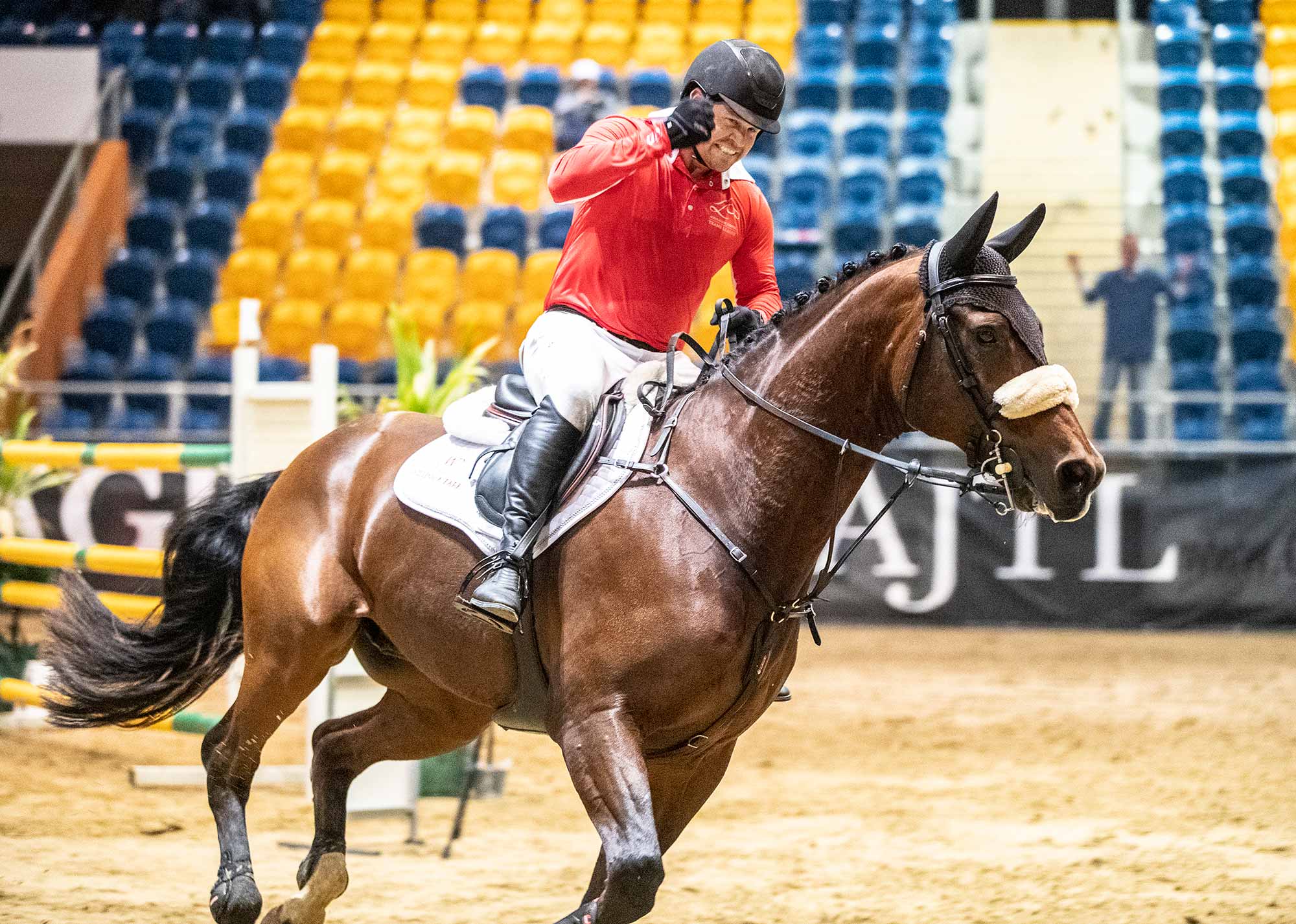 Billy Raymont and Anton
The star of the grass arenas on Friday was Hayley Morris, who won both class 9A and 9B, combining with Lady Constance to take out the 6-year-old division and Corlara QSH in the open division, all at 1.20m.
The action in the main arena on Saturday kicked off with a win to Cody Tincknell and Meridian Primadonna in a Junior 1.10m class, in which he also came second on Diamon J Connect The Dots. James Arkins and Joevaro R won the futurity class before the First Leg of the 2021 Stal Tops Young Rider Championship was held. Three combinations went double clear, but the win went to NSW's Madeline Sinderberry and the gelding Keilor Bamboo, scoring $1,500 and a rug for their efforts. It is a great start for Sinderberry who came second in her only Stal Tope Series Start in 2019. For a full report on this class, click HERE.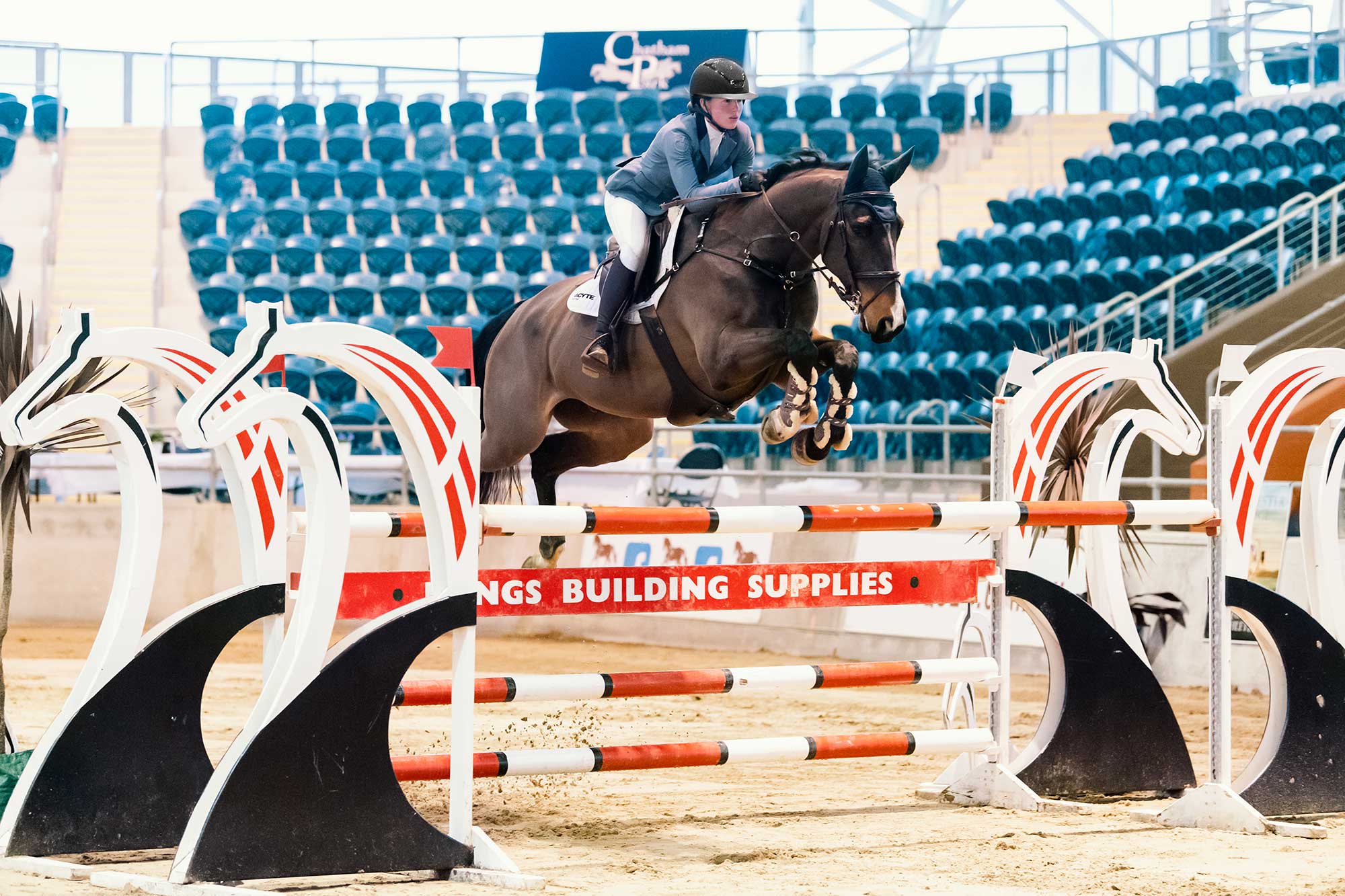 Madeline Sinderberry and Keilor Bamboo. Photo credit: Jasmine Dunmore Photography
The evening class was the Peachester Lodge FEI Caboolture World Cup Qualifier, which had the very large crowd on the edge of their seats from beginning to end. Former Western Australian rider Maddison Stephen, who also had a minus 4 ride in the AJTL the previous night, combined with Yalambi's Grazi for a double clear performance to take her first World Cup Qualifier. A full story about this exhilarating class can be seen by clicking HERE.
Sunday saw just two classes in the main arena. Sponsored by LDK and Peachester Lodge, the 1.20m Amateur Championship was won by Tim Bowman and Calaza Park Ellira with a double clear performance and a sizzling jump-off time. The LDK Mini-Prix over 1.35m was won by Sally Simmonds and Oaks Charleville. Simonds is in good form as this win follows her win with Chio MS in last week's Young Rider Championship at the Gatton World Cup Show.
Advertisement

On the outside arenas, the Petstock 1.10m Junior Championship went to rising star Maleah Lang-McMahon and a horse she is listed as owning K.S. Vakarra Champagne, while the Wilark Sporthorses 1.20m Junior Championship was won by Sarah Harms and Calveston Cavalier in a wonderful double clear display. The Raymont Equestrian sponsored Childrens Championship was won by Harriet Smith and I'm A Cowboy.
It was also a great weekend for Alison Ostenfeld and Aveden Atom from the Coffs Coast Jump Club who competed in Open 1.10m classes over the weekend. They took a third place on Friday and followed this up with a pair of wins on Saturday and Sunday.
Advertisement


Congratulations goes to all the winners and placegetters over the four days. The first six placings for each class are listed below.
THURSDAY RESULTS
RING 1 – PEACHESTER LODGE ARENA
CLASS 1: Finch Farm – Open – 1.15m
| | | |
| --- | --- | --- |
| PLACE | RIDER | HORSE |
| 1st | Lucy Locke | Diamont |
| 2nd | Kaitlyn Parlevliet | Koyuna Galaxy |
| 3rd | Aaron Williamson | Wilark Quinto |
| 4th | Hugh Buchanan | Its Bandito |
| 5th | James Arkins | Rosthwaite Cover Girl |
| 6th | James Paterson-Robinson | Diamond B Beethoven |
CLASS 2: Finch Farm – Open – 1.25m
| | | |
| --- | --- | --- |
| PLACE | RIDER | HORSE |
| 1st | James Arkins | Yalambi Jaguar |
| 2nd | Hayley Morris | Gisborne Girl |
| 3rd | Clem Smith | Quantico 12 |
| 4th | James Arkins | Joevaro R |
| 5th | Gemma Creighton | Its Silkbridge |
| 6th | Gemma Creighton | Dada Des Brimbelles Z |
CLASS 3: Finch Farm – Open – 1.35m
| | | |
| --- | --- | --- |
| PLACE | RIDER | HORSE |
| 1st | Billy Raymont | YPH Capulet |
| 2nd | Brock Harvey | Powerhouse Park Ego Roc |
| 3rd | Matthew Afford | Kaluna Salute |
| 4th | Hayley Morris | Crescendo NZPH |
| 5th | Merrick Ubank | Elmo |
| 6th | Hayley Morris | Gisborne Girl |
FRIDAY RESULTS
RING 1 – PEACHESTER LODGE ARENA
CLASS 7A: PETstock – Junior Riders – 1.10m
| | | |
| --- | --- | --- |
| PLACE | RIDER | HORSE |
| 1st | Charlie Magnier | Master Stevie G |
| 2nd | Charly Robinson-Smith | Carisma II |
| 3rd | Charlie Magnier | KEC Sofia |
| 4th | Phoebe Riordan | Another Conquest |
| 5th | Amy Cunzolo | Finch Farm Curtis |
| 6th | Jasmine Jensen | Wondaree Odin |
CLASS 4: National Group – Young Riders – 1.30m
| | | |
| --- | --- | --- |
| PLACE | RIDER | HORSE |
| 1st | Cody Tincknell | Barabadeen Sir Lancelot |
| 2nd | Lucy Locke | Diamont |
| 3rd | Lucy Locke | Quero Quero |
| 4th | Madeline Sinderberry | Keilor Bamboo |
| 5th | Madeline Sinderberry | Balentino |
| 6th | Madeline Sinderberry | Camie Z |
CLASS 5: Icepack – Open – 1.40m
| | | |
| --- | --- | --- |
| PLACE | RIDER | HORSE |
| 1st | Amber Fuller | Nopal Van Tallaert |
| 2nd | Amber Fuller | Upperclass Z |
| 3rd | Olivia Hamood | Knock Out 111 |
| 4th | Jamie Priestley | Courage |
| 5th | Caitlin Bolger | Yalambi's Harlequin |
| 6th | Mitchell Peulic | WP Elegance |
CLASS 6: Australian Jumping Teams League
| | | |
| --- | --- | --- |
| PLACE | TEAM | FAULTS |
| 1st | Willinga Park | -4 |
| 2nd | Chatham Park | 0 |
| 3rd | Horsepower / CWD | 0 |
| 4th | Martin Collins Australia | 0 |
| 5th | Langs Building Supplies | 0 |
| 6th | NORA Network | 4 |
| 7th | Coolmore Peachester | 12 |
| 8th | GPI Racing / Winning Group | 16 |
| 9th | Waratah Showjumping | 25 |
RING 2 – WILARK SPORTHORSES ARENA
CLASS 7B: Open – 1.10m
| | | |
| --- | --- | --- |
| PLACE | RIDER | HORSE |
| 1st | Anita Bridge | Genuine Princess |
| 2nd | Robert Goodwin | Oaks Costa Rica |
| 3rd | Alison Ostenfeld | Aveden Atom |
| 4th | Sarah Weiss | Twins Delux |
| 5th | Michelle Niass | Warraleigh Park Ally Umbro |
| 6th | Danielle Camp | Riverside Kan Kan |
CLASS 8A: PETstock – Amateur Riders – 1.20m
| | | |
| --- | --- | --- |
| PLACE | RIDER | HORSE |
| 1st | Gemma Coleman | Mountain View Our Balou |
| 2nd | Gemma Coleman | Mountain View Lady Balou |
| 3rd | Mia Smith | Sangster |
| 4th | Tara Khan | Lanardo |
| 5th | Rockwell Williamson-Rudder | Springvale Stalymag |
| 6th | Nadia Gronow | Oaks Debutante |
CLASS 8B: Wilark Sporthorses – Junior Riders – 1.20m
| | | |
| --- | --- | --- |
| PLACE | RIDER | HORSE |
| 1st | Kaitlyn Parlevliet | Stella |
| 2nd | Sarah Harms | Calveston Cavalier |
| 3rd | Holly Tomkins | Donegal Red |
| 4th | Kaitlyn Parlevliet | Koyuna Galaxy |
| 5th | Ashley Cutler | Kinnordy Rhena |
| 6th | Maleah Lang-McMahon | Finch Farm Carlsberg |
CLASS 9A: 6-year-old horses – 1.20m
| | | |
| --- | --- | --- |
| PLACE | RIDER | HORSE |
| 1st | Hayley Morris | Lady Constance |
| 2nd | Thomas Sedger | Casino Jack |
| 3rd | Thomas Sedger | Cil Dara Deniro |
| 4th | Georgia Robertson | Belrock Ciara |
| 5th | Mattea Davidson | Christabella D |
| 6th | Ashley Cutler | Licandro |
CLASS 9B: Open – 1.20m
| | | |
| --- | --- | --- |
| PLACE | RIDER | HORSE |
| 1st | Hayley Morris | Corlara QSH |
| 2nd | Coco Miles | Emcee Ezra |
| 3rd | Rosie Oliver | Carina 1 |
| 4th | James Hetherington | Killara Park Sentaroi |
| 5th | Isobel Guinness | Finch Farm Cracker |
| 6th | William Wood | Dusky Farm Comtess |
RING 3 – LDK ARENA
CLASS 10: H&H Equestrian – Open – 0.80m
| | | |
| --- | --- | --- |
| PLACE | RIDER | HORSE |
| 1st | Jasmine Jensen | JFK |
| 2nd | Kaya Zielinski | Lady Of Diamonds |
| 3rd | Ava Jensen | Brooklee Smallchange |
| 4th | Lorna Clifford | Kahean Trooper Nelson |
| 5th | Evie Magnier | Mirabelle Patterson |
| 6th | Heidee Grisbrook | It's What |
CLASS 11A: PETstock – Open – 0.90m
(Peachester lodge providing $200 for the highest placed thoroughbred)
| | | |
| --- | --- | --- |
| PLACE | RIDER | HORSE |
| 1st | Lorna Clifford | Ngahiwi Possum |
| 2nd | Molly Boden | Miss AllyKat |
| 3rd | Jasmine Jensen | JFK |
| 4th | Ava Jensen | Brooklee Smallchange |
| 5th | Harriet Smith | I'm A Cowboy |
| 6th | Hannah Boden | Alice Dreams |
CLASS 11B: 4-year-old horses – 0.90m
| | | |
| --- | --- | --- |
| PLACE | RIDER | HORSE |
| 1st | Thomas Sedger | Stir It Up |
| 2nd | Nora Palasthy | HEC Chai Latte |
| 3rd | Phoebe Shannon | Finch Farm Delux |
| 4th | Bethany van Barnevelde | Elysian Fields Paradise |
| 5th | Olivia Hamood | Dawn |
| 6th | Michael Wright | Kabyo Park Dyson |
CLASS 12A: Open – 1.05m
| | | |
| --- | --- | --- |
| PLACE | RIDER | HORSE |
| 1st | Olivia Galetto | Kismet Anastasia |
| 2nd | Harriet Smith | I'm A Cowboy |
| 3rd | Olivia Hamood | Concorde GHP |
| 4th | Mia Jensen | Astronomy |
| 5th | Alexandra Morris | Starlight Dazzle Razzle |
| 6th | Michelle Helmore | Castile |
CLASS 12B: 5-year-old horses – 1.05m
| | | |
| --- | --- | --- |
| PLACE | RIDER | HORSE |
| 1st | Samantha Dernee | Glenara Luxury Z |
| 2nd | Laura Harland | Vamoose B |
| 3rd | James Mooney | JB Delightful |
| 4th | James Arkins | Kitara Krug |
| 5th | Cassie Stokes | Keepsake CS |
| 6th | Thomas Madigan | It's High Cotton |
SATURDAY RESULTS
RING 1 – PEACHESTER LODGE ARENA
CLASS 16A: PETstock – Junior Riders – 1.10m
| | | |
| --- | --- | --- |
| PLACE | RIDER | HORSE |
| 1st | Cody Tincknell | Meridian Primadonna |
| 2nd | Cody Tincknell | Diamon J Connect The Dots |
| 3rd | Charlie Magnier | Master Stevie G |
| 4th | Jasmine Jensen | Wondaree Odin |
| 5th | Charly Robinson-Smith | Carisma II |
| 6th | Holly Tomkins | Finch Farm Vroom |
CLASS 13: Bassett Barks – Futurity (horses 6-8 years) – 1.25m
| | | |
| --- | --- | --- |
| PLACE | RIDER | HORSE |
| 1st | James Arkins | Joevaro R |
| 2nd | Thomas Sedger | Big Dream Z |
| 3rd | Tom McDermott | Conchita van de Helle |
| 4th | James Paterson-Robinson | Diamond B Beethoven |
| 5th | Kate Hinschen | Yalambi's J'adore |
| 6th | Madeline Sinderberry | Balentino |
CLASS 14: Stal Tops Young Rider Championship – 1.30m
| | | |
| --- | --- | --- |
| PLACE | RIDER | HORSE |
| 1st | Madeline Sinderberry | Keilor Bamboo |
| 2nd | Maleah Lang-McMahon | K.S. Sovereigns Cadel |
| 3rd | Jess Rice-Ward | Denison Park Style |
| 4th | Tayla Parlevliet | Flash Drive |
| 5th | Madeline Sinderberry | Camie Z |
| 6th | Anneliese Wansey | Kolora Stud St Patrick |
CLASS 15: Peachester Lodge – FEI Caboolture World Cup Qualifier
| | | |
| --- | --- | --- |
| PLACE | RIDER | HORSE |
| 1st | Maddison Stephen | Yalambi's Grazi |
| 2nd | Aaron Hadlow | Vahlinvader |
| 3rd | Billy Raymont | Anton |
| 4th | James Arkins | Eurostar 1 |
| 5th | Olivia Hamood | Jane Fonda DVD |
| 6th | Tom McDermott | Warraleigh Park Cortez |
| 7th | Clem Smith | Alite |
| 8th | Izabella Stone | Lincoln MVNZ |
| 9th | Jamie Priestley | Courage |
| 10th | Sam Overton | Oaks Cassanova |
| 11th | Kate Hinschen | Finch Farm Cadel |
| 12th | Josh Collins | Cornel |
RING 2 – WILARK SPORTHORSES ARENA
CLASS 16B: Open – 1.10m
(Peachester lodge providing $200 for the highest placed thoroughbred)
| | | |
| --- | --- | --- |
| PLACE | RIDER | HORSE |
| 1st | Alison Ostenfeld | Aveden Atom |
| 2nd | Hugh Buchanan | Its Bandito |
| 3rd | Sarah Weiss | Twins Delux |
| 4th | Anita Bridge | Genuine Princess |
| 5th | Georgia Robertson | Belrock Ciara |
| 6th | Alison Ostenfeld | QEB Cool Kitty |
CLASS 17A: National Group – Amateur Riders – 1.20m
| | | |
| --- | --- | --- |
| PLACE | RIDER | HORSE |
| 1st | Mia Smith | Sangster |
| 2nd | Tara Khan | Lanardo |
| 3rd | Alison Ford | Elijah |
| 4th | Sarah Weiss | Twins Delux |
| 5th | Kylie Hawkins | Callidor |
| 6th | Tara Khan | Oxlea Zara |
CLASS 17B: Wilark Sporthorses – Junior Riders – 1.20m
| | | |
| --- | --- | --- |
| PLACE | RIDER | HORSE |
| 1st | Holly Tomkins | Donegal Red |
| 2nd | Kaitlyn Parlevliet | Koyuna Galaxy |
| 3rd | Sarah Harms | Calveston Cavalier |
| 4th | Kaitlyn Parlevliet | Stella |
| 5th | Ashley Cutler | Kinnordy Rhena |
| 6th | Jamie Hewitt-Toms | Devereaux Sea Salt |
CLASS 17C: 6-year-old horses – 1.20m
| | | |
| --- | --- | --- |
| PLACE | RIDER | HORSE |
| 1st | Georgia Robertson | Belrock Ciara |
| 2nd | Jodie Skeels | Laurel Glen Tupelo Honey |
| 3rd | Rhys Stones | Riverton Baluprint |
| 4th | Ashley Cutler | Licandro |
CLASS 18: Horseland – Open – 1.30m
| | | |
| --- | --- | --- |
| PLACE | RIDER | HORSE |
| 1st | Matthew Afford | La Luna Cucinelli |
| 2nd | Alyse Maxwell | Dakardo |
| 3rd | Hayley Morris | Gisborne Girl |
| 4th | Stephen Dingwall | Cavalier Carolus |
| 5th | Robert Goodwin | Warrego Africa |
| 6th | Hayden James | James' Carrera |
RING 3 – LDK ARENA
CLASS 19: Wilson Equestrian – Open – 0.80m
| | | |
| --- | --- | --- |
| PLACE | RIDER | HORSE |
| 1st | Kaya Zielinski | Lady Of Diamonds |
| 2nd | Ava Jensen | Brooklee Smallchange |
| 3rd | Evie Magnier | Mirabelle Patterson |
| 4th | Anita Bridge | Kolora Stud Wisdom |
| 5th | Bella Youngbella | Galaxy Guru YPT |
| 6th | Mack Rudder | Keen Tiara |
CLASS 20A: H&H Equestrian – Open – 0.90m
| | | |
| --- | --- | --- |
| PLACE | RIDER | HORSE |
| 1st | Jasmine Jensen | JFK |
| 2nd | Sarah Weiss | Waratone |
| 3rd | Jess Stones | Kanntina JRE |
| 4th | Jessie Knight | Pippins D'Mae |
| 5th | Julia Paulger | Excals Kelhani |
| 6th | Claudia Studdert | Donjolie DN |
CLASS 20B: 4-year-old horses – 0.90m
| | | |
| --- | --- | --- |
| PLACE | RIDER | HORSE |
| 1st | James Hetherington | Stir It Up |
| 2nd | Mandy Gillan | Moses GE |
| 3rd | Nora Palasthy | HEC Chai Latte |
| 4th | Olivia Hamood | Dawn |
| 5th | Tara Wilkinson | Moniquita |
| 6th | Michael Wright | Kabyo Park Dyson |
CLASS 20C: Glen Haven Park – Children riders – 0.90m
| | | |
| --- | --- | --- |
| PLACE | RIDER | HORSE |
| 1st | Ava Jensen | Brooklee Smallchange |
| 2nd | Kaya Zielinski | Lady Of Diamonds |
| 3rd | Katy Robinson-Smith | Pure Obsession |
| 4th | Harriet Smith | I'm A Cowboy |
| 5th | Ava Jensen | Elm Tree Loki |
| 6th | Billie Lowson | Take The Mickey |
CLASS 21A: Open – 1.05m
(Peachester lodge providing $200 for the highest placed thoroughbred)
| | | |
| --- | --- | --- |
| PLACE | RIDER | HORSE |
| 1st | Olivia Galetto | Kismet Anastasia |
| 2nd | Nora Palasthy | Kahean Trooper Diamond |
| 3rd | Juanita Whip | Peppered Pink |
| 4th | Mackenzie Patterson-Hollibone | Bolong Park Ego Cyrano |
| 5th | Hayden James | Quint Horta |
| 6th | Clint Beresford | James Bugatti |
CLASS 21B: 5-year-old horses – 1.05m
| | | |
| --- | --- | --- |
| PLACE | RIDER | HORSE |
| 1st | James Arkins | Blueberry R |
| 2nd | Samantha Dernee | Glenara Luxury Z |
| 3rd | Michelle Helmore | Ad Astra |
| 4th | James Mooney | JB Delightful |
| 5th | Cassie Stokes | Keepsake CS |
| 6th | Robert Freeman | Saint Dunstan |
SUNDAY RESULTS
RING 1 – PEACHESTER LODGE ARENA
CLASS 22: LDK and Peachester Lodge – Amateur Championship – 1.20m
| | | |
| --- | --- | --- |
| PLACE | RIDER | HORSE |
| 1st | Tim Bowman | Calaza Park Ellira |
| 2nd | Holly Penfold | Just Dutch |
| 3rd | Mia Smith | Sangster |
| 4th | Alison Ford | Elijah |
| 5th | Tara Khan | Lanardo |
| 6th | Jessie Smith | Co-Pilot |
CLASS 23: LDK – Mini Prix – 1.35m
| | | |
| --- | --- | --- |
| PLACE | RIDER | HORSE |
| 1st | Sally Simmonds | Oaks Charleville |
| 2nd | James Paterson-Robinson | Equador MVNZ |
| 3rd | Kirstie Ansell | Tulara Stolensky |
| 4th | Will Dight | Thea |
| 5th | Tom McDermott | Yalambi's Harvard |
| 6th | Jamie Priestley | Oaks Diamantina |
RING 2 – WILARK SPORTHORSES ARENA
CLASS 24: PETstock – Junior Championship – 1.10m
| | | |
| --- | --- | --- |
| PLACE | RIDER | HORSE |
| 1st | Maleah Lang-McMahon | K.S. Vakarra Champagne |
| 2nd | Holly Tomkins | Donegal Red |
| 3rd | Molly Boden | Miss AllyKat |
| 4th | Amy Cunzolo | Finch Farm Curtis |
| 5th | Charly Robinson-Smith | Carisma II |
| 6th | Ashley Cutler | Emcee Vagabond |
CLASS 25: Wilark Sporthorses – Junior Championship – 1.20m
| | | |
| --- | --- | --- |
| PLACE | RIDER | HORSE |
| 1st | Sarah Harms | Calveston Cavalier |
| 2nd | Elkee Lang-McMahon | Ned O'Reilly |
| 3rd | Heidi Stewart | Oaks Tinkabelle Tap |
| 4th | Kaitlyn Parlevliet | Koyuna Galaxy |
| 5th | Holly Tomkins | Finish Farm Vroom |
| 6th | Lara Christoffelsz | Check In Charlie |
RING 3 – LDK ARENA
CLASS 26: Raymont Equestrian – Childrens' Championship – 1.00m
| | | |
| --- | --- | --- |
| PLACE | RIDER | HORSE |
| 1st | Harriet Smith | I'm A Cowboy |
| 2nd | Skye Hosie | Bellrego |
| 3rd | Scarlett McKimmie | Animatrix |
| 4th | Katy Robinson-Smith | Pure Obsession |
| 5th | James Hosie | Viewmont Buster |
| 6th | Ava Jensen | Brooklee Smallchange |
CLASS 27: Elite Equine Products – Horses under 16 points – 1.10m
| | | |
| --- | --- | --- |
| PLACE | RIDER | HORSE |
| 1st | Emmy Ravenscroft | Bellhaven Arizona |
| 2nd | Kelly Williams | Elimbah Park Rose |
| 3rd | Anthony Murray | Kenlock Invincible |
| 4th | Matthew Whalley | Shadow Seventy |
| 5th | Penny Newbold | Mr Adams |
| 6th | Georgia Robertson | Belrock Ciara |
CLASS 28: Classic Treadmills – Open – 1.10m
(Peachester lodge providing $200 for the highest placed thoroughbred)
| | | |
| --- | --- | --- |
| PLACE | RIDER | HORSE |
| 1st | Alison Ostenfeld | Aveden Atom |
| 2nd | Aaron Williamson | Wilark Kannangaroo |
| 3rd | Sarah Weiss | Wins Delux |
| 4th | Laura Bourke | Finch Farm Azarah |
| 5th | Penny Newbold | Mr Adams |
| 6th | Hugh Buchanan | Its Bandito |
Results sourced from online
View Comments