A tale of success for Jamie Kermond at the JNSW Autumn Classic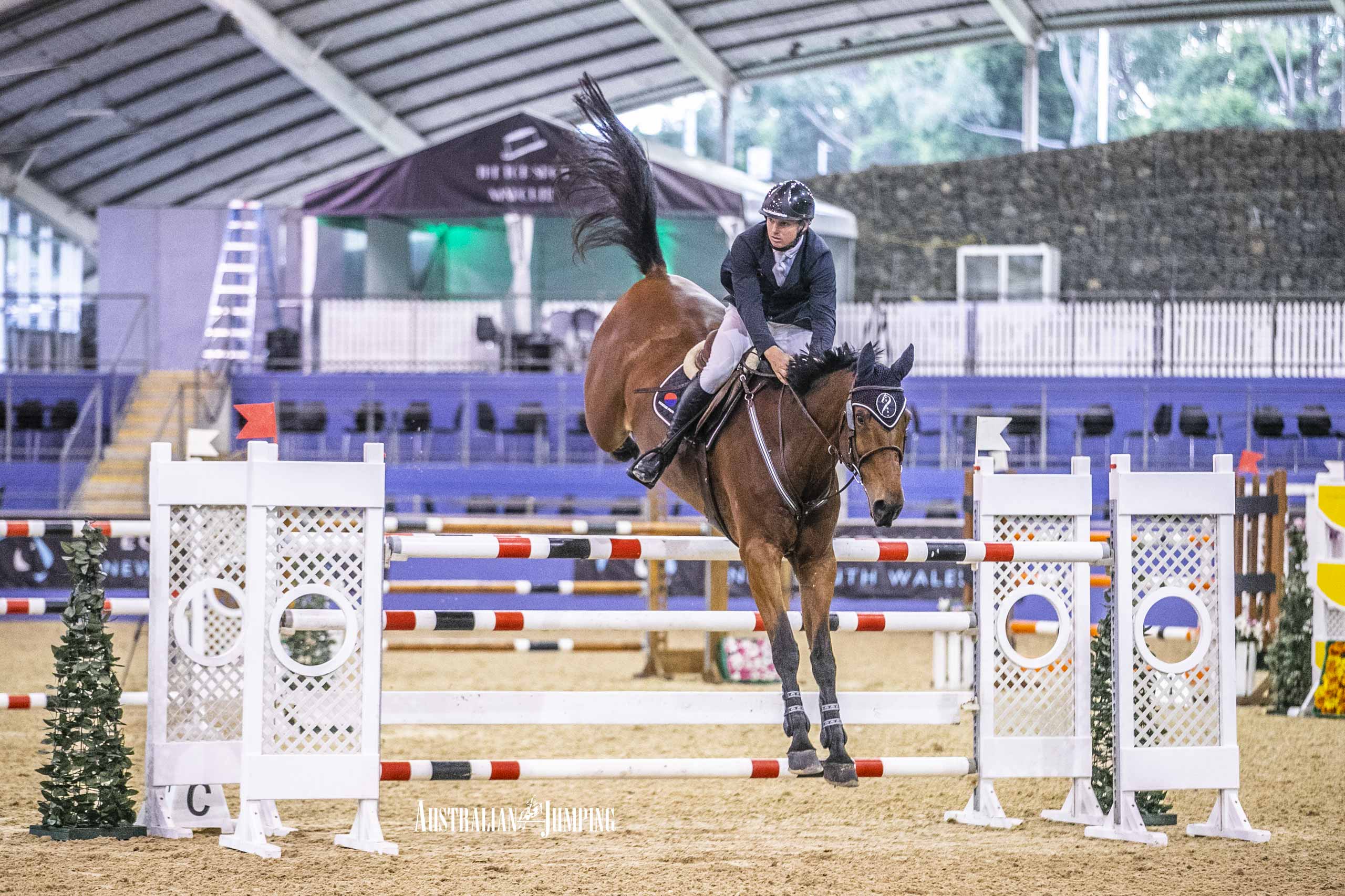 Australian Jumping
Above: Jamie Kermond and Yandoo Oaks Constellation.
Running in conjunction with the last weekend's Sydney 3DE, at the Sydney International Equestrian Centre (SIEC), Jumping NSW conducted its Autumn Showjumping Classic, over two days in the indoor arena. Classes started at 1.05m through to the 1.40m Grand Prix, with a series of two-phase classes on Saturday, followed by an exciting series of jump-off classes on Sunday.
Advertisement

Jamie Kermond was no doubt the star of the weekend winning three of the thirteen classes conducted as well as another third placing.
Things got underway on Saturday with young Charlie Magnier in combination with Master Stevie G taking the win in the 1.05m Open class. May has been a great month for this star of the future as this win followed a win just a week ago in an open 1.10m class at the Victorian State Titles at Werribee. Tess McInerney in a return to form after an extended injury and COVID-19 enforced break reminded us of the talent that she is with second and third placings with Holmwood Valentine and Quintation respectively. The young horse division of this class was won by Monique Barrett and Dusky Farm Duncan.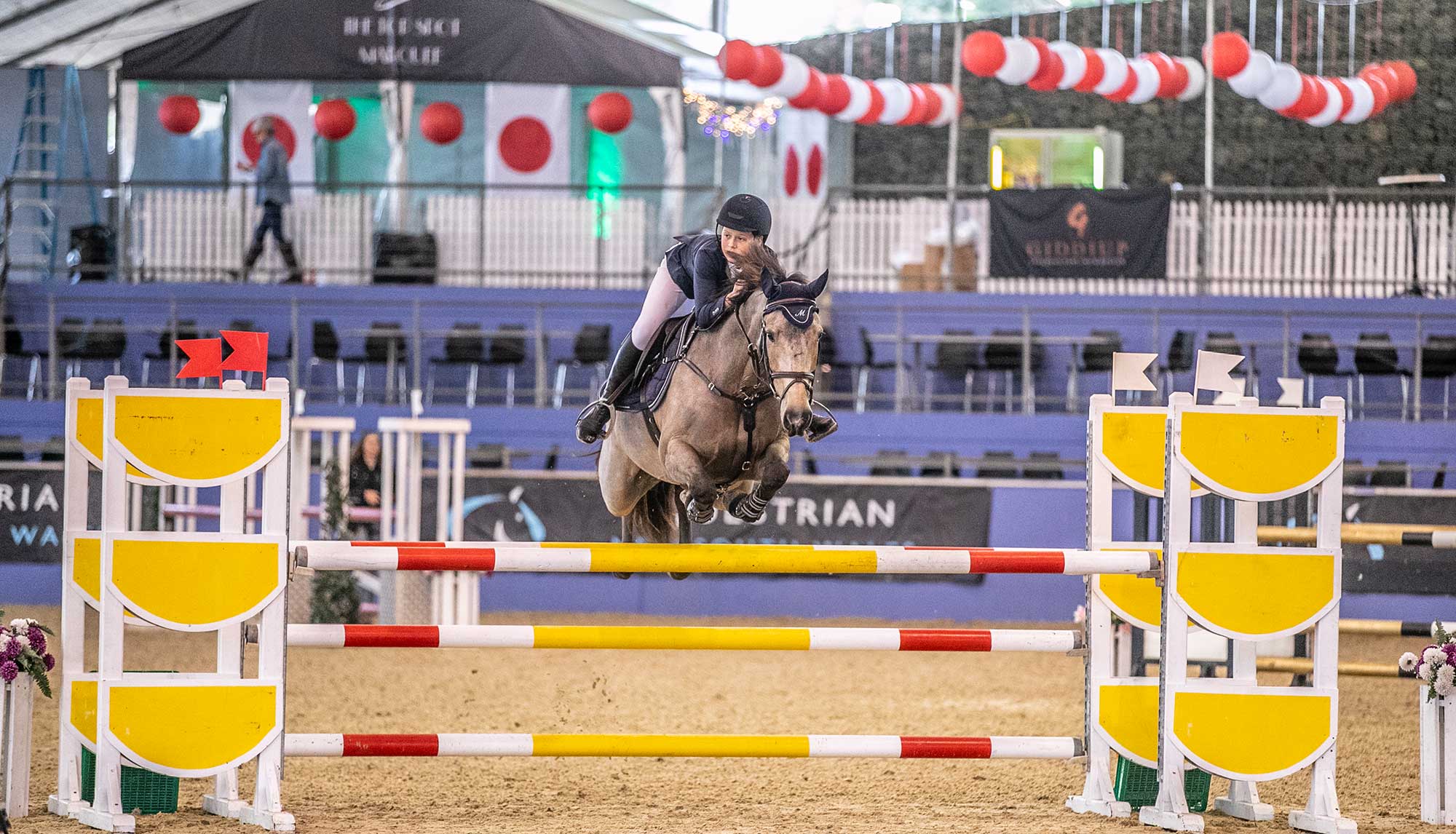 Charlie Magnier and Master Stevie G
Southern Highlands based Ella Hayward and Barrabadeen Calypso took out the Junior Rider 1.15m class, just pushing Cattai's Jessica Galea and Checka into second with Charlie Magnier and Master Stevie G completing the podium. After their third place in the Open 1.05m class, Tess McInerney and Quintation showed their class to win the Open division of the 1.15m event.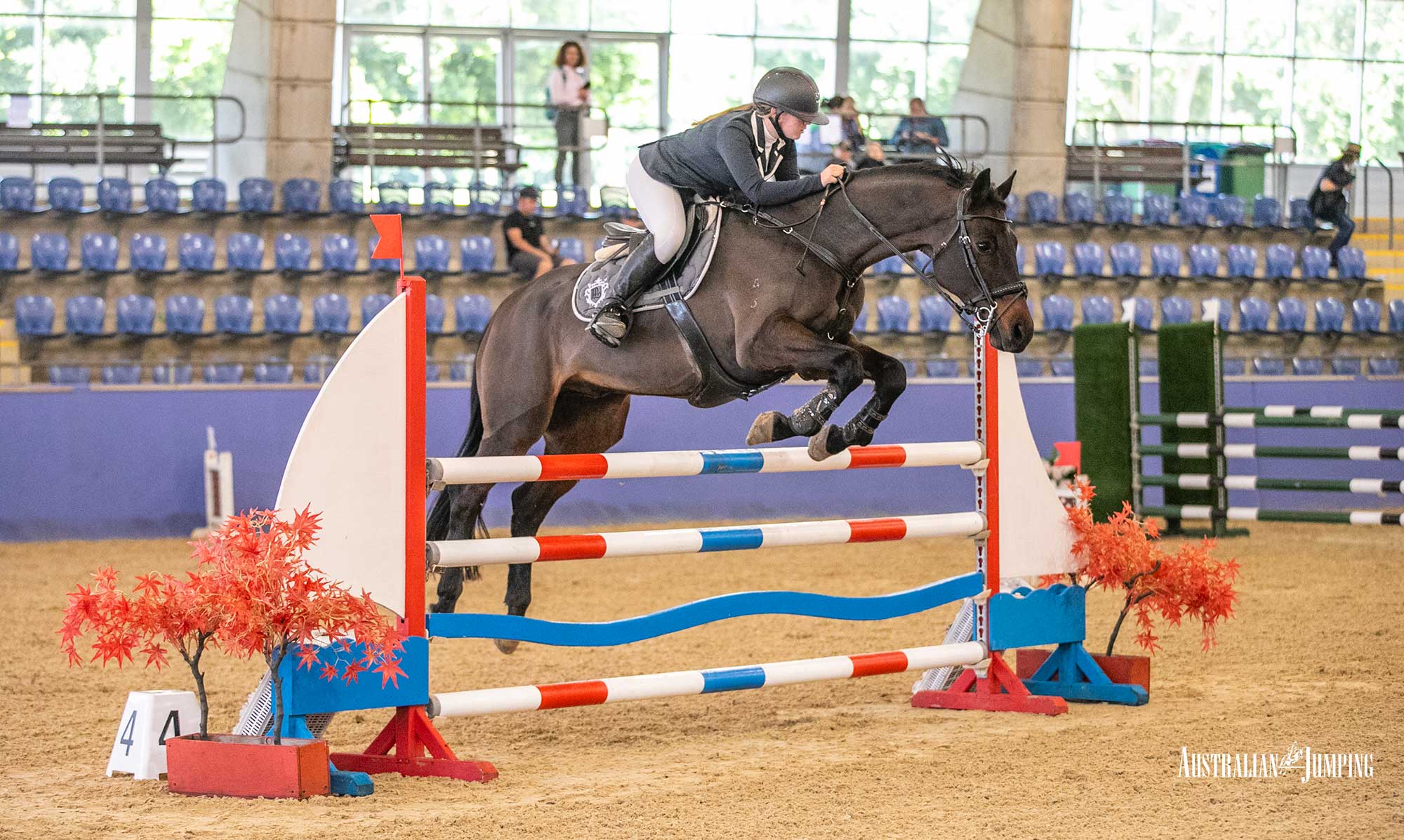 Ella Hayward and Barrabadeen Calypso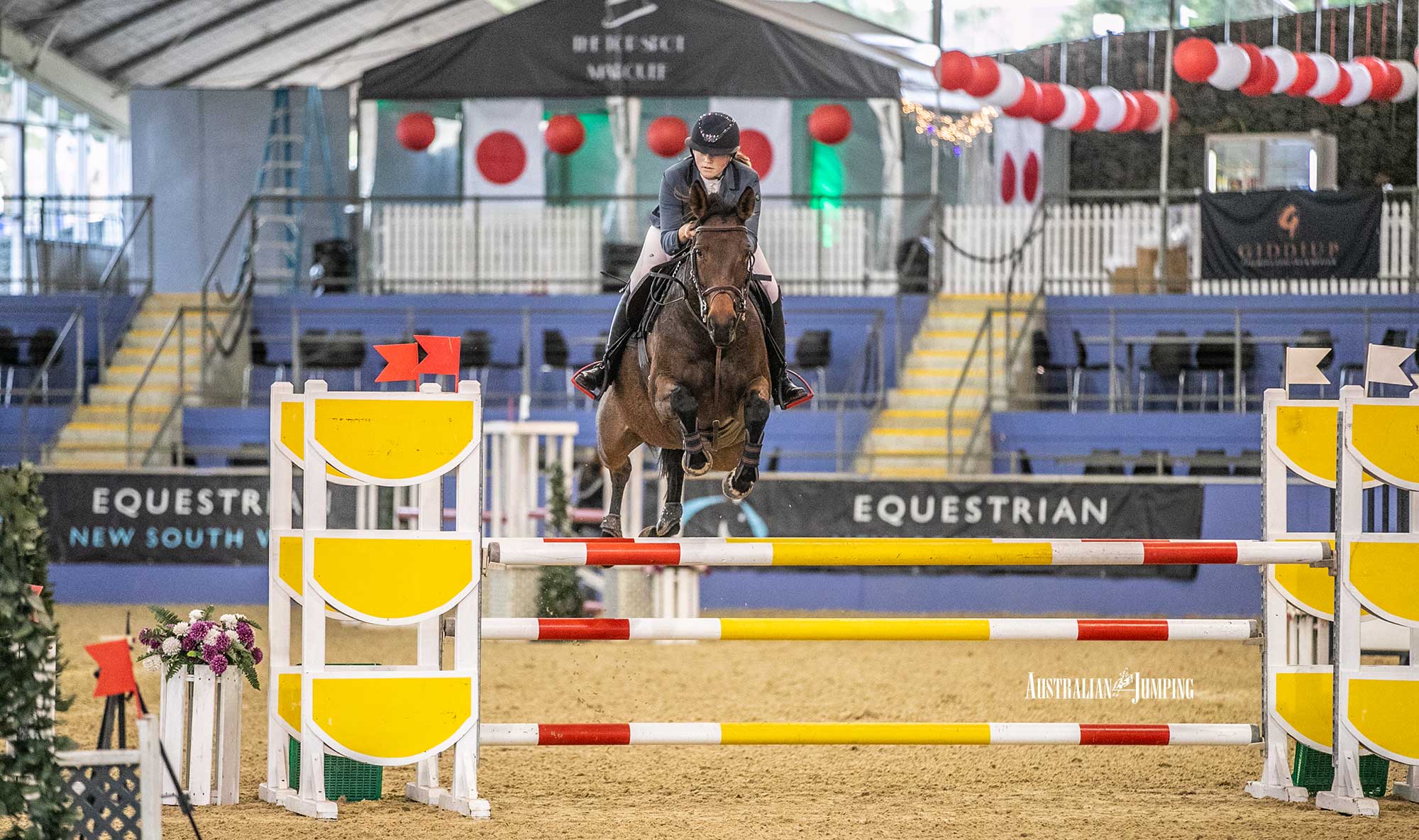 Jessica Galea and Checka
Advertisement


The fences went up to 1.25m for the next class and it was experience to the fore. Maroota's Andrew Inglis fresh from their success in an open 1.25m class at his local Hawkesbury Show (where he also won the Mini Prix and the Grand Prix) took out the open division of the 1.25m class with Indiana Goodtimes. The current NSW Senior Champion, Jamie Priestley with Kolora Stud Optimus came in second, while Inglis, this time with his Hawkesbury Show Mini Prix winning mount, Laracas, were third.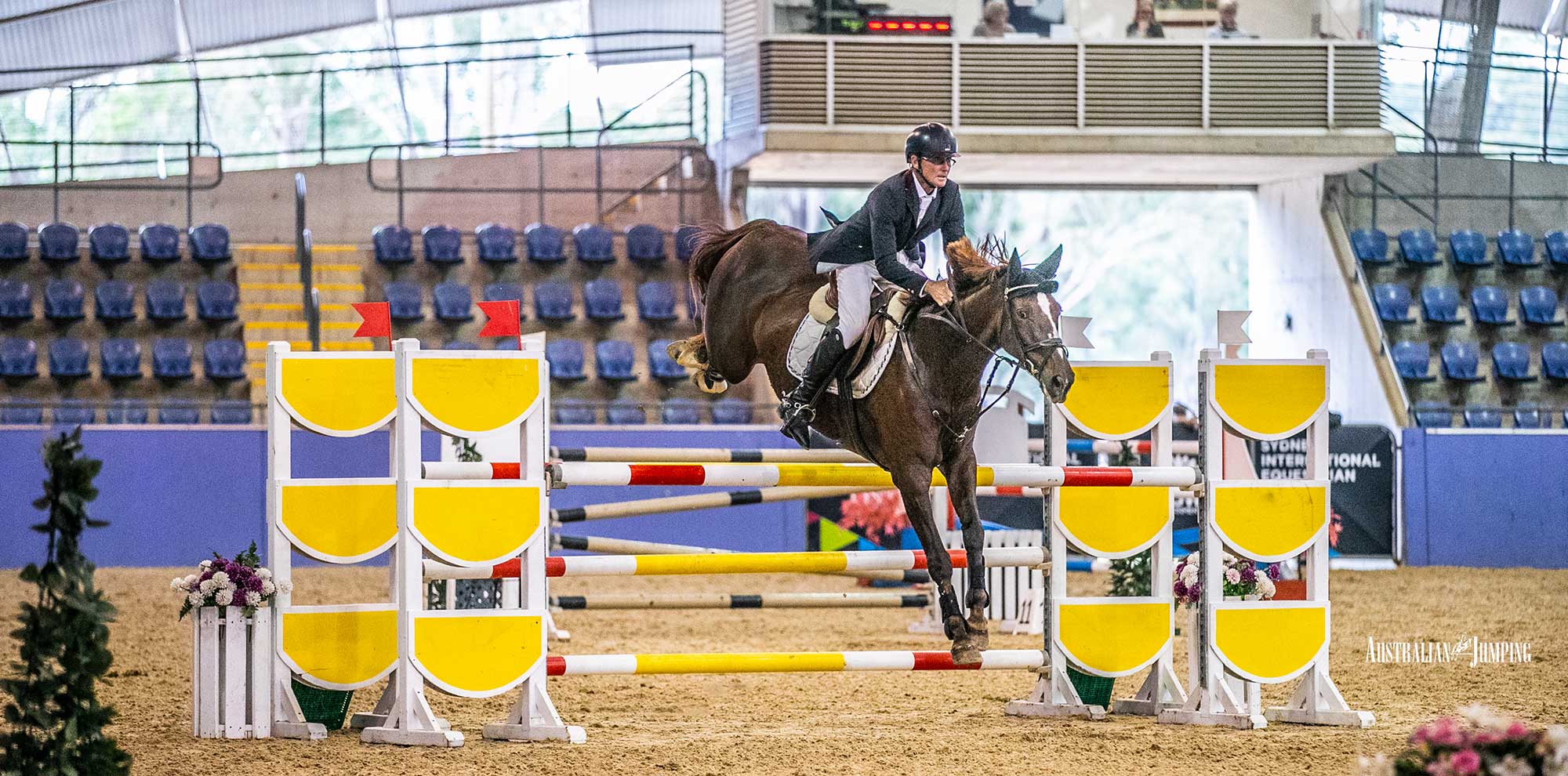 Andrew Inglis and Indiana Goodtimes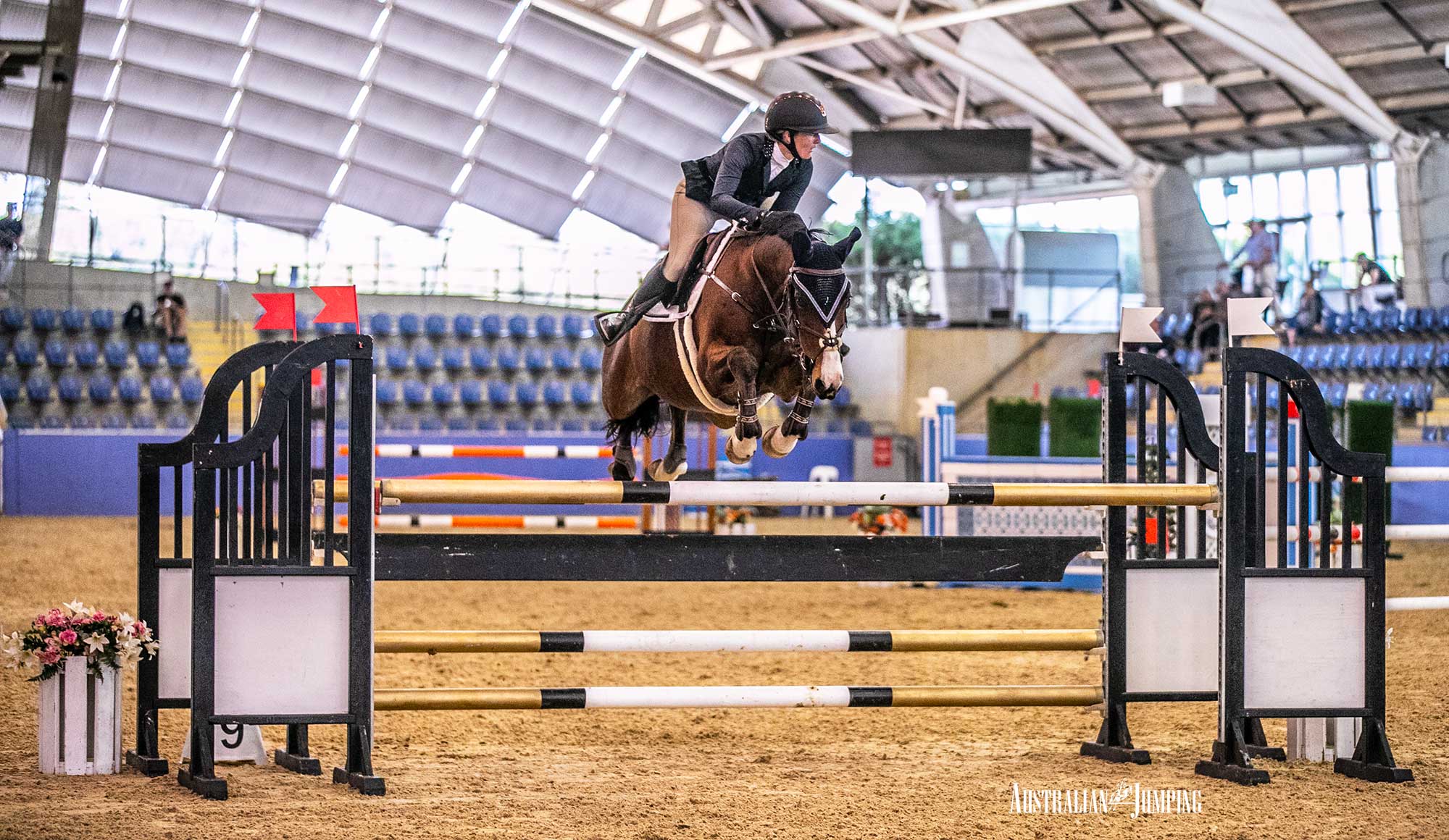 Jamie Priestley and Kolora Stud Optimus
The Young Rider division of the 1.25m class was won by Jess Rice-Ward and Dinero, with Will Dight and Thea in second place. These two young riders will both step up later in the year to compete at the second year of the Australian Jumping Teams League (AJTL). Sam Watson and Oaks Donatello, who were second behind Andrew Inglis in the Open 1.25m at Hawkesbury show came in third.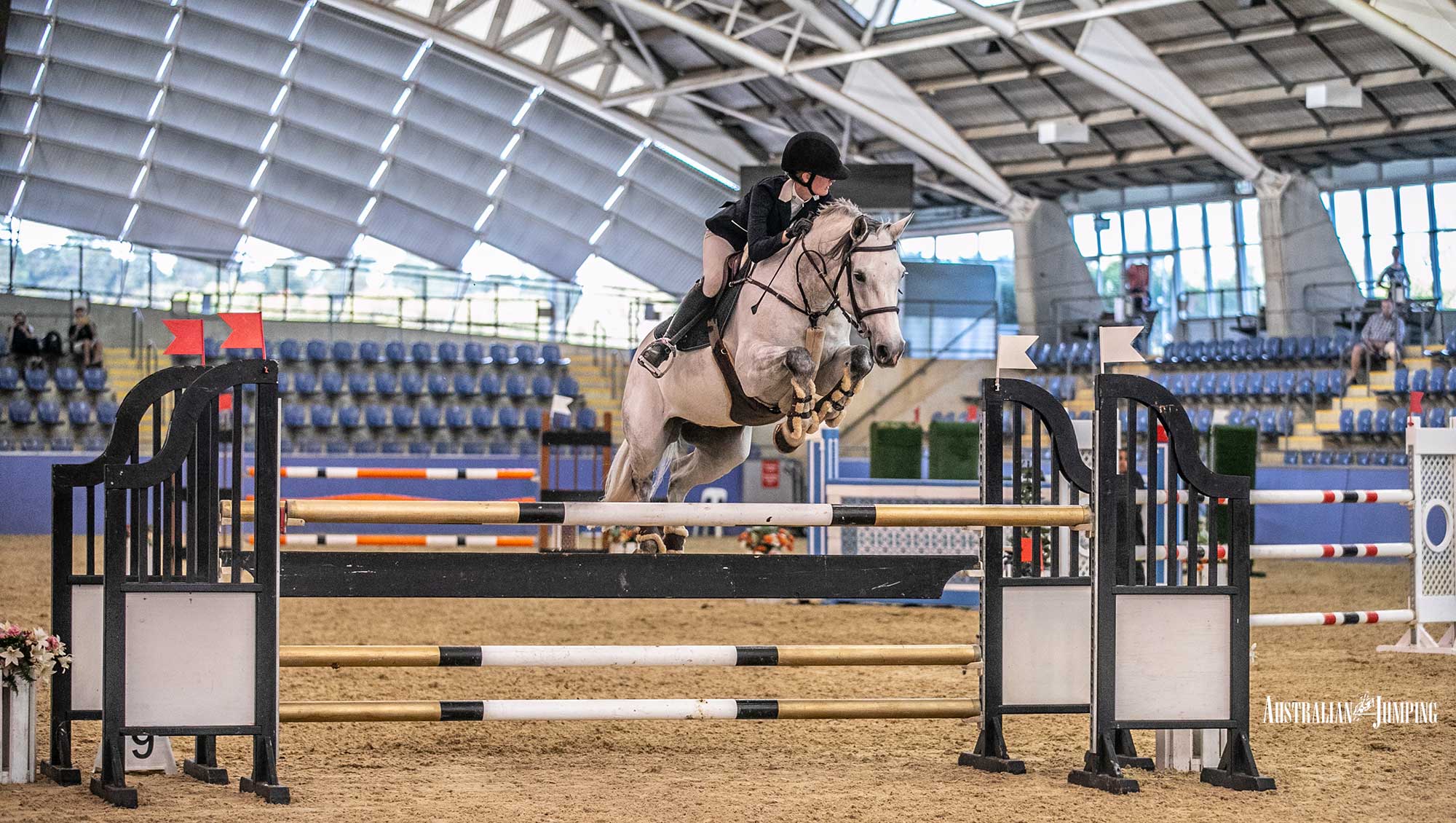 Jess Rice-Ward and Dinero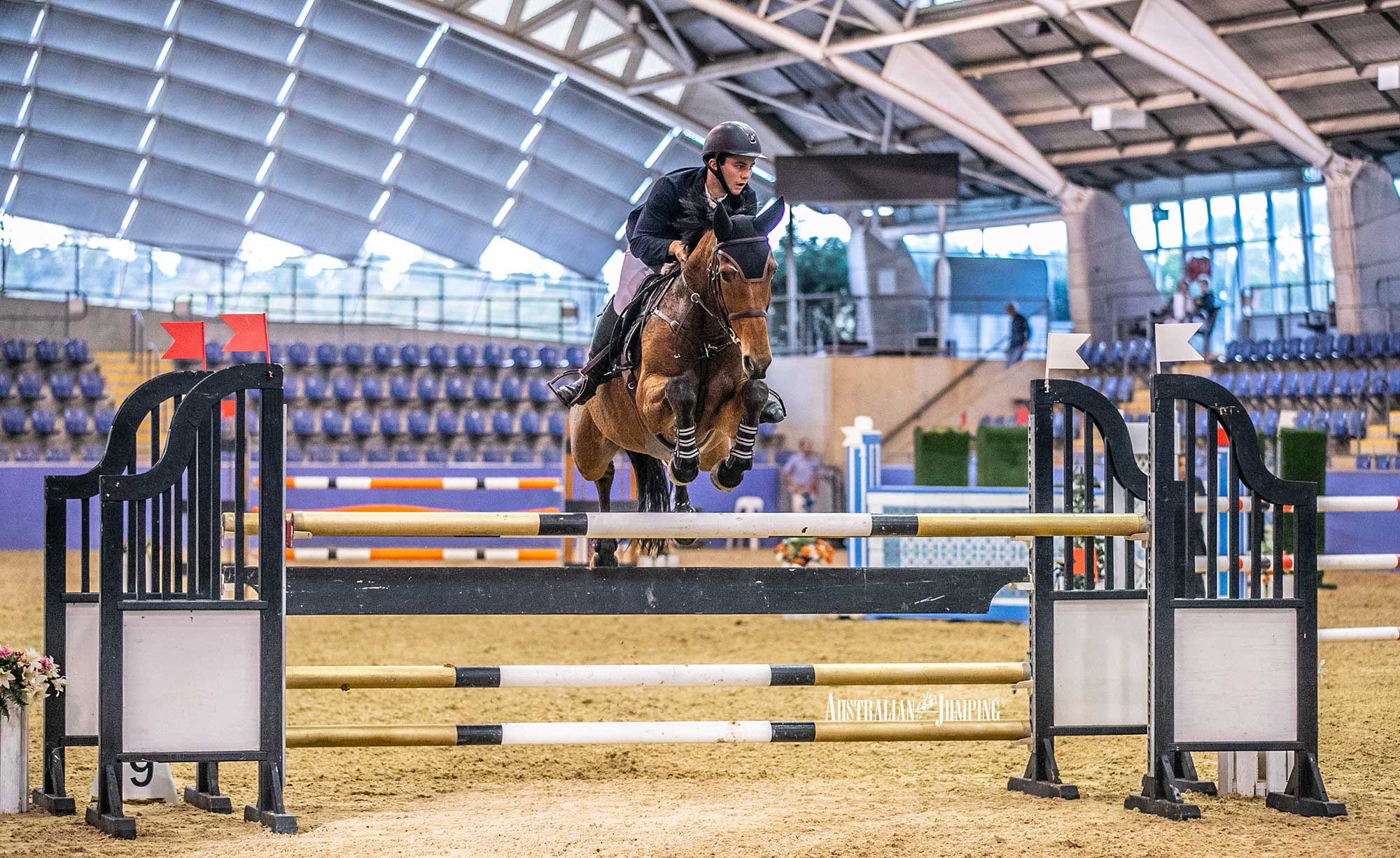 Will Dight and Thea
The final class on Saturday was an Open 1.35m, which was won by the popular Stephen Dingwall and Cavalier Du Rouet. Ever successful Tom McDermott and Yalambi's Harvard came in second, with the very consistent Andrew Inglis and Alillie completing the podium.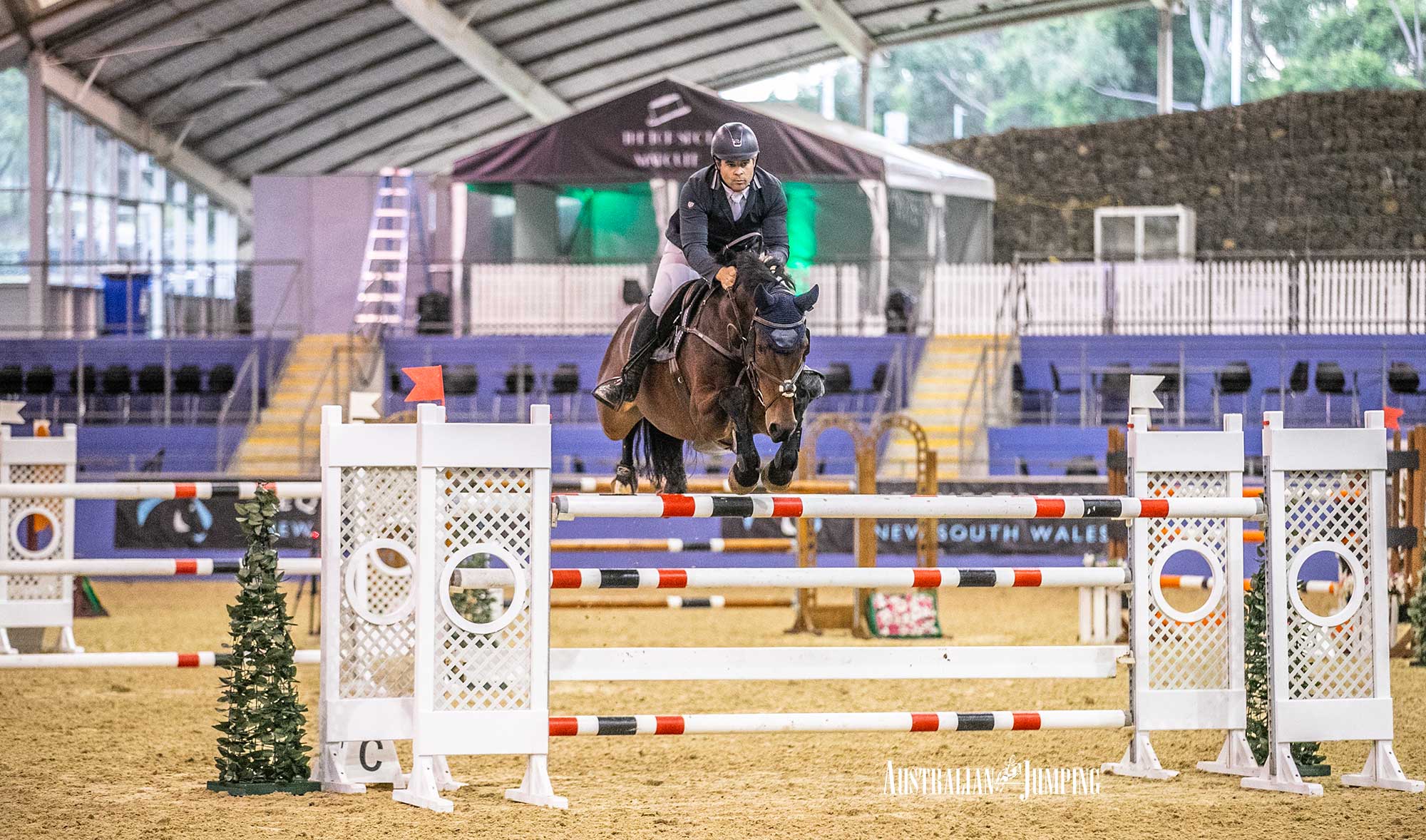 Stephen Dingwall and Cavalier Du Rouet
Sunday's competition opened with a 1.10m class split in to an Open and an Amateur division. In the Open division, the top four placings produced double clears with Emma Smith and Crestfields Waiting Game taking the win with a smart time of 32.24 seconds. Dave Cameron and RR Monster were second some four seconds adrift with Coco Miles and Emcee Ezra another two seconds slower.
In the Amateur division, Samantha Harrison and Springfield Firefly were the only double clear combination, taking the win over the other two jump-off participants, Grace McCarthy and AB Eleganz in second and Tahli Hendler and a gelding that Chris Chugg imported and rode, Black Currency, in third.
The rails were raised to 1.20m before the next class which was split into an open and a young horse (6 and 7 year-olds) class. Jamie Kermond and and his young horse Yandoo Honolulu were victorious after a seven way jump-off, closely followed by Emma Smith and Bittern Park Karmen, in what was her second placing of the day. Jess Brown and Oaks Belize finished a close third.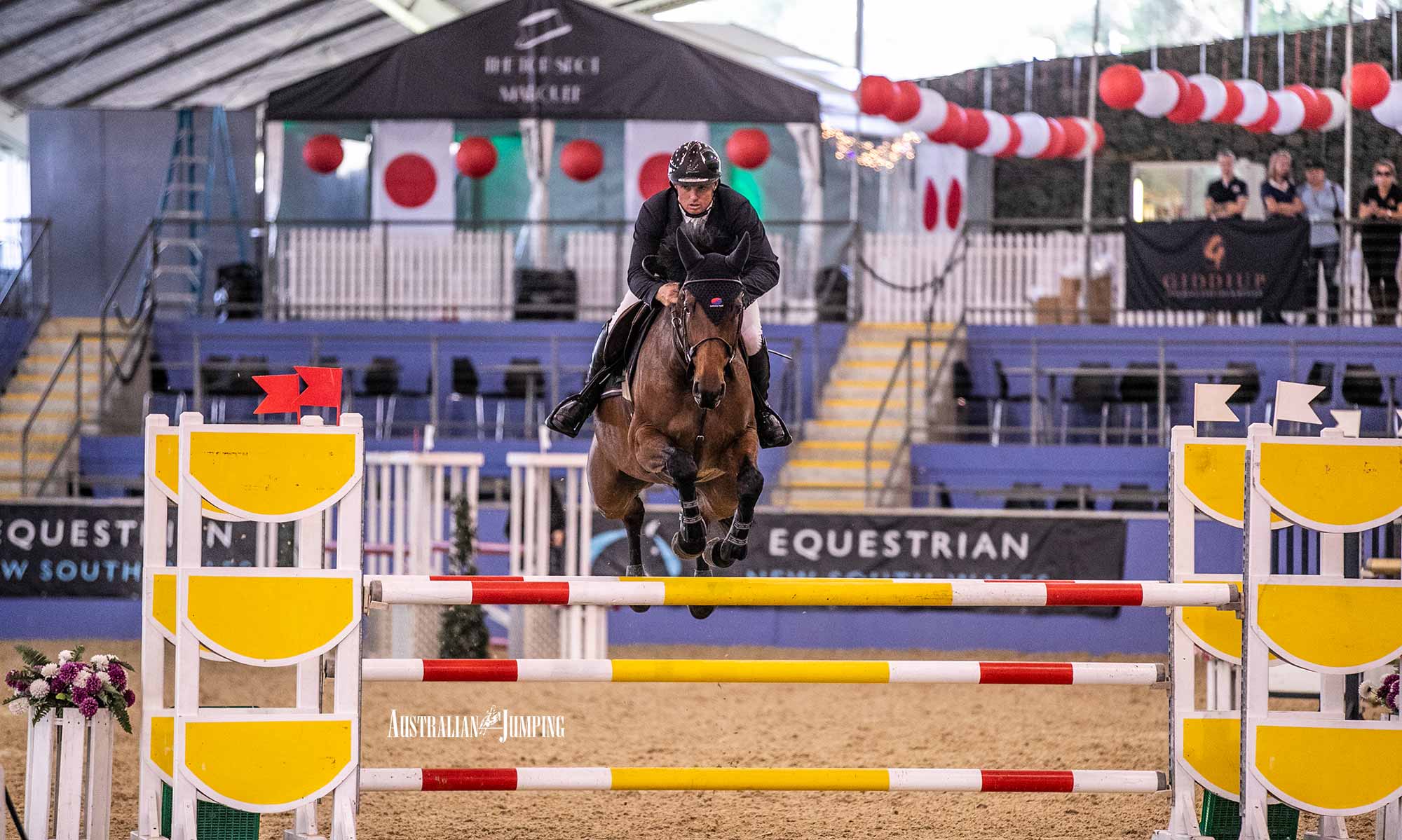 Jamie Kermond and Yandoo Honolulu
In the open division it was Jamie Kermond victorious again, this time in combination with Tulara Colchic, another success of the Tulara Warmbloods breeding operation in Central Victoria. In second place, almost two seconds slower was Tom McDermott and Diamond B Versailles and in third place, emulating his sister Coco's effort earlier in the day was Mavrick Miles and Verdasco.
After their second placing in Saturday's 1.25m Open class behind Andrew Inglis and Indiana Goodtimes, Jamie Priestley and Kolora Sud Optimus reversed this result to break through for a win in the 1.30m Mini Prix. Their double clear performance saw them almost two seconds faster than Inglis and Indiana Goodtimes in the jump-off with the current Australian Senior Champion combination of Tom McDermott and his mare Elegance De La Charmille just 0.45 seconds behind in third.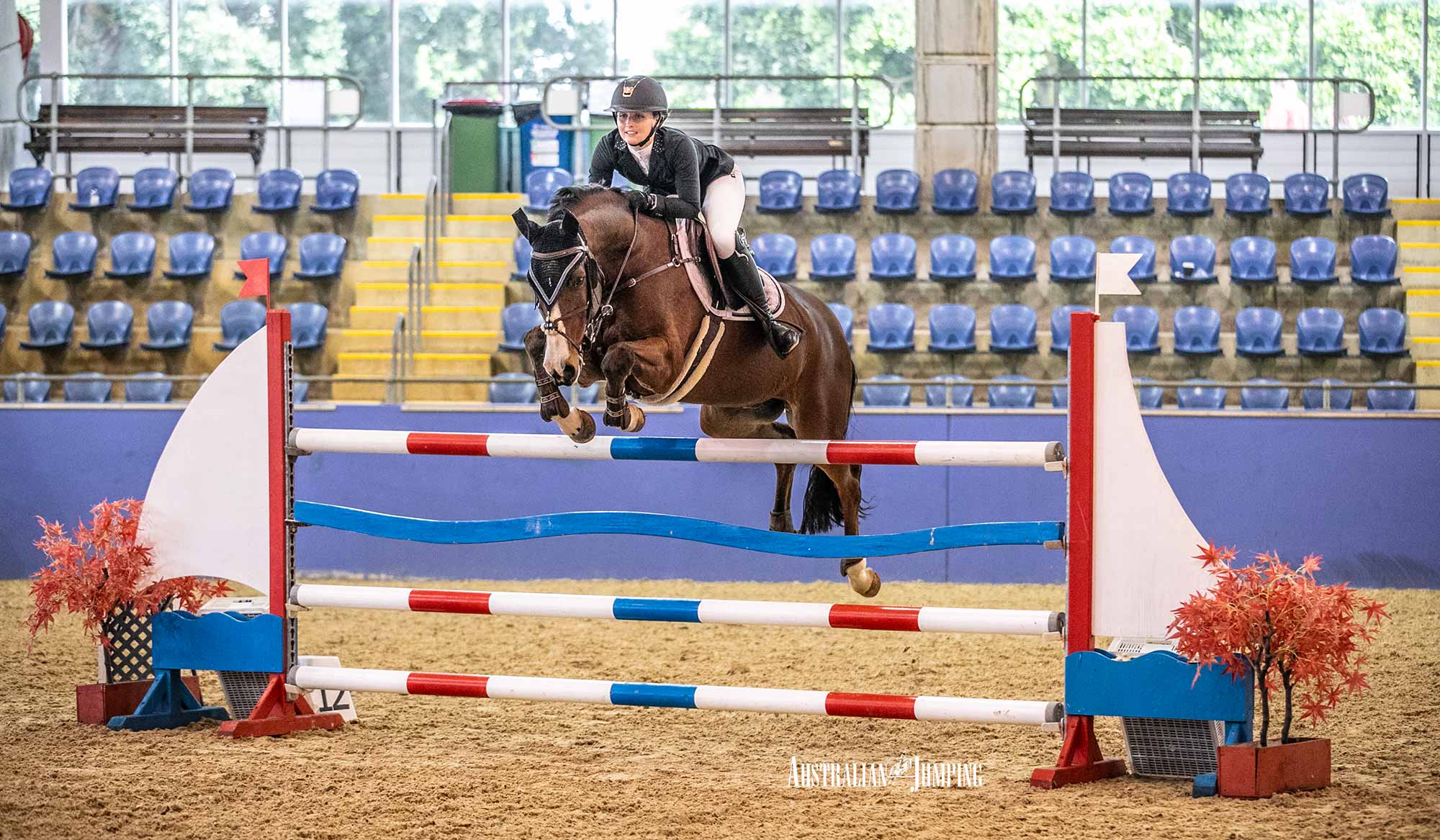 Jamie Priestley and Kolora Sud Optimus
The feature and final class of the weekend was the 1.40m Grand Prix, which was won by the 2018 WEG Australian representative pair of Jamie Kermond and Yandoo Oaks Constellation, who prevailed over a classy field of 20 combinations. An exciting 10 combination jump-off was required to sort out the placings, however it was Kermond and "Napa" taking the win by just over 1.5 seconds. This huge horse never seems to be travelling with any great speed, but it certainly covers the ground quickly due to his massive stride. Second place went to Andrew Inglis and Alillie who scooted around the jump-off course with urgency to go one better than their third placing in the Saturday Open 1.35m class. Olympian James Paterson-Robinson was third with Diamond B Vivienne, a pick-up ride for him after the mare's usual rider Amanda Madigan suffered an injury last weekend. In a great effort to have done so well at Grand Prix level, Young Riders Will Dight and Thea and Jess Rice-Ward and Dusky Farm Cavalier placed fourth and fifth respectively.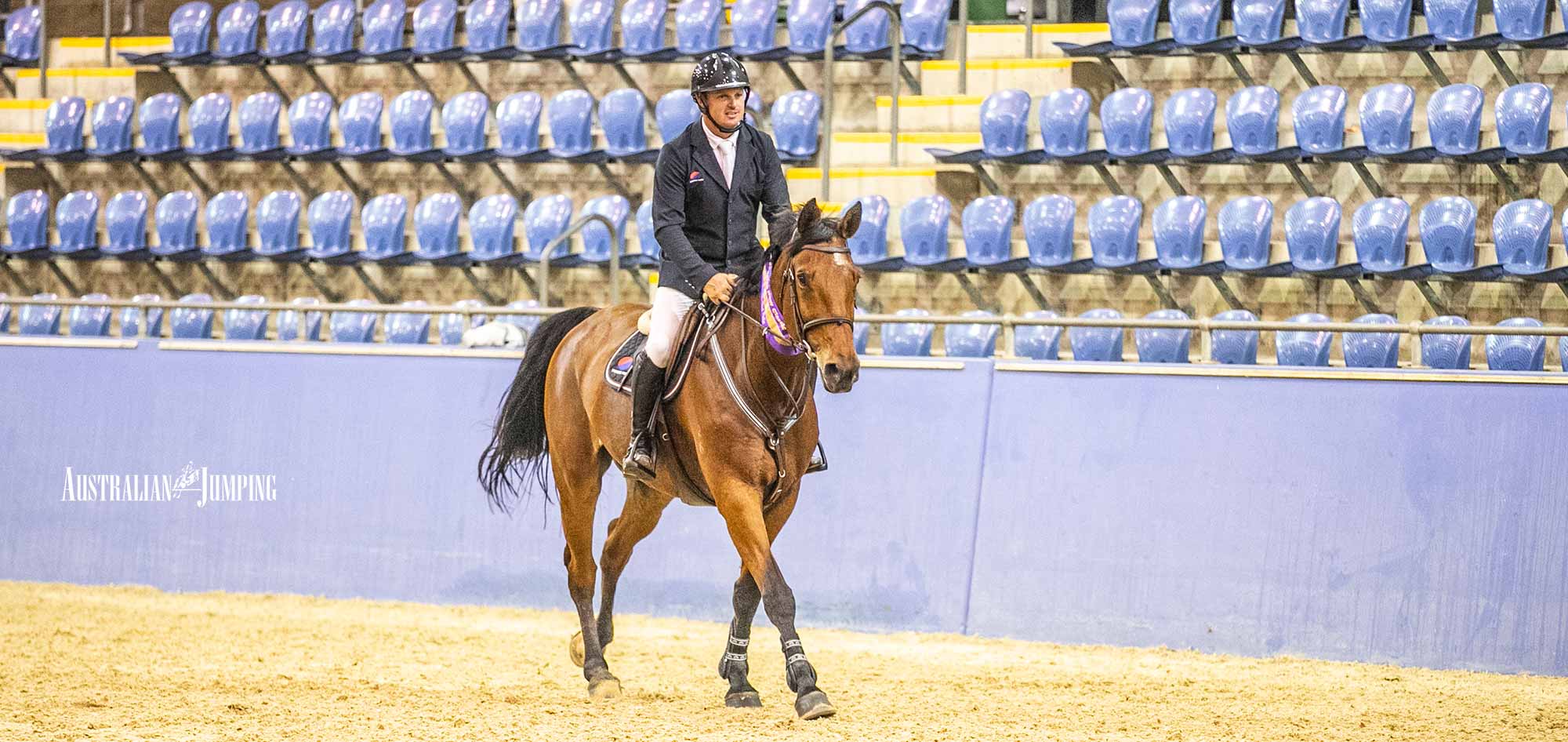 Jamie Kermond and Yandoo Oaks Constellation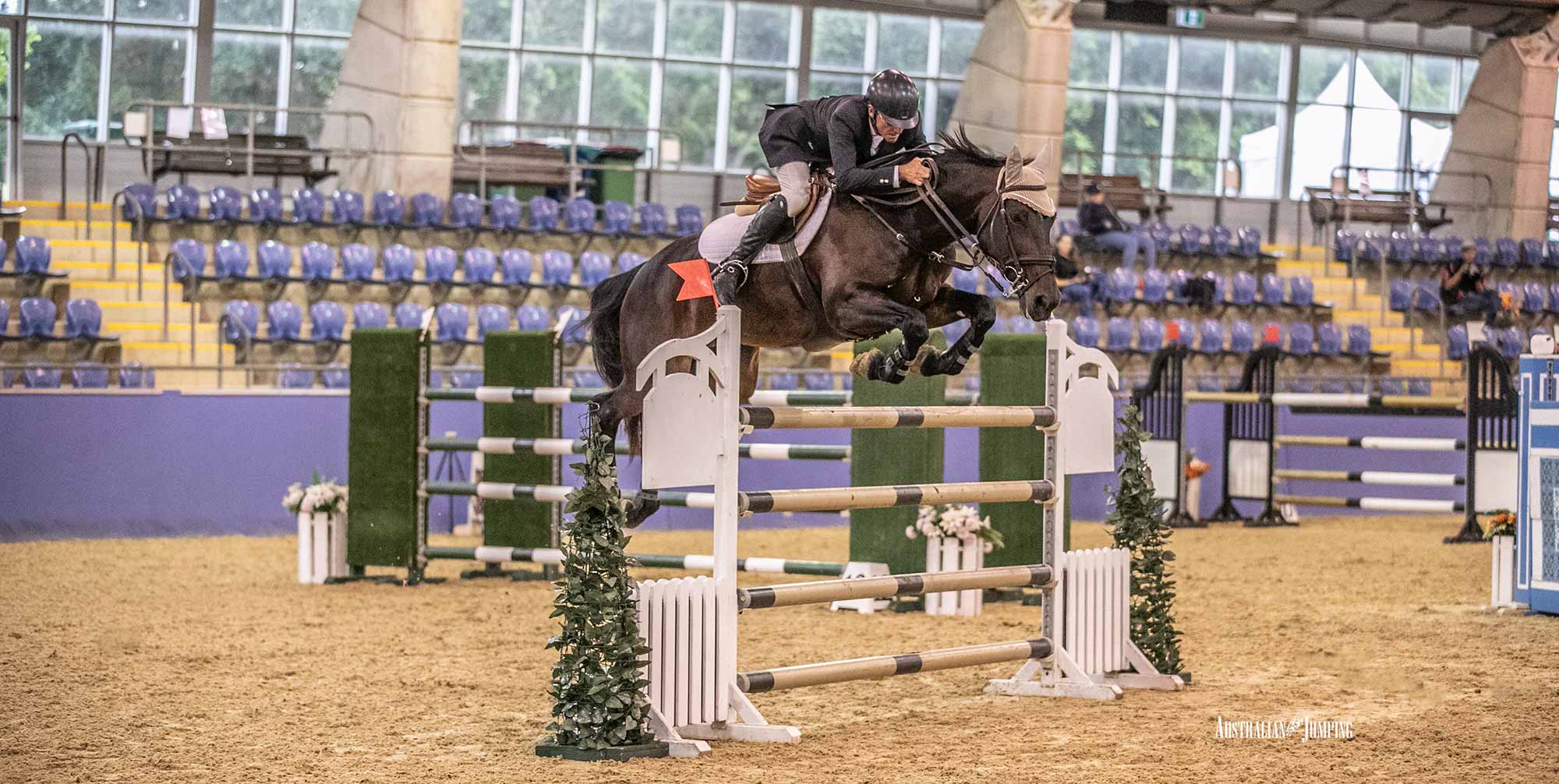 Andrew Inglis and Alillie
It was a great weekend of jumping competition and thanks should go to Jumping NSW for organising what was a very well run and organised program.
Congratulations to all the winners and placegetters.
Below are the first six placegetter in every class.
SATURDAY
CLASS 1A: Open – Two Phase – 1.05m
| | | |
| --- | --- | --- |
| PLACE | RIDER | HORSE |
| 1st | Charlie Magnier | Master Stevie G |
| 2nd | Tess McInerney | Holmwood Valentine |
| 3rd | Tess McInerney | Quintation |
| 4th | Emma Galea | Excals Romance |
| 5th | Jessica Sophia Ramsay | Narrado MVNZ |
| 6th | Bonnie Martin | RR Magnifique |
CLASS 1B: Horses 6-years and under – Two Phase – 1.05m
| | | |
| --- | --- | --- |
| PLACE | RIDER | HORSE |
| 1st | Monique Barrett | Dusky Farm Duncan |
| 2nd | David Cooper | WPH Chaccaro |
| 3rd | Natalya Denaro | RR Balou |
| 4th | Jess Brown | Oaks Burgundy |
| 5th | David Cameron | RR Monster |
| 6th | James Mooney | JB Delightful |
CLASS 2A: Junior Rider – Two Phase – 1.15m
| | | |
| --- | --- | --- |
| PLACE | RIDER | HORSE |
| 1st | Ella Hayward | Barrabadeen Calypso |
| 2nd | Jessica Galea | Checka |
| 3rd | Charlie Magnier | Master Stevie G |
| 4th | Aria Baker | That's Limo |
| 5th | Emma Peters | Liniano ML |
| 6th | Mallee Goldrick | Valentino NZPH |
CLASS 2B: Open – Two Phase – 1.15m
| | | |
| --- | --- | --- |
| PLACE | RIDER | HORSE |
| 1st | Tess McInerney | Quintation |
| 2nd | Monique Barrett | Dusky Farm Duncan |
| 3rd | Jamie Kermond | Yandoo Honolulu |
| 4th | Andrew Inglis | Laracas |
| 5th | Tess McInerney | Holmwood Valentine |
| 6th | Andrew Inglis | Dylano |
CLASS 3A: Open – Two Phase – 1.25m
| | | |
| --- | --- | --- |
| PLACE | RIDER | HORSE |
| 1st | Andrew Inglis | Indiana Goodtimes |
| 2nd | Jamie Priestley | Kolora Stud Optimus |
| 3rd | Andrew Inglis | Laracas |
| 4th | Tess McInerney | Yalambi's Fair Diamond |
| 5th | Tess McInerney | Alpha Centauri |
| 6th | David Cooper | Victory Day |
CLASS 3B: Young Rider – Two Phase – 1.25m
| | | |
| --- | --- | --- |
| PLACE | RIDER | HORSE |
| 1st | Jess Rice-Ward | Dinero |
| 2nd | Will Dight | Thea |
| 3rd | Sam Watson | Oaks Donatello |
| 4th | Milly Fisher | Pica Bleu |
| 5th | Clemency Hughes | Diamond B Corvina |
| 6th | Charlie Richardson | Mavrick |
CLASS 4: Open – Two Phase – 1.35m
| | | |
| --- | --- | --- |
| PLACE | RIDER | HORSE |
| 1st | Stephen Dingwall | Cavalier Du Rouet |
| 2nd | Tom McDermott | Yalambi's Harvard |
| 3rd | Andrew Inglis | Alillie |
| 4th | Caitlin Bolger | Caprino |
| 5th | David Cooper | Victory Day |
| 6th | Sarah Duggan | Dublin |
SUNDAY
CLASS 5A: Open – 1.10m
| | | |
| --- | --- | --- |
| PLACE | RIDER | HORSE |
| 1st | Emma Smith | Crestfields Waiting Game |
| 2nd | Dave Cameron | RR Monster |
| 3rd | Coco Miles | Emcee Ezra |
| 4th | James Mooney | JB Delightful |
| 5th | Jessica Galea | Checka |
| 6th | Michelle Niass | Warraleigh Park Ally Umbro |
CLASS 5B: Amateur – 1.10m
| | | |
| --- | --- | --- |
| PLACE | RIDER | HORSE |
| 1st | Samantha Harrison | Springfield Firefly |
| 2nd | Grace McCarthy | AB Elaganz |
| 3rd | Tahli Hendler | Black Currency |
| 4th | Melanie Heygate | Oaks Quebec |
| 5th | Camilla Clark | Thredbo Thunder |
| 6th | Bronte Webb | Cera Dakira |
CLASS 6A: Horses aged 6 or 7 – 1.20m
| | | |
| --- | --- | --- |
| PLACE | RIDER | HORSE |
| 1st | Jamie Kermond | Yandoo Honolulu |
| 2nd | Emma Smith | Bittern Park Karmen |
| 3rd | Jess Brown | Oaks Belize |
| 4th | Tom McDermott | Yalambi's Jasmine |
| 5th | Monique Barrett | Dusky Farm Duncan |
| 6th | Rod McQueen | Oaks Botswana |
CLASS 6B: Open – 1.20m
| | | |
| --- | --- | --- |
| PLACE | RIDER | HORSE |
| 1st | Jamie Kermond | Tulara Colchic |
| 2nd | Tom McDermott | Diamond B Versailles |
| 3rd | Maverick Miles | Verdasco |
| 4th | Brad Frankum | Warraleigh Park Umbrayas |
| 5th | Alexandra Gostelow | Tulara Cristo |
| 6th | Milly Fisher | Laurel Glen Brandy Man |
CLASS 7: Open – Mini Prix – 1.30m
| | | |
| --- | --- | --- |
| PLACE | RIDER | HORSE |
| 1st | Jamie Priestley | Kolora Stud Optimus |
| 2nd | Andrew Inglis | Indiana Goodtimes |
| 3rd | Tom McDermott | Elegance De La Charmille |
| 4th | David Cooper | Victory Day |
| 5th | Isobel Guinness | Cassandro B |
| 6th | James Mooney | KPH Cavatina |
CLASS 8: Open – Grand Prix – 1.40m
| | | |
| --- | --- | --- |
| PLACE | RIDER | HORSE |
| 1st | Jamie Kermond | Yandoo Oaks Constellation |
| 2nd | Andrew Inglis | Alillie |
| 3rd | James Paterson-Robertson | Diamond B Vivienne |
| 4th | Will Dight | Thea |
| 5th | Jess Rice-Ward | Dusky Farm Cavalier |
| 6th | Tom McDermott | Yalambi's Finnigan |
Results sourced from Global Entries Online
View Comments