Cheering on the Aussies in the Nations Cup tomorrow morning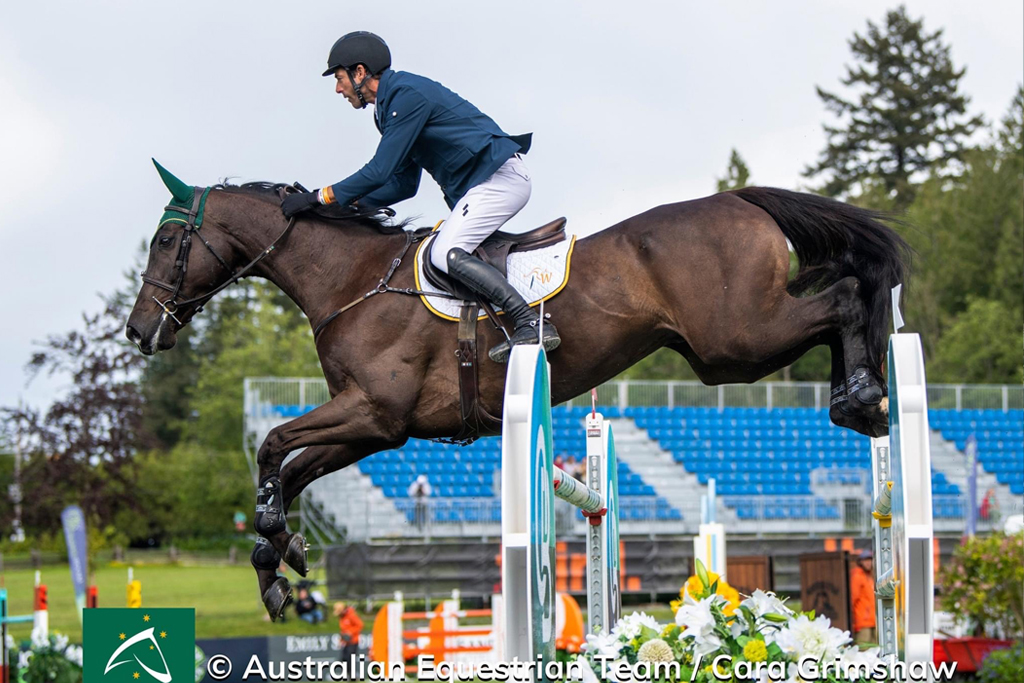 Cara Grimshaw Photography / EA
Above: Rowan Willis and Billy Guilder. Photo Credit: Australian Equestrian Team – Cara Grimshaw.
In the early hours of Monday morning, Australia will be competing as one of six national teams entered in the prestigious CSIO5* Longines FEI Jumping Nations Cup of Canada to be held at Thunderbird Show Park in Vancouver. Set your alarm clocks for what will be a fascinating contest with a re-scheduled 4:00 am AEDT start.
Advertisement


The Australian team will comprise of Rowan Willis and 13-year-old gelding Billy Guilder, as well as Canada based Katie Laurie and Django II, Matt Williams and Dandy and James Arkins and his stallion Eurostar 1.
You can download the full Start List HERE.
The opposition will be tough with the other countries involved being The United States, Canada, Mexico, Ireland and Israel, which will be the only team represented by just three combinations. For the USA, Canada and Mexico, the pressure will be really on as not only will they be competing for the $400,000 Canadian Dollars on offer, they will be seeking points to qualify for the Nations Cup final to be held in Barcelona later this year.
The home country will be fielding a very strong team, including two members of the Canadian team who competed in the Rome Nations Cup event last weekend, while the USA will be lead by world number seven, Kent Farrington.
Advertisement


Israel, with just the three combinations, will be highly competitive, lead by Daniel Bluman, currently ranked 14th in the world and recently placed third in the CSI5* Grand Prix at the Royal Windsor Horse Show. Mexico will be looking to continue their success after winning the Nations Cup event in Coapexpan last March. Australia's other rival, Ireland will be an ever present danger, with the world's 5th ranked rider Conor Swail leading the way.
The Australian team is making it's first ever Nations Cup appearance at the "tbird" facility, and could be the surprise packet of the field.  Two members of the team are backing up from a solid sixth placing at the Wellington Nations Cup competition held in Florida last March, with the two newest members, being our top ranked rider, Rowan Willis and three-time Olympian Matt Williams. Also an Olympian, Katie Laurie returns to lead the team, while NSW based rider James Arkins will participate in his second Nations Cup after debuting in Wellington. Arkins is in good form, having piloted Joevaro N to a second placing in the CSIO5* 1.45m Happy Welcome class on Thursday.
We look forward to what should be a fascinating competition and to bringing you a full report as soon as possible after the class.
View Comments