Boneo Park set for Arilla Cup today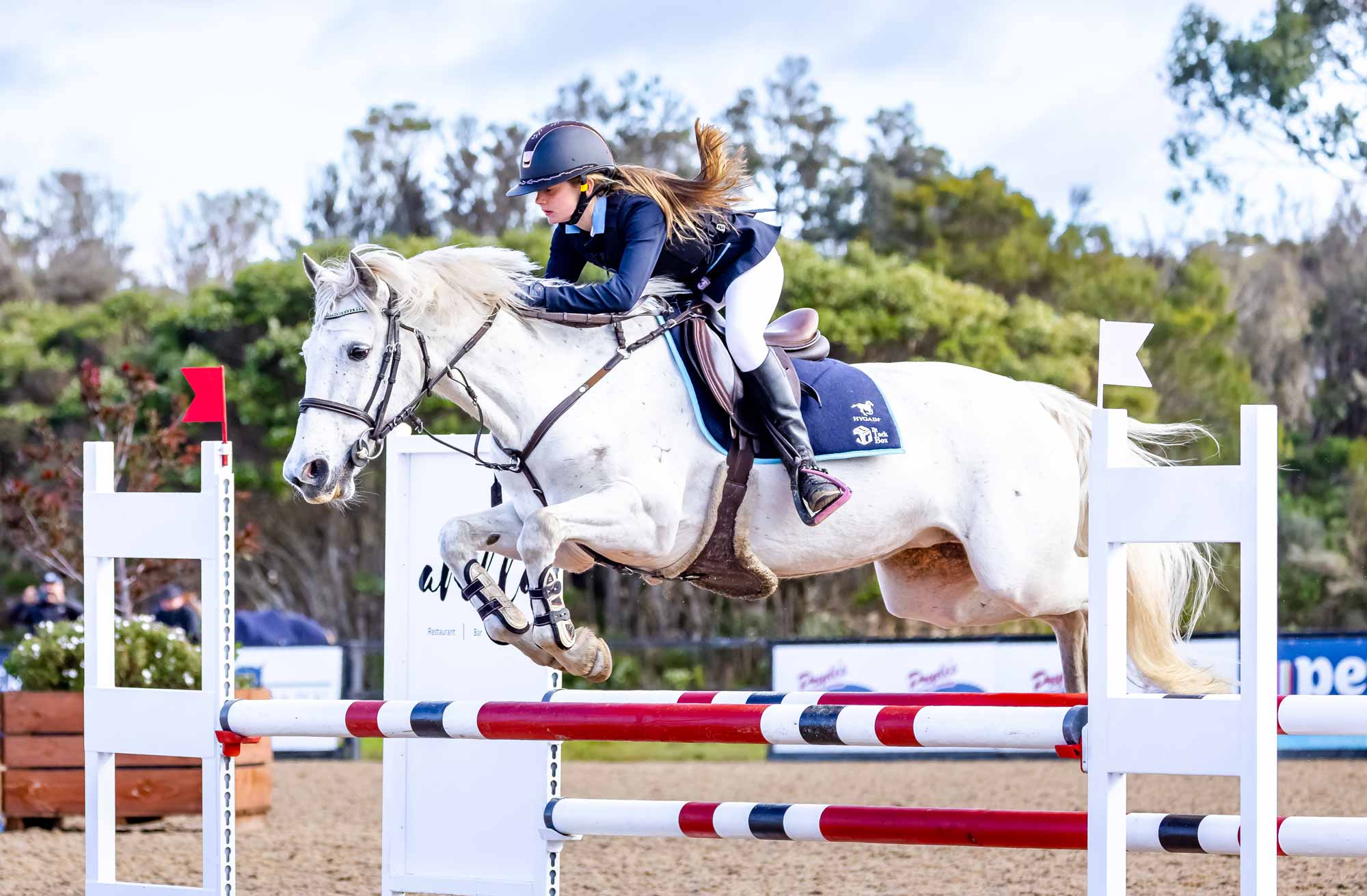 OneEyedFrog Photography
Above: Zara Adnams and Tally-Ho Primrose. OneEyedFrog Photography.
Three championships were decided yesterday in a full program on Day 2 of the three-day Arilla Cup  Show at Boneo Park. The weather was a little kinder than Friday (See a full wrap of Friday's results HERE) with some sunshine and the rain, for the most part, staying away.
Proceedings opened with 43 combinations lining up to compete in the Children's Championship, which saw 17 clear rounds, ensuring an exciting jump-off. After the jump-off, there were still 10 combinations with clean sheets, so it came down to times. Fastest in the jump-off were the recent NSW State Children's Title winners Zara Adnams and Tally-Ho Primrose in 33.09 seconds. Filling the podium, finishing both second and third, was South Australian visitor Imogen Lindh with Licaviv second in 34.07 seconds and third with Blackall Park Koraleigh in 34.24 seconds. These two young ladies look set for another exciting tussle next week when they compete for the Australian Children's Title as part of the Pryde's EasiFeed Australian Jumping Championships, also to be held at Boneo Park.
Advertisement


Next it was time for the Junior Riders to take to the arena. In a dominant display, with a jump-off time more than 2.5 seconds faster than their nearest rival the win went to Jack Barker and Tulara Colchic with a time of 38.95 seconds. Like Barker and Tulara Colchic, the rest of the podium finishers also recorded double clears, with a pair of Queensland combinations in second and third. Second place went to Cody Tincknell and Barabadeen Sir Lancelot (41.55 seconds) and Olivia Hewitt-Toms with Lushious Lexie (42.39 seconds), in third. If yesterday's class is any indication, next week's Australian Junior Title race is sure to be an absolute cracker.
The third and final championship class of the day was the Horseland Young Rider Championship, which saw interstate visitors dominate. A start list of 28 combinations produced 12 clear rounds, seven of which we converted into double clear performances after a jump-off. With a winning time of 38.08 seconds, the win went to Western Australian star Chloe Versteegen and Pico Bellini. Again finishing second, as they did in yesterday's open 1.25m class, were South Australian Conor Reed and mare Alpha Activity in 38.08 seconds. Third place, in 39.07 seconds were NSW's Bella Du Plessis and Monte Carlo MVNZ.
The day's competition on Arena 2 was rounded off by a pair of open classes. The first at 1.25m was won by the Cody Tincknell, going one better than his earlier second placing, this time in combination with James Continue, finishing this single round class in 57.82 seconds. In second place were Tyrone Latham and Arion Carasun with a time of 60.22 seconds. Also clear (60.89 seconds) and completing a trio of Queenslanders on the podium were Rebecca Jenkins and Festa D. Interestingly, this trio of riders also filled fourth, fifth and sixth placings in the final results.
Advertisement


The day wrapped up with 31 combinations entered in a 1.35m open class. Continuing with the fantastic form of the Queensland contingent, the win went to Sam Overton and Oaks Cassanova, who finished with a clear round in 61.01 seconds. Second place went to Max Height and Castlederg with a time of 63.80 seconds. Another Victorian based rider, Frida Lindgren combined with Mabobri De Mabribo for third, taking 64.13 seconds to scoot around the course.
There was also plenty of action on the other arenas where a number of Open classes were held, ranging from 1.15m down to 0.65m. For a listing of the top six placegetters in all classes on the day, see below.
It was a great day of jumping competition and sets up Sunday, which is sure to see a more exciting competition, including a Future Stars Championship, a Mini Prix, an Off-The-Track Championship and off course, the feature class of the weekend, The Arilla Cup.
Congratulations to all the winners and placegetters who are detailed below:
RING 2
CLASS 13: CHILDRENS CHAMPIONSHIP
| | | |
| --- | --- | --- |
| PLACE | RIDER | HORSE |
| 1st | Zara Adnams | Tally-Ho Primrose |
| 2nd | Imogen Lindh | Licaviv |
| 3rd | Imogen Lindh | Blackall Park Koraleigh |
| 4th | Lucy Borrack | Mighty Tosca |
| 5th | Joel Lamb | Emcee Holly Go Lightly |
| 6th | Remy Davis | Celeborn Ego Z |
CLASS 14: HORSELAND JUNIOR CHAMPIONSHIP
| | | |
| --- | --- | --- |
| PLACE | RIDER | HORSE |
| 1st | Jack Barker | Tulara Colchic |
| 2nd | Cody Tincknell | Barabadeen Sir Lancelot |
| 3rd | Olivia Hewitt-Toms | Lushious Lexie |
| 4th | Tilley Fair | Bella Bonita |
| 5th | Isabella Lloyd | Phantom Vortex |
| 6th | Ella Hayward | Edena DP |
CLASS 15: HORSELAND YOUNG RIDER CHAMPIONSHIP
| | | |
| --- | --- | --- |
| PLACE | RIDER | HORSE |
| 1st | Chloe Versteegen | Pico Bellini |
| 2nd | Conor Reed | Alpha Activity |
| 3rd | Bella Du Plessis | Monte Carlo MVNZ |
| 4th | Georgia Bouzaid | Vitess |
| 5th | Chase Naylor | Check Book |
| 6th | Lorna Reilly | Bellhaven Jazz |
CLASS 16: OPEN – 1.25m
| | | |
| --- | --- | --- |
| PLACE | RIDER | HORSE |
| 1st | Cody Tincknell | James Continue |
| 2nd | Tyrone Latham | Arion Carasun |
| 3rd | Rebecca Jenkins | Festa D |
| 4th | Rebecca Jenkins | Incredible C |
| 5th | Cody Tincknell | Barabadeen Sir Lancelot |
| 6th | Tyrone Latham | Yirrkala harriett |
CLASS 12: OPEN – 1.35m
| | | |
| --- | --- | --- |
| PLACE | RIDER | HORSE |
| 1st | Sam Overton | Oaks Cassanova |
| 2nd | Max Height | Castlederg |
| 3rd | Frida Lindgren | Mabobri De Mabribo |
| 4th | Emma Smith | Oaks Abracadabra |
| 5th | Emma Smith | DR Balou Bird |
| 6th | Josh Collins | Oaks Kenya |
RING 3
CLASS 17: OPEN – 1.04m
| | | |
| --- | --- | --- |
| PLACE | RIDER | HORSE |
| 1st | Chloe Lockwood | Mingara Panda |
| 2nd | Jake Tomlinson | Marley Benjara |
| 3rd | Amelia Tsilfidis | Pride Of Gold |
| 4th | Rodney Mitchell | Cera Cascaletto |
| 5th | Sarah Weiss | Waratone |
| 6th | Ruby Bryany | Tarburra Gold Nuggett |
CLASS 18: OPEN – 1.10m
| | | |
| --- | --- | --- |
| PLACE | RIDER | HORSE |
| 1st | Cody Tincknell | Lady Quincella Gold |
| 2nd | Della Hughson | Somerwaters |
| 3rd | Isabella Lloyd | Bashboy |
| 4th | Grace Overton | Vertical Valley Bella Boop |
| 5th | Emma Kwasha | Diamond B Verona |
| 6th | Stuart Abrahams | Vainquer |
CLASS 19: OPEN – 1.15m
| | | |
| --- | --- | --- |
| PLACE | RIDER | HORSE |
| 1st | Sarah Weiss | Twins Delux |
| 2nd | Cody Tincknell | Lady Quincella Gold |
| 3rd | Sarah Weiss | Waratone |
| 4th | Katie Clark | Katelle Grand |
| 5th | Charly Robinson-Smith | Carisma II |
| 6th | Courtney Scott | Quinzella Z |
RING 4
CLASS 20: OPEN – 0.65m
| | | |
| --- | --- | --- |
| PLACE | RIDER | HORSE |
| 1st | Caitlyn Duncan | Soap Opera |
| 2nd | Josh Harvey | Flick |
| 3rd | Harry Borrack | Benmore Pizazz |
| 4th | Josh Harvey | Marena Kismet |
| 5th | Greg Cochrane | Jingella Ruby |
| 6th | Kelly Fyfe | Inquincible |
CLASS 21: OPEN – 0.75m
| | | |
| --- | --- | --- |
| PLACE | RIDER | HORSE |
| 1st | Zhoe Willison | Totoka Lodge Dazzle Me |
| 2nd | Charlotte Alexander | Cavalier Clayton Charlie |
| 3rd | Ella Alexander | Tarcoola Leo |
| 4th | Aimelie Jacoby | JB Baby |
| 5th | Josh Harvey | Marena Kismet |
| 6th | Abigail Zammit | Imperial Rose |
CLASS 22: OPEN – 0.85m
| | | |
| --- | --- | --- |
| PLACE | RIDER | HORSE |
| 1st | Eliza Abrahams | Cody |
| 2nd | Zhoe Willison | Totoka Lodge Dazzle Me |
| 3rd | Jordan Smith | Country Fancy |
| 4th | Eliza Abrahams | Vivarchi RM |
| 5th | Thomas Scott | DJ Connect The Dots |
| 6th | Kirra Nicholls | Calveston Mighty Joe |
CLASS 23: OPEN – 0.95m
| | | |
| --- | --- | --- |
| PLACE | RIDER | HORSE |
| 1st | Olivia Curtain | Indi's Mr Zorba Jones |
| 2nd | Lorna Clifford | Kahean Trooper Nelson |
| 3rd | Jake Tomlinson | Vinchino |
| 4th | Sally Black | Jeronimo |
| 5th | Kirra Nicholls | Finch Farm Class Act |
| 6th | Harrison Wessel | Keltern Flash |
Results sourced from online.equipe.com
View Comments