Chris Chugg takes 2nd World Cup win of the season at SIEC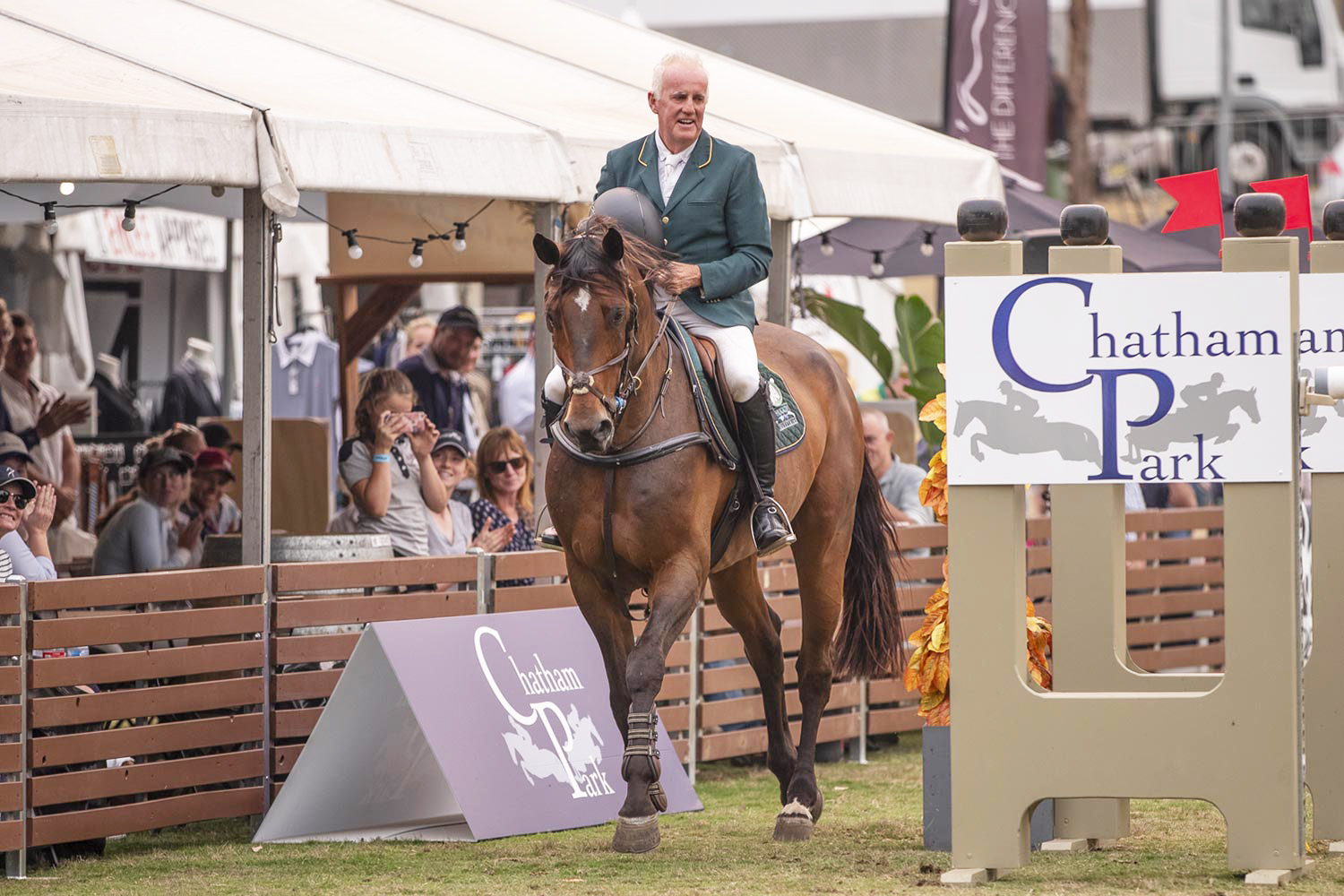 Australian Jumping
The ninth round of the Australian Word Cup Qualifying series for 2019/20 was held today as the feature event of the Chatham Park Summer Showjumping Classic CSI2* at the Sydney International Equestrian Centre (SIEC). Held on a warm afternoon in the midst of a smoke hazy, courtesy of the bushfires currently ringing Sydney, the large and appreciative crowd were held spell-bound as the action unfolded. With every one of the current top 12 placed riders on the leaderboard making an appearance today, the stakes were high with precious points on offer in what was the third last round of the season. For many riders, it was make or break time because if you were not within 40 points of the lead after today, then there would be no hope of catching the leader with only two rounds remaining.
Advertisement

The course, built by internationally renowned Venezuelan designer Leopoldo Palacios, who returned to the venue where he built the courses for the Sydney Olympic Games, proved to be a challenging one. In the first round, there were only three clear rounds, the fastest going to Katie Laurie and her glorious looking stallion Casebrooke Lomond.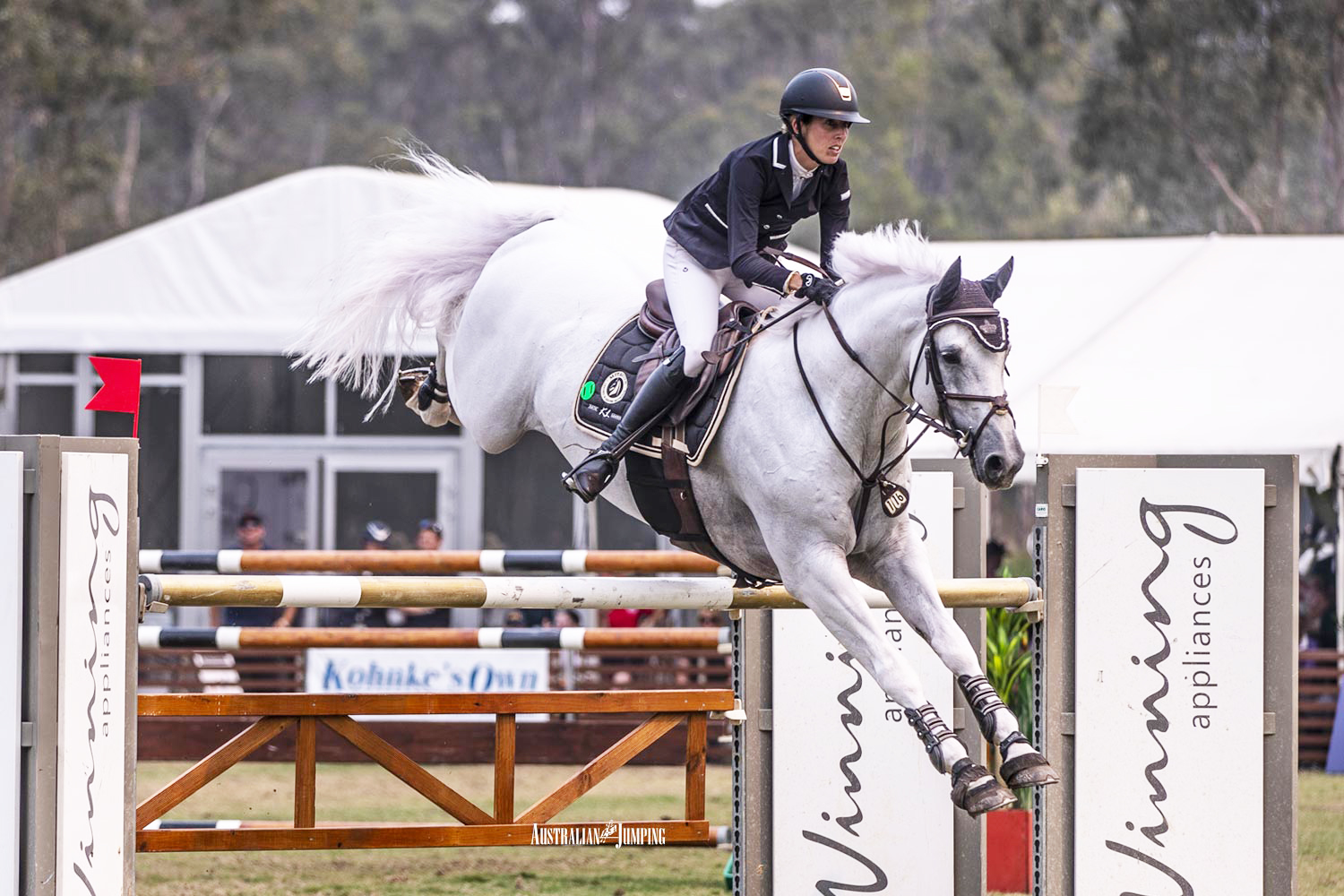 Katie Laurie and Casebrooke Lomond
Other clear rounds went to the in-form Olivia Hamood and Jane Fonda DVD, who took out the Grand Prix at the Sydney Jump Club Summer Championship last weekend and the experienced Victorian combination of Russell Johnstone and Daprice, looking to capture their third win of the season after two wins in the Adelaide rounds of this series.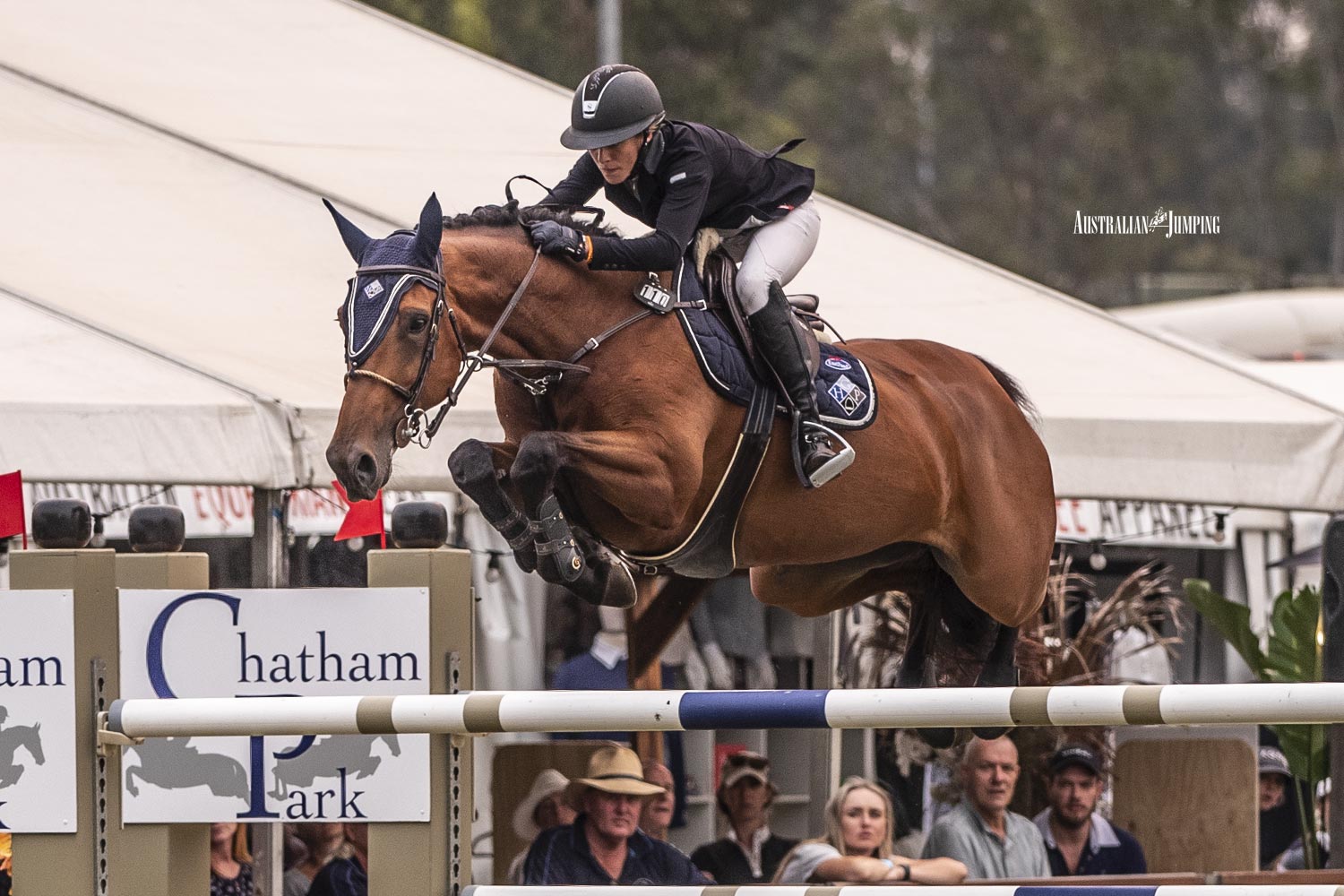 Olivia Hamood and Jane Fonda DVD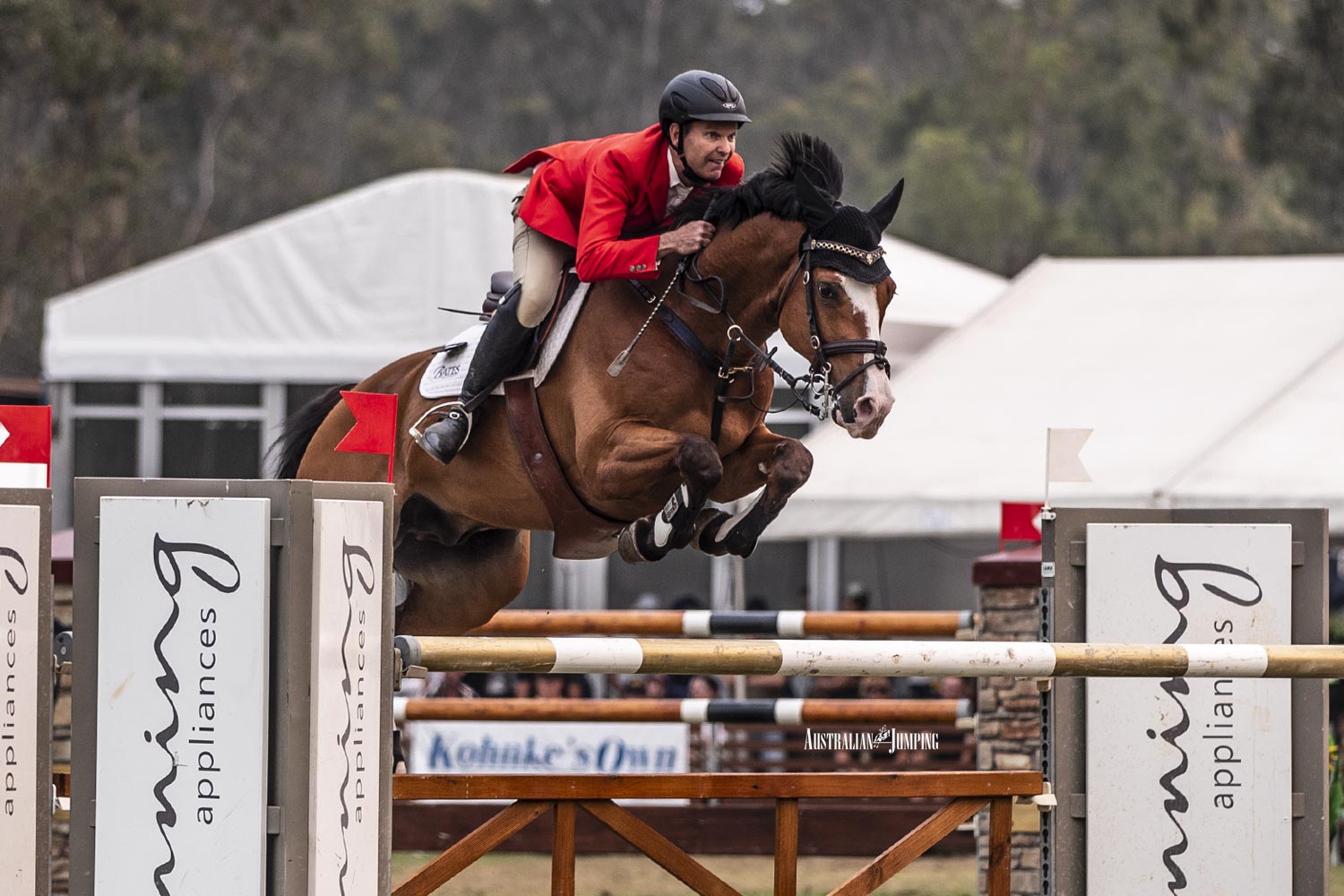 Russell Johnstone and Daprice
They were joined in the second round by five combinations who took a single round 1 rail, including winners of this event last year, Brooke Langbecker and Quintago 1 and the recently crowned Australian Senior Champions, Tom McDermott and Elegance De La Charmille.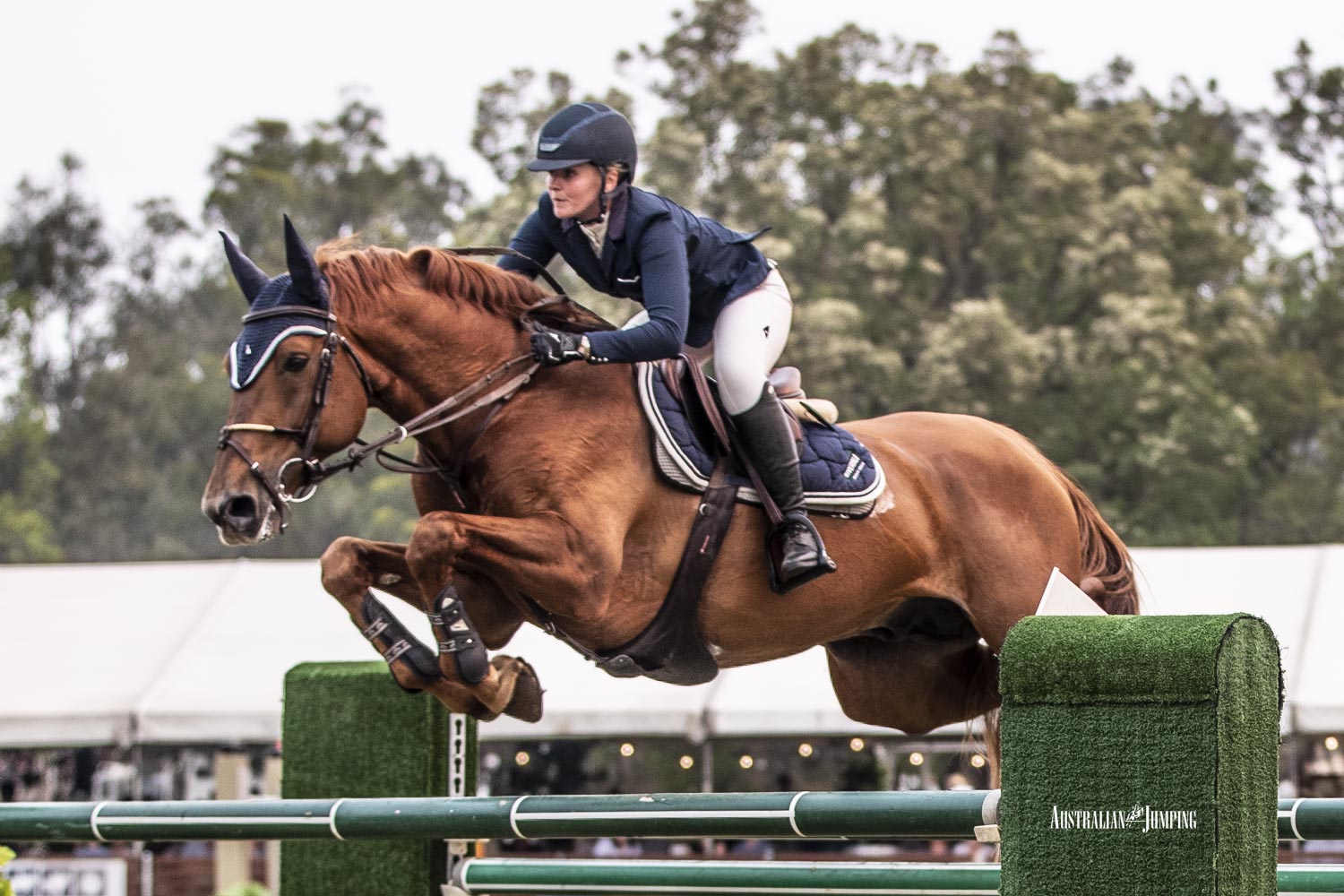 Brooke Langbecker and Quintago 1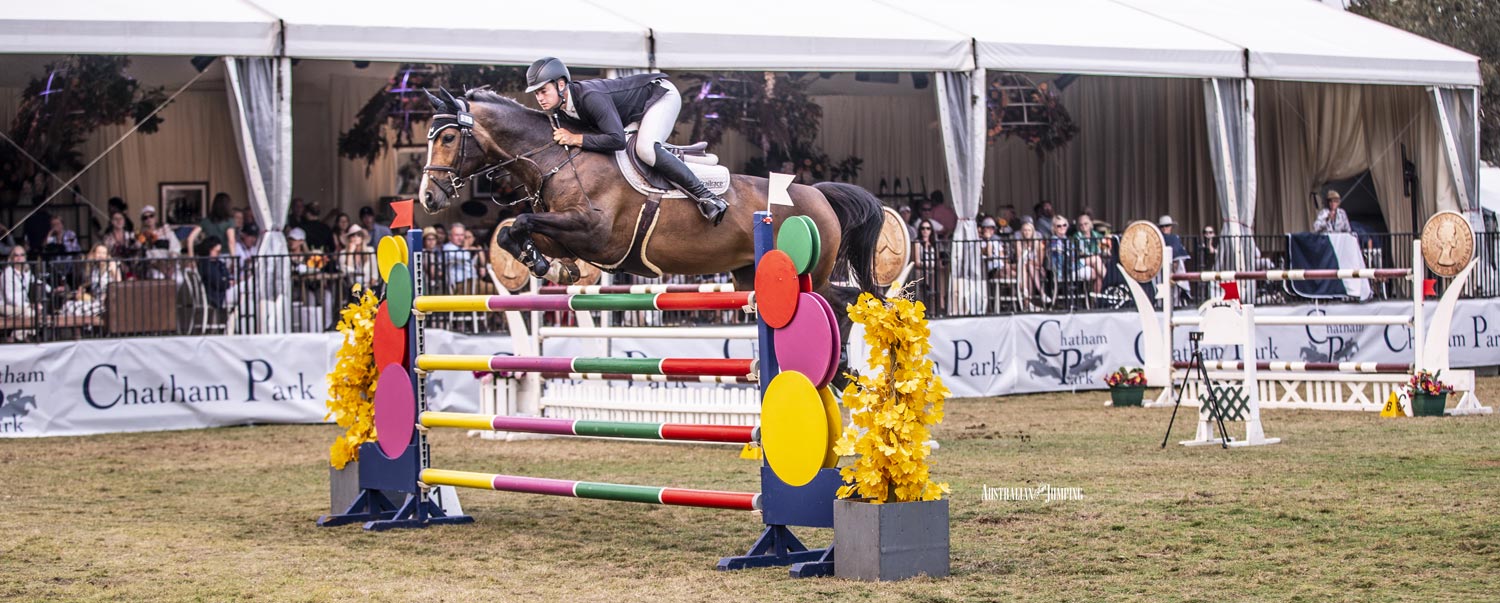 Tom McDermott and Elegance De La Charmille
The last four to make up the second round field of 12 were the fastest four of the five combinations who recorded five penalties in Round 1. The unlucky thirteenth place who missed out on a berth in Round 2 only based  on time was James Mooney and JB Evolution. With all 12 combinations invited into Round 2 only separated by five penalties, the pressure was really on and any every one of them had a shot at winning and taking home $25,000 of the $75,000 prize money on offer.
Advertisement


First to tackle the Round 2 course was two time Australian Senior Champion David Cameron, riding Finch Farm Clifford, however, five rails saw them drop out of contention. Another Finch Farm horse, namely Finch Farm Cadel, ridden by Chatham Park rider Kate Hinschen was next. They took a rail and a single time penalty to add to their five in Round 1 to finish on a total of 10. Thy were the leaders for now, but probably not for long. Third out were current series leaders Billy Raymont and Anton, who threw down the challenge for the rest of the field by recording a second round clear and finishing on just the five total penalties.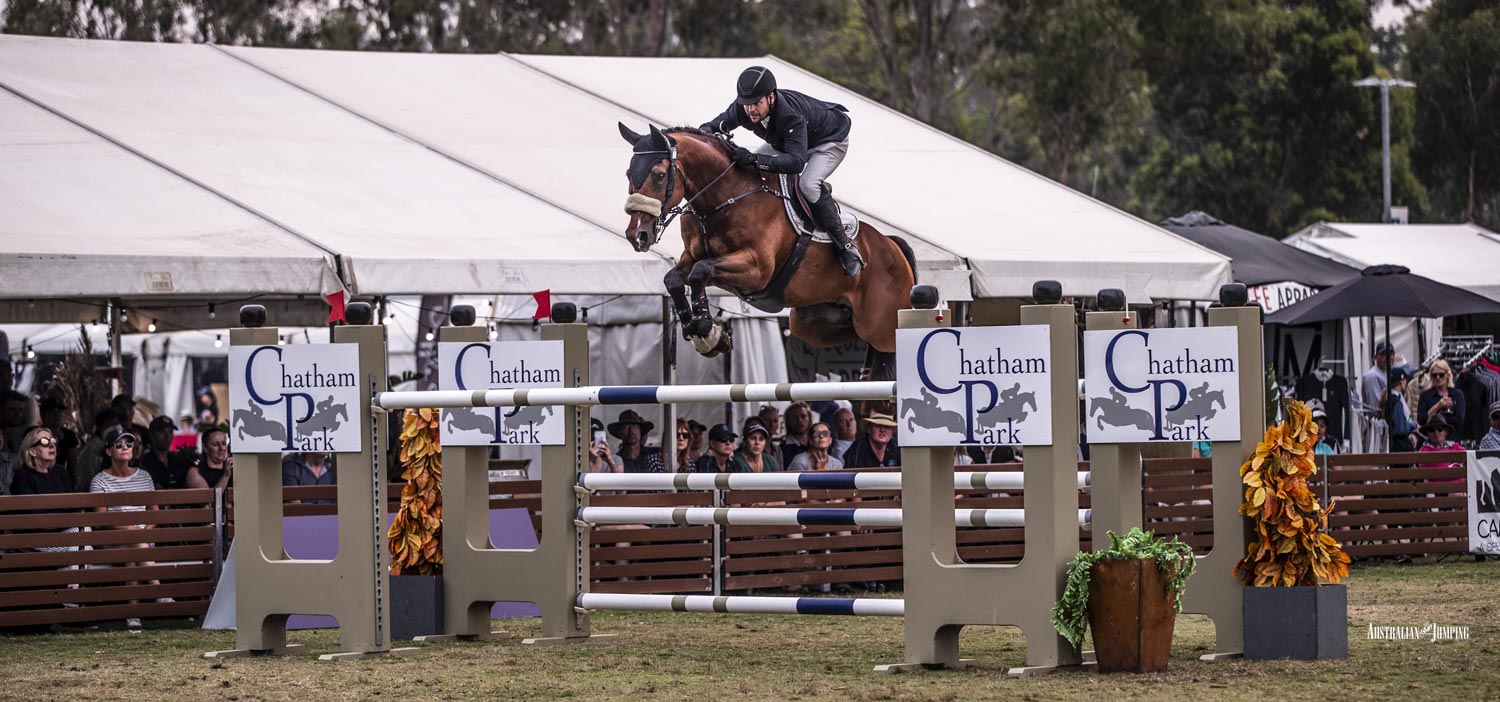 The next combination on course were Melissa Blair and Zidora. They almost emulated Raymont's performance, but a rail at 9b, the second last fence on the course, meant that they would finish on a total of nine. Fifth out was the combination of Brooke Langbecker and Quintago 1, however, making it back to back victories at the Summer Classic proved too much of an ask, with two rails in Round 2 putting them on a total of 12 and out of contention. Stephen Dingwall and Cavalier Du Rouet were next to go, but unfortunately three rails added to their rail in Round 1, put them on a total and out of contention for the win. They would end up placed eleventh when the dust settled.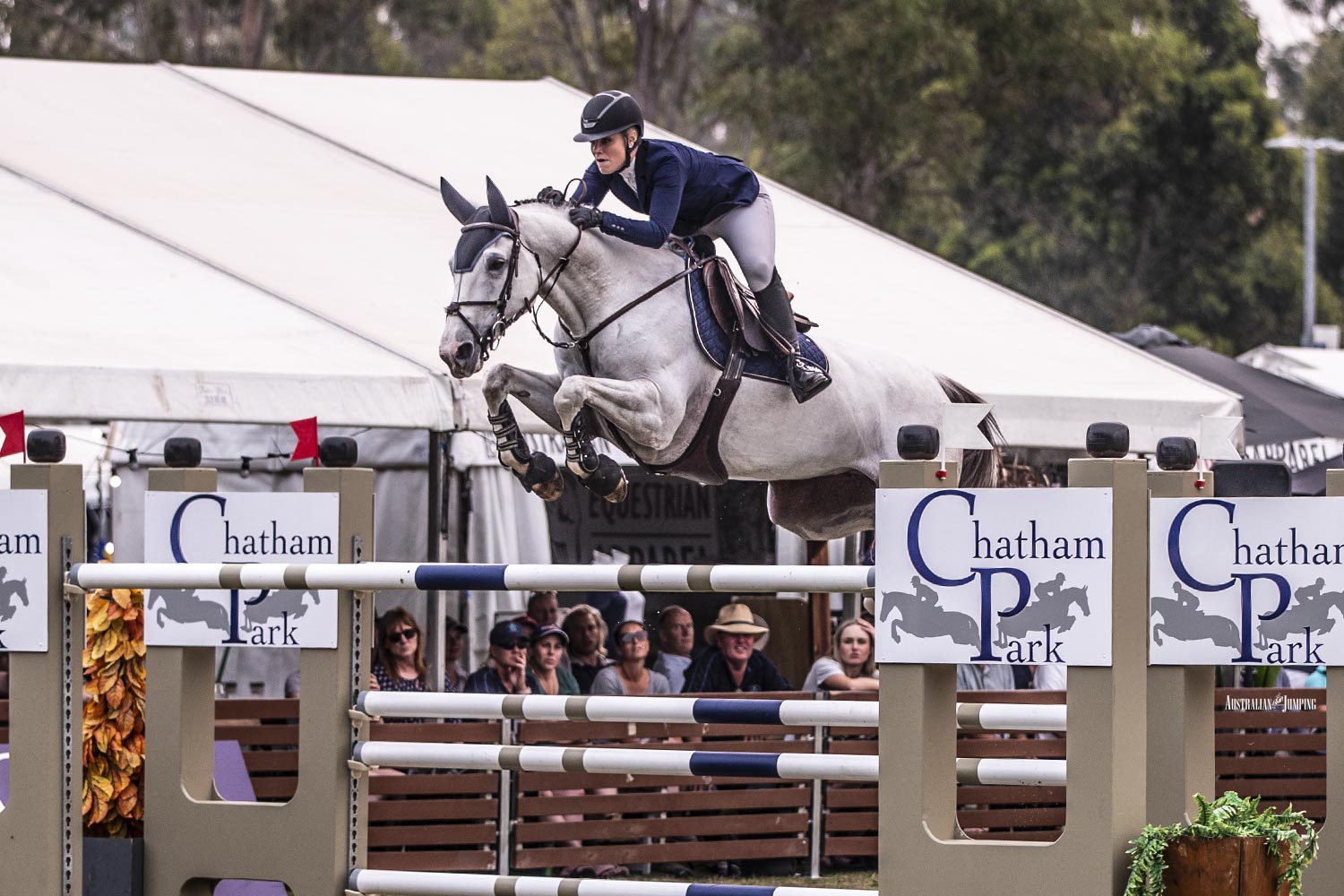 Melissa Blair and Zidora
Six down and six to go. Raymont still held the lead with just 5 penalties, however, with all of the six yet to start Round 2 all starting on wither four or zero penalties, he would need every one of them to make a mistake or two for him to hang on to the lead.
Chris Chugg and PSS Levilensky really shook things up when, next out, they completed a clear round, leaving them on a total of four penalties to displace Raymont from the lead.
Eighth out in Round 2 was Australian WEG representative Jamie Kermond and Yandoo Oaks Constellation. Stating on 4 penalties, they almost replicated Chugg's performance, but once again, 9b proved too much of a hurdle and he had to be satisfied with a total of eight.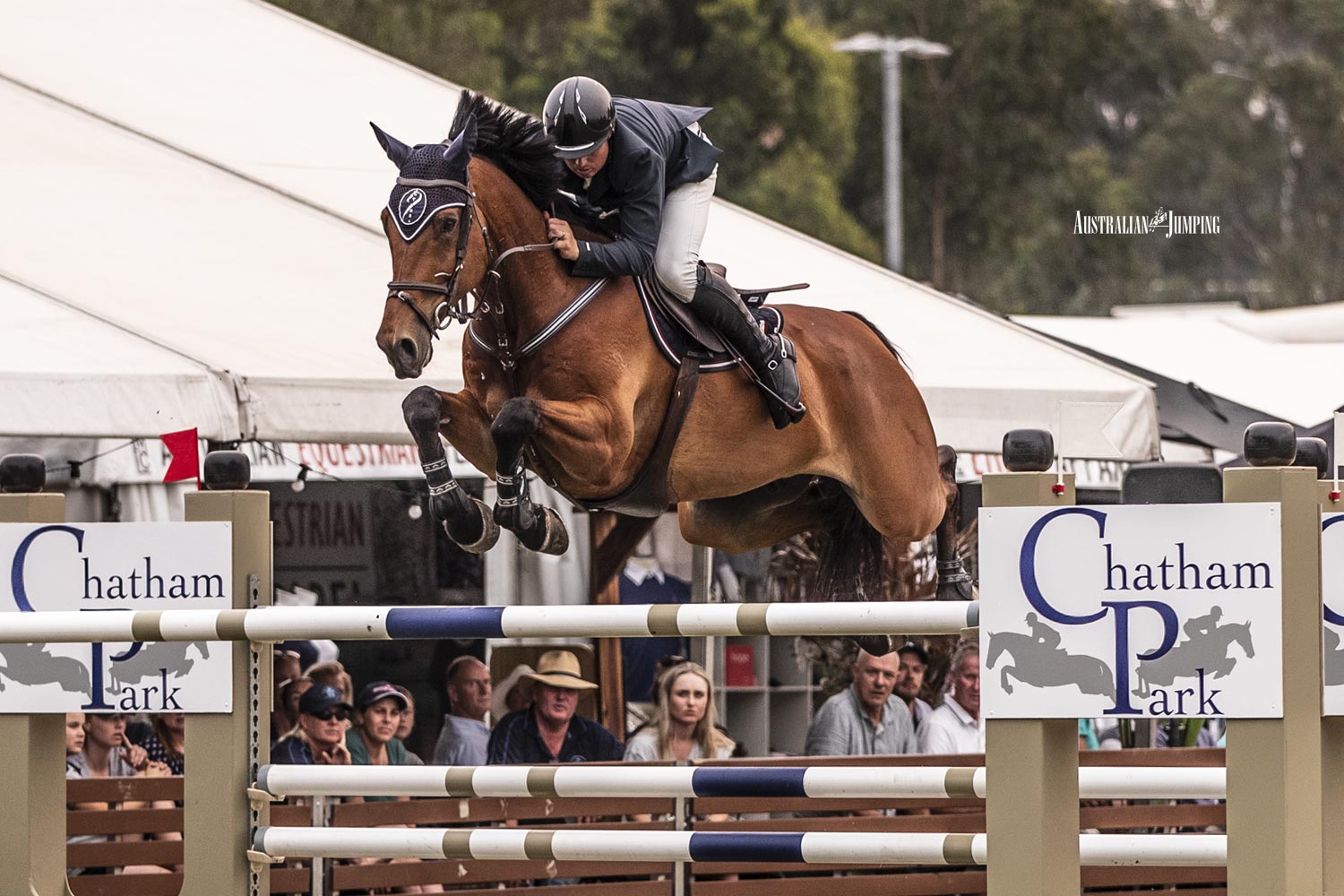 Jamie Kermond and Yandoo Oaks Constellation
Ninth out were the winners of the last round at Sale two weeks ago, Tom McDermott and Elegance De La Charmille. Like Kermond, they also took a rail in the Round 2 to end on a total of eight and for once McDermott was not going to feature on the podium, which has been his natural habitat of late.
Now it was the chance of the Round 1 zero faulters. If any one of them could complete Round 2 with less than four penalties, a position on the podium was theirs. If they took a rail, Chugg and "Levi", who completed Round 2 in 60.75 seconds and were sitting on four penalties, were waiting to pounce.
First of these three to go were Russell Johnstone and Daprice who have been in fine form of late. Unfortunately, it was the wrong time for this form to faulter just a fraction. Two rails saw them drop off the podium race to finish on a total of eight.

Russell Johnstone and Daprice
The penultimate pair of Olivia Hamood and Jane Fonda DVD were next to go, with the knowledge that a clear round was see them finish no worse than second place. It was not to be. A single rail saw them finish on a total of four, however, with a time of 63.88 seconds, they were a  little more than three seconds slower than Chugg and had to settle for second place. Whether they would stay there or not was in the hands of the final combination on course.
When Katie Laurie and Casebrooke Lomond trotted into the arena, it was clear what they had to do to win the class. Finish with three or less penalties, or, if they took a single rail, complete the course in less than 60.75 seconds. They set off around the course at an unremarkable pace. One by one, each fence was negotiated and the excitement in the crowd grew as each one was cleared. They were starting to look like the win was theirs, not to mention the $25,000 and the maximum 20 World Cup Series points on offer. With just two more fences to clear and the finish line literally within their site, things changed in an instant. Fence 9b, we have mentioned previously, was the downfall of more than one combination and Laurie and Casebrooke Lomond, unfortunately for them, joined their ranks. As the rail clattered to the ground behind them, it seemed that Laurie knew in an instant that with a rail down, time was of the utmost importance. She seemed to immediately urge Casebrooke to a greater effort and they fairly raced to the last, accommodating it with ease, however, the bird had flown. As they raced across the finish line, the red digital clock above the judges box announced a time of 67.41 seconds, well outside the time recorded by Chugg.
So on a day where nobody could record double clear, any combination recording more than a single rail meant that there was no room on the podium.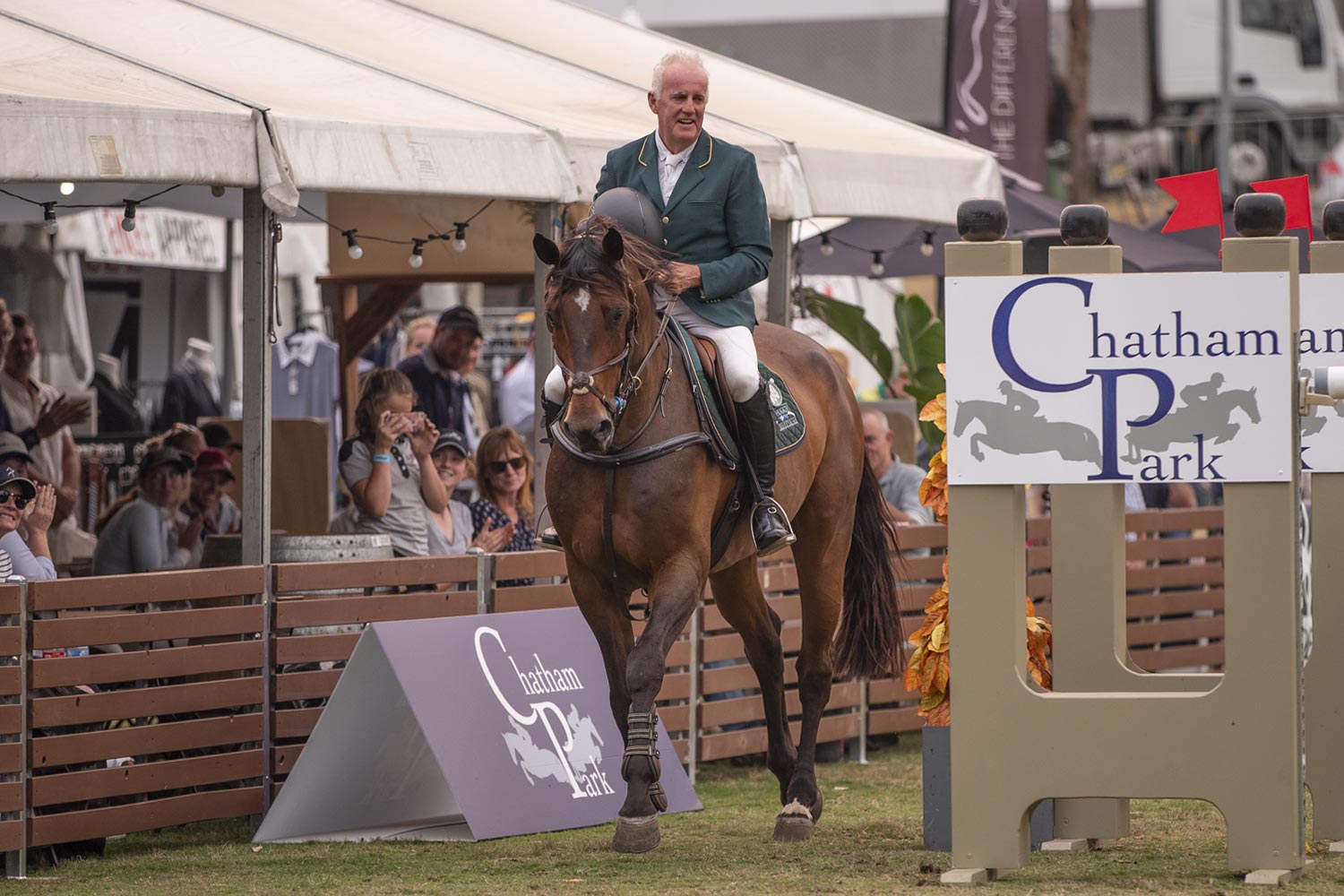 For Chris Chugg and PSS Levilensky, it was their second win of the season following their success in Tamworth. Olivia Hamood, in only her third round of the season more than doubled her season's tally before today of 16 points. Katie Laurie who has been thereabouts all season equaled her best performance of the season which was a third placing at the Adelaide 3DE round three weeks ago.
With Chris Chugg taking maximum points out of this round and Billy Raymont, the leader going into this round finishing fourth, when the points are all counted up, it is almost certainly going to be a neck and neck race between these two as we head into what is certain to be a thrilling final two rounds, both to be held early in 2020 at Boneo Park in Victoria.
The full placings from today's event are listed below:
| | | |
| --- | --- | --- |
| PLACE | RIDER | HORSE |
| 1st | Chris Chugg | PSS Levilensky |
| 2nd | Olivia Hamood | Jane Fonda DVD |
| 3rd | Katie Laurie | Casebrooke Lomond |
| 4th | Billy Raymont | Anton |
| 5th | Tom McDermott | Elegance De La Charmille |
| 6th | Jamie Kermond | Yandoo Oaks Constellation |
| 7th | Russell Johnstone | Daprice |
| 8th | Melissa Blair | Zidora |
| 9th | Kate Hinschen | Finch Farm Cadel |
| 10th | Brooke Langbecker | Quintago 1 |
| 11th | Stephen Dingwall | Cavalier Du Rouet |
| 12th | David Cameron | Finch Farm Clifford |
View Comments