Immerse yourself in the Florida competition scene with David Cameron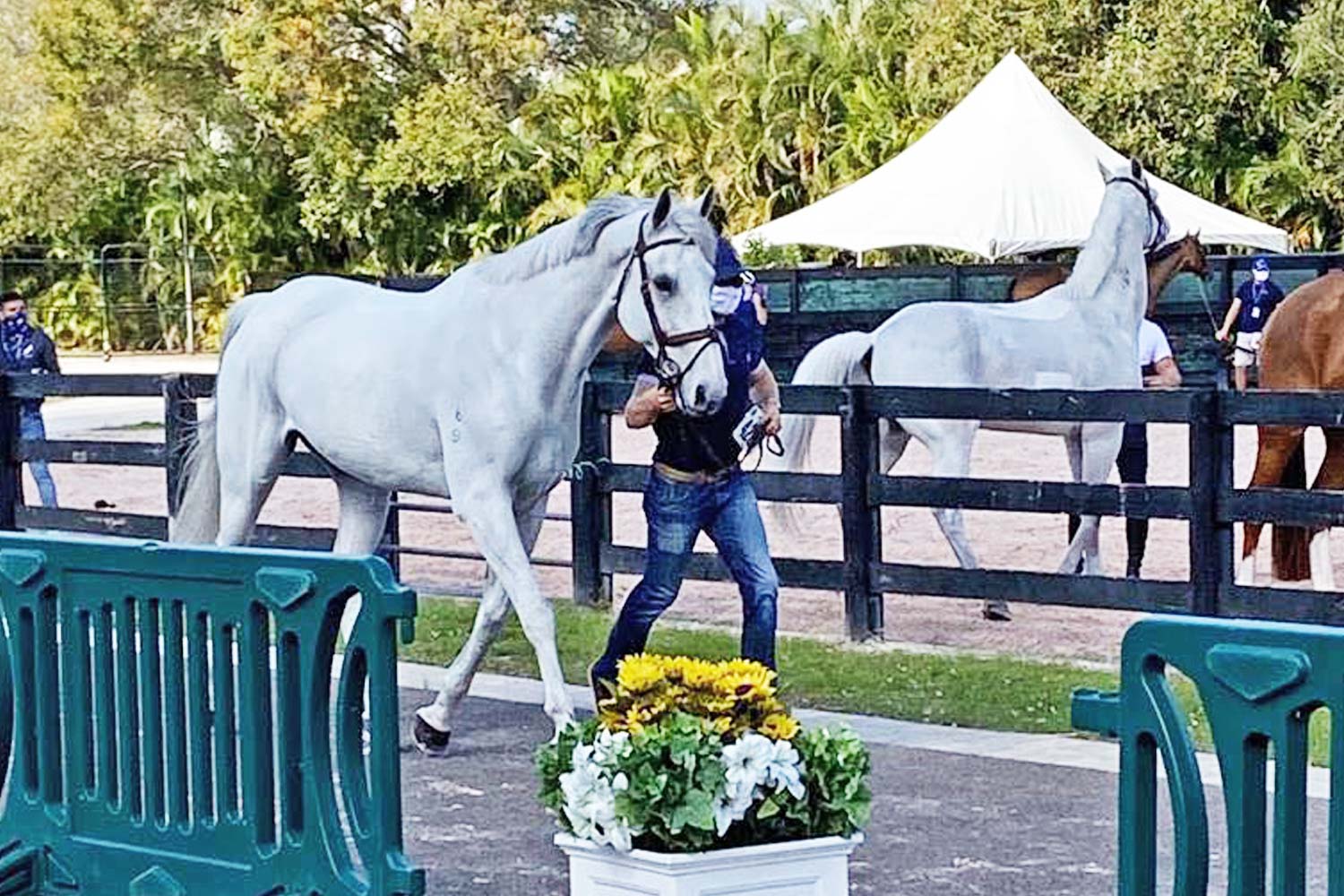 Supplied
Above: David Cameron and Finch Farm Clifford at the Trot-up for the 3* competition this week at WEF
David Cameron is undoubtably one of Australia's top Jumping competitors and together with his wife Tallara, runs the successful Redleaf Lodge stables out of Wilberforce, NSW.
Just before Christmas, Dave hopped on an IRT flight and flew out of Australia with two of his top horses, bound for Florida, USA.
Having settled in and competed now at a couple of shows, we were delighted to catch up with Dave to find out more about the practicalities of a trip such as this (especially in COVID times) and to hear his thoughts on the experience so far. We hope you enjoy his answers as much as we did!
Advertisement


What were your motivations for heading to the US at this particular time?  There were a number of motivators. We have always planned to take a team of horses and riders to America, COVID made that impossible this year. So we changed our plan to me going solo, it has been a good test run for a bigger campaign. I've gained a lot of experience that will help develop our plans for next time. The other motivator is that Finch Farm Clifford is 12yrs old at the end of this year. The plan was to jump a couple years of GP's in Australia and then either sell him or take him on an overseas trip. Unfortunately for everyone last year didn't go to plan and we didn't like the idea of him sitting around for another year in Aus with no certainty of what shows would happen in 2021. So we decided to 'risk it for the biscuit' and book him a spot on the plane with IRT!
Was it tricky to organise with current COVID restrictions? Yes it was. It took a lot of organising and made things even more difficult as Tallara couldn't come. I haven't done anything on my own the past 14 years! Firstly, I needed to get a waiver to enter America, to get this I had to meet the criteria that I was intending to jump 3 Star level or higher. The next thing was getting approval to leave Australia. To do this we had to show that it was for international business/sporting opportunities. All this required plenty of justification and evidence so was time consuming to put together. The other negative is that the flight home is going to be very expensive. We agreed that the positives of the trip out-weighed the time, effort and expense.
Advertisement

Can you tell us about the horses you took with you and did they travel and settle in well? I have 2 horses with me. Finch Farm Clifford (Charlemagne) is a 12yr old GP gelding. Finch Farm Calcutta (Calgary), 7yr old gelding jumping 1.30m. Unfortunately for Calcutta the American federation doesn't recognise the Southern Hemisphere young horse rule like they do in Europe, so he has to compete as a 8yr old. It is a little disappointing as I think he would have been a very competitive 7yr old here. They have both settled in well. Calcutta developed a small cold after the first show but apart from that they are healthy and happy.  They were here for 4 weeks before their first show. I think that time period was ideal, I wouldn't have wanted to show any sooner. The flight is tough on them, I'm glad I travelled with them though. I think that really helps them to get to the other end in the best shape possible
Have you competed in the US previously? No this is my first time competing in the US.
How long are you planning to stay and do you have many more competitions lined up? I originally planned on coming home late February but will depend on how things are progressing at home and what is happening here. I have Clifford this weekend at WEF (Winter Equestrian Festival) for the 3 Star. I'll show Calcutta next weekend at WEC (World Equestrian Centre) and then make a decision to what I do with Clifford depending on how he pulls up after WEF. He would have had a big couple of weeks, but there are two good GP's in Ocala next week.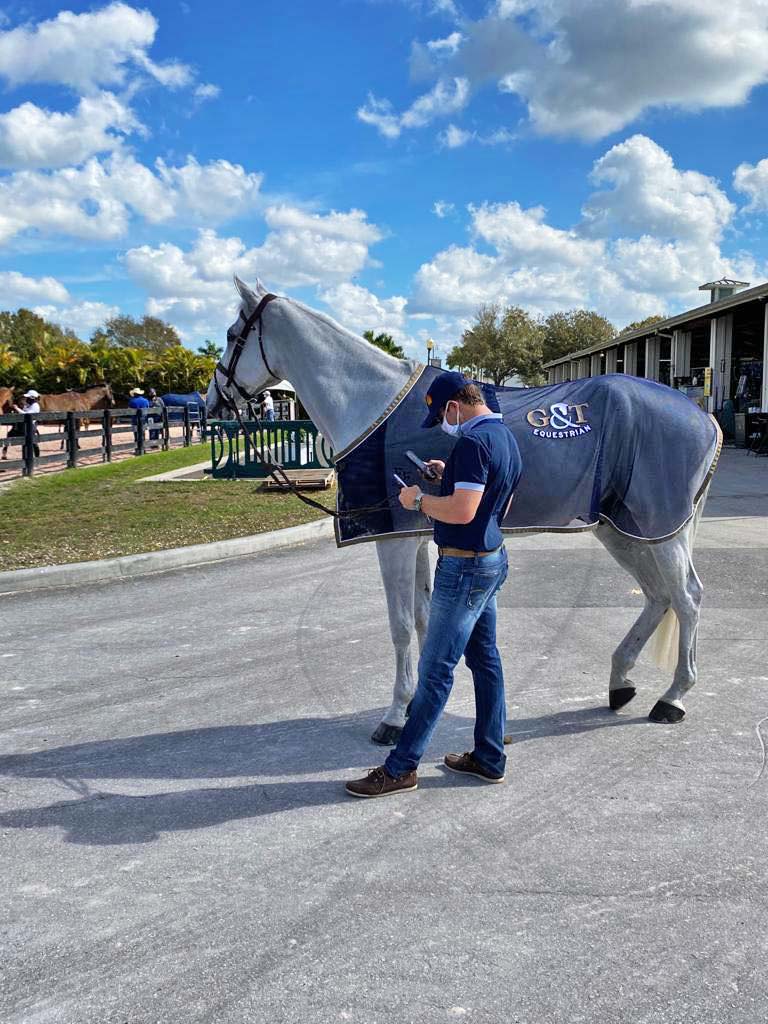 David Cameron and Finch Farm Clifford
Who are you staying with? I'm staying with good friends Grace Long and Tom Bebb. They run a business with Jumpers and Hunters called G&T Equestrian. Their stable has a nice feel and it's very successful! They are based in Ocala for the Winter. We are about 3 minutes from HITS and 15mins from WEC and approximately 4hrs from Wellington. One of their clients hunters was champion adults Hunter at HITS last weekend. Grace has an 8yr old mare that just jumped her first National GP so they are a fun team to be involved in.  Including my 2 horses the property has 15 horses on it in boxes and they all have turn out paddocks. I find Ocala a similar feel to Australia, the people are really friendly and the horses like it. I've jump schooled a lot at Scott Keach's property – he is 10 minutes from us. Scott has been very helpful since I arrived and I've found all the Aussies helpful and keen to see another Australian over here.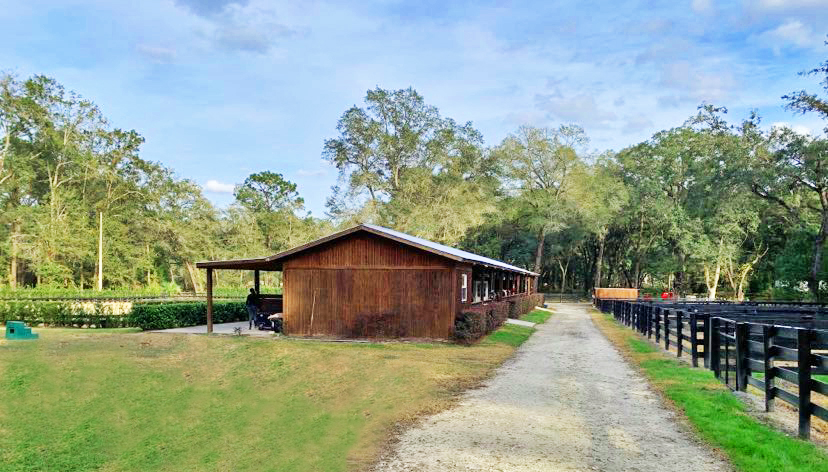 G&T Equestrian
Can you tell us a bit about the venues you have been competing at and how the shows differ from the ones back in Australia? The biggest difference is the options in shows each weekend. There are multiple shows each weekend, all with plenty of prizemoney and plenty of competition. I've been to 3 shows in Florida. WEF (Wellington) is the top sport and mind blowing to see. There are horses competing for 12 weeks there. It is very expensive to do and very hard to win a ribbon but it's great to be a part of.  HITS (Ocala) winter series is a similar format to WEF but more affordable with GP's ranging from 50k to 1 Million dollars throughout the season.  WEC (World Equestrian Centre) Ocala is a brand new facility and it is mind blowing. This is the first year showing there but the privately owned property has 16 outdoors, 6 fully air conditioned indoors, shows, general store, gas station, 5 star hotel. This year they have a 75K GP each weekend and a 200K at the end of the season. The biggest difference is the majority of shows here are run on purpose built all weather showjumping footing. I think that has a lot to do with why they can ride so fast. We are lucky that we have arenas like SIEC indoor, Willinga Park  and Boneo with all weather surfaces but we need more!
How are you finding the level of competition so far?  The competition is very strong. Even in the National GP's there are riders there you have never heard of winning week in week out. To make the top 5 in any of the bigger classes you need to go seriously fast. The quality of the horses is very high. The time allowed is much tighter and unlike in FEI you are given 1 fault for every second over so you are really punished for going over.
What have the highlights been so far? There have been plenty of highlights. It's rewarding how well it has all worked out. It's hard to plan something from the other side of the world and exciting when it turns out how you hoped. A big part of that success is the support and direction of Tom, Grace and Scott here and of course Tallara and the Redleaf team back home – although sometimes I'm sure we'd both like to trade places haha. I feel very fortunate that I can be in Florida, bumping elbows with the big guns, particularly at this time, competing at this level of the sport. What a great sport it is!
We thank Dave for taking time out of his busy schedule to answer our questions so well and wish him (and Tallara back home) the very best for the remainder of the trip. We will certainly be continuing to follow his progress in Florida with much interest over the coming weeks.
View Comments