McDermott sizzles to win the GDP Classic Grand Prix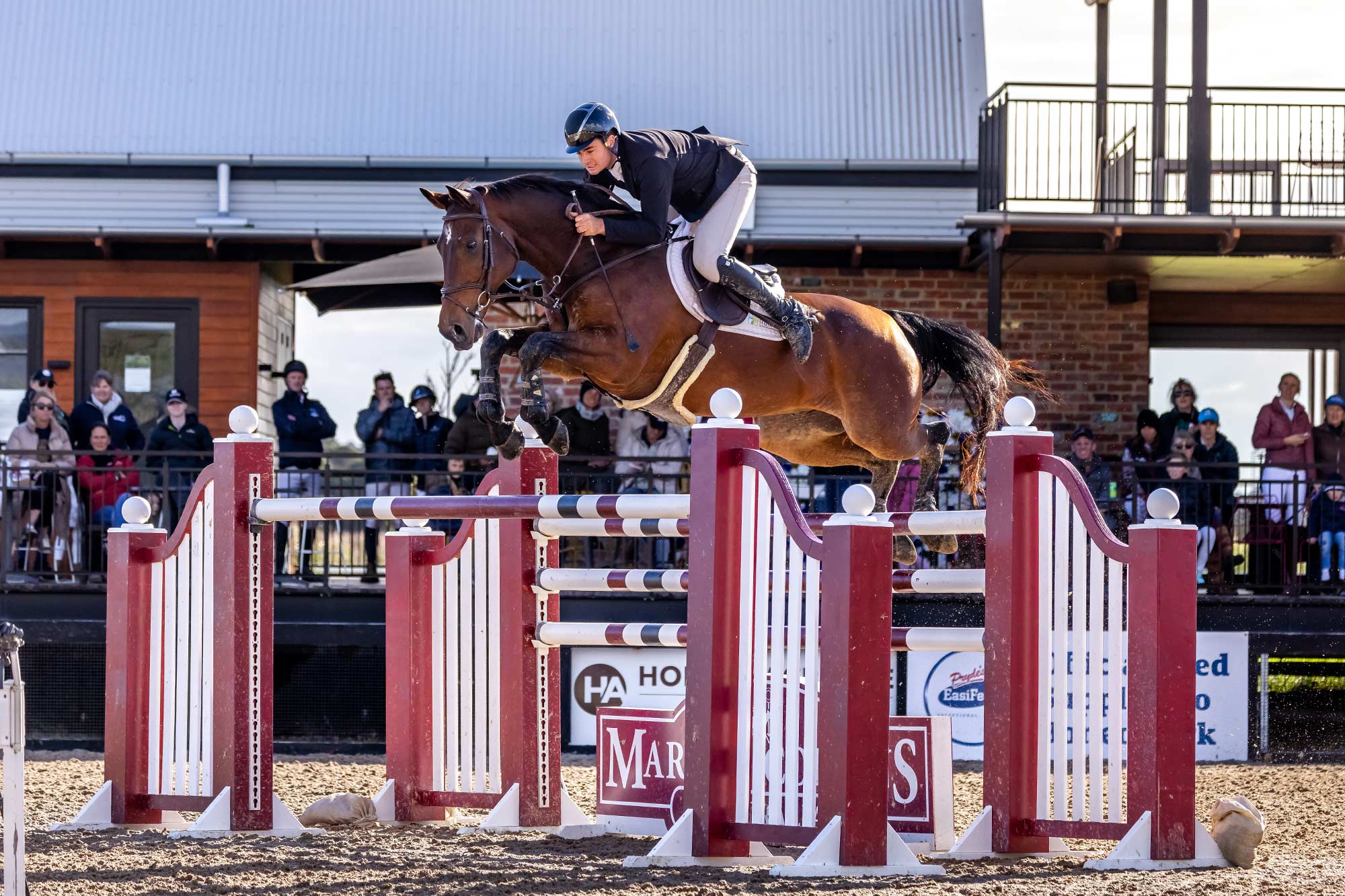 One Eyed Frog Photography
Above: Tom McDermott and Warraleigh Park Cortez. Photo credit: One Eyed Frog Photography.
The four-day GDP Jumping Classic wrapped up yesterday afternoon at the Boneo Park Equestrian Centre, located on the beautiful Mornington Peninsula. It was a day full of Finals with some great jumping action thrilling the spectators. For a wrap on all the action on days 1 and 2, click HERE and for a report on Saturday's action, click HERE.
Advertisement


The first class on the main arena this morning was the final of the JPR Equestrian competition for 6-year-olds, which saw four combinations go clear to necessitate a jump-off. In the jump-off there were three clears which meant that nothing less than a double clear performance was required for a place on the podium. In first place, with a jump-off time of 41.71 seconds were Brook Dobbin and his bay warmblood gelding Devos GP. They were just ahead of Jess Kiernan and Amenadiel, which coincidentally was bred by James Paterson-Robinson, sponsor of the class, with a time of 42.28. Third place, in a slower time of 51.97 seconds was claimed by Queensland visitors Chloe Hughes and her mare Christalou.
Advertisement


The Kiernan Haulage Mini Prix was the next class on the schedule and a big field of 27 combinations set up a fascinating competition. After the first round, there were 12 clear combinations and all of these came back for a second round to sort out the more than $14,000 on offer. The win and the bulk of the prizemoney on offer, with a time of 46.38 seconds went to Russell Morrison and CE Cajun, scooting around the course slightly quicker than Tom McDermott and YPH Capulet in second, with 47.82 seconds. Just over a second slower (48.89 seconds) were Russell Johnstone and Dondersteen in third place.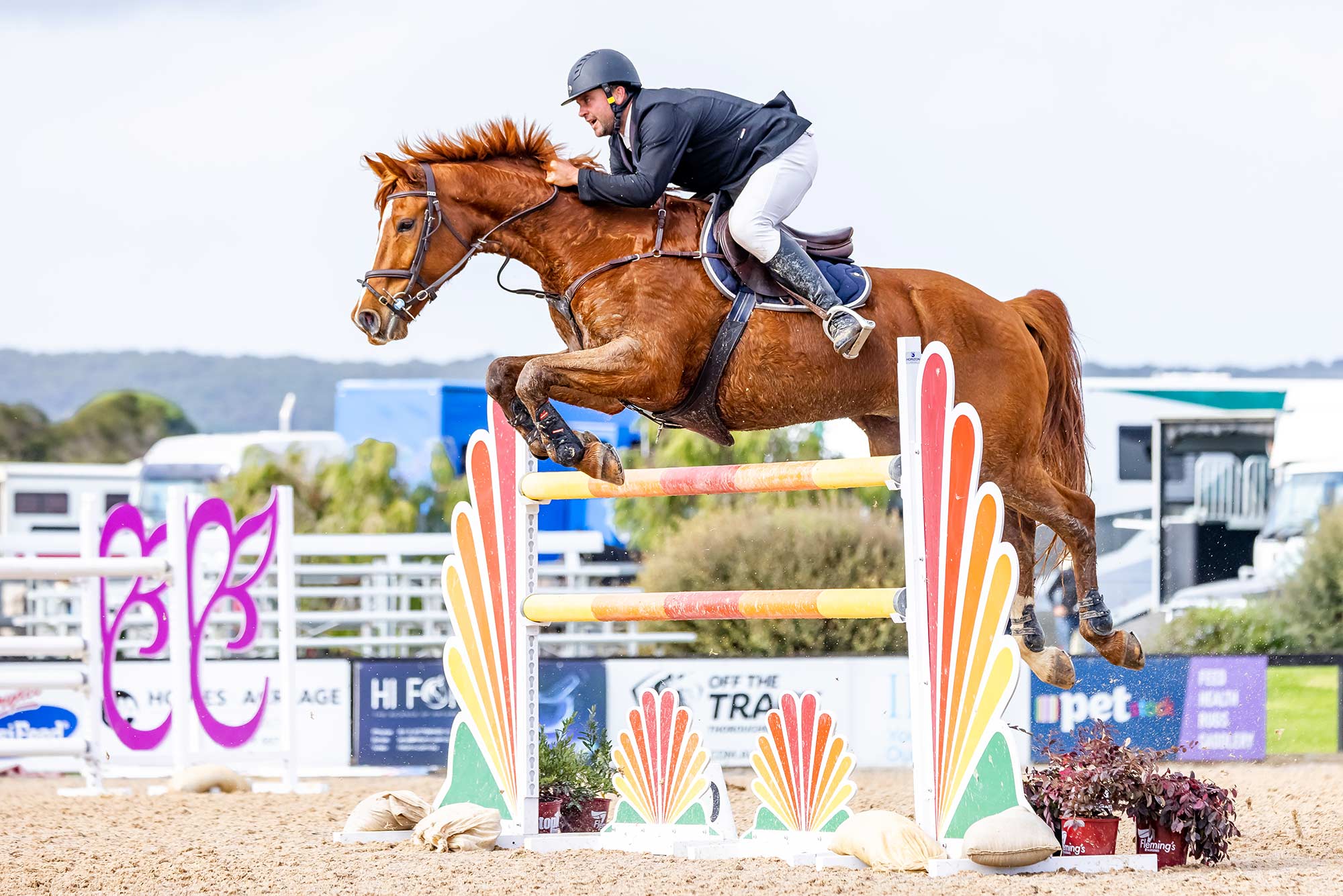 Above: Russell Morrison and CE Cajun. Photo credit: One Eyed Frog Photography.
After a short break, it was time for the feature event of the weekend, the Martin Collins Grand Prix, bringing with it $25,000 in prize money. After the first round, 10 of the 18 combinations entered were invited back for a second round. Of these 10, five were clear and another five were carrying four faults into the second round.
In the end, it was the very in form Tom McDermott and Warraleigh Park Cortez who took the win. Having won both the 1.40m class on Thursday and the 1.45m class on Friday, this combination again went double clear today to complete five fault free rounds for the show. Their second-round time of 52.51 seconds was almost 2 seconds clear of the second placed Russell Johnstone and Daprice (54.24 seconds). It was a very solid day for Johnstone, having also placed in the mini prix earlier in the day. Third place, with the only other double clear performance were Sarah McMillan and Tyrone VDL with a time of 55.63 seconds. To further demonstrate what a great rider he is and to confirm the fantastic equine jumping talent at his disposal, McDermott also managed to fill fifth and sixth placings in what was a very high-quality field.
The last class of the weekend was the first round of the 2022 Stal Tops Australian Young Rider Series taken out by Lucy Locke and Quero Quero. For a full write up of this class, please see our separate report HERE.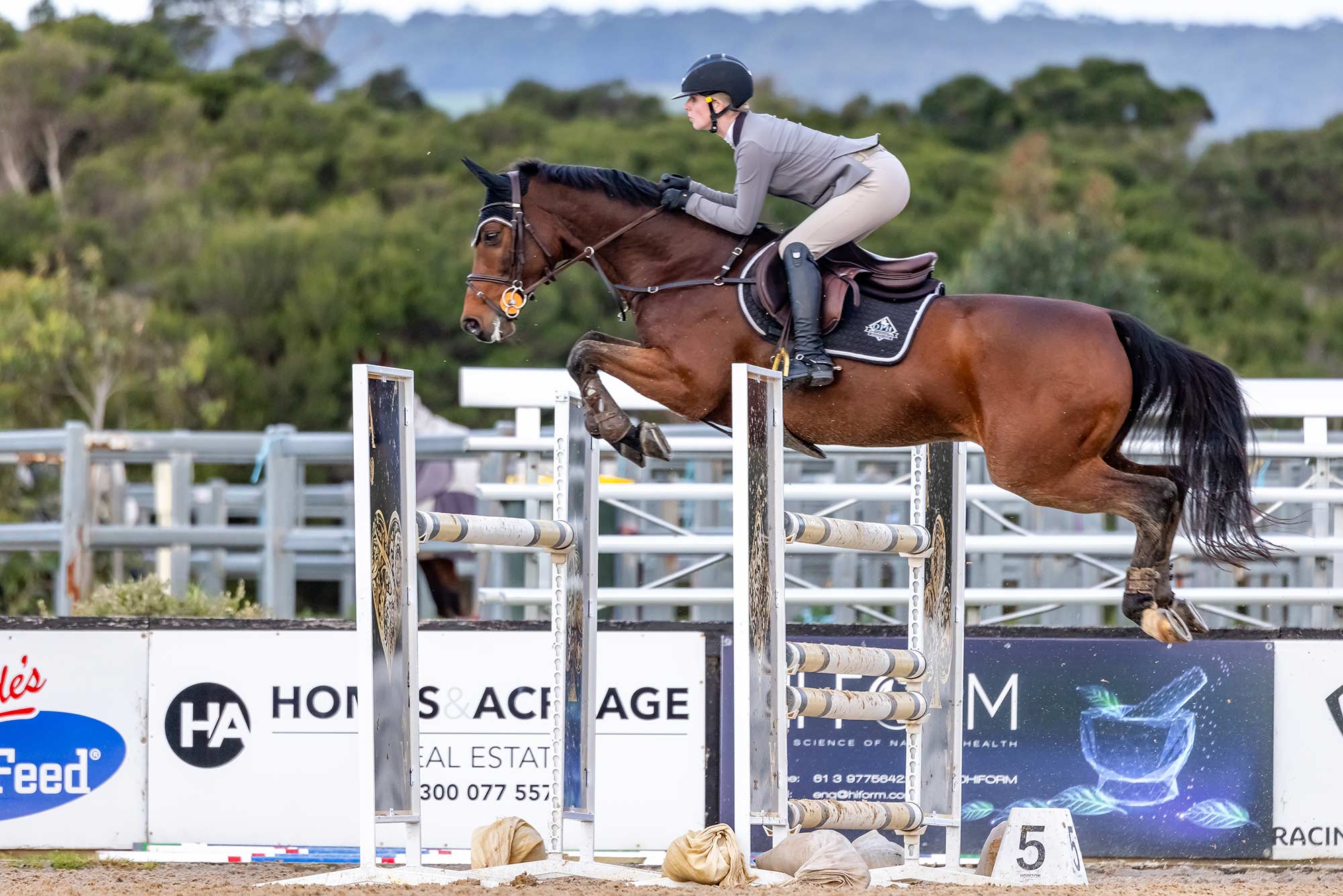 Above: Lucy Locke and Quero Quero. Photo credit: One Eyed Frog Photography.
On the second arena, the program was filled with finals. The first class was the Premier Floats final for 4-year-olds which saw three double clear performances, with the win going to Angela Dobbin and Oaks Empire. After a consistent performance over first two rounds, Amber Fuller and Bickley's Leviosa showed what they could do by taking the Southern Cross Stables 5-year-old title. The Homes and Acreage Amateur final went to Jessica Grant and black gelding For Fly Heldenlaan Z, with a great double clear performance. The last class was an open 1.20m class which was won by the only double clear combination of the class. Mia McNaught and Tulara Forpaccio.
It was a wonderful show, for which the organisers should be congratulated for pressing on in, at times, soggy and cold conditions. Congratulations goes to all the winners and placegetters from today's classes. Placegetters in all classes held today are listed below.
GDP ARENA – GRASS
CLASS 21: JPR EQUESTRIAN – 6YO – FINAL – 1.10m
| | | |
| --- | --- | --- |
| PLACE | RIDER | HORSE |
| 1st | Brook Dobbin | Devos GP |
| 2nd | Jess Kiernan | Amenadiel |
| 3rd | Chloe Hughes | Christalou |
| 4th | Brooke Hickey | Tulara Flare |
| 5th | Clyde Sherajones | Si Si Strike |
| 6th | Sam Conway | Karlotta DP |
CLASS 22: KIERNAN HAULAGE – MINI PRIX
| | | |
| --- | --- | --- |
| PLACE | RIDER | HORSE |
| 1st | Russell Morrison | CE Cajun |
| 2nd | Tom McDermott | YPH Capulet |
| 3rd | Russell Johnstone | Dondersteen |
| 4th | Tom McDermott | Cooley Gangster |
| 5th | Megan Joyce | Blackall Park Cha Cha |
| 6th | Madeline Sinderberry | Camie Z |
CLASS 23: MARTIN COLLINS AUSTRALIA – GRAND PRIX
| | | |
| --- | --- | --- |
| PLACE | RIDER | HORSE |
| 1st | Tom McDermott | Warraleigh Park Cortez |
| 2nd | Russell Johnstone | Daprice |
| 3rd | Sarah McMillan | Tyrone VDL |
| 4th | Amelia Douglass | Finch Farm Cadel |
| 5th | Tom McDermott | Alpha Activity |
| 6th | Tom McDermott | Elegance De La Charmille |
CLASS 24: STAL TOPS – YOUNG RIDER SERIES
| | | |
| --- | --- | --- |
| PLACE | RIDER | HORSE |
| 1st | Lucy Locke | Quero Quero |
| 2nd | Clemency Hughes | Diamond B Corvina |
| 3rd | Anneliese Wansey | Grandiamo |
| 4th | Jess Rice-Ward | Dusky Farm Cavalier |
| 5th | Tilley Fair | Oaks Constantino |
| 6th | Georgia Bouzaid | Vitess |
ARENA 2 – GDP ARENA FIBRE
CLASS 25: PREMIER FLOATS – 4YO – FINAL – 1.00m
| | | |
| --- | --- | --- |
| PLACE | RIDER | HORSE |
| 1st | Angela Dobbin | Oaks Empire |
| 2nd | Amanda Leyshan | Viva Glenara Caralline |
| 3rd | Brook Dobbin | Charlotte GP |
| 4th | Seamus Marwood | Born To Be Wild |
| 5th | Zoe Waller | Rasta D |
| 6th | Sally Black | Jeronimo |
CLASS 26: SOUTHERN CROSS STABLES – 5YO – FINAL – 1.10m
| | | |
| --- | --- | --- |
| PLACE | RIDER | HORSE |
| 1st | Amber Fuller | Bickley's Leviosa |
| 2nd | Adelyn Fallon | Carousel |
| 3rd | Rod McQueen | Oaks Sierra |
| 4th | Frida Lindgren | Wandaree Colleen |
| 5th | Charlee Dobbin | Sweet Dreams |
| 6th | Jess Rice-Ward | Al Fonso |
CLASS 27: HOMES AND ACREAGE – AMATEUR – FINAL – 1.10m
| | | |
| --- | --- | --- |
| PLACE | RIDER | HORSE |
| 1st | Jessica Grant | For Fly Heldenlaan Z |
| 2nd | Chelsea Hair | Cheech BFD |
| 3rd | Andrew Long | Hidden Option |
| 4th | Tahli Hendler | Black Currency |
| 5th | Andrew Long | St James Palace |
| 6th | Monique Johnstone | Winterwood Banjo |
CLASS 28: OPEN – 1.20m
| | | |
| --- | --- | --- |
| PLACE | RIDER | HORSE |
| 1st | Mia McNaught | Tulara Forpaccio |
| 2nd | Sarah McMillan | Silverton BHV |
| 3rd | Sarah McMillan | Kakadu BHV |
| 4th | Alyssa Ho | Cha Ching BE |
| 5th | Jessica Sophia Ramsay | Narrado MVNZ |
| 6th | Claudia Beer | Riverton Affirmation |
Results sourced from online.equipe.com
View Comments