The stage is set for a great weekend at SIEC
Australian Jumping
Above: Tilley Fair and Bella Bonita.
After a fantastic day of exciting competition the Waratah Showjumping World Cup show has reached its half way point. All is in readiness for what promises to be a great weekend, with the feature class tomorrow being the Waratah Showjumping FEI World Cup CSI1* scheduled to start at 2:30 pm.
Today there was action across three arenas, however, the focus of our report will be on the main indoor arena where Mark Atkins was responsible for designing the courses.
The action started this morning with the 1.25m Bucas Rugs Open class which saw a large contingent of 53 combinations entered. The class was dominated by a pair of the most experienced riders in the show. Clem Smith and his gelding Whimsical WDS produced an astounding round, speeding around the course in just 58.91 seconds to claim the victory. Filling the remaining two spots on the podium was Andrew Inglis, who's expertise and skill shone through. After their third placing in yesterday's Open 1.30m class, Andrew and Alillie finished second today, clear in 60.18 seconds. Rounding out the podium was Andrew riding another mare Indiana Goodtimes, who recorded a time of 62.22 seconds.
Advertisement


Next up was a 1.30m competition which was split into two divisions. The GeoPro Open division was won by yesterday's 1.30m Open class winners Sarah Duggan and Oaks Diamantina. They had a fantastic round, scooting around the course clear in a time of 58.15 seconds. The next fastest of 11 clear rounds were Clem Smith and Quantico 12, just failing to make it a pair of wins for Clem today. Their time was 60.55 seconds. Third place, in a time of 64.17 seconds went to Tyrone Latham and Yirrkala Harriet.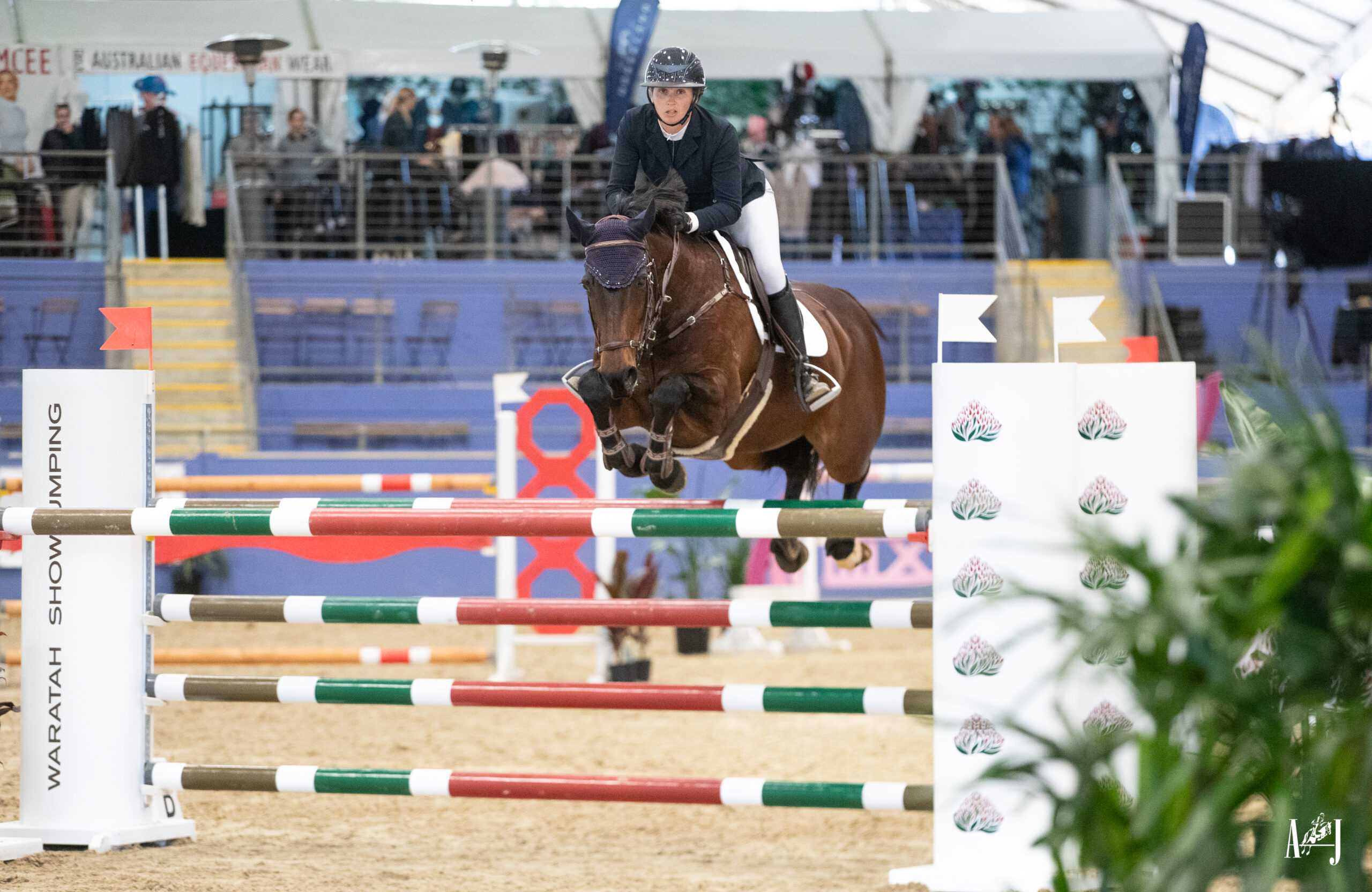 Above: Sarah Duggan and Oaks Diamantina
The Young Rider division of this 1.30m class was sponsored by Orangeville Performance Horses and saw just five of the 26 combinations engaged post clear rounds. The win went to Dakota Pinton and her gelding Heartline NZ with an impressive time of 62.05 seconds. It was close between the top two, with Ella Hayward and Edena DP being relegated to second by a margin of just 0.5 seconds. Third place went to the reigning Australian Junior Champion combination of Claire Zylstra and Harvey B, who finished in a time of 65.16 seconds. It was an exciting class which wets our appetite for the rest of the Young Rider classes on the program.
A late change in the program saw Class 10 moved in front of Class 9, bringing many of the World Cup combinations out a little earlier in the day than anticipated. The win went to a combination that came out fairly late in the draw, Phillip Lever and Lomachenko. They were an exciting combination to watch as they charged around the course in a very rapid 63.90 seconds. Their performance relegated Aaron Hadlow and Vahlinvader to second place who had taken 65.95 seconds to complete the course. Of the 10 clear rounds, the third fastest was achieved by a visiting combination from New Zealand, Brooke Edgecombe and LT Holst Andrea with a time of 66.75 seconds.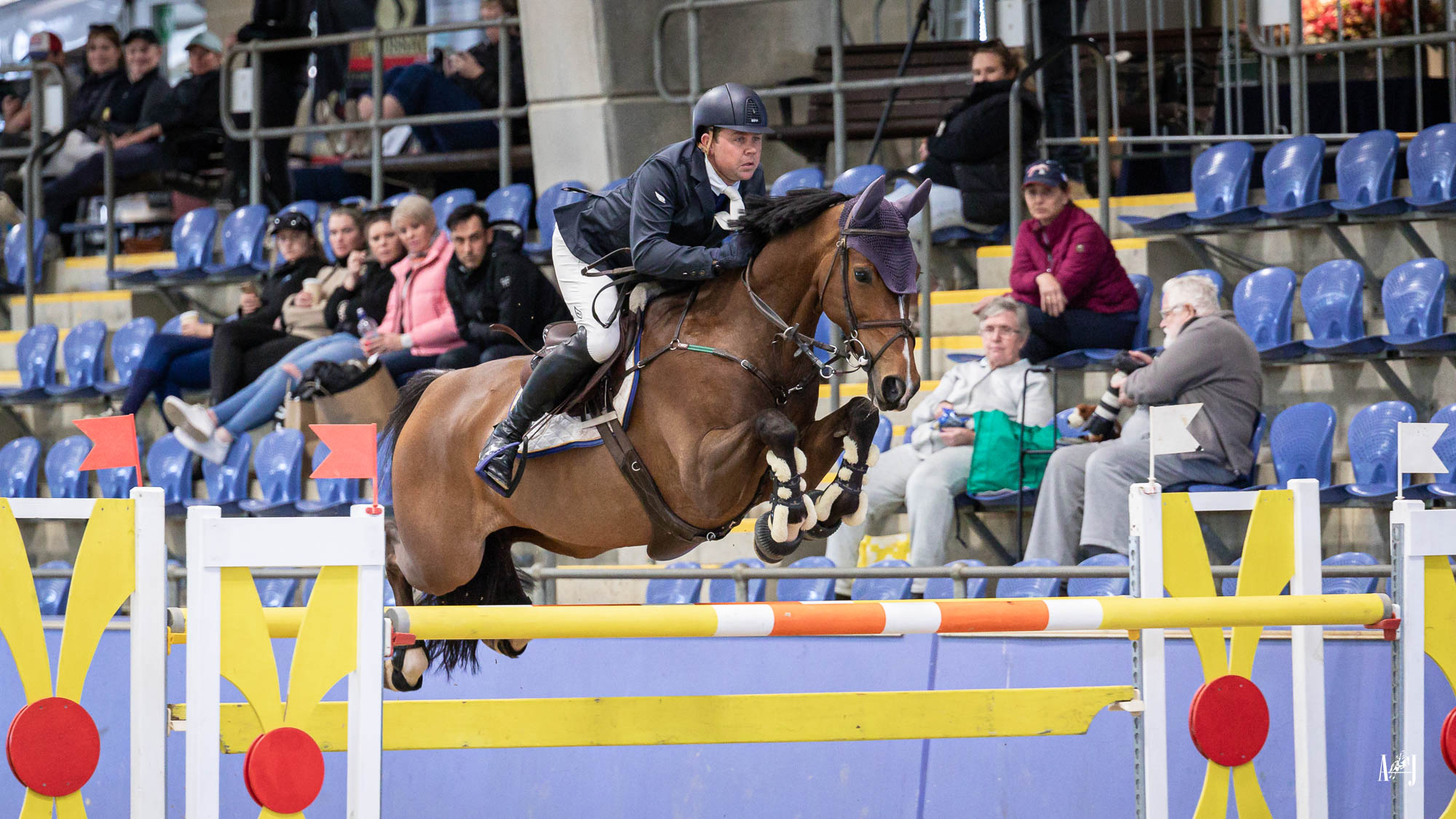 Above: Phillip Lever and Lomachenko
It was a great class with many of the combinations entered fine tuning their charges in preparation for what promises to be a fantastic World Cup class tomorrow.
The penultimate class of the day was the Liz Watson and Oaks Sport Horses sponsored Futurity class (1.30m) that attracted a total of 41 combinations. A total of 18 of them went clear and they were invited back for what turned out to be an exciting jump off. For a long time, it looked like Phillip Lever was going to take his second consecutive class when he piloted the lovely mare Bonita, the 2023 Champion of Champions from the D&JWTS show at Werribee, to a clear jump off round in just 38.83 seconds. However, it was not to be. Very late in the class the win was snatched by Tess McInerney and her Quintago gelding Quintation who produced a brilliant ride, clear in 38.59 seconds. There were ten double clear performances and the third fastest of these in 39.78 seconds and gaining the final spot on the podium was Brook Dobbin and his gelding Devos GP. It was a great class and we look forward to seeing how these horses continue to develop over the coming years.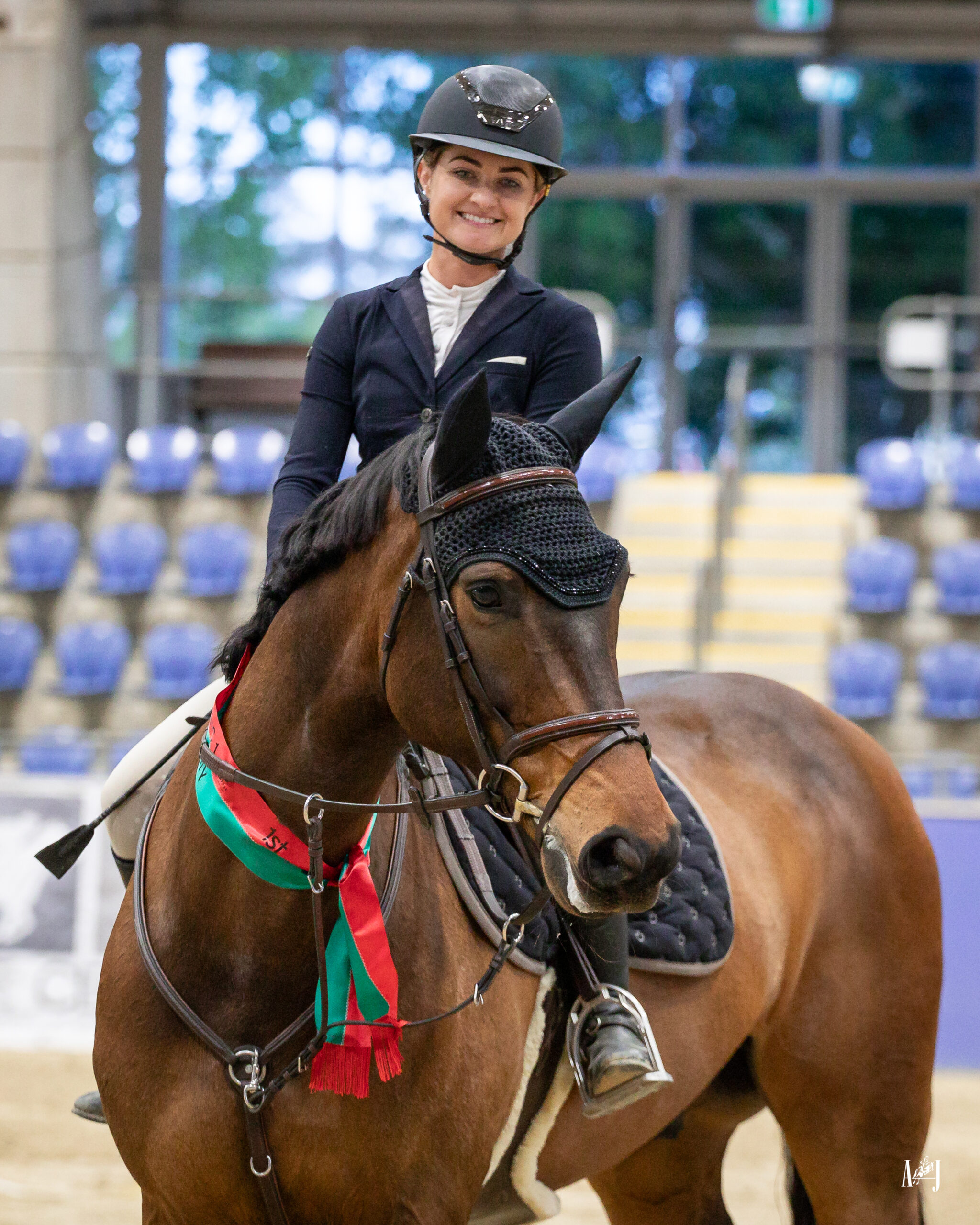 Above: Tess McInerney and Quintation.
As it was last night, the last class of the day was the Trans-Tasman Young Rider Challenge. Tonight was the second round with the Australians taking a 7 point to 4 lead over New Zealand into Round 2
After the first round tonight, each team had recorded three clears and with a drop score system applying, each country entered the second round on a total of zero faults.
In the second round, each of the four New Zealanders took a single rail, so with a drop score, the team score added to 12. Australia fared a little better. They had two clear rounds and two four-fault rounds, which with a drop score, gave a total of 4 faults.
This means that tonight Australia picked up 6 points, while New Zealand scored 4. Combining the scores from the two nights, Australia will go into tomorrow night's final leading 13 points to 8.
We now look forward to what is certain to be a fantastic weekend of jumping, highlighted by the World Cup Tomorrow, followed by the final of the Trans-Tasman young rider challenge, Sunday will feature the time-honoured Riders' Cup.
Congratulations to all the winners and placegetters from Day 2 of the Waratah World Cup Show. The top six placegetters in all classes held today are listed below.
RING ONE – INDOOR ARENA
CLASS 7: BUCAS RUGS: OPEN – 1.25m
| | | |
| --- | --- | --- |
| PLACE | RIDER | HORSE |
| 1st | Clem Smith | Whimsical WDS |
| 2nd | Andrew Inglis | Alillie |
| 3rd | Andrew Inglis | Indiana Goodtimes |
| 4th | Aaron Hadlow | Yalambis Kandy Ripple |
| 5th | Shane Rose | Holy Moses |
| 6th | Matt Irvine | Yalambis Isodora |
CLASS 8A: GEOPRO: OPEN – 1.30m
| | | |
| --- | --- | --- |
| PLACE | RIDER | HORSE |
| 1st | Sarah Duggan | Oaks Diamantina |
| 2nd | Clem Smith | Quantico 12 |
| 3rd | Tyrone Latham | Yirrkala Harriett |
| 4th | Billy Raymont | Calourbond |
| 5th | Sally Simmonds | Oaks Charleville |
| 6th | Frida Lindgren | Van Damme |
CLASS 8B: ORANGEVILLE PERFORMANCE HORSES: YOUNG RIDERS – 1.30m
| | | |
| --- | --- | --- |
| PLACE | RIDER | HORSE |
| 1st | Dakota Pinton | Heartline NZ |
| 2nd | Ella Hayward | Edena DP |
| 3rd | Claire Zylstra | Harvey B |
| 4th | Georgia Bouzaid | Vitess |
| 5th | Anneliese Wansey | Texas |
| 6th | Olivia Price | Le Bam |
CLASS 10: KEEDEN CONTRACTING: OPEN – 1.45m
| | | |
| --- | --- | --- |
| PLACE | RIDER | HORSE |
| 1st | Phillip Lever | Lomachenko |
| 2nd | Aaron Hadlow | Vahlinvader |
| 3rd | Brooke Edgecombe | LT Holst Andrea |
| 4th | Olivia Hamood | Knock Out 111 |
| 5th | Amber Fuller | Nopal Van Tallaert |
| 6th | Billy Raymont | Dakardo |
CLASS 9: LIZ WATSON & OAKS SPORT HORSES: FUTURITY – 1.30m
| | | |
| --- | --- | --- |
| PLACE | RIDER | HORSE |
| 1st | Tess McInerney | Quintation |
| 2nd | Phillip Lever | Bonita |
| 3rd | Brook Dobbin | Devos GP |
| 4th | Phillip Lever | Oaks Van Dyke |
| 5th | Tyrone Latham | Arion Carasun |
| 6th | Aaron Hadlow | Kosmos |
CLASS 11: EIAF TRANS-TASMAN YOUNG RIDER TEAMS CHALLENGE (ROUND 2)
PLACE
RIDER
HORSE
1st
Australia
Anneliese Wansey
Ashley Cutler
Alexandra Gostelow
Hayden Parker
Tulara Spangenberg
Myridersnota Rockstar
Macleay Corella
Caitano
2nd
New Zealand
Johanna Wylaars
Samantha Gillies
Georgia Bouzaid
Liam Rutland
Kinnordy Rhena
Kinnordy Ronsard
Emcee Vagabond
Riverton Baluprint
RING TWO
CLASS 12A: CHIC MANAGEMENT: ADULT – 1.10m
| | | |
| --- | --- | --- |
| PLACE | RIDER | HORSE |
| 1st | Billy Raymont | Denison Park Poppy |
| 2nd | Victoria Montano | Jellystone Park Cinzano |
| 3rd | Imogen Tutton | Ramirus |
| 4th | Tom McDermott | Tulara For Chico |
| 5th | Teigan Matthews | Baloubell |
| 6th | Jacqui Basquil | Converse |
CLASS 12B: BOREE EQUINE: JUNIOR – 1.10m
| | | |
| --- | --- | --- |
| PLACE | RIDER | HORSE |
| 1st | Charlee Dobbin | Cloud Gate |
| 2nd | Zara Adnams | Tally Ho Primrose |
| 3rd | Grace Locock | Falcon Island |
| 4th | Molly Mooney | Wallaroo Carnival |
| 5th | Zoe Grant | Georgie's Girl |
| 6th | Alexandra Gostelow | Kitara Krug |
CLASS 12C: CAMDEN EQUINE CENTRE: 7-YEAR-OLDS – 1.10m
| | | |
| --- | --- | --- |
| PLACE | RIDER | HORSE |
| 1st | Makaylah Fenwick | Grace And Glory |
| 2nd | Chloe Hughes | Cil Dara Dainty |
| 3rd | James Paterson-Robinson | Team Priestley Katniss |
| 4th | Carly Overton | Quintana ES |
| 5th | Tilley Fair | Tulara Goldmine |
| 6th | Olivia Hamood | Silverson |
CLASS 13A: KOHNKE'S OWN: OPEN – 1.20m
| | | |
| --- | --- | --- |
| PLACE | RIDER | HORSE |
| 1st | Andrew Inglis | Indiana Goodtimes |
| 2nd | Imogen Tutton | Ramirus |
| 3rd | Sarah Duggan | Hemsworth |
| 4th | Claudia Symes | Cassiver |
| 5th | Jacqui Basquil | Converse |
| 6th | Teigan Matthews | Baloubell |
CLASS 13B: THE BALDWIN FAMILY: JUNIOR – 1.20m
| | | |
| --- | --- | --- |
| PLACE | RIDER | HORSE |
| 1st | Charlie Magnier | Quinn Z |
| 2nd | Charlee Dobbin | Cloud Gate |
| 3rd | Charlie Magnier | Master Stevie G |
| 4th | Zoe Grant | Snowy River Billy Jim |
| 5th | Lily-Rose Baxter | Foxhill Cruise |
| 6th | Jack Barker | Bellhaven Calisco |
TRAILRACE ARENA THREE
CLASS 14A: ADULT – 0.75m
| | | |
| --- | --- | --- |
| PLACE | RIDER | HORSE |
| 1st | Sandra Tremier | TT Scooter |
| 2nd | Claire Minetti | Romatal Colours |
| 3rd | Lavender Gardam | TT Santa |
| 4th | Alyson Hodgekiss | Night Flash |
| 5th | Peta White | Marty |
| 6th | Jessica Stalling | HL Black Orchid |
CLASS 14B: JUNIOR – 0.75m
| | | |
| --- | --- | --- |
| PLACE | RIDER | HORSE |
| 1st | Evie Magnier | Mirabelle Patterson |
| 2nd | Brooke Anderson | The Real Slim Shady |
| 3rd | Luiza Dias Marucio | Moonbah Ridge Truffles |
| 4th | Evie Magnier | Sir King Charles |
| 5th | Jordan Smith | Country Fancy |
| 6th | Georgia McQuaid | Melody |
CLASS 15A: ADULT – 0.90m
| | | |
| --- | --- | --- |
| PLACE | RIDER | HORSE |
| 1st | Jo Mae Purvis | Rudy |
| 2nd | Stefanie Cass | Blueberry R |
| 3rd | Jennifer Wood | Bentleys Babe |
| 4th | Nicolas Gillard | Red Right Out |
| 5th | Victoria Montano | Carina |
| 6th | Emily Whitworth | Petalbomb |
CLASS 15B: JUNIOR – 0.90m
| | | |
| --- | --- | --- |
| PLACE | RIDER | HORSE |
| 1st | Jasmine Cook | Sherbet Wizz Fizz |
| 2nd | William Hodgekiss | Twins Grand Zulu |
| 3rd | Isla Fotofili | Tommy |
| 4th | Zara Adnams | Dingmac Disco King |
| 5th | Grace Locock | Yarrawa Contrast |
| 6th | William Hodgekiss | Anembo Jedi |
CLASS 16A: ADULT – 1.00m
| | | |
| --- | --- | --- |
| PLACE | RIDER | HORSE |
| 1st | Stefanie Cass | Blueberry R |
| 2nd | Simar Singh | Bolong Park Kervachi |
| 3rd | Nicolas Gillard | Red Right Out |
| 4th | Imogen Tutton | Belle Du Bling |
| 5th | Ashleigh Bennett | Senorataville |
| 6th | Abby West | Aniklas |
CLASS 16B: JUNIOR – 1.00m
| | | |
| --- | --- | --- |
| PLACE | RIDER | HORSE |
| 1st | Alexandra Gostelow | HL Kalina |
| 2nd | Paige Moxey | Shadow Danseur |
| 3rd | Alexa Garcia | Spannerkop |
| 4th | Olivia Gostelow | Boombenny |
| 5th | Charlotte Alexander | Corobelle |
| 6th | Jada Burgun | Missile Higgins |
CLASS 16C: YOUNG HORSE (UNDER 6-YEARS-OLD) – 1.00m
| | | |
| --- | --- | --- |
| PLACE | RIDER | HORSE |
| 1st | Alyse Maxwell | Koyuna Outback |
| 2nd | Reese Keenan | Cuba Thyme |
| 3rd | Elizabeth Hoy | Glenara Billecart |
| 4th | Carly Overton | Chivas SRB |
| 5th | Aaron Hadlow | Tennyson Park Coco |
| 6th | Jess Pateman | Violette |
Results Sourced from equipe.online.com
View Comments