Waratah wraps up with a win for Jamie Priestley in the 1.45m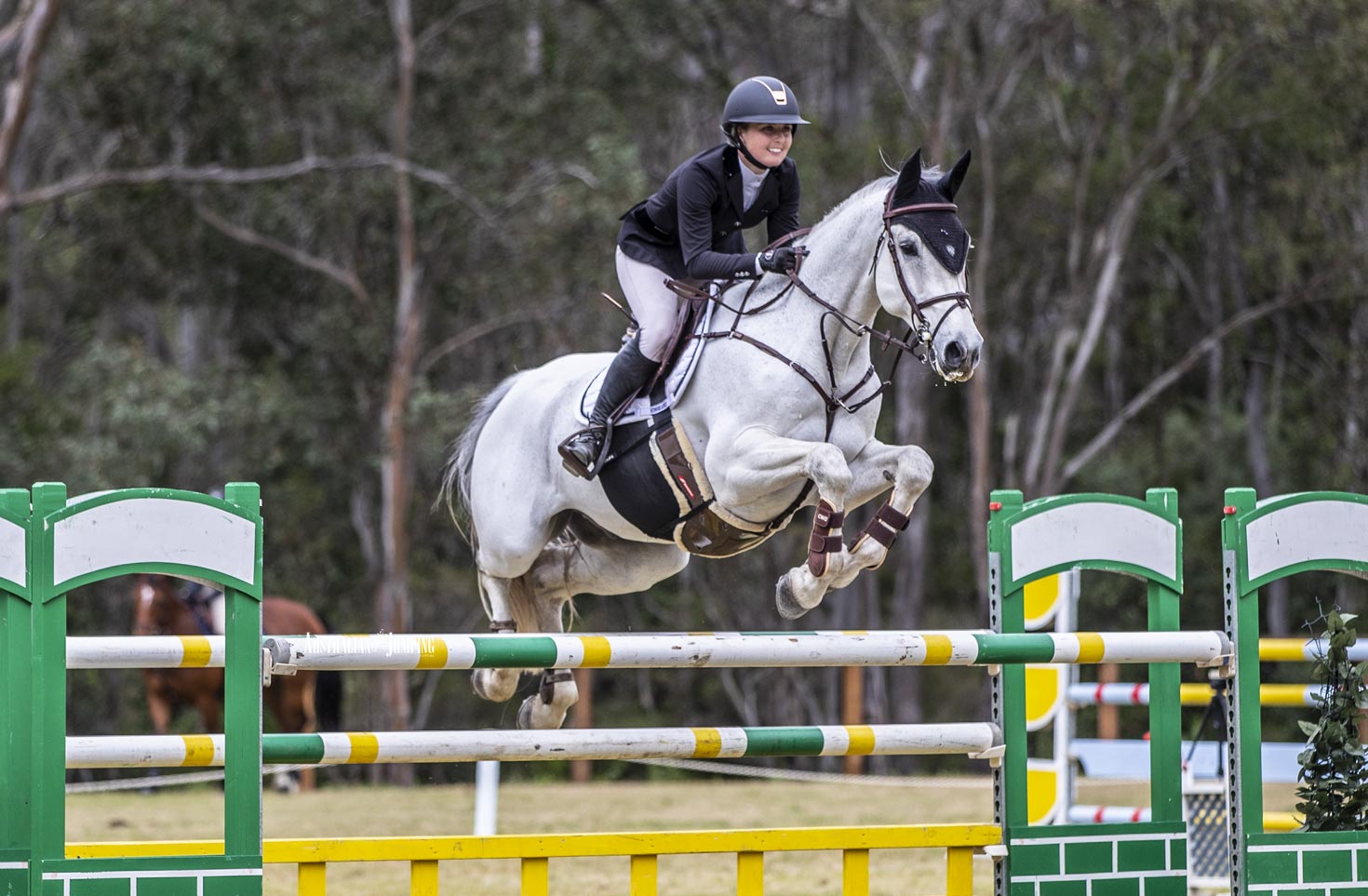 Australian Jumping
A wonderful three days of Jumping action concluded yesterday at the Sydney International Equestrian Centre (SIEC). The brainchild of event organiser extraordinaire, Edwena Mitchell, the Waratah Showjumping October Show was well attended with classes in a range of heights and age classifications.
The reigning NSW Senior Champion, Jamie Priestley, had a great day in Ring One, with a win in the Open 1.20m-1.25m with Team Priestley Kitara Lanson and then, with her super horse Courage, took out the Tripp Family sponsored Open 1.40m-1.45m, with the only double clear of the class.
Advertisement


Amanda Madigan and the reigning Australian Senior Champion Tom McDermott certainly deserve a special mention for their performances over the weekend.  Madigan won six individual classes over the three days of competition, including five classes for 5-year-old and 6-year-old horses including Diamond B Blitzen and Diamond B Beyonce. McDermott won three classes (1.30m on each day of the program) with the gelding BS On Air and also took out the feature class on Saturday with Warraleigh Park Cortez – this pair also finished second in Sunday's Open 1.40m-1.45m.
Lucy Locke was the star of the Junior program, taking a win in the feature Junior class on Ring 1 on each day of the program. She paired with Quero Quero on Friday, then won on both Saturday and Sunday with Diamont, a former mount of McDermott's.
Advertisement

Australian Jumping congratulates all the winners and placegetters.
For all the results from Friday's competition click HERE and for Saturday's results, click HERE.
See below for a full listing of all the results from Sunday.
RING 1
CLASS 15A: H R Forestry – Open – 1.20m-1.25m
The first six placings in this class were:
| | | |
| --- | --- | --- |
| PLACE | RIDER | HORSE |
| 1st | Jamie Priestley | Team Priestley Kitara Lanson |
| 2nd | Emma Smith | Bittern Park Karmen |
| 3rd | Megan Champoux | Yirrkala Smokey |
| 4th | Emily Gobbe | Belcam Cachi |
| 5th | Isabella Evans | Joker XIX |
| 6th | Jamie Priestley | Team Priestley Leda Ego Z |
CLASS 15B: Orchard Equestrian – Junior – 1.20m-1.25m
The first six placings in this class were:
| | | |
| --- | --- | --- |
| PLACE | RIDER | HORSE |
| 1st | Lucy Locke | Diamont |
| 2nd | Aria Baker | That's Limo |
| 3rd | Clemency Hughes | Nicolette |
| 4th | Olivia Chambers | Anjarro Stud Mischief |
| 5th | Lucy Locke | Quero Quero |
| 6th | Lara Christoffelsz | Bellhaven Catatani |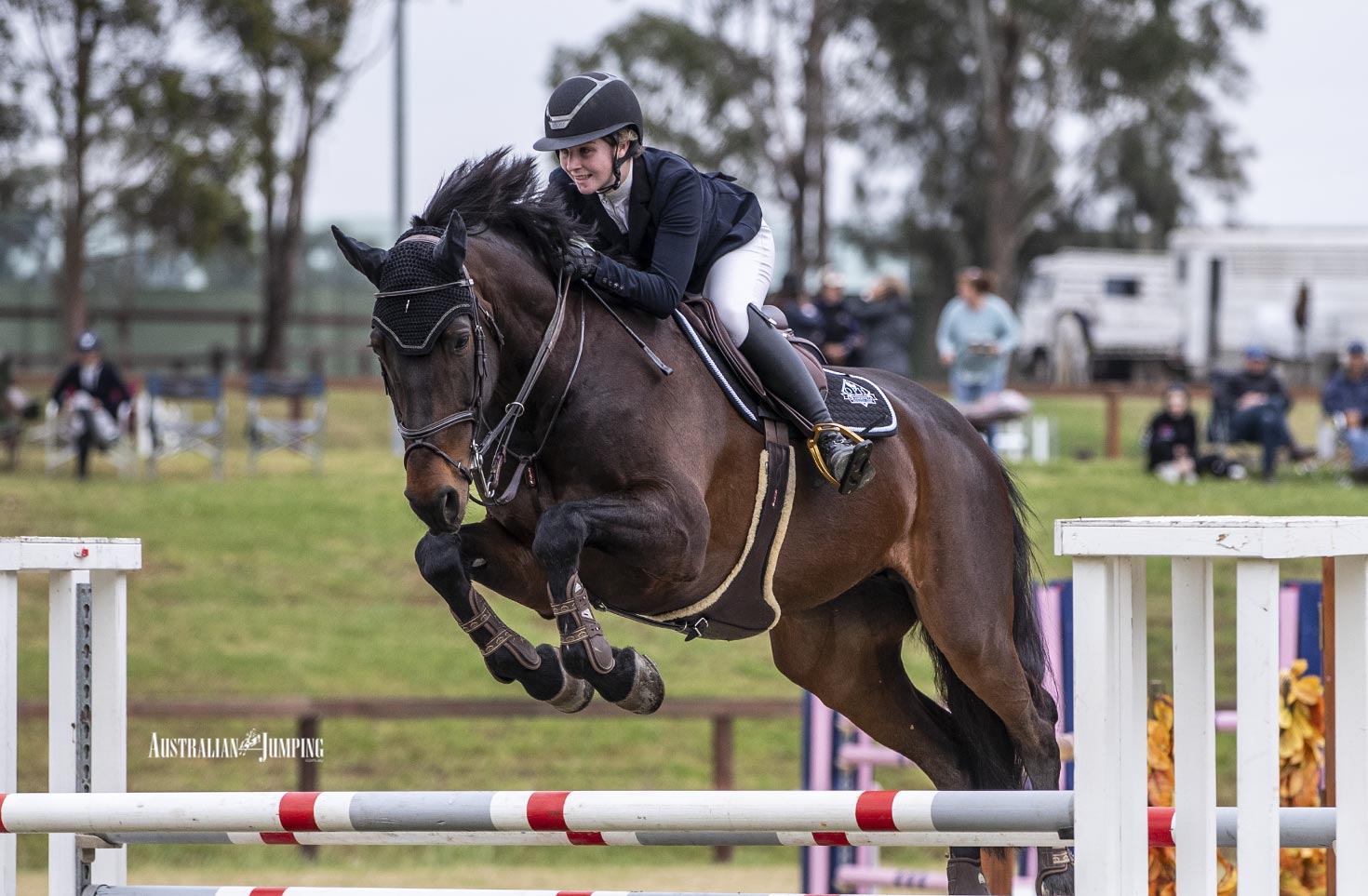 Lucy Locke and Diamont

CLASS 16A: Keeden Contracting – Open – 1.30m-1.35m
The first six placings in this class were:
| | | |
| --- | --- | --- |
| PLACE | RIDER | HORSE |
| 1st | Tom McDermott | BS On Air |
| 2nd | Tom McDermott | Cachassini II |
| 3rd | James Paterson-Robinson | Riverton Rose Royale |
| 4th | Clay Simmonds | Oaks Castanza |
| 5th | James Arkins | Joevaro R |
| 6th | Amber Fuller | Sirius Du Granit |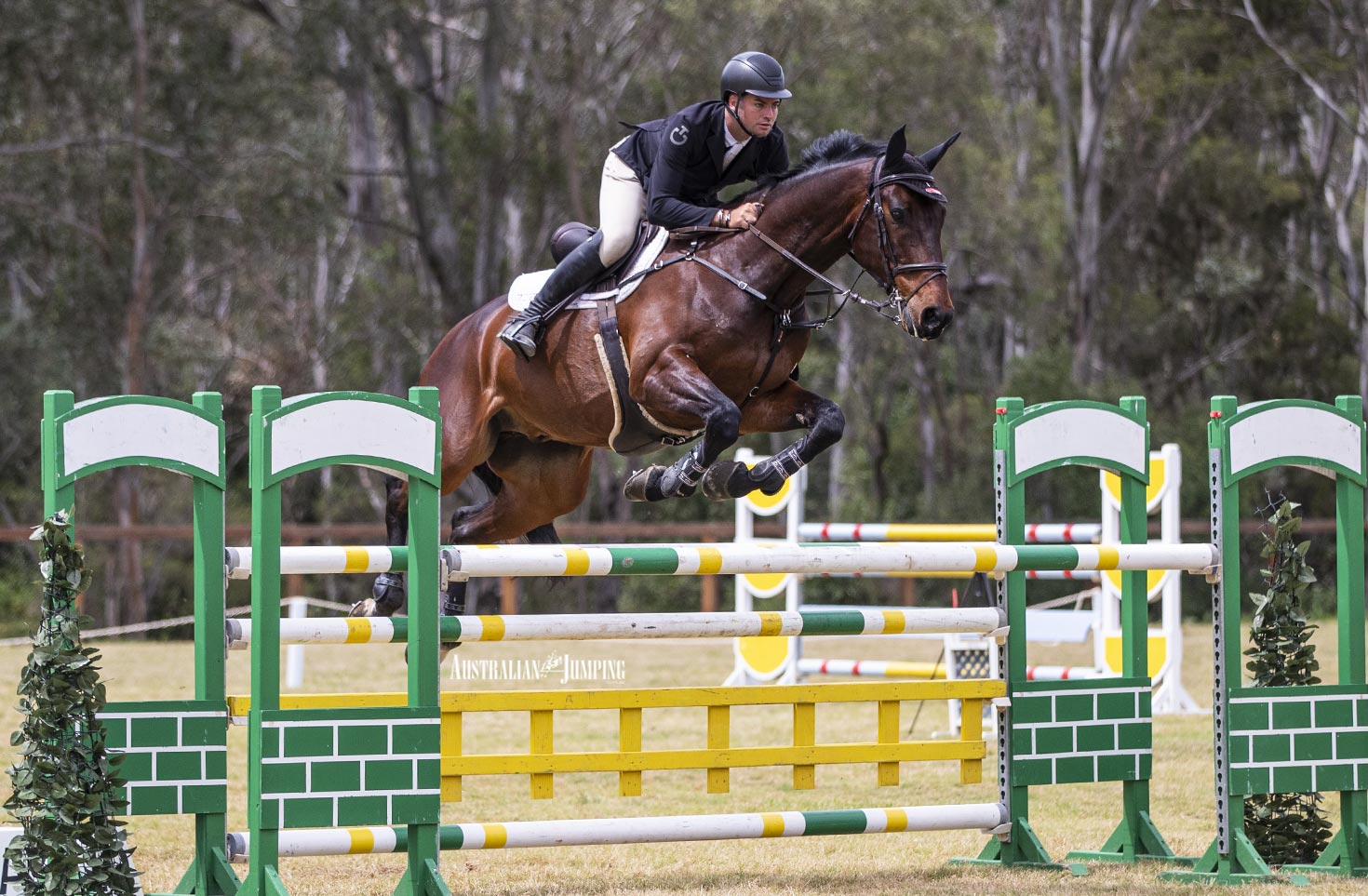 Tom McDermott and BS on Air
CLASS 16B: Agnes Banks Equine Clinic – Young Rider – 1.30m-1.35m
The first six placings in this class were:
| | | |
| --- | --- | --- |
| PLACE | RIDER | HORSE |
| 1st | Charlie Eason | Oaks Coolangatta |
| 2nd | Isabella Du Plessis | Monte Carlo Mvnz |
| 3rd | Milly Fisher | Laurel Glen Brandy Man |
| 4th | Madi Sinderberry | Conquest |
| 5th | William Dight | Thea |
| 6th | Hayley Cox | Tulara Zane |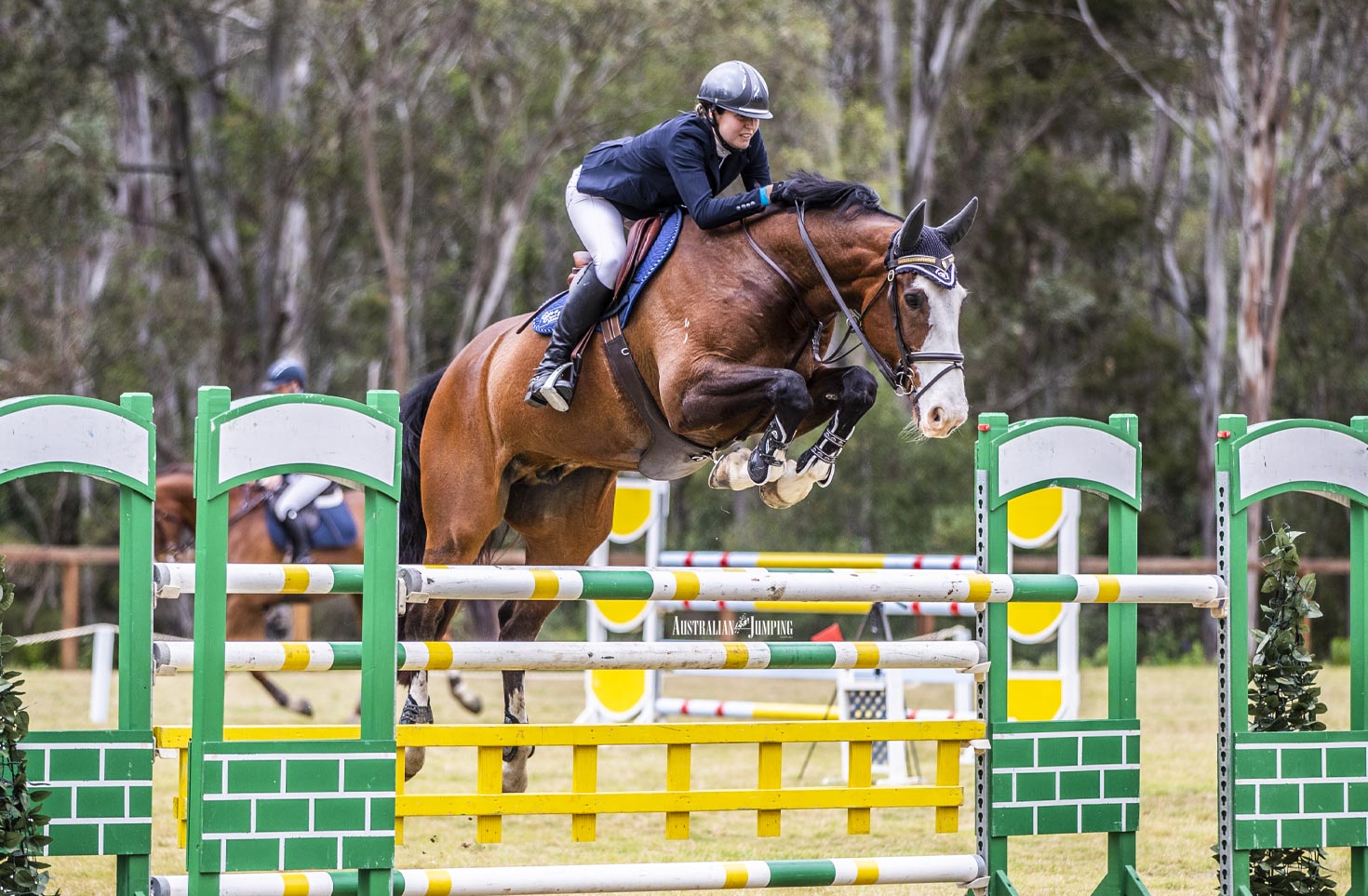 Charlie Eason and Oaks Coolangatta
CLASS 17: The Tripp Family – Open – 1.40m-1.45m
The first six placings in this class were:
| | | |
| --- | --- | --- |
| PLACE | RIDER | HORSE |
| 1st | Jamie Priestley | Courage |
| 2nd | Tom McDermott | Warraleigh Park Cortez |
| 3rd | Amanda Madigan | Diamond B Vivienne |
| 4th | Jamie W Kermond | Galliano MS |
| 5th | Amber Fuller | Nopal Van Tallaert |
| 6th | Tom McDermott | Yalambis Finnigan |
Advertisement

RING 2 – Sponsored by Trailrace
CLASS 18A: Adult – 0.90m
The first six placings in this class were:
| | | |
| --- | --- | --- |
| PLACE | RIDER | HORSE |
| 1st | Ricki Cox | Rocco |
| 2nd | Alyce Stoeckl | Diamond B Beethoven |
| 3rd | Alyssa Ho | Cha Ching Be |
| 4th | Maddie Robinson | Prince |
| 5th | Bronte Webb | Peggy |
| 6th | Maddie Cox | Carona B |
CLASS 18B: Junior – 0.90m
The first six placings in this class were:
| | | |
| --- | --- | --- |
| PLACE | RIDER | HORSE |
| 1st | Georgia Tutt | Romatal Colours |
| 2nd | Sienna Bellis | Rosthwaite Al Capone |
| 3rd | Olivia Carter | Flowervale Maserati |
| 4th | Holly Stott | Pia Bella |
| 5th | Shelley Cox | Mr Scoobie Doo |
| 6th | Josie Connors | Oaks Kestrel |
CLASS 18C: Oaks Sporthorses – 4-year-olds – 0.90m
The only four placings in this class were:
| | | |
| --- | --- | --- |
| PLACE | RIDER | HORSE |
| 1st | Madi Sinderberry | Blueberry R |
| 2nd | Josh Collins | Cera Dakira |
| 3rd | Isabelle Mirani | Chickpea |
| 4th | James Arkins | Kitara Krug |
CLASS 19A: Open – 1.00m-1.05m
The first six placings in this class were:
| | | |
| --- | --- | --- |
| PLACE | RIDER | HORSE |
| 1st | Charlie Eason | Armedanddangerous |
| 2nd | Gem McGufficke | Murrnumbla Glory |
| 3rd | Charlie Magnier | Master Stevie G |
| 4th | Pippa Walsh | Wonder Woman |
| 5th | Claudia Studdert | Sevante |
| 6th | Sabine Sault | Kirby Park Applause |
CLASS 19B: Diamond B Farm – 5-year-olds – 1.00m-1.05m
The first six placings in this class were:
| | | |
| --- | --- | --- |
| PLACE | RIDER | HORSE |
| 1st | Amanda Madigan | Diamond B Beyoncé |
| 2nd | Amanda Madigan | Diamond B Bedazzled |
| 3rd | Monique Barrett | Dusky Farm Duncan |
| 4th | Sarah-Louise McMillan | Kakadu BHV |
| 5th | Jennifer Wood | Oaks 007 |
| 6th | David Cameron | Verdasco |
CLASS 20A: BJW Equine – Open – 1.10m
The first six placings in this class were:
| | | |
| --- | --- | --- |
| PLACE | RIDER | HORSE |
| 1st | James Arkins | Witzcellar |
| 2nd | Charlotte Chambers | Amaretto MVNZ |
| 3rd | Bonnie Martin | RR Magnifique |
| 4th | Zara Watson | Elias C |
| 5th | Lucie Aldridge | The Comet |
| 6th | Alicia Daly | Navarra Eclipse |
CLASS 20B: Bree Furze – Junior – 1.10m
The first six placings in this class were:
| | | |
| --- | --- | --- |
| PLACE | RIDER | HORSE |
| 1st | Teigan Matthews | Equus Hooroo |
| 2nd | Charlie Magnier | Master Stevie G |
| 3rd | Faith Banks | Greengrove Indeed |
| 4th | Mackenzie Patterson Hollibone | Bolong Park Ego Cyrano |
| 5th | Claire Zylstra | Finn MVNZ |
| 6th | Ella Hayward | Barrabadeen Calypso |
CLASS 20C: 5 and 6-year-olds – Open – 1.10m
The first six placings in this class were:
| | | |
| --- | --- | --- |
| PLACE | RIDER | HORSE |
| 1st | Amanda Madigan | Diamond B Blitzen |
| 2nd | David Cameron | Oaks Excite |
| 3rd | Clay Simmonds | Oaks Kingfisher |
| 4th | Alyssa Cochrane | Bush Poet |
| 5th | Gracie Dawes | Oaks Costa Rica |
| 6th | Courtney Stubberfield | Our Jessie |
CLASS 21A: Open – 1.15m
The only five placings in this class were:
| | | |
| --- | --- | --- |
| PLACE | RIDER | HORSE |
| 1st | Rhys Stones | Oaks Carmine |
| 2nd | Izabella Stone | Bellhaven Chanceux |
| 3rd | Nina Hvejsel | Kinnordy Ronsard |
| 4th | Rhys Stones | Riverton Cassini Royale |
| 5th | Lucie Aldridge | Twins Royalty |
CLASS 21B: 3 x Fabulous Girls (Bec, Clare, Sharon) – Amateur – 1.15m
The only three placings in this class were:
| | | |
| --- | --- | --- |
| PLACE | RIDER | HORSE |
| 1st | Nathan Wood | Castell |
| 2nd | Eleanor Farrell | River |
| 3rd | Kylie Hawkins | Callidor |
CLASS 21C: Junior – 1.15m
The only four placings in this class were:
| | | |
| --- | --- | --- |
| PLACE | RIDER | HORSE |
| 1st | Molly Stubberfield | Dalwin Artiste |
| 2nd | Callum Wald | JEP Texas |
| 3rd | Alexandra Inglis | Xcella |
| 4th | Lucy Waddell | LV Just Joe |
Results sourced from Global Entries Online
View Comments