Amelia Douglass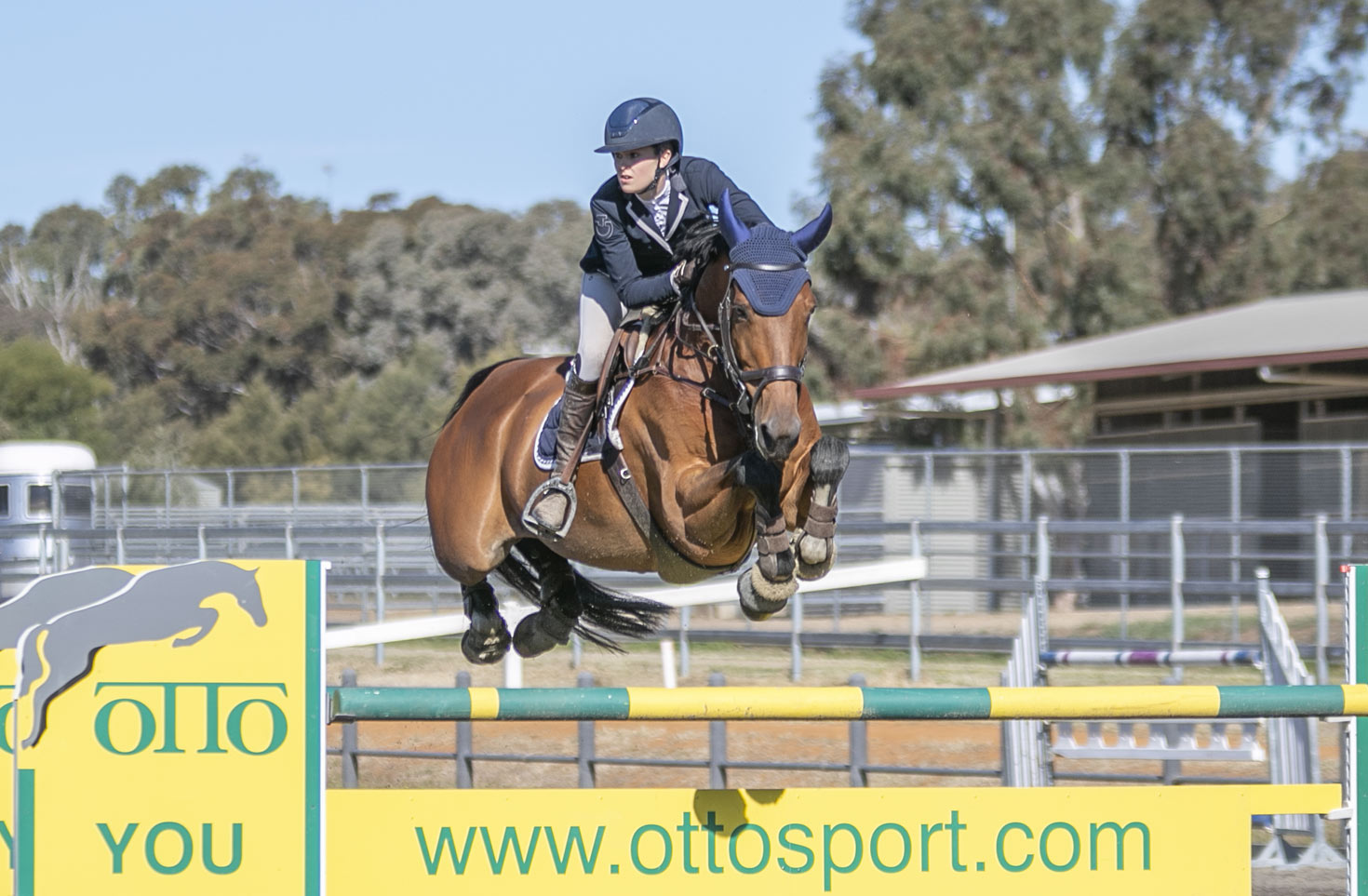 Australian Jumping
Name: Amelia Douglass
Age: 18
Lives: Glossodia, NSW
Occupation: Professional Rider
.
At what age did you start riding and who introduced you?
I've always been interested in horses and started riding when I was six years old. This was only on the weekends as we were living in Sydney. However, I started riding full time when we moved to a farm in Moss Vale. I was introduced to show jumping in 2015 by Meredith Lawson who took me to watch the Showcase of Showjumping. I immediately fell in love with the sport. I was then extremely privileged to be introduced to George Sanna who is now my coach.
Tell us about your first horse
My first horse was a 13.1hh pony hack called Leo (Fairlight Acres Alliance), who had no jumping ability at all. This did not worry me at the time though as I was completely terrified of jumping. After 2 years of riding Leo at home, I decided that I wanted to go to pony club and then after another year, with lots of tears shed, I eventually got 'E' graded. However, because Leo couldn't really jump, I convinced my little brother to start riding so I could get a new horse.
Advertisement

How many horses do you currently have in work?
I currently have 5 competition horses in work:
– Sirius Du Granit (Siri)
– Barrichello (Rubens)
– Cassis Z Ten Halven (Cass)
– Upper Class Z (Cassie)
– Eye Catcher (Wendy)
Which horse is your current star and do you have any future stars?
I struggle to pick a star as I am so lucky to have such an amazing team. Right now, Siri, Rubens and Cassie are super and always competitive. Although my other two Cass and Wendy are fairly new and I am still getting the feel for them, I can already see that they will be just as amazing.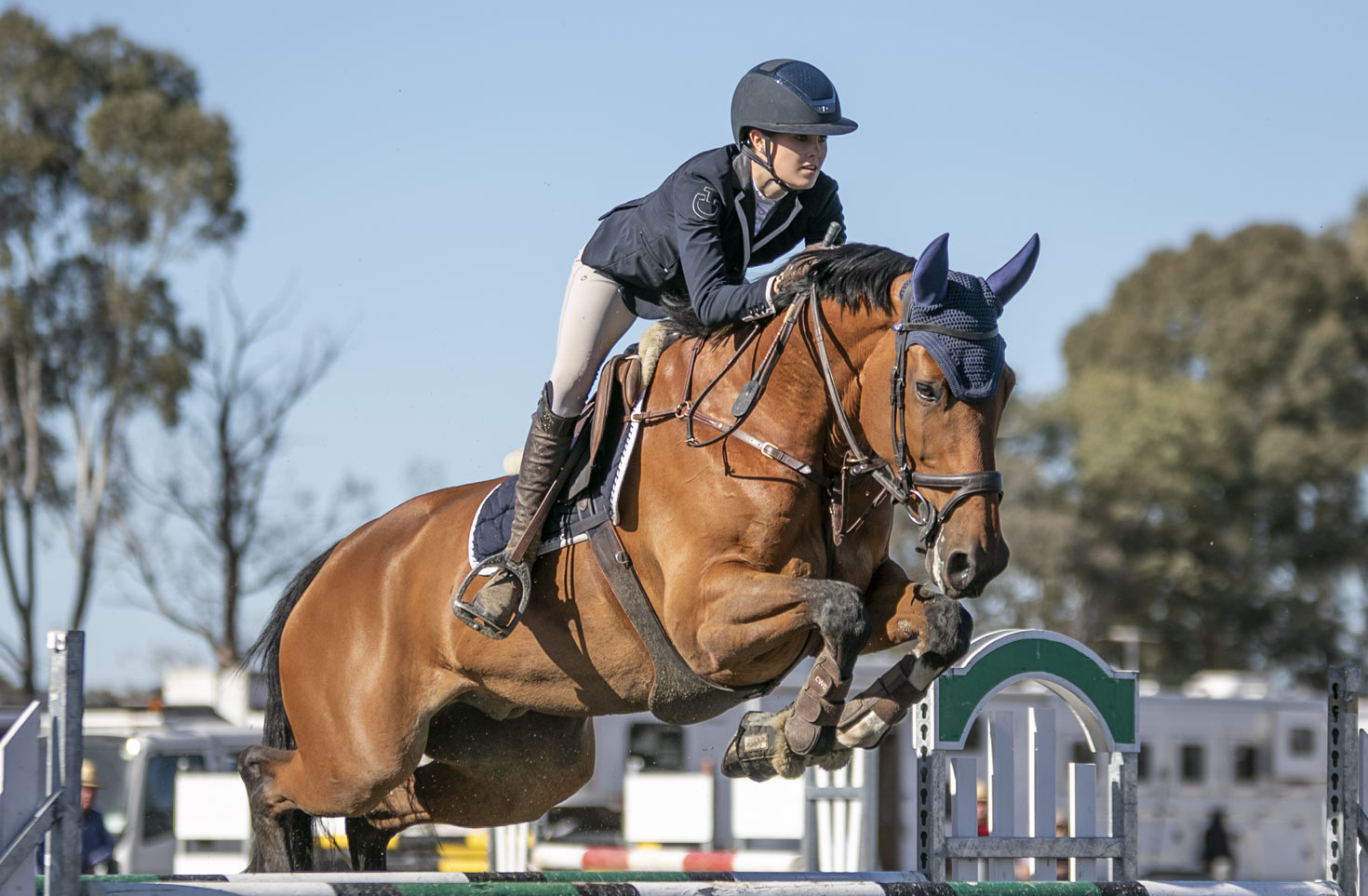 Amelia Douglass and
Sirius Du Granit
Amelia Douglass and
Cassis Z Ten 
Halven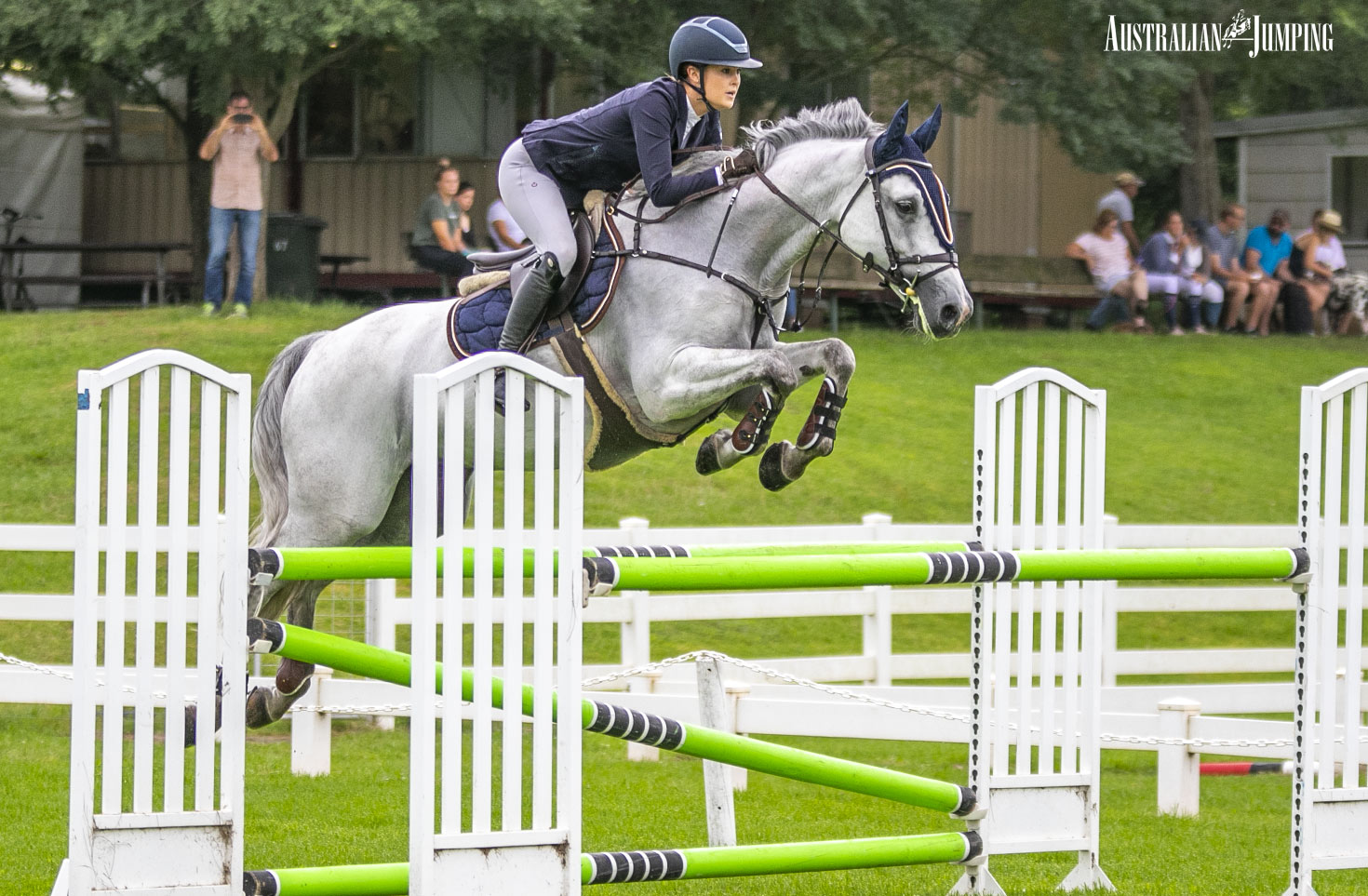 Amelia-Douglass and Upper Class Z
Who was the biggest influence to your riding?
The biggest influences on my riding have been the whole team at Chatham Park. Every day we get to work together, and I am so grateful for all of them. They always help me with my horses and continue to guide my riding. I aspire to be like them and am so lucky to be around such amazing people.
What do you look for in a horse?
In a horse I look for scope, carefulness, competitiveness and ride-ability. For me these tend to be the main attributes for it to be a really competitive show jumper. I also find it important for my horses to have a strong work ethic, have a big heart and just generally fun to have around at home or shows.
How do you prepare your horse for a big class and what is important for your warm up?
Preparing my horses for a big class starts prior to the show, making sure that they have been worked and jumped at home according to what type of class they will be taking part in. On the day of the show I often ride my horse/s before the class. This is to make sure they have had a stretch after being in the box or ensuring they aren't too fresh. After this it's super important for me to be organised, having all my gear and the horses ready to go. This avoids any unnecessary stress and rushes at the last minute.
In the warm up I like to be on early enough to have to my horse ready and be able to run over my course plan. This plan changes depending on what horse I'm riding. I also find it important to have George or Amber Fuller with me in the warm up or ring side in a big class, always helping me to improve my riding.
What do you consider your biggest competitive achievements?
My biggest competitive achievements recently would be riding Siri in New Zealand at the Takapoto Estate Showjumping in February where I competed in the Gold Tour. I had two great qualifiers and made the final which at this stage was the biggest track I had jumped. In the final I jumped a clear first round and then went on to place 6th overall.
In May this year at the Aquis Champions Tour I was the winner of the young rider championship and the first leg of the Stal Tops young rider series. Later that afternoon was the Silver Tour final, which I was just happy to be in. I had very limited expectations of myself in the final as now that was the biggest and most technical track I had ever faced. I was riding Rubens and we managed to jump double clear, ending up with a podium finish of 3rd overall.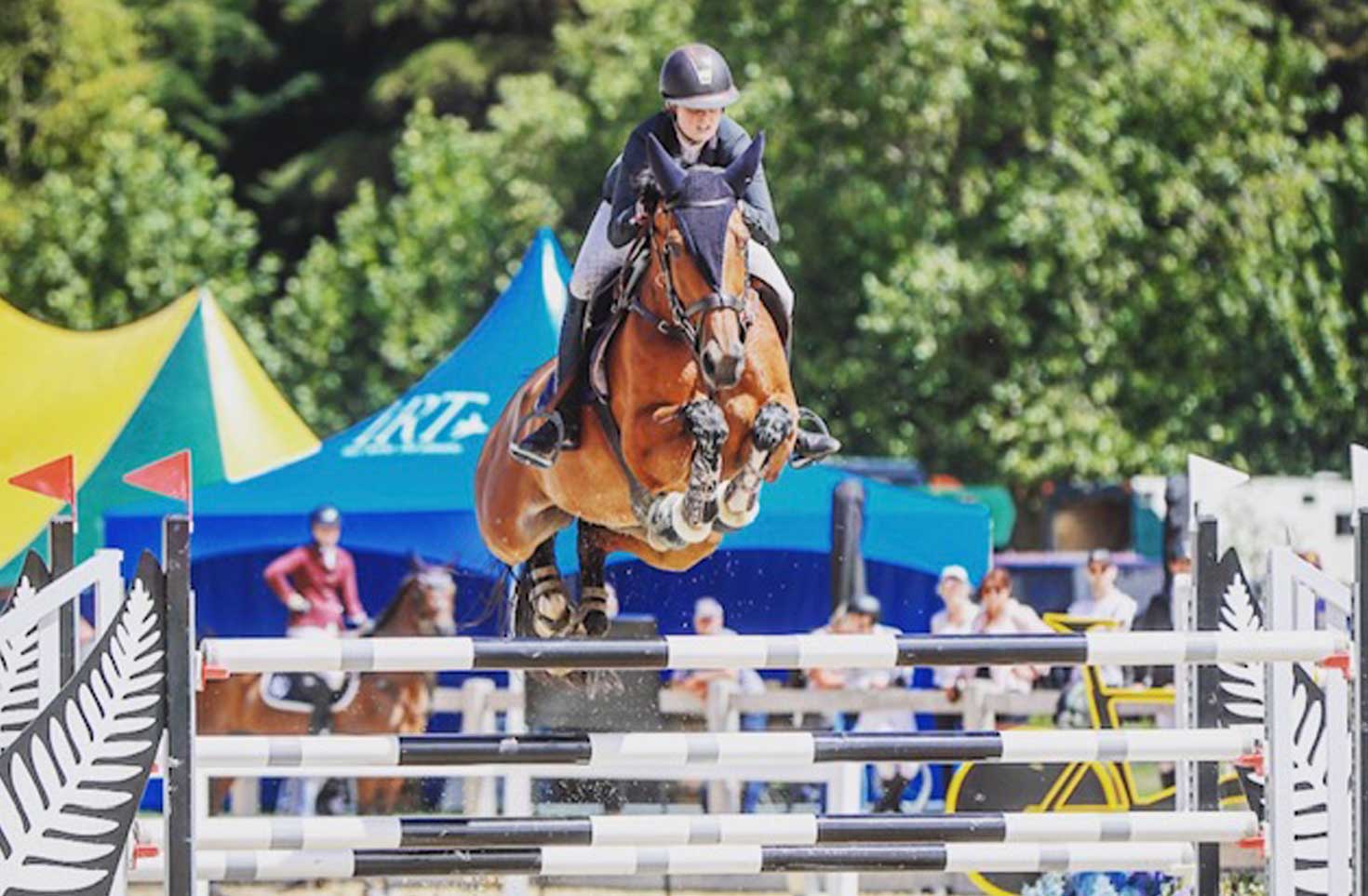 At Takapoto Estate Showjumping. Photo Credit: Cheleken Photography
What are your short and long-term goals?
My short-term goals are:
– To place consistently in bigger classes
– Put in my best effort in the ring even if it doesn't mean placing
– To become more comfortable on my two new horses.
Long term:
– I would love to go overseas again to compete in a couple of shows
– Keep riding my horses in a way where I get the best out of them.
– Compete in a world cup
– Maintain a strong team of horses
Who are your role models (Australian and /or international)
My role models would have to be Amber Fuller and Kate Hinschen as I'm able to work, ride and see their hard work or dedication to the sport every day. I always have wanted to follow in their footsteps and hopefully one-day end up competing at the same level with them. Also my coach George Sanna would be my other role model, having been to two Olympics himself and always guiding me towards success.
What is the best piece of advice you have been given?
The best piece of advice I have been given was "when you go in the ring you're not going to always come out on top, but you're always going to come out with a new thing learnt or a new thing to improve on".
Tell us a few things we don't know about you
Before I started competively showjumping I was very sporty and grew up competing in hockey, football, tennis, swimming, softball, cross country, gymnastics, ballet and dance but gave these up due to horses taking up a lot of my time. I also have to admit I have a super bad addiction to shopping of any kind!
View Comments