David Cameron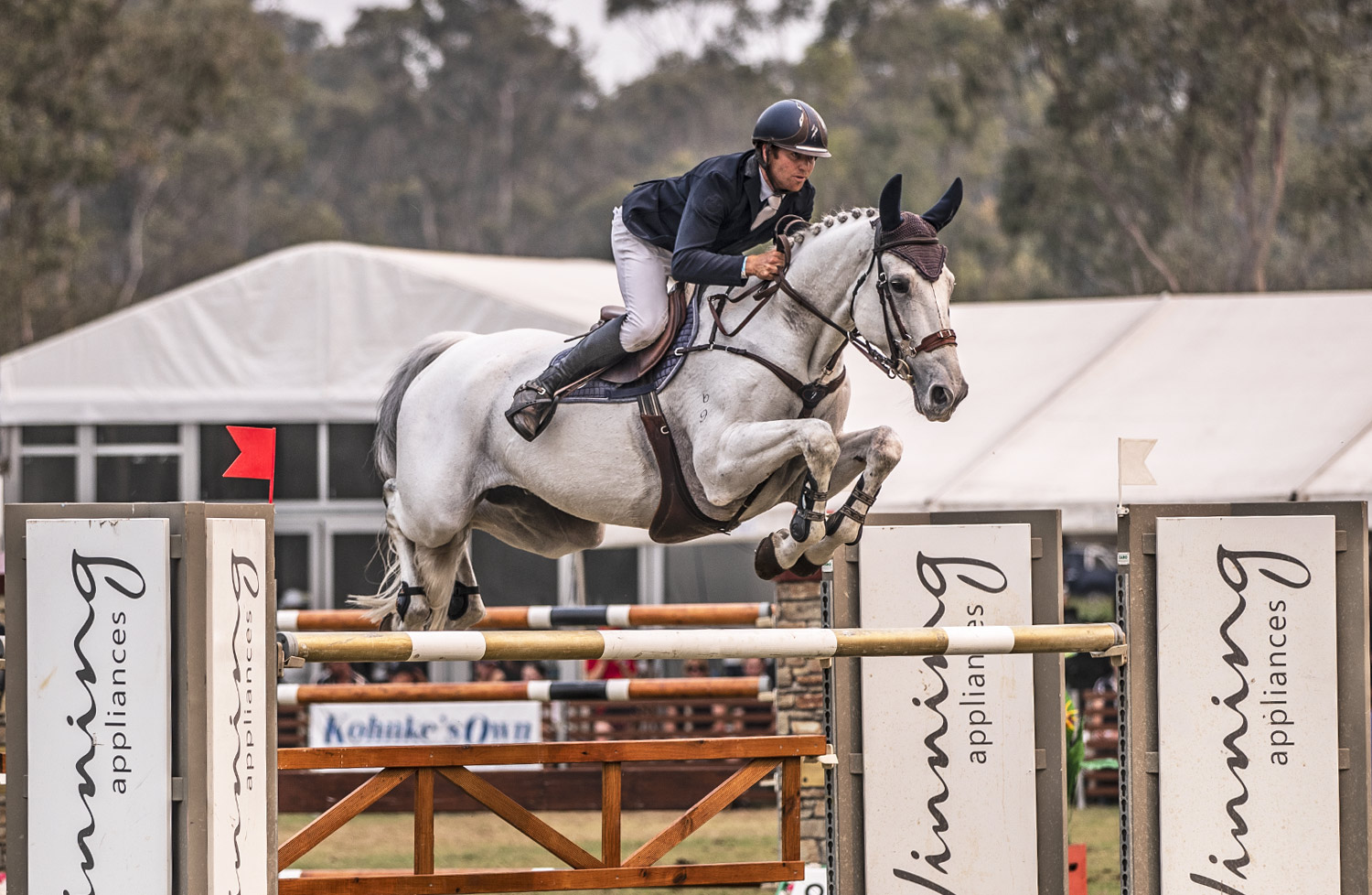 Australian Jumping
Above: David Cameron and Finch Farm Clifford at 2019 Chatham Park Summer Classic
There are many genuine, lovely people in our sport, but you would be hard-pressed to find a nicer guy than Dave Cameron.
Two-time Senior Australian Show Jumping Champion, Dave Cameron, has the equestrian life in his blood. Born and raised in Forbes NSW, Dave's father was a successful competitor and horseman while his mother a reputable trainer of young horses.
Dave was a successful Junior and Young Rider, competing at Royal and World Cup shows throughout Australia. He was the 15-17 yrs and 17-25 yrs State Showjumping Champion for 3 consecutive years and the winner of the first Young Rider event at Sydney Royal in 1999.
After completing university and working for 4 years as a high school PDHPE teacher, Dave took the plunge to become a professional rider and coach in Sydney and along with his wife Tallara runs the very popular Redleaf Lodge stables out of Wilberforce in the Hawkesbury region of NSW.
At what age did you start riding and who introduced you?
I started riding at five or six. I have a twin brother Ian, we started riding together. We always had horses at home but our grandfather Bob Cameron was responsible for us starting riding. Bob arrived with our first two ponies Powder Puff and Mouse. A couple years later he swapped them for our second ponies, a couple of Galloway's Tia and Chloe.
Tell us about your first horse
My first pony was Powder Puff  he was a gun! Your typical legend little grey pony. He was bomb proof, jumped, sported and won heaps of ribbons. My first real horse was a warmblood by Kassiber called Krome. I jumped my first World Cups with him and he really kept me keen on the sport.
Can you tell us about the horses you currently have in work – who are the current stars?
Between Tallara and I we have seven or eight horses in work. My current World Cup horse is Finch Farm Clifford, he is owned by us, Will Mathew and my brother Ian. He had his first season of WC's in 2019. He did some good things last year. I'm looking forward to him becoming more established at this level. I have a good group of futurity horses that I'm excited about. Benson's Femme Fetale is a 8yr old mare by Fetiche Du Pas who is owned by the Benson family in WA. Finch Farm Spruce is a 7yr old gelding by Calgary that I have big hopes for, he is owned by Liz Watson and Lee and Bill Brydon.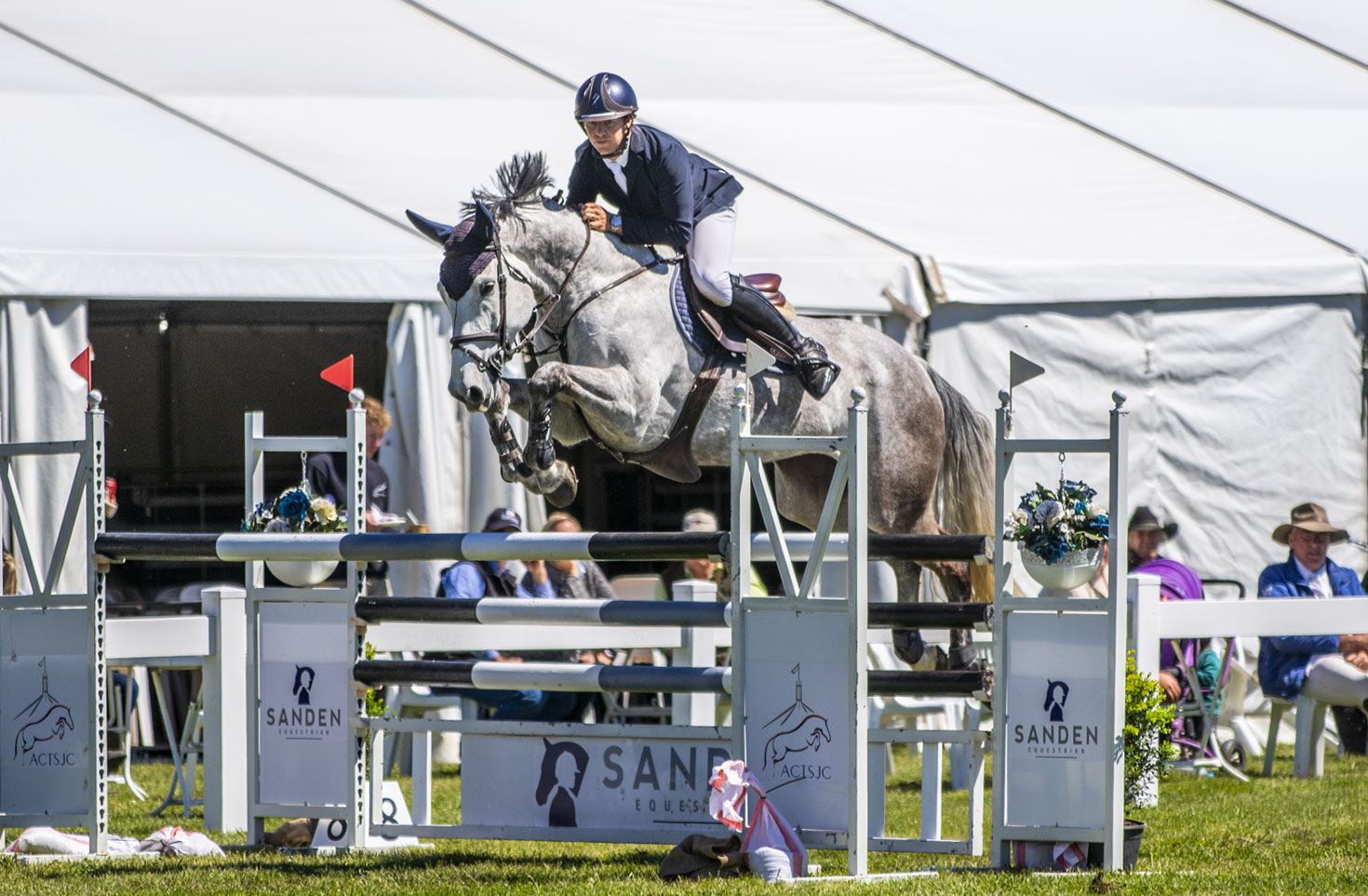 David Cameron and Benson's Femme Fetale at 2019 NSW State Titles
Who has been the biggest influence to your riding and why?
I've been lucky to have had a number of big influences in my riding. I'm passionate about showjumping and watch and read a lot about the sport and it's riders so I think I get a lot from a number of people. My parents have always been good horse people that gave me a great grounding and a lot of knowledge. I'm lucky enough to have Tony Norman on a daily basis at our property and he is a consistent source of knowledge. David Dobson has probably been the biggest influence in my riding and coaching. Of course though my number one influence comes from Tallara, she is normally the person behind the decisions!
What do you look for in a horse?
I look for horses that are athletic, trainable and sound. If they have all these attributes they will have the ability to reach their physical potential.
How do you prepare your horses for a big class and what is important for your warm up?
It really depends on the horse and the class. I like to keep my horses confident in the warm up. I want them to go into the ring focused but relaxed, it's important that the horse breathes when they get on course.
What do you consider your biggest competitive achievements?
I'd consider winning back to back Australian Tittles in 2014-2015 with RR Dyranta to be my best competitive achievement. Winning a championship over 3 days of competition is a hard thing to do, it requires planning and preparation, so when it all comes together it's a special feeling.
What are your short and long term goals?
Our short term goal is to have a competitive team of horses on the truck. The long term goal is to keep improving on that team. That's one thing I enjoy about our business is the strategy of breeding, training and finding future champions. A big part of our business is the coaching and development of riders. I enjoy finding talent and helping develop it. I get the same thrill seeing my students succeed on a daily basis and at shows as when I have success with my own horses.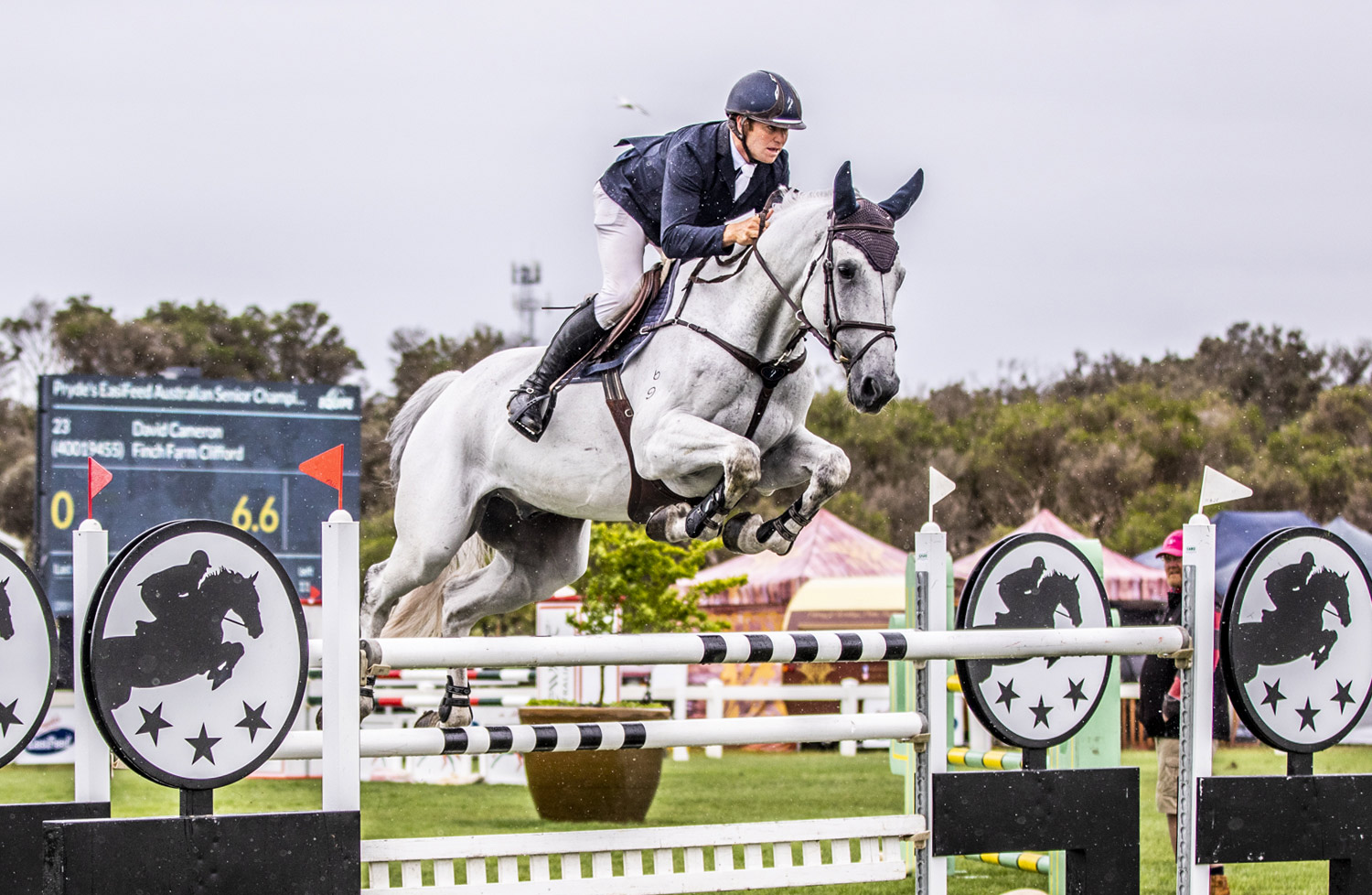 David Cameron and Finch Farm Clifford at 2019 Australian Championships
Who are your role models (Australian and/or international)
I wouldn't say I have role models as such but I do try and take advice and knowledge from different riders in Australia and internationally. Not just their riding but also how they train, prepare and I'm always interested in how other riders run their businesses and manage their stables, clients and owners. It was motivating to see the results of Kerm and Billy as domestically based riders at Tryon in 2018, what they achieved was inspiring.
What is the best piece of advice you have been given and by whom?
Mate and equestrian colleague Brett Parbury once told me to 'keep training to be a better rider and the rest will take care of itself' I think that's very good advice.
Tell us a few things we don't know about you
One of my favourite TV shows is American Pickers. A lot of people don't know I'm a twin. My brother Ian jumped up until YR's. Most people will tell you he was the more natural rider so I'm glad he gave up! I also like golf but unfortunately Jamie Kermond is much better then me…
View Comments