Hilary Scott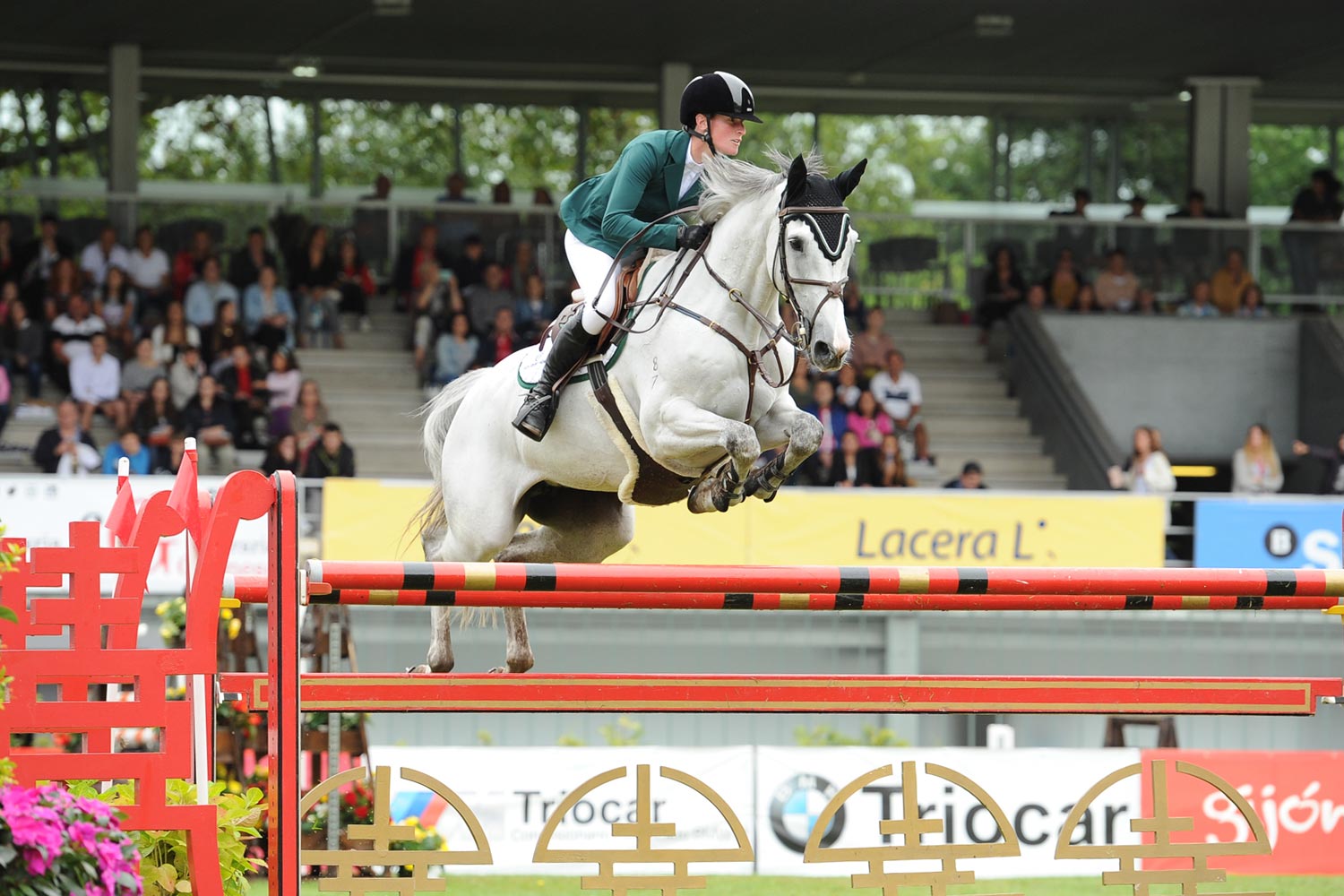 1clicphoto
Now based in Europe, Hilary Scott trains an impressive team of horses for her family business Oaks Sport Horses. With many successes over the years, Scott with her one of her stars – Oaks Milky Way, was recently selected to represent Australia as part of the Nations Cup Jumping Team in the United States at the Palm Beach Masters and the Palm Beach International Equestrian Centre, in Wellington Florida. The team, consisting of Scott, Rowan Willis, Amy Graham and Scott Keach, finished in an impressive third place.
Advertisement

We were delighted to recently catch up with Hilary and learn more about this talented rider.
At what age did you start riding and who introduced you? I began riding before I could walk because horses were just part of the farm. Mum used to lead us around and as soon as we could ride on our own we would help with mustering cattle.
Tell us about your first horse She was a 13hh pretty grey Australian Riding Pony called Mrs Bouquet. At home she was known as Mrs. Bucket. Sshe definitely put up with a lot and used to bolt sometimes.
Can you tell us about the horses you currently have in work – who are the current stars? We have 5 horses in work at the moment – due to the current circumstances some are in less work than others. The three older mares, Qualoma Z, Oaks Clovelly and Oaks Milky Way are still working but taking it a little easy whilst there are no big shows to be preparing for. Oaks Quizzical (8yo) and Oaks Coober Pedy (9yo) are semi-new to the barn however not new to the family as both are Oaks bred. It will be interesting to see how they progress when we begin showing however in training they are both showing a lot of ability with great minds.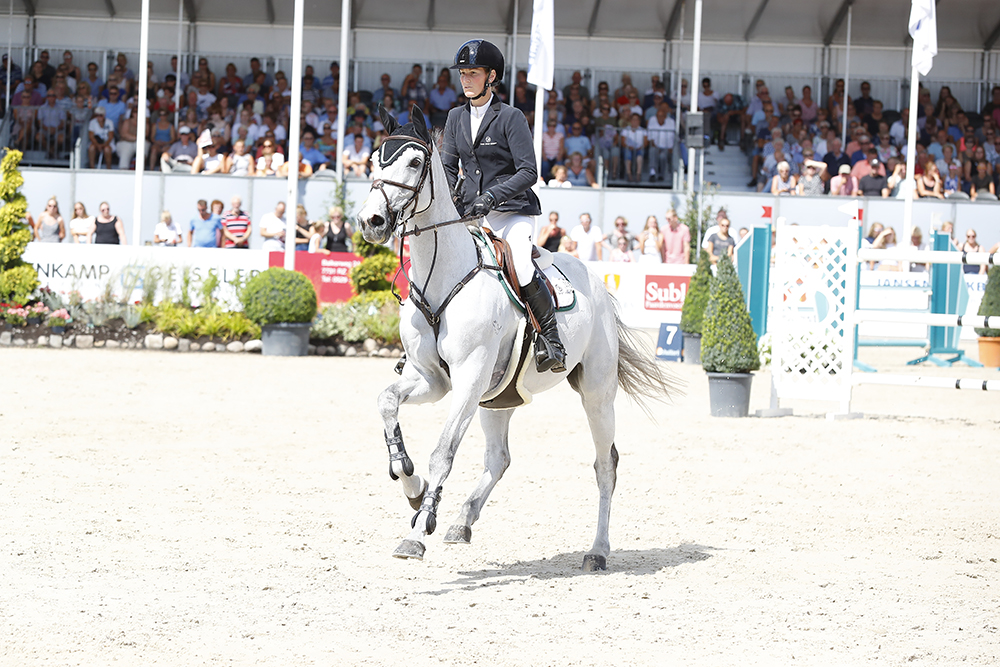 Hilary Scott and Oaks Milky Way. Source: foto trailer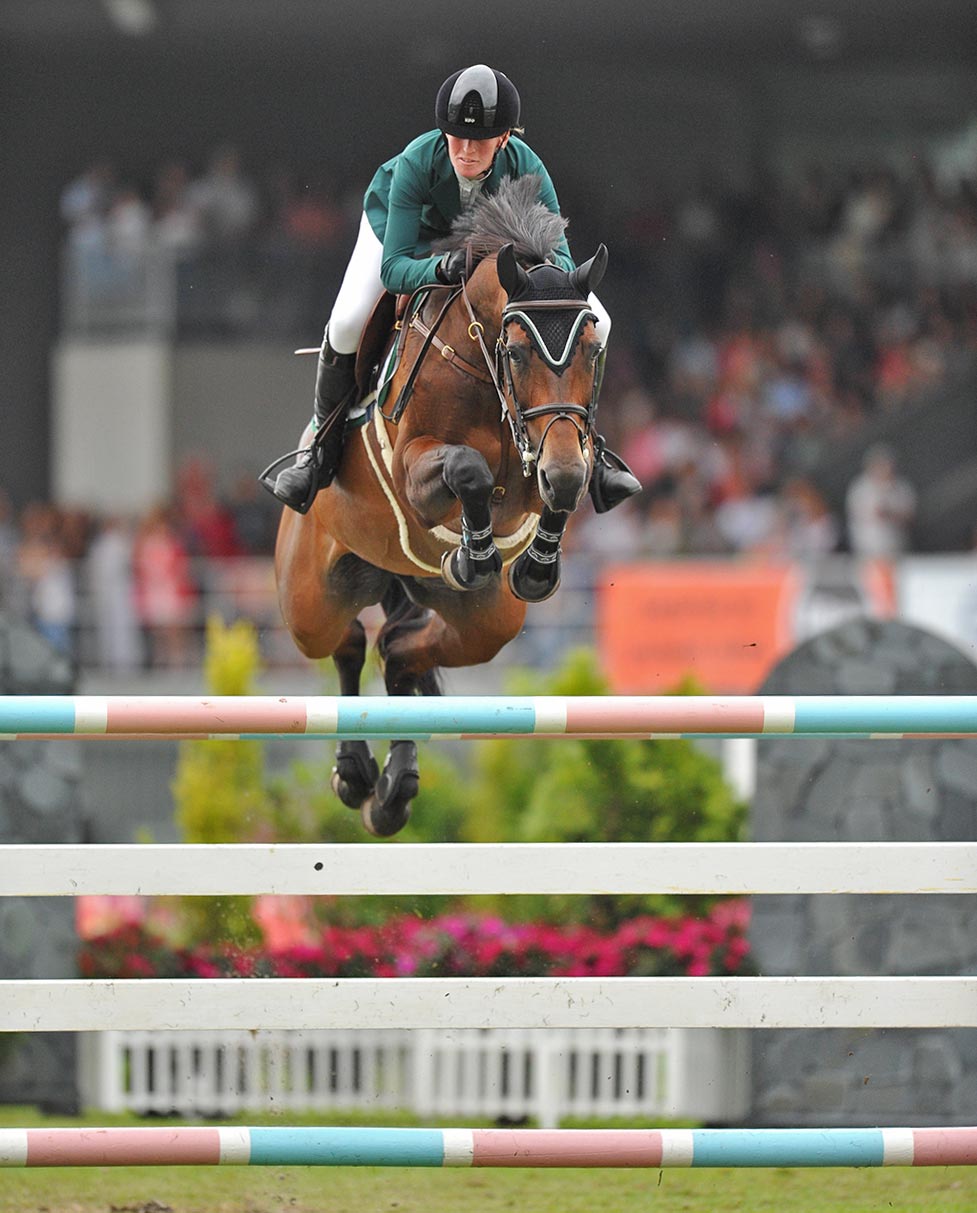 Hilary Scott and Qualoma Z. Source: foto trailer
Who has been the biggest influence to your riding and why? I have been extremely lucky so far at different stages to have had input from some great riders and horse people from all over the world, so I couldn't say one person alone has been the biggest influence. Helen Chugg, Chris Chugg, Yves Houtackers and more recently moving to the next level, Denis Lynch, have all had a lasting impression on me in my riding, horsemanship and personally.  By far the biggest overall influence has been my Mum, Alice Cameron. She introduced me to horses in the beginning and has always had so much feeling with everything to do with this industry.
What do you look for in a horse? I like a horse with blood, a lot of natural push and canter and a will to go to the other side of the fence. It is important that they are watchful, but to me the mind is the most important. I like horses with a will and want to jump, the ones that love it, they mostly want to do it well.
Advertisement


How do you prepare your horses for a big class and what is important for your warm up? For me a horse performs at its best when it has relaxed muscles, is warm but not overdone. Before a big class I always ride the horse with plenty of hours to spare to see how they feel on that day. If they are relaxed and focused that's what I look for, so it doesn't need to be a long ride. In the warm up, I don't like to jump many jumps (especially with a more experienced horse), I just like to get them relaxed and using themselves over the jump. I like to save their energy for the ring as much as I can.
What do you consider your biggest competitive achievements? When I was a young rider, having a lot of success in Australia during that period is something I will always cherish, because I was fearless back then! But probably to date, travelling to the USA in 2019 and placing 4th in the Million in Ocala and 6th in the Kentucky Invitational GP were my biggest achievements with a horse that our family bred.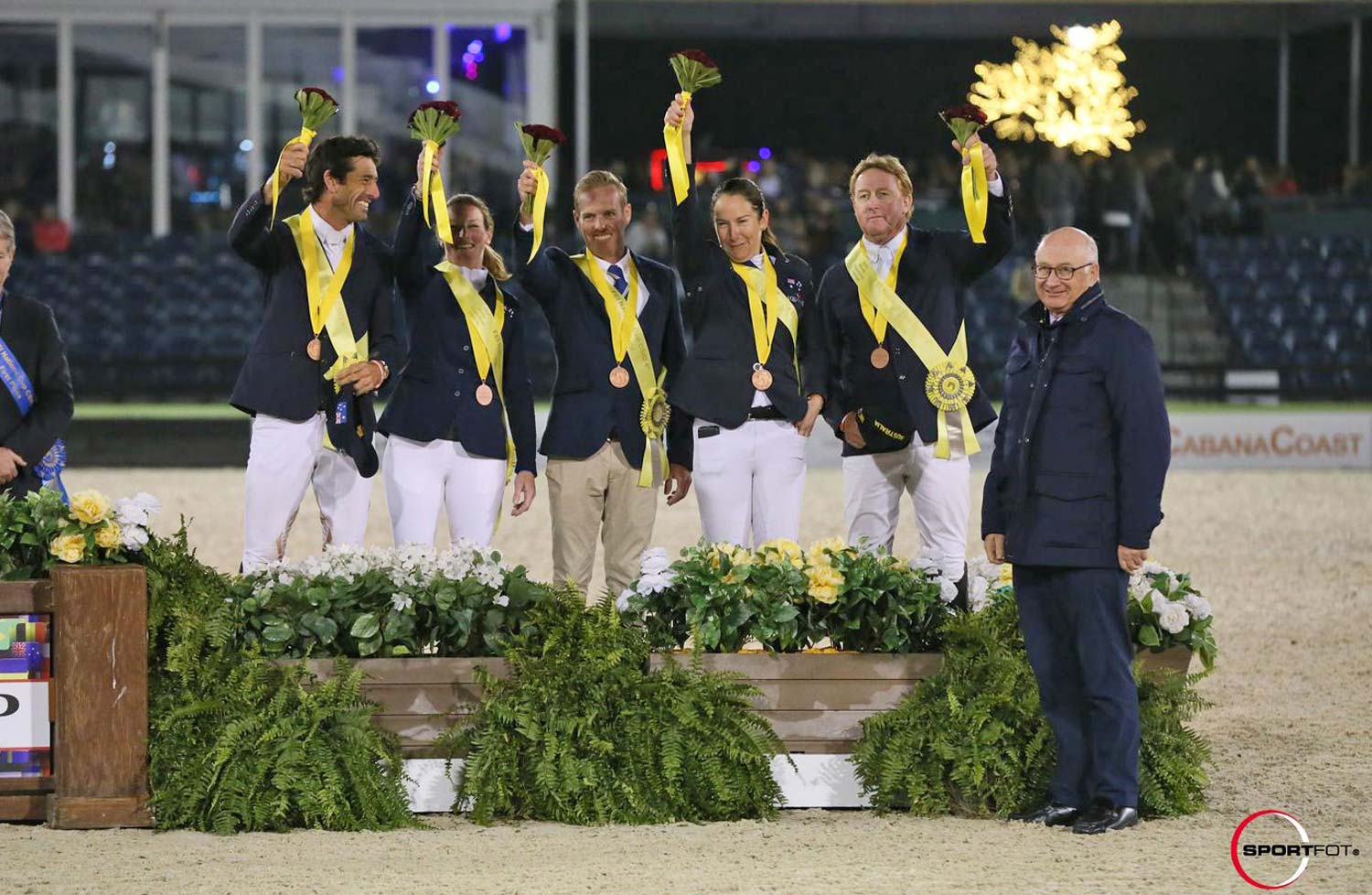 Australia's 2020 Nations Cup Team. Rowan Willis, Hilary Scott, Todd Hinde (Chef), Amy Graham and Scott Keach.
What are your short and long term goals? My short term goals right now are to get back in the ring with younger horses and to develop them for the future; as well as focusing on 4* and 5* shows in the coming 12 months – three years with Milky Way – I still want to get to Spruce Meadows with her and also want to win the Million!
Long Term, I want to continue to see Oaks horses being produced and sold both domestically and internationally. I have definitely caught the breeding bug from Alice, so I'm excited to see what future Oaks horses can do. I would also really like to provide young Australians the opportunity to experience the industry in different countries; in what form that will take I'm still working on.
Who are your role models (Australian and/or international) I find anyone who is at the top of their game in any industry or country to be inspiring and learning about all the aspects that got them to where they are/were. Beezie Madden and Marcus Ehning are two riders I've always admired, for their natural ability, skills, competitiveness and mostly how humble they are.
What is the best piece of advice you have been given and by whom? Don't overthink or overcomplicate things!
Tell us a few things we don't know about you I grew up in Moree, NSW, have a massive love for country music, cooking and enjoy playing nearly every sport. Surviving childhood and growing up was in doubt for me, so I'm grateful for everything I get to do in life.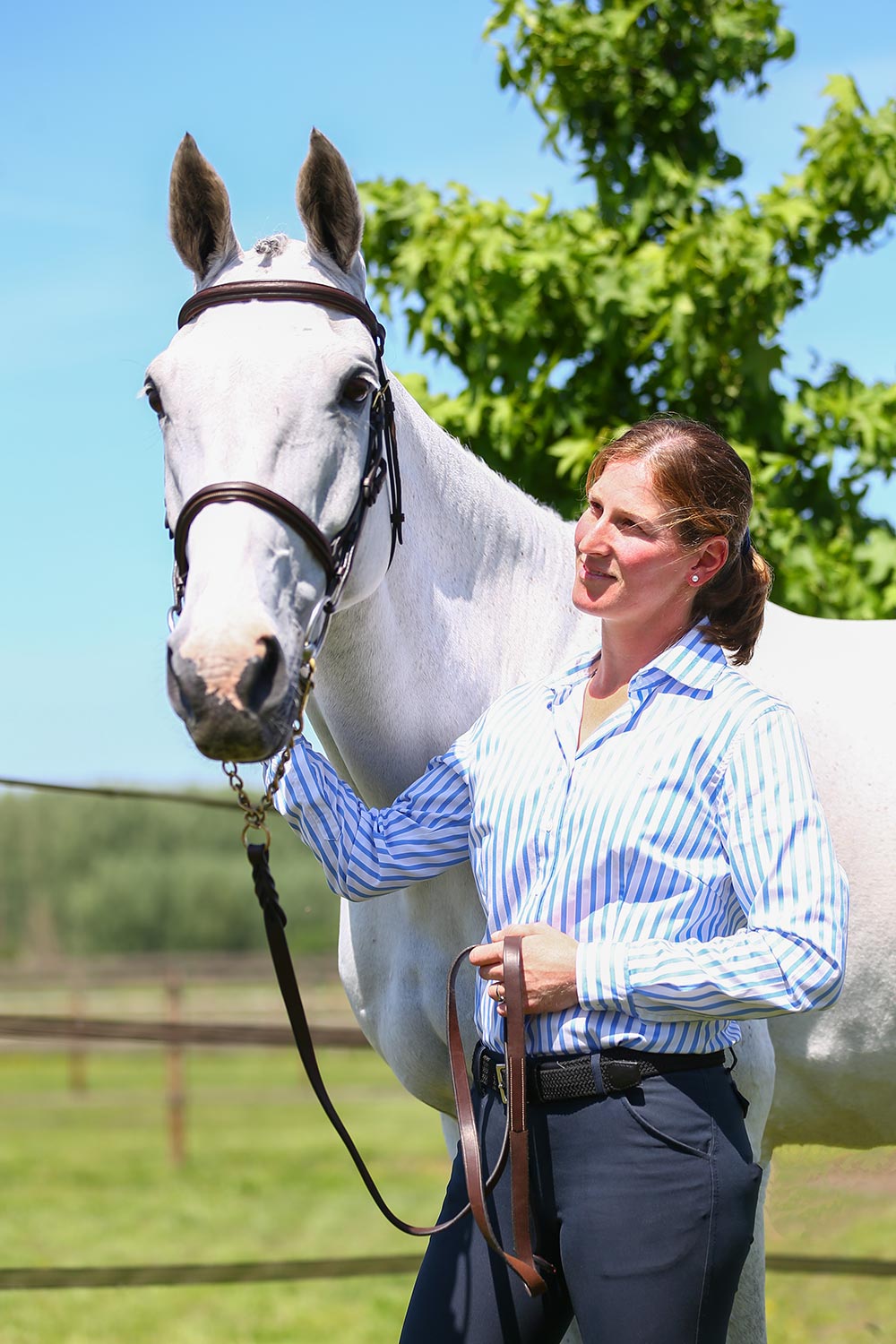 Hilary Scott and Oaks Milky Way. Photo credit: Wil Smeets
View Comments