Amelia Douglass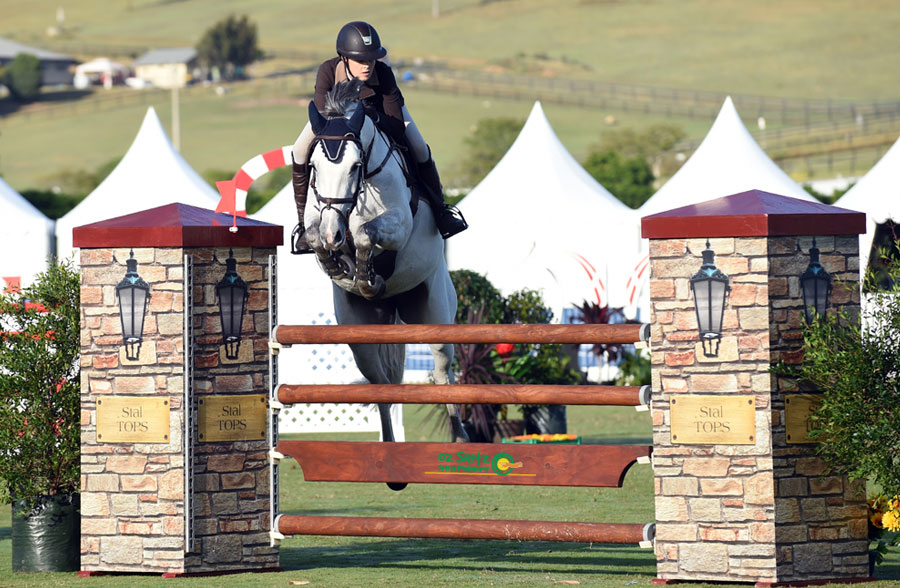 Oz Shots Photography
Name: Amelia Douglass
Age: 17
From: North Sydney, NSW
Lives: Glossodia, NSW
Occupation: Working Student at Sanna Equestrian
At what age did you start riding and who introduced you to the sport? I was always interested in horses and picked it up at six years old, but it was only on the weekends, because we lived in Sydney. I started riding full-time when I was 11 and started showjumping in 2015. I was introduced to the sport of showjumping at the end of 2014 when I was taken to watch the Showcase of Showjumping with Meredith Lawson and I fell in love with the sport at that show. I was also lucky to be introduced to George Sanna, who would become my coach.
Tell us a little about your first competitive horse. My first competitive horse was Witzcellar (Ella). She was originally from New Zealand and was imported by the Willis family. She taught me so much, from winning our first 90cm – 1m class together in 2015, to jumping my first juniors in the same year. She won and placed in many classes and I wouldn't be where I am now without her.
How many horses do you currently have in work and what do you look for in a horse? I currently have 4 horses in work:
– Sirius Du Granit (Siri)
– Barrichello (Rubens)
– Upper Class Z (Cassie)
– NZ Fireball (Fireball)
In a horse I look for rideability, a strong work ethic, carefulness,  a nice nature, needs to be forgiving and a big heart.
Which horse is your current star and who do you think will be your future star? I'd say that I currently have two stars on my team, Siri and Rubens, as they are both always swapping for the top place on my team. However, my future star would definitely have to be my 6 year old mare Cassie, as she is showing really great potential.
What is your biggest competitive achievement to date? I would have to say winning the Aquis Champions Tour – Young Rider final in 2017. In fact, I jumped in the final in 2016 – it was the biggest track I had jumped to date and I was terrified, ending on 8 faults. However, in 2017 I was the only rider to jump double clear around a tough track to take the win. My other biggest competitive achievement was this year, winning the Leading Junior Girl Rider at Sydney Royal.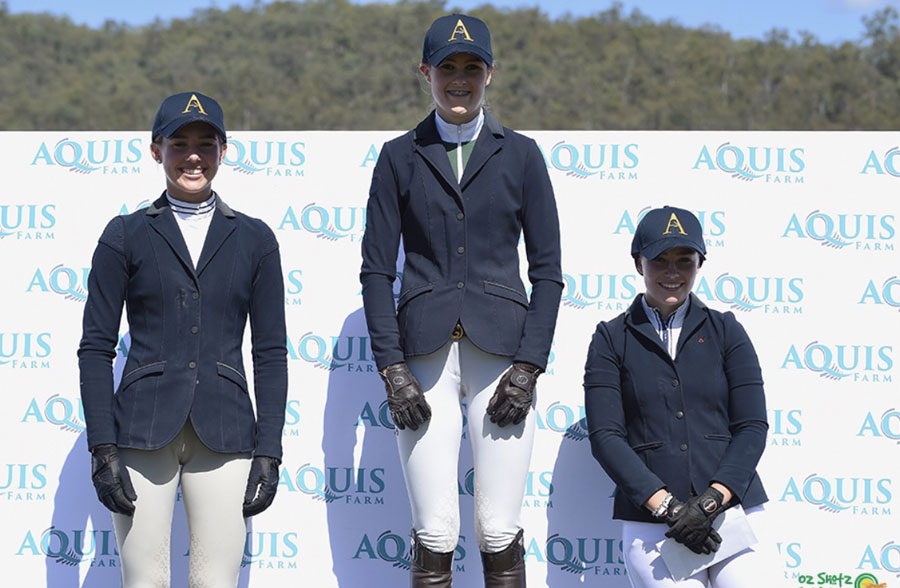 How do you prepare mentally for a big competition and can you describe what is important for your warm up?  My biggest priority when preparing for a big competition or class is to make sure I have everything organised. This includes me having the horses clean and brushed, and my gear ready and clean. I also have to know my schedule for the day. When all these things are done it helps me to not stress, as when I feel disorganised and rushed, I can become unfocused. Every time I go to a show my aim is to learn something new and achieve something, this might not necessarily be placing, but that's always a bonus. In the warm up it's very important for me to take it slow and not be rushed. This means that I try to get on the horse early so I can warm them up with enough time to run through my course plan, which might change depending on the horse I'm riding. At this stage in my riding it's also still very important for me to have my coach George Sanna or Amber Fuller there to help with last minute tips and make sure I'm ready to go into the ring.
What do you focus on when walking the course? When walking the course my main focus is to make a plan and envision how each line will ride. However, this varies between each horse, in terms of how I will need to ride the lines and individual fences depending on the stride and how much ground each horse covers. I also focus on what my aim is in the class. If it's to try and place, I'll look at areas where I can save time. Once I have walked the course, I close my eyes and go through the course in my head without looking at it to make sure I know where I'm going and know the stride lengths between fences. It also helps me to go over the course with someone else, whether this is my coach or just my friends in the class.
What are your short and long-term goals?
My short term goals:
– To ride consistently between all my horses and improve on each one.
– To jump in bigger classes, e.g World Cup within the next two years.
– To always ride my best, even if that means not placing, and to focus on areas where I need to improve.
Long term goals:
– To ride internationally, whether this be in New Zealand or in Europe.
– To have a business within the sport, whether coaching or training young horses.
– To maintain a strong team of horses.
Who are your Australian and international role models? 
My Australian role model would be Kate Hinschen as she is an extremely talented rider but also incredibly deserving of her success within the sport due to her hard work and dedication. I actually have the privilege to work with her everyday and hopefully I can follow her footsteps.
My international role model is actually another Australian, Edwina Tops-Alexander. Last year I had the opportunity to go over to her stables, Stal Tops, and see what she does behind the scenes. She taught me that success doesn't come easy and that you must work hard, take risks and have dedication.
What is the best piece of advice you have been given? The best piece of advice I have been given was after a round that didn't go so well, it was "when you go in the ring you're not going to always come out on top, but you're always going to come out with a new thing leant or a new thing to improve on"
Tell us a few things we don't know about you. I have three brothers, one of which showjumped for bit, and the other two have hardly ever been on a horse. I also left school at the end of year 11 to live and work full time at my coach's house, George Sanna. I am there with my 4 horses and my dog, Digby.
View Comments