Jumping going Great Guns at Gunnedah.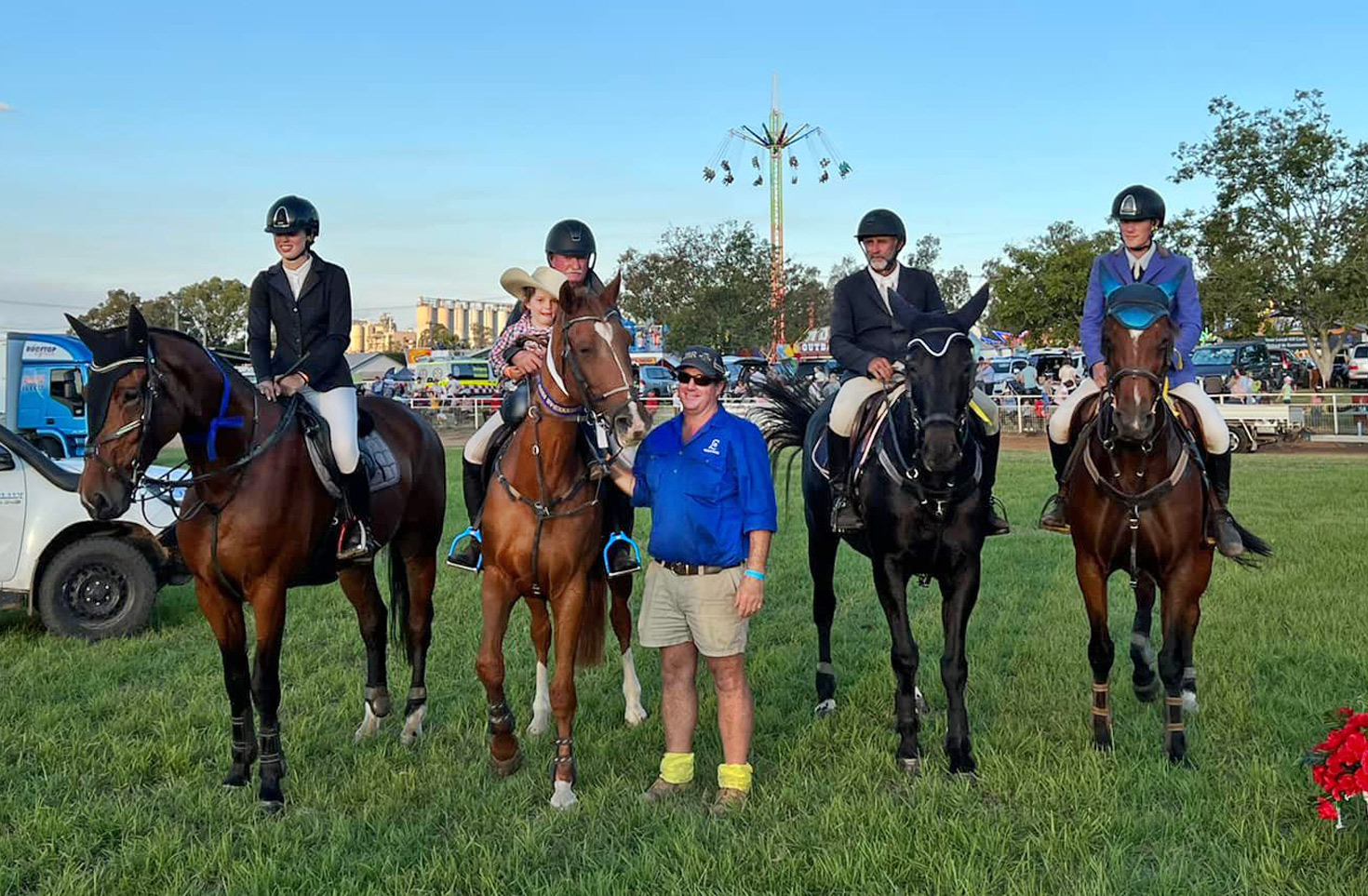 Gunnedah Show Society
A fantastic three-day program of jumping action was held last weekend as part of the annual Gunnedah show. Saturday saw three Grand Prix conducted over varying heights. The 1.05m Grand Prix was won by William Wood and Joselands Cosmic Star, while Victoria Hoy and Tulara Forini were successful in the 1.15m class. The feature class, the 1.25m Grand Prix was taken out by Ashley Cutler and Licandro, after Molly Baker and Brooklyn Jalapeno won the 1.05m Junior Championship.
Advertisement


A highlight of the weekend were the six bar competitions which were held on Saturday evening. The Open 6-bar competition provided great excitement for the gathered crowd, which saw two combinations which could not be separated. Sydney Olympic rider and local legend Ron Easey riding Jaybee Corona was awarded equal first place along with Ashley Cutler and Licandro, which topped off a great day for them.
Advertisement


Congratulations to all the winners and placegetters from the show. Placegetters in all classes are listed below.
FRIDAY RESULTS
RING 1
CLASS 1A: ART 274.5.3 – 0.95-1.00m
| | | |
| --- | --- | --- |
| PLACE | RIDER | HORSE |
| 1st | Clancey Smith | Kellars Tom |
| 2nd | Emily Pursehouse | Monaco PH |
| 3rd | Kate Edwards | Go Kallara |
| 4th | Jade McCusker | Queen Of Hearts NZPH |
CLASS 1B: TSHA (SLIPPER) ART 274.5.3 – 0.95-1.00m
| | | |
| --- | --- | --- |
| PLACE | RIDER | HORSE |
| 1st | Rachel Makim | Come By Chance |
| 2nd | Jason Leonard | Rocky Baker |
| 3rd | Makaylah Fenwick | The Garret |
| 4th | Brooke Garland | Bakers Image |
| 5th | Tayla Ryan | Eastern Legend |
| 6th | Dakota Robertson | Harley |
CLASS 2A: ART 274.5.3 – 1.05m
| | | |
| --- | --- | --- |
| PLACE | RIDER | HORSE |
| 1st | Ashley Cutler | Emcee Vagabond |
| 2nd | Ron Easey | Kellars Tom |
| 3rd | Emily Pursehouse | Contessa PH |
| 4th | Sharmayne Spencer | HH Flamboyant |
| 5th | Kate Edwards | Go Kallara |
CLASS 2B: TSHA (GROUP 3) ART 274.5.3 – 1.05m
| | | |
| --- | --- | --- |
| PLACE | RIDER | HORSE |
| 1st | Makaylah Fenwick | Grace And Glory |
| 2nd | Kate Edwards | Pompous |
| 3rd | Brooke Garland | Bakers Image |
| 4th | Jason Leonard | Rocky Baker |
| 5th | Rachel Makim | Come By Chance |
CLASS 2C: JUNIOR ART 274.5.3 – 1.05m
| | | |
| --- | --- | --- |
| PLACE | RIDER | HORSE |
| 1st | Alexandra Machlin | GT Fredistare |
| 2nd | Molly Baker | Brooklyn Jalapeno |
| 3rd | Malikah Rudge | Edele Warrior Princess |
| 4th | Charlotte Pease | Fontanblow |
| 5th | Hayden Ponto | Boree Hitop |
| 6th | Tayla Ryan | Furiosa |
CLASS 3A: AM5 – 1.10m
| | | |
| --- | --- | --- |
| PLACE | RIDER | HORSE |
| 1st | Ashley Cutler | Emcee Vagabond |
| 2nd | Sharmayne Spencer | HH Flamboyant |
| 3rd | Randal Mitchell | Earl |
| 4th | Ricki Cox | Leonardo A |
| 5th | Molly Baker | Brooklyn Jalapeno |
CLASS 3B: TSHA (GROUP 2) AM5 – 1.10m
| | | |
| --- | --- | --- |
| PLACE | RIDER | HORSE |
| 1st | William Wood | Westie |
| 2nd | Makaylah Fenwick | Grace And Glory |
| 3rd | Katelyn Staples | Emmaville Amigo |
| 4th | Emily Patterson | Little Wick |
| 5th | Amarni Easey | Prince Of Darkness |
| 6th | Kate Edwards | Pompous |
CLASS 4A: ART 274.5.3 – 1.20m
| | | |
| --- | --- | --- |
| PLACE | RIDER | HORSE |
| 1st | Brock Harvey | Powerhouse Park Ego Rock |
| 2nd | Brock Harvey | Thunderbolt |
| 3rd | Victoria Hoy | Tulara Forini |
| 4th | Skye Silvester | Celerity Park Fantastik |
| 5th | Allan McCusker | WF Highlight |
CLASS 4B: TSHA (GROUP 1) ART 274.5.3 – 1.20m
| | | |
| --- | --- | --- |
| PLACE | RIDER | HORSE |
| 1st | Emily Patterson | Libertarian |
| 2nd | Emily Pursehouse | Keilor Canny Ever |
| 3rd | William Wood | Westie |
| 4th | Nicole Creighton-Jones | Rustic Fire |
| 5th | Amarni Easey | Prince Of Darkness |
| 6th | Emily Patterson | Little Wick |
CLASS 5: AM5 – 1.30m
| | | |
| --- | --- | --- |
| PLACE | RIDER | HORSE |
| 1st | Ron Easey | Port O Call |
| 2nd | Ashley Cutler | Kinnordy Rhena |
| 3rd | Ashley Cutler | Licandro |
| 4th | Emily Patterson | Libertarian |
| 5th | Emily Pursehouse | Keilor Canny Ever |
RING 2
CLASS 6A: A2 (UNDER 13 YEARS) – 0.45m
| | | |
| --- | --- | --- |
| PLACE | RIDER | HORSE |
| 1st | Jazmin Hobden | Oaks Argyle |
| 2nd | Gracie Clements | Colway Flintlock |
| 3rd | Georgina Pillar | Cupcake |
| 4th | Lucy Buckman | Myla |
| 5th | Chelsea Amos | Mirrabooka Tiny Tim |
CLASS 6B: A2 (OVER 13 YEARS) – 0.45m
| | | |
| --- | --- | --- |
| PLACE | RIDER | HORSE |
| 1st | Jade McCusker | Greentrees Cavalier |
| 2nd | Millie Packham | Packray Sunshine |
| 3rd | Saskia Jeffrey-Bilich | Kelecyn Princess |
| 4th | Mesaydes Sullivan | Dolly |
CLASS 7: AM7 – 0.60m
| | | |
| --- | --- | --- |
| PLACE | RIDER | HORSE |
| 1st | Malikah Rudge | Lillyview Park Dixie Ray |
| 2nd | Dakota Robertson | Monty |
| 3rd | Annabelle Hoy | Norman |
| 4th | Jade McCusker | Greentrees Cavalier |
| 5th | Skye Sylvester | SS Cocaine Magic |
CLASS 8: AM7 – 0.80m
| | | |
| --- | --- | --- |
| PLACE | RIDER | HORSE |
| 1st | Tayla Norley | Luck In Toyland |
| 2nd | Katelyn Staples | Yaramlea Poindexter |
| 3rd | Alexa Garcia | Spirit |
| 4th | Sienna Robinson | One In A Million |
| 5th | Olivia Hill | Sound System |
CLASS 9: AM7 – 0.90m
| | | |
| --- | --- | --- |
| PLACE | RIDER | HORSE |
| 1st | Tayla Ryan | Take The Chance |
| 2nd | Penelope Hill | Hill's Included |
| 3rd | Tayla Ryan | Eastern Legend |
| 4th | Tayla Norley | KPH Cholula |
| 5th | Tayla Norley | Luck In Toyland |
SATURDAY RESULTS
CLASS 12: GRAND PRIX ART 273.2.3 – 1.05m
| | | |
| --- | --- | --- |
| PLACE | RIDER | HORSE |
| 1st | William Wood | Joselands Cosmic Star |
| 2nd | Michael Lees | Macleay Corella |
| 3rd | Makaylah Fenwick | Grace And Glory |
| 4th | Katelyn Staples | Emmaville Amigo |
| 5th | Emily Pursehouse | Contessa PH |
| 6th | Molly Baker | Brooklyn Jalapeno |
CLASS 13: GRAND PRIX ART 273.2.3 – 1.15m
| | | |
| --- | --- | --- |
| PLACE | RIDER | HORSE |
| 1st | Victoria Hoy | Tulara Forini |
| 2nd | Randal Mitchell | Earl |
| 3rd | Kate Edwards | Pompous |
| 4th | Amarni Easey | Casseira |
| 5th | Brock Harvey | Thunderbolt |
CLASS 14: JUNIOR CHAMPIONSHIP – 1.05m
| | | |
| --- | --- | --- |
| PLACE | RIDER | HORSE |
| 1st | Molly Baker | Brooklyn Jalapeno |
| 2nd | Hayden Ponto | Boree Hitop |
| 3rd | Alexandra Machlin | GT Fredistare |
| 4th | Penelope Hill | Squizzy |
| 5th | Tayla Ryan | Furiosa |
CLASS 15: GRAND PRIX ART 273.2.3 – 1.25m
| | | |
| --- | --- | --- |
| PLACE | RIDER | HORSE |
| 1st | Ashley Cutler | Licandro |
| 2nd | Tara Sheridan | Sandhills Sensation |
| 3rd | Ashley Cutler | Kinnordy Rhena |
| 4th | Ron Easey | Port O Call |
| 5th | Brock Harvey | Thunderbolt |
CLASS 10A: JUNIOR SIX BAR – 1.00m
| | | |
| --- | --- | --- |
| PLACE | RIDER | HORSE |
| =1st | Tayla Norley | KPH Cholula |
| =1st | Matilda Murphy | Barrabadeen Calypso |
| =1st | Alexandra Machlin | GT Fredistare |
| =1st | Georgina Pillar | Cupcake |
| =1st | Hayden Pronto | Boree Hitop |
CLASS 10B: TSHA SIX BAR – 1.00m
| | | |
| --- | --- | --- |
| PLACE | RIDER | HORSE |
| =1st | Makaylah Fenwick | Grace And Glory |
| =1st | Makaylah Fenwick | The Garrett |
| 3rd | Katelyn Staples | Emmaville Amigo |
| 4th | Dakota Robertson | Harley |
| =5th | Brooke Garland | Bakers Image |
| =5th | Tayla Norley | Luck In Toyland |
| =5th | Ron Easey | Prince Of Darkness |
| =5th | Nicole Creighton-Jones | Rustic Fire |
CLASS 11: SENIOR SIX BAR – 1.20m
| | | |
| --- | --- | --- |
| PLACE | RIDER | HORSE |
| =1st | Ron Easey | Jaybee Corona |
| =1st | Ashley Cutler | Licandro |
| 3rd | Ron Easey | Port O Call |
| =4th | Brock Harvey | Powerhouse Park Ego Roc |
| =4th | William Wood | Celerity Park Veestar |
SUNDAY RESULTS
CLASS 16A: AM5 (UNDER 13 YEARS) – 0.60m
| | | |
| --- | --- | --- |
| PLACE | RIDER | HORSE |
| 1st | Georgina Pillar | Cupcake |
| 2nd | Malikah Rudge | Lillyview Park Dixie Ray |
| 3rd | Sarah Heenan | Wynona Park Girly |
| 4th | Georgina Pillar | Joselands Cosmic Star |
CLASS 16B: AM5 (OVER 13 YEARS) – 0.60m
| | | |
| --- | --- | --- |
| PLACE | RIDER | HORSE |
| 1st | Dakota Robinson | Monty |
| 2nd | Makaylah Fenwick | Let It Be |
| 3rd | Olivia Hill | Sound System |
| 4th | Lauren Hill | A Dark Knight |
CLASS 17: AM5 – 0.75m
| | | |
| --- | --- | --- |
| PLACE | RIDER | HORSE |
| 1st | Rhani Spencer-Ruddy | Rogue Haven By Moonlight |
| 2nd | Georgina Pillar | Cupcake |
| 3rd | Makaylah Fenwick | Let It Be |
| 4th | Harriet King | Alkyra Acrobat |
CLASS 18: ARTICLE 274.5.3 – 0.90-1.00m
| | | |
| --- | --- | --- |
| PLACE | RIDER | HORSE |
| 1st | Makaylah Fenwick | Grace And Glory |
| 2nd | Makaylah Fenwick | The Garrett |
| 3rd | Tayla Ryan | Take The Chance |
| 4th | Dakota Robertson | Harley |
| 5th | Rhani Spencer-Ruddy | Rogue Haven By Moonlight |
CLASS 19: AM5 – 1.05-1.10m
| | | |
| --- | --- | --- |
| PLACE | RIDER | HORSE |
| 1st | Ashley Cutler | Emcee Vagabond |
| 2nd | Makaylah Fenwick | Grace And Glory |
| 3rd | Makaylah Fenwick | The Garrett |
| 4th | Dakota Robertson | Harley |
| 5th | Matilda Murphy | Barrabadeen Calypso |
CLASS 20: ARTICLE 274.5.3 – 1.15-1.20m
| | | |
| --- | --- | --- |
| PLACE | RIDER | HORSE |
| 1st | Ashley Cutler | Emcee Vagabond |
| 2nd | Ashley Cutler | Kinnordy Rhena |
| 3rd | Victoria Hoy | Tulara Forini |
| 4th | Victoria Hoy | Amiga |
| 5th | Nicole Creighton-Jones | Rustic Fire |
Results sourced from Global Entries Online
View Comments