Jumpers put on a show at Dubbo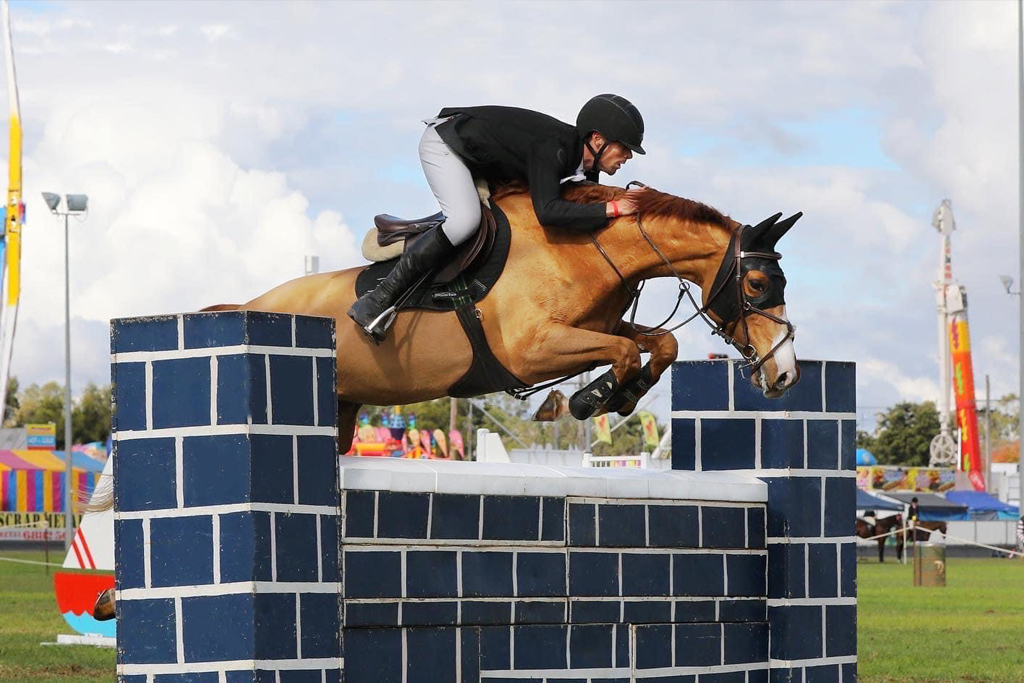 supplied
Above: Will Mathew and Bronte B.
The Dubbo Show Society held its annual Agricultural Show last weekend, which included a three-day jumping program. Competitors came from around the state to create some high-quality jumping.
Advertisement


The feature class of the program was the Hannaford Tyre and Suspension Open Grand Prix which was taken out by Emily Riley and Rhapsody In Blue. George Riley and Valmira were second with third place filled by Sarah Dreverman and Emmaville Van Gogh.
Advertisement


Congratulations to the winners and placegetters from all classes at the show. Placegetters in all classes are listed below.
CLASS 571A: Dubbo Eventing and Showjumping Association – Open – 0.95m
| | | |
| --- | --- | --- |
| PLACE | RIDER | HORSE |
| 1st | Dale Frew | APH Solace |
| 2nd | Payten Collins | Billy The Kid |
| 3rd | Hannah Ryan | APH Bubbles |
| 4th | Jake Tomlinson | Marley |
| 5th | Dale Frew | APH Marco Pierre |
| 6th | Leila Wyrill | Storm Park Warmblood |
CLASS 572A: Regional Insurance Services – Open – 1.10m
| | | |
| --- | --- | --- |
| PLACE | RIDER | HORSE |
| 1st | Lane Clarke | Rosthwaite Zante |
| 2nd | Lane Clarke | Star Seeker |
| 3rd | Damien Kiss | Oaks Emperor Waltz |
| 4th | Ricki Cox | Leonardo A |
| 5th | Ricki Cox | Finch Farm Dexter |
| 6th | Damien Kiss | Tulara Congrini |
CLASS 573: Furneys Stockfeeds – Open – 1.20m
| | | |
| --- | --- | --- |
| PLACE | RIDER | HORSE |
| 1st | Lane Clarke | Valentine Lodge Vanna |
| 2nd | Lane Clarke | Rosthwaite Zante |
| 3rd | Victoria Hoy | Tulara Forini |
| 4th | Grant Hughes | Emmaville Twist |
| 5th | William Mathew | Bronte B |
| 6th | George Riley | Valmira |
CLASS 574: Open – 1.30m
| | | |
| --- | --- | --- |
| PLACE | RIDER | HORSE |
| 1st | Lane Clarke | Valentine Lodge Vanna |
| 2nd | George Riley | Valmira |
| 3rd | Emily Riley | Rhapsody In Blue |
| 4th | Sarah Dreverman | Emmaville Van Gogh |
| 5th | Clint Beresford | Cera Brisbane |
| 6th | Tori Cureton | Equus Archer |
CLASS 575A: Dubbo Eventing and Showjumping Association – Open – 0.95m
| | | |
| --- | --- | --- |
| PLACE | RIDER | HORSE |
| 1st | Jake Tomlinson | Marley |
| 2nd | Samantha Judd | Whiskey Jim |
| 3rd | Zoe Walker | Empower Within |
| 4th | Victoria Hoy | Finch Farm St Lucia |
| 5th | Dale Frew | APH Marco Pierre |
| 6th | Damien Kiss | Dracco NZ |
CLASS 576A: Open – 1.10-1.15m
| | | |
| --- | --- | --- |
| PLACE | RIDER | HORSE |
| 1st | Lane Clarke | Rosthwaite Zante |
| 2nd | Lane Clarke | Star Seeker |
| 3rd | Jessica Galea | Noonamah Valentina |
| 4th | Victoria Hoy | Tulara Forini |
| 5th | Hannah Ryan | APH Bubbles |
| 6th | Jake Tomlinson | Marley |
CLASS 577: Hannaford Tyre and Suspension – Open Grand Prix
| | | |
| --- | --- | --- |
| PLACE | RIDER | HORSE |
| 1st | Emily Riley | Rhapsody In Blue |
| 2nd | George Riley | Valmira |
| 3rd | Sarah Dreverman | Emmaville Van Gogh |
| 4th | Tori Cureton | Equus Archer |
| 5th | William Mathew | Bronte B |
CLASS 578: Tracserv – Open – 1.20-1.25m
| | | |
| --- | --- | --- |
| PLACE | RIDER | HORSE |
| 1st | Lane Clarke | Rosthwaite Zante |
| 2nd | Victoria Hoy | Amiga |
| 3rd | Victoria Hoy | Tulara Forini |
| 4th | Damien Kiss | Tulara Congrini |
| 5th | Clare Anderson | Outlawed W |
| 6th | Maddie Harley | Willjon Jasper |
CLASS 580: Ben Furney Flour Mills – Grand Prix – 1.15m
| | | |
| --- | --- | --- |
| PLACE | RIDER | HORSE |
| 1st | Damien Kiss | Tulara Congrini |
| 2nd | Hannah Ryan | APH Bubbles |
| 3rd | Maddie Harley | Willjon Jasper |
| 4th | Sarah Dreverman | Emmaville Silverton |
| 5th | Charlie Eason | Oaks Coolangatta |
| 6th | Laura Harland | Oaks 007 |
CLASS 581: Open – 1.30m
| | | |
| --- | --- | --- |
| PLACE | RIDER | HORSE |
| 1st | William Mathew | KPH Maddison |
| 2nd | Gracie Dawes | Castell |
| 3rd | George Riley | Valmira |
| 4th | Emily Riley | Rhapsody In Blue |
| 5th | Hayley Cox | Tulara Zane |
| 6th | Grant Hughes | Emmaville Blue Diamond |
CLASS 582: Furneys Town and Country Dubbo – Grand Prix – 1.25m
| | | |
| --- | --- | --- |
| PLACE | RIDER | HORSE |
| 1st | Grant Hughes | Emmaville Twist |
| 2nd | Sarah Dreverman | Tulara Forrie |
| 3rd | Jett Newman | Wanda |
| 4th | George Johnson | Wallaroo Carina |
| 5th | Clara Palm | Tulara Lady Zirocca |
| 6th | Clare Anderson | Outlawed W |
CLASS 583A: Riders Under 17 – 0.90m
| | | |
| --- | --- | --- |
| PLACE | RIDER | HORSE |
| 1st | Payten Collins | Miss Super Nova |
| 2nd | Payten Collins | Sir Billy The Kid |
| 3rd | Jake Tomlinson | Vinchino |
| 4th | Hannah Doolan | Sir King Charles |
| 5th | Holly Pulford | Master Spook |
| 6th | Elisa Smith | Allabout Thatbase |
CLASS 571B: Robb Racing – TSHA – 0.95m
| | | |
| --- | --- | --- |
| PLACE | RIDER | HORSE |
| 1st | Holly Pulford | Master Spook |
| 2nd | Shelley Cox | Saint Isidore |
| 3rd | Anna White | Row Boat |
| 4th | Brooke Garland | Bakers Image |
| 5th | Sarah Dreverman | Emmaville Silverton |
| 6th | Alyssa Hughes | Emmaville Pine |
CLASS 575B: Connie Greig Racing – TSHA – 0.95m
| | | |
| --- | --- | --- |
| PLACE | RIDER | HORSE |
| 1st | Ayla Ryan | Kiss The Spot |
| 2nd | Brooke Garland | Bakers Image |
| 3rd | Sarah Dreverman | Emmaville Silverton |
| 4th | Gem McGufficke | Indeed |
| 5th | Belle Lambeth | Currabeha |
| 6th | Holly Pulford | Master Spook |
CLASS 583B: Open – 0.90m
| | | |
| --- | --- | --- |
| PLACE | RIDER | HORSE |
| 1st | Emily Riley | Oaks Quinella |
| 2nd | Victoria Hoy | Glenara Devaux |
| 3rd | Sarah Dreverman | Emmaville Lamborghini |
| 4th | Emily Riley | Charisma Blues |
| 5th | Grant Hughes | Oaks True Blue |
| 6th | Natalie Barrett | Springshot B |
CLASS 572B: Mystery Downs – TSHA – 1.10m
| | | |
| --- | --- | --- |
| PLACE | RIDER | HORSE |
| 1st | Anna White | Row Boat |
| 2nd | Sarah Dreverman | Emmaville Silverton |
| 3rd | Jenelle Waters | High Roller |
| 4th | Kate Edwards | Pompous |
| 5th | Elisa Smith | Alvern |
| 6th | Gem McGufficke | Indeed |
CLASS 576B: Mystery Downs – TSHA – 1.10-1.15m
| | | |
| --- | --- | --- |
| PLACE | RIDER | HORSE |
| 1st | Elisa Smith | Alvern |
| 2nd | Sarah Dreverman | Emmaville Silverton |
| 3rd | Jenelle Waters | High Roller |
| 4th | Ayla Ryan | Kiss The Spot |
| 5th | Kate Edwards | Pompous |
| 6th | Gem McGufficke | Indeed |
Results sourced from Global entries online
View Comments