Madeline Sinderberry and Camie Z – NSW Indoor Senior Champions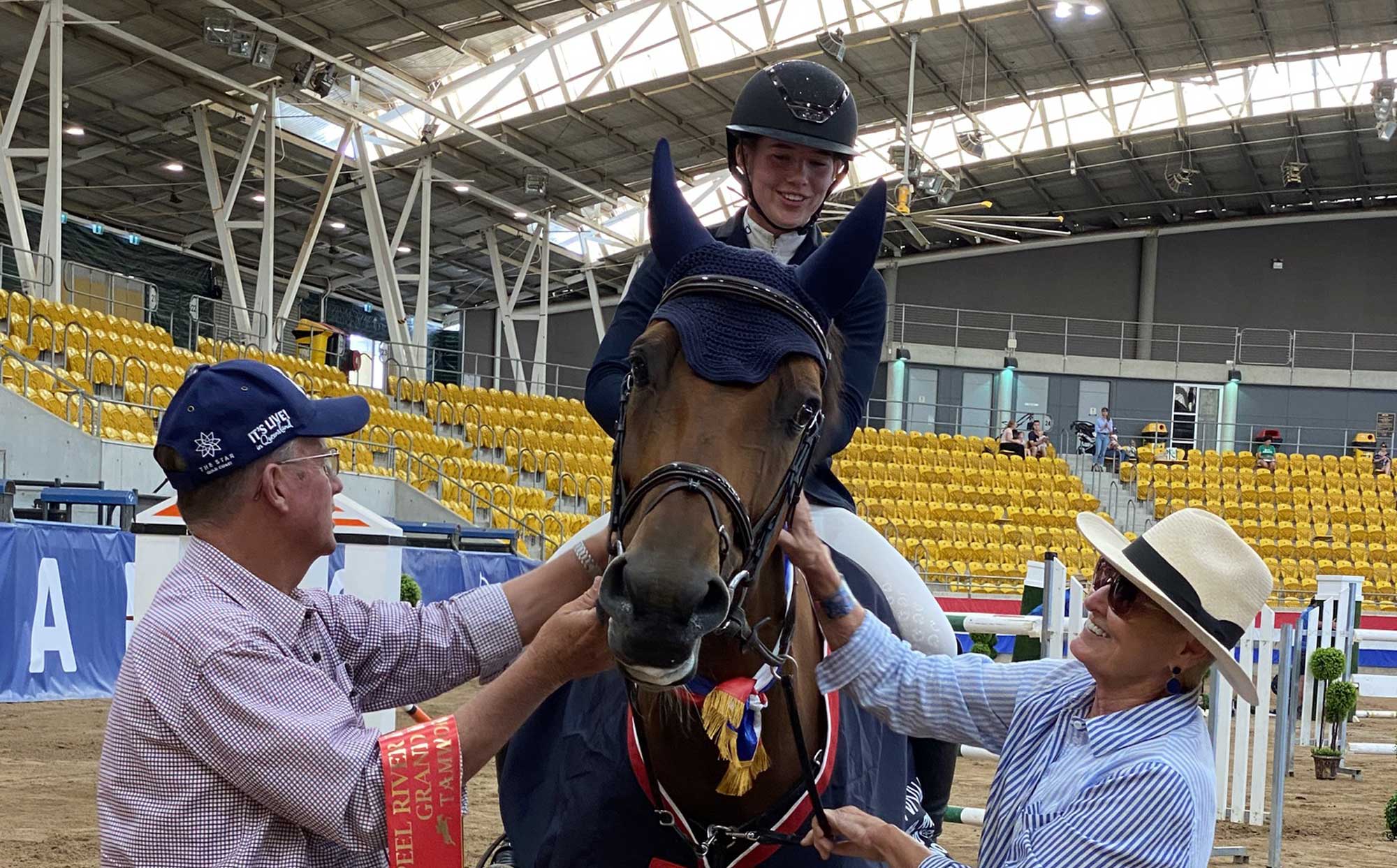 Megan Scrivener
Above: Madi Sinderberry and Cami Z – winners of the Grand Prix. Photo Credit: Megan Scrivener
The last weekend in February saw the North and Northwest Showjumping Club, based at Tamworth in NSW, hold their Peel River Produce Summer Championships, which doubles as the Jumping NSW Indoor State Titles. Held at the wonderful AELEC facility, it was a huge show held across three arenas for four days.
The feature event of the weekend was the Peel River Produce JNSW Senior Indoor Title. After placing seventh in the first round, Madeline Sinderberry and Camie Z won the Grand Prix, which doubled as the second round, of the title, which was enough for them to snatch the win. After the Grand Prix, the judges found four NSW based combinations had tied for the lead on 31 points, however, Sinderberry, by virtue of her higher placing in the Grand Prix, was crowned as the title winner. James Mooney and KPH Cavatina, Jess Brown and Yirrkala Miss Darcy and James Paterson-Robinson and Dublin filled the placings second through to fourth.
Advertisement


The HRB Haulage JNSW Young Rider Indoor Title was won by Ella Hayward and Edena DP in another very close competition. After the completion of the second round, the judges found a two-way tie between the winners of Round 1, the Queensland combination of Fuschia Criss and Dual Diamond and NSW's Ella Hayward and Edena DP, who had placed second in both Round 1 and Round 2. Having finished higher than Criss's fourth place in Round 2, Hayward and Edena DP were awarded the title.
Another visiting Queensland combination of Skye Hosie and AMS Ajaccio NZPH, took out the Garvin and Cousens JNSW Junior Indoor Title. Skye was the most consistent competitor, following up her third place in round 1, with a win in round 2. They were just one point clear of NSW Rider Mackenzie Patterson-Hollibone and Vivajoy who placed second in both rounds.
Elissa Schneider and Carve It Up were crowned as the AJ McCusker Equine Dentistry JNSW Amateur Indoor Champions after finishing third in round 1 before winning Round 2.
Another feature class on the program was the Peter Hoffman Memorial Cup – Mini Prix, which saw seven double clear performances in the two round competition. The fastest of these in the second round were Clint Beresford and Emmaville Jitterbug, who were just over a second quicker than Madeline Sinderberry and Balentino in second. Third place went to Gemma Creighton and It's Silkbridge, some four seconds behind.
Advertisement


Besides the Indoor titles that were fought for, there was a large range of classes decided on the outside arenas, with some exceptional performances over the weekend.
Hugh Buchanan won four classes during the show aboard three different horses. Its Bandito carried him to victory in two 1.10m classes, while he won at 1.15m with Lola GHP. On the first day of competition he and Kinnordy Gusgard won the 1.40m class.
Not to be outdone, Jasmine Cook and Sherbet Wizz Fizz were the most successful combination of the show, taking wins in four classes over the first two days of competition. They won at four different heights, namely 0.80m, 0.85m, 0.90m and 0.95m.
Elodie Mourlet nearly went as well as Jasmine and Sherbet Wizz Fizz, by winning three classes across the first three days of competition with Fly too High. Their wins were at 1.00m and twice at 1.05m
Four other riders were able to pick up a pair of wins over the course of the show. Makaylah Fenwick won two classes at 1.20m; one with Grace and Glory and the other with The Garret. Tyrone Latham picked up a pair of wins over the first two days of the show, both with Arion Carasun at 1.20m and 1.25m+ in the Horsepower Future Stars Competition. Alison Ostenfeld and Aveden Atom were winners twice, both at 1.10m, once again, all before the Saturday competition had commenced. Finally, Jess Stones and PPP Seductor picked up a pair of wins over the weekend at both 1.20m and 1.30m.
It was a great show and an absolute credit to NNWSJC who always run their shows efficiently.
Congratulations to all the winners and placegetters in every class over the course of the show, which are all listed below:
THURSDAY RESULTS
PEEL RIVER PRODUCE INDOOR ARENA
CLASS 1: OPEN – 1.10m
| | | |
| --- | --- | --- |
| PLACE | RIDER | HORSE |
| 1st | Hugh Buchanan | Its Bandito |
| 2nd | Thomas Madigan | La Chance |
| 3rd | Michael Hirons | Spruce Bruce |
| 4th | Katelyn Staples | Emmaville Amigo |
| 5th | Deanna O'Neill | Peach Bellini |
| 6th | Thomas Madigan | Yalambis Carmen |
CLASS 2: OPEN – 1.20m
| | | |
| --- | --- | --- |
| PLACE | RIDER | HORSE |
| 1st | Tyrone Latham | Arion Carasun |
| 2nd | Emily Patterson | Carbeen Tadpole |
| 3rd | Emily E Farr | Versace Ari Z |
| 4th | Katelyn Staples | KC Spotabug |
| 5th | Olivia Hamood | Corakai |
| 6th | Tyrone Latham | Christalou |
CLASS 3: OPEN – 1.30m
| | | |
| --- | --- | --- |
| PLACE | RIDER | HORSE |
| 1st | Robert Freeman | ES Canada |
| 2nd | David Cooper | Victory Day |
| 3rd | Gemma Creighton | Dada Des Brimbelles Z |
| 4th | Gemma Creighton | It's Silkbridge |
| 5th | Clint Beresford | Cera Brisbane |
| 6th | Madeline Sinderberry | Camie Z |
CLASS 4: OPEN – 1.40m
| | | |
| --- | --- | --- |
| PLACE | RIDER | HORSE |
| 1st | Hugh Buchanan | Kinnordy Gusgard |
| 2nd | Fuschia Criss | Dual Diamond |
| 3rd | Michael Hirons | Sub Pop |
| 4th | Hayley Cox | Tulara Zane |
| 5th | Emily Patterson | Libertarian |
JUMPING NSW ARENA 2
CLASS 18: OPEN – 1.00m
| | | |
| --- | --- | --- |
| PLACE | RIDER | HORSE |
| 1st | Elodie Mourlet | Fly Too High |
| 2nd | Shelley Cox | Riverside Gareth |
| 3rd | Katelyn Staples | Maverick 3MC |
| 4th | David Cooper | Habanero |
| 5th | Dale Frew | APH Marco Pierre |
| 6th | Elise Smith | Allabout Thatbass |
CLASS 19: OPEN – 1.05m
| | | |
| --- | --- | --- |
| PLACE | RIDER | HORSE |
| 1st | Charli Wallis | Quantico GNZ |
| 2nd | James Henry | Beverley S Lola |
| 3rd | William Mathew | Canada |
| 4th | Katelyn Staples | Maverick 3MC |
| 5th | Claire Crocombe | Finch Farm Leonardo |
| 6th | William Mathew | Ladrho |
CLASS 20: OPEN – 1.10m
| | | |
| --- | --- | --- |
| PLACE | RIDER | HORSE |
| 1st | Alison Ostenfeld | Aveden Atom |
| 2nd | Emily E Farr | Versace Ari Z |
| 3rd | Alison Ostenfeld | QEB Cool Kitty |
| 4th | Jo Mae Purvis | Snowy River Rubix Cube |
| 5th | Jake Tomlinson | Vinchino |
| 6th | Charlotte Pease | Fontanblow |
ARENA 3
CLASS 30: OPEN – 0.75m
| | | |
| --- | --- | --- |
| PLACE | RIDER | HORSE |
| 1st | Jess Nudd | Bonn Vivant |
| 2nd | Eden McMahon | Beatrix |
| 3rd | Luiza Dias Marucio | Cardrona Xtreme |
| 4th | Annabelle Hoy | Archie |
| 5th | Alexander Gostelow | Yarramalong Kit |
| 6th | Aanicka Grant | Yalambis Cambridge |
CLASS 31: OPEN – 0.85m
| | | |
| --- | --- | --- |
| PLACE | RIDER | HORSE |
| 1st | Jasmine Cook | Sherbet Wizz Fizz |
| 2nd | James Henry | Tilda Park Petley |
| 3rd | Jake Tomlinson | Hollywood |
| 4th | Evie Magnier | Mirabelle Patterson |
| 5th | Eden McMahon | Beatrix |
| 6th | Matilda Telford | Bremer Park Poco Express |
CLASS 32: OPEN – 0.95m
| | | |
| --- | --- | --- |
| PLACE | RIDER | HORSE |
| 1st | Jasmine Cook | Sherbet Wizz Fizz |
| 2nd | Cody Anderson | DP Full Monty |
| 3rd | Amelia Empringham | Murray Equine Now |
| 4th | Jodie Cooper | Firana Sandora |
| 5th | Nathaniel Phillis | Indys Delight |
| 6th | Aria Baker | Solloway |
FRIDAY RESULTS
PEEL RIVER PRODUCE INDOOR ARENA
CLASS 5: COMPLETELY EQUINE: OPEN – 1.15m
| | | |
| --- | --- | --- |
| PLACE | RIDER | HORSE |
| 1st | Emmy Ravenscroft | Dornamour |
| 2nd | Thomas Madigan | La Chance |
| 3rd | Ella O'Neill | KR Killings |
| 4th | Matthew Afford | La Luna Countess FZ |
| 5th | Abby Coates | Japatero S |
| 6th | Mackenzie Patterson Hollibone | Vivajoy |
CLASS 6: STRAWBERRY HILL STUD: TSHA CHAMPIONSHIP – 1.20m
| | | |
| --- | --- | --- |
| PLACE | RIDER | HORSE |
| 1st | Makaylah Fenwick | Grace And Glory |
| 2nd | Hugh Buchanan | Its Bandito |
| 3rd | Elissa Schneider | Carve It Up |
| 4th | William Wood | Westie |
| 5th | Helen Diacono | Lola Way |
| 6th | Katelyn Staples | Emmaville Amigo |
CLASS 7: MR BREECHES: OPEN – 1.30m
| | | |
| --- | --- | --- |
| PLACE | RIDER | HORSE |
| 1st | Cameron Moffatt | HSP Minou |
| 2nd | Nicholas Taliana | Revelwood Wynston Street |
| 3rd | David Cooper | Victory Day |
| 4th | Clint Beresford | Cera Brisbane |
| 5th | Gemma Creighton | Diangella |
| 6th | Tyrone Latham | Yirrkala Harriett |
CLASS 8: PEEL RIVER PRODUCE: JNSW SENIOR INDOOR TITLE (ROUND 1) – 1.35m+
| | | |
| --- | --- | --- |
| PLACE | RIDER | HORSE |
| 1st | James Paterson-Robinson | Dublin |
| 2nd | Clem Smith | Quantico 12 |
| 3rd | Jess Brown | Yirrkala Miss Darcy |
| 4th | Jess Stones | Chatina |
| 5th | James Mooney | KPH Cavatina |
| 6th | Clem Smith | Oaks Conjuror |
JUMPING NSW ARENA 2
CLASS 21: GRANNY'S GAMBLE: OPEN – 1.05m
| | | |
| --- | --- | --- |
| PLACE | RIDER | HORSE |
| 1st | Elodie Mourlet | Fly Too High |
| 2nd | Jodie Hollis | Grand Quest |
| 3rd | James Henry | Beverley S Lola |
| 4th | Dale Frew | APH Marco Pierre |
| 5th | Chloe Hughes | Cil Dara Dainty |
| 6th | Michael Lees | Keilor Quest |
CLASS 22: MADIGAN FAMILY EQUESTRIAN: OPEN – 1.10m
| | | |
| --- | --- | --- |
| PLACE | RIDER | HORSE |
| 1st | Alison Ostenfeld | Aveden Atom |
| 2nd | Emily E Farr | Versace Ari Z |
| 3rd | Skye Hosie | Ams Ajaccio NZPH |
| 4th | Thomas Madigan | Its High Cotton |
| 5th | Alison Ostenfeld | Tylani Texas Hold Em |
| 6th | William Mathew | Canada |
CLASS 23: BELLAROO EQUESTRIAN: OPEN – 1.20m
| | | |
| --- | --- | --- |
| PLACE | RIDER | HORSE |
| 1st | Clint Beresford | ES Dakota |
| 2nd | Clint Beresford | Oaks Chingo |
| 3rd | Jess Stones | Kanntina |
| 4th | Fuschia Criss | Matter Of Heart |
| 5th | Lauren Browne | Fashionably Late |
| 6th | Madeline Sinderberry | Keilor Bamboo |
CLASS 24: HORSEPOWER: FUTURE STARS – 1.25m+
| | | |
| --- | --- | --- |
| PLACE | RIDER | HORSE |
| 1st | Tyrone Latham | Arion Carasun |
| 2nd | Robert Stewart | Oaks Evergreen TS |
| 3rd | Tyrone Latham | Christalou |
| 4th | Gemma Creighton | Latina LSH |
| 5th | Isabella Du Plessis | Onessa MVNZ |
| 6th | Ella Hayward | Edena DP |
ARENA 3
CLASS 33: VALLEY & RIVERS SHOW JUMPING: OPEN – 0.80m
| | | |
| --- | --- | --- |
| PLACE | RIDER | HORSE |
| 1st | Jasmine Cook | Sherbet Wizz Fizz |
| 2nd | Matilda Telford | Bremer Park Poco Express |
| 3rd | Sarah Heenan | Wynona Park Girly |
| 4th | Amelia Empringham | Warrego Jetsen |
| 5th | Jake Tomlinson | Hollywood |
| 6th | Bridie Smith | Equinox |
CLASS 34: OPEN – 0.90m
| | | |
| --- | --- | --- |
| PLACE | RIDER | HORSE |
| 1st | Jasmine Cook | Sherbet Wizz Fizz |
| 2nd | Robyn Parker | Street Wise |
| 3rd | Amelia Empringham | Murray Equine Now For Nina |
| 4th | Kate Partridge | Nandeye Fame |
| 5th | Debbie Kelley | Willow Connie |
| 6th | Phoebe Machlin | Kaewing Maximus |
CLASS 35A: OPEN – 1.00m
| | | |
| --- | --- | --- |
| PLACE | RIDER | HORSE |
| 1st | Isabel Taylor | Northern Glamour Girl |
| 2nd | Amelia Empringham | Murray Equine Now For Nina |
| 3rd | Ruby Holgate | Findon |
| 4th | Antonia Foster | Riverside Katch Me |
| 5th | Jacqui Kennett | Yalambis Illawarra |
| 6th | Hannah Evans | Duchess |
CLASS 35B: STRAWBERRY HILL STUD: TSHA – 1.00m
| | | |
| --- | --- | --- |
| PLACE | RIDER | HORSE |
| 1st | Dakota Robertson | Harley |
| 2nd | Aria Baker | Bulla Bulla |
| 3rd | Elodie Mourlet | Fly Too High |
| 4th | Elise Smith | Allabout Thatbass |
| 5th | Olivia Hill | Sound System |
| 6th | Caitlin Hawkins | Repeat After Me |
SATURDAY RESULTS
PEEL RIVER PRODUCE INDOOR ARENA
CLASS 9: GARVIN & COUSENS: JNSW JUNIOR INDOOR TITLE (ROUND 1) – 1.10m
| | | |
| --- | --- | --- |
| PLACE | RIDER | HORSE |
| 1st | Ella O'Neill | KR Killings |
| 2nd | Mackenzie Patterson Hollibone | Vivajoy |
| 3rd | Skye Hosie | AMS Ajaccio NZPH |
| 4th | Emmy Ravenscroft | Forever |
| 5th | Emmy Ravenscroft | Dornamour |
| 6th | Abby Coates | Japatero S |
CLASS 10: AJ McCUSKER EQUINE DENTISTRY: JNSW AMATEUR INDOOR TITLE (ROUND 1) – 1.10-1.15m
| | | |
| --- | --- | --- |
| PLACE | RIDER | HORSE |
| 1st | Ricki Cox | Leonardo AA |
| 2nd | Thomas Madigan | Yalambis Carmen |
| 3rd | Elissa Schneider | Carve It Up |
| 4th | Thomas Madigan | La Chance |
| 5th | Johanna Afford | Kaluna Salute |
| 6th | Jacqui Kennett | Oaks Kenya |
CLASS 11: PEEL RIVER PRODUCE: GRAND PRIX AND JNSW SENIOR INDOOR TITLE (ROUND 2) – 1.40m+
| | | |
| --- | --- | --- |
| PLACE | RIDER | HORSE |
| 1st | Madeline Sinderberry | Camie Z |
| 2nd | James Mooney | KPH Cavatina |
| 3rd | Jennifer Wood | Ipod |
| 4th | Jess Brown | Yirrkala Miss Darcy |
| 5th | Clem Smith | Oaks Conjuror |
| 6th | James Paterson-Robinson | Ketut |
CLASS 12: HRB HAULAGE: JNSW YOUNG RIDER INDOOR TITLE (ROUND 1) – 1.25m
| | | |
| --- | --- | --- |
| PLACE | RIDER | HORSE |
| 1st | Fuschia Criss | Dual Diamond |
| 2nd | Ella Hayward | Edena DP |
| 3rd | Ashley Cutler | Licandro |
| 4th | William Wood | Celerity Park Veestar |
| 5th | Simone Sorensen | Yalambi's Karijini |
| 6th | Simone Sorensen | Viva Blue |
CLASS 13: PETER HOFFMAN MEMORIAL CUP: MINI PRIX – 1.35m+
| | | |
| --- | --- | --- |
| PLACE | RIDER | HORSE |
| 1st | Clint Beresford | Emmaville Jitterbug |
| 2nd | Madeline Sinderberry | Balentino |
| 3rd | Gemma Creighton | It's Silkbridge |
| 4th | David Cooper | Victory Day |
| 5th | Brock Harvey | Powerhouse Park Ego Roc |
| 6th | Gemma Creighton | Diangella |
JUMPING NSW ARENA 2
CLASS 25: VALLEY & RIVERS SHOW JUMPING: OPEN – 1.05m
| | | |
| --- | --- | --- |
| PLACE | RIDER | HORSE |
| 1st | Elodie Mourlet | Fly Too High |
| 2nd | Tayla Norley | Luck In Toyland |
| 3rd | Katelyn Staples | Maverick 3MC |
| 4th | Olivia Hill | Sound System |
| 5th | Tayla Ryan | Adios Elzario |
| 6th | Chloe Hughes | Cil Dara Dainty |
CLASS 26: MADIGAN FAMILY EQUESTRIAN: OPEN – 1.15m
| | | |
| --- | --- | --- |
| PLACE | RIDER | HORSE |
| 1st | Hugh Buchanan | Lola GHP |
| 2nd | Katelyn Staples | Maverick 3MC |
| 3rd | Alison Ostenfeld | Aveden Atom |
| 4th | Alicia Seery | Kings Krackerjack |
| 5th | Clint Beresford | Oaks Chingo |
| 6th | Clint Beresford | ES Dakota |
CLASS 27: BELLAROO EQUESTRIAN: OPEN – 1.20m
| | | |
| --- | --- | --- |
| PLACE | RIDER | HORSE |
| 1st | Jess Stones | PPP Seductor |
| 2nd | Jake Tomlinson | Vinchino |
| 3rd | Madeline Sinderberry | Keilor Bamboo |
| 4th | Michael Hirons | Spruce Bruce |
| 5th | Olivia Hamood | Corakai |
| 6th | David Cooper | WPH Chaccaro |
ARENA 3
CLASS 36: VALLEY & RIVERS SHOW JUMPING: OPEN – 0.80m
| | | |
| --- | --- | --- |
| PLACE | RIDER | HORSE |
| 1st | Jake Tomlinson | Hollywood |
| 2nd | Amelia Empringham | Warrego Jetsen |
| 3rd | Judy Gengos | Woodpress |
| 4th | Phoebe Machlin | Kaewing Maximus |
| 5th | Eden McMahon | Beatrix |
| 6th | Bianca Turner | Red Viking |
CLASS 37A: OPEN – 0.90m
| | | |
| --- | --- | --- |
| PLACE | RIDER | HORSE |
| 1st | Amelia Empringham | Murray Equine Now For Nina |
| 2nd | Josephine Malone | Carburettor |
| 3rd | Debbie Kelley | Willow Connie |
| 4th | Robin Henry | Rio De J |
| 5th | Phoebe Machlin | Kaewing Maximus |
| 6th | Jodie Sandora | Firana Sandora |
CLASS 37B: STRAWBERRY HILL STUD: TSHA – 0.90m
| | | |
| --- | --- | --- |
| PLACE | RIDER | HORSE |
| 1st | Robyn Parker | Street Wise |
| 2nd | Judy Gengos | Woodpress |
| 3rd | Robyn Parker | Red Flyer |
| 4th | Bryia Anderson | DP Sichuan Chief |
| 5th | Danielle O'Hara | Uncle Sam |
| 6th | Nicolas Gillard | Red Right Out |
CLASS 38: OPEN – 1.00m
| | | |
| --- | --- | --- |
| PLACE | RIDER | HORSE |
| 1st | William Mathew | Grand Helana |
| 2nd | Amelia Empringham | Murray Equine |
| 3rd | Dakota Robertson | Harley |
| 4th | Isabel Taylor | Northern Glamour Girl |
| 5th | Grace Maher | WS Raising Roxy |
| 6th | Sarah Crossen | Vermoral RJ3 |
SUNDAY RESULTS
PEEL RIVER PRODUCE INDOOR ARENA
CLASS 14: AJ McCUSKER EQUINE DENTISTRY: JNSW AMATEUR INDOOR TITLE (ROUND 2) – 1.10m
| | | |
| --- | --- | --- |
| PLACE | RIDER | HORSE |
| 1st | Elissa Schneider | Carve It Up |
| 2nd | James Henry | Beverley S Lola |
| 3rd | Mark Atkins | Elite Partners |
| 4th | Brooke Richardson | Finch Farm Fed X |
| 5th | Anna White | Lyndhurst Soldier |
| 6th | Johanna Afford | Kaluna Salute |
CLASS 15: GARVIN & COUSENS: JNSW JUNIOR INDOOR TITLE (ROUND 2) – 1.10-1.15m
| | | |
| --- | --- | --- |
| PLACE | RIDER | HORSE |
| 1st | Skye Hosie | AMS Ajaccio NZPH |
| 2nd | Mackenzie Patterson Hollibone | Vivajoy |
| 3rd | Emmy Ravenscroft | Dornamour |
| 4th | Molly Mooney | JB Evolution |
| 5th | Jake Tomlinson | Vinchino |
| 6th | Tayla Ryan | Furiosa |
CLASS 16: OPEN – 1.30m
| | | |
| --- | --- | --- |
| PLACE | RIDER | HORSE |
| 1st | Jess Stones | PPP Seductor |
| 2nd | Brock Harvey | Powerhouse Park Ego Roc |
| 3rd | Gemma Creighton | Diangella |
| 4th | Kylie Hawkins | Callidor |
| 5th | Jack Schouten | Lightening Strikes |
| 6th | Gemma Creighton | It's Silkbridge |
CLASS 17: HRB HAULAGE: JNSW YOUNG RIDER INDOOR TITLE (ROUND 2) – 1.30-1.35m
| | | |
| --- | --- | --- |
| PLACE | RIDER | HORSE |
| 1st | Anneliese Wansey | Texas |
| 2nd | Ella Hayward | Edena DP |
| 3rd | Simone Sorensen | Viva Blue |
| 4th | Fuschia Criss | Dual Diamond |
| 5th | Charlie Richardson | Mavrick |
| 6th | William Wood | Celerity Park Veestar |
JUMPING NSW ARENA 2
CLASS 28A: MADIGAN FAMILY EQUESTRIAN: OPEN – 1.10m
| | | |
| --- | --- | --- |
| PLACE | RIDER | HORSE |
| 1st | Annabelle Hoy | KBL Arlo |
| 2nd | Michael Lees | Keilor Quest |
| 3rd | Matt Irvine | Yalambis Isodora |
| 4th | Annabelle Hoy | Amiga |
| 5th | James Mooney | JB Delightful |
| 6th | Emmy Ravenscroft | Bellhaven Cordina |
CLASS 28B: STRAWBERRY HILL STUD: TSHA – 1.10m
| | | |
| --- | --- | --- |
| PLACE | RIDER | HORSE |
| 1st | Hugh Buchanan | Its Bandito |
| 2nd | Krissy Harris | Where's Cameron |
| 3rd | Blair Richardson | Another Night |
| 4th | Anna White | Row Boat |
| 5th | Makaylah Fenwick | The Garret |
| 6th | Krissy Harris | Blue Flame |
CLASS 29: OPEN – 1.20m
| | | |
| --- | --- | --- |
| PLACE | RIDER | HORSE |
| 1st | Makaylah Fenwick | The Garret |
| 2nd | Jess Stones | Chacco Star JRE |
| 3rd | Nicholas Taliana | Sovereigns Valour |
| 4th | Elizabeth Hoy | SF Capricious |
| 5th | Gemma Creighton | Latina LSH |
| 6th | Louise Light | Benjo |
ARENA 3
CLASS 39: VALLEY & RIVERS SHOW JUMPING: OPEN – 0.80m
| | | |
| --- | --- | --- |
| PLACE | RIDER | HORSE |
| 1st | Matilda Telford | Bremer Park Poco Express |
| 2nd | Phoebe Machlin | Kaewing Maximus |
| 3rd | Jessica Emmery | Fusion |
| 4th | Amelia Empringham | Warrego Jetsen |
| 5th | Rhani Spencer-Ruddy | Rogue Haven By Moonlight |
| 6th | Judy Gengos | Woodpress |
CLASS 40: OPEN – 0.90m
| | | |
| --- | --- | --- |
| PLACE | RIDER | HORSE |
| 1st | Robin Henry | Rio De J |
| 2nd | William Mathew | Grand Helana |
| 3rd | Victoria Watkins | Pepper |
| 4th | Amelia Empringham | Murray Equine Now For Nina |
| 5th | Caitlin Biddle | Ballinton Summer Lady |
| 6th | Katherine Moffitt | Keeper |
CLASS 41: OPEN – 1.00m
| | | |
| --- | --- | --- |
| PLACE | RIDER | HORSE |
| 1st | Georgina Pillar | Joselands Cosmic Star |
| 2nd | Amelia Empringham | Murray Equine Now For Nina |
| 3rd | Cody Anderson | DP Full Monty |
| 4th | Charlie Richardson | A Foxy Lady |
| 5th | Bryia Anderson | DP Sichuan Chief |
| 6th | Charlie Richardson | Bee Cool |
Results sourced from globalentriesonline.com.au
View Comments