Riley Rules at Canberra Cup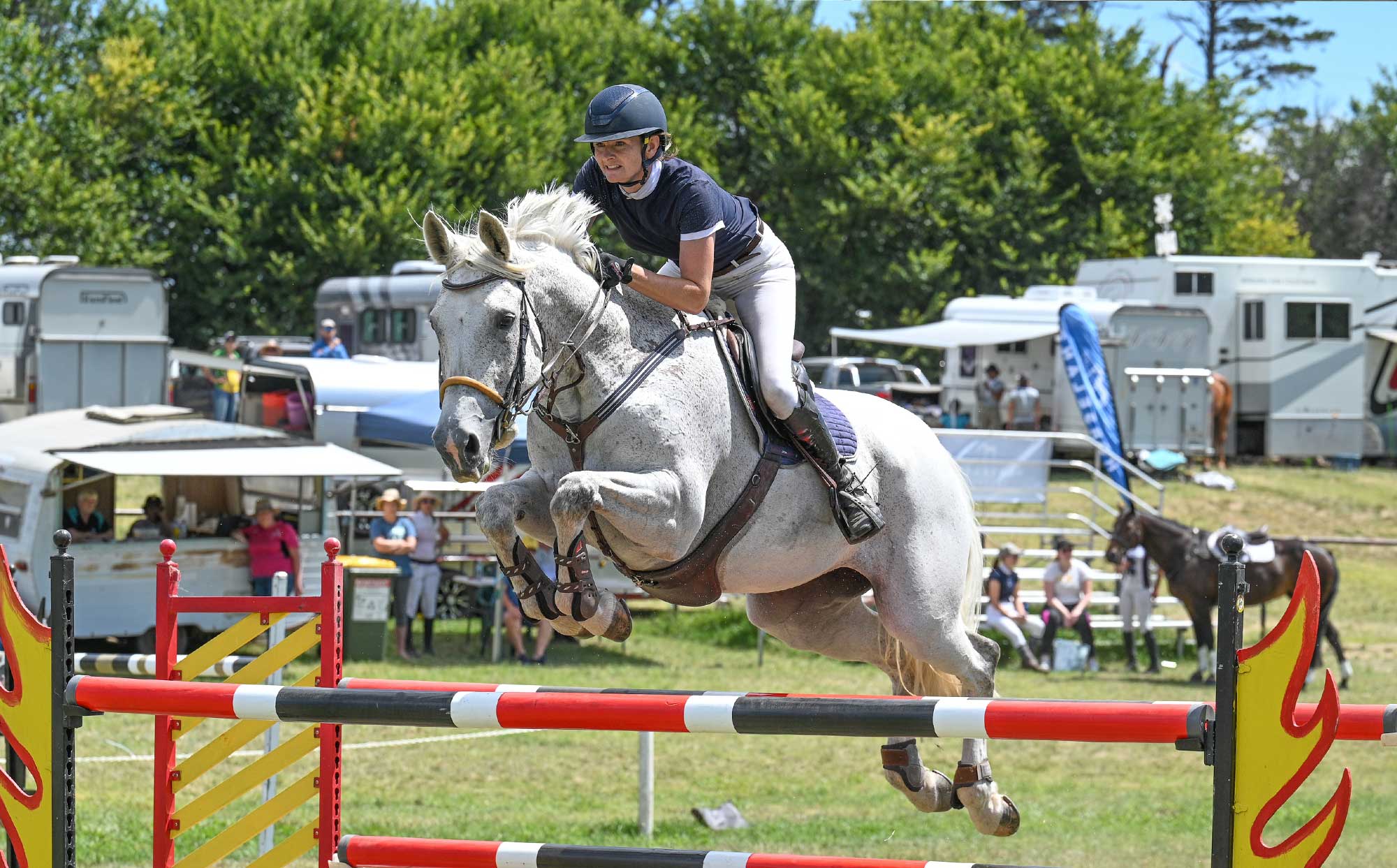 Govern Images
Above: Emily Riley and Rhapsody in Blue. Photo Credit: Govern Images.
The ACT Showjumping Club held their popular Canberra Cup show on the last weekend in February. There were classes for everybody with heights starting at 0.50m, right up to the Canberra Cup itself at 1.35m and three rings were used across the two days of competition.
Advertisement


After a win in a the open 1.35m class on Saturday, Emily Riley and Rhapsody in Blue were impressive winners of the feature class of the show, the Canberra Cup. They were one of only two clear performers in the small field of seven combinations. Charly Robinson-Smith was named the Canberra Cup Young Rider Champions.
Zoe Grant and Snowy River Billy Jim, were the deserving winners of the Junior Championship as they were the only combination from 12 starters who managed a double clear performance.
In the Jumping NSW Amateur Series class, the win went to Sarah Dodd and Oaks Carmine, again with a double clear performance and a full second margin over the second placed Jim Scobie and Fernhill Aussie Balou.
Saturday evening saw the Bob Leech Memorial Six Bar take place, which was won by the experienced Grant Hughes.
Emily Riley was not the only rider to enjoy multiple successes over the course of the show. Young Alice Breed and Fox In Sox were the most successful combination of the weekend, winning twice on Saturday in an open 0.60m class and an U18 0.70m class, followed by an Open 0.70m win on Sunday.
Advertisement


Maddison Brighton picked up a pair of wins, at 1.15m on Saturday with Anembo Monach and at 1.00m on Sunday with Anembo Frost.
There were two other riders who picked up a pair of wins. Hannah MacCallum and Jordan won two U18 years classes at 0.50m and 0.60m, while the open 1.05m class on both Saturday and Sunday went to Deon Williams and Kaluga.
It was a great weekend of jumping, particularly given that the show had to be abbreviated last year due to the weather.
Congratulations to all the winners and placegetters over the weekend. The top six placings from every class on the program are listed below:
SATURDAY RESULTS
BARASTOC – RING 1
CLASS 1: OPEN – 1.05m
| | | |
| --- | --- | --- |
| PLACE | RIDER | HORSE |
| 1st | Deon Williams | Kaluga |
| 2nd | Maddison Brighton | Anembo Frost |
| 3rd | Zoe Grant | Georgie's Girl |
| 4th | Charly Robinson-Smith | Pure Obsession |
| 5th | Olivia Emmert | Emmaville Tia Maria |
| 6th | Zoe Grant | Snowy River Billy Jim |
CLASS 2: OPEN – 1.15m
| | | |
| --- | --- | --- |
| PLACE | RIDER | HORSE |
| 1st | Maddison Brighton | Anembo Monarch |
| 2nd | Joy Collins | Old Red |
| 3rd | Lane Clarke | Finch Farm Camero |
| 4th | Tori Doak | Blackall Park Rap |
| 5th | Alisa Williams | Willybling |
| 6th | Melissa Jasprizza | Woodsend Merlot |
CLASS 3: OPEN – 1.25m
| | | |
| --- | --- | --- |
| PLACE | RIDER | HORSE |
| 1st | Alisa Williams | Willybling |
| 2nd | George Riley | Valmira |
| 3rd | Kristle Cross | Little Bit Of Blue |
| 4th | Maddison Brighton | Anembo Monarch |
| 5th | Izabella Stone | Bellhaven Coolibah |
| 6th | Shannon O'Meara | CP Starlights Murphy |
CLASS 4: OPEN – 1.35m
| | | |
| --- | --- | --- |
| PLACE | RIDER | HORSE |
| 1st | Emily Riley | Rhapsody In Blue |
| 2nd | George Riley | Valmira |
| 3rd | Grant Hughes | Emmaville Blue Diamond |
| 4th | Charly Robinson-Smith | Martango |
| 5th | Lara Christoffelsz | Yalambis Jasmine |
| 6th | Kylie Cooley | Wallaroo Viva |
HORSELAND – RING 2
CLASS 5A: RIDERS UNDER 18 YEARS – 0.80m
| | | |
| --- | --- | --- |
| PLACE | RIDER | HORSE |
| 1st | Grace Vassallo | Little Valley X Factor |
| 2nd | Katy Robinson-Smith | Horse |
| 3rd | Jordan Smith | Country Fancy |
| 4th | Madison Foster | Kanembo Bronze |
| 5th | Sarah Shady | APH Libretta |
| 6th | Charly Robinson-Smith | GB Salted Pretzel |
CLASS 5B: RIDERS 18 YEARS AND OVER – 0.80m
| | | |
| --- | --- | --- |
| PLACE | RIDER | HORSE |
| 1st | Hollie Spence | Vera |
| 2nd | Breanna Lennon | BH The Menace |
| 3rd | Sandi Frolich | Weemala Mighty Mo |
| 4th | Alisa Williams | Harley |
| 5th | Kerrie Tanner | Overdane |
| 6th | Vicki Cowdroy | Anembo Von Choux |
CLASS 6: OPEN – 0.90m
| | | |
| --- | --- | --- |
| PLACE | RIDER | HORSE |
| 1st | Heidi Staples | Freckles |
| 2nd | Breanna Lennon | BH The Menace |
| 3rd | Toby Shying | Xena Warrior Princess |
| 4th | Hollie Spence | Mystery Man |
| 5th | Emily Hansen | Everything's Shiny |
| 6th | Grace Vassallo | Little Valley X Factor |
CLASS 7A: RIDERS UNDER 18 YEARS – 1.00m
| | | |
| --- | --- | --- |
| PLACE | RIDER | HORSE |
| 1st | Toby Shying | Scottie Gilbert |
| 2nd | Reese Keenan | Cuba Thyme |
| 3rd | Madison Musladin | Pamelet |
| 4th | Paige Moxey | Shadow Danseur |
| 5th | Jordan Smith | Country Platinum |
| 6th | Jada Burgun | Missile Higgins |
CLASS 7B: RIDERS 18 YEARS AND OVER – 1.00m
| | | |
| --- | --- | --- |
| PLACE | RIDER | HORSE |
| 1st | Melissa Jasprizza | Ruby |
| 2nd | Larissa Manning | Typhoon CG |
| 3rd | Heidi Staples | Freckles |
| 4th | Eleanor Miller | Kaloona Stryker |
| 5th | Merran Wallis | Arthella Superwoman |
| 6th | Eleanor Miller | Kaloona Beattie Bow |
COOKANALLA ANGUS STUD AND TUGGERANONG ADULT RIDING CLUB – RING 3
CLASS 9A: RIDERS UNDER 18 YEARS – 0.50m
| | | |
| --- | --- | --- |
| PLACE | RIDER | HORSE |
| 1st | Hannah MacCallum | Jordan |
| 2nd | Cynara Yates | Marlowe |
| 3rd | Holly Johanson | Barclay First Edition |
| 4th | Aisha Mazouz | Weemala Just Ruby |
| 5th | Chloe Anderson | Chief |
| 6th | Ella Skinner | Hazelnut |
CLASS 9B: RIDERS 18 YEARS AND OVER – 0.50m
| | | |
| --- | --- | --- |
| PLACE | RIDER | HORSE |
| 1st | Katie Johanson | A'landell Choir |
| 2nd | Lisa Musladin | Al Marah Red Roderigo |
| 3rd | Kate Mackenzie | Banjo |
| 4th | Charlotte Dawes | Throw To The Wind |
| 5th | Isobel Pluis | Tarburra Millificent |
| 6th | Bree Schramko | Weemala Prelude |
CLASS 10: OPEN – 0.60m
| | | |
| --- | --- | --- |
| PLACE | RIDER | HORSE |
| 1st | Alice Breed | Fox In Sox |
| 2nd | Holly Pulford | Magic Blur |
| 3rd | Ella Young | Racconto |
| 4th | Bronte Whitehead | Iced Tee |
| 5th | Lauren Sealey | Queen Of Crime |
| 6th | Kirby Aylett | TF Creme Dela Creme |
CLASS 11A: RIDERS UNDER 18 YEARS – 0.70m
| | | |
| --- | --- | --- |
| PLACE | RIDER | HORSE |
| 1st | Alice Breed | Fox In Sox |
| 2nd | Miranda Hadlow | Premier Award |
| 3rd | Ellie Peden | Little Rav |
| 4th | Charlotte Foster | Rosthwaite Bertie Beetle |
| 5th | Emma Karsten | Gorserella Mikra |
| 6th | Nicola French | Cartney |
CLASS 11B: RIDERS 18 YEARS AND OVER – 0.70m
| | | |
| --- | --- | --- |
| PLACE | RIDER | HORSE |
| 1st | Lucy Boseley | Hillbro Reyn Man |
| 2nd | Grace Aksila | Alpha Lane |
| 3rd | Isobel Pluis | Smokey |
| 4th | Aimee Lewis | LP Obviously A Ringer |
| 5th | Molly Anderson | Johnny |
| 6th | Alana Scicluna | Charlie |
SUNDAY RESULTS
BARASTOC – RING 1
CLASS 12A: OPEN – 1.15m
| | | |
| --- | --- | --- |
| PLACE | RIDER | HORSE |
| 1st | Lane Clarke | Finch Farm Camero |
| 2nd | Natalie Blundell | Tarburra Puss N Boots |
| 3rd | Emily Riley | Charisma Blues |
| 4th | Clinton Van Der Sanden | Guido Hatzis |
| 5th | Michael Cross | Emmaville Da Vinci |
| 6th | Lori James | Restauranter SHP |
CLASS 12B: JUMPING NSW – AMATEURS – 1.15m
| | | |
| --- | --- | --- |
| PLACE | RIDER | HORSE |
| 1st | Sarah Dodd | Oaks Carmine |
| 2nd | Jim Scobie | Fernhill Aussie Balou |
| 3rd | Ella Fisher | Blackall Park Vancouver |
| 4th | Belinda Carruthers | Your Honour |
| 5th | Anna Musgrove | Statford Narnia |
| 6th | Joy Collins | Old Red |
CLASS 12C: JUNIOR CHAMPIONSHIP – 1.15m
| | | |
| --- | --- | --- |
| PLACE | RIDER | HORSE |
| 1st | Zoe Grant | Snowy River Billy Jim |
| 2nd | Alexandra Inglis | Glenara Affogato |
| 3rd | Madelayne Burgess | Glentana Taima |
| 4th | Reese Keenan | Navahome Bono |
| 5th | Cora Whitehead | HPH Manifesto |
| 6th | Charly Robinson-Smith | Pure Obsession |
CLASS 13: OPEN – 1.25m
| | | |
| --- | --- | --- |
| PLACE | RIDER | HORSE |
| 1st | Tori Doak | Blackall Park Rap |
| 2nd | Melissa Jasprizza | Just Frank |
| 3rd | Alisa Williams | Willybling |
| 4th | Maddison Brighton | Anembo Monarch |
| 5th | Kylie Cooley | Wallaroo Viva |
| 6th | Lara Christoffelsz | Yalambis Jasmine |
CLASS 14: CANBERRA CUP GRAND PRIX – 1.35m
| | | |
| --- | --- | --- |
| PLACE | RIDER | HORSE |
| 1st | Emily Riley | Rhapsody In Blue |
| 2nd | George Riley | Valmira |
| 3rd | Grant Hughes | Emmaville Blue Diamond |
| 4th | Izabella Stone | Bellhaven Coolibah |
| 5th | Kylie Cooley | Wallaroo Viva |
| 6th | Alicia Daly | Bellhaven Asha |
CLASS 15: OPEN – 1.05m
| | | |
| --- | --- | --- |
| PLACE | RIDER | HORSE |
| 1st | Deon Williams | Kaluga |
| 2nd | Lane Clarke | Emmaville Silverton |
| 3rd | Maddison Brighton | Anembo Jedi |
| 4th | Jordan Smith | Country Vision |
| 5th | Ella Norton | Island Astronaut |
| 6th | Alisa Williams | Rhienstone |
HORSELAND – RING 2
CLASS 16: OPEN – 0.80m
| | | |
| --- | --- | --- |
| PLACE | RIDER | HORSE |
| 1st | Isabel Widdison | Weemala Cougar |
| 2nd | Hollie Spence | Vera |
| 3rd | Jordan Smith | Country Fancy |
| 4th | Estella Manning | Evie Knievie |
| 5th | Alisa Williams | Harley |
| 6th | Wayne Humphrys | Smokey Grenadier |
CLASS 17A: RIDERS UNDER 18 YEARS – 0.90m
| | | |
| --- | --- | --- |
| PLACE | RIDER | HORSE |
| 1st | Aleea Evans | Arthella Steve |
| 2nd | Sarah Shady | APH Libretta |
| 3rd | Maddie Burgess | Wee Marla Mighty Mo |
| 4th | Madison Musladin | Pamelet |
| 5th | Maddi Burgess | Lyrican's Dream |
| 6th | Amber Wheeler | Frank N Bul |
CLASS 17B: RIDERS 18 YEARS AND OVER – 0.90m
| | | |
| --- | --- | --- |
| PLACE | RIDER | HORSE |
| 1st | Emily Hansen | Everything's Shiny |
| 2nd | Hollie Spence | Vera |
| 3rd | Phoebe Doohan | Lady Lux |
| 4th | Melissa Jasprizza | Ruby |
| 5th | Heidi Staples | Freckles |
| 6th | Isabel Widdison | Weemala Cougar |
CLASS 18: OPEN – 1.00m
| | | |
| --- | --- | --- |
| PLACE | RIDER | HORSE |
| 1st | Maddison Brighton | Anembo Frost |
| 2nd | Melissa Jasprizza | Ruby |
| 3rd | Cassie Nicholls | Brookton |
| 4th | Reese Keenan | Cuba Thyme |
| 5th | Emerson Armstrong | Astro |
| 6th | Shannon O'Meara | Isle Of D'lago |
COOKANALLA ANGUS STUD AND TUGGERANONG ADULT RIDING CLUB – RING 3
CLASS 20: OPEN – 0.50m
| | | |
| --- | --- | --- |
| PLACE | RIDER | HORSE |
| 1st | Phoebe Doohan | Matilda |
| 2nd | Lisa Musalidin | El Mara |
| 3rd | Portia Stokes | Birtwick Park Milewy |
| 4th | Bronte Whitehead | Sparkles |
| 5th | Katie Johanson | A'landell Choir |
| 6th | Ruby Kenny | The Dark Knight |
CLASS 21A: RIDERS UNDER 18 YEARS – 0.60m
| | | |
| --- | --- | --- |
| PLACE | RIDER | HORSE |
| 1st | Hannah MacCallum | Jordan |
| 2nd | Eleanor Tehan | Lulu |
| 3rd | Jemima Farmer | Cloverlea Penny Lane |
| 4th | Ellie Surawski | Spook |
| 5th | Annabeth Hugo | Sebring Starr |
| 6th | Amy De Burgh | Oakie Dokie |
CLASS 21B: RIDERS 18 YEARS AND OVER – 0.60m
| | | |
| --- | --- | --- |
| PLACE | RIDER | HORSE |
| 1st | Holly Pulford | Magic Blur |
| 2nd | Nikki Fitzherbert | Arthella Liberachi |
| 3rd | Emily Riley | T2 |
| 4th | Kylie Cooley | Cassie |
| 5th | Shannon Plowright | Zorro |
| 6th | Natalie Blundell | Itz Paris |
CLASS 22: OPEN – 0.70m
| | | |
| --- | --- | --- |
| PLACE | RIDER | HORSE |
| 1st | Alice Breed | Fox In Sox |
| 2nd | Charlotte Foster | Rosthwaite Bertie Beetle |
| 3rd | Ella Young | Racconto |
| 4th | Eleanor Tehan | Lulu |
| 5th | Phoebe Doohan | Matilda |
| 6th | Kirby Aylett | TF Creme Dela Creme |
Results sourced from globalentriesonline.com.au
View Comments