A Tough Day In the Office for the Aussies at World Champs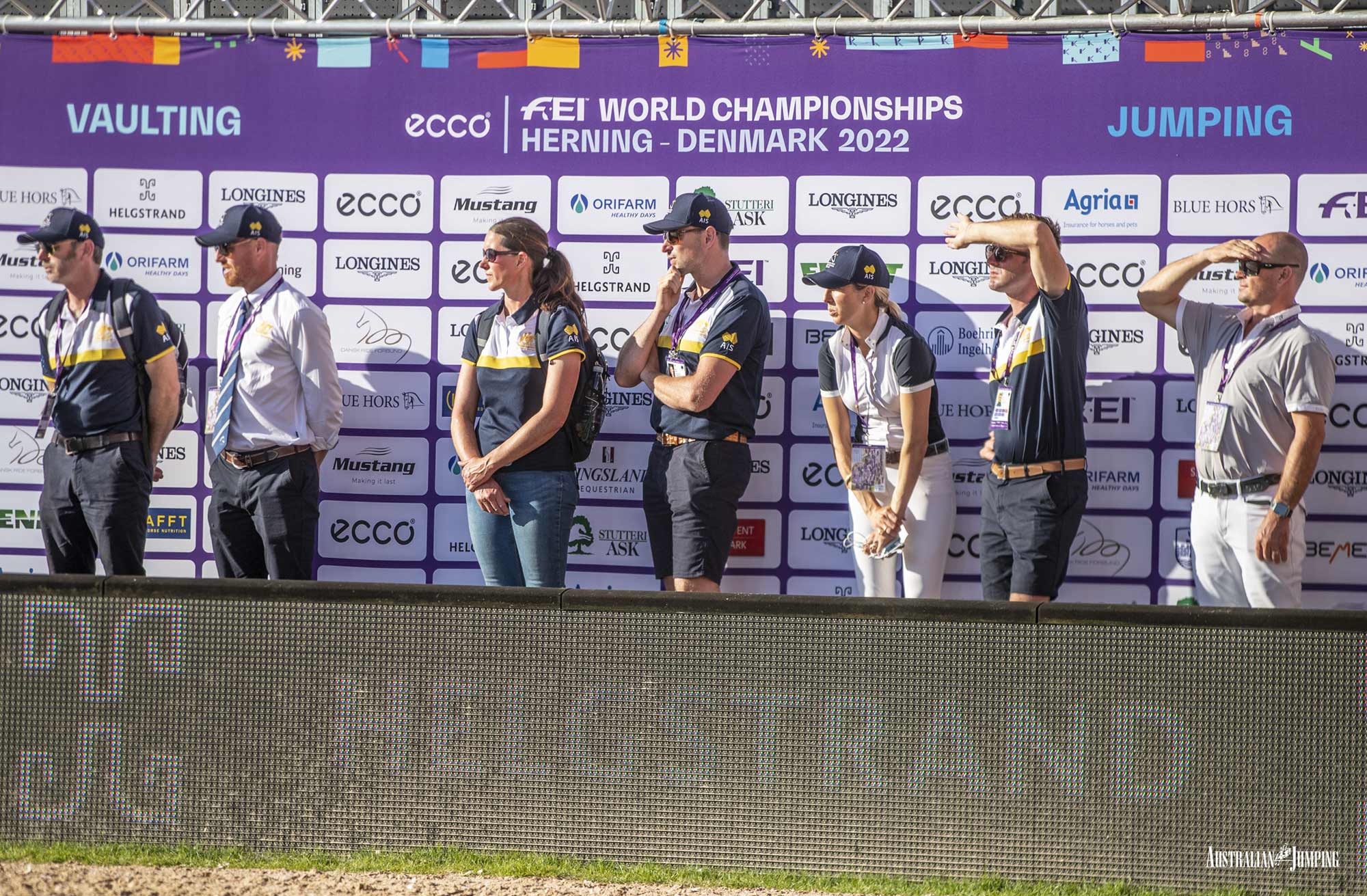 Australian Jumping
After yesterday's solid start by the Australian Jumping Team at the World Equestrian Championships at Herning in Denmark, (click HERE for our full story), the team were looking to improve their performances today to ensure qualification for tomorrow's team finals.
Faults incurred today would be added to yesterday's calculated faults with the totals deciding the top 10 teams and top 60 individual combinations to go through to tomorrow's competition.
Advertisement


Team Australia started today in 15th position with 14.9 faults, well behind the leaders, Sweden on 3.69 faults, but just over a rail behind the 10th placed Italians on 9.76 faults. It was going to be a tough task but without doubt, an achievable one.
Focusing on the individuals, if Australia were not to qualify as a team, then a top 60 position at the end of today would be required to get on the start list for Friday. After the first day's competition, Billy Raymont (43rd), Hilary Scott (55th) and Katie Laurie (57th) all sat above the cut-off, with James Arkins in 62nd just a touch outside. Each rider would be looking to improve these positions to ensure progression to Friday's competition.
The course looked an absolute picture under clear blue skies with the temperature rising into the high 20's C. The course designers, Louis Konickx and Quintin Maertens, both from the Netherlands did a fantastic job integrating aspects of Danish culture into the fences. This included Swans (being the national bird), Marguerite Daisys (the national flower), lighthouses, the coloured houses of Nyhavn, a nod to the works of Hans Christian Anderson, as well as trolls, because Denmark is the land of the trolls – (although we are yet to actually see any!).
Just as yesterday, it was Billy Raymont and Black Jack IXE leading the way for Australia, out 7th in the start list. They started positively, however, fence 5B saw a rail fall as did another shortly after. When the water jump judge raised his little red flag for what looked like the smallest of indiscretions, they had accumulated 12 faults, which was the extent of the scoring for the round. Adding 12 to yesterday's 4.63 saw Raymont's total rise to 16.63. Certainly not what he would have wanted, but with a drop score available to the team, there was no issue yet for team Australia.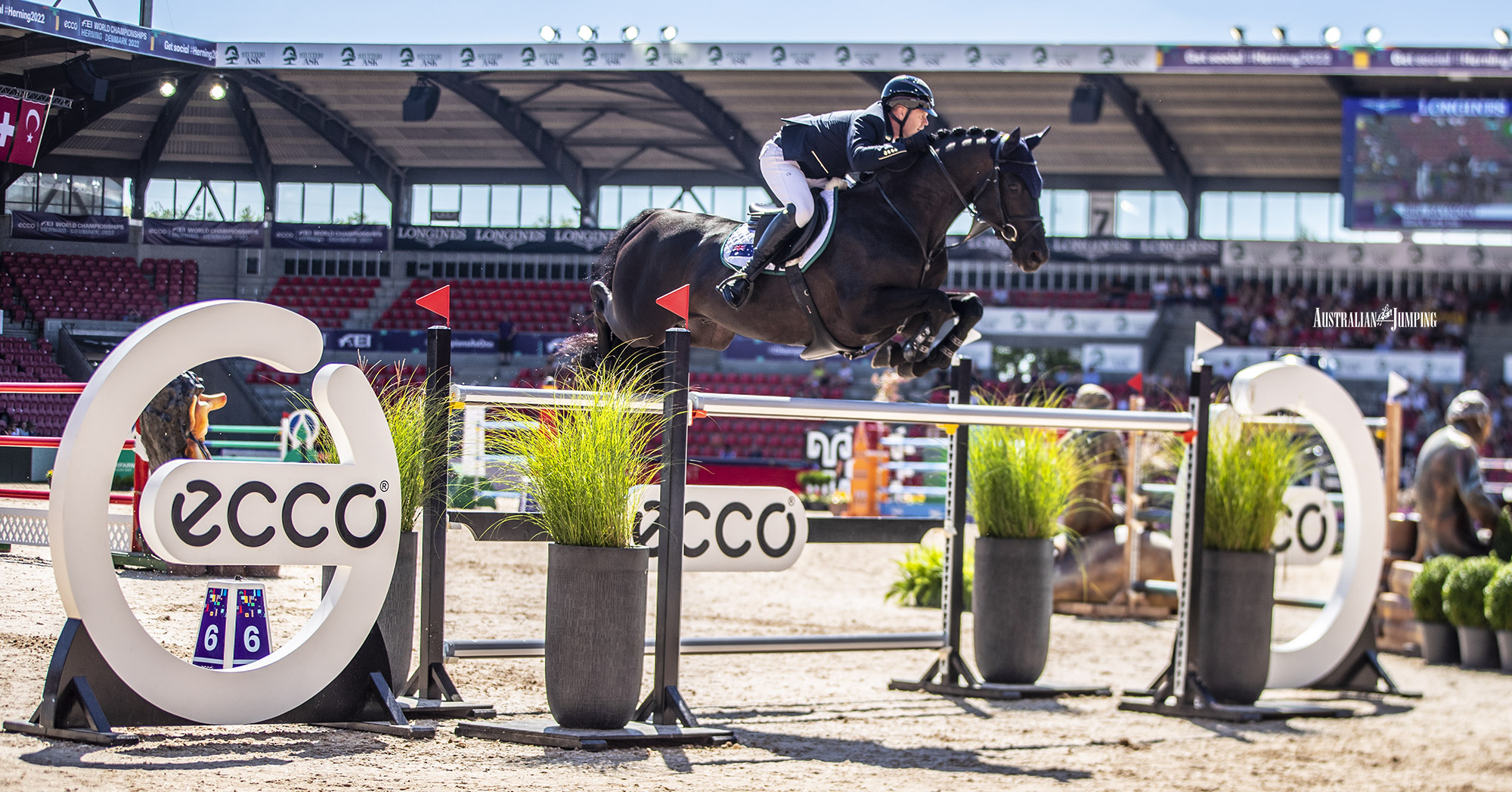 Above: Billy Raymont and Black Jack IXE.
After the round, Billy said that he was "super proud" of the horse and that Black Jack had "tried very hard, over one of the biggest tracks he had ever jumped". Billy  however, said he was a little disappointed in himself because he "felt did not give the horse as good a ride as he could have". That may be the case – but from what we could see he rode exceptionally well and did Australia proud in both classes.
Advertisement


At position 35 in the draw were James Arkins and Eurostar 1, Australia's second combination. As with Billy and Black Jack before them, they started well, however, once again it was the double 5A and 5B which caused a problem for Australia. By the time they got to fence six, they were on 8 faults and one further rail down before then end saw them finish with 12. Taking yesterday's 5.71 into account James and Eurostar ended up on 17.71, slotting in just one place below Billy.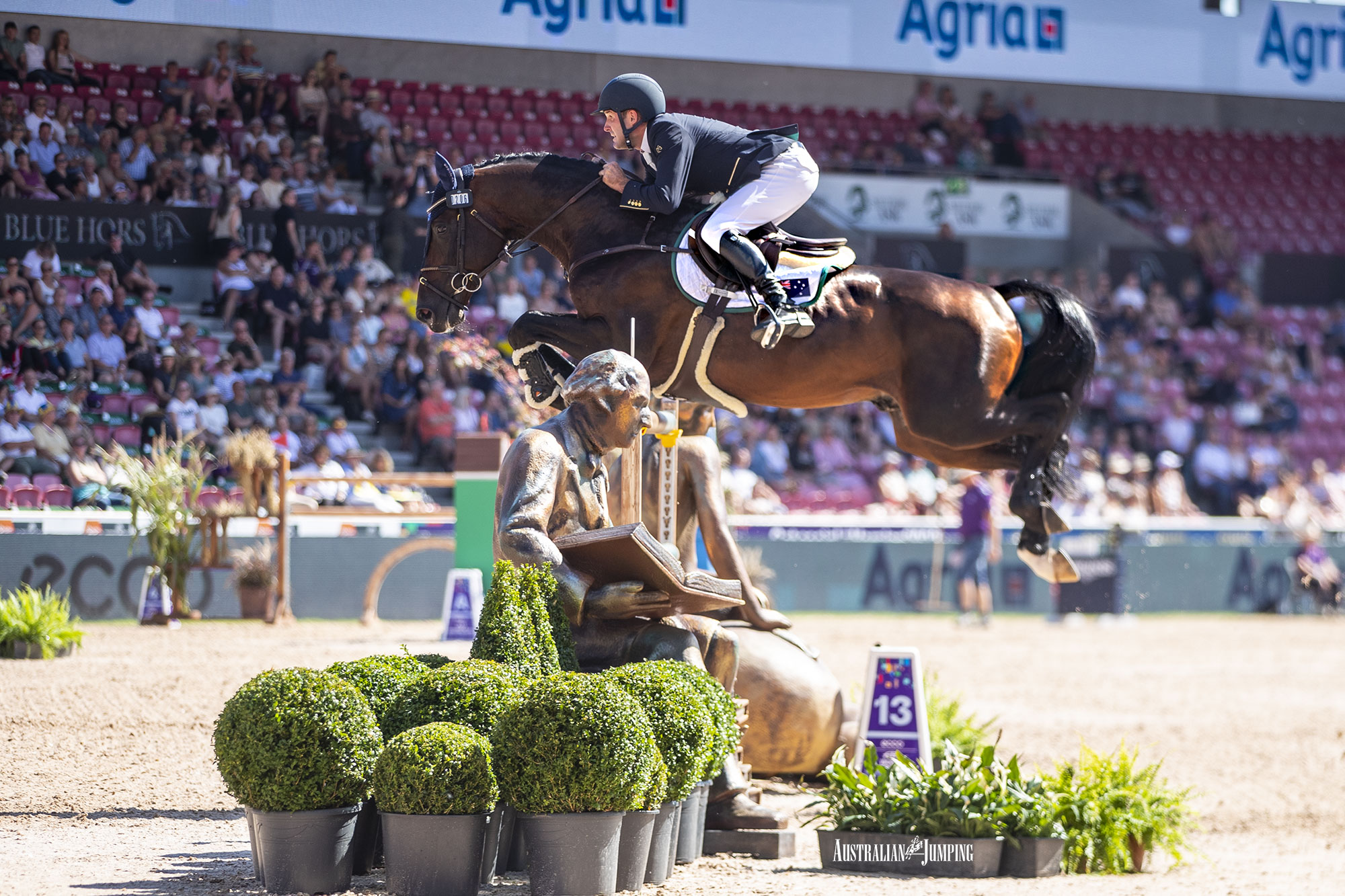 Above: James Arkins and Eurostar 1.
Now the pressure was really on the girls, as at least one of the 12's scored by the boys would have to be counted.
After the round James said that he was "happy with the way the horse had warmed up, but one mistake leading into the fifth jump had caused a problem", Overall he was "very happy how the horse had performed over a meaty track".
After a further 26 combinations, we saw Katie Laurie and her gelding Django II out at position 61 in the order. Unfortunately for them, the third fence proved to be an issue and after this, Katie seemed to slow the pace and take a more careful course. They made it all the way through to the last before a second rail was taken, however their pace incurred a single time penalty to finish with a total of nine. After their 5.16 the previous day, they finished on 14.16. At the third break, with 63 of the 103 combinations finished, they found themselves in 40th position, and so began a nervous wait to see if their 14.16 would be good enough to make the top 60 qualifying for Friday.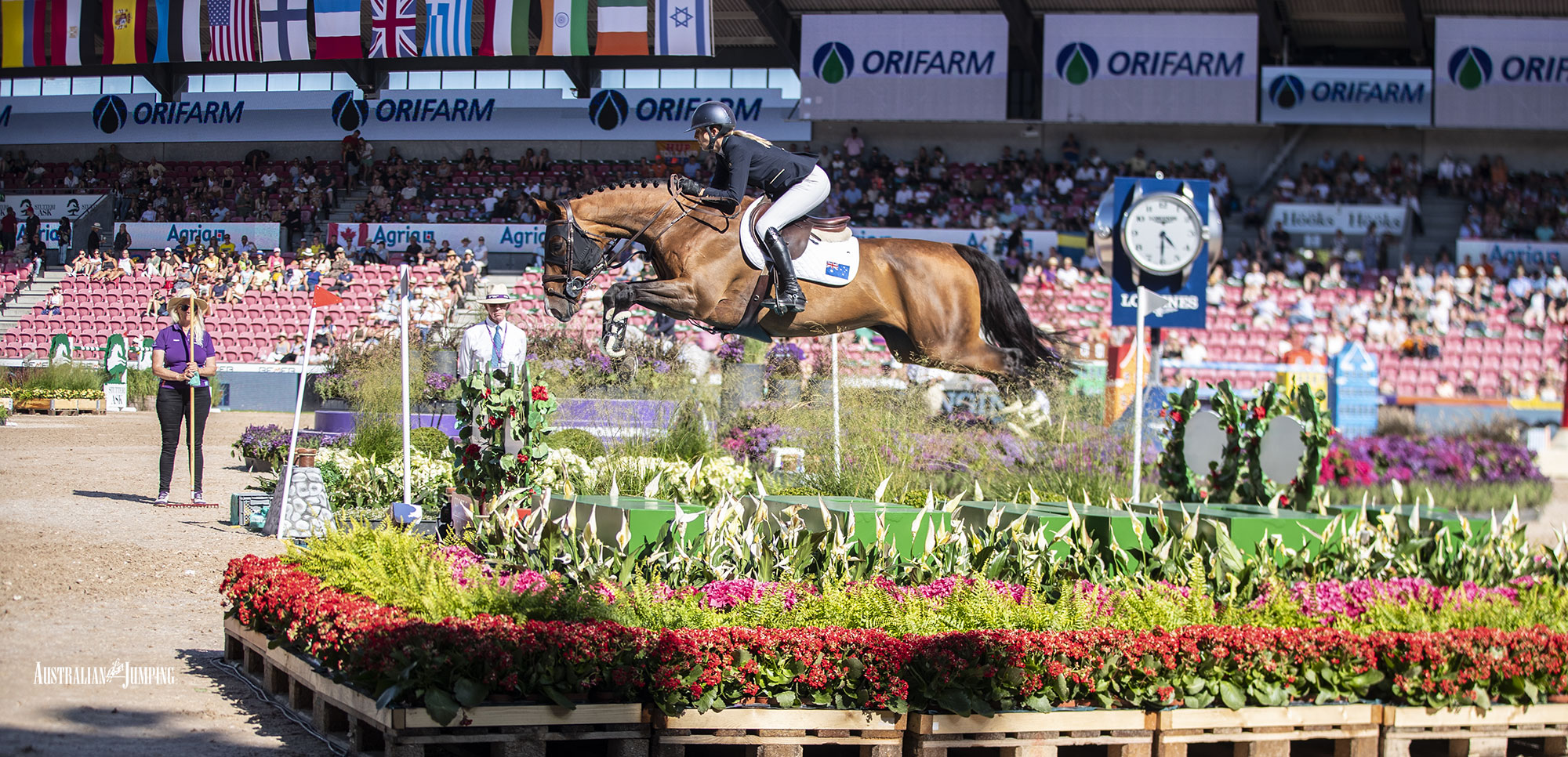 Above: Katie Laurie and Django II.
Our anchor combination, as was the case yesterday, were Hilary Scott and Oaks Milky Way coming out at 86 in the order. They took a rail very early on in the round and looked as if they were going to get away with just the four faults. However, it was not to be. Two further rails towards the end of the course meant that like their two earlier compatriots, 12 faults was the order of the day. When the judges added their 5.11 faults from yesterday, this combination ended with a score of 17.11, which immediately placed them outside the top 60.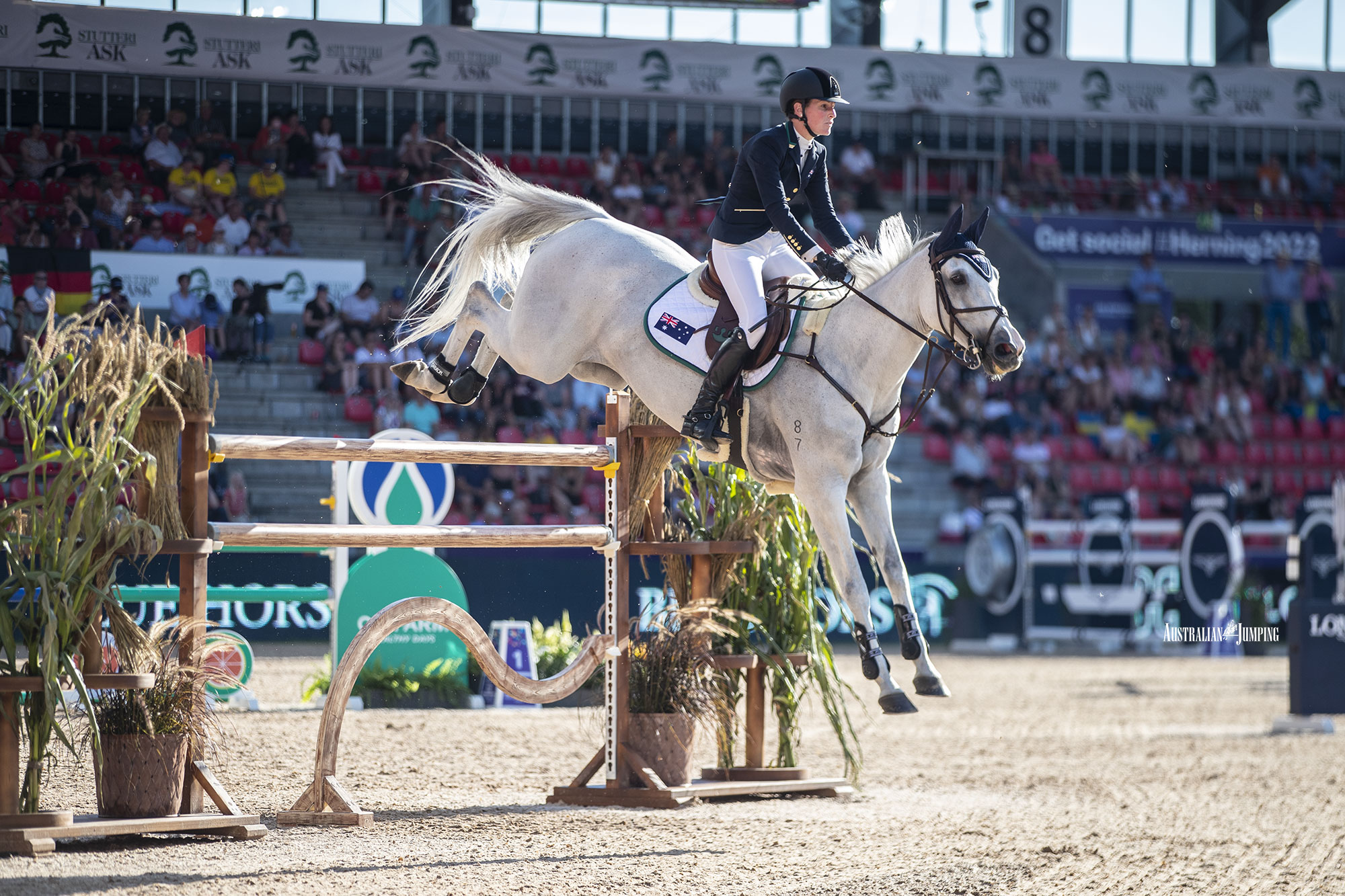 Above: Hilary Scott and Oaks Milky Way.
Katie Laurie and Django II hung on to their top 60 placing for a little while, but little by little as some of the very best combinations in the world produced clear rounds, they slipped out of contention. So close, but not close enough
So a World Championship campaign that started with high hopes has ended a day or two earlier than we would have preferred. Every member of the team gave it their best and the consistency of the team was remarkable, given how close they all finished to each other. Below is a summary of how the Aussies faired as individuals:
| | | | |
| --- | --- | --- | --- |
| Place | Rider | Horse | Score |
| 63rd | Katie Laurie | Django II | 14.16 |
| 76th | Billy Raymont | Black Jack IXE | 16.63 |
| 77th | Hilary Scott | Oaks Milky Way | 17.11 |
| 78th | James Arkins | Eurostar 1 | 17.71 |
Regarding the team results, at the end of today's competition, Australia sit in 20th place, well outside the top 10 and therefore out of contention. The top 10 countries qualifying for tomorrow's final are listed below and we are sure it will be an exciting conclusion to the teams competition, particularly given less than two rails separate third to tenth.
| | | |
| --- | --- | --- |
| Place | Country | Score |
| 1st | Sweden | 3.69 |
| 2nd | France | 5.44 |
| 3rd | Germany | 11.76 |
| 4th | Netherlands | 13.31 |
| 5th | Belgium | 13.49 |
| 6th | Great Britain | 14.66 |
| 7th | Switzerland | 14.83 |
| 8th | Canada | 15.56 |
| 9th | Ireland | 17.15 |
| 10th | Brazil | 17.29 |
| 20th | Australia | 47.90 |
View Comments