UPDATED – It's looking bright for Bec Bates as QLD Amateur Series nears conclusion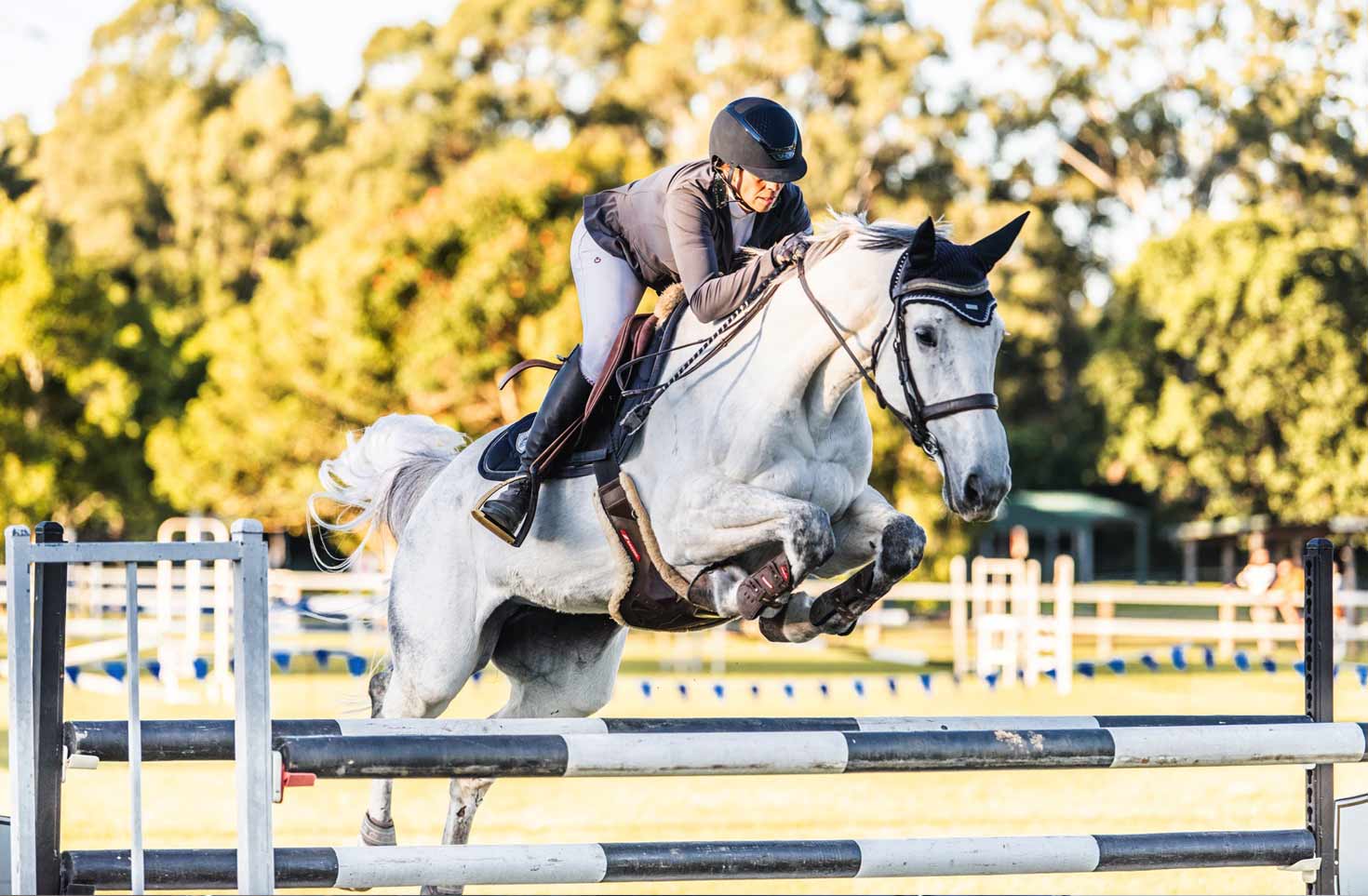 Jasmine Dunmore Photography
Above: Bec Bates. Photo credit: Jasmine Dunmore Photography
UPDATE
We have been advised by Jumping Queensland that they made an administrative error when calculating the points from one of the earlier rounds in the Series, which means that the cumulative series point score we provided in our previous article is incorrect.
Bec Bates is still in the lead, however, it she has a smaller lead than we reported and there are now three riders still in contention to win the title. It promises to be a thrilling last round at the Elysian Fields Winter Classic to be held next weekend, 31 July and 1 August.
Advertisement


The corrected championship standings going into the final round is listed below.
| | | |
| --- | --- | --- |
| Place | Rider | Points |
| 1st | Bec Bates | 22 |
| 2nd | Sarah Weiss | 19 |
| 3rd | Mia Smith | 16 |
| =4th | Rob Freeman | 14 |
| =4th | Amy Bradfield | 14 |
| =6th | Elizma English | 8 |
| =6th | Jessie Knight | 8 |
| =6th | Juanita Whip | 8 |
ORIGINAL ARTICLE
Recently, we reviewed the progress of the Jumping NSW Amateur Championship at the half-way point of the season (click HERE) and today we take a look at the standings in the Queensland Amateur Showjumper of the Year Series as it nears its conclusion.
Advertisement

The Queensland Amateur Championship which has been sponsored by Finch Farm and Rockhampton Saddleworld, is scheduled to run across 12 rounds and with just one round remaining, Bec Bates from the Gold Coast Equestrian Club holds a virtually unassailable lead on 23 points, thanks to the five points she picked up last Sunday at the GCEC round.
With seven points on offer for the win in the last round, only Mia Smith who currently lies on 16 points has any chance of catching Bates, but she would need to win and Bates pick up no points to tie with her.
Advertisement


In third place currently lies Sarah Weiss, who picked up maximum points last Sunday to advance her total from eight to fifteen points. Tied in fourth place on 14 points are Amy Bradfield and Robert Freeman, who have both picked up a round win throughout the competition at Toowoomba Show and Dalby Show respectively.
The final round of the series, scheduled at the Elysian Fields Winter Classic to be held at the end of July, promises to provide an exciting conclusion, to the Series with the battle for the minor places wide open.
We have listed the top point scorers in each round conducted so far as well as the top eight overall placed riders in the championship.
ROUND 1: TAMBORINE EQUESTRIAN GROUP (Jan)
| | | |
| --- | --- | --- |
| Place | Rider | Points |
| 1st | Blake Jones | 7 |
| 2nd | Kimberley McCoy | 5 |
| 3rd | Carly Overton | 4 |
| 4th | Bec Bates | 3 |
ROUND 2: AQUIS FARM (Feb)
| | | |
| --- | --- | --- |
| Place | Rider | Points |
| 1st | Mia Smith | 7 |
| 2nd | Jessie Knight | 5 |
| 3rd | Jacinta Kennedy | 4 |
| 4th | Deziree Roos | 3 |
| 5th | Bridgette Thompson | 2 |
| 6th | Darcy Emery | 1 |
ROUND 3: WARWICK SHOW (Mar)
| | | |
| --- | --- | --- |
| Place | Rider | Points |
| 1st | Bec Bates | 7 |
| 2nd | Kelsie Crantston | 5 |
| 3rd | Amy Bradfield | 4 |
| 4th | Shannon Bates | 3 |
| 5th | Sarah Weiss | 2 |
| 6th | Katelyn Burgess | 1 |
ROUND 4: LOCKYER JUMP CLUB (Apr)
| | | |
| --- | --- | --- |
| Place | Rider | Points |
| 1st | Katrina Harrison | 7 |
| 2nd | Sammi Moffat | 5 |
| 3rd | Elizma English | 4 |
| 4th | Jessie Knight | 3 |
| 5th | Sarah Weiss | 2 |
| 6th | Jodie Berman | 1 |
ROUND 5: TOOWOOMBA ROYAL SHOW (Apr)
| | | |
| --- | --- | --- |
| Place | Rider | Points |
| 1st | Amy Bradfield | 7 |
| 2nd | Juanita Whip | 5 |
| 3rd | Elizma English | 4 |
| 4th | Alison Denny | 3 |
| 5th | Jodie Skeels | 2 |
| 6th | Bec Bates | 1 |
ROUND 6: DALBY SHOW (Apr)
| | | |
| --- | --- | --- |
| Place | Rider | Points |
| 1st | Robert Freeman | 7 |
| 2nd | Gemma Coleman | 5 |
| 3rd | Sarah Weiss | 4 |
| 4th | Amy Bradfield | 3 |
| 5th | Jodie Skeels | 2 |
| 6th | Bridgette Thompson | 1 |
ROUND 7: BROOKFIELD SHOW (May)
| | | |
| --- | --- | --- |
| Place | Rider | Points |
| 1st | Bec Bates | 7 |
| 2nd | Laura Burke | 5 |
| 3rd | Jaime Page | 4 |
| 4th | Lisette Schults-Rand | 3 |
| 5th | Mark Nichols | 2 |
ROUND 8: SUNSHINE COAST SHOW (Jun)
| | | |
| --- | --- | --- |
| Place | Rider | Points |
| 1st | Kylie Slaughter | 7 |
| 2nd | Nicole Murphy | 5 |
| 3rd | Angus Graham | 4 |
| 4th | Robert Freeman | 3 |
| 5th | Rockell Williamson-Rudder | 2 |
| 6th | Brittany Ireland | 1 |
ROUND 9: GATTON WORLD CUP SHOW (Jun)
| | | |
| --- | --- | --- |
| Place | Rider | Points |
| 1st | Victoria Doak | 7 |
| 2nd | Samantha Harrison | 5 |
| 3rd | Mia Smith | 4 |
| 4th | Juanita Whip | 3 |
| 5th | Sammi Moffat | 2 |
| 6th | Robert Freeman | 1 |
ROUND 10: CABOOLTURE WORLD CUP SHOW (Jun)
| | | |
| --- | --- | --- |
| Place | Rider | Points |
| 1st | Holly Penfold | 7 |
| 2nd | Mia Smith | 5 |
| 3rd | Alison Ford | 4 |
| 4th | Tara Khan | 3 |
| 5th | Jessie Smith | 2 |
ROUND 11: GOLD COAST WINTER FESTIVAL (Jul)
| | | |
| --- | --- | --- |
| Place | Rider | Points |
| 1st | Sarah Weiss | 7 |
| 2nd | Bec Bates | 5 |
| 3rd | Lisette Schults-Rand | 4 |
| 4th | Robert Freeman | 3 |
| 5th | Bree Lang | 2 |
| 6th | Anita Bridge | 1 |
OVERALL POINTS SCORE AFTER ELEVEN ROUNDS
| | | |
| --- | --- | --- |
| Place | Rider | Points |
| 1st | Bec Bates | 23 |
| 2nd | Mia Smith | 16 |
| 3rd | Sarah Weiss | 15 |
| =4th | Rob Freeman | 14 |
| =4th | Amy Bradfield | 14 |
| =6th | Elizma English | 8 |
| =6th | Jessie Knight | 8 |
| =6th | Juanita Whip | 8 |
View Comments