Olivia Hamood and Knockout 111 take out Arilla Cup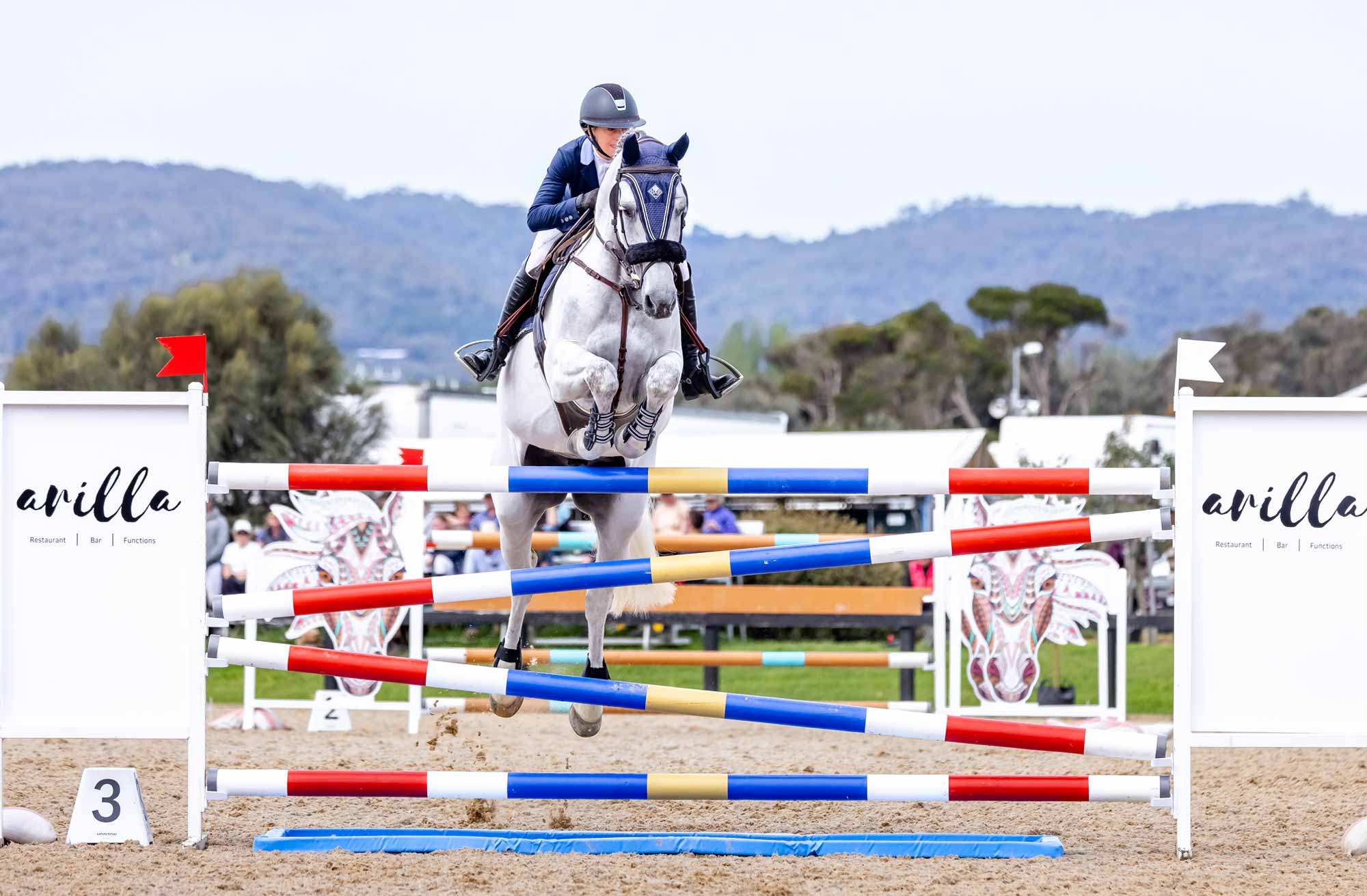 OneEyedFrog Photography
Above: Olivia Hamood and Knockout 111. Photo Credit: OneEyedFrog Photography.
The three-day Arilla Cup show wrapped up this afternoon at the beautiful Boneo Park Equestrian Complex, with the Arilla Cup the highlight of the day. For wraps on the results from Day 1, click HERE and from Day 2, click HERE.)
Advertisement


We have plenty to look forward to if the Future Stars Championship was any indication of some of the up-and-coming horses we have in Australia. A total of 57 combinations tackled the course producing 22 clears and following an exciting jump-off, 13 double clears. The class was decided on time and it came down to the barest of margins. Rebecca Jenkins and Incredible C completed the jump off course in 36.32 seconds to take the win from Jamie Winning-Kermond and Yandoo Honolulu with a time of 36.39 seconds. A time of 36.62 seconds saw Frida Lindgren and Sovereign's Halo into third.
An open height class run concurrently with the Future Stars was just as compelling. Of the 21 combinations entered, only a double clear performance was enough to gain a place on the podium. The winners, in a jump off time of 36.45 seconds were Sally Simmonds and Chio MS. Second place, in a time of 39.62 were Conor Reed and Alpha Activity, their third second placing in as many days. Shane Davidson and Spectre D rounded out the podium, finishing third in 42.94 seconds.
Advertisement


The next class was the JPR Equestrian Mini Prix. Given there were 45 combinations entered what were the chances of JPR winning the class? As it turned out, in a fantastic double clear performance, James Paterson-Robinson and Dublin were the clear winners with a jump-off time of 38.07 seconds, over three seconds faster than their nearest rivals. Frida Lindgren and Mabobri De Mabribo had to be content with second place, with a time of 41.22 seconds, while Queenlanders, Gemma Creighton and It's Silkbridge claimed third in 43.14 seconds.

Above: James Paterson-Robinson and Dublin. Photo Credit: OneEyedFrog Photography.
The feature class on the program – the Arilla Cup was up next and while only 16 combinations entered, it was certainly a class field, many of which we will see competing in the Senior Championship at next week's Pryde's EasiFeed Australian Jumping Championships. The clear winners with a wonderful double clear performance was the defending Australian Senior Champion rider, Olivia Hamood with Knock Out 111. Their second-round time of 47.69 seconds was enough to force the other double clear combination, Gemma Creighton and Dada Des Brimbelles Z (51.55 seconds) into second place. Third place, with a single rail in the second round and a time of 51.24 seconds were Robert Palm and Jaybee Vibrant.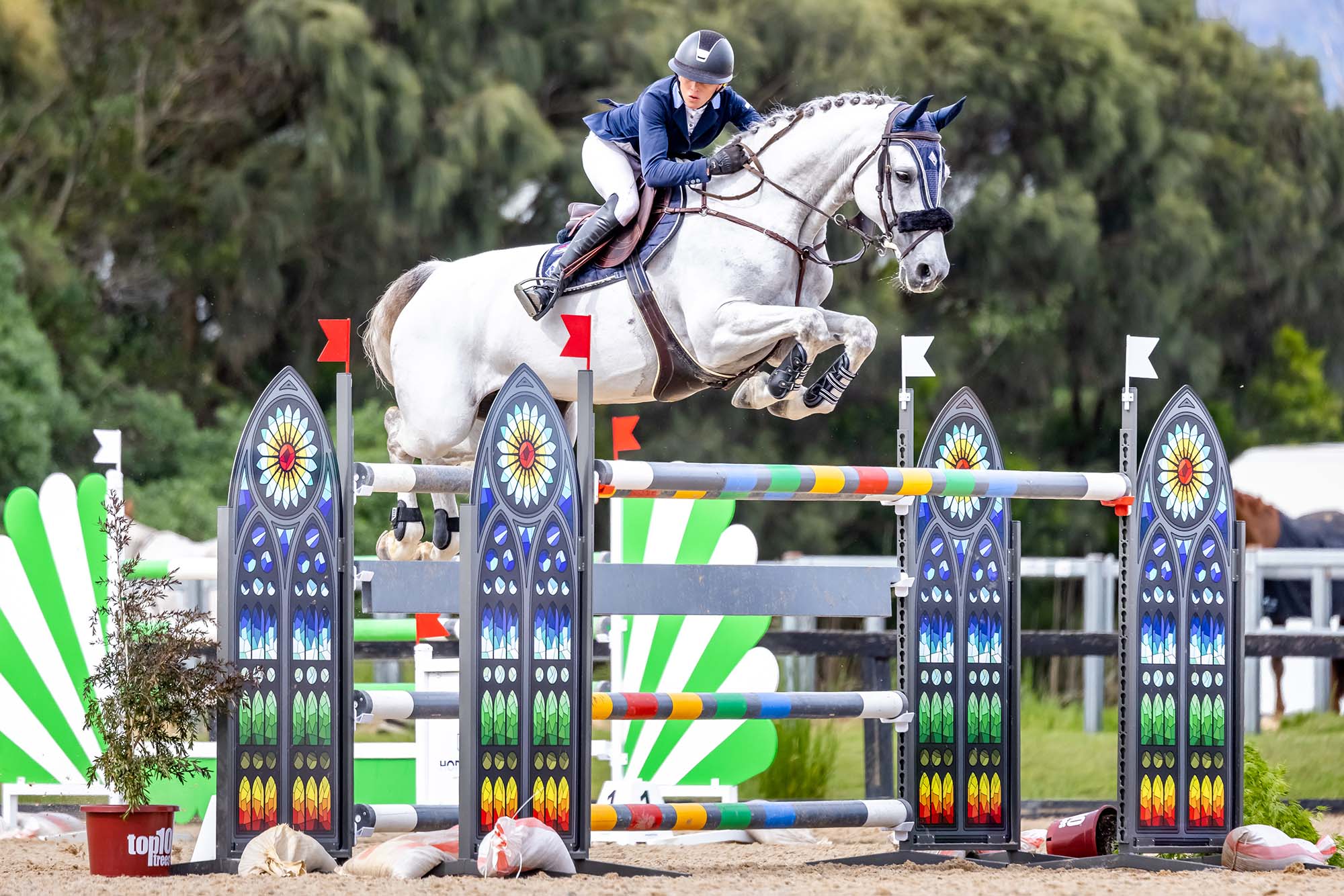 Above: Olivia Hamood and Knockout 111. Photo Credit: OneEyedFrog Photography.
There was just one more class on the main arena; the Victorian Racing Club Off The Track Championship. Katie Clark and Katelle Grand took the win with a jump off time of 29.44 seconds. Also double clear and stopping the clock in 30.91 seconds in second were Tinky Konecny and Hot And Spicey. Fuschia Criss and Amazena were third, also double clear, with a jump-off time of 31.96 seconds.
It has been a fantastic three days of competition and now that we are done with the preliminaries, we can't wait for the Pryde's EasiFeed Australian Championships to start on Wednesday. Just three more sleeps to go!
Congratulations to all the winners and placegetters from all today's classes, who are listed below:
RING 2
CLASS 24A: FUTURE STARS CHAMPIONSHIP
| | | |
| --- | --- | --- |
| PLACE | RIDER | HORSE |
| 1st | Rebecca Jenkins | Incredible C |
| 2nd | Jamie Winning-Kermond | Yandoo Honolulu |
| 3rd | Frida Lindgren | Sovereign's Halo |
| 4th | Sally Simmonds | Oaks Kingfisher |
| 5th | Phillip Lever | Bonita |
| 6th | Tyrone Latham | Yirrkala Harriet |
CLASS 24B: OPEN CHAMPIONSHIP
| | | |
| --- | --- | --- |
| PLACE | RIDER | HORSE |
| 1st | Sally Simmonds | Chio MS |
| 2nd | Conor Reed | Alpha Activity |
| 3rd | Shane Davidson | Spectre D |
| 4th | Jessica Grant | For Fly Heldenlaan Z |
| 5th | Kendall Richards | Bonita Auriela |
| 6th | Max Height | Castlederg |
CLASS 25: JPR EQUESTRIAN – MINI PRIX
| | | |
| --- | --- | --- |
| PLACE | RIDER | HORSE |
| 1st | James Paterson-Robinson | Dublin |
| 2nd | Frida Lindgren | Mabobri De Mabribo |
| 3rd | Gemma Creighton | It's Silkbridge |
| 4th | Russell Morrison | CE Cajun |
| 5th | Jamie Winning-Kermond | Tulara Stolensky |
| 6th | Madeline Sinderberry | Gredstedgaards Number One |
CLASS 26: ARILLA CUP
| | | |
| --- | --- | --- |
| PLACE | RIDER | HORSE |
| 1st | Olivia Hamood | Knock Out 111 |
| 2nd | Gemma Creighton | Dada Des Brimbelles Z |
| 3rd | Robert Palm | Jaybee Vibrant |
| 4th | Rebecca Jenkins | Fairview Cambridge |
| 5th | Ally Lamb | Eagle Rock |
| 6th | Phillip Lever | Lomachenko |
CLASS 27: VICTORIAN RACING CLUB – OFF THE TRACK CHAMPIONSHIP
| | | |
| --- | --- | --- |
| PLACE | RIDER | HORSE |
| 1st | Katie Clark | Katelle Grand |
| 2nd | Tinky Konecny | Hot And Spicey |
| 3rd | Fuschia Criss | Amazena |
| 4th | Brad Cunningham | Stellaluna |
| 5th | Jamie Coman | Trespasser |
| 6th | Paris Wilkinson | Konquest K |
RING 3
CLASS 28A: OPEN – 1.00m
| | | |
| --- | --- | --- |
| PLACE | RIDER | HORSE |
| 1st | Charley Beecroft | Money And Power |
| 2nd | Victoria Montano | Bling Du Rouet |
| 3rd | Jada Burgun | Missile Higgins |
| 4th | Simone Tanis | Somerwaters Elite |
| 5th | Zhoe Willison | First Battalion |
| 6th | Charley Beecroft | Wonder Flash |
CLASS 28B: 5-YEAR-OLD HORSES – 1.00m
| | | |
| --- | --- | --- |
| PLACE | RIDER | HORSE |
| 1st | Courtney Scott | Pearls N Diamonds |
| 2nd | Seumas Marwood | Born To Be Wild |
| 3rd | James Harvey | GC Cornate |
| 4th | Ally Lamb | Diamond B Franklin |
| 5th | Kate Beadel | Escape E |
| 6th | Sally Black | Jeronimo |
CLASS 29A: OPEN – 1.10m
| | | |
| --- | --- | --- |
| PLACE | RIDER | HORSE |
| 1st | Cody Tincknell | Lady Quincella Gold |
| 2nd | Alexandra Inglis | Glenara Affogato |
| 3rd | Courtney Shears | Karinga |
| 4th | Sienna Holdsworth-Rose | Coolart Farm Short Torque |
| 5th | Teagan Chester | Qunirose |
| 6th | Kate Beadel | Flex E |
CLASS 29B: 6-YEAR-OLD HORSES – 1.10m
| | | |
| --- | --- | --- |
| PLACE | RIDER | HORSE |
| 1st | Conor Reed | ES Casello |
| 2nd | Grace Fuchsbichler | Parker GHP |
| 3rd | Kate Beadel | Charlotte Elmare |
| 4th | Evie Ipsen | JEP Galourado |
| 5th | Emma Smith | LT Blue Diamont |
| 6th | Sally Simmonds | Vakarra Euclase |
CLASS 30: OPEN – 1.20m
| | | |
| --- | --- | --- |
| PLACE | RIDER | HORSE |
| 1st | Sarah Weiss | Twins Delux |
| 2nd | Charly Robinson-Smith | Carisma II |
| 3rd | Olivia Hewitt-Toms | Celerity Park LM Star |
| 4th | Courtney Scott | Quinzella Z |
| 5th | Rhys Hamlyn | Finch Farm Carlton |
| 6th | Emily Gobbe | Sterling's Contesser Bella |
RING 4
CLASS 31: OPEN – 0.70m
| | | |
| --- | --- | --- |
| PLACE | RIDER | HORSE |
| 1st | Zhoe Willison | Totoka Lodge Dazzle Me |
| 2nd | Sarah Weiss | Painted Princess |
| 3rd | Josh Harvey | Marena Kismet |
| 4th | Caitlyn Duncan | Soap Opera |
| 5th | Greg Cochrane | Jingella Ruby |
| 6th | Zara Tiepermann | Ranger |
CLASS 32: OPEN – 0.80m
| | | |
| --- | --- | --- |
| PLACE | RIDER | HORSE |
| 1st | Zhoe Willison | Totoka Lodge Dazzle Me |
| 2nd | Sarah Weiss | Painted Princess |
| 3rd | Abigail Zammit | Imperial Rose |
| 4th | Millie Roberts | Blackall Park K2 |
| 5th | Emma Wall | Hey Kid |
| 6th | Charlotte Alexander | Lady Blue Scherezade |
CLASS 33A: OPEN – 0.90m
| | | |
| --- | --- | --- |
| PLACE | RIDER | HORSE |
| 1st | Lorna Clifford | Kahean Trooper Nelson |
| 2nd | Olivia Curtain | Zcella |
| 3rd | Kirra Nicholls | Calveston Mighty Joe |
| 4th | Lorna Clifford | Ngahiwi Possum |
| 5th | Jake Tomlinson | Vinchino |
| 6th | Charli Stevens | CR Cruising |
CLASS 33B: 4-YEAR-OLD HORSES – 0.90m
| | | |
| --- | --- | --- |
| PLACE | RIDER | HORSE |
| 1st | Julie Bramucci | Rafiki Epic Deal |
| 2nd | Conor Reed | Czuko |
| 3rd | Jack Barker | Tulara Karash |
| 4th | Abigail Zammit | Imperial Rose |
| 5th | Jamie Priestley | Team Priestley Katniss |
| 6th | Amanda Leyshan | Glenara Viva Kara |
Results sourced from online.equipe
View Comments