rider History
Sam Campbell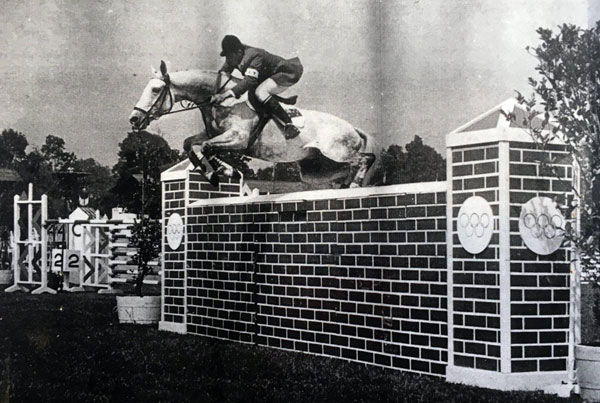 Supplied
Above: Sam Campbell and April Love at the Mexico Olympics in 1968
Sam Campbell (born 29 September 1944) grew up in Walcha NSW (near Tamworth) and lived on a number of outback stations in his early years. Sam became interested with horses as he grew up, 'Having sheep and cattle on a ranch, you've got to ride' he says. Additionally, his father (T.J) was a horseman – a member of the Australian Light Horse. His parents were instrumental in helping start the Pony Club movement in Australia and for many years his father was president of the local and State Pony Club and was Chief Instructor and examiner. Sam's first Pony Club was at age five, in 1949 with the Tamworth Junior Riding Club with whom he rode all his junior career, winning Junior Champion Boy Rider in Sydney in 1956, along with the coveted good hands competition.
Advertisement


The image below from 1961 shows Sam at the Narrabri one-day-event showing riders from the pony club camp the course. Hoof and Horns Magazine, sourced from Equestrian Memories Australia.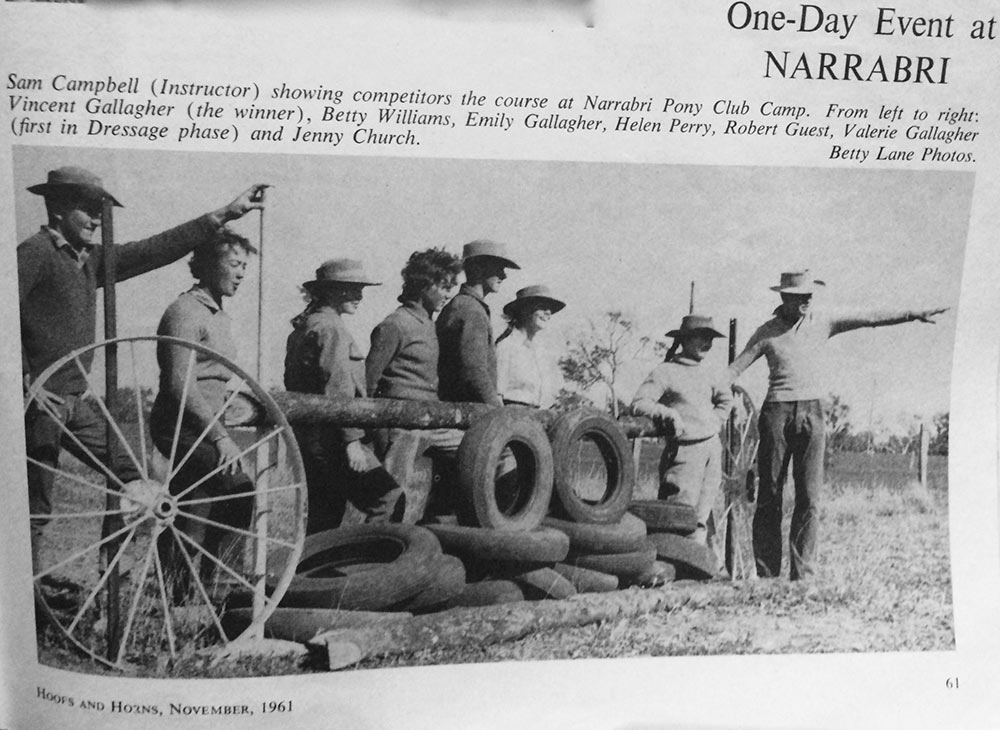 Sam started to focus on showjumping and won the first official NSW Show Jumping Championship, held in Forbes in 1964, on Bim. In 1967, Sam was part of the successful NSW Team (with John Fahey, Kevin Bacon and John Kelly) which won the Inter-Dominion Teams contest against Victoria, South Australia, Queensland and New Zealand at the Sydney Royal Show. Sam on Lindon had a clear first round and no jumping faults and only three-quarters of a time fault in the second round.
In 1968, Sam (at age 24) was a member of the Australian Jumping Team for the Mexico Olympics with 7 year old mare April Love and backup horse Hedgehopper. Mexico was a particularly challenging Games, with the altitude causing challenges, along with tracks being the biggest ever built at an Olympics, with one oxer set at 1.83m with a width of 2.21m! In spite of the formidable courses, the Australian team did well, placing ninth. Sam placed 26th in the Individual event.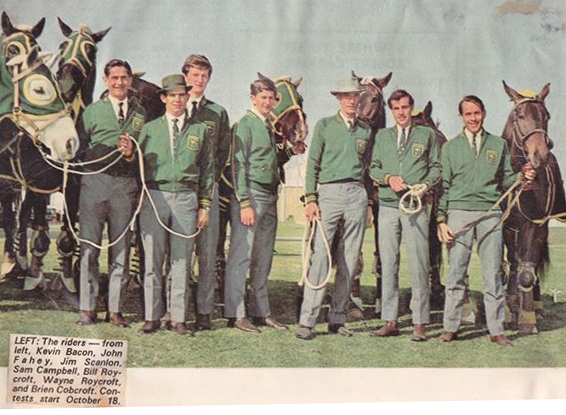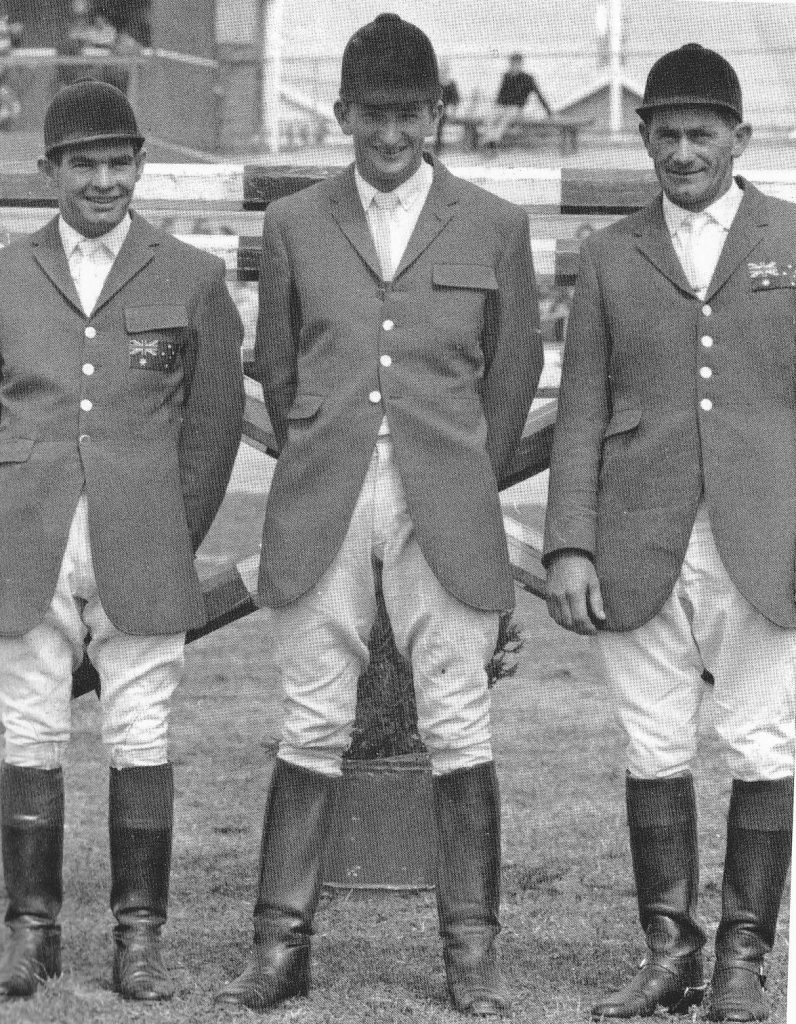 The showjumping team for Mexico Olympics 1968. l to r John Fahey, Sam Campbell and Kevin Bacon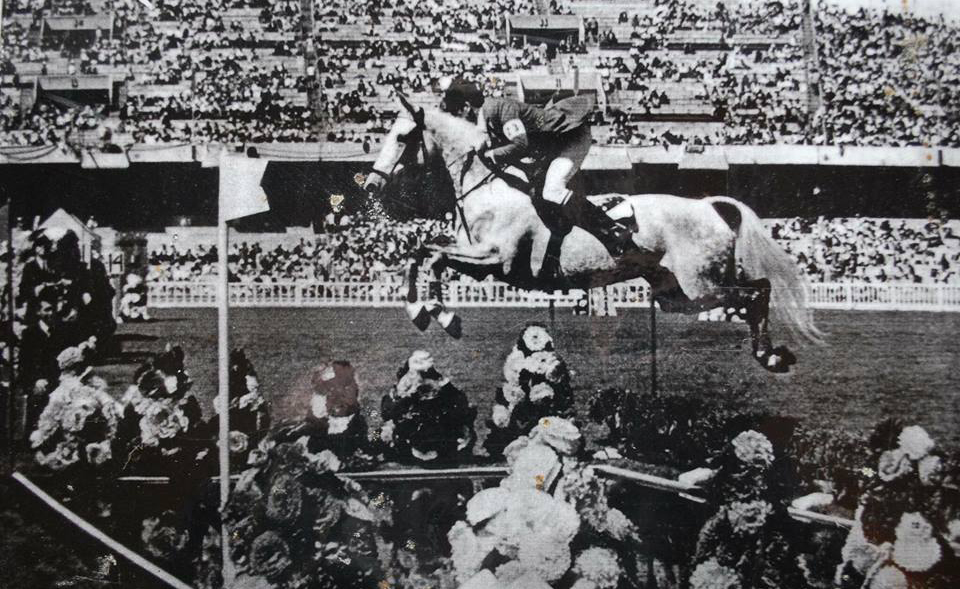 Sam Campbell and
April Love
at Mexico Olympics 1968.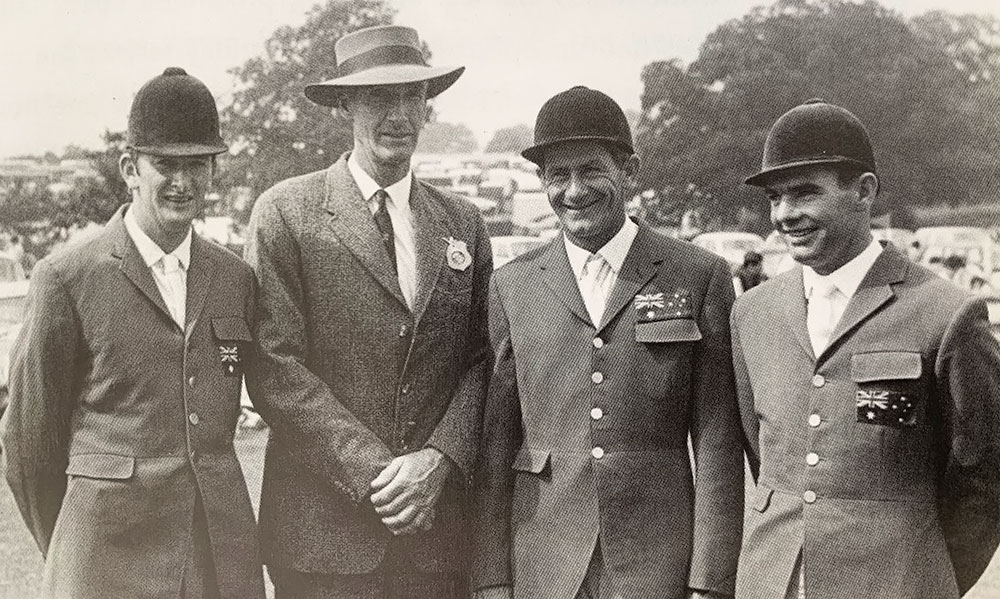 The showjumping team in Mexico 1964.l to r: Sam Campbell, Bill Roycroft, Kevin Bacon and John Fahey.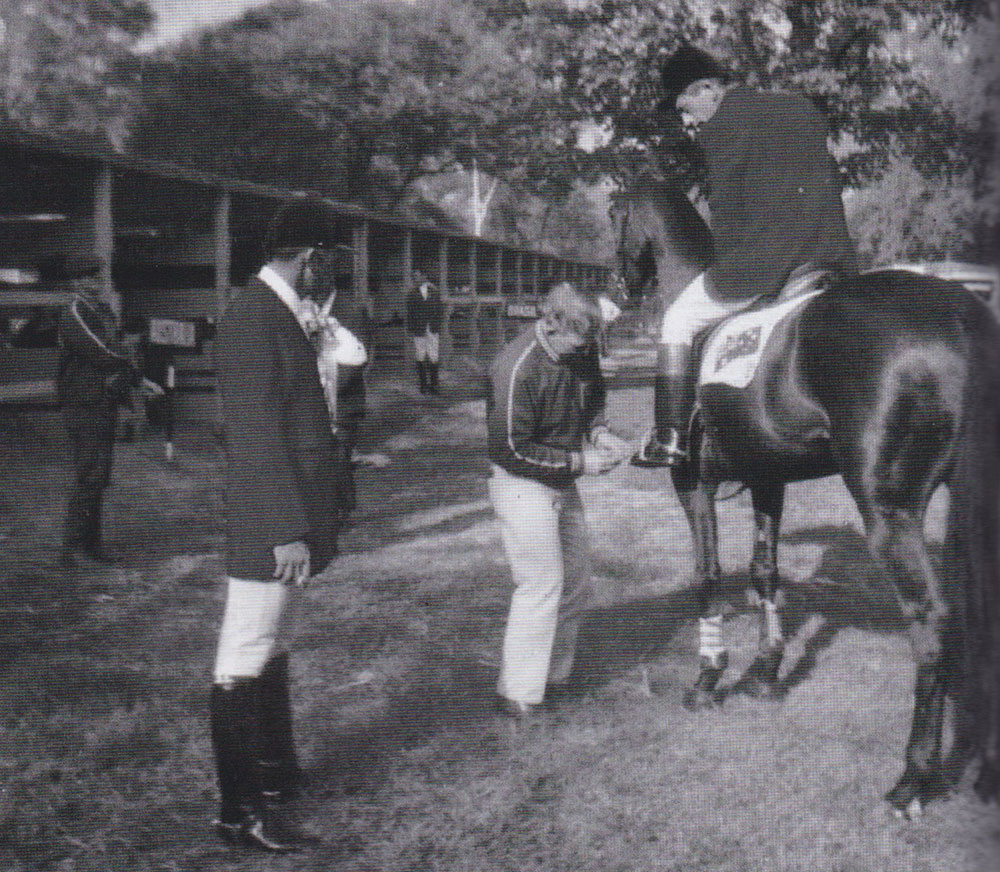 l to r: Sam Campbell, groom Graham Brown and Kevin Bacon on
Chichester
.
The team left Mexico after the Games bound for New York, as they had been invited to compete at two huge indoor shows in New York and Toronto. Their first contest there was in New York's most famous sports venue. Sam remembers their arrival there, 'After Mexico we went to Madison Square Garden. We were there for ten days. I had never seen horses unloaded in the middle of one of the biggest cities in the world before. It was also the first time that I had ever really ridden indoor. It's a nice place to make your debut. April Love was fine. It never worried her at all. You'd walk off in the street everybody's there. They can't believe that you've got horses there on 34th. The horses went up to the stables in an elevator. All the international were stabled on the fifth floor in 9 x 9 wooden boxes. We were allocated a time to ride in the mornings so that it wasn't so congested. The international horses were given the time of 7am to 9am to work'.
Advertisement

The team was subject to six months quarantine in England before returning to Australia. When the team arrived in England they were installed in winter quarters at fell Park, in Gloucestershire. Sam recalls 'We went and setup at Lord Vesty's place: 6,000 acres down in the Cotswolds, about 100 miles out of London. He gave us stables, a big barn and accommodation. I was married about twelve months before I left Australia. Because we were a young married couple he put us up in the main house. It had one hundred and something odd bedrooms and had been built in 1216. Gai (Sam 's wife) and I lived there for a year and a half and became very friendly with Lord Vestey, whose mother was an Australian.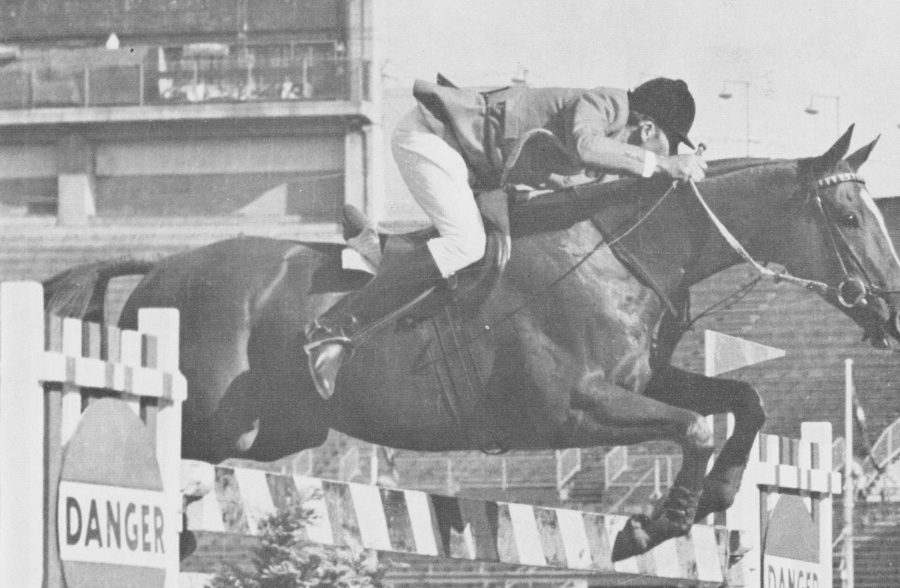 Sam Campbell and
Hedgehopper.
While in England, the team was invited to do the indoor circuit in Germany. In Hanover, Sam won a two horse, one rider competition with April Love and Hedgehopper and was named leading International Rider.
April Love won the German Indoor Championships in Dortmund beating all the world's best horses.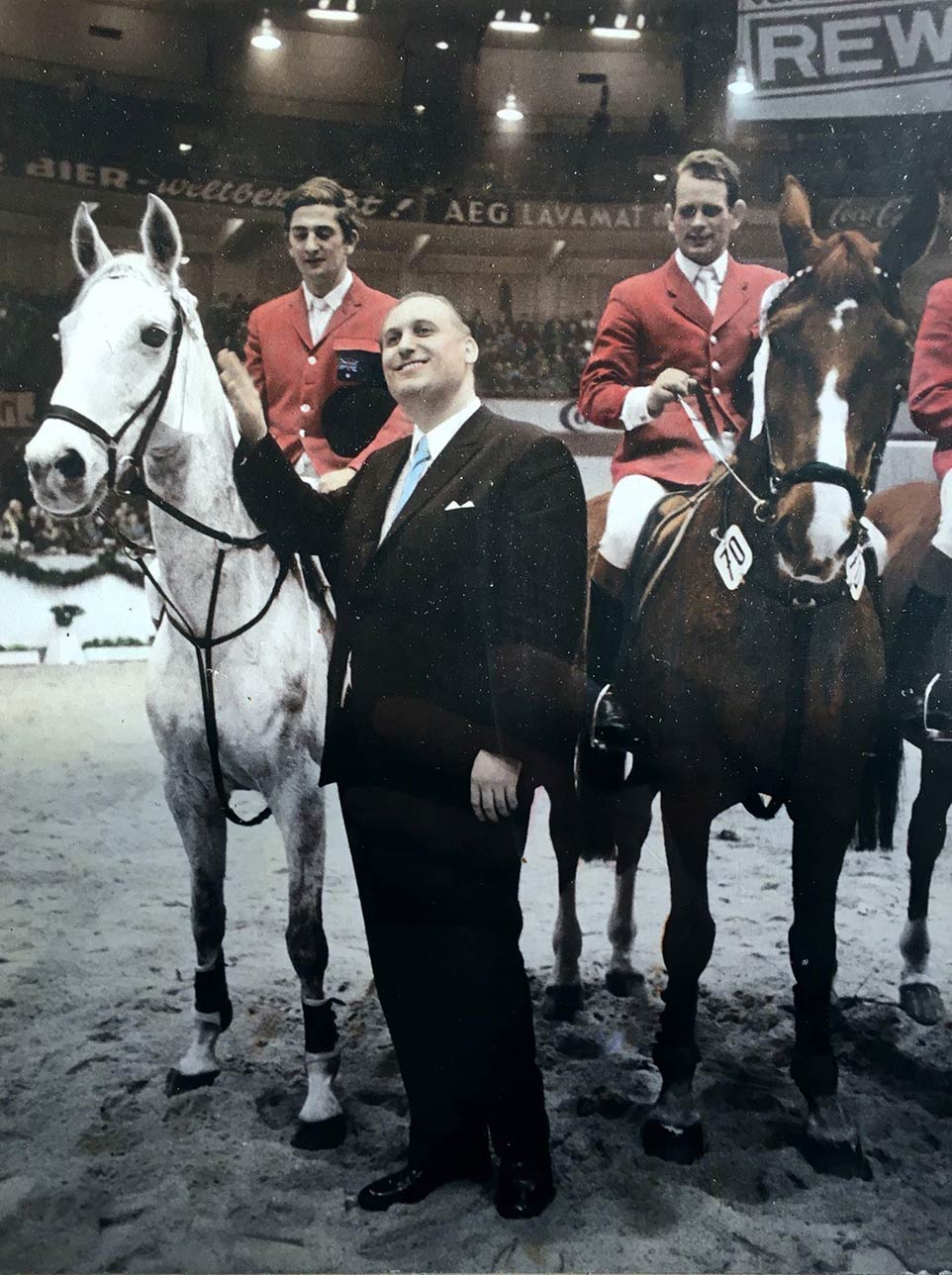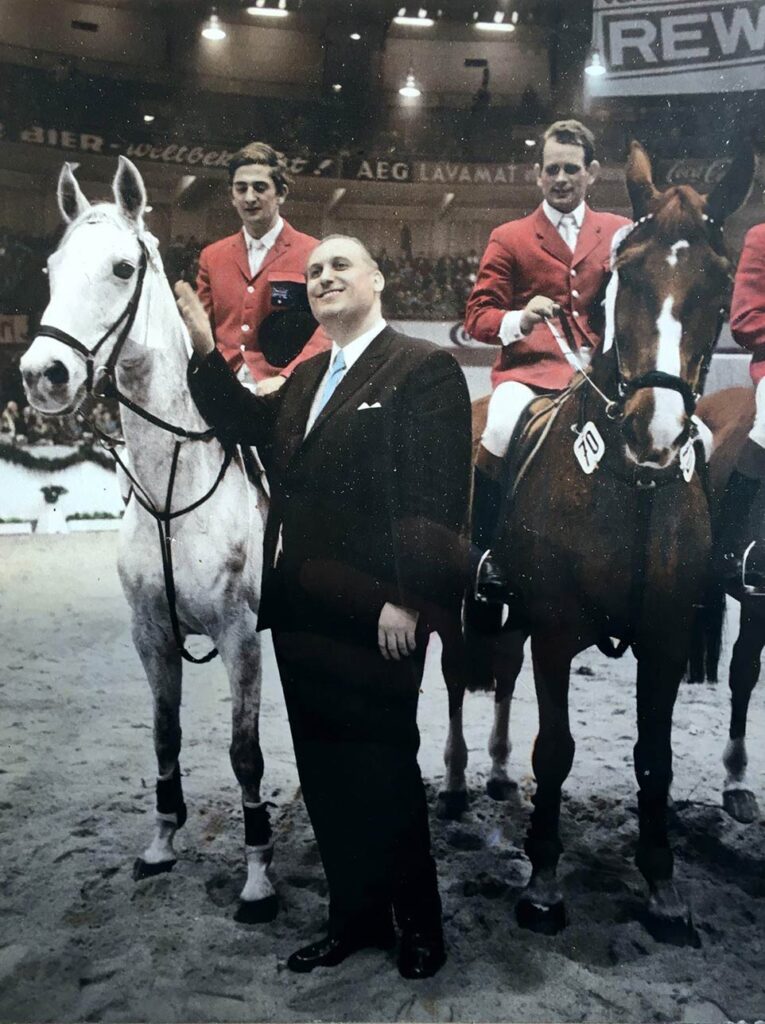 Sam Campbell and April Love – winning the German Indoor Championships in Dortmund, Germany, 1969.
Australia sent the three Olympic riders, as a Nations Cup team, to the 1969 Dublin Horse Show. April Love gave a standout individual performance, coming second in the $A10,000 Irish Grand Prix. When the outdoor season opened in April all the Australian horses had come down with a mild case of influenza. April Love was back in action for the Royal Windsor Horse Show, but very sadly Hedgehopper developed heart trouble and had to be euthanised shortly after.
Sam sold April Love to a top British international young rider named Ann Moore. Anne had great success with her and eventually Malcolm Pyrah rode her to great honors by winning the Rome Grand Prix together. After the Olympics, Sam lived in England for a couple years before returning to Australia and gave up jumping for a time to play polo. 'During that time, I worked for the only legitimate job I ever had,' he said. As steward handicapper for the Australian Jockey Club, he was in complete charge of horse races. He also continued with polo and remembered, 'I was given a horse to play polo on.'  The horse was not suited for the sport, but Sam did train him successfully as a jumper and entered him in Grand Prix competition in the United States. "He was the basic reason we came to America," Sam said.
In 1979 Sam went to the USA, initially for a three month vacation with his wife, two young daughters and two horses, but ended up remaining with his family in the US. Sam established a business of buying and selling horses, many initially imported from the family ranch in Australia. Injury and illness cut his competitive career short, however Sam continued to be a valuable member of our jumping community utilising his training skills to produce top horses.
Sam is now retired and continues to live on his farm 'Outback Farm USA' which is about eighty five minutes out of New York City where he now just has his daughter Gina's two horses and offers his facility for visiting horses and being so centrally situated on the East Coast, only about two hours from Newburgh, NY quarantine centre would be great base for Australian riders.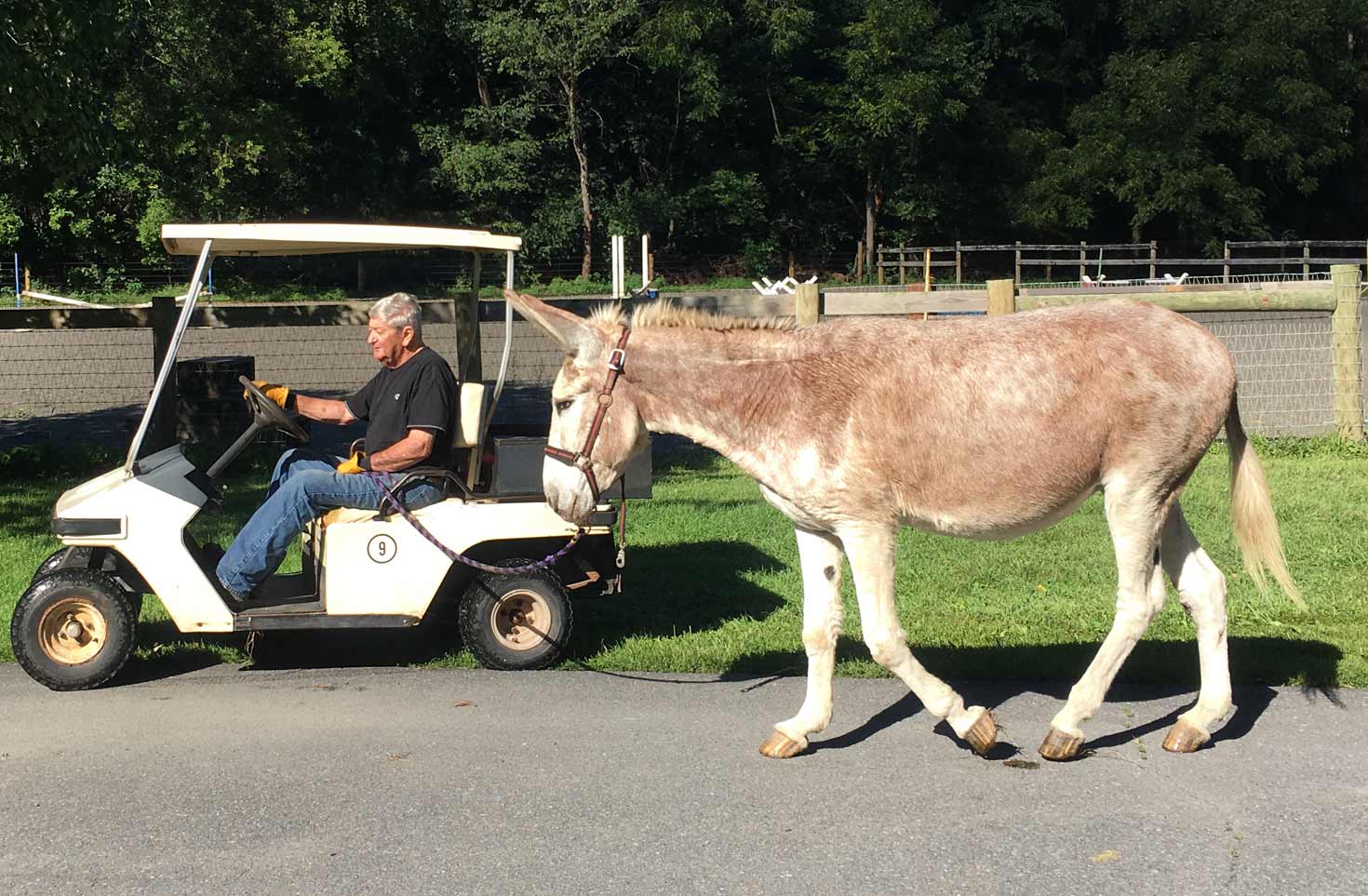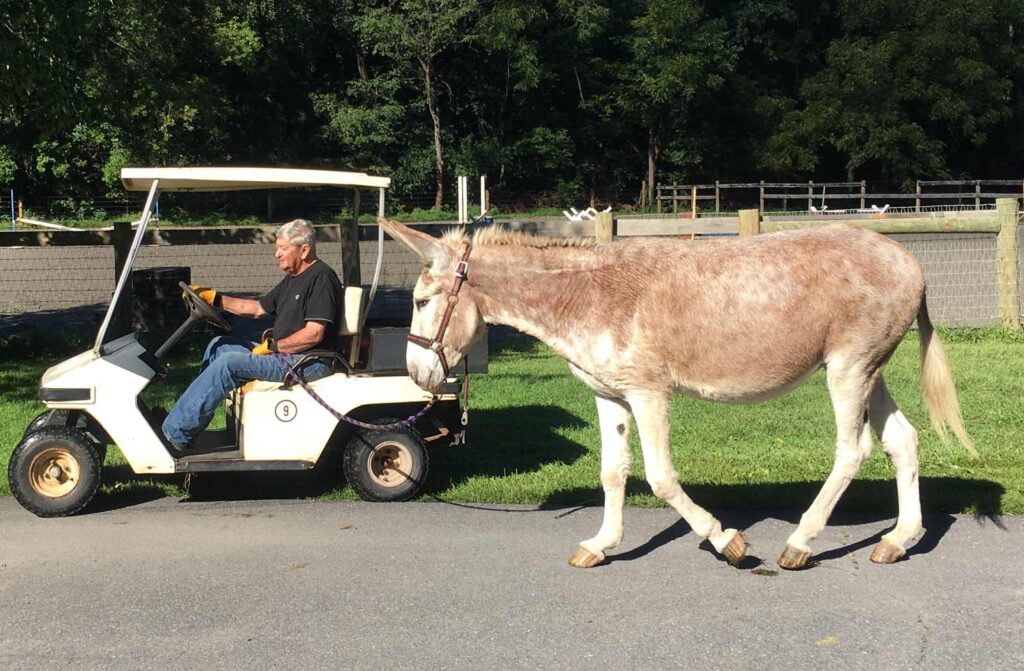 Sam Campbell in 2020 with Jenny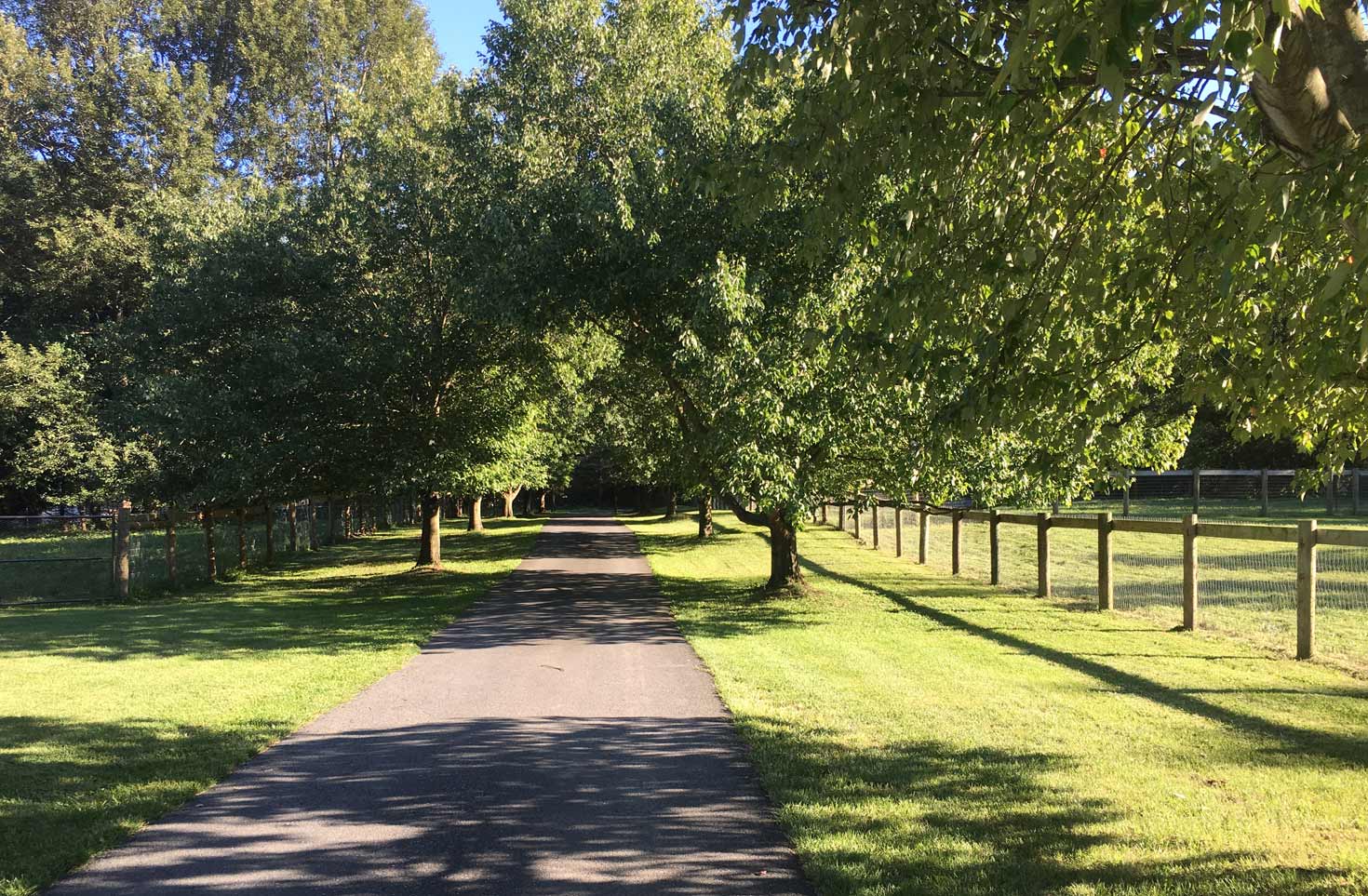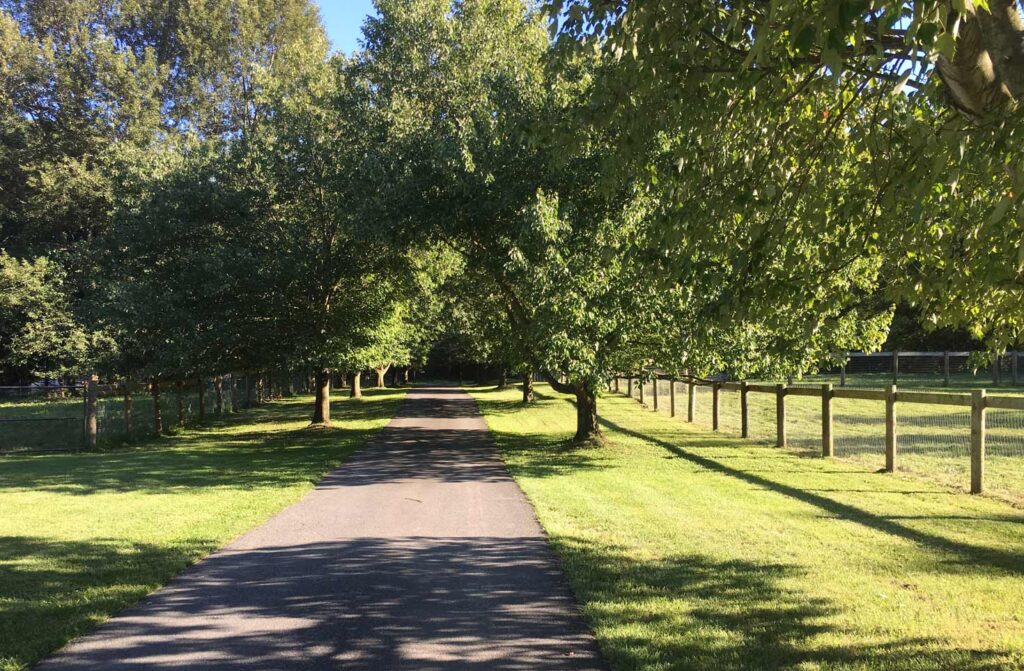 Outback Farm USA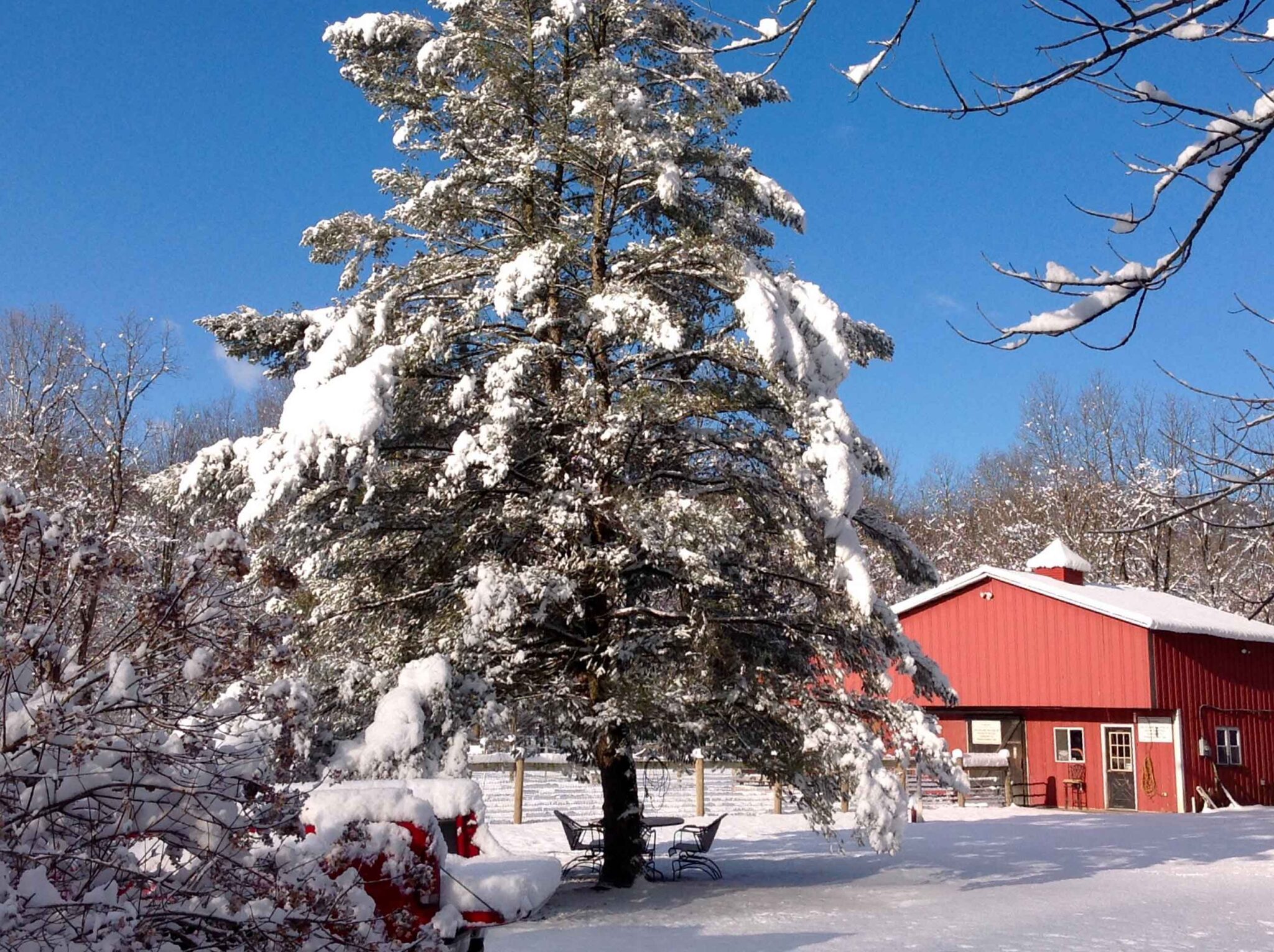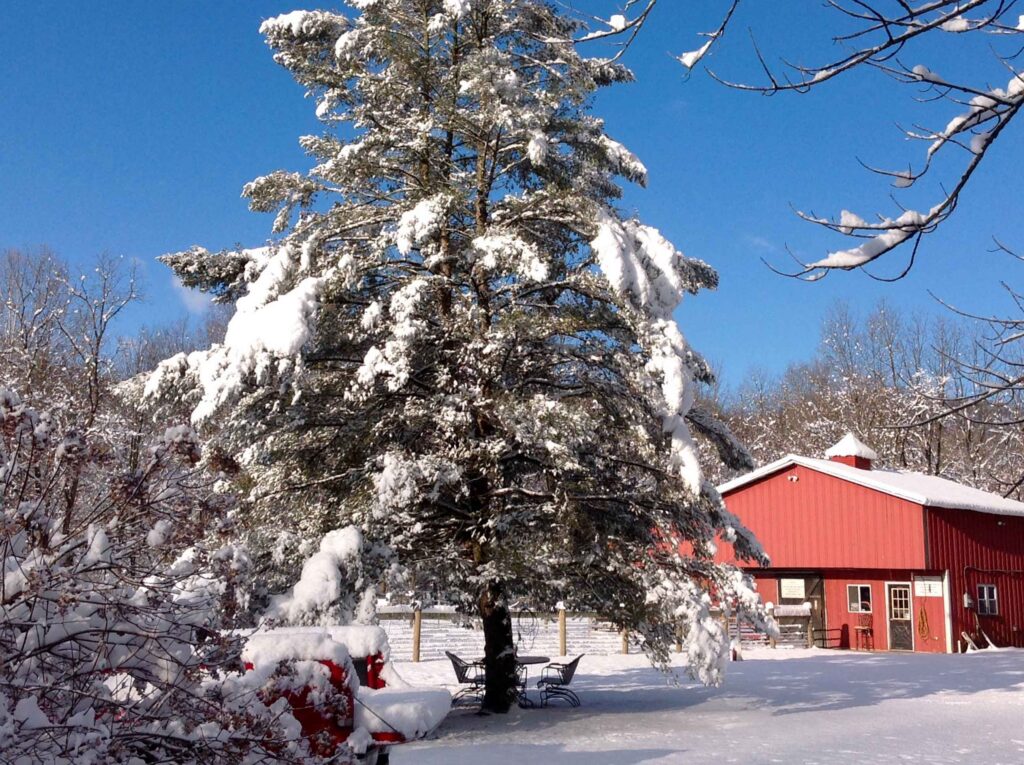 Outback Farm USA.
View Comments