rider History
Art Uytendaal
Equestrian Memories Australia
Back in the 1960's Art Uytendaal was Australia's only full-time professional showjumper. Uytendaal was born in Holland in 1931 and immigrated to Australia in January 1956. Uytendaal had his first ride in Australia at Lang Lang Show in Victoria, on the late Jack McCormick's Sun Star. After struggling for a number of years to gain recognition, Uytendaal established the Victorian Showjumping Stables at Dandenong and besides giving tuition in riding and schooling horses, he rode for a number of well­ known showjumping owners. He had great success schooling horses and brought out a great many youngsters. He is possibly the only equestrian trainer taking part in open competition in Australia. A great judge of a young horse's ability, he was quick to spot its potential and also managed to re-train many notorious outlaws. Possessing a con­siderable sense of humour, he was a popular, although tough, competitor.
Advertisement


Uytendaal's early successes were on Brahmin and Madison Square. He won an Australian Cham­pionship on both, Brahmin in 1961 in Deniliquin and Madison Square in 1962 in Melbourne.
Uytendaal was often part of puissance competitions and had great results over his career.
Below: Lilydale Show puissance record 1967 with Chatter and Art Uytendaal jumping a puissance record of 6'7″ at Lilydale Show, Victoria. Art rode several horses (Chatter, Trafalgar Square, Dixieland) and was first and third.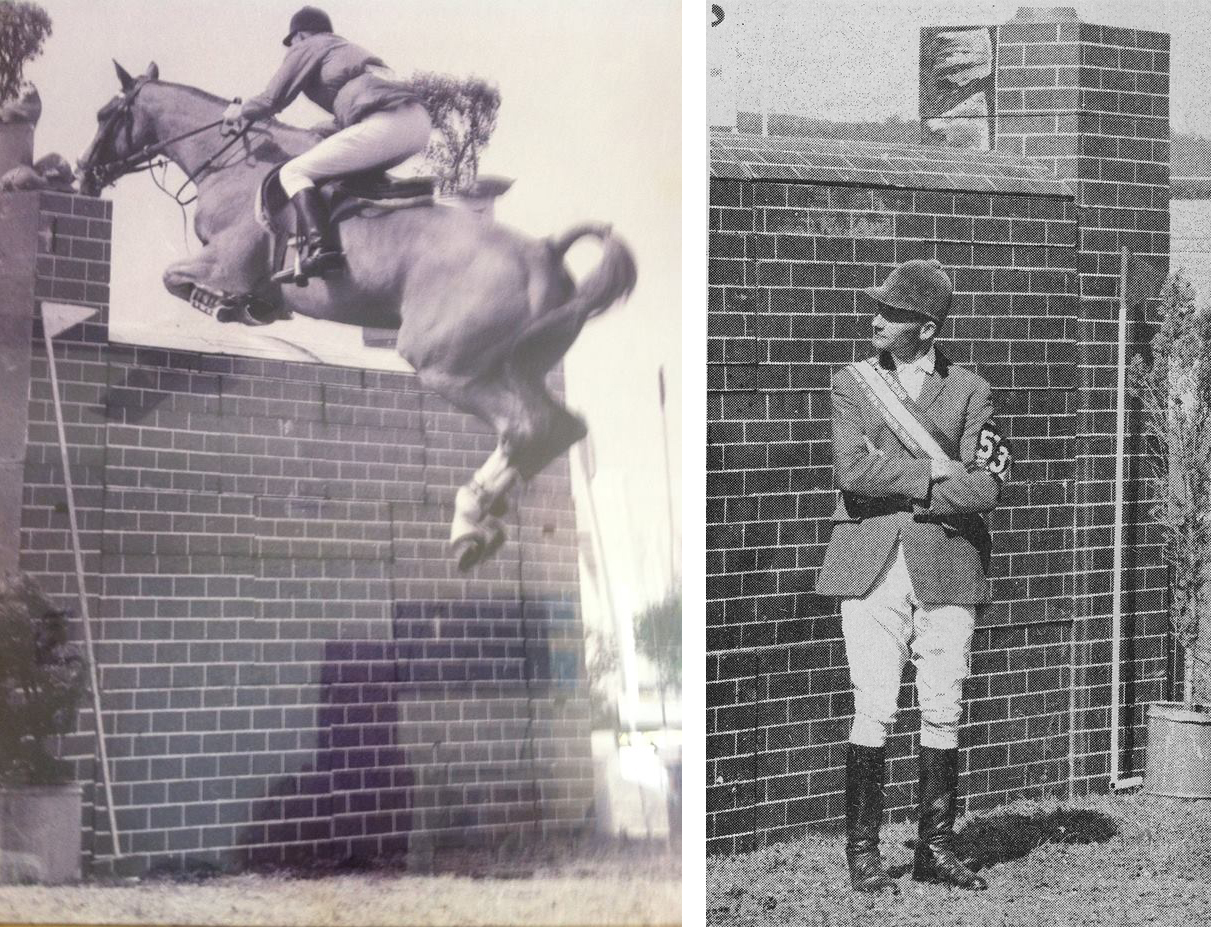 Art Uytendaal with Chatter in 1968 breaking the Australian Puissance record .
Excluded from competing in the Australian Olympic team because he was a professional, Uytendaal turned his attention to breeding and training many gifted horses for jumping and eventing, including some of the country's best-known equine athletes. He was the Australian coach of the World Eventing Championships in Gawler, South Australia, nominated coach for the ill-fated Moscow Olympics and also the Los Angeles Olympics.
Trafalgar Square was sent to Uytendaal for training and after much patient schooling developed into a top jumper. Among his major wins were his third Australian Championship in in 1967, and the Royal Adelaide Show Puissance in the same year with a jump of six feet nine inches. Trafalgar Square and Uytendaal' best season was 1967-68 when they won a total of forty-two contests and Trafalgar Square was awarded the J. S. Ford Show Jumper of the Year Trophy.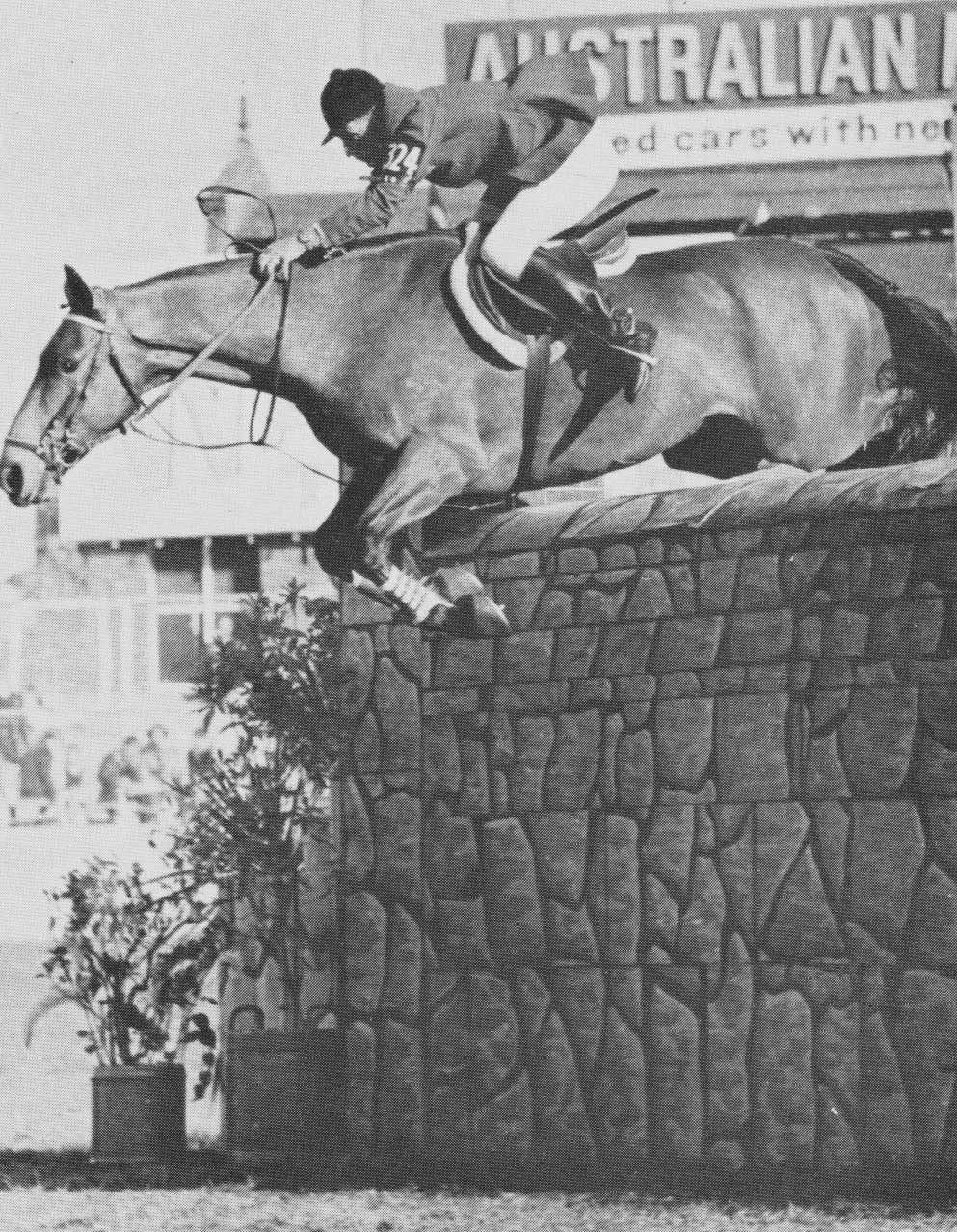 Art Uytendaal and Trafalgar Square Royal Adelaide Show Puissance 1967
Brilliant horsemanship was in his blood. Uytendaal 's grandfather and great-grandfather had provided riding instruction to the Dutch elite, taught cavalry riders bound for Indonesia and bred warhorses. His father and eldest brothers were excellent show jumpers, both professional and amateur contenders for Olympic level competition.
Advertisement

In an interview with Equestrian Life Uytendaal says "One of the best times of my life was when my father made a visit to Australia in 1974 and I won the Prince of Wales Cup on Mr Dennis, beating Kevin Bacon on Chichester.  There were only two rounds and I beat Kevin by over two seconds.  My father nearly fell out of the grandstand, he was so proud," he says.  "I did find it extremely hard not being eligible to compete at the Olympics because I was a professional. By selling my horse Johnny Walker Whisky to Belgium, and receiving what then would have been a record price for a Show Jumping horse in Australia, I set off to England, winning in England with those two very young horses, Tongala and Jamaica Inn II and beating all the top riders of the time was also one of the best times of my life."
Below: Art Uytendaal and Tongala (chestnut with star) and Jamaica Inn at Butlins, Essex, England in 1976. Uytendaal is riding Jamaica Inn to win the first class and Tongala (chestnut with big star) to win the GP.
Below: Victorian Championships with Art Uytendaal riding Mr. Ed and Tongala (chestnut with big star) in the Grand Prix at the Victorian Showjumping Championships, 1977.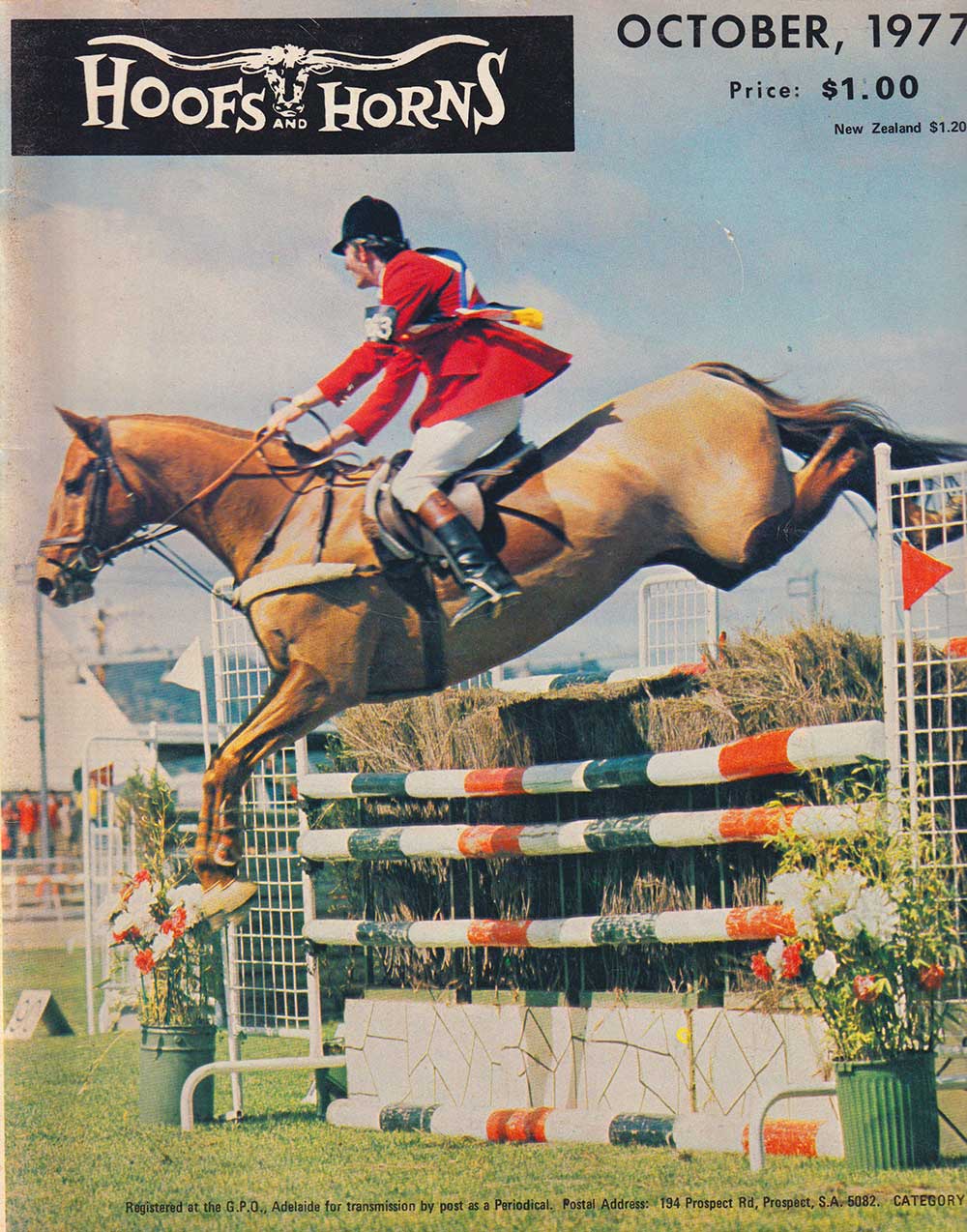 Above: Cover of Hoofs and Horns Magazine, October 1977, Featuring Art Uytendaal on Tongala at the Adelaide Royal Show where Uytendaal was named the Champion Jumping Rider. The combination of Uytendaal and Tongala won two Group A events and the Rothmans Show Jumping Championships.
Uytendaal broke his leg badly in 1980 which was the end of serious competition for him and in 1989 Uytendaal moved with his wife Kerry to the Mid North Coast of NSW. After horses he began racing pigeons seriously, both in Melbourne and NSW and won many Club and Federation races.
Kerry Uytendaal tells us "Now he is 89 and I can assure you that much of the time is spent getting new knees and hips etc. caused by showjumping injuries. However, life has been good and for the last 20 years we have been renovating homes and moving. Needless to say our nickname is 'The Travelling Willberries'."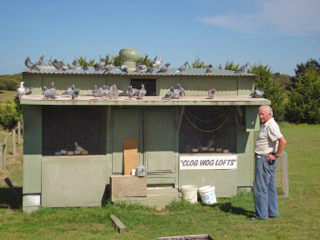 Above: Art Uytendaal by his loft in Rye, Victoria about 14 years ago.
Considered a professional because of his teaching, he was never eligible to represent his new country at the Olympic Games – but his list of achievements and the great horses he rode for some generous owners would almost certainly have seen him make the team for several games.
Art Uytendaal was inducted into the Victorian Showjumping Clubs Hall of Fame in 2015 and the Equestrian Victoria Hall of Fame in 2017.
View Comments