rider History
Kevin Bacon OAM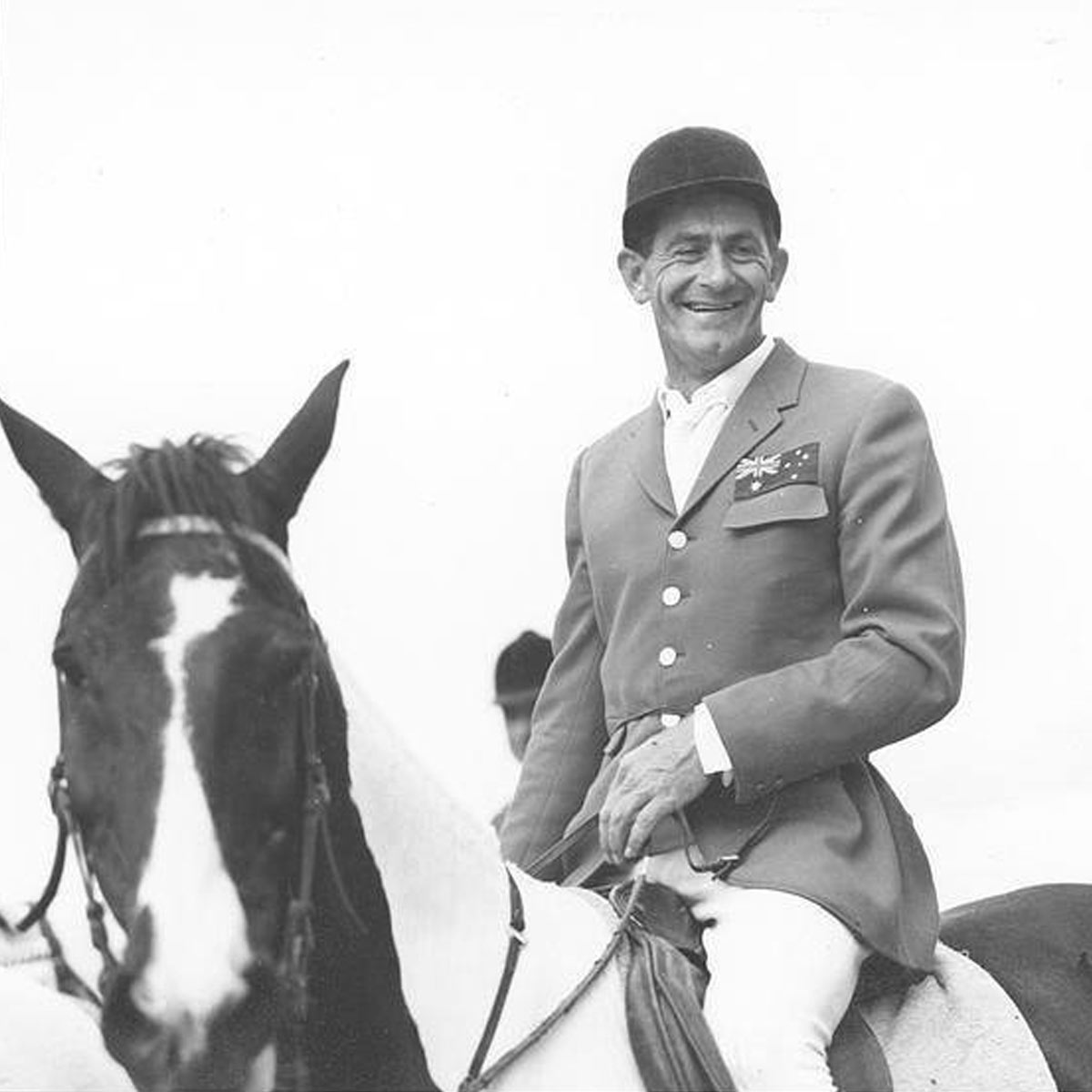 Golden Age of Showjumping
Above: Kevin Bacon and Bendigo's Gift
Kevin Ashley Bacon (fondly known as kab) born in 1932, was a dairy farmer and cordial manufacturer from Dungog in New South Wales and is certainly one of Australia's top showjumping riders of all time.
Bacon represented Australia at three Olympic Games the first in Tokyo 1964 on Ocean Foam and then the 1968 Games in Mexico City and the 1976 Games in Montreal, both on Chichester.
Advertisement

1950's
Early in Bacon's career, his father Roy purchased two horses that were to become the first of the really great Australian show jumpers, Moonlight and Domino. Ted Dwyer in his book 'Show Jumping Down Under' writes "Moonlight was by the thoroughbred stallion Richard from a Radium mare, he had a double strain of Carbine in him. (Carbine was a champion racehorse of the late 18th century, who won 33 of 43 races, including the 1890 Melbourne Cup) A handsome bay gelding standing 15.2 hands , he could jump any type of fence with ease."
"Moonlight's first Sydney Championship came in 1954 and in company with his stablemate Domino, he won every FEI competition on the schedule. Moonlight was equally as good in 1955 winning, with his com­panion, 17 events at the Royal. Both horses jumped well in Melbourne that year, each winning two events. This was the last show jumping fans were to see of these two great horses. After competing at the Bendigo Show in northern Victoria in the first week of November, Kevin and his wife had journeyed to Melbourne to see the Melbourne Cup run; on their return to Bendigo they found Moonlight dead and Domino dying in great pain. A post-mortem was held and they were found to have been poisoned. After extensive police investigations, it was found that both horses had been poisoned by persons or person unknown."
What a devastating and distressing loss this must have been to everyone who was connected with these horses, especially of course for Bacon himself.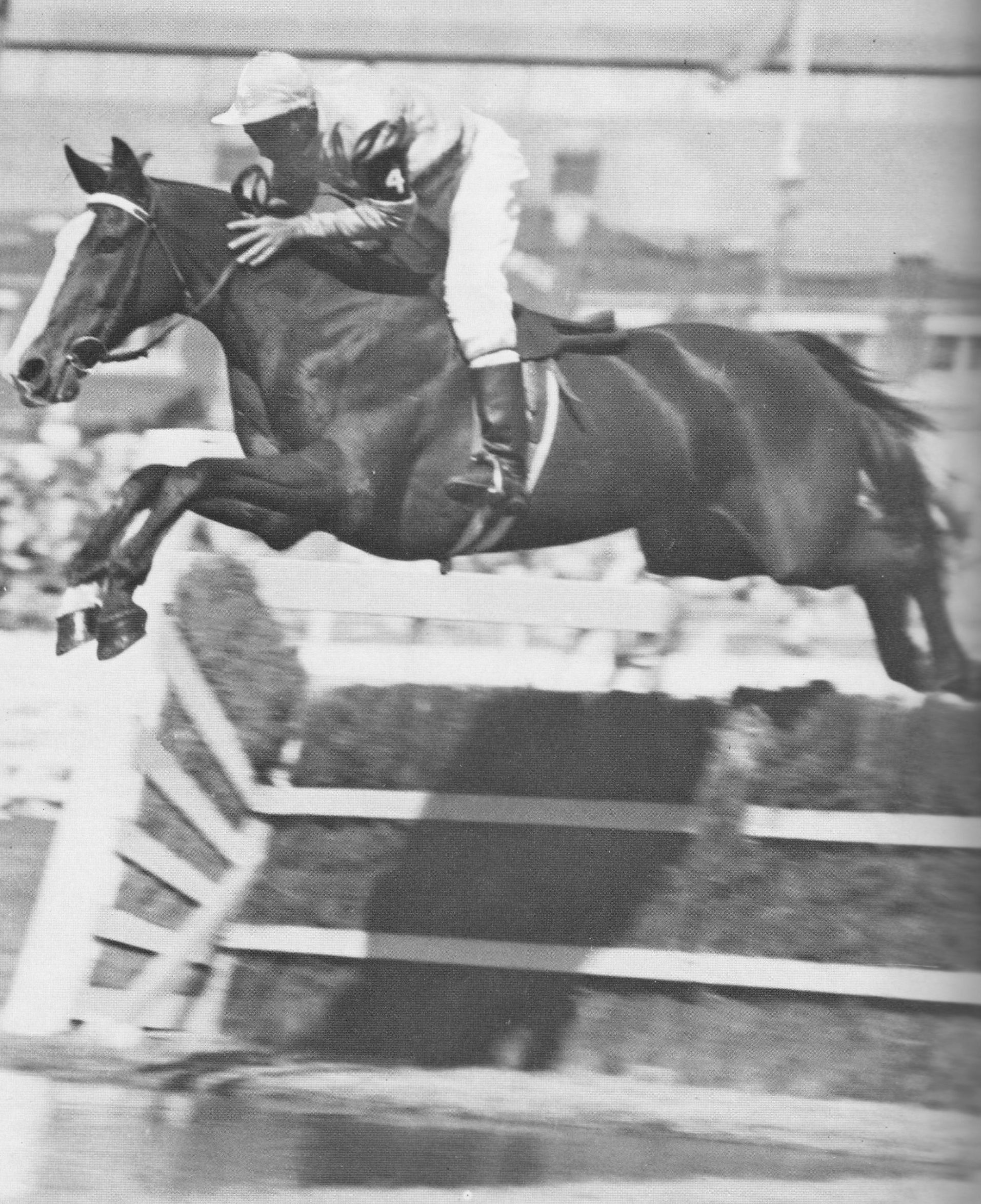 Above: Kevin Bacon and Moonlight at Sydney Royal 1955 (source: Show Jumping Down Under by Ted Dwyer)
The below article in The Sun and the Telegraph 1958 from 'Australian Horse and Rider' features a 21 year old Bacon with Moonlight and Domino.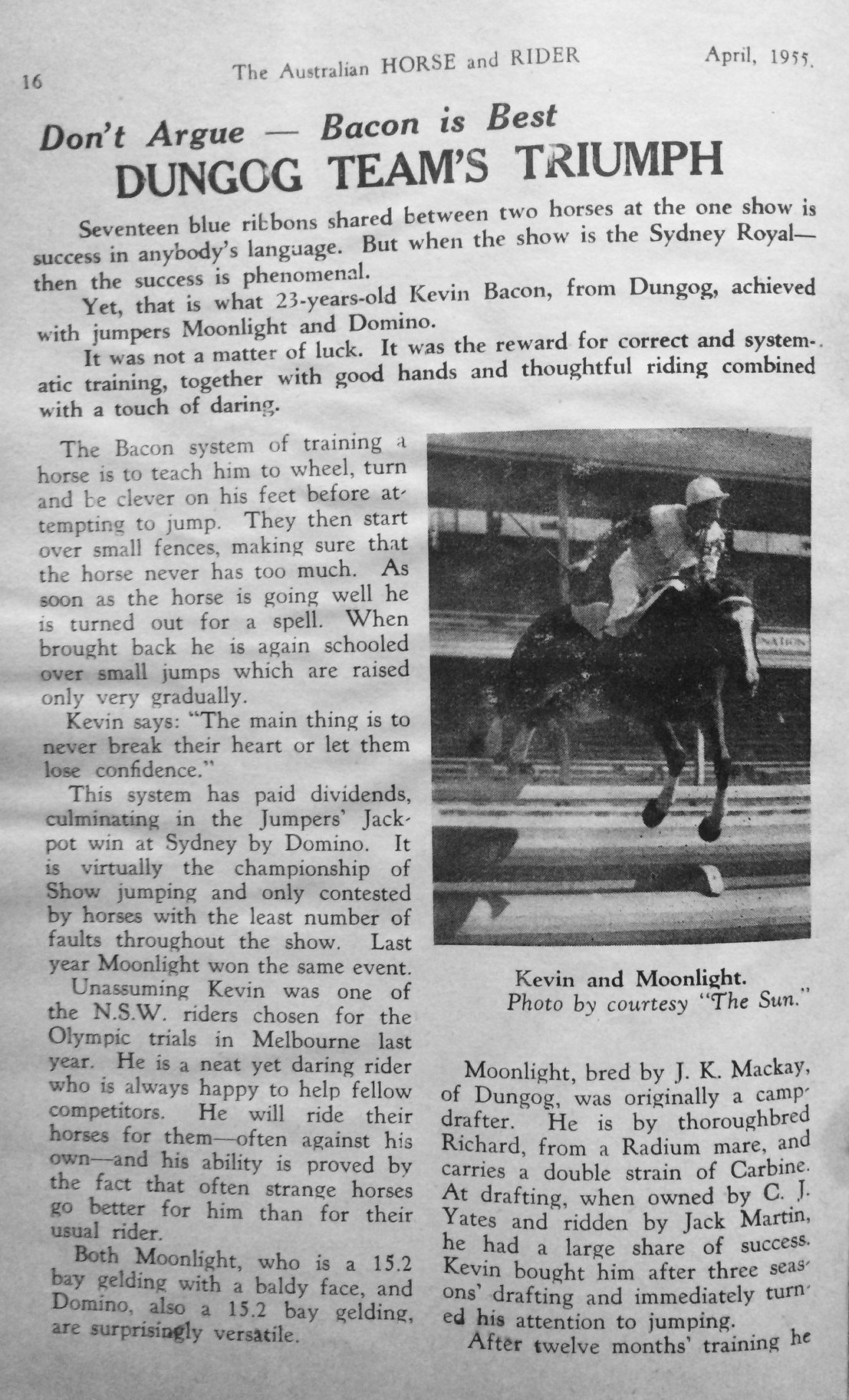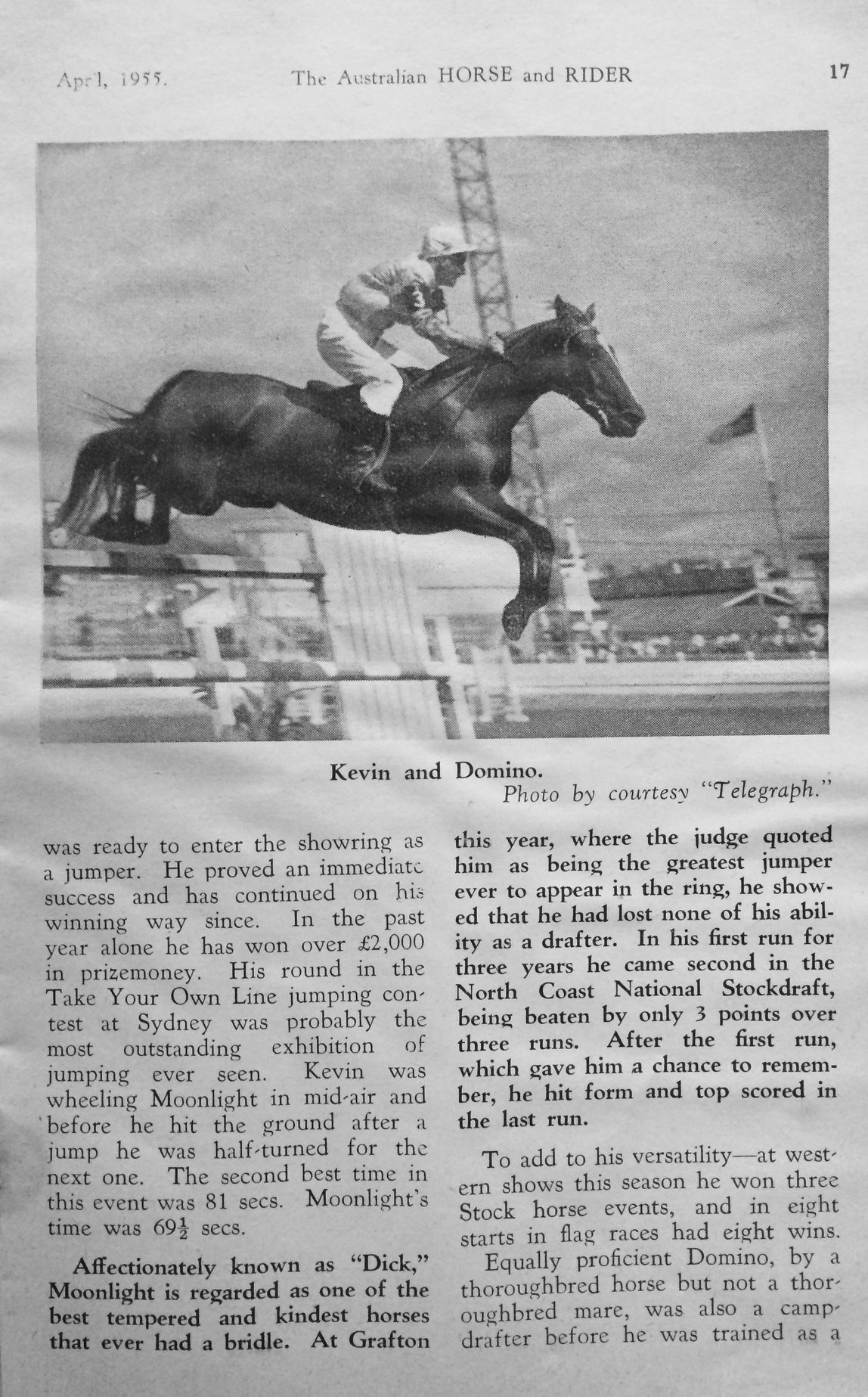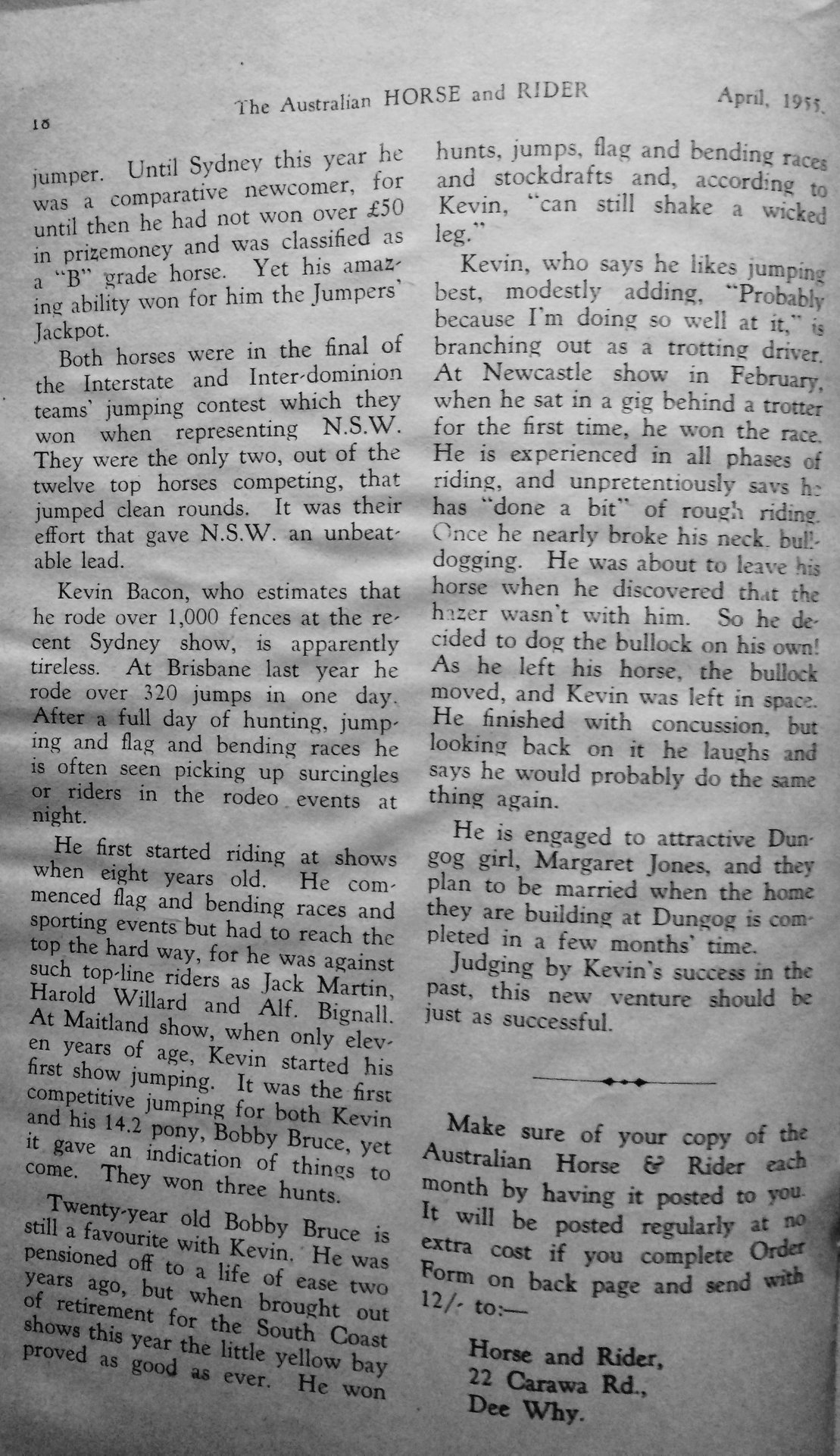 Advertisement


The loss off these horses would have broken the spirit of most people, but not Kevin Bacon. The people of the city of Bendigo banded together to purchase a prospective jumper and presented it to Bacon. The horse, named Bendigo's Gift, although successful, never quite reached the heights of Moonlight and Domino.
1960's
Bacon purchased two horses (for a total of $1,000) whilst competing in Queensland, which he renamed respectively Bendigo and Kimberley. Both horses proved to be top jumpers and Bacon travelled extensively with them including a very successful trip to New Zealand.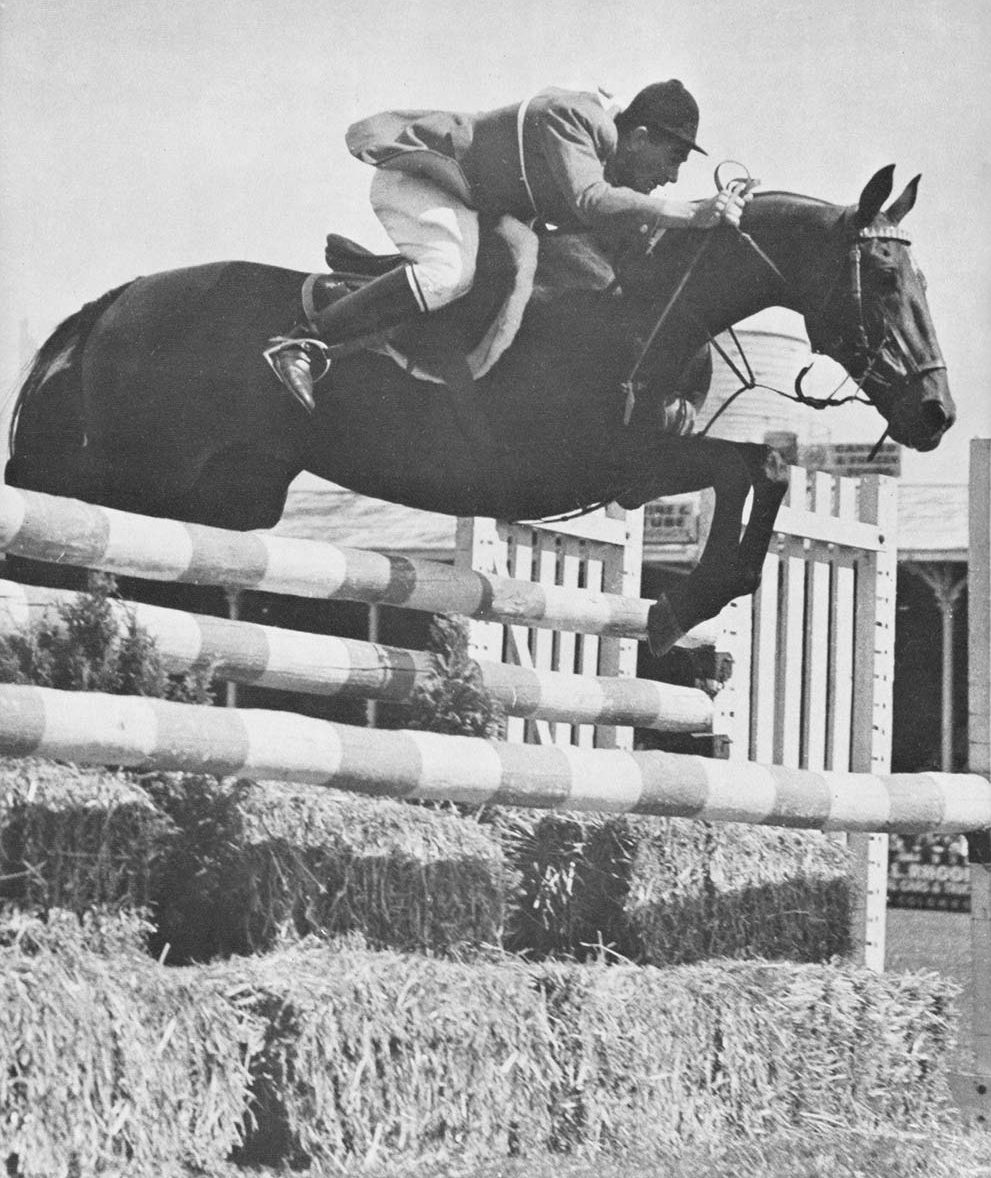 Above: Kevin Bacon and Kimberly winning in Christchurch New Zealand (source: Show Jumping Down Under by Ted Dwyer)
Bacon was part of the Australian jumping team sent to New Zealand in 1962. In the event at Christchurch Showgrounds, Kimberly had a great win in the Table C contest and also won the six-bar Horse of the Year, with Ocean Foam second. Bacon won the Lowry Medallion for the Leading Rider.  The first show on the North Island was at Masterton with Ocean Foam winning the Table A. Shows followed at Gisborne, Taihape and Leven, with Bacon and his team performing incredibly well with Ocean Foam taking a total of 7 firsts, 3 seconds and 2 thirds and Kimberley 6 firsts, 3 seconds and 1 third.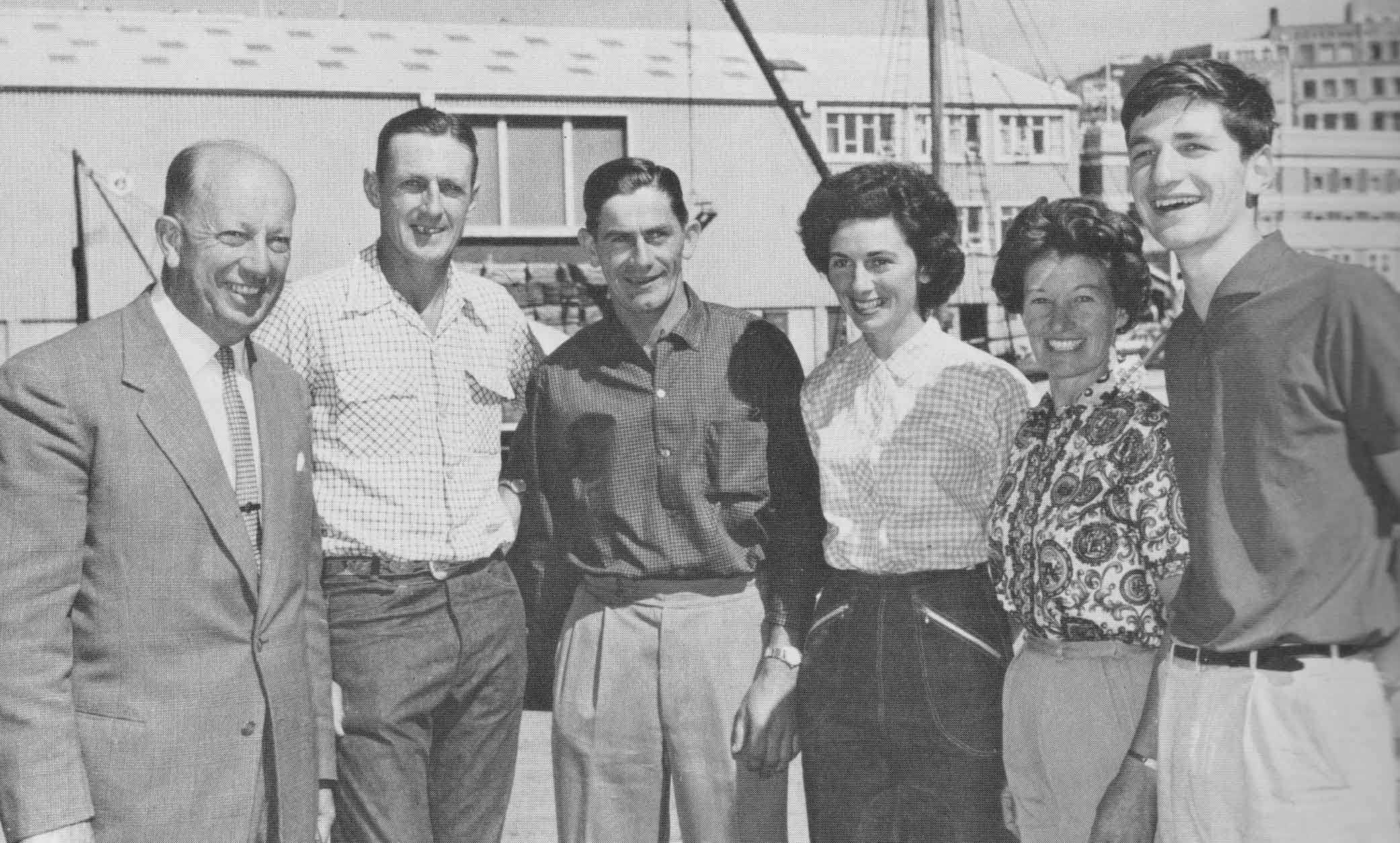 The 1962 Australian touring team at Wellington, New Zealand. (l-r) Hugh Wood, Bill Hyem, Kevin Bacon, Bud MacIntyre, Marjorie Coombes and Peter Winton.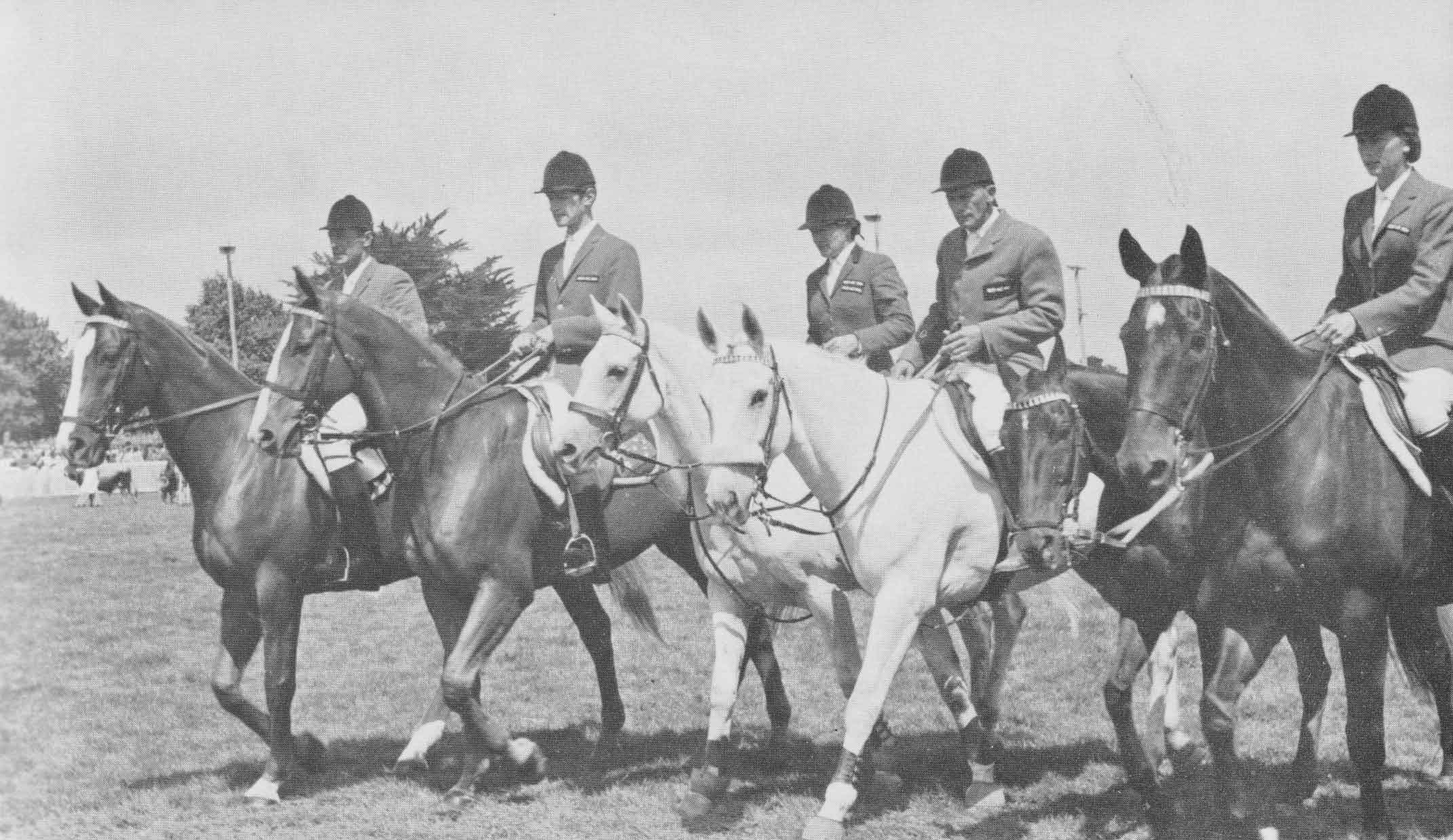 (l-r) Bill Hyem and Coronation, Peter Winton and Brahmin, Marjorie Coombes and Pleasure, Kevin Bacon and Ocean Foam leading Kimberley and Bud MacIntyre and Lookout.
Tokyo Olympics 1964
Kevin Bacon's first Olympic Games was Tokyo 1964 on Ocean Foam. 24 October 1964 was the big day for the Olympic team. Ocean Foam was not on his best form though – reportedly not pulling up well from the long ocean voyage, and had a brick out of the wall and a foot in the water and then a stop at the final fence which unseated his rider for a total of 29.5 faults. The team however still went on to finish 7th – a fantastic result and one yet to be beaten by an Australian Olympic jumping team.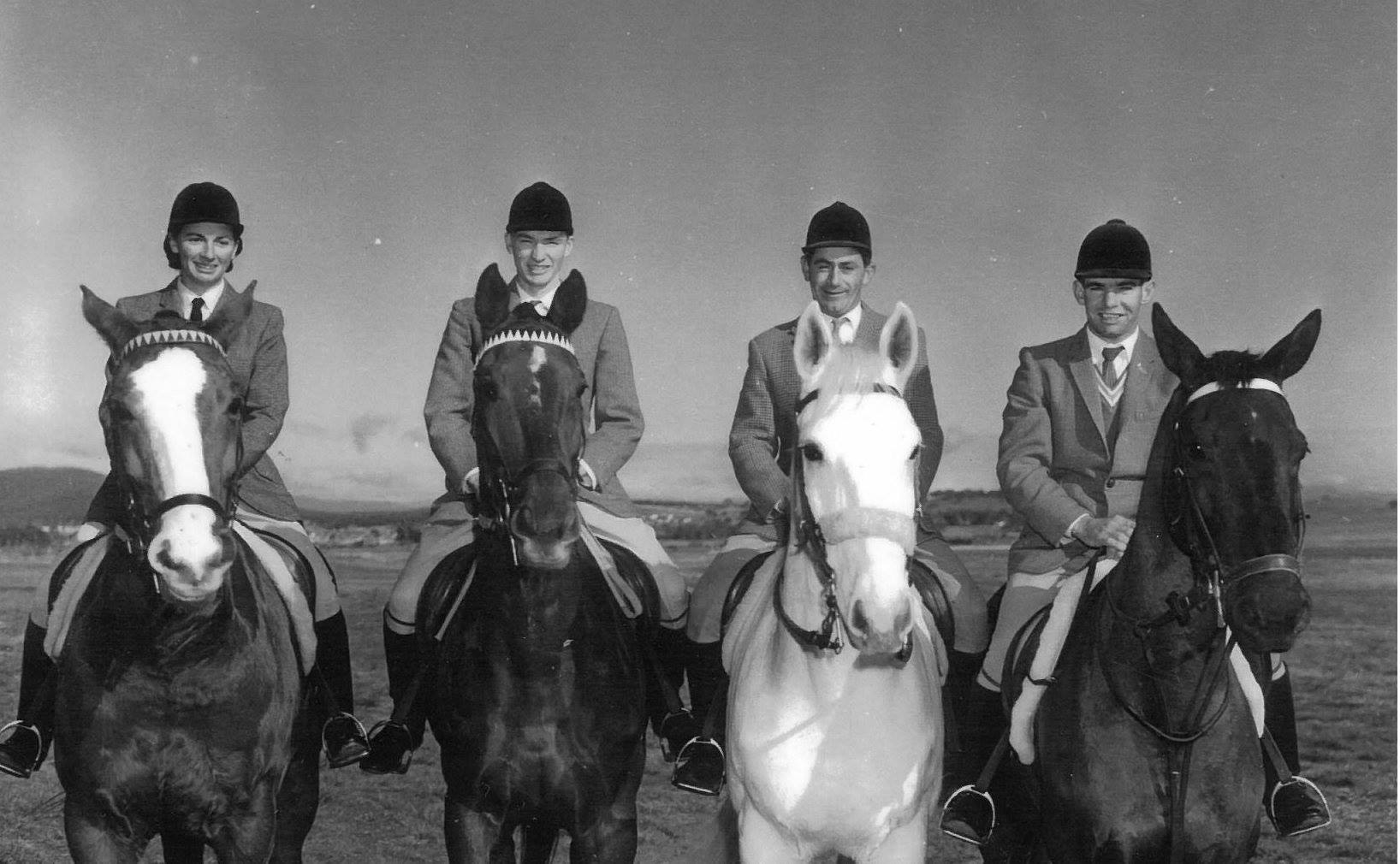 Above: The team that represented Australia in Tokyo in 1964. Bud Macintyre (Hyem), Barry Roycroft, Kevin Bacon and John Fahey.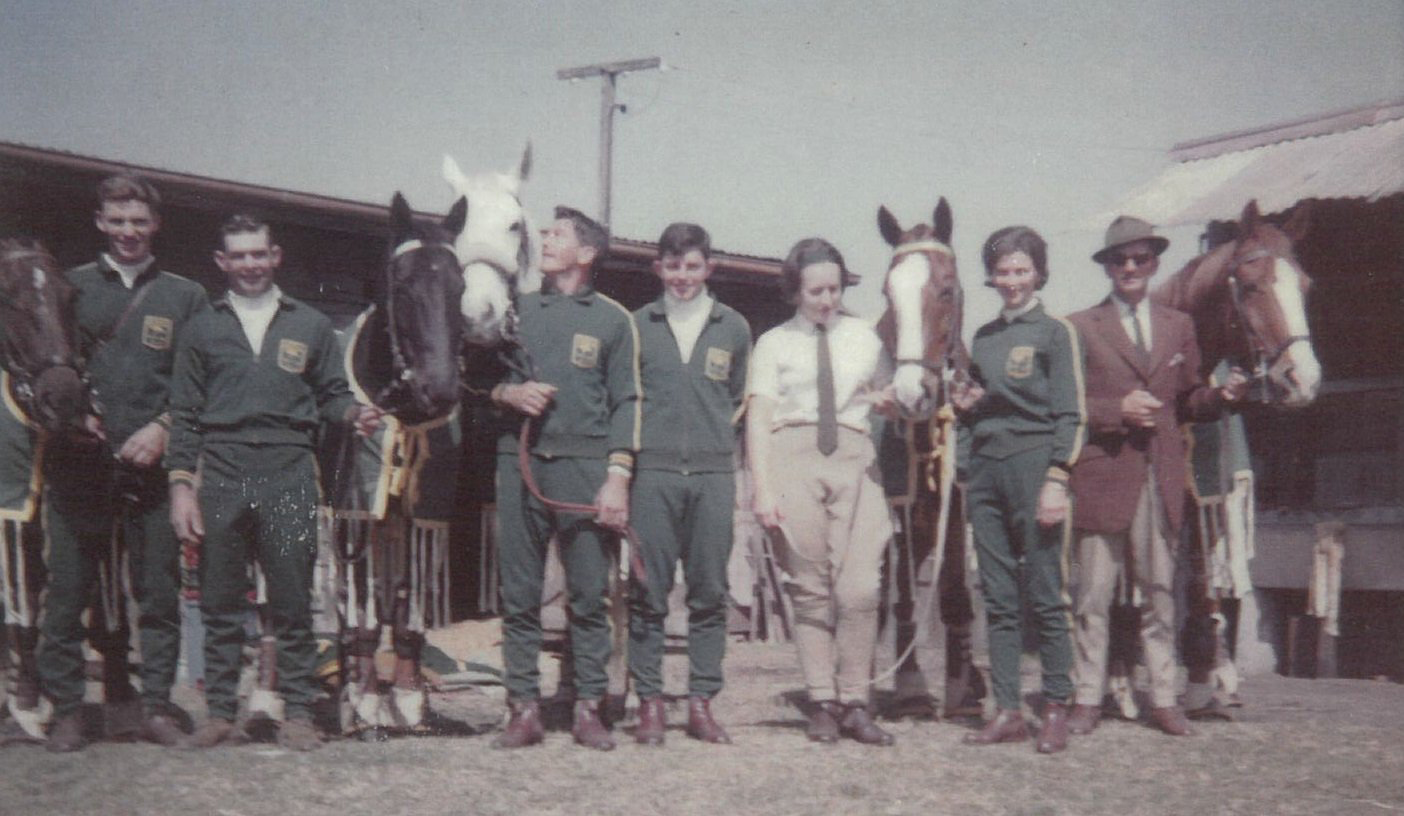 The Australian Olympic Jumping Team for Tokyo 1964. Barry Roycroft and Genoe, John Fahey and Bonvale, Kevin Bacon and Ocean Foam, grooms Milton and Margaret, Bridget 'Bud' Macintyre and Coronation and Karl Jurenak (trainer) and Brahmin.
Mexico Olympics 1968
At the 1968 Olympics in Mexico City, Bacon placed 18th in the individual jumping event on his horse Chichester. Bacon was the only Aussie to qualify for the second round, unfortunately a fall put them out of contention. The Australian Olympic Jumping Team for Mexico comprised of Bacon, John Fahey and Sam Campbell placed 9th in the team event.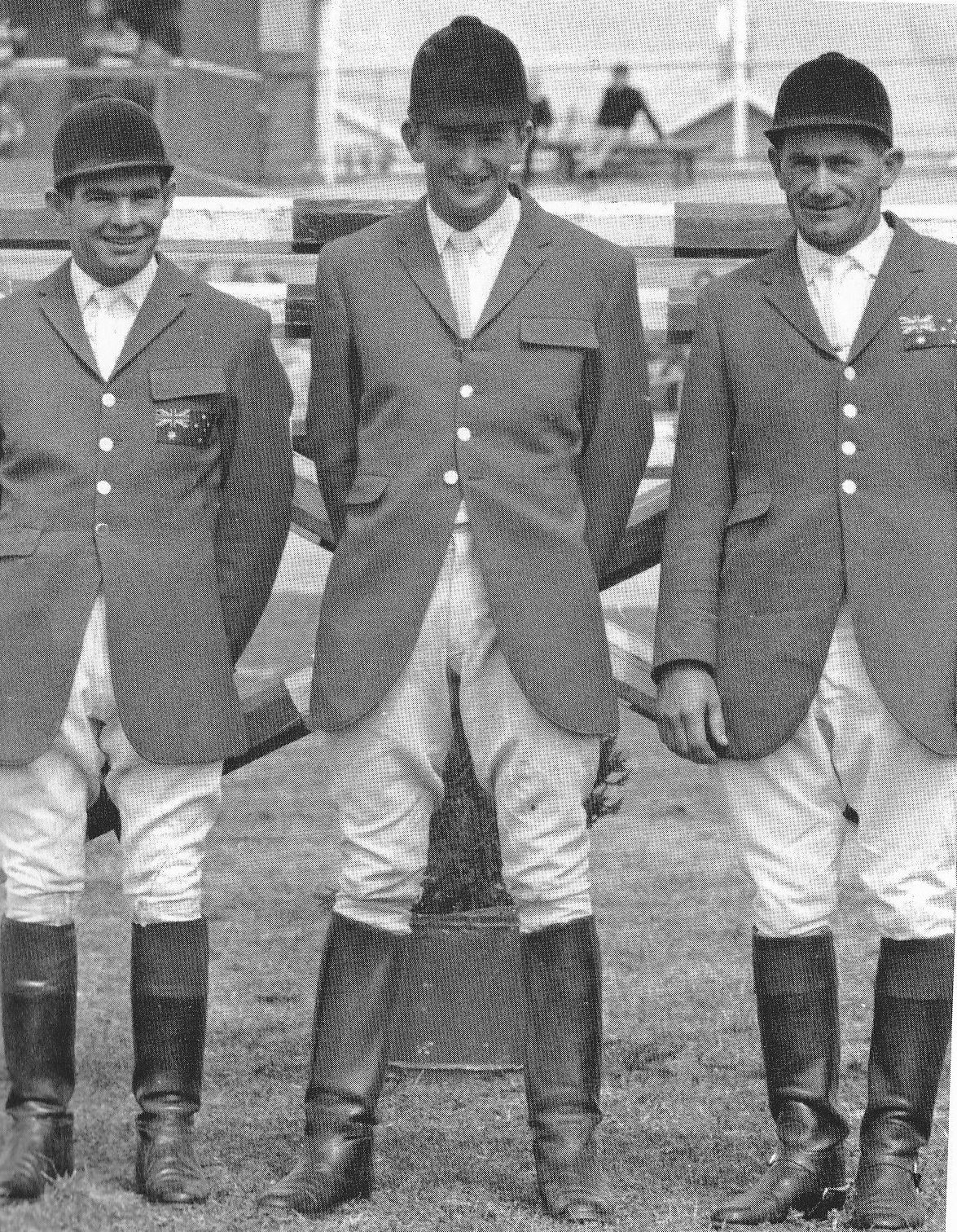 Above: The showjumping team for Mexico Olympics 1968 (l to r) John Fahey, Sam Campbell and Kevin Bacon.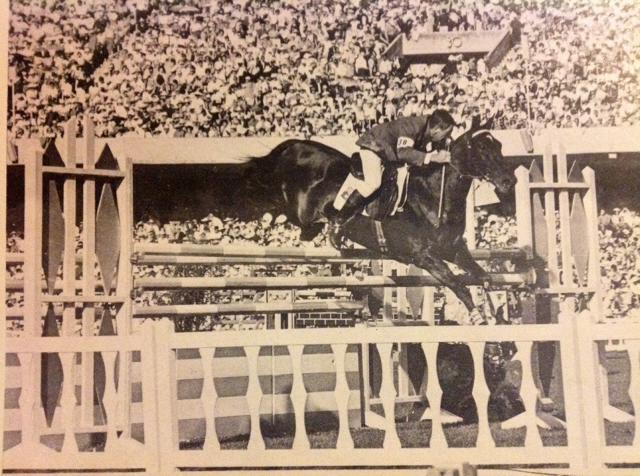 Kevin Bacon and Chichester at Mexico. (Bacon lost his hat at the previous jump). Photo credit:Gonzalo Garcia Ceron
Following the Mexico Olympics, Bacon and Chichester won the 1968 Berlin International Championship. The jet-black Chichester had an unusual jumping style that became a big hit in Europe. Bacon then went on to win many international events including being a four-time champion at Madison Square Gardens and several Grand Prix contests in Paris and Canada.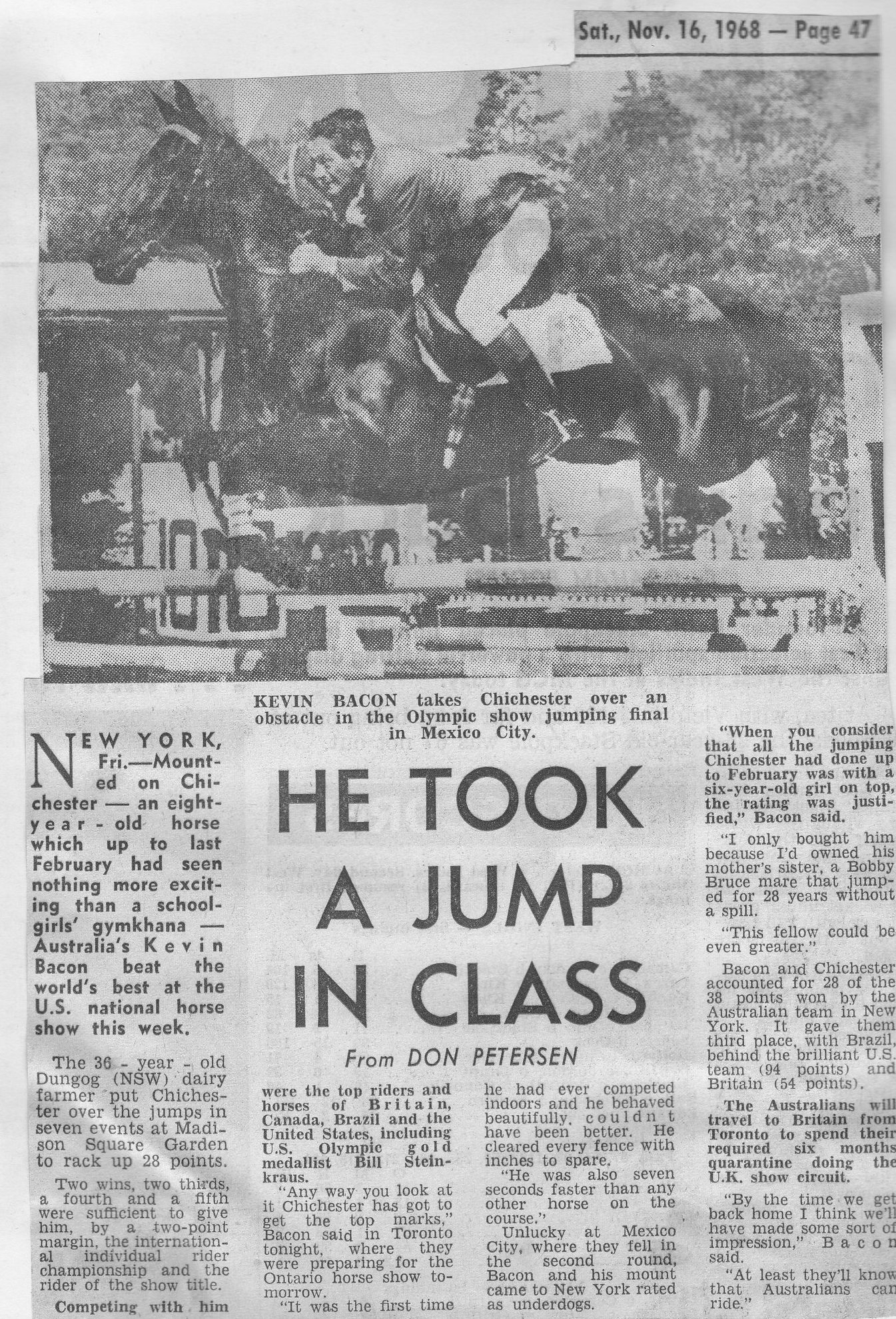 Bacon's manner of riding was often described as 'determined' rather than stylish. Indeed at first the American and European audiences laughed at his style but after big wins at the New York International Horse Show and Toronto Royal Winter Fair in 1968 that laughter changed to admiration.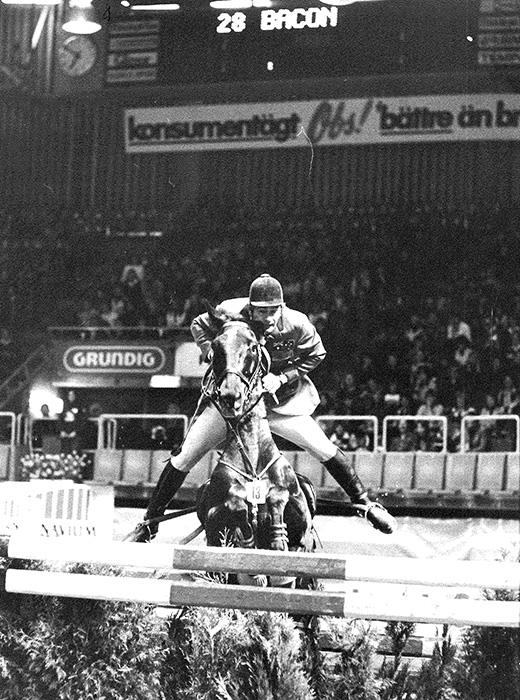 Above: Kevin Bacon and Chichester winning the Berlin International Championship.
Kevin Bacon and Chichester were an incredibly popular combination, great ambassadors for Australia on the showjumping scene in America and Europe. You can read more about the mighty Chichester HERE
Advertisement

The video below, although narrated in German and very scratchy, is a wonderful insight into the life of Kevin Bacon.
1968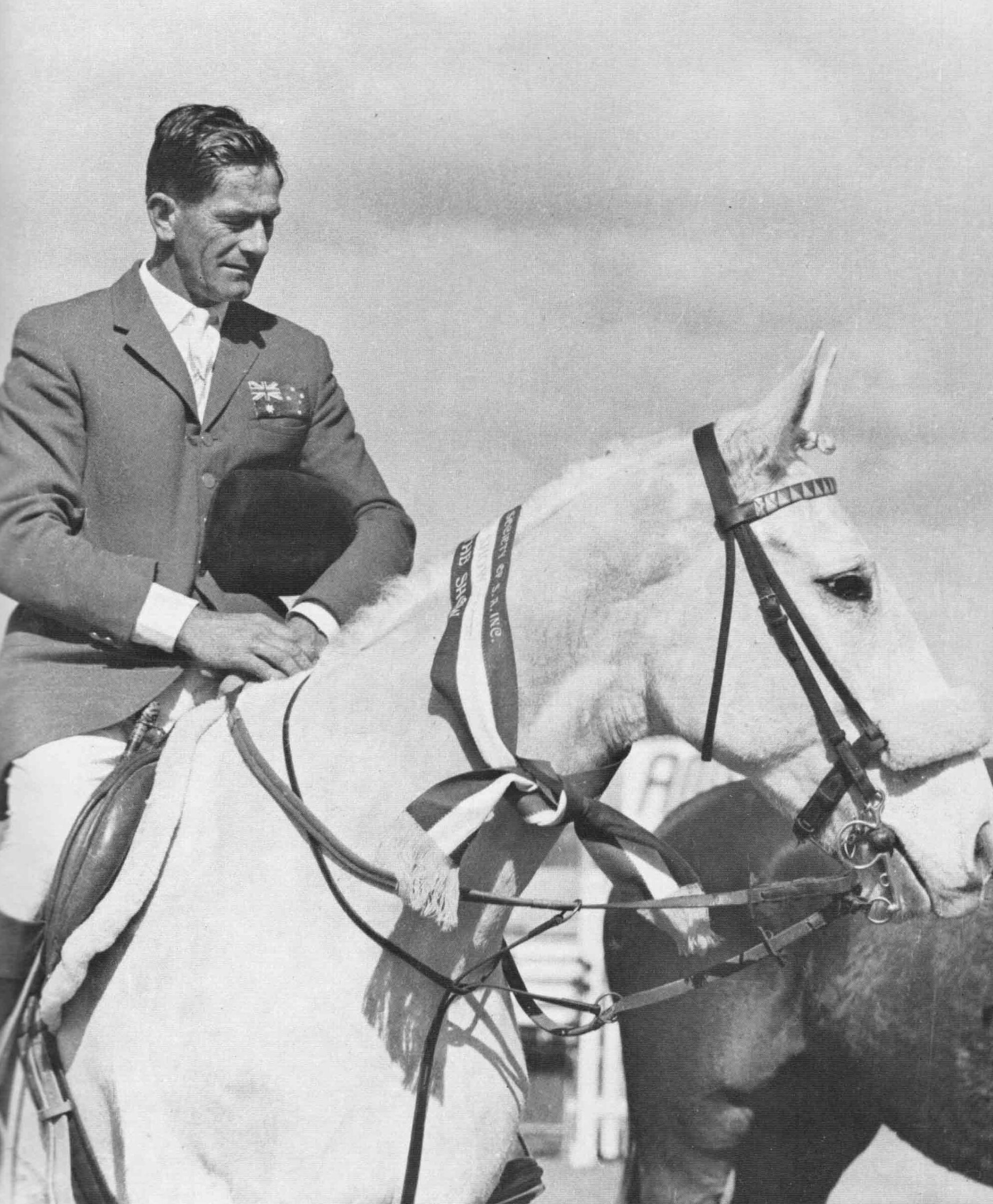 Above: Kevin Bacon and Ocean Foam at the horse's farewell appearance at the Royal Adelaide Show in 1968. In eleven years of competition, Ocean Foam won almost every major jumping Championship in the Commonwealth.
1969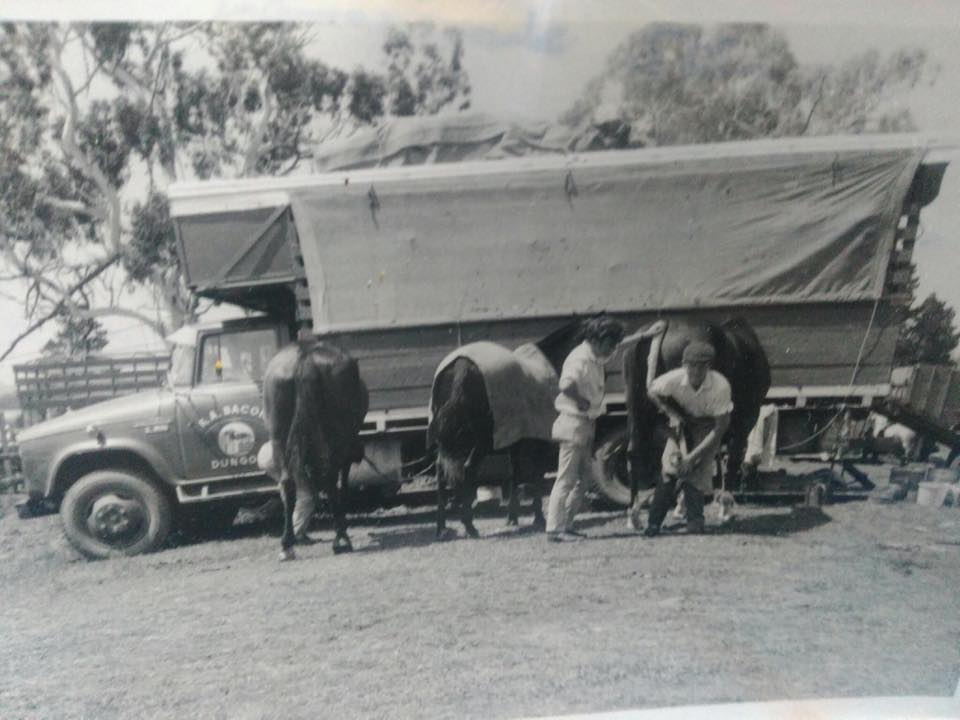 Photo Credit: Ross and Dianne Greenwood. Taken at Moss Vale Show, NSW in 1969. This photo shows Kevin shoeing Simon, with Chichester tied to the truck, while Ross Greenwood is shoeing Aristocrat. They were attending to the horses competing against the NZ touring team. New Zealander Ross Cole, shown here, was part of the NZ Team.
On the truck door you can see a painting of Chichester. It was hand painted by David Campbell (owner of Toledo, who with Kevin Bourke won in front of Queen Elizabeth). Some of the horses on the truck at this time, apart from Chichester were Simon, Carooma, Gift, Benambra and Cadet.
Kevin Bacon on Chichester, leading Gift. His reliever Jack is leading Simon.
In 1969 Bacon won the Australian Championships on Neil Harvey's Rajah after Harvey had an accident as was unable to ride. Bacon again won the Championships in 1970 on his great horse Simon.
Montreal Olympics 1976
At the 1976 Olympics in Montreal, Quebec, Canada, Bacon placed 37th in the individual show jumping event, again on Chichester. The team of Bacon, Guy Creighton and Barry Roycroft placed equal ninth in the team show jumping event.
1976 was also to be a special year as it was at the Nations Cup event in Melbourne, that Kevin teamed up with to ride in the Australian team with Robbie Allen, Eric Musgrove, and Gavin Chester, to beat the French and New Zealand teams, in the first truly international teams event in Australia.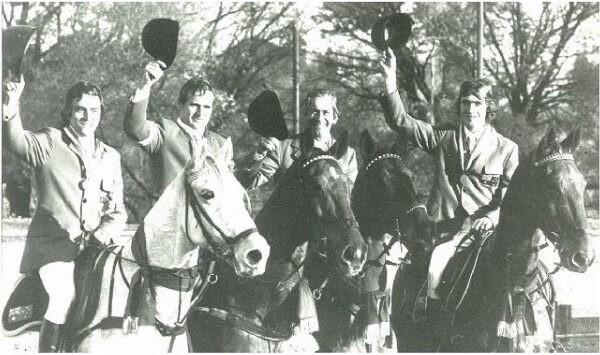 Above: Eric Musgrove, Robbie Allen, Kevin Bacon and Gavin Chester, winners of the Melbourne Nations Cup 1976.
In 1976 Kevin Bacon moved to Europe where he competed extensively for many years with Chichester, Billsborough, Melody Maker and Santex.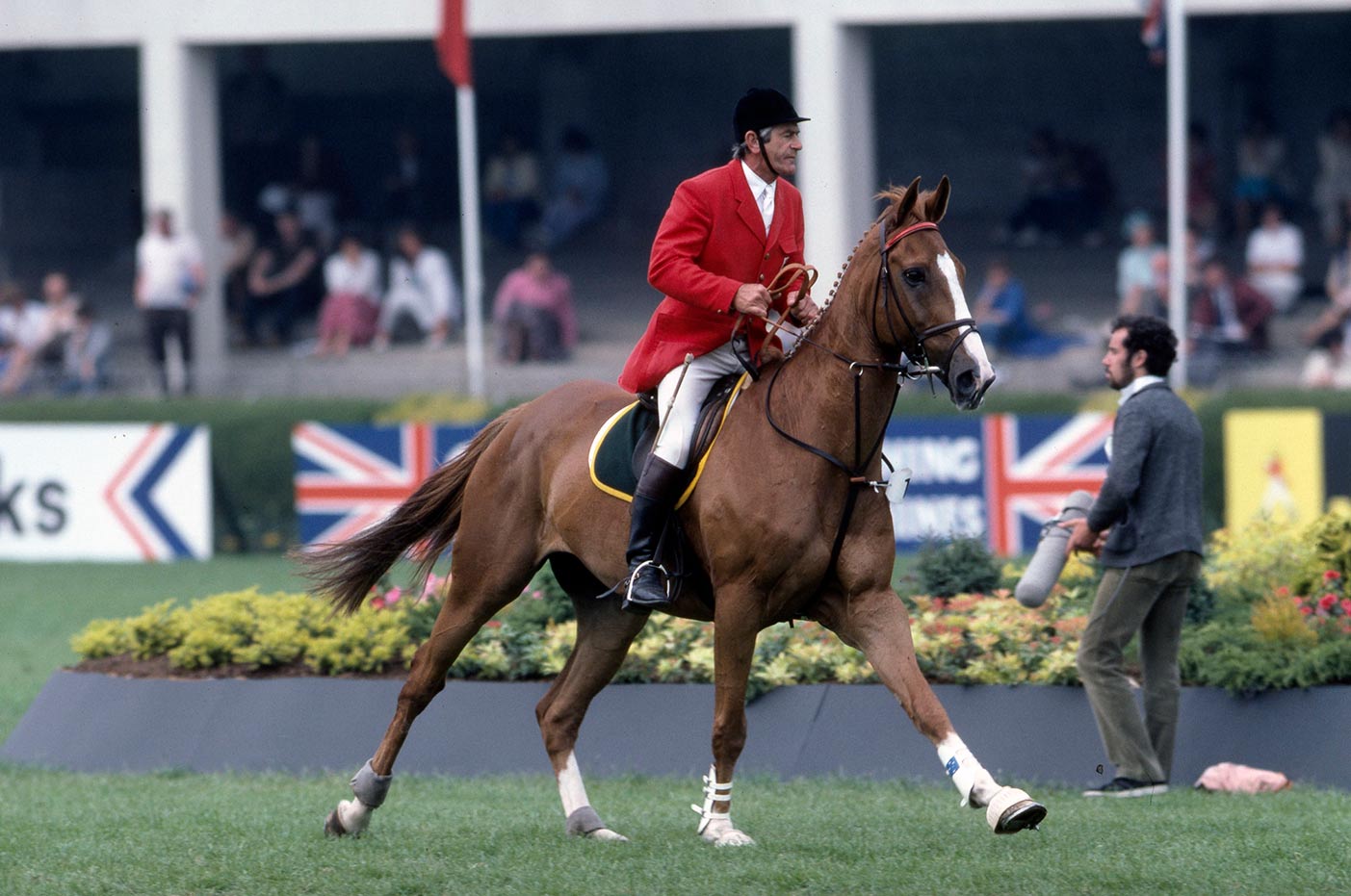 Above: Kevin Bacon and Billsborough at the World Show Jumping Championships, Dublin 1982. Photo credit: Kit Houghton
The team of Jeff McVean, Kevin Bacon, Vicki Roycroft and Armand Leone won the Nations Cup in Rome in 1987 and was 3rd in La Baule against all the top jumping nations. It was indeed a tour to remember.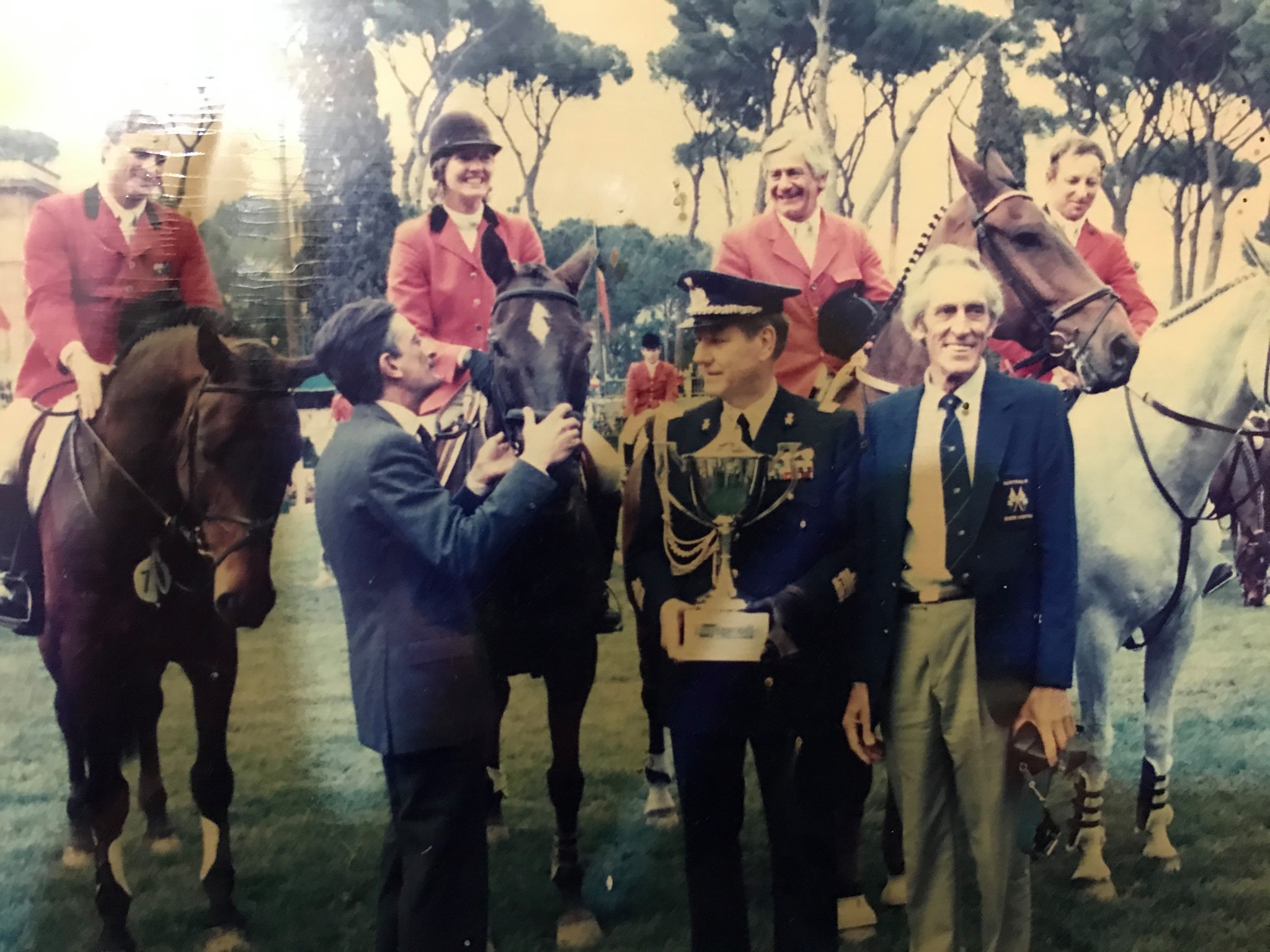 The Australian Nations Cup Team in 1987 (l-r) Armand Leone, Vicki Roycroft, Kevin Bacon and Jeff McVean with Chef d'Equipe, Bob Brook standing on the right.
In 1994 Kevin Bacon was awarded the Order of Australia Medal for his equestrian achievements. Bacon remained in Europe, coaching and training and remained very much a part of the equestrian world that he loved.
Kevin Ashley Bacon (20 March 1932 – 12 March 2020) – The Great Australian.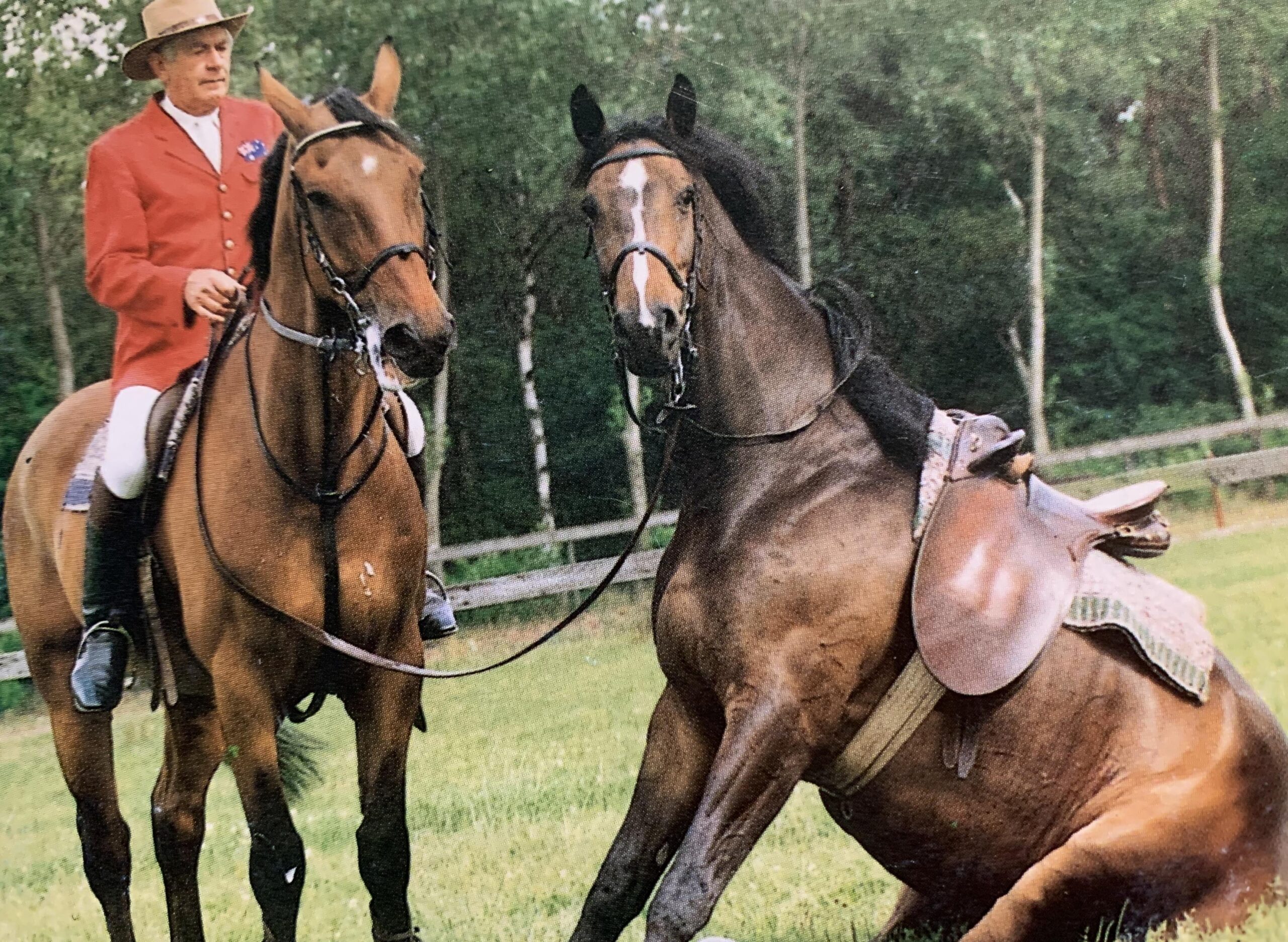 View Comments