Adam Metcalfe and MEC Aston take out the Guley Cup in S.A.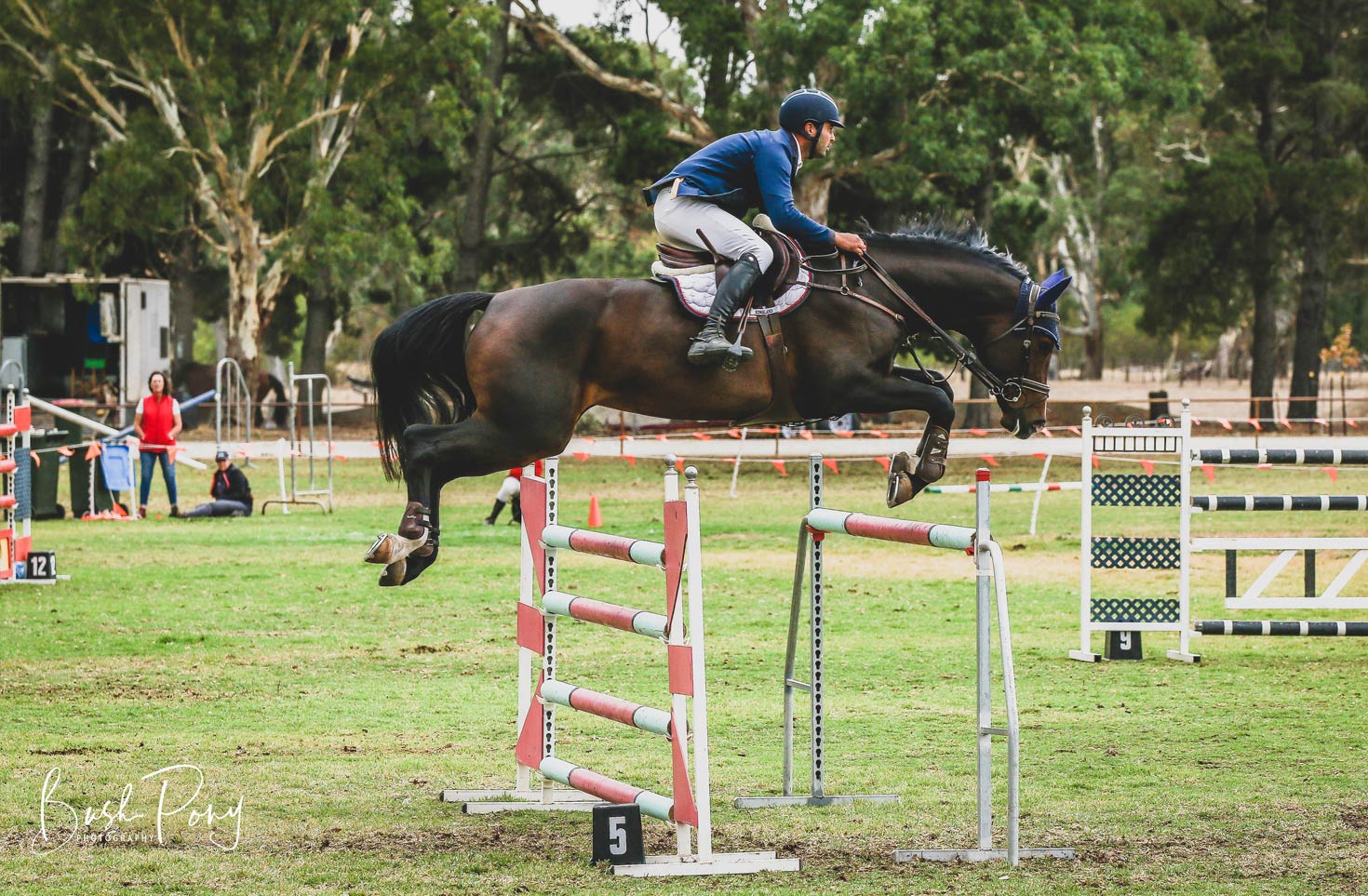 Bush Pony Photography
Last weekend the Northern Districts Show Jumping Club held the Autumn Show Jumping Classic in Mount Pleasant South Australia. We would like to congratulate all the winners and place getters from the weekend. In particular Adam Metcalfe and MEC Aston for taking the win in the Guley Cup, with Nicole Bruggemann and White Wash following up their win at Mallala a couple of weeks ago by coming in second.
The first four placegetters in all classes are listed below
SATURDAY – PRYDES EASIFEED – RING 1
CLASS 1a: PRYDES EASIFEED – OPEN 1.05m
| | | |
| --- | --- | --- |
| PLACE | RIDER | HORSE |
| 1st | Alana Livesey | Zenith |
| 2nd | Danni Hampton | Wedgewood |
| 3rd | Jade Kluske | MacArthur Desparnto |
| 4th | Danni Hampton | Wynara Bronze Medal |
CLASS 1b: PRYDES EASIFEED – 1.05m (Under 16 points)
| | | |
| --- | --- | --- |
| PLACE | RIDER | HORSE |
| 1st | Conor Reed | Atari SR |
| 2nd | Maisey Davies | Tik Of Approval |
| 3rd | Rachelle Verna | Giabella |
| 4th | Tamara Bakker | Royal Romeo |
CLASS 2: DAPPLE EQ – OPEN 1.10m
| | | |
| --- | --- | --- |
| PLACE | RIDER | HORSE |
| 1st | Jeff Bloomfield | Kiel Park Impact |
| 2nd | Conor Reed | Gothenburg |
| 3rd | Anthony Thomas | ESB Irish Craft |
| 4th | Ric Mettam | Cats On Song |
CLASS 3: GAWLER STOCK FEED – OPEN 1.15m
| | | |
| --- | --- | --- |
| PLACE | RIDER | HORSE |
| 1st | Conor Reed | Dollar Girl |
| 2nd | Anthony Thomas | ESB Irish Craft |
| 3rd | Danni Hampton | Wynara Bronze Medal |
| 4th | Wendy Schaefer | Gitta Bella |
CLASS 4: PRYDES EASIFEED – OPEN 1.20-1.25m
| | | |
| --- | --- | --- |
| PLACE | RIDER | HORSE |
| 1st | Jeff Bloomfield | Warnie |
| 2nd | Wendy Schaefer | Gitta Bella |
| 3rd | Jono Farrington | Peach Bellini |
| = 4th | Michelle Clark | Worlds Apart |
| = 4th | Nicole Bruggemann | White Wash |
| = 4th | Nicole Bruggemann | Lux Like Cavalier |
CLASS 5: MINI PRIX – THE MARINEMEMORIAL – 1.35m
| | | |
| --- | --- | --- |
| PLACE | RIDER | HORSE |
| 1st | Adam Metcalfe | MEC Aston |
| 2nd | Jeff Bloomfield | Warnie |
| 3rd | Briony Temby | El Diablo |
| 4th | Nicole Bruggemann | Lux Like Cavalier |
SATURDAY – RING 2
CLASS 6: HORSE MED SA – OPEN ENCOURAGE – 0.60m
| | | |
| --- | --- | --- |
| PLACE | RIDER | HORSE |
| 1st | K McSporran | Moosemen |
| 2nd | J Bush | Maurice |
| 3rd | K Charles | Pe |
| 4th | H Koronis | Tess |
CLASS 7: NB EQUESTRIAN – OPEN ENCOURAGE – 0.70m
| | | |
| --- | --- | --- |
| PLACE | RIDER | HORSE |
| 1st | C Boswood | Sanden Grove Bobby Royale |
| 2nd | L Bolzon | Glenormiston Buchaill |
| 3rd | K Charles | Pe |
| 4th | C Kennedy | Chloe |
CLASS 8: GAWLER STOCK FEED – OPEN ENCOURAGE – 0.80m
| | | |
| --- | --- | --- |
| PLACE | RIDER | HORSE |
| 1st | T Johnson | Veneticus |
| 2nd | L Bolzon | Glenormiston Buchaill |
| 3rd | S Graddock | Keira Park Cavalier |
| 4th | K Smith | The Bager |
CLASS 9: OPEN ENCOURAGE – 0.90-0.95m
| | | |
| --- | --- | --- |
| PLACE | RIDER | HORSE |
| 1st | T Johnson | Veneticus |
| 2nd | S Drake | Just Lucy |
| 3rd | M Dollard | TM Ultimate Frisby |
| 4th | L McBain | Blitzen |
CLASS 10: COONALPYN SILO CAFÉ – AMATEUR 1.10m
| | | |
| --- | --- | --- |
| PLACE | RIDER | HORSE |
| 1st | B Jolley | Quotation |
| 2nd | S Willoughby | Mr Rochester |
| 3rd | S Willoughby | Sunday Best |
| 4th | B Foley | Kalimna Topgear |
SUNDAY – PRYDES EASIFEED – RING 1
CLASS 11: HORSE MED SA – OPEN – 1.10m
| | | |
| --- | --- | --- |
| PLACE | RIDER | HORSE |
| 1st | Anthony Thomas | ESB Irish Craft |
| 2nd | Jeff Bloomfield | Keli Park Impact |
| 3rd | Abbie Lewis | MEC Gossip |
| 4th | Danni Hampton | Wynara Bronze Medal |
CLASS 12: PRYDES EASIFEED – ONE ROUND STAKES – 1.20m
| | | |
| --- | --- | --- |
| PLACE | RIDER | HORSE |
| 1st | Wendy Schaeffer-McDonald | Gitta Bella |
| 2nd | Nicole Bruggemann | Lux Like Cavalier |
| 3rd | Sophie Ludbrook | Rockford Park Aristocrat |
| 4th | Sarah Wigney | Highfield Luda Grandeur |
CLASS 13: HEATHER AMES JUNIOR GRAND PRIX – 1.15m
| | | |
| --- | --- | --- |
| PLACE | RIDER | HORSE |
| 1st | Alex Morris | Starlight Razzle Dazzle |
| 2nd | Conor Reed | Nightwish |
| 3rd | Thomas Harris | MV King |
| 4th | Conor Reed | Dollar Girl MS |
CLASS 14: GULEY CUP – 1.35-1.40m
| | | |
| --- | --- | --- |
| PLACE | RIDER | HORSE |
| 1st | Adam Metcalfe | MEC Aston |
| 2nd | Nicole Bruggemann | White Wash |
| 3rd | Jeff Bloomfield | Warnie |
| 4th | Kurt Siviour | Gringo |
CLASS 15: NDSJC YOUNG HORSE SPECTACULAR –
| | | |
| --- | --- | --- |
| PLACE | RIDER | HORSE |
| 1st | Briony Temby | El Diablo |
| 2nd | Jono Farrington | Peach Bellini |
| 3rd | Kate Crauford | Oaks Cairo |
| 4th | Susie Verco | Captivate |
SUNDAY – RING 2
CLASS 16: PRYDES EASIFEED – OPEN ENCOURAGE – 0.60-0.70m
| | | |
| --- | --- | --- |
| PLACE | RIDER | HORSE |
| 1st | T Day | Riverside Num Num |
| 2nd | N Whytie | Geoff |
| 3rd | T Day | Hunter |
| 4th | B Pannell | Flash |
CLASS 17: INSIDE-OUT – OPEN ENCOURAGE – 0.80-0.90m
| | | |
| --- | --- | --- |
| PLACE | RIDER | HORSE |
| 1st | L McBain | Blitzen |
| 2nd | A Pinter | Sunny Side Up |
| 3rd | K Baldock | Joey |
| 4th | J Bloomfield | Slash |
CLASS 18: OPEN ENCOURAGE – 1.00m
| | | |
| --- | --- | --- |
| PLACE | RIDER | HORSE |
| 1st | T Bakker | Royal Romeo |
| 2nd | J Bloomfield | First Battalion |
| 3rd | B Jolley | Quatation |
| 4th | B Yeardley | Celebrity Park Ronaldo |
CLASS 19a: OPEN – 1.05m
| | | |
| --- | --- | --- |
| PLACE | RIDER | HORSE |
| 1st | A William | Calivero |
| 2nd | T Bakker | Royal Romeo |
| 3rd | W Schaeffer | Sun Quest |
| 4th | M D0llard | Tiger Express |
CLASS 19b: VALLEY ENTERPRISES – AMATEUR – 1.05m
| | | |
| --- | --- | --- |
| PLACE | RIDER | HORSE |
| 1st | B Jolley | Rajah |
| 2nd | N Mathews | Blobski |
| 3rd | L Robins | Just Peachy |
| 4th | B Foley | Kalimna Topgear |
 Results sourced from the Northern Districts Show Jumping Club Facebook Page
View Comments