Aquis Champions Tour Results – Day 2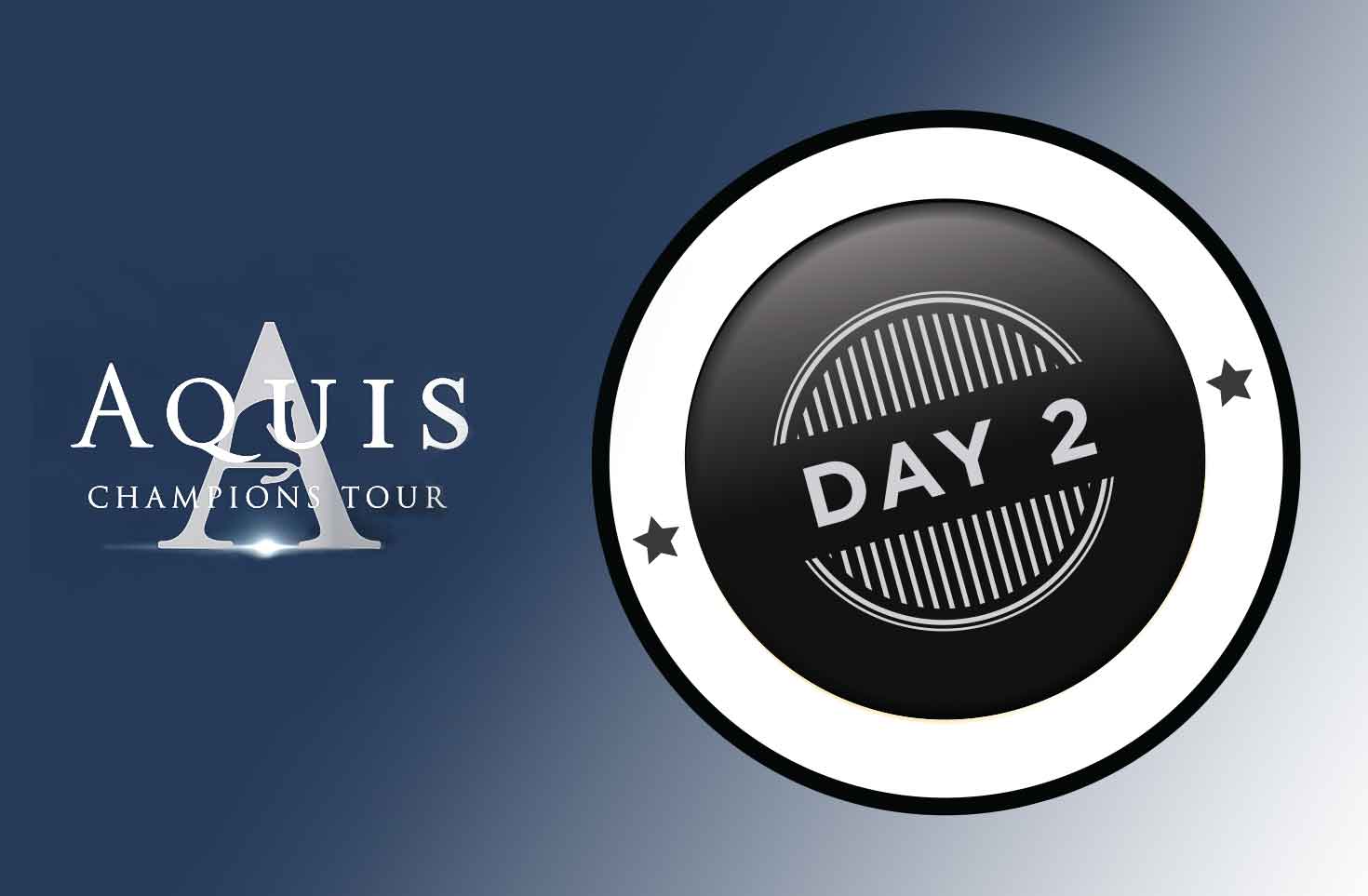 Australian Jumping
DAY 2 – SATURDAY 27th APRIL
Brilliant blue skies were the order of the day at Elysian Fields as Day 2 of the Aquis Champions Tour program got underway. Classes were held on all four arenas and below is a summary of the results for the day.
Results sourced from Global Entries Online.
AQUIS ARENA – RING 1
CLASS 1.11: Sydney Horse Transport – 1.30m – Future Stars
The first class in the main arena was, as with yesterday's main arena classes, a large one, with 85 combinations on the start list. In the first round 28 clears were recorded, with the fastest being achieved by Olivia Hamood and Sundance GHP. After a second round, half of these 28 again recorded clear rounds, with the fastest this time going to Katie Laurie and McCaw MVNZ.
The 14 double clears again rode in a third round to sort out the final placings. Again, Katie Laurie and McCaw MVNZ prevailed to take the win. In what is a wonderful performance by Laurie, she managed to fill three of the top ten placings and is jumping in fine form.
The top ten placegetters in this class were:
| | | | |
| --- | --- | --- | --- |
| PLACE | RIDER | HORSE | $ |
| 1st | Katie Laurie | McCaw MVNZ | $625 |
| 2nd | Samantha Morrison | Elmo | $500 |
| 3rd | Maddison Stephen | Oaks Conjurer | $375 |
| 4th | Katie Laurie | Remarkable | $250 |
| 5th | Tom McDermott | JEP Texas | $175 |
| 6th | Brooke Langbecker | Black Jack IXE | $100 |
| 7th | Melissa Blair | Gigant Z | $85 |
| 8th | Talara Cameron | Oaks Come By Chance | $85 |
| 9th | Sarah Beale | Wonpasset | $60 |
| 10th | Katie Laurie | Elysuim GNZ | $60 |
CLASS 1.12: Premier Floats – 1.40m Height Class
The second class on the main arena saw a total of sixty-seven combinations competed on a testing course, where, while only ten clear rounds were recorded, a further ten did not disturb a rail, but incurred a single time penalty. The fastest clear round was recorded by New Zealand visitor Tom Tarver-Priebe and Equifibre Popeye.
The jump-off was contested by just six of the ten combinations eligible. First out was Amber Fuller and CP Aretino, who went clear in 46.53 seconds to set the benchmark. Hugh Buchanan and Diamond B Carla were next and while their time was slightly quicker than Fuller's, two rails meant no win for them. Next was Young Rider, Jess Rice-Ward and CP Southern Cross, who had a refusal and 13 time penalties to put them out of contention. Fourth out was Olivia Hamood and Alan 111 Z, who took a rail to claim second place behind Fuller. Victorian Brook Dobbin and Equador MVNZ, were next to go. They completed a great round, clear in 44.83 seconds to take the lead, however, knowing who was out last must have given him little confidence of remaining in that position. Winner of the earlier class, Katie Laurie, this time riding Cera Caruso stood in Dobbin's way. Laurie cruised around the course more than three seconds quicker to emphatically stamp her class on the event. Another imposing win to Katie Laurie and it looks as if she might be in a position to dominate much of the Aquis Champions Tour, especially as we look towards the much richer classes towards the end of the program.
The top eight placegetters in this class were:
| | | | |
| --- | --- | --- | --- |
| PLACE | RIDER | HORSE | $ |
| 1st | Katie Laurie | Cera Caruso | $500 |
| 2nd | Brook Dobbin | Equador MVNZ | $375 |
| 3rd | Amber Fuller | CP Aretino | $250 |
| 4th | Olivia Hamood | Alan 111 Z | $150 |
| 5th | Hugh Buchanan | Diamond B Carla | $100 |
| 6th | Jess Rice-Ward | CP Southern Cross | $75 |
| 7th | Tom Tarver-Priebe | Equifibre Popeye | $50 |
| 8th | Tom McDermott | Elegance De La Charmille | $50 |
IRT ARENA – RING 2
CLASS 1.13: Chatham Park – 1.30m – Young Rider
The top six placegetters in this class were:
| | | | |
| --- | --- | --- | --- |
| PLACE | RIDER | HORSE | $ |
| 1st | Courtney Tincknell | Screwdriver | $375 |
| 2nd | Jamie Priestley | Kolora Stud Optimus | $180 |
| 3rd | Amelia Douglass | Cassis Z Ten Halven | $100 |
| 4th | Lucie Aldridge | Ollie Olae | $50 |
| 5th | Jess Rice-Ward | Dusky Farm Cavalier | $30 |
| 6th | Amelia Douglass | Eye Catcher | $15 |
CLASS 1.14a: Interschool Show Jumping – 1.20m – Super Junior
The top six placegetters in this class were:
| | | | |
| --- | --- | --- | --- |
| PLACE | RIDER | HORSE | $ |
| 1st | Cody Tincknell | Diamond J Connect The Dots | $225 |
| 2nd | Conor Reed | Dollar Girl MS | $125 |
| 3rd | Paige Johnston | CP Ellira | $60 |
| 4th | Sophie Hatch | Glenara Mudslide | $40 |
| 5th | Maleah Lang-McMahon | KS Sovereign's Cadel | $25 |
| 6th | Clemency Hughes | Nicolette | $25 |
CLASS 1.14b: Fiber Fresh – 1.20m – Progressive Rider
The top six placegetters in this class were:
| | | | |
| --- | --- | --- | --- |
| PLACE | RIDER | HORSE | $ |
| 1st | Guillermo Carballal | Cassius Khan | $375 |
| 2nd | Samantha Dernee | KWL Lady Gaga G | $180 |
| 3rd | Sara Ryan | Bellaroo Luigi | $100 |
| 4th | Cassie Stokes | Vovo | $50 |
| 5th | Anna Stenberg | Storm Park Electric Blue | $30 |
| 6th | Lara Pizimolas | JEP Frapant | $15 |
CLASS 1.15a: Interschool Show Jumping – 1.10m – Junior Championship
The top six placegetters in this class were:
| | | | |
| --- | --- | --- | --- |
| PLACE | RIDER | HORSE | $ |
| 1st | Charlee Dobbin | Dreamtime Invader | $225 |
| 2nd | Riley Cottrell | Spring Creek Pattern | $125 |
| 3rd | Amarni Easey | Mo Jo Jo Jo | $60 |
| 4th | Jasmine Holland | Congo Z | $40 |
| 5th | Clemency Hughes | Emmaville Spot On | $25 |
| 6th | Lauren Routledge | Branson MVNZ | $25 |
CLASS 1.15b: Fiber Fresh – 1.10m – Intermediate Rider
The top six placegetters in this class were:
| | | | |
| --- | --- | --- | --- |
| PLACE | RIDER | HORSE | $ |
| 1st | Mia Smith | Sangster | $225 |
| 2nd | Nicole Murphy | Jayem Amablique | $125 |
| 3rd | Bree Wiblin | Glenshea Riversong | $60 |
| 4th | Tahlia Baxter | Icarus Blue Diamond | $40 |
| 5th | Cameron Moffat | Bellhaven Secret | $25 |
| 6th | Kate Conroy | Yalambi's Andante | $25 |
KARA KAR ARENA – RING 3
CLASS 1.16: GeoPro Footing – 0.80m Height Class
The top five placegetters in this class were:
| | | | |
| --- | --- | --- | --- |
| PLACE | RIDER | HORSE | $ |
| 1st | Lorna Clifford | Glenormiston Christie | $30 |
| 2nd | Kate Lyttle | Roselee Mondeo | $25 |
| 3rd | Isabella Forsyth | Ethereal Duchesse De Bloom | $15 |
| 4th | Shelley Cox | Mr Scoobie Doo | $10 |
| 5th | Lorna Clifford | Quamby Park Star Show | $5 |
CLASS 1.17: GeoPro Footing – 0.90m Height Class
The top five placegetters in this class were:
| | | | |
| --- | --- | --- | --- |
| PLACE | RIDER | HORSE | $ |
| 1st | Kayla Johnston | Cowboy | $30 |
| 2nd | Kate Lyttle | Roselee Mondeo | $25 |
| 3rd | Emily Lang-McMahon | Monty Who | $15 |
| 4th | Elkee Lang-McMahon | Flash Az | $10 |
| 5th | Charlie Magneir | His Royal Emblem | $5 |
CLASS 1.18: GeoPro Footing – 1.00m Height Class
The top five placegetters in this class were:
| | | | |
| --- | --- | --- | --- |
| PLACE | RIDER | HORSE | $ |
| 1st | Kayla Johnston | Cowboy | $30 |
| 2nd | Maddison Thompson | Bellhaven Atlantis | $25 |
| 3rd | Maddison Thompson | Bellhaven Cascade | $15 |
| 4th | Emily Lang-McMahon | KS Rosie | $10 |
| 5th | Hannah Overton | Miss Ruby Rose | $5 |
MILENCO – RING 4
CLASS 1.19: Penelope Store Australia – 1.10m Height Class (for horses with less than 16 points)
The top six placegetters in this class were:
| | | | |
| --- | --- | --- | --- |
| PLACE | RIDER | HORSE | $ |
| 1st | Brook Everingham | Storm Park Ploutos | $225 |
| 2nd | Ron Easey | Easy Would Poppi | $125 |
| 3rd | Rebekah Towler | Miss Allykat | $60 |
| 4th | Hayley Morris | Breaking Bad | $40 |
| 5th | Emma Smith | Diamond B Babybel | $25 |
| 6th | Alison Rowland | Oaks Costa Rica | $25 |
CLASS 1.20: 240 Electrical – 1.15m Height Class (for horses with less than 20 points)
The top six placegetters in this class were:
| | | | |
| --- | --- | --- | --- |
| PLACE | RIDER | HORSE | $ |
| 1st | Phillip Lever | Catena | $225 |
| 2nd | David Cameron | Oaks Trickery | $125 |
| 3rd | Kirstie Ansell | Tulara Stolensky | $60 |
| 4th | Haley Cox | Eclipsis | $40 |
| 5th | Paul Brent | Cavalli Park Ciara | $25 |
| 6th | Rebecca Jenkins | Fairview Lorini C | $25 |
CLASS 1.21: Fiber Fresh – 1.30m Speed Championship
The top six placegetters in this class were:
| | | | |
| --- | --- | --- | --- |
| PLACE | RIDER | HORSE | $ |
| 1st | Vicki Roycroft | Dynamite Bay | $225 |
| 2nd | Ron Easey | Town Man | $125 |
| 3rd | Stephanie MacKillop | Yirrkala Exclusive | $60 |
| 4th | Kelly Slater | Balmoral Couger Pedy | $40 |
| 5th | Brooke Campbell | Finn MVNZ | $25 |
| 6th | Alison Ostenfeld | Aveden Atom | $25 |
View Comments