Bega Showjumping Club – Back on Track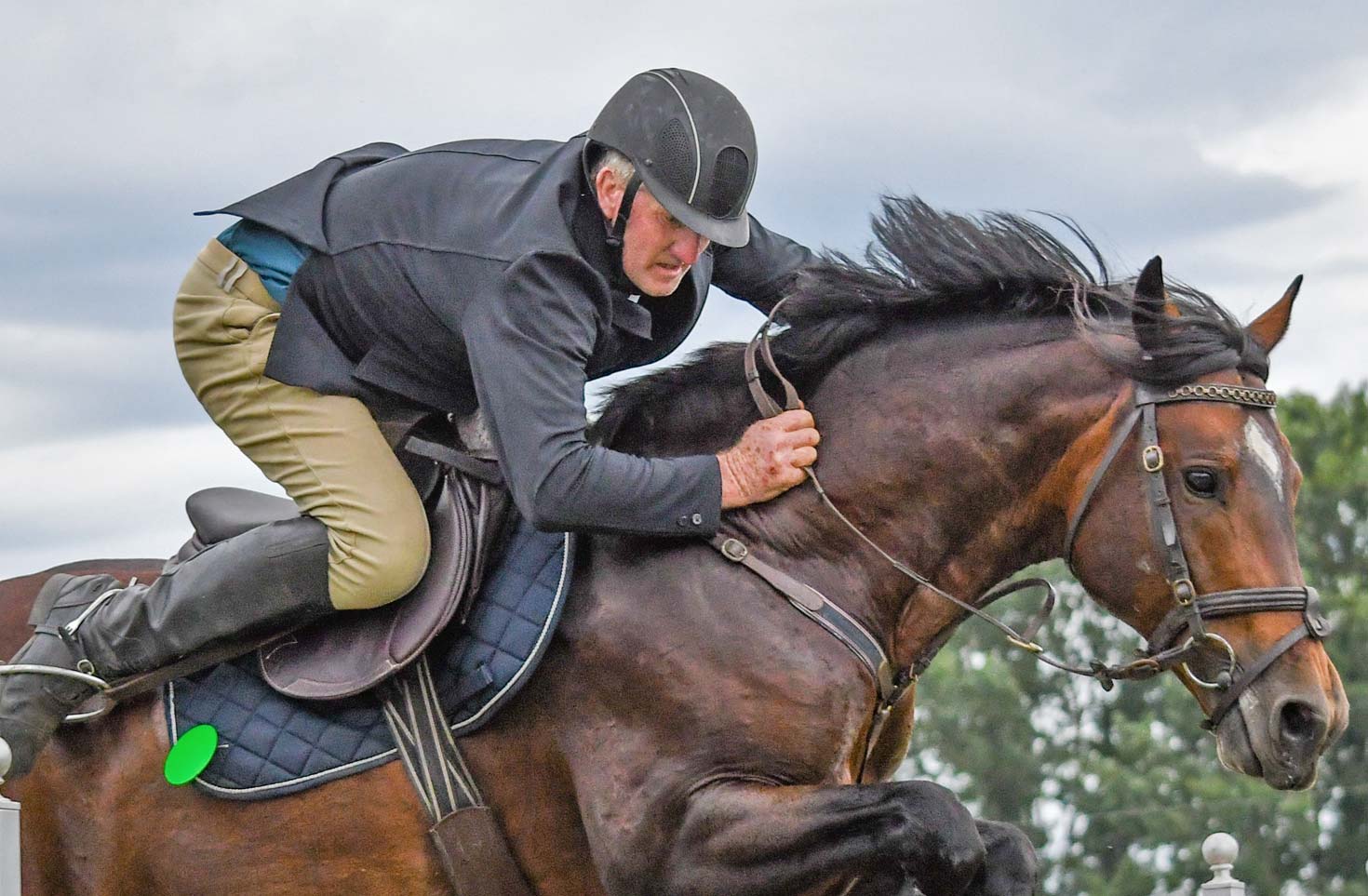 Bega Showjumping Club Facebook
Above: Brett Clarke & GH Blossoms Little Brother – GH Mechanical 1.35m winner. Photo Credit: Govern Equine Images
After COVID-19 restrictions forced the cancellation of the Bega Cup event which was to be held over the October Long weekend, the Bega Showjumping Club made a return to competition last weekend. On a lovely lush green Bega showground, classes were held over two arenas on both Saturday and Sunday and $5,000 of prizemoney distributed to winners and placegetters.
Congratulations goes to all the winners and placegetters.
Advertisement


See below for a full listing of all the results from the show.
SATURDAY RESULTS
RING 1
CLASS 1: The Lennon Family – Open – 0.90m
The first six placings in this class were:
| | | |
| --- | --- | --- |
| PLACE | RIDER | HORSE |
| 1st | Melissa Turner | GH Prince |
| 2nd | Payten Collins | Sir Billy The Kid |
| 3rd | Alisa Williams | Kaluga |
| 4th | Amber Pollard | Shine You Shine |
| 5th | Esther Black | Busta Bob |
| 6th | Casey Louttit | Vader |
CLASS 2: Bluegum Hair Studio – Open – 1.00m
The first six placings in this class were:
| | | |
| --- | --- | --- |
| PLACE | RIDER | HORSE |
| 1st | Hollie Spence | Ego Miss Moët |
| 2nd | Bella Griffin | Sir King Charles |
| 3rd | Jorjah Drysdale | GB Fable |
| 4th | Alexandra Marks | Mondisco Park Jaguar |
| 5th | Emily Quodling | CMB Doormouse |
| 6th | Amelia Preston | Belladuroet |
CLASS 3: Quod's Plumbing Cooma & CMB Equestrian – Open – 1.05m
The first six placings in this class were:
| | | |
| --- | --- | --- |
| PLACE | RIDER | HORSE |
| 1st | Bella Griffin | Sir King Charles |
| 2nd | Jorjah Drysdale | Bradgate Park Magnum |
| 3rd | Lane Clarke | Our OMG |
| 4th | Lane Clarke | Rosthwaite Steven |
| 5th | Maddison Brighton | Anembo Jemini |
| 6th | Deon Williams | Valley Girl |
CLASS 4: Raymond Grant Builder – Open – 1.10m
The first six placings in this class were:
| | | |
| --- | --- | --- |
| PLACE | RIDER | HORSE |
| 1st | Grant Jessop | GH Sonovagun |
| 2nd | Emerson Armstrong | GH Beyonce Babe |
| 3rd | Michael Cross | Little Bear |
| 4th | Maddison Reisner | Wine Hunter |
| 5th | Katelyn Staples | KC Spotabug |
| 6th | Sarah Dreverman | Emmaville Van Gogh |
CLASS 5: Grant Jessop Plumbing & Mal's Pizza Bite – Open – 1.15m-1.20m
The first six placings in this class were:
| | | |
| --- | --- | --- |
| PLACE | RIDER | HORSE |
| 1st | Deon Williams | Versace Vision |
| 2nd | Michael Cross | Little Bear |
| 3rd | Sandra Kenny | Rotherfield Absolute |
| 4th | Katelyn Staples | KC Spotabug |
| 5th | Kristle Cross | Little Bit Of Blue |
| 6th | Jack Haynes | ES Ella |
CLASS 6: Helen Slater & Family – Open – 1.25m-1.30m
The first six placings in this class were:
| | | |
| --- | --- | --- |
| PLACE | RIDER | HORSE |
| 1st | Lane Clarke | GH Tiger Lilly |
| 2nd | Brett Clarke | GH Blossoms Little Brother |
| 3rd | Jack Haynes | Shes A Diva |
| 4th | Deon Williams | Gillie |
| 5th | Lane Clarke | Valentine Lodge Vanna |
| 6th | Erin Roddy | Oaks Sharko |
RING 2
CLASS 7: Horseland Fyshwick – Cross Rails – 0.30m
The first six placings in this class were:
| | | |
| --- | --- | --- |
| PLACE | RIDER | HORSE |
| =1st | Riley Nisbet | Shine You Shine |
| =1st | Sharney Turner | Mighty Mouse |
| =3rd | Crystal Czubara | Castana Fred |
| =3rd | Isabella Clifton-Collins | Iron Bark Grove Blue Moon |
| 5th | Rachel Pearce | Smartie |
| 6th | Shannon Young | Riverina Dancer |
CLASS 8: LJ Hooker, Bega – Open – 0.50m
The first six placings in this class were:
| | | |
| --- | --- | --- |
| PLACE | RIDER | HORSE |
| 1st | Ashleigh Whyman | Amaranda Summer Rain |
| 2nd | Dekota Emerton | Wyatt |
| 3rd | Rachel Smith | Monsoon |
| 4th | Isabella Clifton-Collins | Charlie |
| 5th | Sue West | Emmaville Lamborghini |
| 6th | Isabella Clifton-Collins | Iron Bark Grove Blue Moon |
CLASS 9: The Shed Company – Open – 0.60m
The first six placings in this class were:
| | | |
| --- | --- | --- |
| PLACE | RIDER | HORSE |
| 1st | Ashleigh Whyman | Amaranda Summer Rain |
| 2nd | Sienna Jessop | Jed |
| 3rd | Heidi Staples | Freckles |
| 4th | Brooke Bartlett | Rex |
| 5th | Rachel Smith | Monsoon |
| 6th | Cecil Staples | RR Lightning |
CLASS 10: Clark Rideaux Solicitors – Open – 0.70m
The first six placings in this class were:
| | | |
| --- | --- | --- |
| PLACE | RIDER | HORSE |
| 1st | Sienna Irving | Sunnyvale Jackeroo |
| 2nd | Emerson Armstrong | Flicka |
| 3rd | Sharney Turner | Russell |
| 4th | Breanna Lennon | SH Mccallum |
| 5th | Brooke Bartlett | Rex |
| 6th | Natalie Melis | Ginger |
CLASS 11: Uee's Rural Services – Open – 0.80m
The first six placings in this class were:
| | | |
| --- | --- | --- |
| PLACE | RIDER | HORSE |
| 1st | Breanna Lennon | Jimmy |
| 2nd | Molly Moffitt | Daisy Patch Charmed |
| 3rd | Breanna Lennon | SH Mccallum |
| 4th | Abby Douch | Rainwood Park Melaleuca |
| 5th | Samantha Harrison | Celtic Luck |
| 6th | Vicki Cowdroy | Anembo Vandurren |
CLASS 12: Watkin's Inspiration Paint – Open – 0.90m
The first six placings in this class were:
| | | |
| --- | --- | --- |
| PLACE | RIDER | HORSE |
| 1st | Emerson Armstrong | Jessies Girl |
| 2nd | Grace Ferguson | Girl With A Curl |
| 3rd | Molly Moffit | Daisy Patch Charmed |
| 4th | Natalie Melis | Fancy Clancy |
| 5th | Breanna Lennon | Jimmy |
| 6th | Jordan Smith | Clancy |
Advertisement


SUNDAY RESULTS
RING 1
CLASS 13: Oaklands Barn & Garden Centre Pambula – Open – 0.90m
The first six placings in this class were:
| | | |
| --- | --- | --- |
| PLACE | RIDER | HORSE |
| 1st | Payten Collins | Sir Billy The Kid |
| 2nd | Melissa Turner | GH Prince |
| 3rd | Alexandra Marks | GH Delta Dawn |
| 4th | Amber Pollard | Shine You Shine |
| 5th | Esther Black | Busta Bob |
| 6th | Jasmine Haynes | Daybreak Del Pietro |
CLASS 14: Glen Mia Supplies Bega – Open – 1.00m
The first six placings in this class were:
| | | |
| --- | --- | --- |
| PLACE | RIDER | HORSE |
| 1st | Natalie Melis | Fancy Clancy |
| 2nd | Jasmine Haynes | Daybreak Del Pietro |
| 3rd | Molly Moffitt | Unheard |
| 4th | Braelie Jones | I Don't Have A Kahlua |
| 5th | Craig Matthews | Poppin Bubbles |
| 6th | Alannah Aldous | No Intro Needed |
CLASS 15: Grand Hotel Bega & Animalz On The Go & Equine Services – Open – 1.05m
The first six placings in this class were:
| | | |
| --- | --- | --- |
| PLACE | RIDER | HORSE |
| 1st | Hollie Spence | Ego Miss Moët |
| 2nd | Bella Griffin | Sir King Charles |
| 3rd | Lane Clarke | Our OMG |
| 4th | Emerson Armstrong | GH Beyonce Babe |
| 5th | Jorjah Drysdale | GB Fable |
| 6th | Jorjah Drysdale | Valley Girl |
CLASS 16: Horizon Bank Bega – Open – 1.10m
The first five placings in this class were:
| | | |
| --- | --- | --- |
| PLACE | RIDER | HORSE |
| 1st | Michael Cross | Emmaville Da Vinci |
| 2nd | Deon Williams | Njay |
| 3rd | Brianna Johnson | Leander |
| 4th | John Flower | Major Look |
| 5th | Jessica Clarke | GH Tiger Lilly |
CLASS 17: Chester Smith P/L Stock & Station Agents & Elders Real Estate Bega – Open – 1.15m-1.20m
The first six placings in this class were:
| | | |
| --- | --- | --- |
| PLACE | RIDER | HORSE |
| 1st | Lane Clarke | Valentine Lodge Vanna |
| 2nd | Michael Cross | Little Bear |
| 3rd | Grant Jessop | GH Sonovagun |
| 4th | Sarah Dreverman | Emmaville Van Gogh |
| 5th | Brett Clarke | GH Emmaville Olga |
| 6th | Jasmine Haynes | Croissant |
CLASS 18: GH Mechanical – Open – 1.30m-1.35m
The first six placings in this class were:
| | | |
| --- | --- | --- |
| PLACE | RIDER | HORSE |
| 1st | Brett Clarke | GH Blossoms Little Brother |
| 2nd | Erin Roddy | Oaks Sharko |
| 3rd | Grant Hughes | Emmaville Twist |
| 4th | Lane Clarke | GH Tiger Lilly |
| 5th | Jack Haynes | Shes A Diva |
| 6th | Lane Clarke | Valentine Lodge Vanna |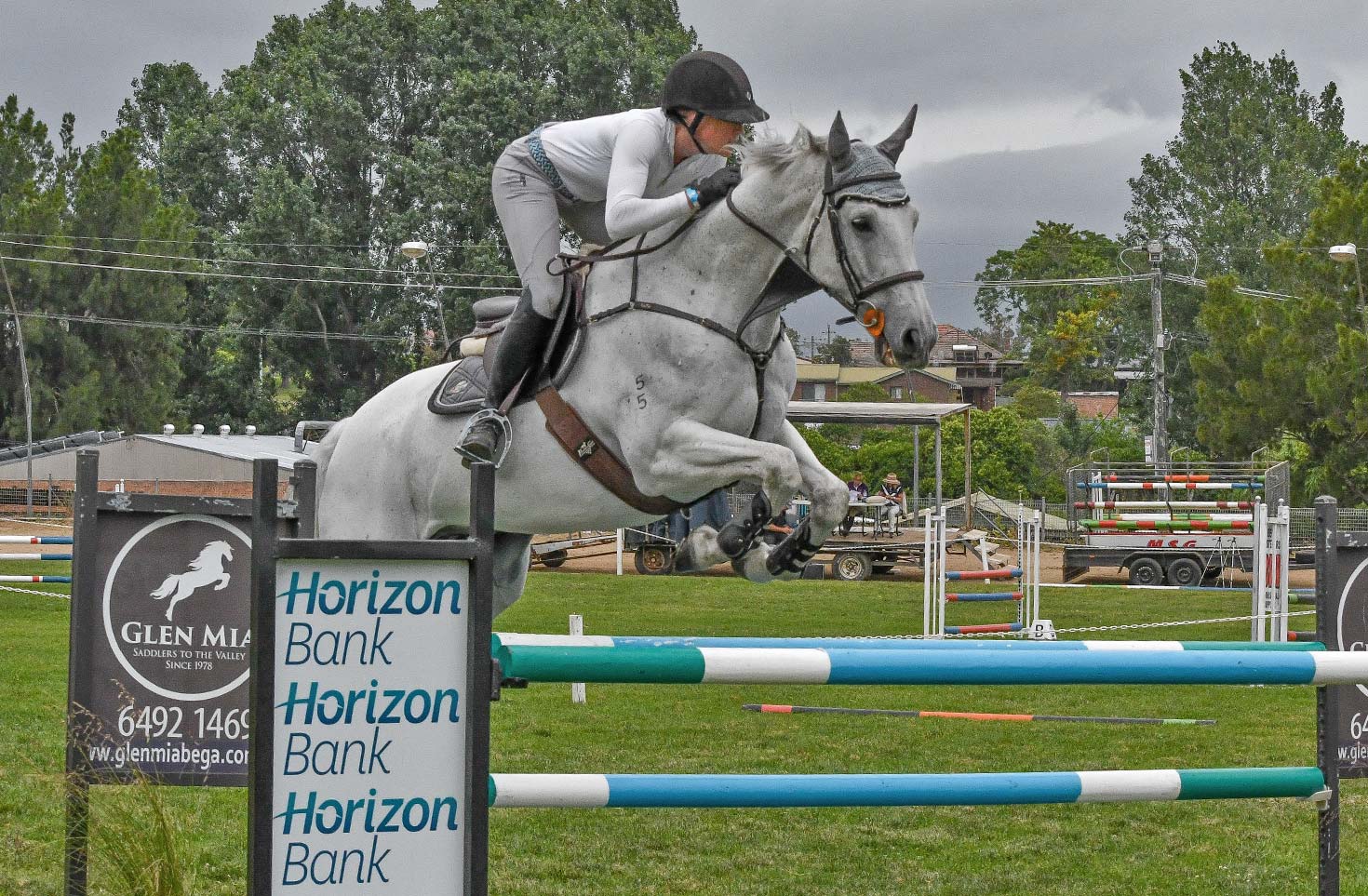 Erin Roddy andOaks Sharko. Photo Credit: Govern Equine Images
RING 2
CLASS 19: Elders Real Estate Tathra – Cross Rails – 0.30m
The first six placings in this class were:
| | | |
| --- | --- | --- |
| PLACE | RIDER | HORSE |
| 1st | Crystal Czubara | Castana Fred |
| 2nd | Isabella Clifton-Collins | Iron Bark Grove Blue Moon |
| 3rd | Shannon Young | Riverina Dancer |
| =4th | Chloe Lucas | Larry |
| =4th | Emmilee Reid | Oneils Roman |
| 6th | Holly Carmody-Burton | Ennovyar Rising Star |
CLASS 20: Plevey's Pharmacy Bega – Open – 0.50m
The first six placings in this class were:
| | | |
| --- | --- | --- |
| PLACE | RIDER | HORSE |
| 1st | Sharney Turner | Mighty Mouse |
| 2nd | Grace Lee | Molly |
| 3rd | Rebecca Whyman | Amaranda Summer Rain |
| 4th | Craig Matthews | Sam |
| 5th | Sienna Jessop | Jed |
| 6th | Rachel Smith | Monsoon |
CLASS 21: JS Excavations & Robert Smith Furnishers – Open – 0.65m
The first six placings in this class were:
| | | |
| --- | --- | --- |
| PLACE | RIDER | HORSE |
| 1st | Sienna Irving | Sunnyvale Jackeroo |
| 2nd | Adena Williams | Harley |
| 3rd | Breanna Lennon | SH Mccallum |
| 4th | Natalie Melis | Ginger |
| 5th | Ellie Grant | The Midster |
| 6th | Sienna Jessop | Jed |
CLASS 22: Commercial Hotel Bega – Open – 0.80m
The first six placings in this class were:
| | | |
| --- | --- | --- |
| PLACE | RIDER | HORSE |
| 1st | Grace Ferguson | Girl With A Curl |
| 2nd | Breanna Lennon | SH Mccallum |
| 3rd | Brooke Bartlett | Rex |
| 4th | Cecil Staples | Half Chilled |
| 5th | Dekota Emerson | Roy |
| 6th | Abby Douch | Rainwood Park Melaleuca |
CLASS 23: Moon's Bobcat Service – Open – 0.90m
Results not available
Results sourced from Global Entries Online
View Comments