Highlights of the Chatham Park Summer Showjumping Classic CSI2*-W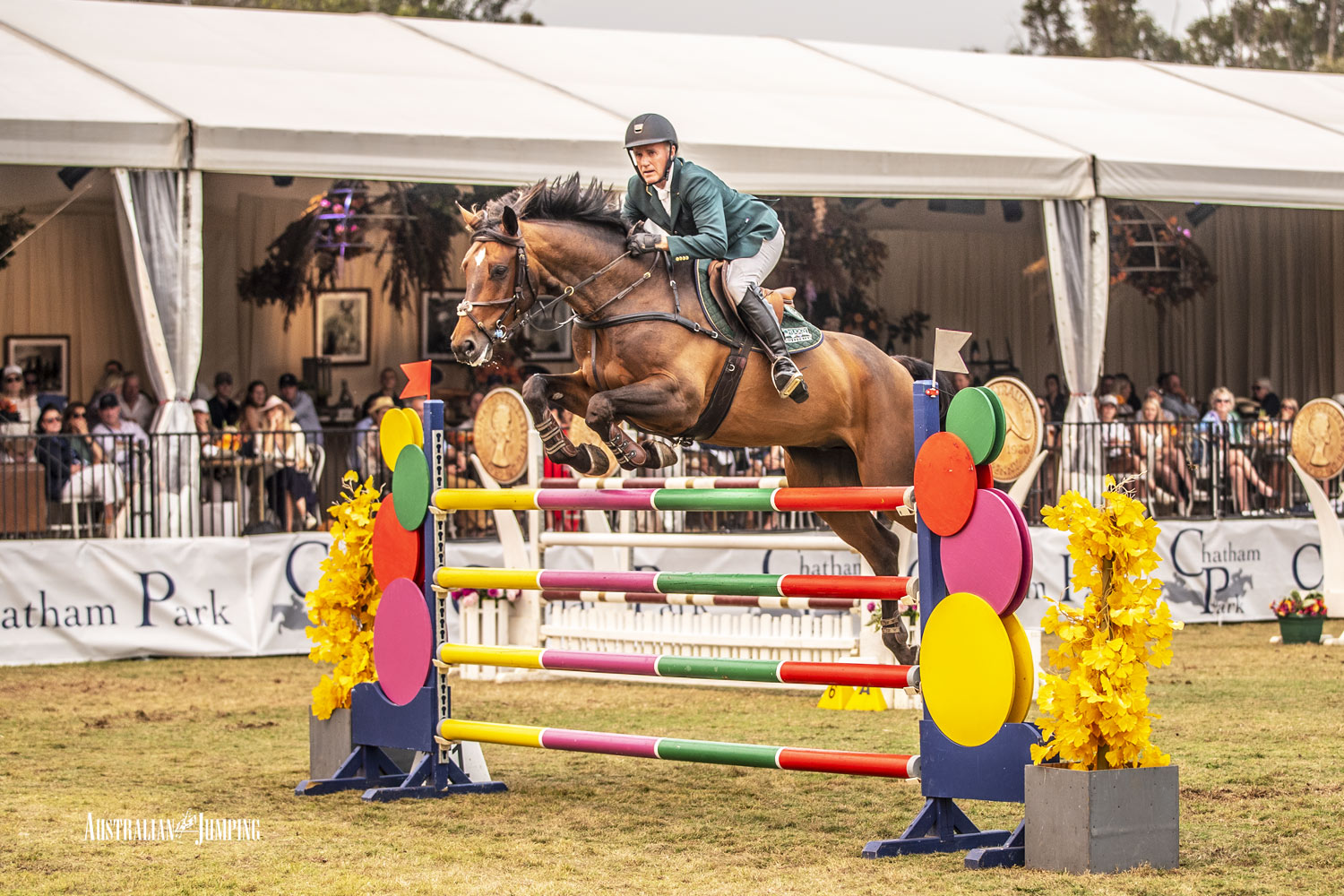 Australian Jumping
The time-honoured Chatham Park Summer Showjumping Classic CSI2*-W show was held at the Sydney International Equestrian Centre (SIEC) last weekend. Feature classes included the final round of the Stal Tops Young Rider Series, won by Amelia Douglass and Cassis Z Ten Halven, the only CSI 2* class of the year in Australia, the Chatham Park World Cup Qualifier, won by Chris Chugg and PSS Levilensky and the final leg of the inaugural season of the Australian Jumping Teams League (AJTL) on Sunday, won by Team Willinga Park.
Advertisement

With the grass arena at SIEC transformed into scene worthy of a European show, including a stunning VIP marquee and undercover seating for other spectators, this was undoubtably one of the nicest shows to be held at SIEC.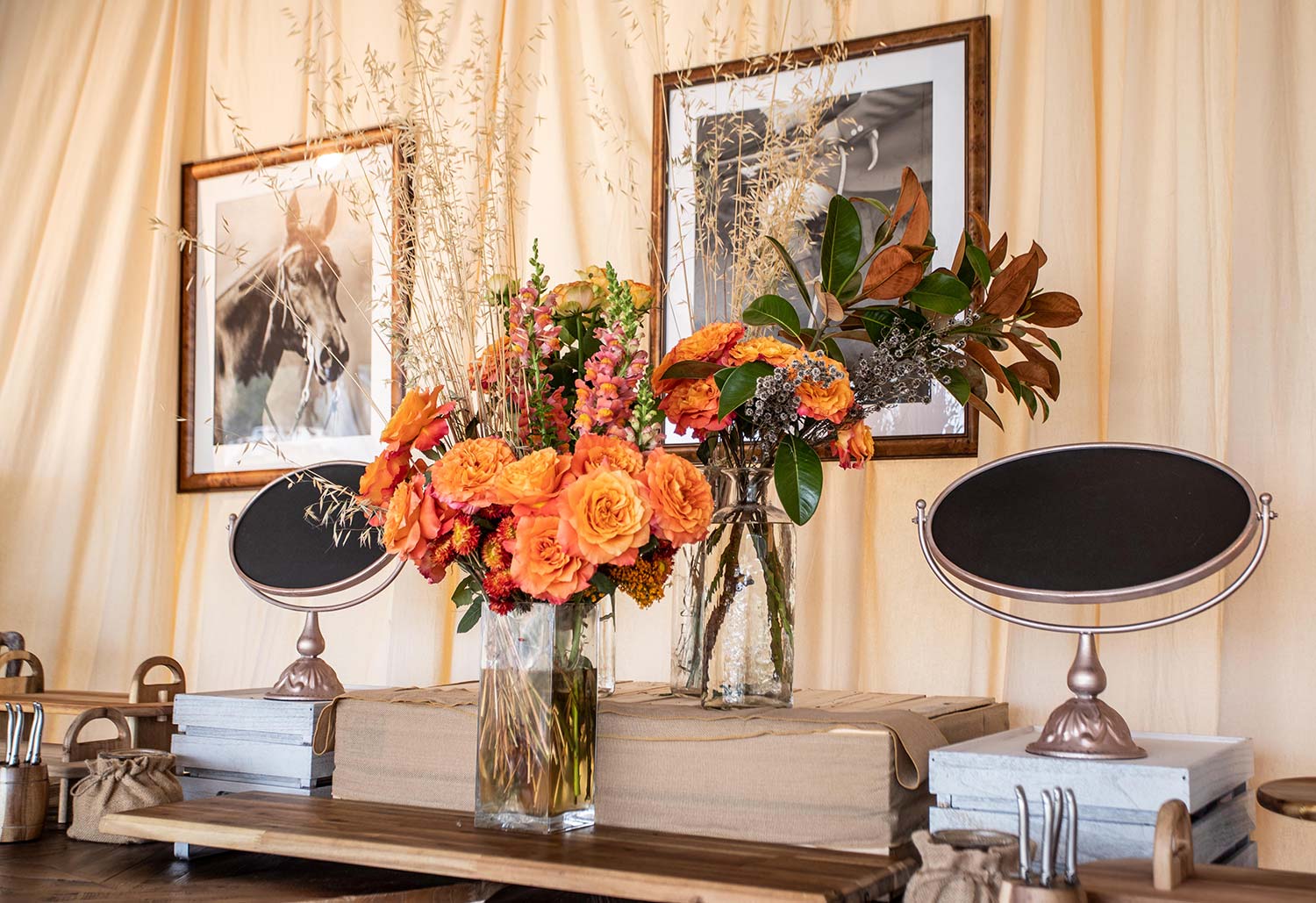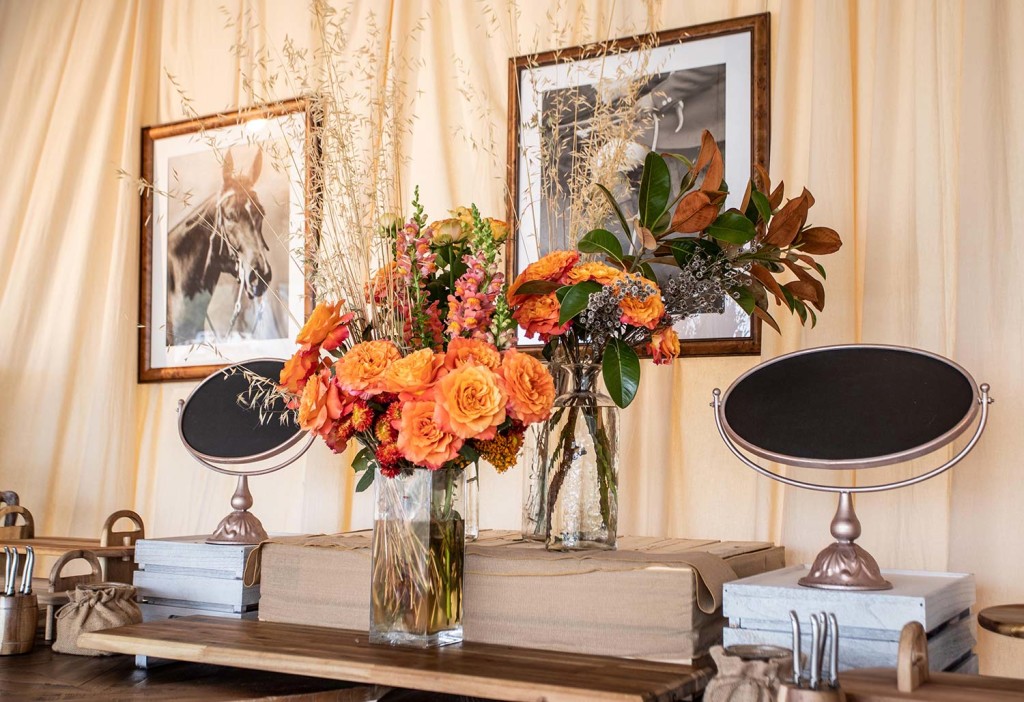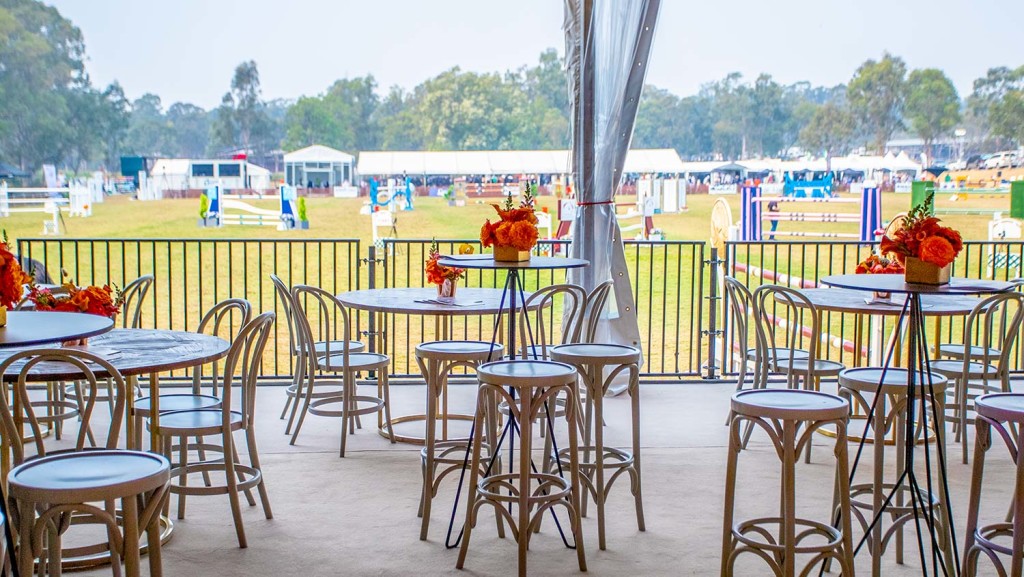 The smoke haze from surrounding fires and the personal fire threat to a number of the show organisers' properties was they only dampener on the weekend, but everyone banded together to make sure that things still rand to plan – and indeed they did.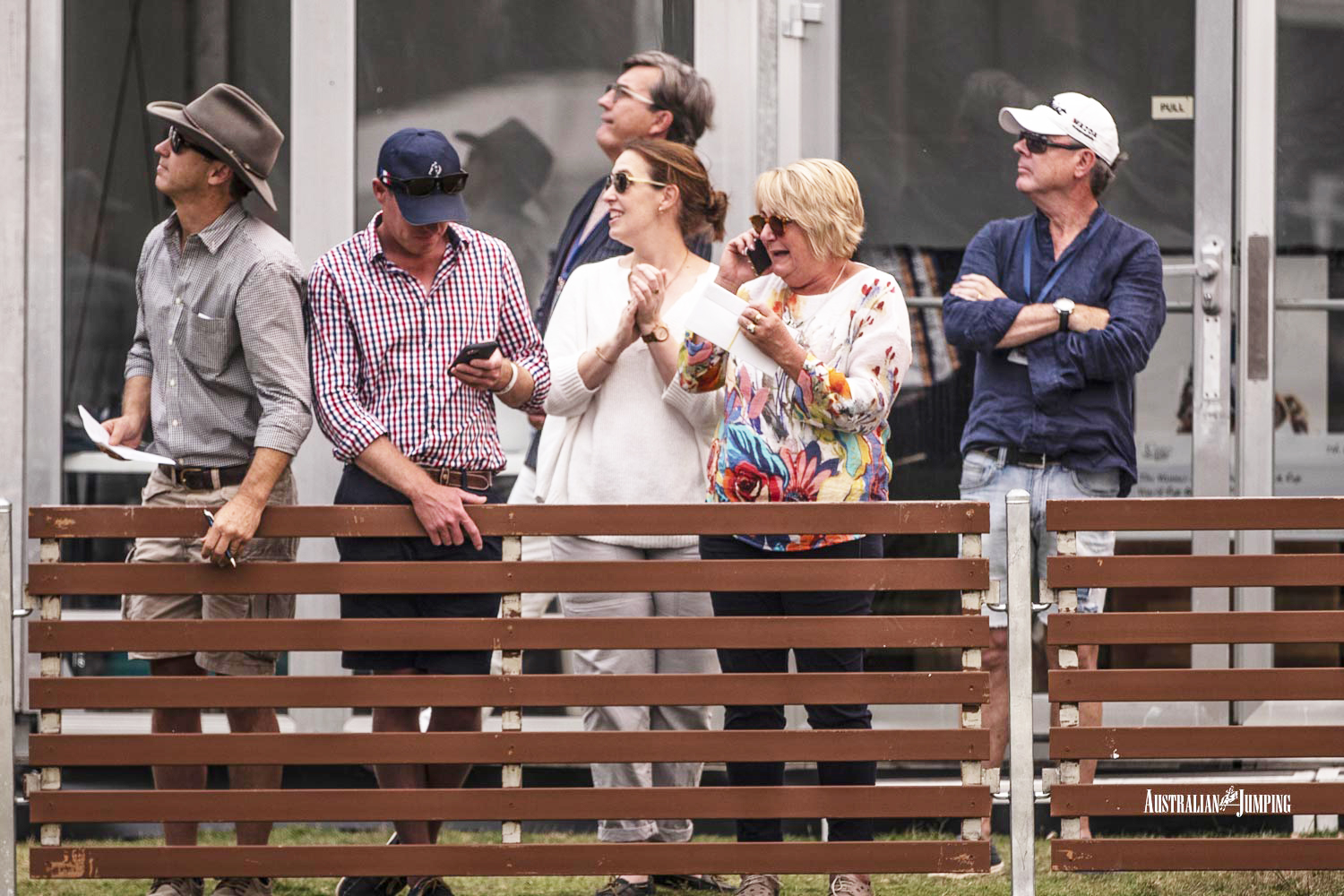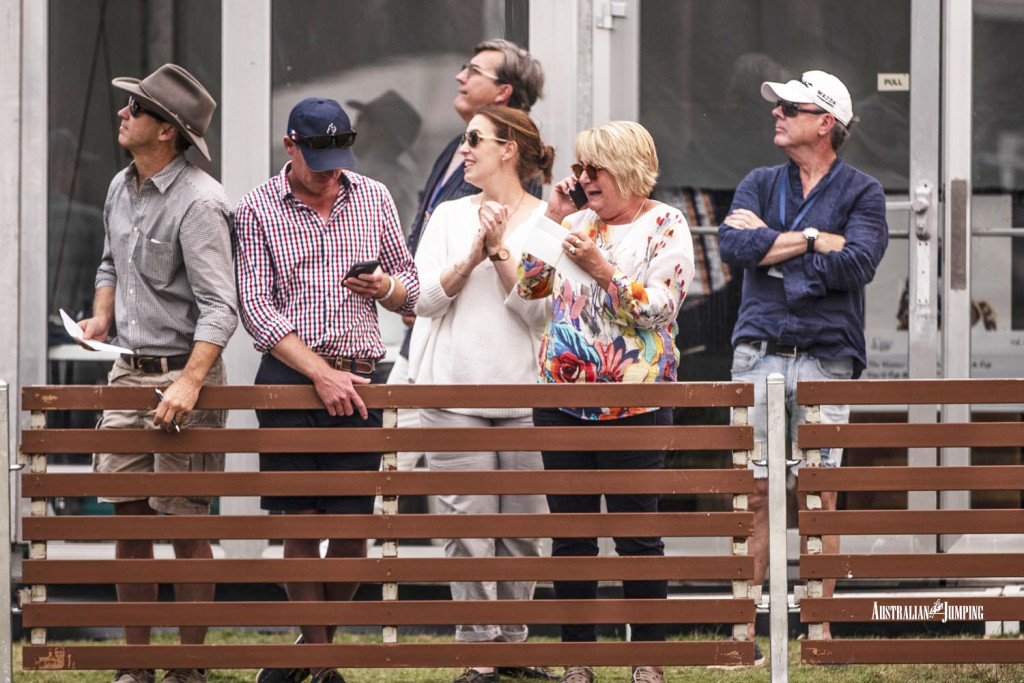 Run across three arenas over four days, we saw our jumping community come together for what for most was the final show for the year and the standard of jumping was exceptional. Below are all the results from the show as well as links to feature stories about the main classes.
THURSDAY
Chatham Park Arena 1
CLASS 1b: Equestrian NSW – Open (AM5) – 1.40m
The first six placegetters in this class were:
| | | |
| --- | --- | --- |
| PLACE | RIDER | HORSE |
| 1st | Tom McDermott | Alpha Activity |
| 2nd | Russell Johnstone | Daprice |
| 3rd | Billy Raymont | Ansiosso Z |
| 4th | Brooke Langbecker | Quintago 1 |
| 5th | Rhys Stones | Tulara Colmar |
| 6th | Amber Fuller | CP Aretino |
CLASS 2: Camden Equine Centre – Futurity Series Qualifier 1 – 1.30m
The first six placegetters in this class were:
| | | |
| --- | --- | --- |
| PLACE | RIDER | HORSE |
| 1st | Tom McDermott | Yalambis Harvard |
| 2nd | Olivia Hamood | Sundance GHP |
| 3rd | Tom McDermott | Cachassini 11 |
| 4th | Katie Laurie | Mccaw MVNZ |
| 5th | Tom McDermott | Schatzi |
| 6th | Tom McDermott | Carl Aus Pausin |
CLASS 3: Mini Prix Series Qualifier 1 – 1.40m
The first six placegetters in this class were:
| | | |
| --- | --- | --- |
| PLACE | RIDER | HORSE |
| 1st | Tom McDermott | Checkin Charlie |
| 2nd | Tom McDermott | Warraleigh Park Cortez |
| 3rd | Olivia Hamood | Alan 111 Z |
| 4th | Brooke Langbecker | Beijing LS La Silla |
| 5th | Rhys Stones | Chatina JRE |
| 6th | Katie Laurie | Django II |
Advertisement


ENSW Arena 2
CLASS 4: EMCO – Open (A2) – 1.20m
The first six placegetters in this class were:
| | | |
| --- | --- | --- |
| PLACE | RIDER | HORSE |
| 1st | Guillermo Carballal | CW Conquest |
| 2nd | Elizabeth Koob | Lady Vivacious |
| 3rd | Andrew Inglis | Kalysta |
| 4th | Vicki Roycroft | Remembrance |
| 5th | Coco Miles | Sapphire Seven |
| 6th | Maverick Miles | Emcee Holly Golightly |
CLASS 5: Young Rider Series Qualifier 1 – 1.30m
The first six placegetters in this class were:
| | | |
| --- | --- | --- |
| PLACE | RIDER | HORSE |
| 1st | Conor Reed | Clasique Dorien |
| 2nd | Will Dight | Thea |
| 3rd | Amelia Douglass | Cassis Z Ten Halven |
| 4th | Jessica Tripp | Diamond B Verona |
| 5th | Samantha Lamont | Glenwood Park Vatu |
| 6th | Georgia Price | Fairbanks Lulu |
JNSW Arena 3
CLASS 6a: Open – 0.90m
The first six placegetters in this class were:
| | | |
| --- | --- | --- |
| PLACE | RIDER | HORSE |
| 1st | Charlie Magnier | Master Stevie G |
| 2nd | Emerson Stuchbery | Fern |
| 3rd | William Wood | Joselands Cosmic Star |
| 4th | Emerson Stuchbery | Indana Goodtimes |
| 5th | Charlee Dobbin | Lovegrove |
| 6th | Laura Harland | Valenti |
CLASS 6b: Thoroughbred Sports Horse Association – Slipper Class – 0.90m
The first six placegetters in this class were:
| | | |
| --- | --- | --- |
| PLACE | RIDER | HORSE |
| 1st | Charlie Robinson | Pure Obsession |
| 2nd | Charlie Eason | Armedanddangerous |
| 3rd | Jeff Penza | Eli Lamar |
| 4th | Lauren Seeley | Zippy Zac |
| 5th | Ricki Cox | Criminal Mind |
| 6th | Lily-Rose Baxter | Foxhill Cruise |
CLASS 7: The Riders Series and JV Course and Jump Designs – Rising Stars Series Qualifier 1 – 1.15m
The first six placegetters in this class were:
| | | |
| --- | --- | --- |
| PLACE | RIDER | HORSE |
| 1st | Andrew Inglis | A-Niklas |
| 2nd | Rhys Stones | Connollys Kailani |
| 3rd | Andrew Inglis | Laracas |
| 4th | George Johnson | Wallaroo Carina |
| 5th | Bridget Berry | Dakota NZPH |
| 6th | Kerry Langbecker | ES Quincy |
FRIDAY
Chatham Park Arena 1
CLASS 8: Mini Prix Series Qualifier 2 – 1.40m
The first six placegetters in this class were:
| | | |
| --- | --- | --- |
| PLACE | RIDER | HORSE |
| 1st | James Arkins | Eurostar |
| 2nd | Brooke Langbecker | Beijing LS La Silla |
| 3rd | Jasmine Dennison | Nicolossi |
| 4th | Andrew Inglis | Alillie |
| 5th | Jessica Spence | Fiorella 104 |
| 6th | Paul Brent | Fontaine Blue VDL |
CLASS 9: Camden Equine Centre – Futurity Series Qualifier 2 – 1.30m
The first six placegetters in this class were:
| | | |
| --- | --- | --- |
| PLACE | RIDER | HORSE |
| 1st | Tom McDermott | Yalambis Harvard |
| 2nd | Katie Laurie | Mccaw MVNZ |
| 3rd | Tom McDermott | Cachassini II |
| 4th | Jess Rice-Ward | Denison Park Style |
| 5th | Tallara Cameron | Oaks Come By Chance |
| 6th | Tom McDermott | Carl Aus Pausin |
CLASS 10: Equestrian NSW – Open (A2) – 1.50m
The first six placegetters in this class were:
| | | |
| --- | --- | --- |
| PLACE | RIDER | HORSE |
| 1st | Chris Chugg | PSS Levilensky |
| 2nd | Olivia Hamood | Jane Fonda DVVD |
| 3rd | Katie Laurie | Django II |
| 4th | David Cameron | Finch Farm Clifford |
| 5th | Gabrielle Kuna | Cera Cassiago |
| 6th | Jess Pateman | Celso |
CLASS 11: Redleaf – Young Rider Series Qualifier 1 – 1.30m
The first six placegetters in this class were:
| | | |
| --- | --- | --- |
| PLACE | RIDER | HORSE |
| 1st | Samantha Lamont | Glenwood Park Vatu |
| 2nd | Conor Reed | Clasique Dorien |
| 3rd | Isobel Guinness | Copabella Verdi |
| 4th | Tori Cureton | Double The Bank |
| 5th | Georgia Price | Batman Xtreme |
| 6th | William Dight | Thea |
ENSW Arena 2
CLASS 12: The Riders Series and JV Course and Jump Designs – Rising Stars Series Qualifier 2 – 1.20m
The first six placegetters in this class were:
| | | |
| --- | --- | --- |
| PLACE | RIDER | HORSE |
| 1st | Andrew Inglis | Indiana Goodtimes |
| 2nd | Andrew Inglis | Laracas |
| 3rd | Bridget Berry | Dakota NZPH |
| 4th | Luke Brown | Misty Blue Ego Z |
| 5th | Madeline Sinderberry | Keilor Bamboo |
| 6th | Tom Mcdermott | Quintation |
CLASS 13: Junior Super Series Qualifier 1 – 1.20m
The first six placegetters in this class were:
| | | |
| --- | --- | --- |
| PLACE | RIDER | HORSE |
| 1st | Sally Simmonds | Oaks Chifley |
| 2nd | Conor Reed | Dollar Girl MS |
| 3rd | Isabella Du Plessis | Cera Carlina |
| 4th | Lucy Locke | Diamont |
| 5th | Milly Fisher | Laurel Glen Brandy Man |
| 6th | Maleah Lang-McMahon | K.S Sovereign's Cadel |
CLASS 14: Open (AM7) – 1.25m
The first six placegetters in this class were:
| | | |
| --- | --- | --- |
| PLACE | RIDER | HORSE |
| 1st | Billy Raymont | Bicento |
| 2nd | Andrew Inglis | Kalysta |
| 3rd | Hayden James | Lillivale Falk Prince |
| 4th | Jessica Spence | Clasique Andor |
| 5th | Maverick Miles | Cavalier Ludicrous |
| 6th | Guillermo Carballal | CW Conquest |
JNSW Arena 3
CLASS 15a: Open (A2) – 0.90-1.00m
The first six placegetters in this class were:
| | | |
| --- | --- | --- |
| PLACE | RIDER | HORSE |
| 1st | Elkee Lang-McMahon | Flash Az |
| 2nd | Charly Robinson | GB Ruby |
| 3rd | Emerson Stuchbery | Fern |
| 4th | Elkee Lang-McMahon | Its Jealousy |
| 5th | Charly Robinson | Our Peace Maker |
| 6th | Emerson Stuchbery | Indiana Goodtimes |
CLASS 15b: Restricted Class (A2) – 0.90-1.00m
The first six placegetters in this class were:
| | | |
| --- | --- | --- |
| PLACE | RIDER | HORSE |
| 1st | Matthew Afford | Isle Of Kaluna |
| 2nd | Jasmine Spira | Avenly Bundy |
| 3rd | Peter McMahon | K.S. Emerald II |
| 4th | Colleen Brook | Connollys Karachi |
| 5th | Ella Hayward | Barrabadeen Calypso |
| 6th | Dale Frew | APH Marco Pierre |
CLASS 15c: Thoroughbred Sports Horse Association – Group 3 – 0.90-1.00m
The first six placegetters in this class were:
| | | |
| --- | --- | --- |
| PLACE | RIDER | HORSE |
| 1st | Charly Robinson | Pure Obsession |
| 2nd | Stephanie Laraud | Cruise |
| 3rd | Ysolde Okumura-Jones | Diagonally |
| 4th | Vicki Roycroft | Inner Circle |
| 5th | Andrew Ellis | Rest Assured |
| 6th | Sarah Magee | Marsmagic |
CLASS 16a: Horses 16 points and Under – 1.10m
The first six placegetters in this class were:
| | | |
| --- | --- | --- |
| PLACE | RIDER | HORSE |
| 1st | Adelyn Fallon | Valentine Rose |
| 2nd | Kristle Cross | Little Bit Of Blue |
| 3rd | Kaden Weaver | KPH Nicoletta |
| 4th | Krissy Harris | RR Corakai |
| 5th | Bonnie Martin | RR Magnifique |
| 6th | Jacqueline Basquil | Kookai |
CLASS 16b: Open (2 Phase) – 1.10m
The first six placegetters in this class were:
| | | |
| --- | --- | --- |
| PLACE | RIDER | HORSE |
| 1st | Charlee Dobbin | Lovegrove |
| 2nd | Andrew Inglis | Kalysta |
| 3rd | Aria Baker | That's Limo |
| 4th | Claudia Beer | Rosthwaite Vigilante II |
| 5th | Vicki Roycroft | Remembrance |
| 6th | Gaby Herbosa | Kaloona Virago |
SATURDAY
Chatham Park Arena 1
CLASS 17: Camden Equine Centre – Super Junior Series Qualifier 2 – 1.25m
The first six placegetters in this class were:
| | | |
| --- | --- | --- |
| PLACE | RIDER | HORSE |
| 1st | Sally Simmonds | Oaks Chifley |
| 2nd | Anneliese Wansey | Kolora Stud St Patrick |
| 3rd | Bronte Hutchison | Pollyanna |
| 4th | Lucy Locke | Diamont |
| 5th | Maleah Lang-McMahon | PSS Chantilly |
| 6th | Sally Simmonds | Catena |
CLASS 18: Kelvin Grove – Mini Prix Series Final – 1.40m
The first six placegetters in this class were:
| | | |
| --- | --- | --- |
| PLACE | RIDER | HORSE |
| 1st | Tom McDermott | Warraleigh Park Cortez |
| 2nd | Andrew Inglis | Alillie |
| 3rd | Paul Brent | Fontaine Blue VDL |
| 4th | Jasmine Dennison | Nicolossi |
| 5th | Rhys Stones | Chatina JRE |
| 6th | Jess Brown | Coachella |
CLASS 19: Stal Tops – Young Rider Series Final – 1.30m
For a full story on this class, please click HERE.
The first six placegetters in this class were:
| | | |
| --- | --- | --- |
| PLACE | RIDER | HORSE |
| 1st | Amelia Douglass | Cassis Z Ten Halven |
| 2nd | Madeline Sinderberry | Ciel |
| 3rd | Amelia Douglass | Sirius Du Granit |
| 4th | Isobel Guinness | Copabella Verdi |
| 5th | Charlie Eason | Oaks Coolangatta |
| 6th | Nicolette Evans | Crispi 4 |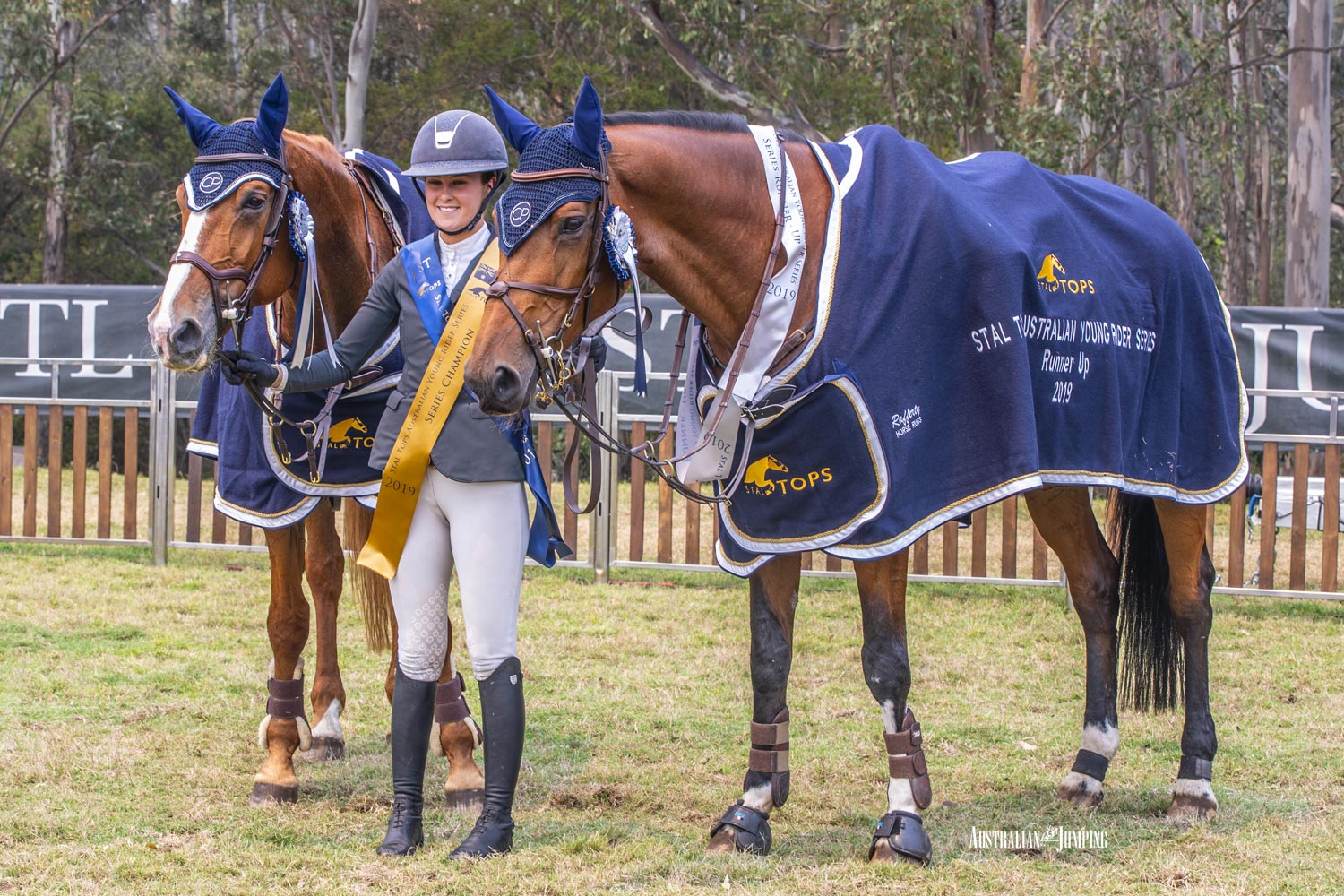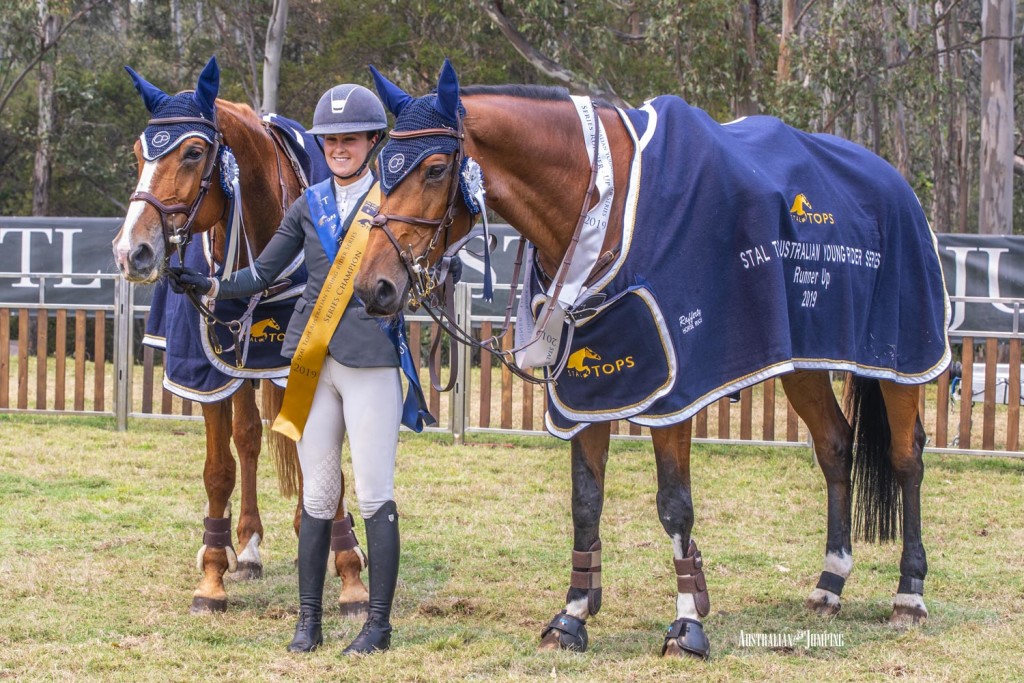 CLASS 20: Chatham Park – World Cup Qualifier CSI2*-W – 1.60m
For a full story on this class, please click HERE.
The first twelve placegetters in this class were:
| | | |
| --- | --- | --- |
| PLACE | RIDER | HORSE |
| 1st | Chris Chugg | PSS Levilensky |
| 2nd | Olivia Hamood | Jane Fonda DVD |
| 3rd | Katie Laurie | Casebrooke Lomond |
| 4th | Billy Raymont | Anton |
| 5th | Tom McDermott | Elegance De La Charmille |
| 6th | Jamie Kermond | Yandoo Oaks Constellation |
| 7th | Russell Johnstone | Daprice |
| 8th | Melissa Blair | Zidora |
| 9th | Kate Hinschen | Finch Farm Cadel |
| 10th | Brooke Langbecker | Quintago 1 |
| 11th | Stephen Dingwall | Cavalier Du Rouet |
| 12th | David Cameron | Finch Farm Clifford |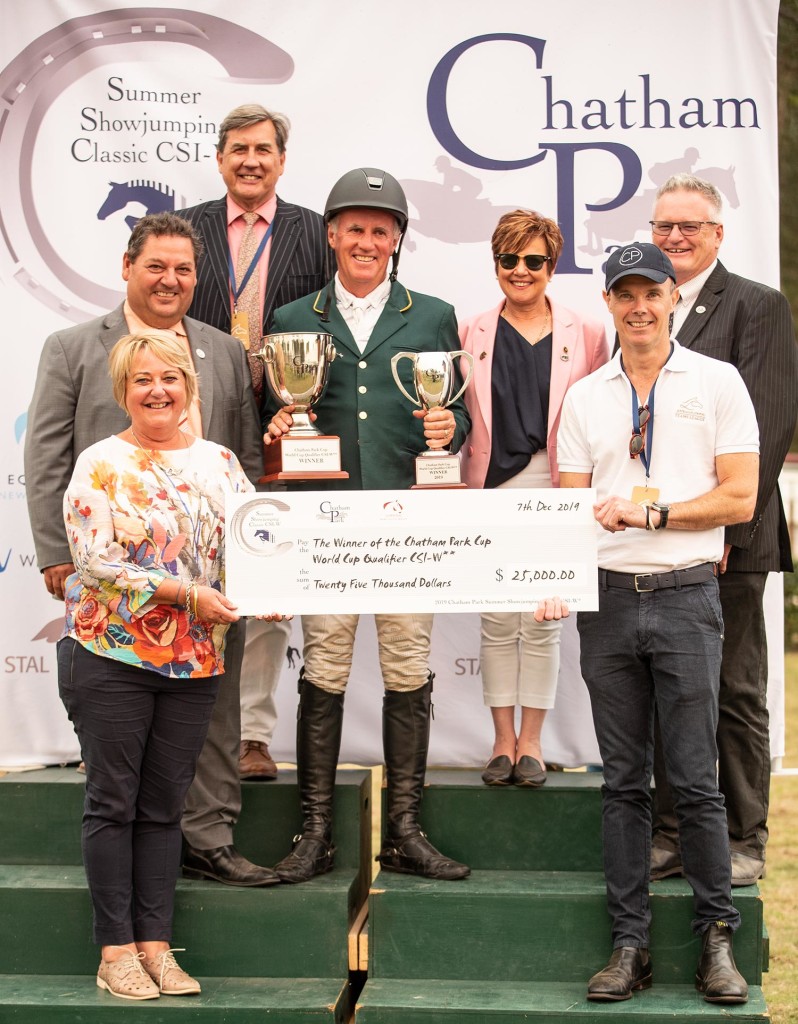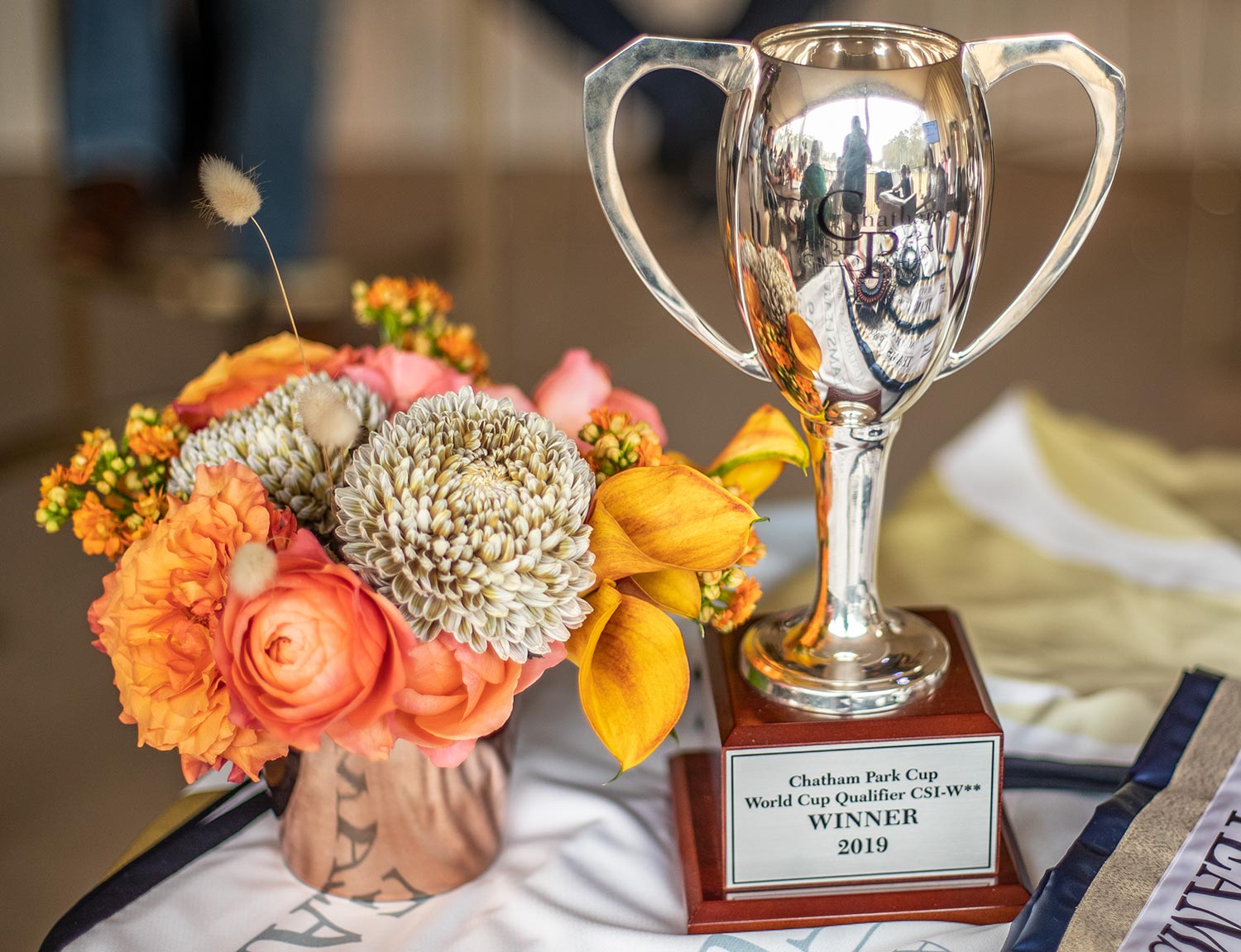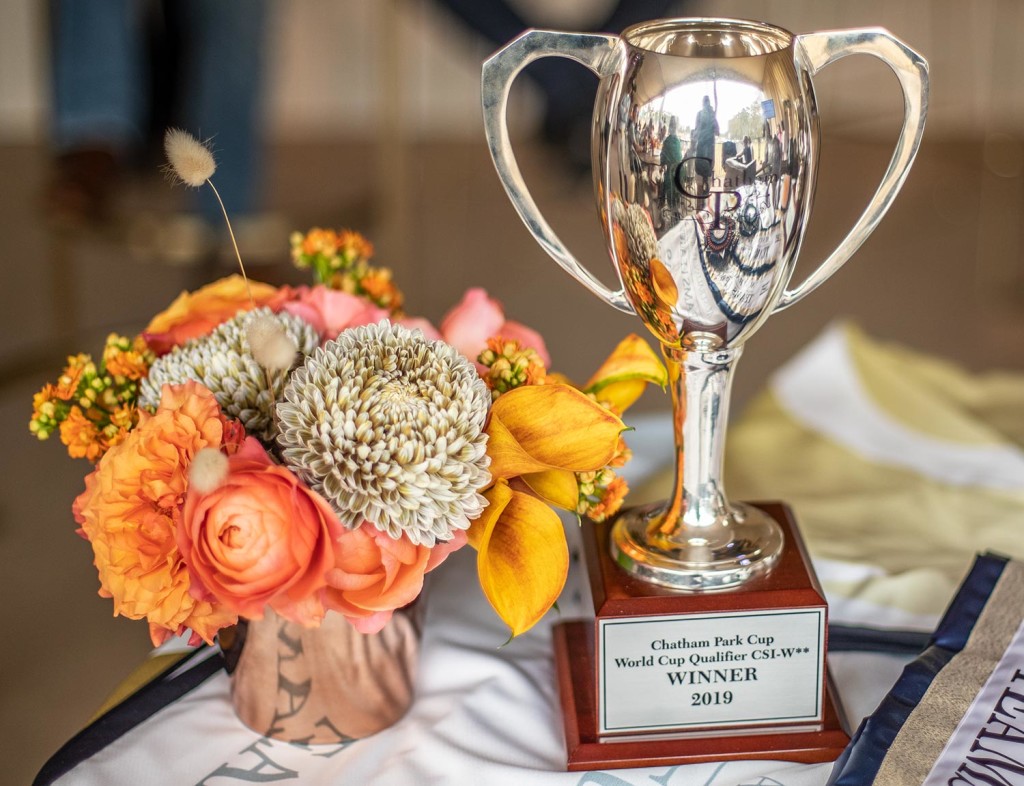 ENSW Arena 2
CLASS 21: Open (Two Phase) – 1.20m
The first six placegetters in this class were:
| | | |
| --- | --- | --- |
| PLACE | RIDER | HORSE |
| 1st | Guillermo Carballal | CW Conquest |
| 2nd | Billy Raymont | Bicento |
| 3rd | Karlee Mckay | Centenda |
| 4th | Andrew Inglis | Kalysta |
| 5th | Frida Lindgren | Ashleigh City Lights |
| 6th | Tom Sutherland | WHF Eclipse |
CLASS 22: The Riders Series and JV Course and Jump Designs – Rising Stars Series Final – 1.20m
The first six placegetters in this class were:
| | | |
| --- | --- | --- |
| PLACE | RIDER | HORSE |
| 1st | Andrew Inglis | Indiana Goodtimes |
| 2nd | Guillermo Carballal | Converse |
| 3rd | Tom McDermott | Quintation |
| 4th | Dave Cameron | Halona |
| 5th | Kerry Langbecker | ES Quincy |
| 6th | Jamie Priestley | Team Priestley Kitara Lanson |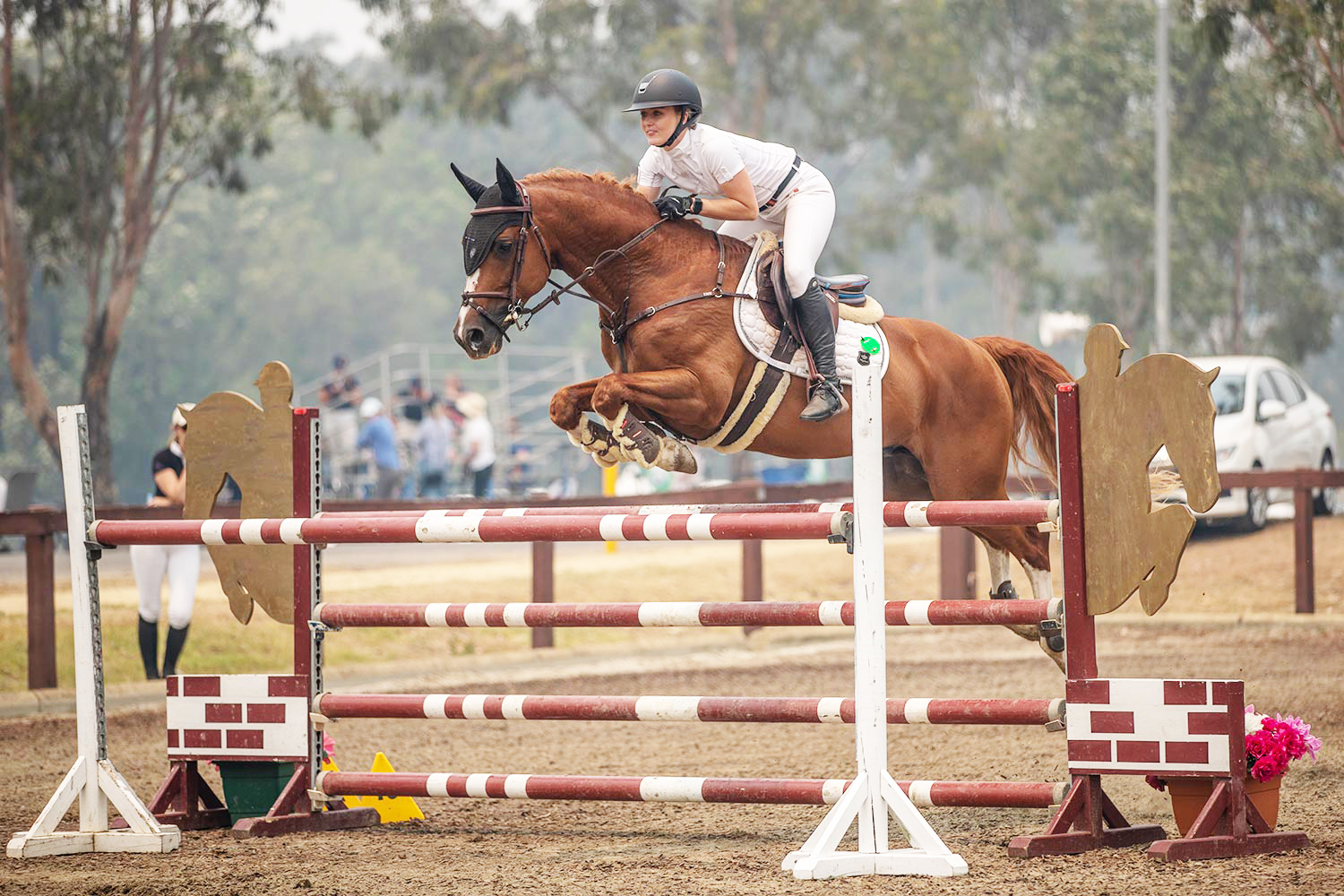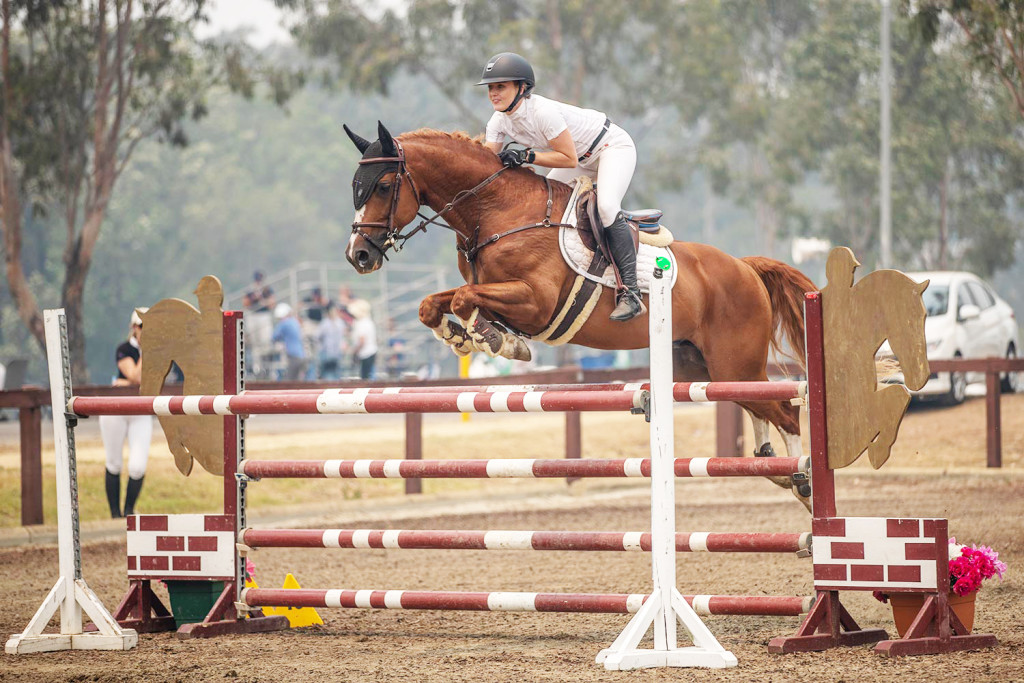 Jamie Priestley and Team Priestley Kitara Lanson
CLASS 23: OzShots – Amateur Class – 1.15m
The first six placegetters in this class were:
| | | |
| --- | --- | --- |
| PLACE | RIDER | HORSE |
| 1st | Stacey Betar | Diamond B Britannia |
| 2nd | Stephanie Fenn | DF Balou Bird |
| 3rd | Kristle Cross | Little Bit Of Blue |
| 4th | Bronte Webb | Cera Cadett |
| 5th | Camilla MacDonald | Zartop |
| 6th | Isabelle Mirani | Diamond B Bellissimo |
JNSW Arena 3
CLASS 24a: Open (Two Phase) – 0.90-1.00m
The first six placegetters in this class were:
| | | |
| --- | --- | --- |
| PLACE | RIDER | HORSE |
| 1st | Charlie Magnier | Master Stevie G |
| 2nd | Emily Lang-McMahon | Monty Who |
| 3rd | William Wood | Joselands Cosmic Star |
| 4th | Kathy Ward | Nimcerto B |
| 5th | Emily Lang-McMahon | Cushavon Crackerjack |
| 6th | Sophie Baldwin | Alcheringa Tradition |
CLASS 24b: Restricted (Two Phase) – 0.90-1.00m
The first six placegetters in this class were:
| | | |
| --- | --- | --- |
| PLACE | RIDER | HORSE |
| 1st | Matthew Afford | Isle Of Kaluna |
| 2nd | Ella Hayward | Barrabadeen Calypso |
| 3rd | Peter McMahon | Rubellite |
| 4th | Rod McQueen | Bordeaux |
| 5th | Lauryn Vader | Survivor |
| 6th | Katie Laurie | Double Brown Dave |
CLASS 25a: Restricted (Two Phase) – 1.10m
The first six placegetters in this class were:
| | | |
| --- | --- | --- |
| PLACE | RIDER | HORSE |
| 1st | Teigan Matthews | Equus Hooroo |
| 2nd | Nelson Smyth | Raise An Angel |
| 3rd | Lauren Seeley | Zippy Zac |
| 4th | Adelyn Fallon | Valentine Rose |
| 5th | Izabella Stone | Lady Quincella Gold |
| 6th | Coralie Christie | Volt |
CLASS 25b: Open (Two Phase) – 1.10m
The first six placegetters in this class were:
| | | |
| --- | --- | --- |
| PLACE | RIDER | HORSE |
| 1st | Charly Robinson | Pure Obsession |
| 2nd | Elkee Lang-McMahon | Flash Az |
| 3rd | Aria Baker | That's Limo |
| 4th | Romany Lee | RK Luna |
| 5th | Emily Lang-McMahon | KS Amnassi |
| 6th | Holly Stott | Yandoo Chat |
SUNDAY
Chatham Park Arena 1
CLASS 26: Emcee Apparel – Super Junior Series Final – 1.25m
The first six placegetters in this class were:
| | | |
| --- | --- | --- |
| PLACE | RIDER | HORSE |
| 1st | Sally Simmonds | Oaks Chifley |
| 2nd | Lucy Locke | Diamont |
| 3rd | Clemency Hughes | Diamond B Corvina |
| 4th | Maleah Lang-McMahon | PSS Chantilly |
| 5th | Alex Wald | Royal Cruiser |
| 6th | Jessica Galea | Checka |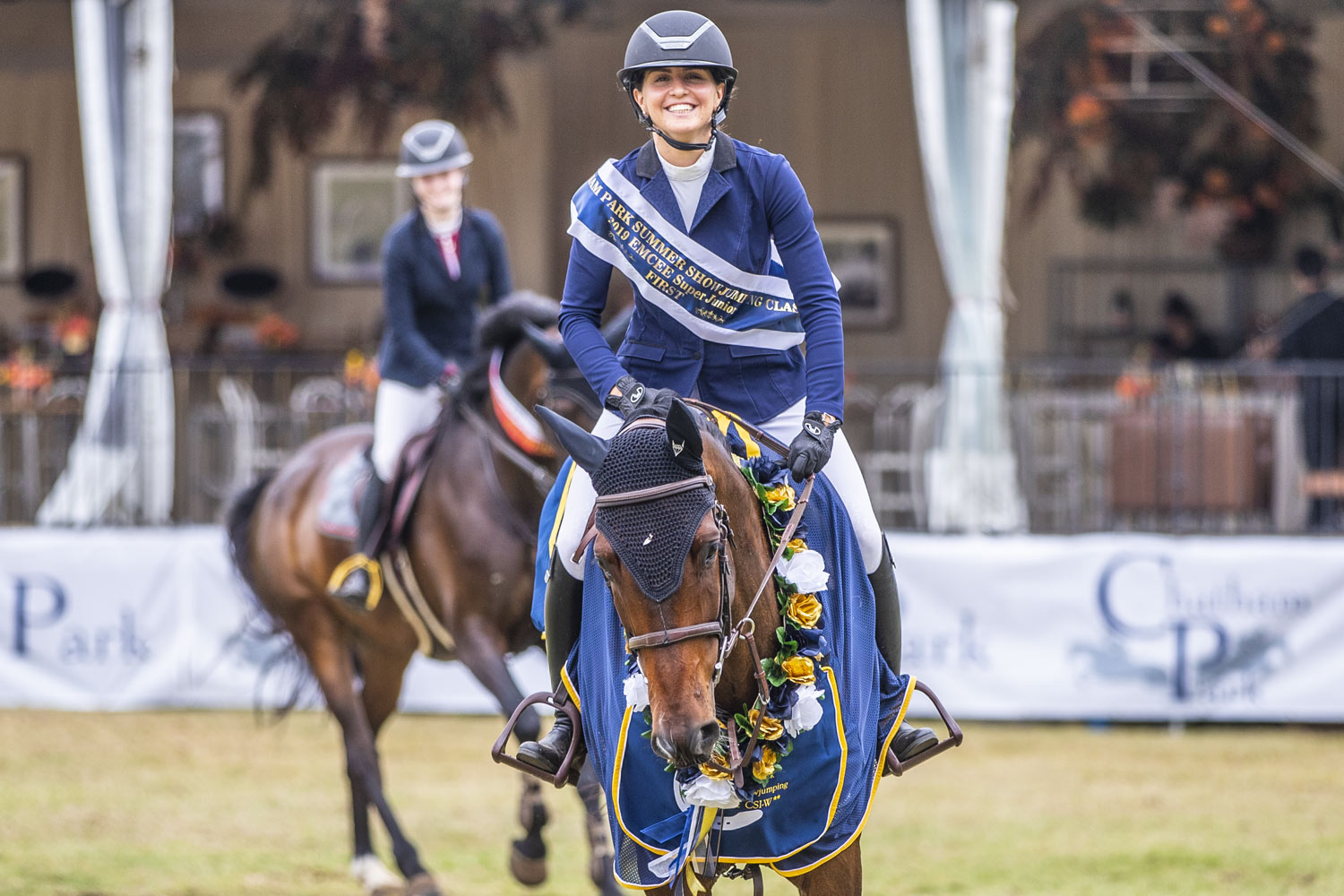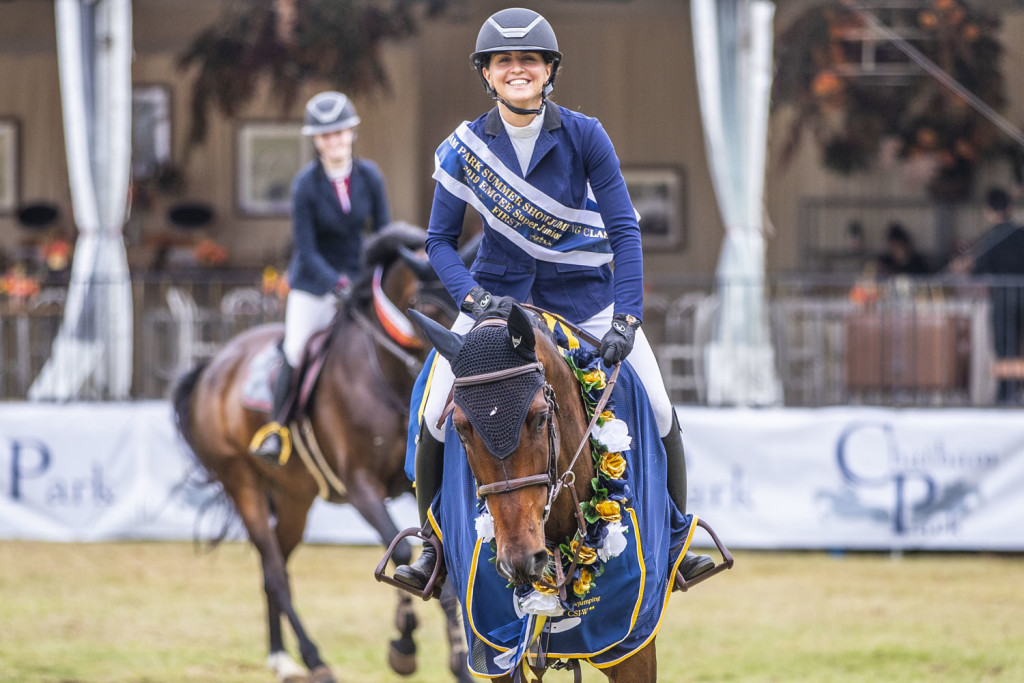 CLASS 27: The Winning Group – Futurity Series Final – 1.30m
The first six placegetters in this class were:
| | | |
| --- | --- | --- |
| PLACE | RIDER | HORSE |
| 1st | Olivia Hamood | Sundance GHP |
| 2nd | Jamie Kermond | Happy Girl |
| 3rd | Tom McDermott | Yalambis Harvard |
| 4th | Jamie Priestley | Oaks Diamantina |
| 5th | Katie Laurie | Mccaw MVNZ |
| 6th | David Cameron | Verdasco |
CLASS 28: Australian Jumping Teams League – 1.40m
For a full story on this class, please click HERE.
The full placings in this class were:
| | |
| --- | --- |
| PLACE | TEAM |
| 1st | Team Willinga Park |
| 2nd | Team Chatham Park |
| 3rd | Team Horsepower |
| 4th | Team Equine International Airfreight |
| 5th | Team Yandoo |
| 6th | Team Oaks Sport Horses |
| 7th | Team Emcee Apparel |
| 8th | Team Takapoto Estate Showjumping |
| 9th | Team Martin Collins Australia |
| 10th | Team Kiernan Haulage |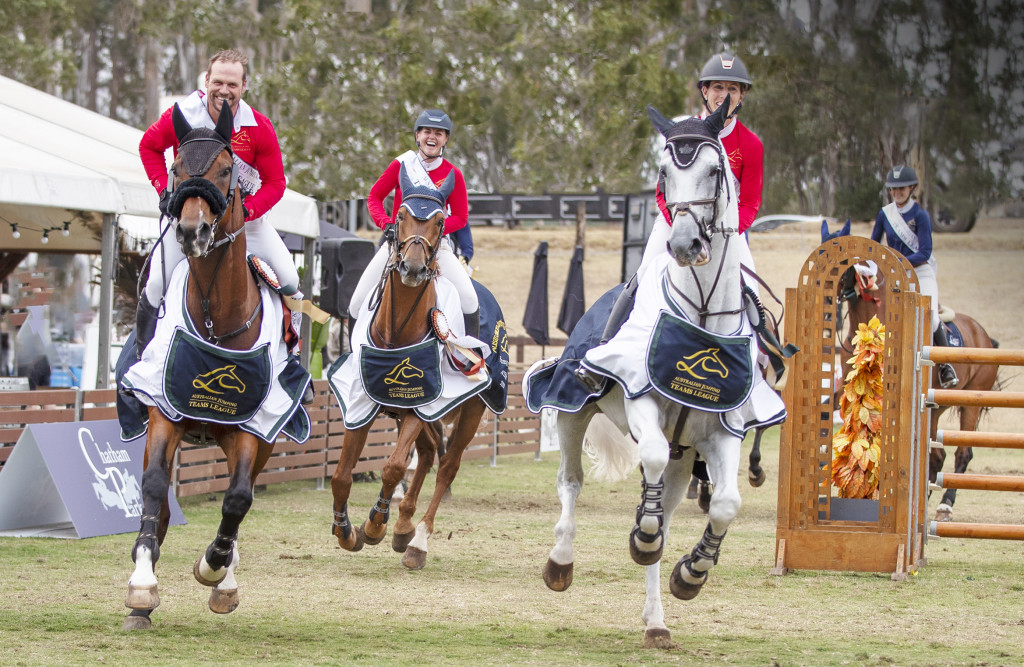 ENSW Arena 2
CLASS 29a: Open (A2) – 1.20m
The first six placegetters in this class were:
| | | |
| --- | --- | --- |
| PLACE | RIDER | HORSE |
| 1st | Vicki Roycroft | Remembrance |
| 2nd | Andrew Inglis | Laracas |
| 3rd | Annabel Cusack | Dynamoey |
| 4th | N Mohr | Delano |
| 5th | Nathan Wood | Tulara Balou's Cornetto |
| 6th | Nathan Carswell | Vision Vuitton |
CLASS 29b: Thoroughbred Sports Horse Association (Group 1) – 1.20m
The first six placegetters in this class were:
| | | |
| --- | --- | --- |
| PLACE | RIDER | HORSE |
| 1st | Michelle Spiteri | Araluen Gold |
| 2nd | David Cooper | Ezicome |
| 3rd | Leila Wyrill | Jadan Park Acapella |
| 4th | Michelle Niass | Station Master |
| 5th | Clara Palm | Expressen |
| 6th | Nelson Smyth | Red Roo |
CLASS 30: Konhke's Own – JNSW Amateur of the year series – 1.20m
The first six placegetters in this class were:
| | | |
| --- | --- | --- |
| PLACE | RIDER | HORSE |
| 1st | Jennifer Smith | Country Platinum |
| 2nd | Stacey Betar | Diamond B Britannia |
| 3rd | Jessie Smith | Ngahiwi Cisco |
| 4th | Gaby Herbosa | Kaloona Virago |
| 5th | Alana Stallard | CA Gordon |
| 6th | Wendy Platts | Jester Park Bonds |
CLASS 31: Open (AM7) – 1.30m
The first six placegetters in this class were:
| | | |
| --- | --- | --- |
| PLACE | RIDER | HORSE |
| 1st | Frida Lindgren | Ashleigh City Lights |
| 2nd | Tom Sutherland | WHF Eclipse |
| 3rd | Sophie Ahmat | Noblewood Park Noblesque |
| 4th | Jessica Knox | Yirrkala Darcy |
| 5th | Kate Hinschen | Eye Catcher |
| 6th | Karlee Mckay | Centenda |
JNSW Arena 3
CLASS 32a: Open (AM7) – 0.90-1.00m
The first six placegetters in this class were:
| | | |
| --- | --- | --- |
| PLACE | RIDER | HORSE |
| 1st | Charlie Magnier | Master Stevie G |
| 2nd | William Wood | Joselands Cosmic Star |
| 3rd | Emerson Stuchbery | Fern |
| 4th | Emerson Stuchbery | Indiana Goodtimes |
| 5th | Olivia Gostelow | La Luna Cuchinelli |
| 6th | Jess Kiernan | Cera Cascaletto |
CLASS 32b: Restricted (AM7) – 0.90-1.00m
The first six placegetters in this class were:
| | | |
| --- | --- | --- |
| PLACE | RIDER | HORSE |
| 1st | Dale Frew | APH Marco Pierre |
| 2nd | Colleen Brook | Connollys Karachi |
| 3rd | Charlie Eason | Armedanddangerous |
| 4th | Jack Buckman | Thunderstruck Road |
| 5th | Rod McQueen | Bordeaux |
| 6th | Aaron Hadlow | Royal River Balurae |
CLASS 33a: Restricted (AM7) – 1.10m
The first six placegetters in this class were:
| | | |
| --- | --- | --- |
| PLACE | RIDER | HORSE |
| 1st | Emma Smith | Kookai |
| 2nd | Krissy Harris | Baloubell |
| 3rd | Mandy Stephens | RR Corakai |
| 4th | Kaden Weaver | Beethovens Symphony |
| 5th | Callum Wald | Opus Run |
| 6th | Claudia Beer | Whiskey Jim |
CLASS 33b: Open (AM7) – 1.10m
The first six placegetters in this class were:
| | | |
| --- | --- | --- |
| PLACE | RIDER | HORSE |
| 1st | Charlee Dobbin | Lovegrove |
| 2nd | Andrew Inglis | Kalysta |
| 3rd | Phillip Lever | Yalambi Cheers |
| 4th | Clinton Van Der Sanden | Cosmerex Coffee Vinchino |
| 5th | Caitlin Swanger | Riverside Katch Me |
| 6th | Brianna Johnson | Leander |
CLASS 33c: Thoroughbred Sports Horse Association (Group 2) – 1.10m
The first six placegetters in this class were:
| | | |
| --- | --- | --- |
| PLACE | RIDER | HORSE |
| 1st | Charly Robinson | Pure Obsession |
| 2nd | Ysolde Okumura-Jones | Diagonally |
| 3rd | Aria Baker | That's Limo |
| 4th | Nelson Smyth | Raise An Angel |
| 5th | Ricki Cox | Criminal Mind |
| 6th | Camilla Macdonald | Zartop |
View Comments