Lovely new venue Stonewall Equestrian hosts local competition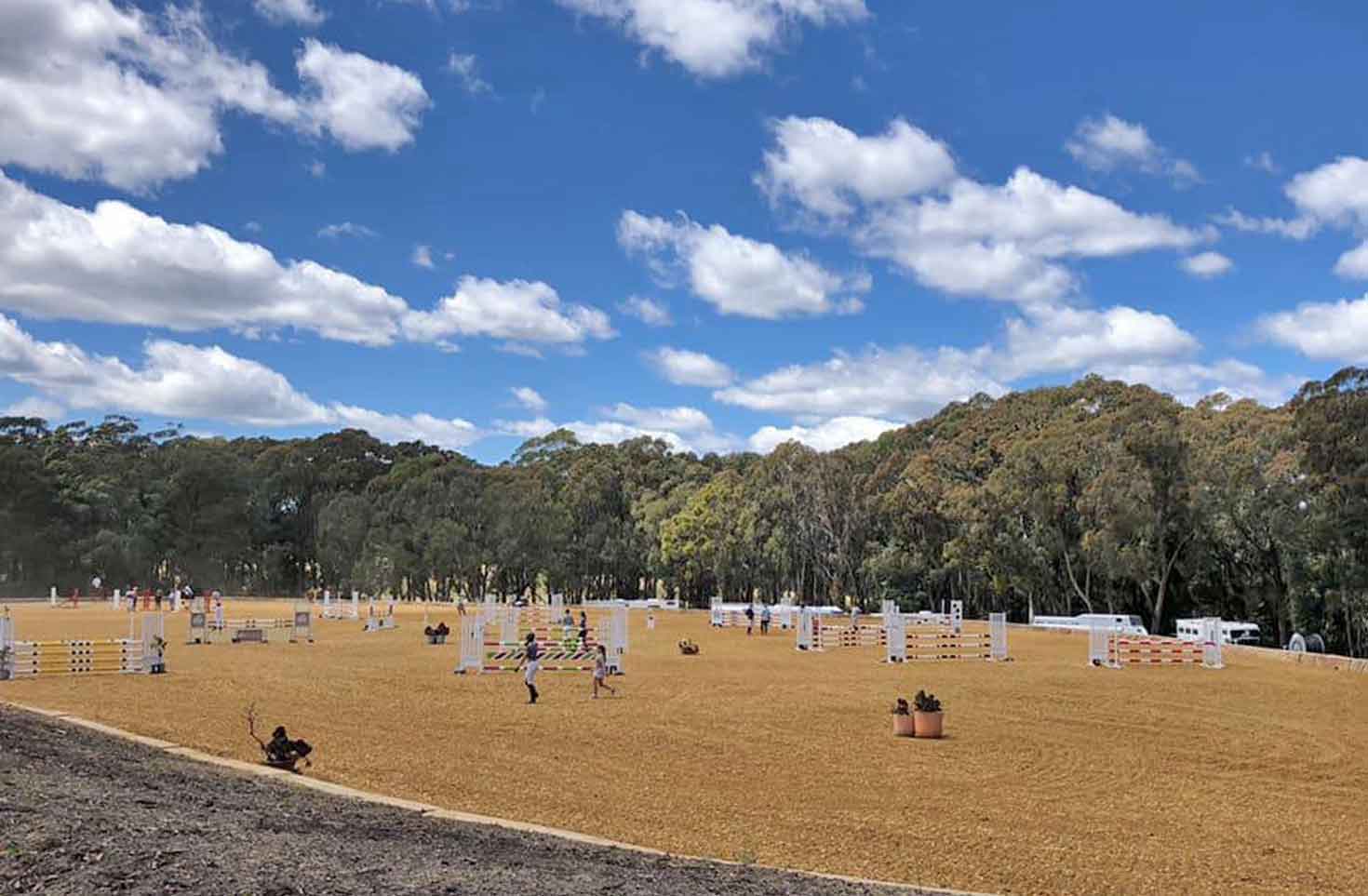 Stonewall Equestrian
Stonewall Equestrian is a recently built equestrian facility at Mangrove Mountain on the NSW Central Coast, run by experienced riders Heath and Krissy Harris. Stonewall held two days of competition for local riders last Friday and Saturday at their lovely equestrian complex.
The main class of the weekend was a Super 2-Phase class over 1.25m. Jumping legend Vicki Roycroft and Licaviv won the class with second going to Paige McBain and Greengrove Rebel. Third place went to Ashley Cutter and Kinnordy Rhena.
See below for a full listing of all the results from the weekend. Congratulations to the Winners and placegetters.
CLASS 1: Stonewall Equestrian – Super 2-Phase – 1.05m
The first six placings in this class were:
| | | |
| --- | --- | --- |
| PLACE | RIDER | HORSE |
| 1st | Andrew Barnett | Deluge |
| 2nd | Kelly Bridgland | Saddle Up Valentine |
| 3rd | Andrew Barnett | Petros |
| 4th | David Cooper | WPH Chaccaro |
| 5th | Kelsie Cranston | Showtown |
| 6th | Vicki Roycroft | Crispin |
CLASS 2: Green Grove Equestrian – Super 2-Phase – 1.15m
The first six placings in this class were:
| | | |
| --- | --- | --- |
| PLACE | RIDER | HORSE |
| 1st | Vicki Roycroft | Converse |
| 2nd | David Cooper | Cassiver |
| 3rd | Ashley Cutler | Kinnordy Rhena |
| 4th | William Mathew | Bronte B |
| 5th | Andrew Barnett | Petros |
| 6th | Katrina Silk | Dunrostan |
CLASS 3: Hawkesbury River Saddle Co. – Super 2-Phase – 1.25m
The first six placings in this class were:
| | | |
| --- | --- | --- |
| PLACE | RIDER | HORSE |
| 1st | Vicki Roycroft | Licaviv |
| 2nd | Paige McBain | Greengrove Rebal |
| 3rd | Ashley Cutter | Kinnordy Rhena |
| 4th | William Mathew | Bronte B |
| 5th | Lucie Aldridge | Ollie Olae |
| 6th | Krissy Harris | Corvette GHP |
CLASS 4A: Stonewall Equestrian – Open – 0.70m
The first six placings in this class were:
| | | |
| --- | --- | --- |
| PLACE | RIDER | HORSE |
| 1st | Dawn Yang | It's Me, Idris |
| 2nd | Sarah-Louise McMillan | Everest JEP |
| 3rd | Emily Brown | Darcy Blue |
| 4th | Oliver Rickards | Belle |
| 5th | Sarah Crossen | Vermoral RJ3 |
| 6th | Oliver Rickards | Blue Bell |
CLASS 4B: Freedman Brothers – TSHA – 0.70m
The first six placings in this class were:
| | | |
| --- | --- | --- |
| PLACE | RIDER | HORSE |
| 1st | Angelica Pickup | Paratai Finn |
| 2nd | Bryia Anderson | DP Democracy |
| 3rd | Nelson Smyth | Stella Artois |
| 4th | Nelson Smyth | Pandora |
| 5th | Rachael Murray | Mr Pumblechook |
| 6th | Sophie Hugh | Dave From HR |
CLASS 5: Hawkesbury River Saddle Co. – Open – 0.80m
The first six placings in this class were:
| | | |
| --- | --- | --- |
| PLACE | RIDER | HORSE |
| 1st | Oliver Rickards | Blue Bell |
| 2nd | Andrew Barnett | Lily |
| 3rd | Lara Dombrovskis | Alara Park Fantasy |
| 4th | Charlee Shoebridge | Falcon Dusky Bear |
| 5th | Oliver Rickards | Glenbede |
| 6th | Rachael Murray | Medal Of Glory |
CLASS 6A: Ashbrookes Farm – Open – 0.90m
The first six placings in this class were:
| | | |
| --- | --- | --- |
| PLACE | RIDER | HORSE |
| 1st | William Mathew | Grand Helana |
| 2nd | Andrew Barnett | Lennard |
| 3rd | Charlee Shoebridge | Falcon Dusky Bear |
| 4th | Lucy Jarjoura | Cee Change |
| 5th | Ainsley O'Donnell | Stormy |
| 6th | Nateesha Barlin | Kahleesi |
CLASS 6B: Cairn Bespoke Transition Solutions – TSHA – 0.90m
The first six placings in this class were:
| | | |
| --- | --- | --- |
| PLACE | RIDER | HORSE |
| 1st | Robyn Parker | Street Wise |
| 2nd | Oliver Rickards | Glenbede |
| 3rd | Vicki Roycroft | Tommy |
| 4th | Angelica Pickup | Paratai Finn |
| 5th | Helen Diacono | Lola Way |
| 6th | Tayla Norley | Luck In Toyland |
CLASS 7: Stonewall Equestrian – Open – 1.00m
The first six placings in this class were:
| | | |
| --- | --- | --- |
| PLACE | RIDER | HORSE |
| 1st | Vicki Roycroft | Tommy |
| 2nd | Vicki Roycroft | Crispin |
| 3rd | Robyn Parker | Street Wise |
| 4th | Oliver Rickards | Gem |
| 5th | Anika Blackwell | LC Sissi Imperatrice |
| 6th | Sarah Crossen | Cliché RJ3 |
Results provided by Stonewall Equestrian
View Comments