Olivia Hamood shines at SSJC Summer Championships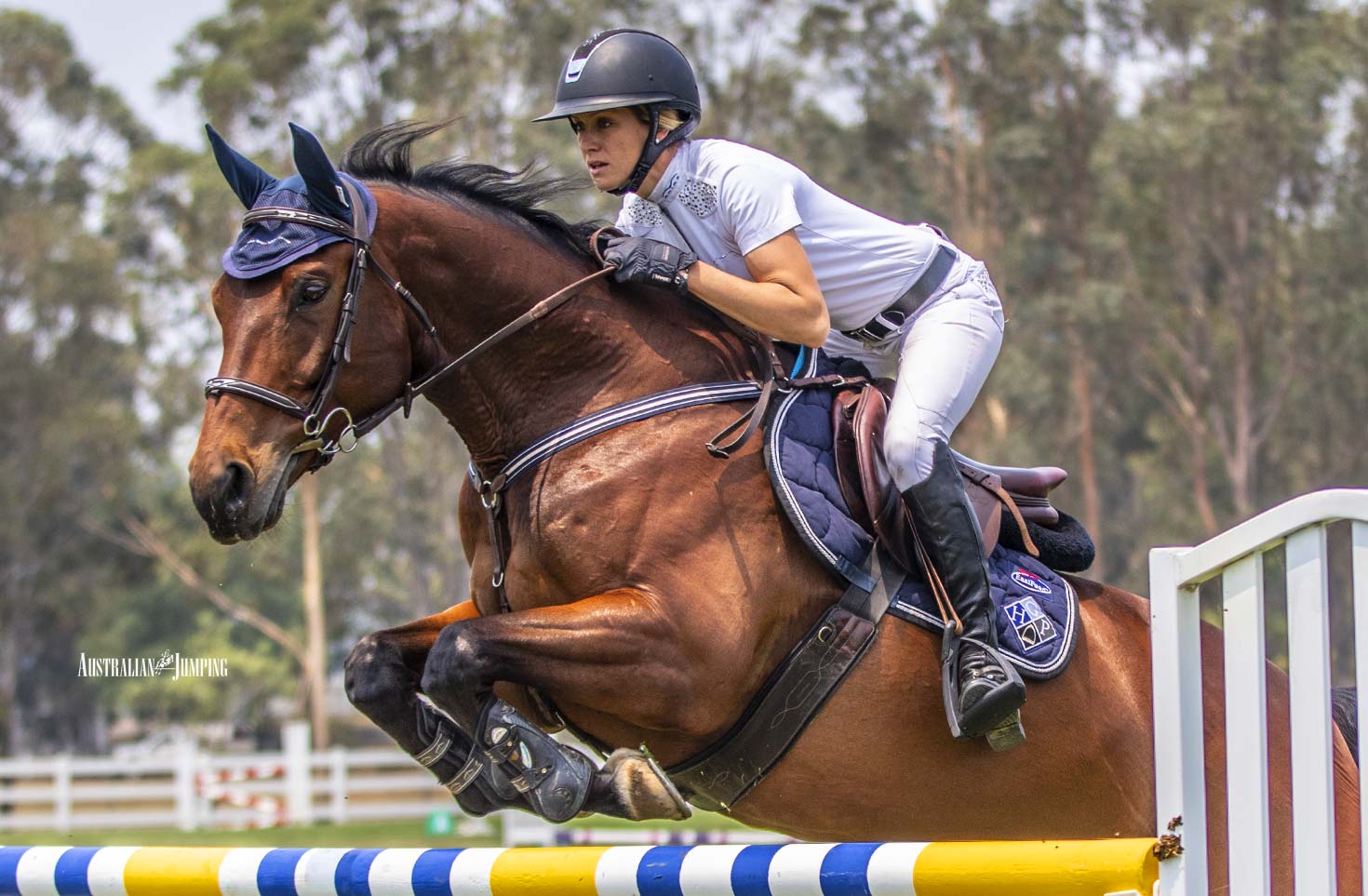 Australian Jumping
Above: Olivia Hamood and Jane Fonda DVD
The Sydney Showjumping Club wrapped up their year in style last weekend with many of Australia's top riders making an appearance and providing great entertainment for spectators. With the smoke haze clearing and the grounds at their usual high standard, we saw a great weekend of jumping. With the Chatham Park Summer Classic CSI2* starting tomorrow, many riders used this championship weekend as a warm up for that key event and we saw some excellent competition.
Congratulations to the winners and placegetters across the weekend, in particular to Olivia Hamood who took out out both the Mini Prix and Grand Prix on Sunday.
See below for full results from the weekend.
Advertisement

SATURDAY
Arena 1
CLASS 1a: McKinlay Morgan and Associates and Vicki Roycroft – Adult – 0.90m
The first six placegetters in this class were:
| | | |
| --- | --- | --- |
| PLACE | RIDER | HORSE |
| 1st | Karen Higgins | Magnum Starblaze |
| 2nd | Nathan Williams | Spannerbop |
| 3rd | Colleen Brook | Connolly's Karachi |
| 4th | Maddy Robertson | Emmaville Prince |
| 5th | Rachel Peel | Emmaville Spot On |
| 6th | Georgia Hamilton | SP Mr Manhattan |
CLASS 1b: Kolora Lodge – Junior – 0.90m
The first six placegetters in this class were:
| | | |
| --- | --- | --- |
| PLACE | RIDER | HORSE |
| 1st | Emily Lang-McMahon | Monty Who |
| 2nd | Charlie Magnier | His Royal Emblem |
| 3rd | Emerson Stutchbery | Fern |
| 4th | Nicoel Kennedy | Astro |
| 5th | Emerson Stutchbery | Indiana Good Times |
| 6th | Clare Zylstra | Harvey B |
CLASS 1c: Hawkesbury River Saddle Co – TSHA – 0.90m
The first six placegetters in this class were:
| | | |
| --- | --- | --- |
| PLACE | RIDER | HORSE |
| 1st | Charlie Eason | Armedanddangerous |
| 2nd | Lois Flemming | Balboa |
| 3rd | Courtney Van Der Werf | Mediteranean Showman |
| 4th | Aoife Scanlon | Traleen Park Sir Bongin |
| 5th | Victoria Badoui | Freewheeler |
| 6th | Jack Haynes | Daybreak Lunar Rise |
CLASS 2a: Kohnke's Own – Adult – 1.00m
The first six placegetters in this class were:
| | | |
| --- | --- | --- |
| PLACE | RIDER | HORSE |
| 1st | Maddison Burger | WF Black Fabius |
| 2nd | Deborah Pearson | Zambizi |
| 3rd | Peter McMahon | KS Rubellite |
| 4th | David Cooper | WPH Caccaro |
| 5th | Renee Blefari | My Boy Nelson |
| 6th | Amanda Madigan | Diamond B Blitzen |
CLASS 2b: Redleaf Lodge – Junior – 1.00m
The first six placegetters in this class were:
| | | |
| --- | --- | --- |
| PLACE | RIDER | HORSE |
| 1st | Aria Baker | Emcee Flamboyance |
| 2nd | Emerson Stuchbery | Fern |
| 3rd | Elkee Lang-McMahon | It's Jealousy |
| 4th | Emerson Stuchbery | Indiana Goodtimes |
| 5th | Emma Galea | Vertical Valley Antarctica |
| 6th | Jack Haynes | ES Ella |
CLASS 2c: Cooper Racing – TSHA – 1.00m
The first six placegetters in this class were:
| | | |
| --- | --- | --- |
| PLACE | RIDER | HORSE |
| 1st | Sophie Hugh | Verio |
| 2nd | Vicki Roycroft | Inner Circle |
| 3rd | Aoife Scanlon | Traleen Park Sir Bongin |
| 4th | Tayla Norley | Luck In Toyland |
| 5th | Ricki Cox | Criminal Mind |
| 6th | Hannah Reay | Pricess Fantasia |
CLASS 3a: Barton Equine and The Peulic Family – Adult – 1.05-1.10m
The first six placegetters in this class were:
| | | |
| --- | --- | --- |
| PLACE | RIDER | HORSE |
| 1st | Vicki Roycroft | Tommy |
| 2nd | Emma Smith | Baloubell |
| 3rd | Lara Harland | Valenti |
| 4th | Lucy Evans | Glenara Vintage Balou |
| 5th | Hannah Reay | Princess Fantasia |
| 6th | Elaine Robl | Pirellone |
Advertisement


CLASS 3b: Wentworth Saddles – Junior – 1.05-1.10m
The first six placegetters in this class were:
| | | |
| --- | --- | --- |
| PLACE | RIDER | HORSE |
| 1st | Charly Robinson | Our Peace Maker |
| 2nd | Caitlin Swanger | Riverside Katch Me |
| 3rd | Lauren Routledge | Taminga's Bellhaven Colletto |
| 4th | Lucy Waddell | LV Just Joe |
| 5th | Ashley Cutler | Donjolie DN |
| 6th | Emma Galea | Vertical Valley Antarctica |
CLASS 3c: Abby West – Amateur – 1.05-1.10m
The first six placegetters in this class were:
| | | |
| --- | --- | --- |
| PLACE | RIDER | HORSE |
| 1st | Phillippa Lawson | My Buddy |
| 2nd | Mandy Stephens | Beethoven's Symphony |
| 3rd | Angelica Pickup | Eunomia |
| 4th | Melanie Heygate | Oaks Quebec |
| 5th | Sophie Hugh | Berio |
| 6th | Ricki Cox | Criminal Mind |
Arena 2
CLASS 4a: Gough Recruitment, Chatham Park and Fernhill Equestrian – horses 9 year and under – 1.25-1.30m
The first six placegetters in this class were:
| | | |
| --- | --- | --- |
| PLACE | RIDER | HORSE |
| 1st | Olivia Hamood | Sundance GHP |
| 2nd | Andrew Inglis | Alillie |
| 3rd | Tom McDermott | Checkin Charlie |
| 4th | Sarah Crossen | Verdelho |
| 5th | Maverick Miles | Holly Golightly |
| 6th | Tom McDermott | Balou Bird |
CLASS 4b: Brad and Anett Frankum and The Rice-Ward Family – horses over 10 years – 1.25-1.30m
The first six placegetters in this class were:
| | | |
| --- | --- | --- |
| PLACE | RIDER | HORSE |
| 1st | Vicki Roycroft | Dynamite Bay |
| 2nd | Guillermo Carballal | Conquest |
| 3rd | Olivia Hamood | Centenda |
| 4th | Andrew Ellis | Chumbawumba |
| 5th | Vicki Roycroft | Licaviv |
| 6th | Coco Dulhunty | Wallaroo Carnival |
CLASS 4c: Agnes Banks Equine Clinic – Young Rider – 1.25-1.30m
The first six placegetters in this class were:
| | | |
| --- | --- | --- |
| PLACE | RIDER | HORSE |
| 1st | Lucy Evans | Viva Joy |
| 2nd | Isabella Evans | Joker XIX |
| 3rd | Jessica Tripp | Diamond B Verona |
| 4th | Tori Cureton | Double The Bank |
| 5th | Sophie Hatch | Glenara Mudslide |
| 6th | Isobel Guiness | Copabella Verdi |
CLASS 5: Kelvin Grove Equestrian – Championship – 1.30-1.35m
The first six placegetters in this class were:
| | | |
| --- | --- | --- |
| PLACE | RIDER | HORSE |
| 1st | Tom McDermott | Warraleigh Park Cortez |
| 2nd | Olivia Hamood | Contenda |
| 3rd | Jess Stones | Chatina JRE |
| 4th | David Cameron | Finch Farm Spruce |
| 5th | Jennifer Wood | Cassando B |
| 6th | Andrew Inglis | Alillie |
CLASS 6: Emcee Apparel – Grand Prix Warm Up – 1.40-1.45m
The first six placegetters in this class were:
| | | |
| --- | --- | --- |
| PLACE | RIDER | HORSE |
| 1st | Jess Pateman | Celso |
| 2nd | Amanda Madigan | Diamond B Vivienne |
| 3rd | David Cameron | Finch Farm Clifford |
| 4th | Chris Chugg | PSS Levilensky |
| 5th | Rhys Stones | Tulara Colmar |
| 6th | Vicki Roycroft | Dynamite Bay |
Arena 3
CLASS 7a: Jervis Bay Beachfront – Open – 1.10m
The first six placegetters in this class were:
| | | |
| --- | --- | --- |
| PLACE | RIDER | HORSE |
| 1st | Andrew Inglis | Kalysta |
| 2nd | Alicia Daly | Bellhaven Asha |
| 3rd | Chris Chugg | Dundee |
| 4th | Sarah Beale | Alpha Echo BMG |
| 5th | Andrew Inglis | A-Niklas |
| 6th | Jamie Priestley | Team Priestley Kitara Lanson |
CLASS 7b: Nick and Katie Taliana and Coralie Christie – Amateur – 1.10m
The first six placegetters in this class were:
| | | |
| --- | --- | --- |
| PLACE | RIDER | HORSE |
| 1st | Jennifer Smith | Country Platnium |
| 2nd | Stacey Betar | Diamond B Brittania |
| 3rd | Laura Norley | Copabella Vigil |
| 4th | Phillippa Lawson | My Buddy |
| 5th | Anna White | Body Builder |
| 6th | Kathy Ward | Nimcerto B |
CLASS 7c: The Priestley Family – Junior – 1.10m
The first six placegetters in this class were:
| | | |
| --- | --- | --- |
| PLACE | RIDER | HORSE |
| 1st | Nicole Kennedy | Mr Muscles |
| 2nd | Ashley Cutler | Kinnordy Rhea |
| 3rd | Tylah Studdert | Noonamah Valentina |
| 4th | Mackenzie Johnson | Along Came Polly |
| 5th | Aanicka Grant | Kenlock Park Bluestone |
| 6th | Jack Haynes | She's A Diva |
CLASS 7d: Freedman Brothers Racing – TSHA – 1.10m
The first six placegetters in this class were:
| | | |
| --- | --- | --- |
| PLACE | RIDER | HORSE |
| 1st | Vicki Roycroft | Tommy |
| 2nd | Milly Clarke | Rosthwaite Grumfus |
| 3rd | Elissa Schnider | Carve It Up |
| 4th | Elaine Robl | Pirellone |
| 5th | Jasmine Ritter | Blue Flame |
| 6th | Clara Palm | Expression |
CLASS 8a: Hawkesbury Horse Floats and Chris Heath Farrier Service – horses 9 years and under – 1.20m
The first six placegetters in this class were:
| | | |
| --- | --- | --- |
| PLACE | RIDER | HORSE |
| 1st | Andrew Inglis | A-Niklas |
| 2nd | David Cooper | Victoria Day |
| 3rd | Guillermo Carabball | (To Be Confirmed) |
| 4th | Nick Taliana | A-Desman |
| 5th | Andrew Inglis | Laracas |
| 6th | George Johnson | Wallaroo Carina |
CLASS 8b: Edmonton Park and Geo Snapshots – horses 10 years and over – 1.20m
The first six placegetters in this class were:
| | | |
| --- | --- | --- |
| PLACE | RIDER | HORSE |
| 1st | Andrew Inglis | Kalysta |
| 2nd | Tom McDermott | Dora |
| 3rd | Laura Norly | Copabella Vigil |
| 4th | Alex Wald | Royal Cruiser |
| 5th | Bronte Webb | Cera Cadet |
| 6th | Maverick Miles | Cavalier Ludicrous |
CLASS 8c: Sonia and Michael Hughes – Junior – 1.20m
The first six placegetters in this class were:
| | | |
| --- | --- | --- |
| PLACE | RIDER | HORSE |
| 1st | Maleah Lang-McMahon | KS Sovereigns Cadel |
| 2nd | Lucy Locke | Diamont |
| 3rd | Isabella Hughes | Beethoven |
| 4th | Mackenzie Johnson | Along Came Polly |
| 5th | Milly Fisher | Laurel Glen Brandy Man |
| 6th | Ashley Cutler | Kinnordy Rhena |
CLASS 8d: Freedman Brothers Racing – TSHA – 1.20m
The first six placegetters in this class were:
| | | |
| --- | --- | --- |
| PLACE | RIDER | HORSE |
| 1st | Hayley Robl | Lucky Decision |
| 2nd | David Cooper | Ezicome |
| 3rd | Milly Clarke | Rothswaite Grumfus |
| 4th | Charly Robinson | Pure Obsession |
| 5th | Jasmine Ritter | Blue Flame |
| 6th | Michelle Niass | Station Master |
Arena 4
CLASS 9a: Annette Kohen – Open – 0.45m
The first six placegetters in this class were:
| | | |
| --- | --- | --- |
| PLACE | RIDER | HORSE |
| 1st | Shannon McHale | Will |
| 2nd | Emma Cree | Walter |
| 3rd | Bryony Crealy | Rory |
| 4th | Deborah Bower | Murray |
| 5th | Megan Warwick | Khan Touch This |
| 6th | Linda Millard | Leroy |
CLASS 9b: Coolmore Australia – Under 12 years  – 0.45
The first six placegetters in this class were:
| | | |
| --- | --- | --- |
| PLACE | RIDER | HORSE |
| 1st | Georgia Cleary | Cookie Monster |
| 2nd | Sophie Butler | Kaledon Grace |
| 3rd | Evie Magnier | Pencader Recital |
| 4th | Angus Mooney | Saintly |
| 5th | Toby Hooper | Harley |
| 6th | Daisy Hooper | Smokey |
CLASS 10a: Aaron Hadlow – Adult – 0.60m
The first six placegetters in this class were:
| | | |
| --- | --- | --- |
| PLACE | RIDER | HORSE |
| 1st | Lindsay Brigland | SV Valentine |
| 2nd | Elizabeth Dawes | Donald |
| 3rd | Linda Millard | Leroy |
| 4th | Megan Rogers | Vinnie |
| 5th | Lily Berry | Isabella |
| 6th | Bryony Crealy | Rory |
CLASS 10b: Kingston Park Clydesdales and Shires – Junior – 0.60m
The first six placegetters in this class were:
| | | |
| --- | --- | --- |
| PLACE | RIDER | HORSE |
| 1st | Lily-Rose Baxter | Silver Lining |
| 2nd | Alexander Kennedy | Tiggy |
| 3rd | Abbey Tierney | EE Zulu |
| 4th | Alexander Kennedy | Phantom |
| 5th | Haley Da Silva | King Of Swing |
| 6th | Lily Judd | Jimbo |
CLASS 11a: Leading Edge Life Skills – Adult – 0.70m
The first six placegetters in this class were:
| | | |
| --- | --- | --- |
| PLACE | RIDER | HORSE |
| 1st | Sherie Palamara | Superdoll |
| 2nd | Michelle Frampton | Gidget |
| 3rd | Madeline Prell | Juice |
| 4th | Rebecca Andrews | Berroca |
| 5th | Bree Furze | Lagarde |
| 6th | Lindsay Brigland | SV Valentine |
CLASS 11b: Crownland Developments – Junior – 0.70m
The first six placegetters in this class were:
| | | |
| --- | --- | --- |
| PLACE | RIDER | HORSE |
| 1st | Jett Newman | Armando Otis |
| 2nd | Jett Newman | Bolagamy Royal Review |
| 3rd | Charlotte Lee | Tennessee Golden Girl |
| 4th | Alexander Kennedy | Tiggy |
| 5th | Jordan Smith | Clancy |
| 6th | Olivia Wiesener | Misty |
CLASS 11c: Freedman Brothers Racing – TSHA – 0.70m
The first six placegetters in this class were:
| | | |
| --- | --- | --- |
| PLACE | RIDER | HORSE |
| 1st | Madeleine Prell | Favourite Uncle |
| 2nd | Michelle Penza | Sherzando |
| 3rd | Stephen Rinaldo | Indica Major |
| 4th | Sue Coonan | Closing Time |
| 5th | Katelyn Mallyon | Little White Cloud |
| 6th | Kaden Weaver | Snip |
CLASS 12a: Penelope Store Australia – Adult – 0.80m
The first six placegetters in this class were:
| | | |
| --- | --- | --- |
| PLACE | RIDER | HORSE |
| 1st | Bree Furze | Lagaroe |
| 2nd | Peter McMahon | KS Esmeralda |
| 3rd | Sherie Palamara | Superdoll |
| 4th | Lucy Rose Bliss | Nuestro Amigo |
| 5th | Michelle Frampton | Gidget |
| 6th | Grace Kay | Sia |
CLASS 12b: Kingston Park Clydesdales & Shires – Junior – 0.80m
The first six placegetters in this class were:
| | | |
| --- | --- | --- |
| PLACE | RIDER | HORSE |
| 1st | Keira Ademovic | Crème Caramel |
| 2nd | Charlotte Lee | Tennessee Golden Girl |
| 3rd | Olivia Weisener | Misty |
| 4th | Isabella Barber | Waltzing Matilda |
| 5th | Holly Stott | Kentaur Pia Bella |
| 6th | Jett Newman | Armarndo Otis |
SUNDAY
Arena 1
CLASS 13a: Hawkesbury Physiotherapy and Colin Thompson – Adult Championship – 0.90-0.95m
The first six placegetters in this class were:
| | | |
| --- | --- | --- |
| PLACE | RIDER | HORSE |
| 1st | Zoe Rochford | RSS Dots & Dashes |
| 2nd | Janelle Ravine | The Red Prince |
| 3rd | Annie MacDonald | Rose Bay |
| 4th | Krissy Harris | Logan |
| 5th | Rachel Peel | Emmaville Spot |
| 6th | Rod McQueen | Revelood F-Next Hit |
CLASS 13b: Emcee Apparel – Junior Championship – 0.90-0.95m
The first six placegetters in this class were:
| | | |
| --- | --- | --- |
| PLACE | RIDER | HORSE |
| 1st | Charly Robinson | Wyan Shadows |
| 2nd | Emily Lang-McMahon | Monty Who |
| 3rd | Emerson Stuchbery | Fern |
| 4th | Clare Zylstra | Harvey B |
| 5th | Jasmine Spira | Avenly Bundy |
| 6th | Alex Wald | Boganvilla Sonata HSH |
CLASS 13c: Hawkesbury River Saddle Co – TSHA – Championship – 0.90-0.95m
The first six placegetters in this class were:
| | | |
| --- | --- | --- |
| PLACE | RIDER | HORSE |
| 1st | Jeff Penza | Eli Lamar |
| 2nd | Courtney Van Der Werf | Mediterranea Showman |
| 3rd | Lily-Rose Baxter | Foxhill Cruise |
| 4th | Nicole Kennedy | Astro |
| 5th | Amanda Madigan | County Thongue |
| 6th | Andrew Edwards | Bullfrog |
CLASS 14a: Hawkesbury Equine Veterinary Clinic – Adult Championship – 1.00-1.05m
The first six placegetters in this class were:
| | | |
| --- | --- | --- |
| PLACE | RIDER | HORSE |
| 1st | Jeremy Inglis | Bronson |
| 2nd | Peter McMahon | KS Rubellite |
| 3rd | Peter McMahon | KSs Emerald II |
| 4th | Romany Lee | RK Luna |
| 5th | Lucy Evans | Glenara Vintage Balou |
| 6th | Mathew Afford | Isle Of Kaluna |
CLASS 14b: Australian Jumping – Junior Championship – 1.00-1.05m
The first six placegetters in this class were:
| | | |
| --- | --- | --- |
| PLACE | RIDER | HORSE |
| 1st | Elkee Lang-McMahon | Flash Az |
| 2nd | Elkee Lang-McMahon | It's Jealousy |
| 3rd | Teigan Mathews | Equus Hooroo |
| 4th | Emma Fontantot | Copabella Vermont |
| 5th | Holly Stott | Yandoo Chat |
| 6th | Emily Sommers | Storm Park Warmblood |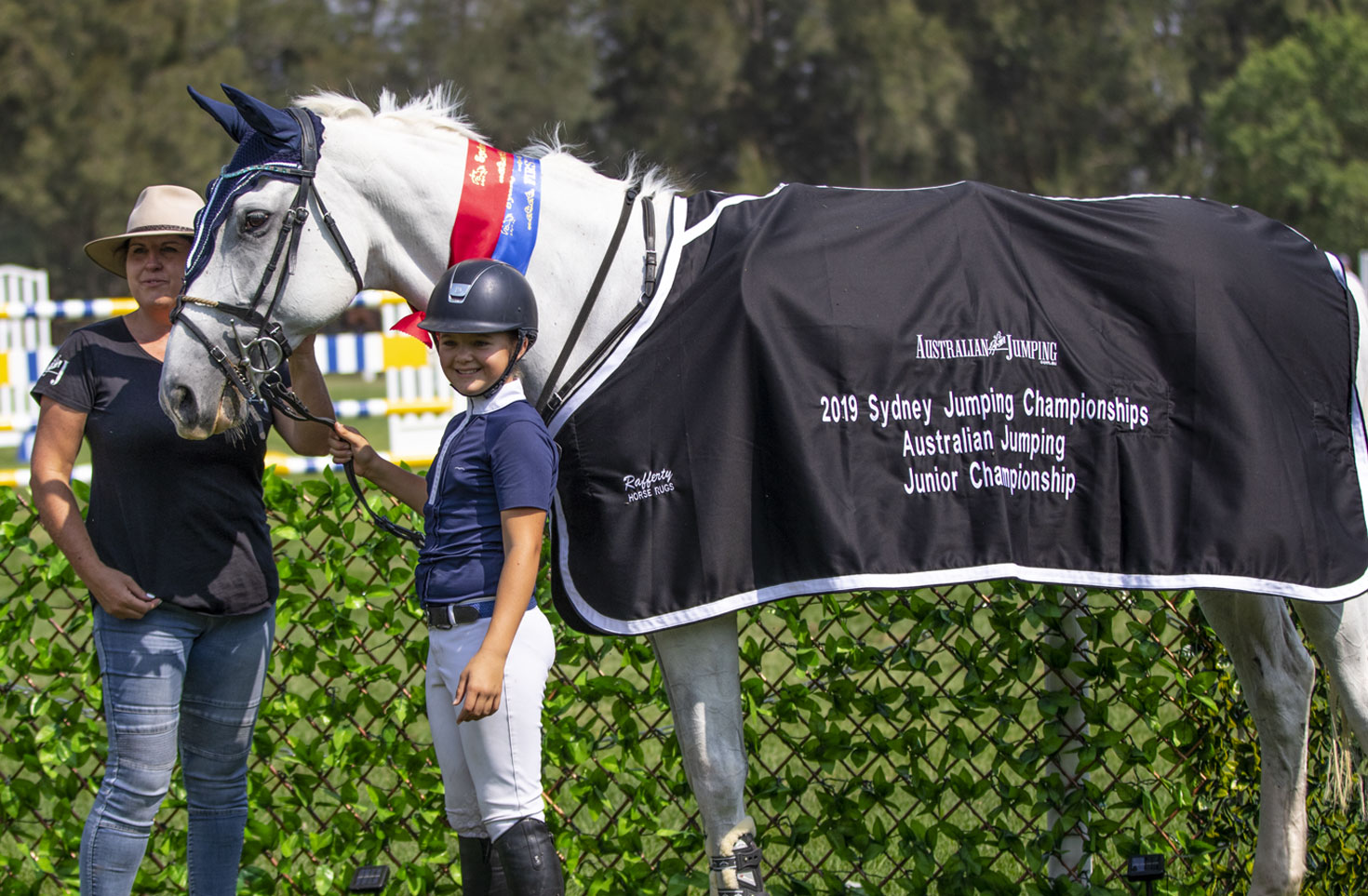 CLASS 14c: Willow Wood Stables – Amateur – 1.00-1.05
The first six placegetters in this class were:
| | | |
| --- | --- | --- |
| PLACE | RIDER | HORSE |
| 1st | Olivia-Kait Gallegos | Rostech Martini |
| 2nd | Giorgia Gall | Belcam Aim |
| 3rd | Clare Watkinson | Lots Of Love |
| 4th | Charlotte Zammit | Dezignerz Kosciuszko |
| 5th | Jane Hemmingway-Mohr | Victoria D'ivraie |
| 6th | Kathy Ward | Nimcerto B |
CLASS 14d: Oaks Sport Horses – 5 year old Championship – 1.05m
The first six placegetters in this class were:
| | | |
| --- | --- | --- |
| PLACE | RIDER | HORSE |
| 1st | Krissy Harris | RR Corakai |
| 2nd | William Dight | Half Chilled |
| 3rd | Tony Priestley | Patchy Rain |
| 4th | Jess Brown | Equus Cardhu |
| 5th | Coco Dulhunty | Wallaroo Caracajack |
| 6th | Tom McDermott | Yalambi's Jasmine |
CLASS 14e: Cooper Racing – TSHA – 1.00-1.05m
The first six placegetters in this class were:
| | | |
| --- | --- | --- |
| PLACE | RIDER | HORSE |
| 1st | Lois Fleming | Balboa |
| 2nd | Hannah Reay | Pricess Fantasia |
| 3rd | Sophie Hugh | Berio |
| 4th | Ricki Cox | Criminal Mind |
| 5th | Jack Haynes | Daybreak Lunar Rise |
| 6th | Stephanie Laraud | Cruise |
Arena 2
CLASS 15a: Agnes Banks Equine Clinic – Young Rider Championship – 1.25-1.30m
The first six placegetters in this class were:
| | | |
| --- | --- | --- |
| PLACE | RIDER | HORSE |
| 1st | Lucy Evans | Viva Joy |
| 2nd | Jessica Tripp | Diamond B Verona |
| 3rd | Tori Cureton | Double The Bank |
| 4th | Samantha Lamont | Glenwood Park Vatu |
| 5th | Nicolette Evans | Crispi 4 |
| 6th | Jess Rice-Ward | Denison Park Style |
CLASS 15b: Liz Watson – 7 year old Championship – 1.25-1.30m
The first six placegetters in this class were:
| | | |
| --- | --- | --- |
| PLACE | RIDER | HORSE |
| 1st | David Cameron | Finch Farm Spruce |
| 2nd | David Cameron | Oaks Trickery |
| 3rd | Tom McDermott | Cachassini II |
| 4th | David Cameron | Halona |
| 5th | Alison Rowland | Oaks Constantino |
| 6th | Jamie Kermond | Riverton Rose Royale |
CLASS 15c: Equine International Airfreight – Intermediate Championship – 1.25-1.30m
The first six placegetters in this class were:
| | | |
| --- | --- | --- |
| PLACE | RIDER | HORSE |
| 1st | Tom McDermott | Holmwood Valentine |
| 2nd | Brad Frankum | Oaks Calypso |
| 3rd | Jessica Spence | Clasique Andor |
| 4th | James Mooney | KPH Cavatino |
| 5th | Jono Berry | Blue Steele |
| 6th | Emma Smith | Cera Charisma |
CLASS 16: Kelvin Grove Equestrian – Mini Prix Championship – 1.35-1.40m
The first six placegetters in this class were:
| | | |
| --- | --- | --- |
| PLACE | RIDER | HORSE |
| 1st | Olivia Hamood | Sundance GHP |
| 2nd | Jess Stones | Chatina JRE |
| 3rd | Andrew Inglis | Alillie |
| 4th | Josh Collins | Cornel |
| 5th | Vicki Roycroft | Licaviv |
| 6th | Tom McDermott | Yalabi's Harvard |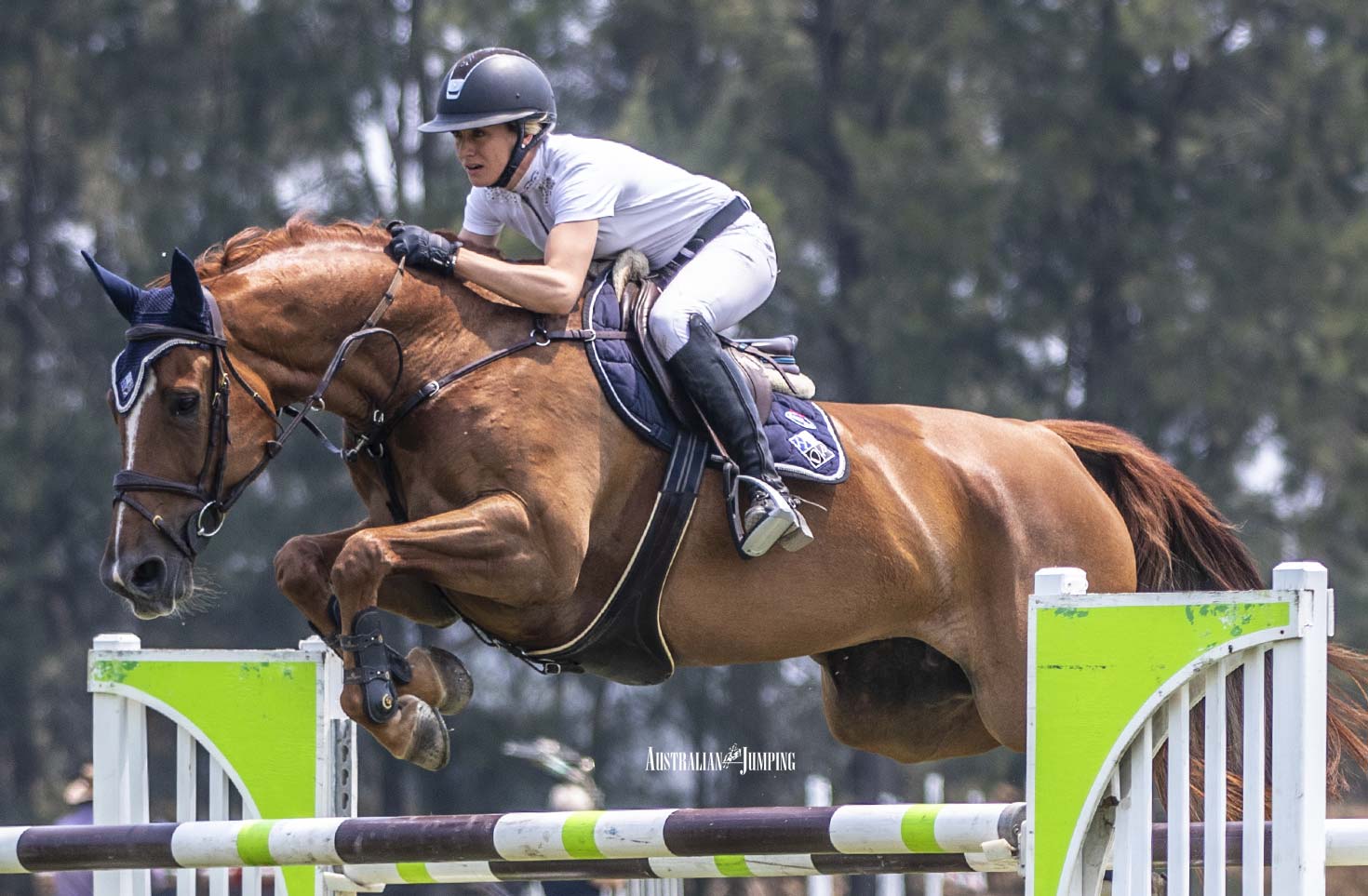 Olivia Hamood and Sundance GHP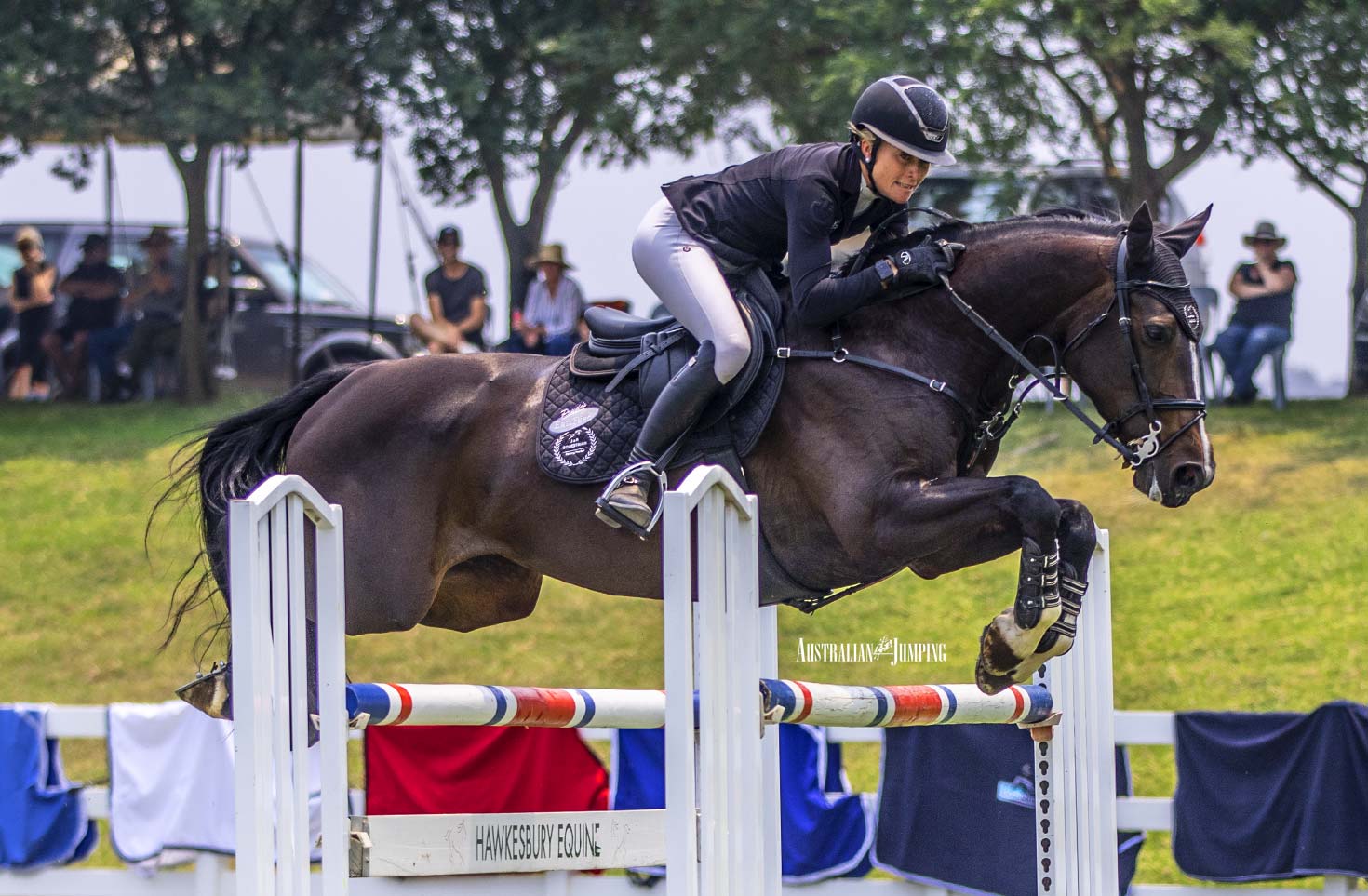 Jess Stones and Chatina JRE
CLASS 17: Emcee Apparel – Grand Prix Championship – 1.45m+
The first six placegetters in this class were:
| | | |
| --- | --- | --- |
| PLACE | RIDER | HORSE |
| 1st | Olivia Hamood | Jane Fonda DVD |
| 2nd | Olivia Hamood | Knock Out III |
| 3rd | Amanda Madigan | Diamond B Vivienne |
| 4th | Aaron Hadlow | Vahlinvader |
| 5th | Jess Pateman | Celso |
| 6th | Kelly Slater | Balmoral Couger Pedy |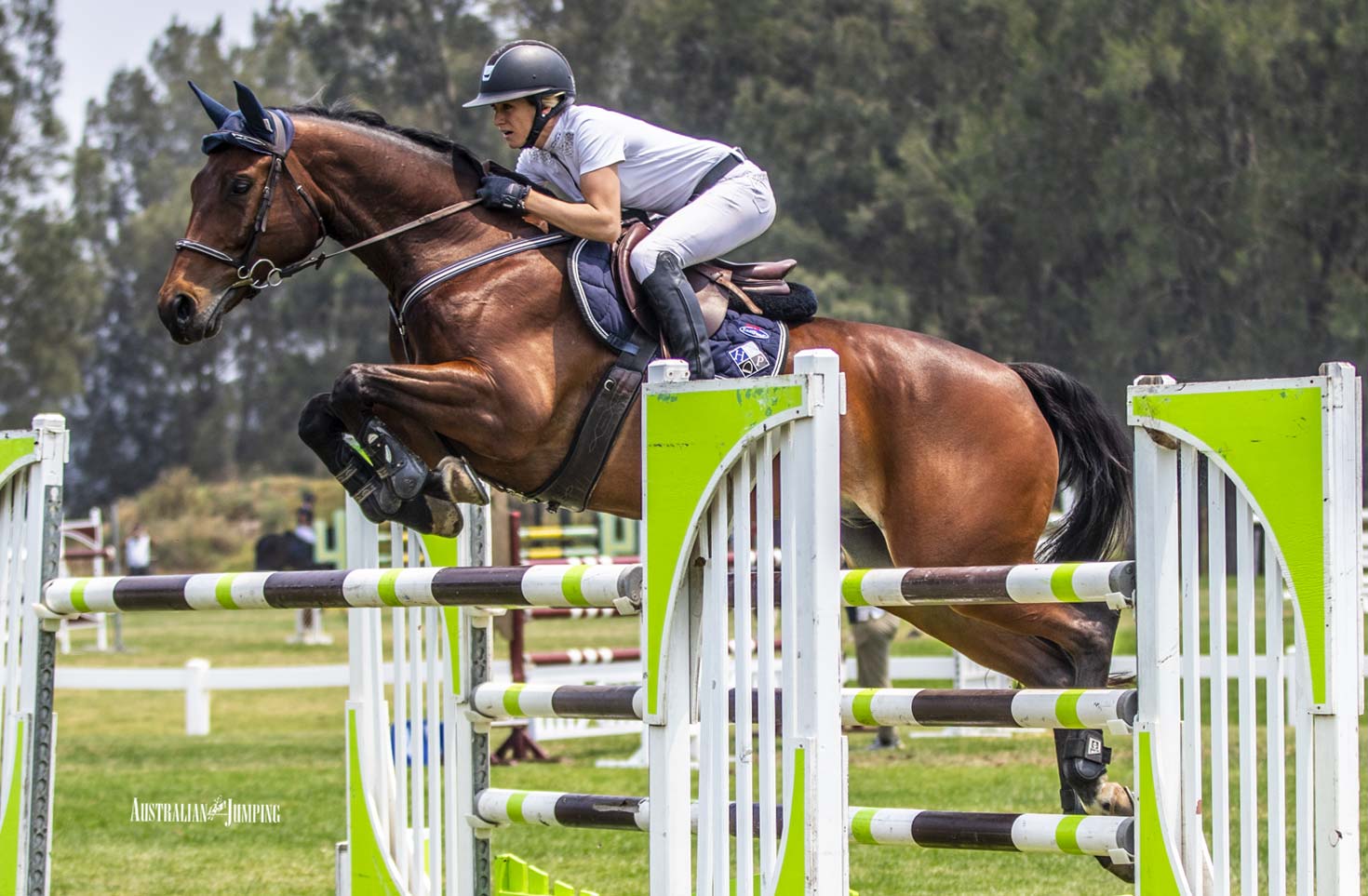 Olivia Hamood and Jane Fonda DVD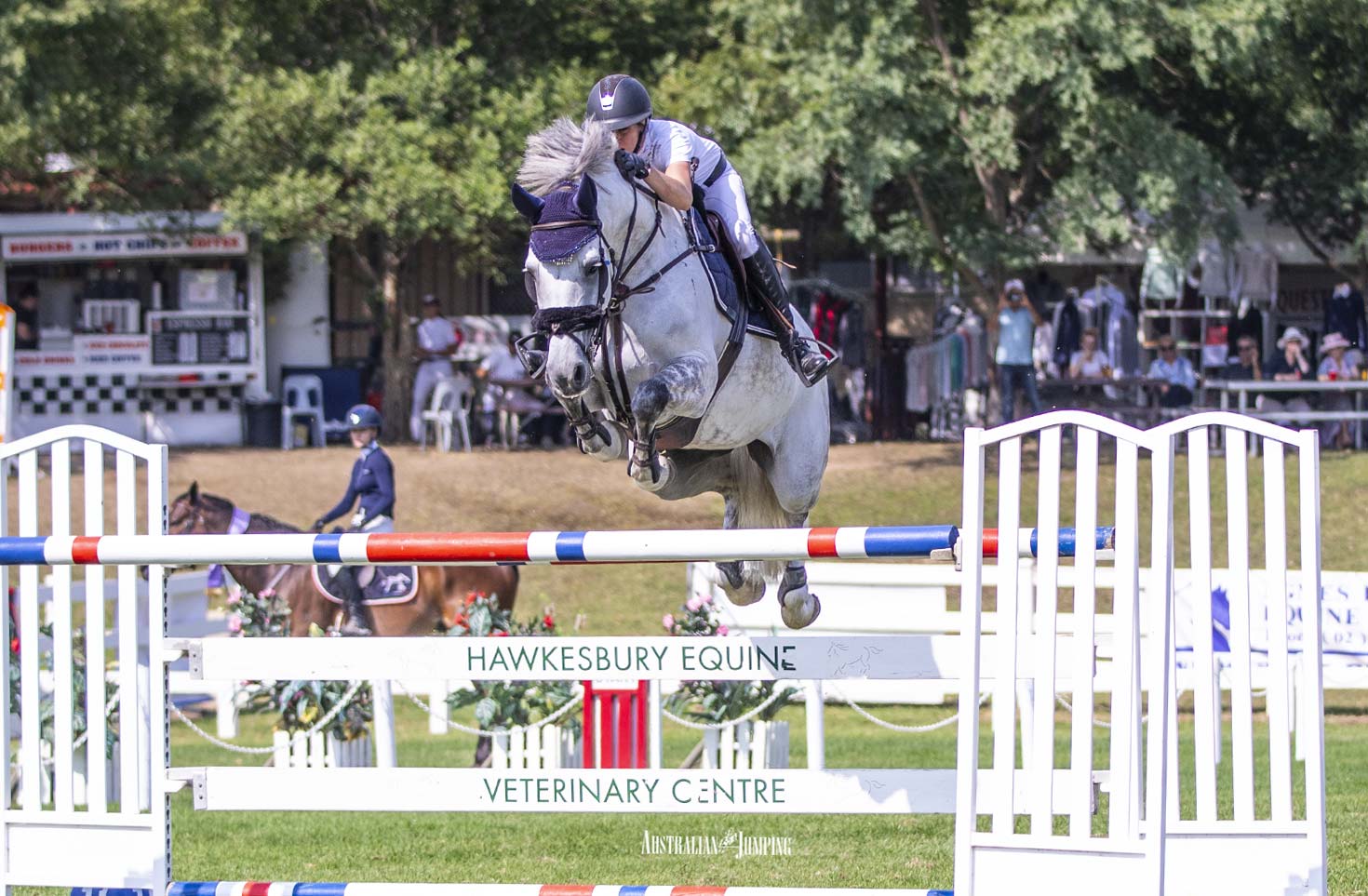 Olivia Hamood and Knock Out III
Arena 3
CLASS 18a: Stewart Equestrian – 9 years and under Championship – 1.10-1.15m
The first six placegetters in this class were:
| | | |
| --- | --- | --- |
| PLACE | RIDER | HORSE |
| 1st | Kerry Langbecker | Quincy |
| 2nd | Jess Brown | Equus Archer |
| 3rd | Kerry Langbecker | Angelica |
| 4th | Rhys Stones | Red Balou |
| 5th | Nicole Kennedy | Mr Muscles |
| 6th | Guillermo Carraball | Converse |
CLASS 18b: Village Square Edmonson Park – 10 years and over Championship – 1.10-1.15m
The first six placegetters in this class were:
| | | |
| --- | --- | --- |
| PLACE | RIDER | HORSE |
| 1st | Katie Taliana | Trevalgar II |
| 2nd | Nicolette Evans | Zazou |
| 3rd | Charly Robinson | Our Peace Maker |
| 4th | Sam Watson | Oaks Donatello |
| 5th | Alicia Daly | Navarra Eclipse |
| 6th | Grace Angyalosy | Za Bomb |
CLASS 18c: Jervis Bay Beachfront – 6 year old Championship – 1.10-1.15m
The first six placegetters in this class were:
| | | |
| --- | --- | --- |
| PLACE | RIDER | HORSE |
| 1st | Chris Chugg | Dundee Des Forets |
| 2nd | Tom McDermott | Quintation |
| 3rd | Amanda Madigan | Diamond B Bittersweet |
| 4th | Jamie Priestley | Team Priestley Leba Ego Z |
| 5th | Andrew Inglis | A-Niklas |
| 6th | John Collins | Ketut |
CLASS 18d: Freedman Brothers Racing – TSHA Championship – 1.10-1.15m
The first six placegetters in this class were:
| | | |
| --- | --- | --- |
| PLACE | RIDER | HORSE |
| 1st | Elissa Schneider | Carve It Up |
| 2nd | Jeff Penza | Fireball |
| 3rd | Charly Robinson | Pure Obsession |
| 4th | Aria Baker | That's Limo |
| 5th | Vicki Roycroft | Tommy |
| 6th | Nelson Smyth | Red Roo |
CLASS 19a: Yirrkala Stud – Horses 9 years and under Championship – 1.20-1.25m
The first six placegetters in this class were:
| | | |
| --- | --- | --- |
| PLACE | RIDER | HORSE |
| 1st | Tom McDermott | Dora |
| 2nd | Krissy Harris | Corvette GHP |
| 3rd | Madeline Sinderbery | Keilor Bamboo |
| 4th | Jamie W Kermond | Tulara Colchic |
| 5th | James Mooney | Daffodil The Frog |
| 6th | George Johnson | Wallaroo Carina |
CLASS 19b: Crownland Developments – Horses 10 years and over Championship – 1.20-1.25m
The first six placegetters in this class were:
| | | |
| --- | --- | --- |
| PLACE | RIDER | HORSE |
| 1st | Maverick Miles | Cavalier Ludicrous |
| 2nd | Jessica Knox | Yirrkala Edward |
| 3rd | Laura Norley | Copabella Vigil |
| 4th | Andrew Inglis | Kalysta |
| 5th | Milly Clarke | Yalambi's Cornetta |
| 6th | Sarah McMillan | Bellhaven Fraya |
CLASS 19c: Northern Surgical Oncology – Junior Championship – 1.20-1.25m
The first six placegetters in this class were:
| | | |
| --- | --- | --- |
| PLACE | RIDER | HORSE |
| 1st | Maleah Lang-McMahon | KS Sovereigns Cadel |
| 2nd | Lucy Locke | Diamont |
| 3rd | Milly Fisher | Laurel Glen Brandy Man |
| 4th | Mackenzie Johnson | Along Came Polly |
| 5th | Isabella Hughes | Beethoven |
| 6th | Aanika Grant | Kelou Park Bluestone |
CLASS 19d: Freedman Brothers Racing – TSHA Championship – 1.20-1.25m
The first six placegetters in this class were:
| | | |
| --- | --- | --- |
| PLACE | RIDER | HORSE |
| 1st | Milly Clarke | Rothwaite Grumfus |
| 2nd | Jasmine Ritter | Blue Flame |
| 3rd | David Cooper | Ezicome |
| 4th | Leila Wyrill | Jayden Park Acapella |
| 5th | Michelle Spiteri | Araluen Gold |
| 6th | Michelle Niass | Station Master |
CLASS 20: Jennifer Hillier – Amateur Championship – 1.10-1.15m
The first six placegetters in this class were:
| | | |
| --- | --- | --- |
| PLACE | RIDER | HORSE |
| 1st | Anna Stenberg | Storm Park Electric Blue |
| 2nd | Tahli Hendler | Flowervale Maserati |
| 3rd | Alana Stallard | CA Gordon |
| 4th | Isabelle Mirani | Diamond B Bellisimo |
| 5th | Grace McCarthy | AB Elaganz |
| 6th | Stacey Betar | Diamond B Britannia |
Arena 4
CLASS 21a: Annette Kohen – Open – 0.45m
The first six placegetters in this class were:
| | | |
| --- | --- | --- |
| PLACE | RIDER | HORSE |
| 1st | Shannon McHale | Will |
| 2nd | Deborah Bower | Murray |
| 3rd | Bryony Crealy | Rory |
| 4th | Rachael Murray | Mouse |
| 5th | Linda Millard | Leroy |
| 6th | Stephen Millard | Charlie |
CLASS 21b: Coolmore Australia – Under 12 years  – 0.45m
The first six placegetters in this class were:
| | | |
| --- | --- | --- |
| PLACE | RIDER | HORSE |
| 1st | Sophie Butler | Kaledon Grace |
| 2nd | Evie Magnier | Pencader Recital |
| 3rd | Myah Massingham | TT Mister Moustache |
| 4th | Georgia Weisener | Solei |
| 5th | Molly Mooney | Ootsi |
| 6th | Rylie Watson-Gill | TT Eagle |
CLASS 22a: Leading Edge Life Skills – Adult – 0.60m
The first six placegetters in this class were:
| | | |
| --- | --- | --- |
| PLACE | RIDER | HORSE |
| 1st | Megan Rogers | Vinnie |
| 2nd | Rachael Murray | Mouse |
| 3rd | Linda Millard | Leroy |
| 4th | Deborah Bower | Murray |
| 5th | Sandra Tremier | Kipara Lightfoot |
| 6th | Chantell Thorpe | Banjo |
CLASS 22b: Kingston Park Clydesdales and Shires – Junior – 0.60m
The first six placegetters in this class were:
| | | |
| --- | --- | --- |
| PLACE | RIDER | HORSE |
| 1st | Lily-Rose Baxter | Silver Lining |
| 2nd | Alexander Kennedy | Phantom |
| 3rd | Alexander Kennedy | Tiggy |
| 4th | Georgia Cleary | Cookie Monster |
| 5th | Georgia Cleary | Captain Chocolate |
| 6th | Summer Crealy | Indi |
CLASS 23a: Leading Edge Life Skills – Adult – 0.70m
The first six placegetters in this class were:
| | | |
| --- | --- | --- |
| PLACE | RIDER | HORSE |
| 1st | Sherie Palamara | Superdoll |
| 2nd | Michelle Frampton | Gidget |
| 3rd | Chantelle Thorpe | Banjo |
| 4th | Megan Rogers | Vinnie |
| 5th | Hannah Rogers | Margarita |
| 6th | Sue Middleton | Rudolph |
CLASS 23b: Crownland Developments – Junior – 0.70m
The first six placegetters in this class were:
| | | |
| --- | --- | --- |
| PLACE | RIDER | HORSE |
| 1st | Jett Newman | Armando Otis |
| 2nd | Lily-Rose Baxter | Silver Lining |
| 3rd | Georgia Cleary | Captain Chocolate |
| 4th | Abbey Tierney | Equestrian Excellence Zulu |
| 5th | Olivia Weisener | Misty |
| 6th | Olivia McIntosh | TT Breeze's A Life |
CLASS 23c: Freedman Brothers Racing – TSHA – 0.70m
The first six placegetters in this class were:
| | | |
| --- | --- | --- |
| PLACE | RIDER | HORSE |
| 1st | Sue Coonan | Closing Time |
| 2nd | Madi Nolis | Black Rapsody |
| 3rd | Freye Kennedy | Star Peptalk |
| 4th | Michelle Penza | Sherzando |
| 5th | Lucy Chittick | Porscha |
| 6th | Katelyn Mallyon | Little White Cloud |
CLASS 24a: Leading Edge Life Skills – Adult – 0.80m
The first six placegetters in this class were:
| | | |
| --- | --- | --- |
| PLACE | RIDER | HORSE |
| 1st | Grace Kay | Sia |
| 2nd | Sherie Palamara | Superdoll |
| 3rd | Lauren Beddy | Sammy |
| 4th | Lee Shepherd | Alabama Finch |
| 5th | Martina Kovacs | Sterntaler Silouette |
| 6th | Michelle Frampton | Gidget |
CLASS 24b: Kingston Park Clydesdales & Shires – Junior – 0.80m
The first six placegetters in this class were:
| | | |
| --- | --- | --- |
| PLACE | RIDER | HORSE |
| 1st | Olivia Wiesener | Misty |
| 2nd | Holly Stott | Kentaur Pia Bella |
| 3rd | Elena Norley | Willow |
| 4th | Gem McGufficke | Bousey |
| 5th | Hunter Fallins | Sharvalley High Falutin |
| 6th | Olivia McIntosh | TT Breeze's Life |
Results provided by Sydney Jump Club
View Comments