Two for the price of one at Sale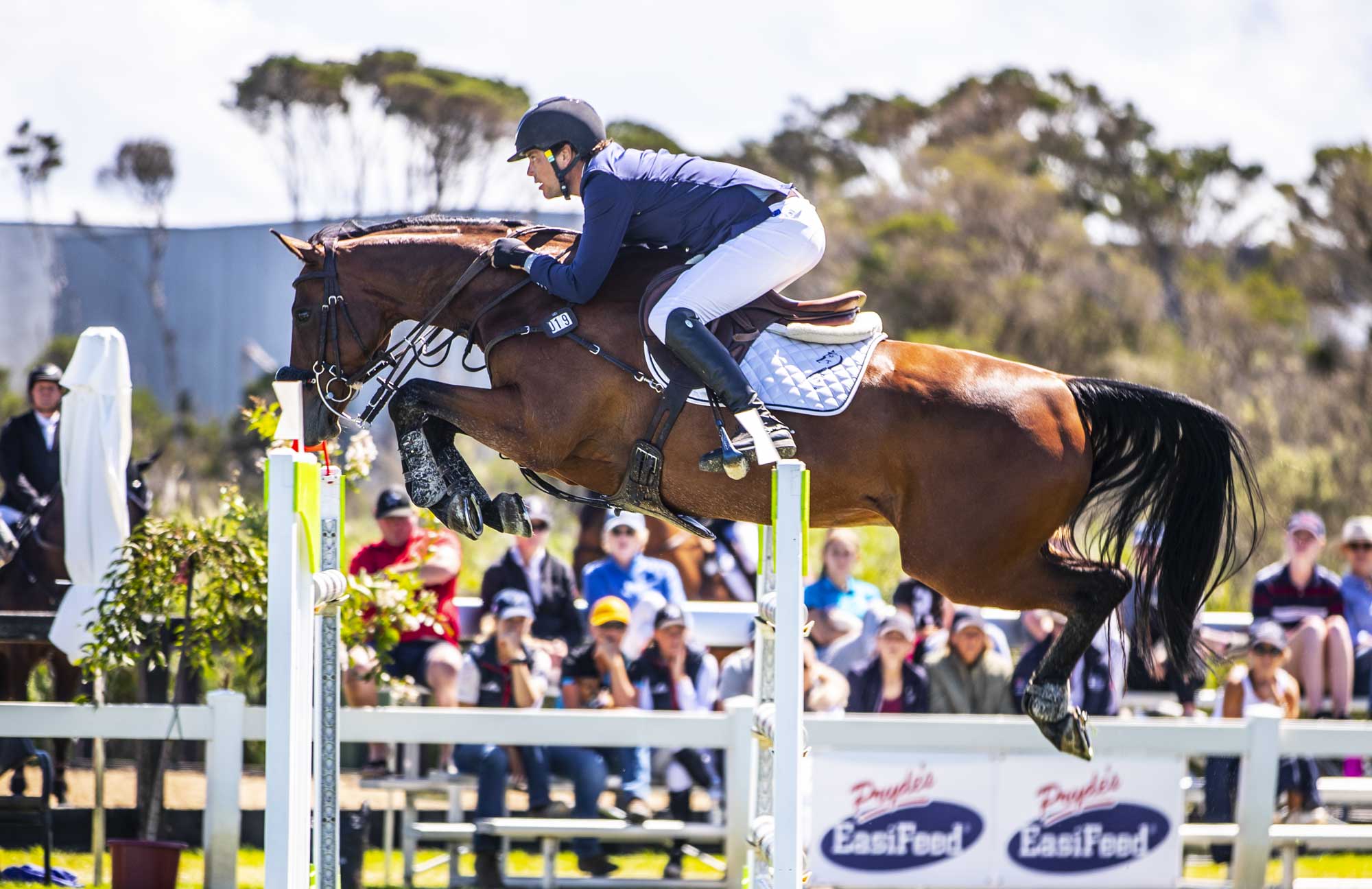 Above: Robert Palm and Jaybee Vibrant. Photo from February 2022 at The Australian Jumping Championships at Boneo Park.
Two great days of jumping were held last weekend, organised by the Sale and District Showjumping Club and held at the beautiful Elm tree ringed Sale Showground. It was the last chance for competitors to tune up prior to the two upcoming World Cup qualifier shows at Shepparton and then Werribee over the next two weekends.
Advertisement


Feature classes on both days were held over 1.40-1.50m fences, with some likely World Cup competitors on show each day.
The Saturday class was held over one round with the top four of 17 entrants going clear. The fastest time and the win went to Andrew Lamb and Spartava DP in 69.70 seconds, just beating Billy Raymont and Black Jack IXE, 69.98 seconds, into second. Third place went to Robert Palm and Jaybee Vibrant in 76.19 seconds, just 0.5 seconds quicker than the fourth placed Ally Lamb and Eagle Rock.
The Sunday class was meant to be a jump-off class, however, the two clear combinations both withdrew from the jump-off, both happy to settle for the equal first place. Both Billy Raymont and Anton (clear in 83.95 seconds) and the consistent Robert Palm and Jaybee Vibrant (clear in 81.87 seconds) were happy to settle with a share of first place and an equal split of the combined first place and second place prizemoney. Third place was secured by the fastest four-fault combination, Ally Lamb and Eagle Rock.
Advertisement


Congratulations to all the winners and placegetters from the show. Placegetters in all classes are listed below.
SATURDAY RESULTS
CLASS A1: 238.2.1 – 1.00m
| | | |
| --- | --- | --- |
| PLACE | RIDER | HORSE |
| 1st | Alice Lawrence | Mucho Mucho Deniro |
| 2nd | Kate Beadel | Camilla Elmare |
| 3rd | Russell Morrison | Luca |
| 4th | Kate Beadel | Flex E |
| 5th | Hudson Craig | Flashdance DH |
| 6th | Steph Connley | Quintell |
CLASS A2: 238.2.2 – 1.10m
| | | |
| --- | --- | --- |
| PLACE | RIDER | HORSE |
| 1st | Damien Kiss | Tulara Congrini |
| 2nd | Ruby Johnstone | Vakarra Calisto |
| 3rd | Billy Raymont | Tulara Bellensky |
| 4th | Phillip Lever | Bellhaven Chanceux |
| 5th | Frida Lindgren | Wondaree Colleen |
| 6th | Georgia Solomon | Dynamite Bay |
CLASS A3: 238.2.1 – 1.20m
| | | |
| --- | --- | --- |
| PLACE | RIDER | HORSE |
| 1st | Jamie Ellis | Centaur MVNZ |
| 2nd | Georgia Hodgetts | Corinda |
| 3rd | Jess Kiernan | Amenadiel |
| 4th | Courtney Shears | Alina |
| 5th | Paul Brent | Chloe Portrait |
| 6th | Tori Stuckey | Jaybee Ballon D'or |
CLASS A4: 238.2.2 – 1.30m
| | | |
| --- | --- | --- |
| PLACE | RIDER | HORSE |
| 1st | Melissa Backman | Blackall Park Coloe |
| 2nd | Paul Brent | Fontaine Blue VDL |
| 3rd | Kate Beadel | Lily Elmare |
| 4th | Caitlin Bolger | Caprino |
| 5th | Tesse Raymont | Allwynds Valherro |
| 6th | Georgia Hodgetts | Corinda |
CLASS A5 238.2.1 – 1.40-1.50m
| | | |
| --- | --- | --- |
| PLACE | RIDER | HORSE |
| 1st | Andrew Lamb | Spartava DP |
| 2nd | Billy Raymont | Black Jack IXE |
| 3rd | Robert Palm | Jaybee Vibrant |
| 4th | Ally Lamb | Eagle Rock |
| 5th | Frida Lindgren | Ashleigh City Lights |
| 6th | Tesse Raymont | YPH Capulet |
SUNDAY RESULTS
CLASS A6: 238.2.2 – 1.00m
| | | |
| --- | --- | --- |
| PLACE | RIDER | HORSE |
| 1st | Hudson Craig | Flashdance DH |
| 2nd | Joel Lamb | Emcee Holly Go Lightly |
| 3rd | Alice Lawrence | Mucho Mucho Deniro |
| 4th | Kate Beadel | Flex E |
| 5th | Alice Lawrence | Mr Ali |
| 6th | Charley Beecroft | Money And Power |
CLASS A6.1 Off The Track – 1.00m
| | | |
| --- | --- | --- |
| PLACE | RIDER | HORSE |
| 1st | Alice Lawrence | Mucho Mucho Deniro |
| 2nd | Alice Lawrence | Mr Ali |
| 3rd | Charley Beecroft | Wonder Flash |
| 4th | Bek Carrolan | That's Not It |
| 5th | Jim Richards | Aim High |
| 6th | Anthony Bentley | Aleksandr Meerkat |
CLASS A7: 238.2.1 – 1.10m
| | | |
| --- | --- | --- |
| PLACE | RIDER | HORSE |
| 1st | Damien Kiss | Tulara Congrini |
| 2nd | Georgia Solomon | Dynamite Bay |
| 3rd | Kate Beadel | Camilla Elmare |
| 4th | Charley Beecroft | Wonder Flash |
| 5th | Zoe Grant | Snowy River Billy Jim |
| 6th | Neve Bailey | Alpha Echo BMG |
CLASS A8: 238.2.2 – 1.20m
| | | |
| --- | --- | --- |
| PLACE | RIDER | HORSE |
| 1st | Andrew Lamb | Oaks Ever Red |
| 2nd | Billy Raymont | Glenara Sir Bollinger |
| 3rd | Jane Powell | Sorento |
| 4th | Sam Conway | Karlotta DP |
| 5th | Phillip Lever | Bellhaven Chanceux |
| 6th | Jamie Ellis | Centaur MVNZ |
CLASS A9: 238.2.1 – 1.30m
| | | |
| --- | --- | --- |
| PLACE | RIDER | HORSE |
| 1st | Kate Beadel | Lily Elmare |
| 2nd | Sam Conway | Kendalee Centaurus SHL |
| 3rd | Tesse Raymont | YPH Capulet |
| 4th | Megan Joyce | Blackall Park Cha Cha |
| 5th | Andrew Lamb | Oaks Ever Red |
| 6th | Max Height | Castlederg |
CLASS A10 238.2.2 – 1.40-1.50m
| | | |
| --- | --- | --- |
| PLACE | RIDER | HORSE |
| =1st | Billy Raymont | Anton |
| =1st | Robert Palm | Jaybee Vibrant |
| 3rd | Ally Lamb | Eagle Rock |
| 4th | Tesse Raymont | Allwynds Valherro |
| 5th | Andrew Lamb | Spartava DP |
| 6th | Frida Lindgren | Big Dream Z |
Results sourced from online.equipe.com
View Comments