AQUIS Show Jumping Classic – A Huge Success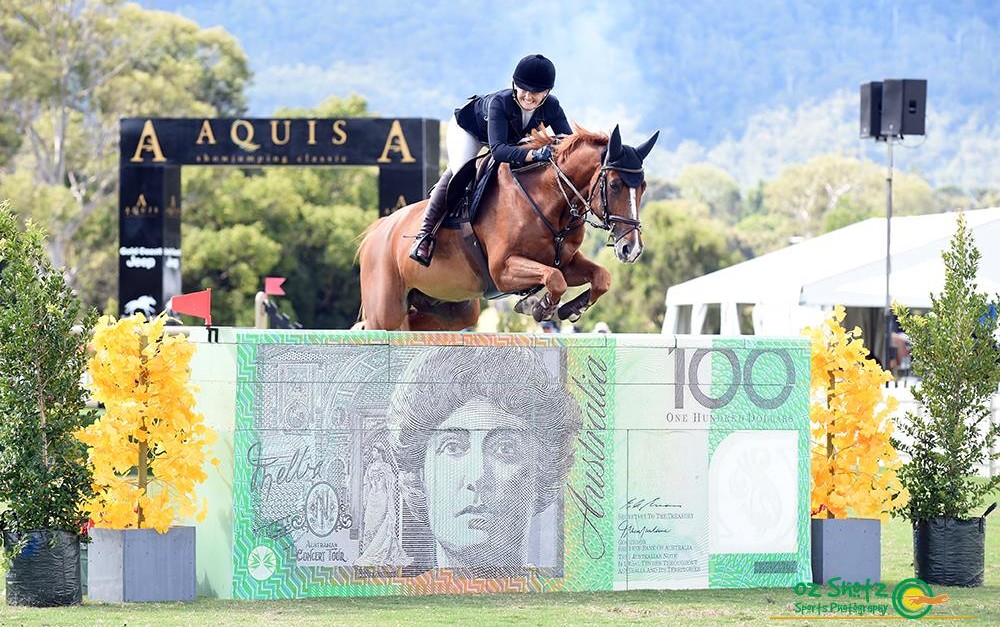 OZ SHOTZ SPORTS PHOTOGRAPHY
2016 saw the return of showjumping to the picturesque Elysian Fields in Canungra Queensland. Competitors travelled from all over the country to attend what turned out to be one of the best shows the country has ever seen. Not only was the class and style of the show something we don't often see here in Australia, but it also saw riders fighting it out for some of the best prize money available in the sport, in this country.
The major classes of the show were in the second week of competition in the Bronze Tour Final, Silver Tour Final and the Gold Tour Final. The tours were run over 3 classes with only the best placed competitors from the first 2 qualifiers being invited back for the final.
The pinnacle of the class was the Gold Tour final. The top 25 riders from the qualifying events were invited back to battle it out in a Grand Prix with a Prize pool of $45,000. The biggest prize pool of any Grand Prix in Australia. The stakes were high for many of the riders, the course set by Gavin Chester was not going to be a walk in the park and he certainly made the riders work for that Prize Money! The first round saw only a handful of clear rounds, and it seemed to be the young guns of the sport shining through. Nicole Bruggerman of South Australia posted the first clear round on her Holstein gelding Lux Like Cavalier. Shortly followed up by few more clear rounds from the likes of Rhys Stones and Oaks Altador, Robert Goodwin and his stallion Co Pilot and Vicki Roycroft and Congo Z.
With only a handful of clear rounds, riders with less than 8 faults were invited back for the second round which saw Gavin set a technical, quick course. It was the young guns of the sport who shon in the end. Savannah Hopkinson came into the second round with no penalties, all she had to do was jump clean and quick and she was guaranteed a top 3 finish. Hopkinson placed a very quick time to give her the temporary lead. However, it was not to be when the final combination of the class Rhys Stone and Oaks Altador entered the ring. The pressure was on and the stakes were high, but Rhys kept his cool giving Oaks Altador a faultless ride. The long run down to the final 1.60m oxer saw the crowds on the edge of their seat, Rhys took the flyer to the last and it stayed in the cups. Securing his victory and his share of $15,000 from the $45,000 prize pool.
The results from the Bronze, Silver and Gold Finals are below:
Class 2.32) GOLD Tour FINAL. Article 273 2.2 3.3.1 4.3
1st  Rhys Stones OAKS ALTADOR
2nd Savanna Hopkinson ZENZATION
3rd  Robert Goodwin CO PILOT
4th Vicki Roycroft CONGO Z
5th Clint Beresford EMMAVILLE JITTERBUG
6th Stuart Jenkins FAIRVIEW ANIMATION
7th Sharon Slater CP APRILLA
8th Olivia Hamood NERO GHP
9th Nicole Bruggemann LUX LIKE CAVILIER
10th Rebecca Jenkins RSB JACANA
11th Brock Harvey THUNDER DOWN UNDER
12th Robert Moffatt VIDUKA
The results for the Silver Final
Class 2.30) SILVER Tour FINAL. Article 273 2.2 3.3.1 403
1st Clint Beresford SL DONATO
2nd Lachlan Manuel NINTENDRO M
3rd Steph Mackillop YIRRKALA EXCLUSIVE
4th James Mooney JB EVOLUTION
5th Emma Smith YANDOO ZENZEL HBC
6th Birdy Hansen TOULON NZPH
7th Kate Hinschen CD VISAGE
8th Clem Smith KARTOON DE BREVE
9th Aaron Hadlow VAHLINVADER
10th Olivia Hamood CARADO GHP
11th Billy Raymont FINCH FARM ALASKA
12th Brook Dobbin CARRADO MUNZ
The results for the Bronze Final
Class 2.21) Bronze Tour FINAL. AM5. Article 238 2.2
1st Brook Dobbin FINN MVNZ
2nd Savanna Hopkinson DIAMONT
3rd Jessie Rice-Ward BONADVENTURE
4th Vicki Roycroft ADELINE DES HAYETTES
5th Riley Mackillop TM ADMIRAL VENTURE
6th Ross N Mel Smith CONQUEST
7th Amber Fuller VALESKA
8th Clem Smith ALITE
9th Birdy Hansen VALENTINO NZPH
10th Alex Rooney BEQUEST
11th Paul Brent CAVALLI PARK ALIYAH
12th Vicki Roycroft DYNAMITE BAY
View Comments