Billy and Black Jack dazzle in Werribee World Cup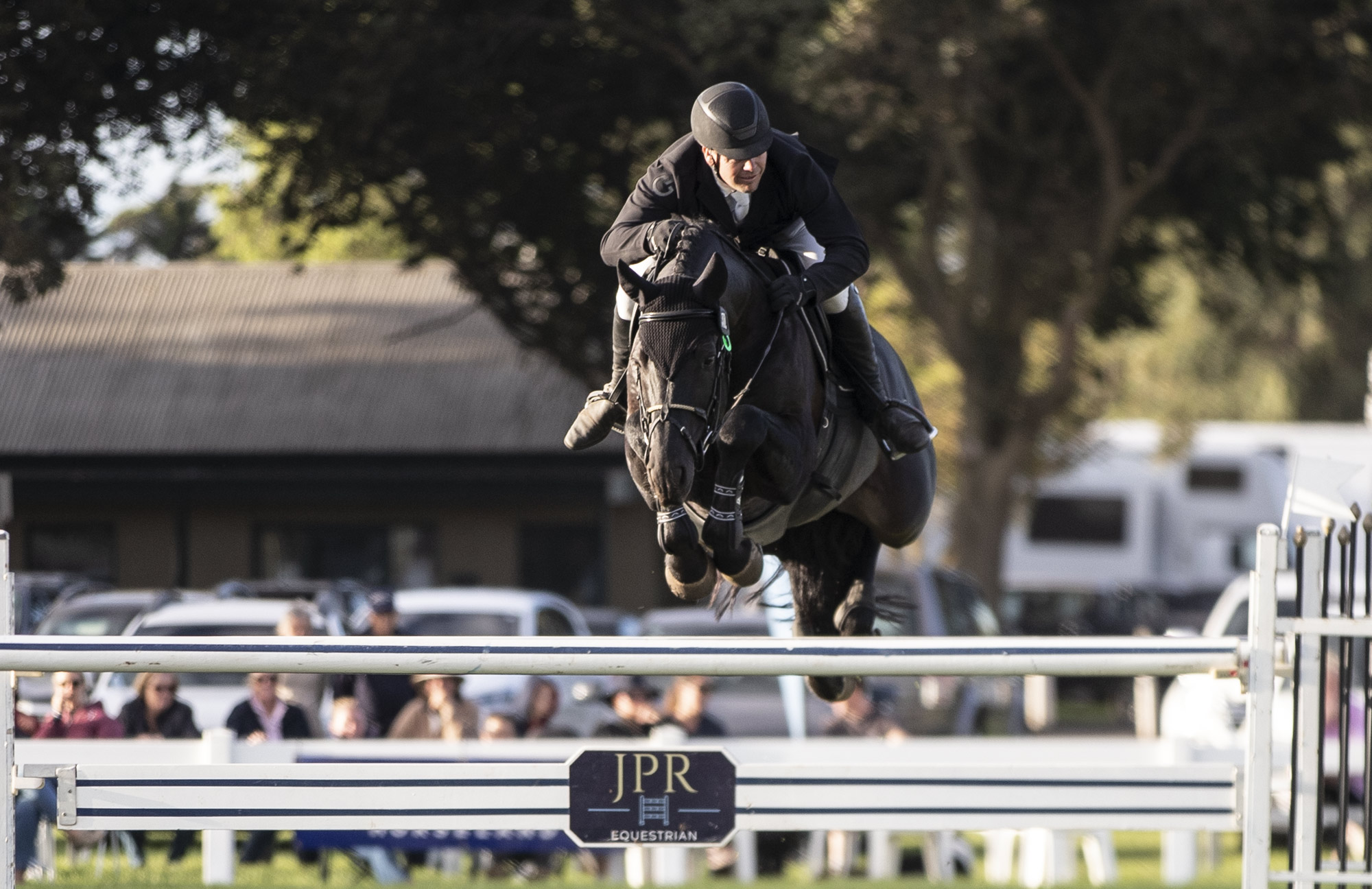 Australian Jumping
Above: Billy Raymont and Black Jack IXE.
The second leg of the 2022 Australian FEI World Cup season was held yesterday afternoon at the Werribee Park National Equestrian Centre (WPNEC) as part of the Dressage and Jumping with the Stars (DJWTS) multi-discipline equine extravaganza. Held in cool conditions despite the late afternoon sunshine, the competition kept an enthralled crowd on the edge of their seats right to the end of the competition.
Advertisement


A large field of 33 combinations were entered to compete over a tall track, put together by designer extraordinaire, David Shepperd. With two jumps set at 1.60m, those with clear first rounds would earn their one third Minimum Eligibility Requirement (MER) towards qualifying for selection to the World Championships, to be held in August in Denmark.
A generous time allowed of 106 seconds saw very few combinations incur time penalties, however, there were a total of 11 clear rounds in Round 1, the fastest of which was by Phillip Lever and Lomachenko in 91.11 seconds.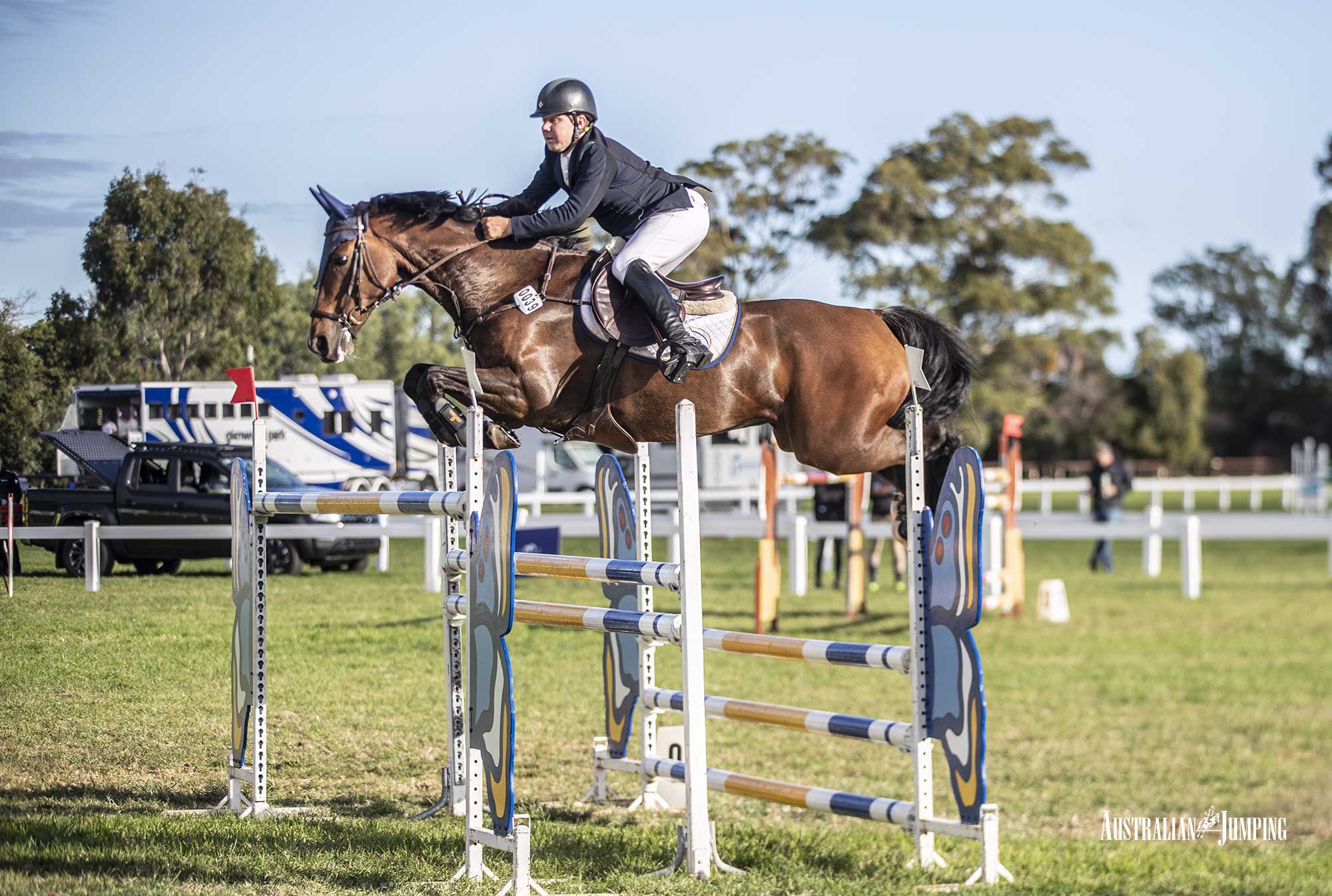 Phillip Lever and Lomachenko.
According to the article number in which World Cup classes like this are conducted, the top 12 in Round 1 were invited to contest round 2, while carrying any faults incurred in round 1 forward. This meant that all 11 clears were invited back, as well as Caitlin Bolger and Caprino, who carried two time penalties
First out in Round 2 was Amelia Douglass and Finch Farm Cadel who took a single rail to finish on a total of 4 penalties. Next came Caitlin Bolger and Caprino who also took a rail adding 4 to their first round 2 faults.
It wasn't long into round 2 before we saw our first double clear. Amber Fuller and Nopal Van Tallaert left all the rails in place and with a time of 63.44 seconds they sat in the lead, however, there were nine combinations to come, all desperate to knock them off.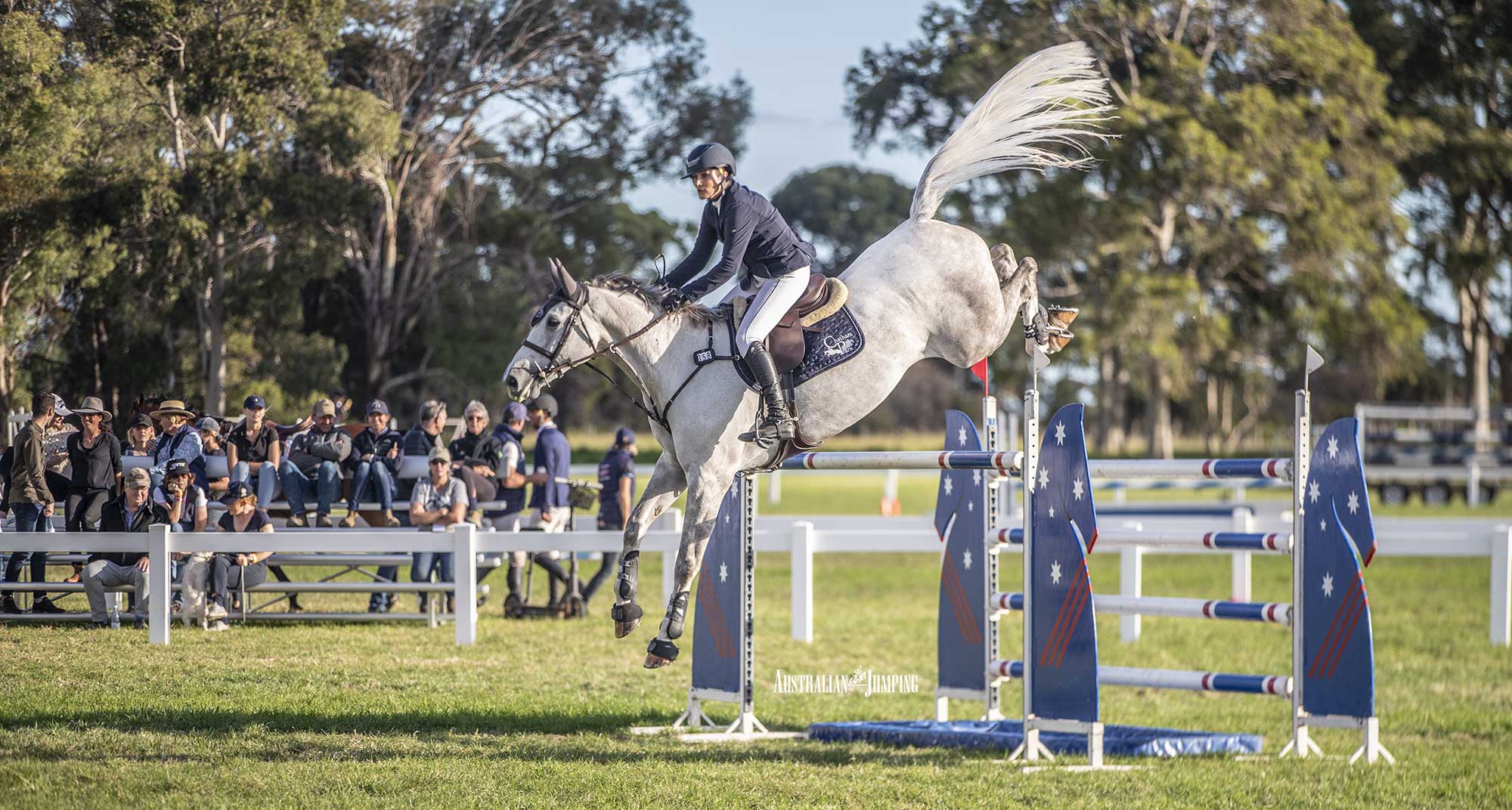 Amber Fuller and Nopal Van Tallaert .
Russell Johnstone and Dondersteen were the first to try, but a pair of rails put an end to their chances. The next combination, however, were successful.
Andrew Lamb and Denison Park Spartava produced a clear second round, and their time of 62.93 snatched the lead off Fuller and Nopal Van Tallaert.
Next, Amelia Douglass made her second appearance in the Round 2, this time with Upper Class Z, but a pair of rails put paid to their chances.
This combination was followed by Kate Hinschen and Oaks Ventriloquist who took a single rail, which was good enough to place them in third, but not for long.
The next two combinations Sam Overton and Oaks Cassanova and Olivia Hamood and Jane Fonda, both recorded clear second rounds in 60.61 and 61.63 seconds respectively, to sit in first and second place. All of a sudden the bar had been raised and double clear was the minimum standard to claim a podium position. However, the bar was about to be raised even higher.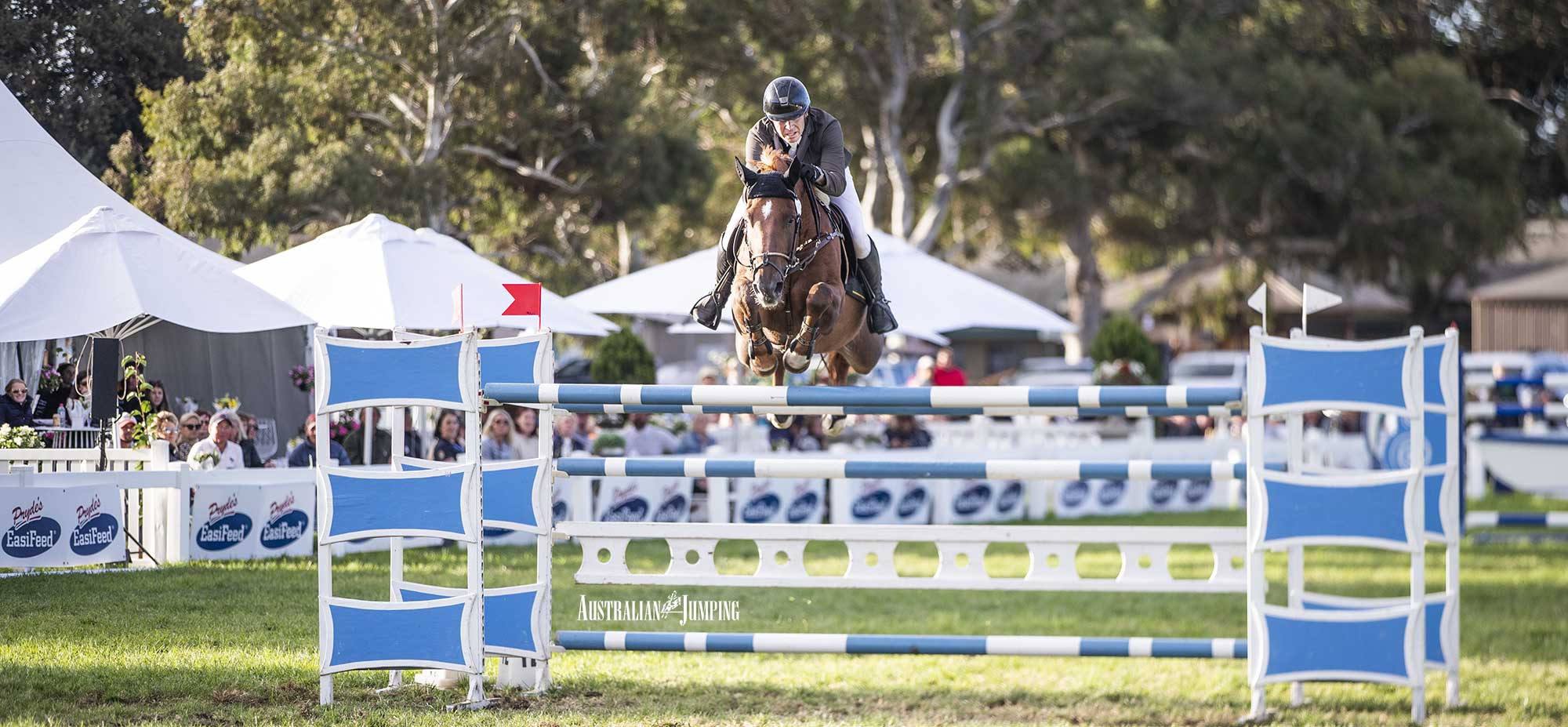 Sam Overton and Oaks Cassanova.
Third last into the arena were Billy Raymont and Black Jack IXE, Raymont fresh from his World Cup win in Shepparton last weekend with Anton. (As an aside, Anton in his last World Cup outing finished in 13th place as the fastest four-faulter). Raymont and Black Jack IXE attacked the course and were good enough to go clear and with a time of 58.67. The lead was theirs and Raymont had a shot at taking out consecutive World Cups on different horses.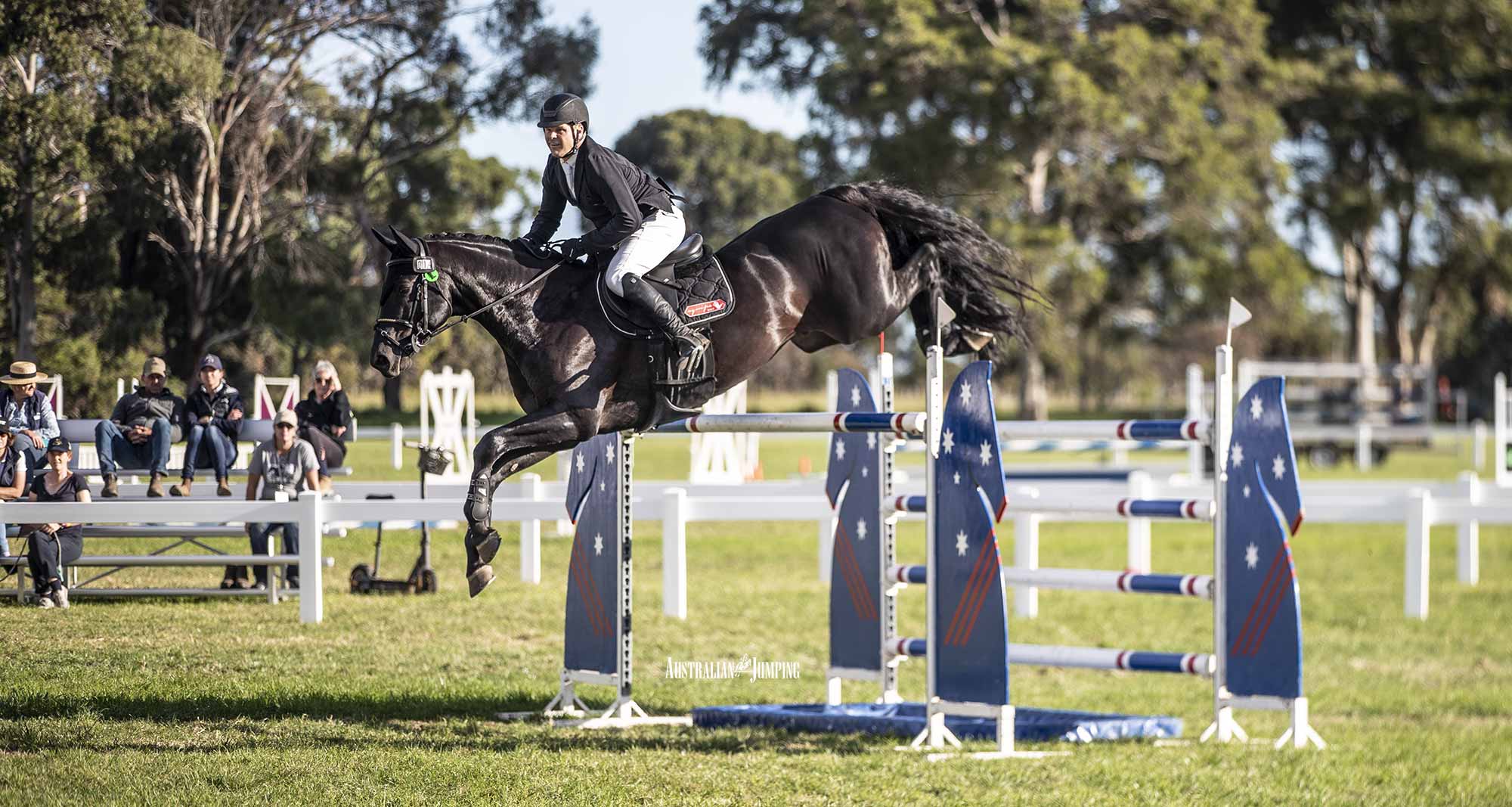 Billy Raymont and Black Jack IXE.
The first to try and beat this new standard were the second last combination out, Aaron Hadlow and Vahlinvader. They rocketed around the course and just when it looked like Raymont and "Black Jack" might be relieved of the lead, Hadlow and 'Lucy' took a rail. Their scintillating round finished in just 58.39, which proved that Raymont's time could be beaten. But, the question was, could it be done clear?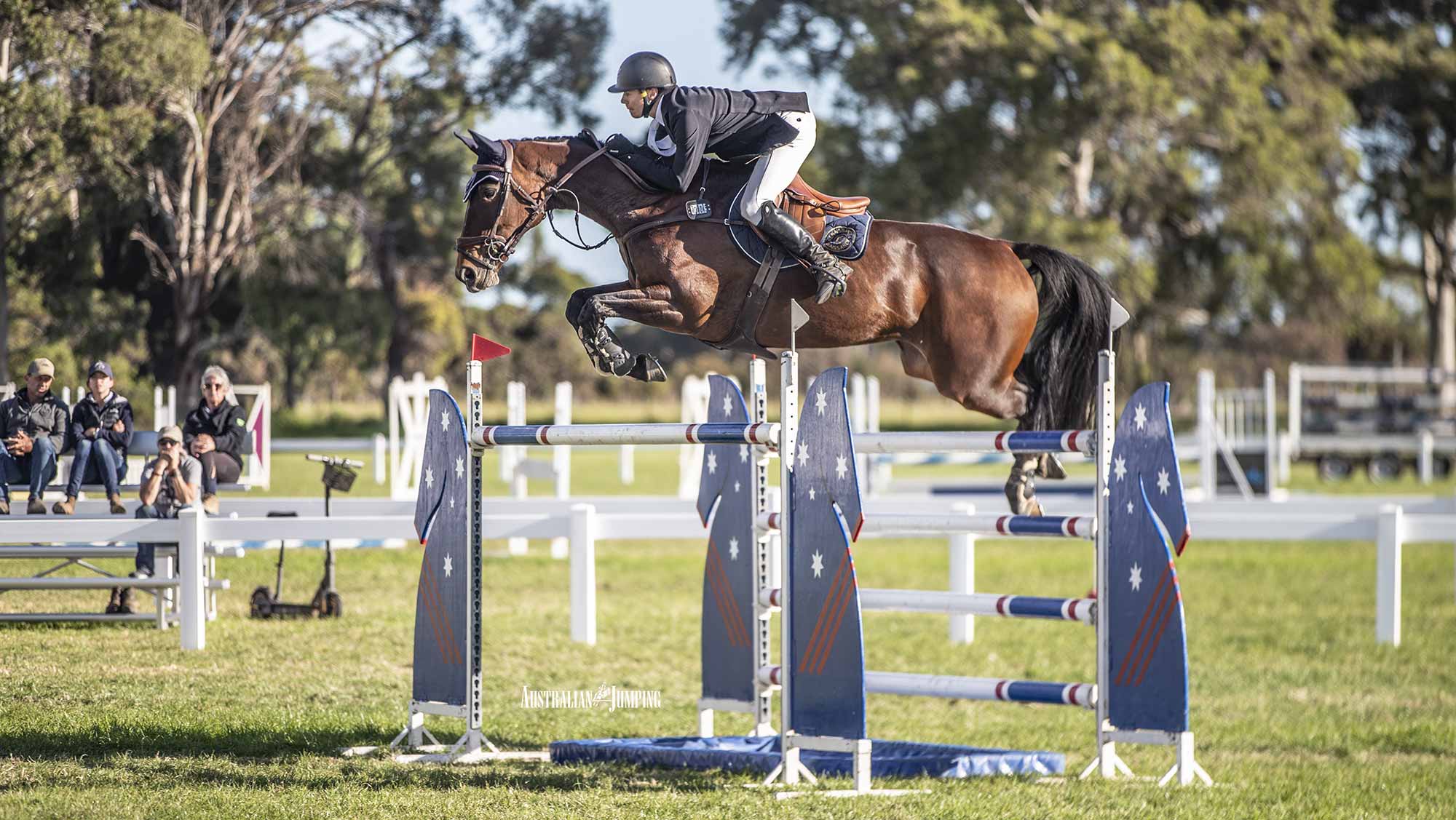 Aaron Hadlow and Vahlinvader
The only combination which were left to try were Phillip Lever and Lomachenko. They attacked the course at a furious pace, however, it was not to be. A couple of rails went down and despite a very respectable time of 59.14 seconds, they finished in tenth, by far the fastest of the eight-faulters.
It was a magnificent class and for those watching the second-round action, it will live long in their memory. Billy Raymont has hit the ground running this World Cup season and it would appear that he might be difficult to run down. Whatever happens, it is going to be fun to watch.
The next two World Cup Rounds are scheduled for Queensland in late June.
The first 12 placings in this class were as follows:
WYNDHAM CITY COUNCIL – FEI JUMPING WORLD CUP
| | | |
| --- | --- | --- |
| PLACE | RIDER | HORSE |
| 1st | Billy Raymont | Black Jack IXE |
| 2nd | Sam Overton | Oaks Cassanova |
| 3rd | Olivia Hamood | Jane Fonda DVD |
| 4th | Andrew Lamb | Denison Park Spartava |
| 5th | Amber Fuller | Nopal Van Tallaert |
| 6th | Aaron Hadlow | Vahlinvader |
| 7th | Kate Hinschen | Oaks Ventriloquist |
| 8th | Amelia Douglass | Finch Farm Cadel |
| 9th | Caitlin Bolger | Caprino |
| 10th | Phillip Lever | Lomachenko |
| 11th | Russell Johnstone | Dondersteen |
| 12th | Amelia Douglass | Upper Class Z |
View Comments