Brilliant Competition on Day 3 of JNSW Summer Show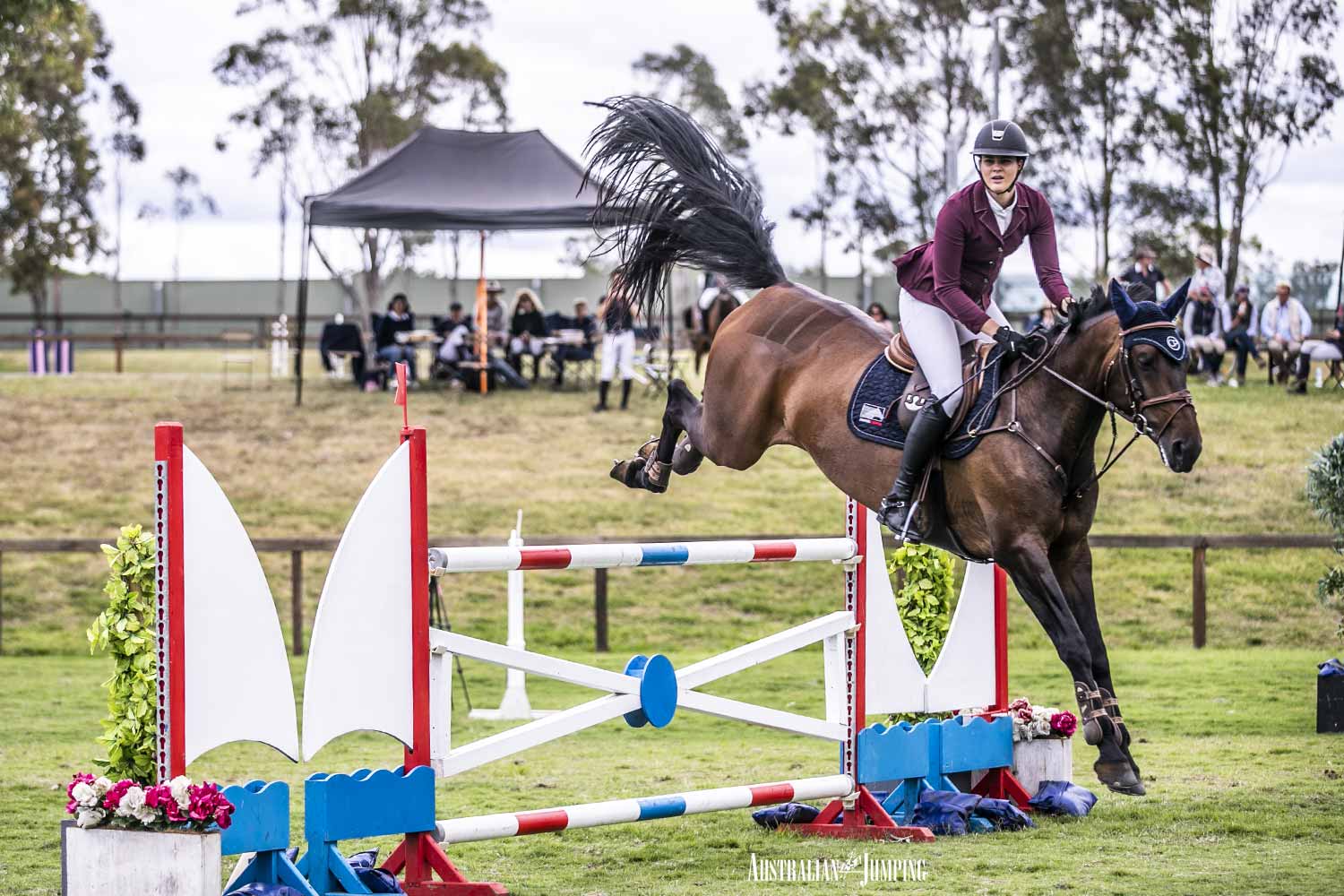 Australian Jumping
Above: Kate Hinschen and Yalambis Jadore. Winners of the Futurity.
Day three of The Jumping NSW Summer Show, held at the Sydney International Equestrian Centre (SIEC), saw another wonderful day of competition.
First up, we saw the Juniors strut their stuff, with rising star Lucy Locke dominating the class. There were 34 starters but only 11 clear rounds, with two of those belonging to Locke. Locke, in combination with Quero Quero (Quidam's Rubin x Coco by Calypso II) were the fastest in 57.62 seconds, with the only other combination breaking the 1 minute mark being Locke and Diamont (Diamant De Semilly x Fine Kiss by Caletto I). Sarah Noonan and Peace Dreams were third in 60.87 seconds. Thanks to EMCO for sponsoring this class.
Advertisement


Next on the program was an open 1.30m class, sponsored by the Winning Group. A six-way jump-off was required to sort out the placings with Maroota based Andrew Inglis and Alillie (Vivant x Amira Fernantes by Darco) recording one of just two double clears to win by a massive margin of over 11 seconds. Izabella Stone and Tulara Stolzette also went double clear, earning them second place, while a single rail at the last in a round that would have been fast enough to take the class, relegated Jessica Spence and Clasique Andor into third place.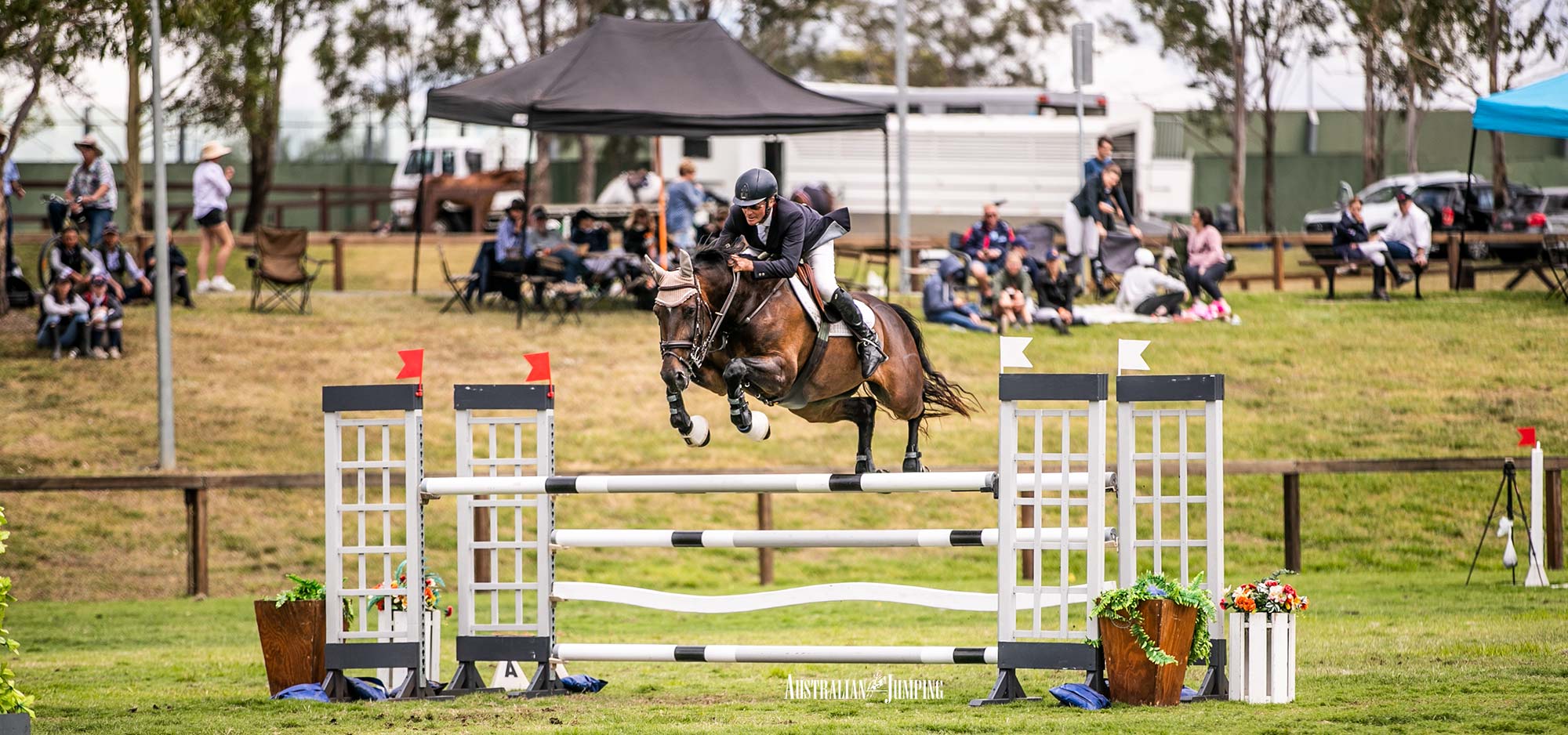 Andrew Inglis and Alillie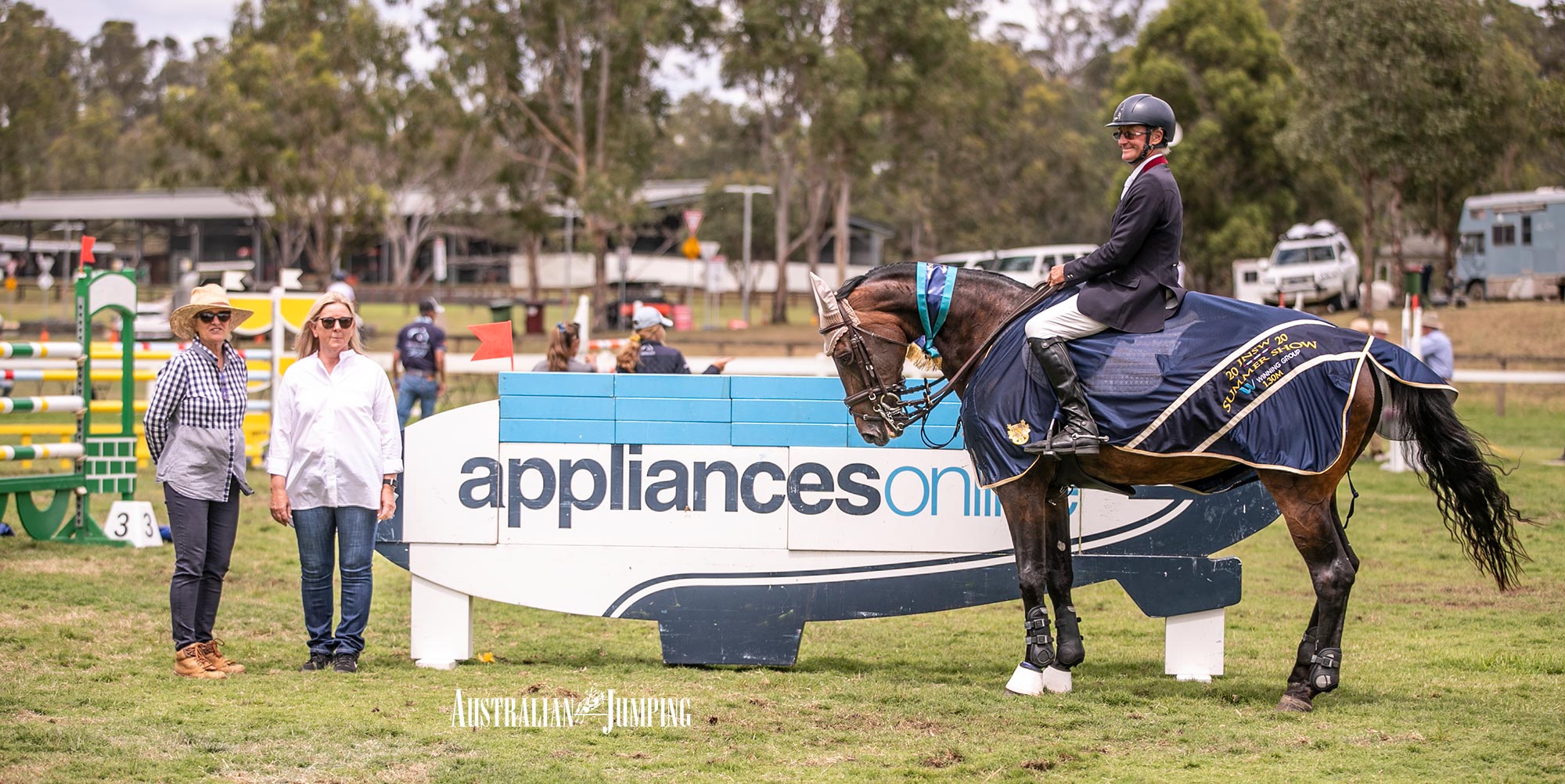 Jane Frankum, Kerrie Winning with winners of the 1.30m Andrew Inglis and Alillie
Fifteen combinations took on the Caliera Performance Horses Futurity class, which saw six clears to set up an exciting jump off. Kate Hinschen and Yalambis Jadore zipped around the jump-off course clear in just 43.80 seconds to claim the win, with over a second to spare from second placed Brook Dobbin and Velvet Cate. James Arkins and Joevaro R also recorded two clear rounds but with a time of 47.18 seconds, had to settle for third.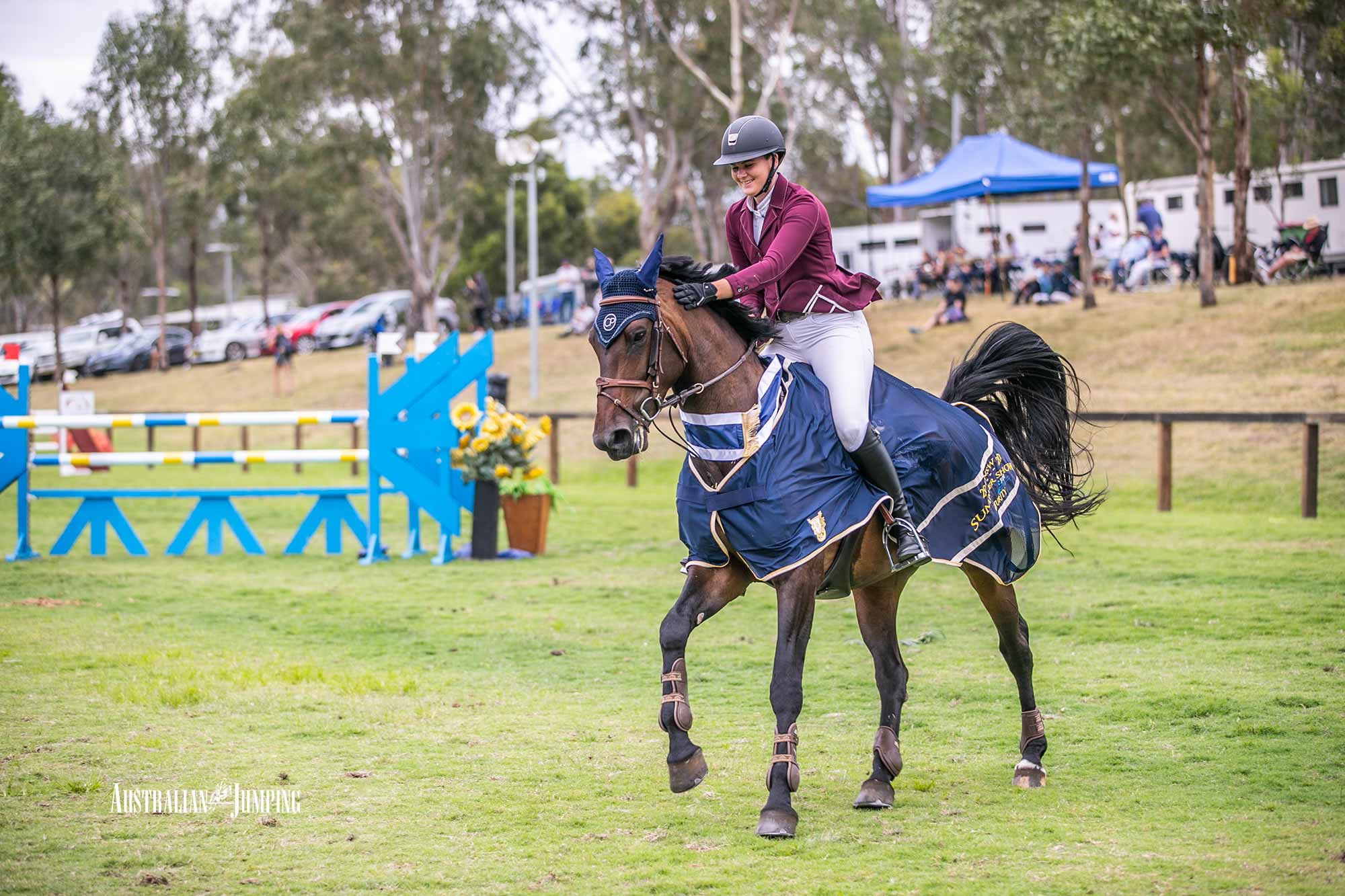 Kate Hinschen and Yalambis Jadore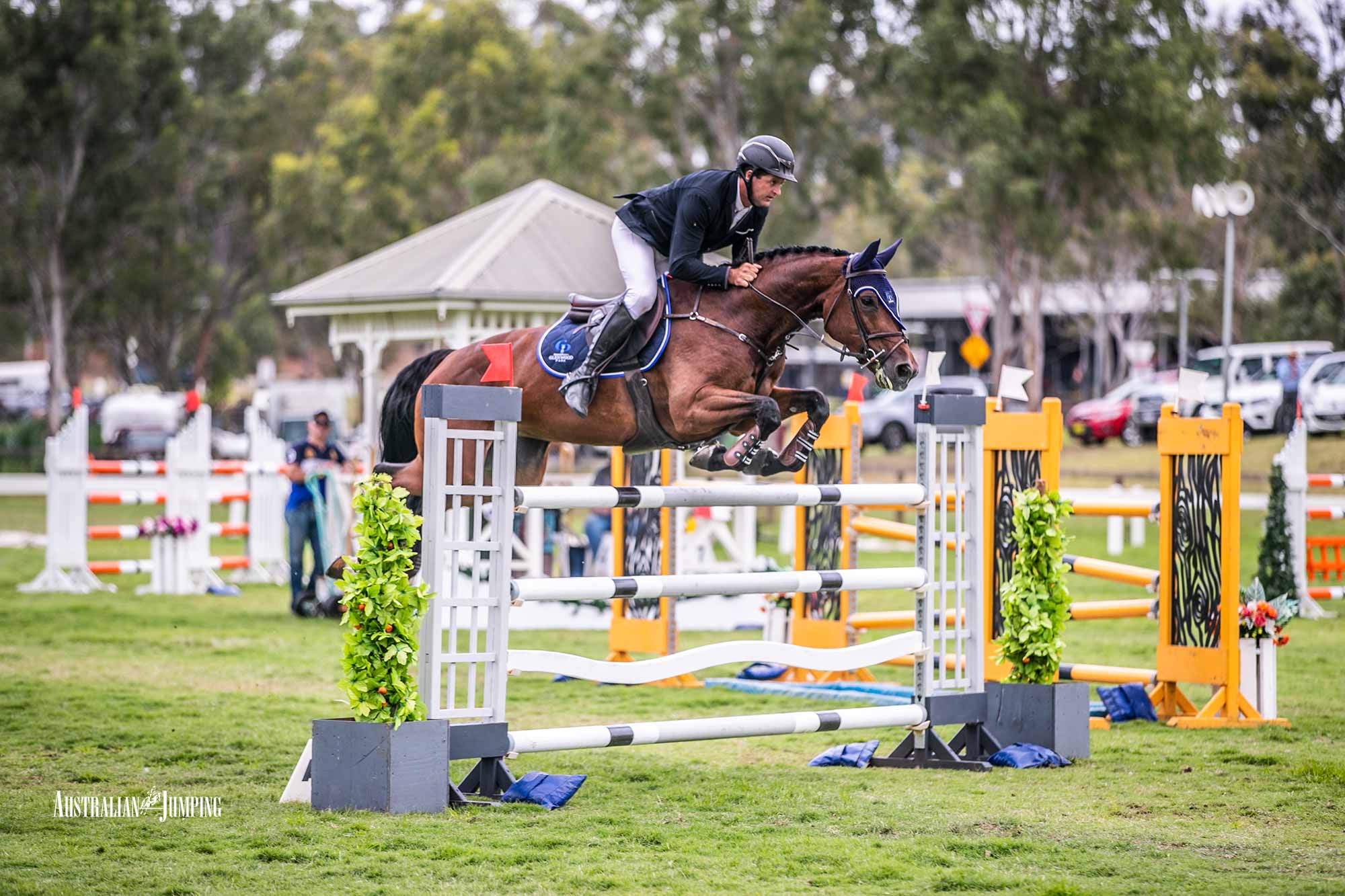 Brook Dobbin and Velvet Cate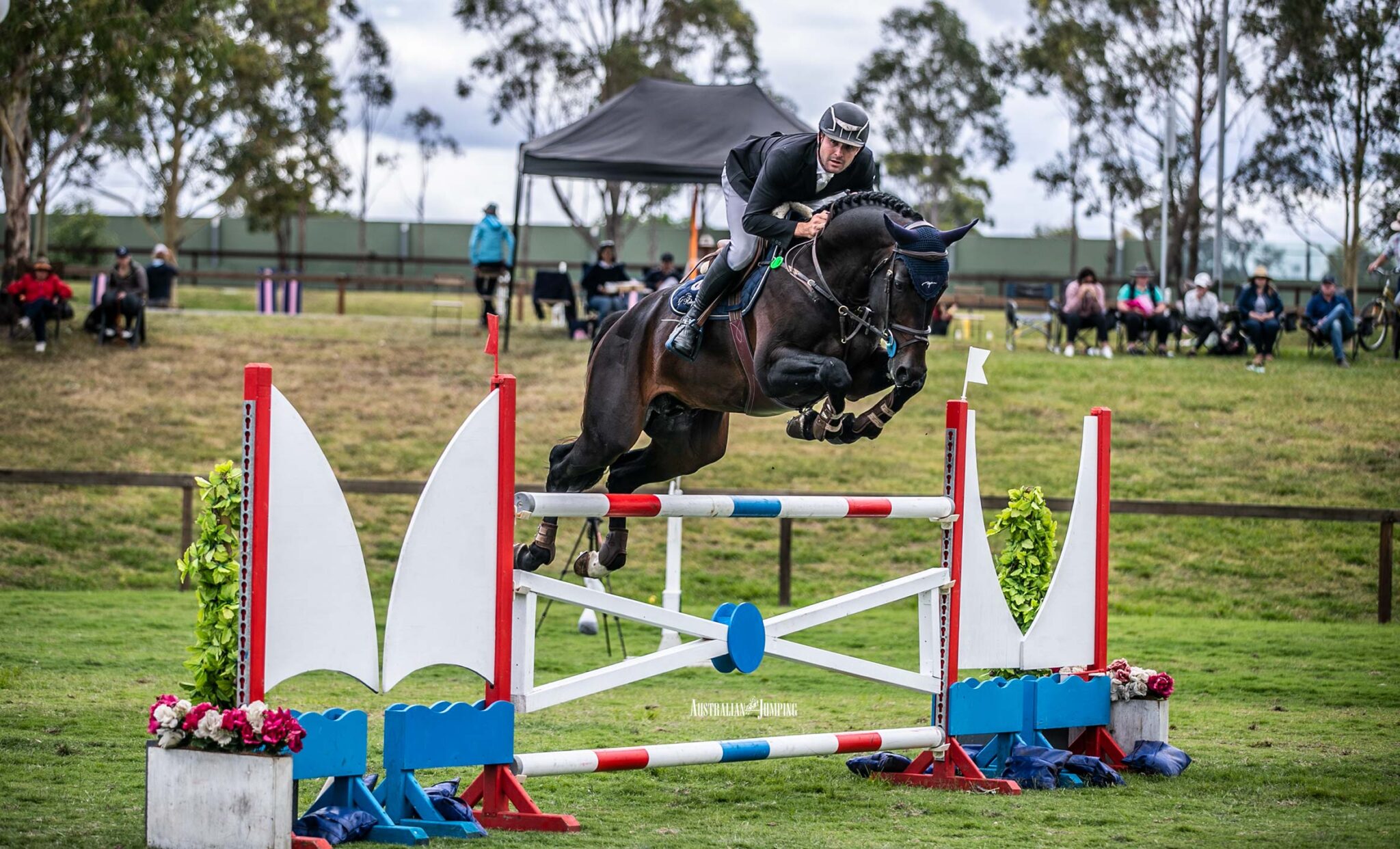 James Arkins and Joevaro R
Advertisement

Next class was the EMCEE Apparel 1.30m for Young Riders and once again it was the in-form Annaleise Wansey who prevailed to take the win with Kolora Stud St Patrick. More than 2.5 seconds slower were Clemency Hughes and Diamond B Corvina in second place, while Madeline Sinderberry and a relatively new mount for her, Checkin Charlie, were clear and more than a second behind in third place.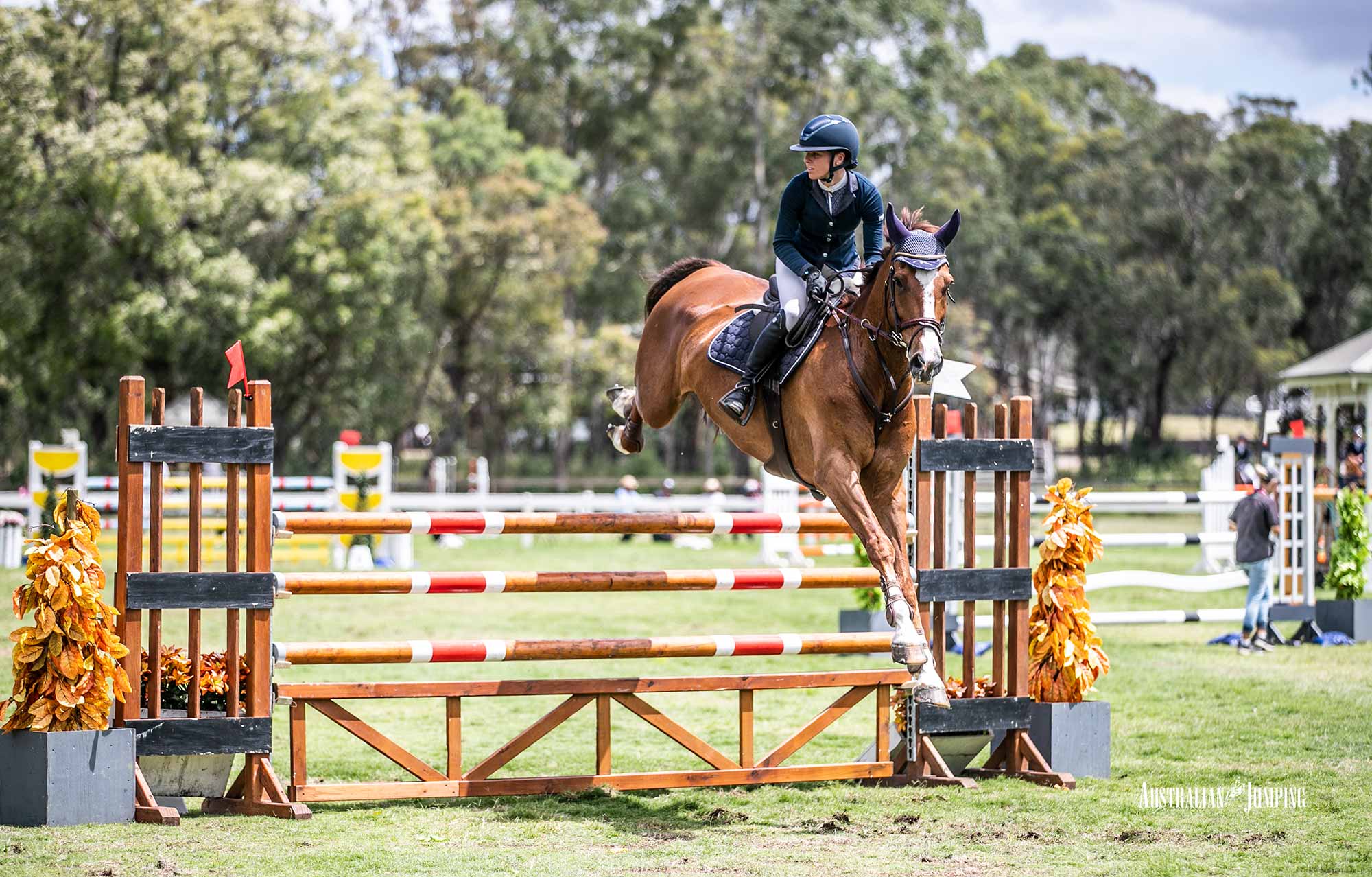 Annaleise Wansey and Kolora Stud St Patrick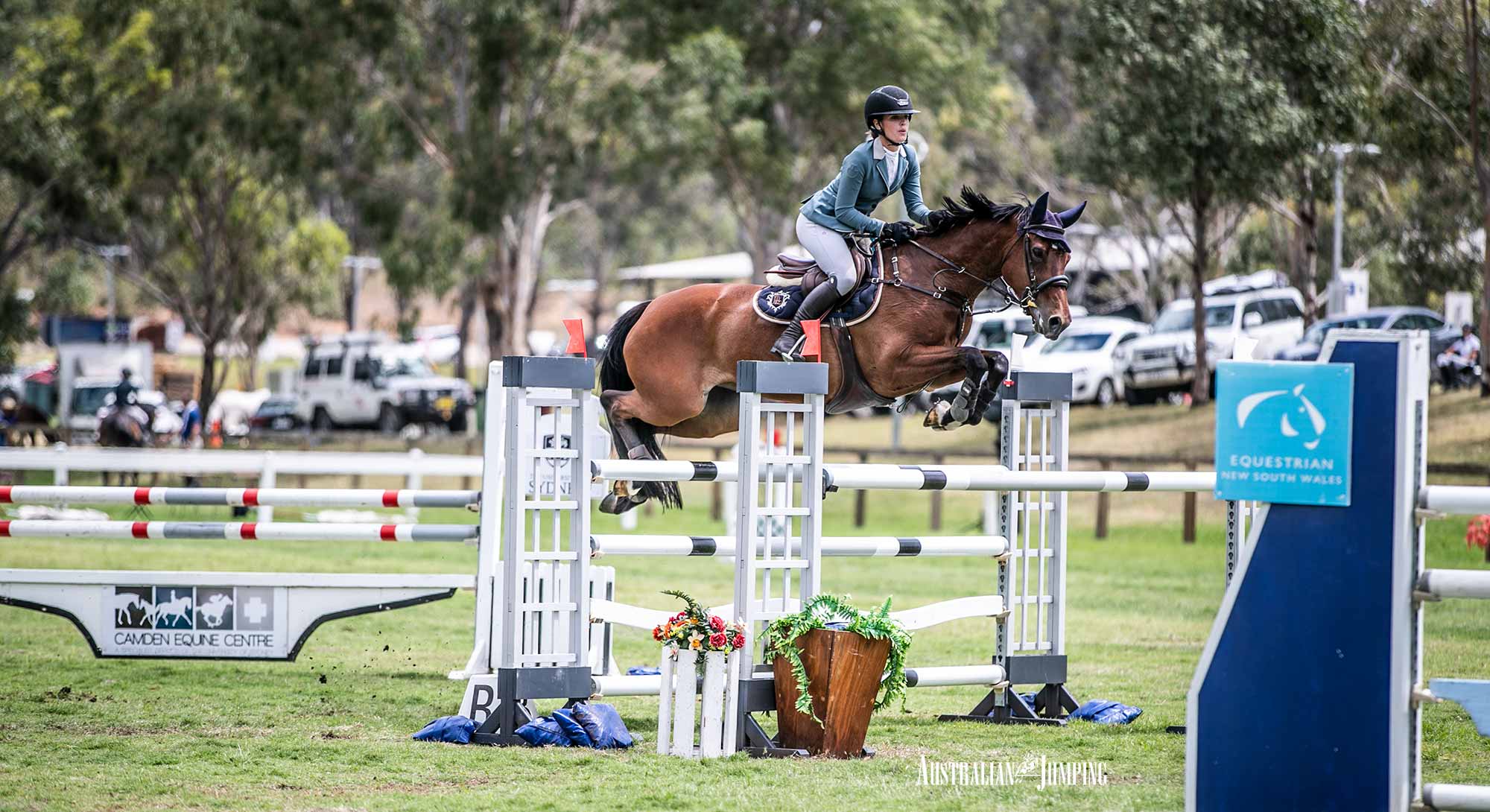 Clemency Hughes and Diamond B Corvina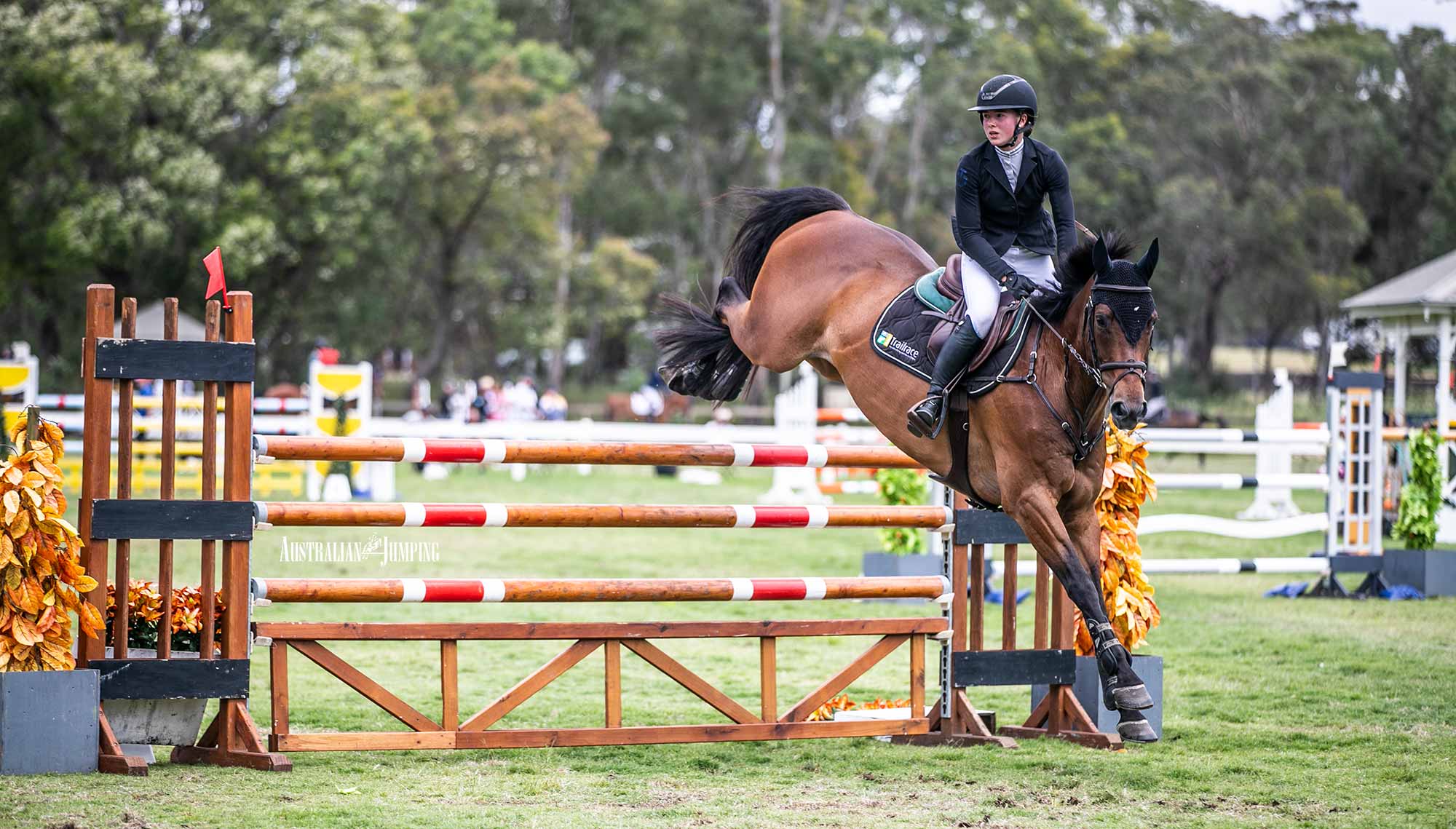 Madeline Sinderberry and Checkin Charlie
The Camden Equine Centre Mini-Prix Championship was the last class of the day and the exciting seven-way jump-off was certainly worth the wait. Tom McDermott with Sharon and Billy Slater's Cachassini II were the first out and threw down the gauntlet to the rest of the competition by absolutely flying around the course and taking all the opportunities to shave time, finishing in 54.21 seconds. Sarah Duggan and Dublin, Josh Collins and Anssioso Z and Kate Hinschen with Oaks Ventriloquist each had a rail, finishing on 4 penalties then Jennifer Wood and Cocaine Ego Z (Cracky Z x Ama Ego Z by Alme Crack Z) rode a super clear round in 54.33 to put her into the second spot at that stage.
McDermott on his second mount, his own Yalambis Harvard, was obviously determined not to settle for only one placing and unbelievably shaved more than 5 seconds off his first time, jumping clear in 48.74 to go into the lead ahead of himself and Cachassini II. It was all down to Billy Raymont and YPH Capulet and if anybody could take win from McDermott it was this combination. Raymont certainly didn't leave anything in the bag and sizzled around the track in 48.27 (the fastest of the round) with a gallop to the last which, to the gasps from the onlookers, brought a rail down from the last fence. So first and second went to Tom McDermott with Yalambis Harvard and Cachassini II respectively and third to Jennifer Wood and Cocaine Ego Z.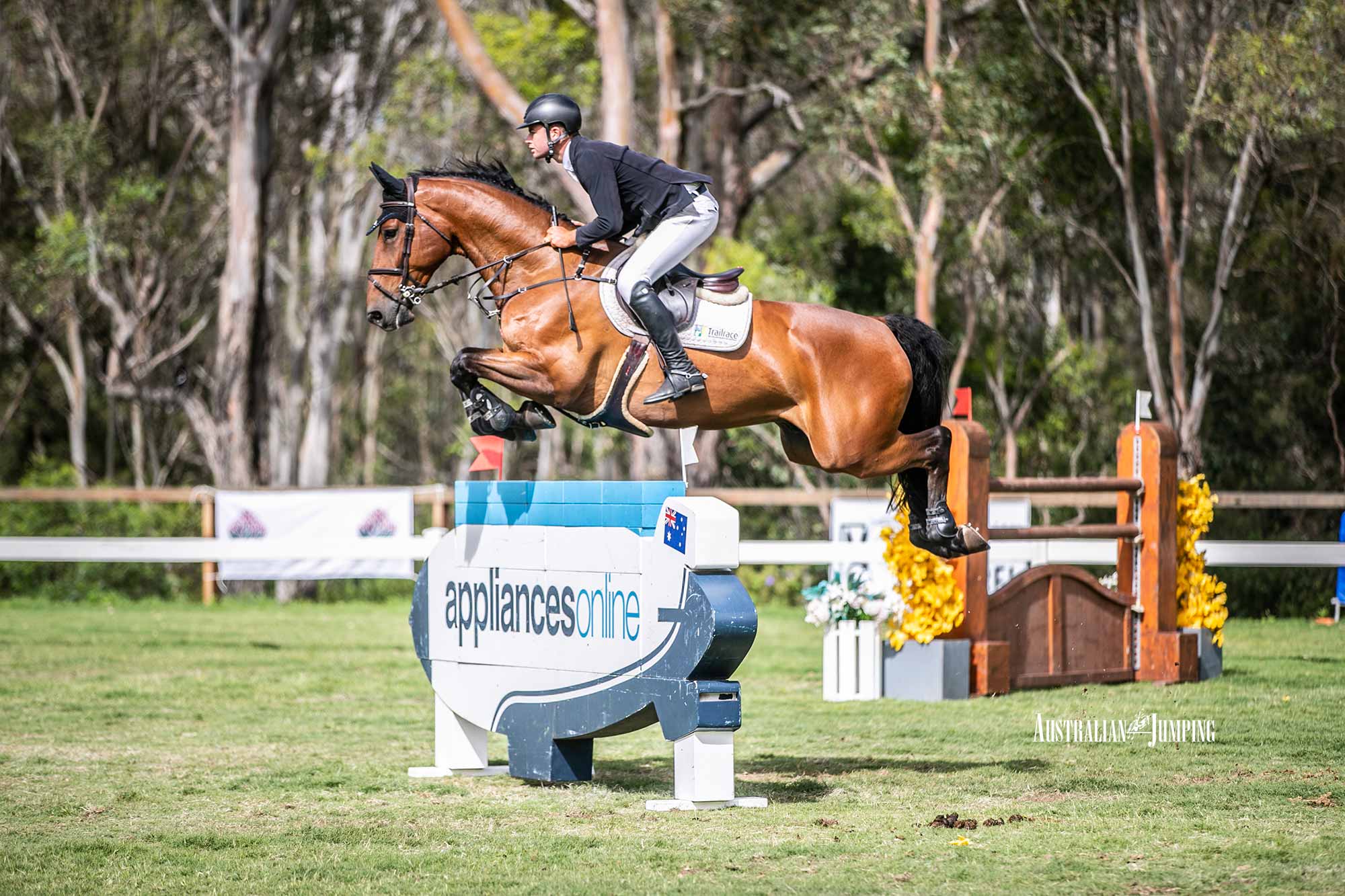 Tom McDermott and Yalambis Harvard

Tom McDermott and Yalambis Harvard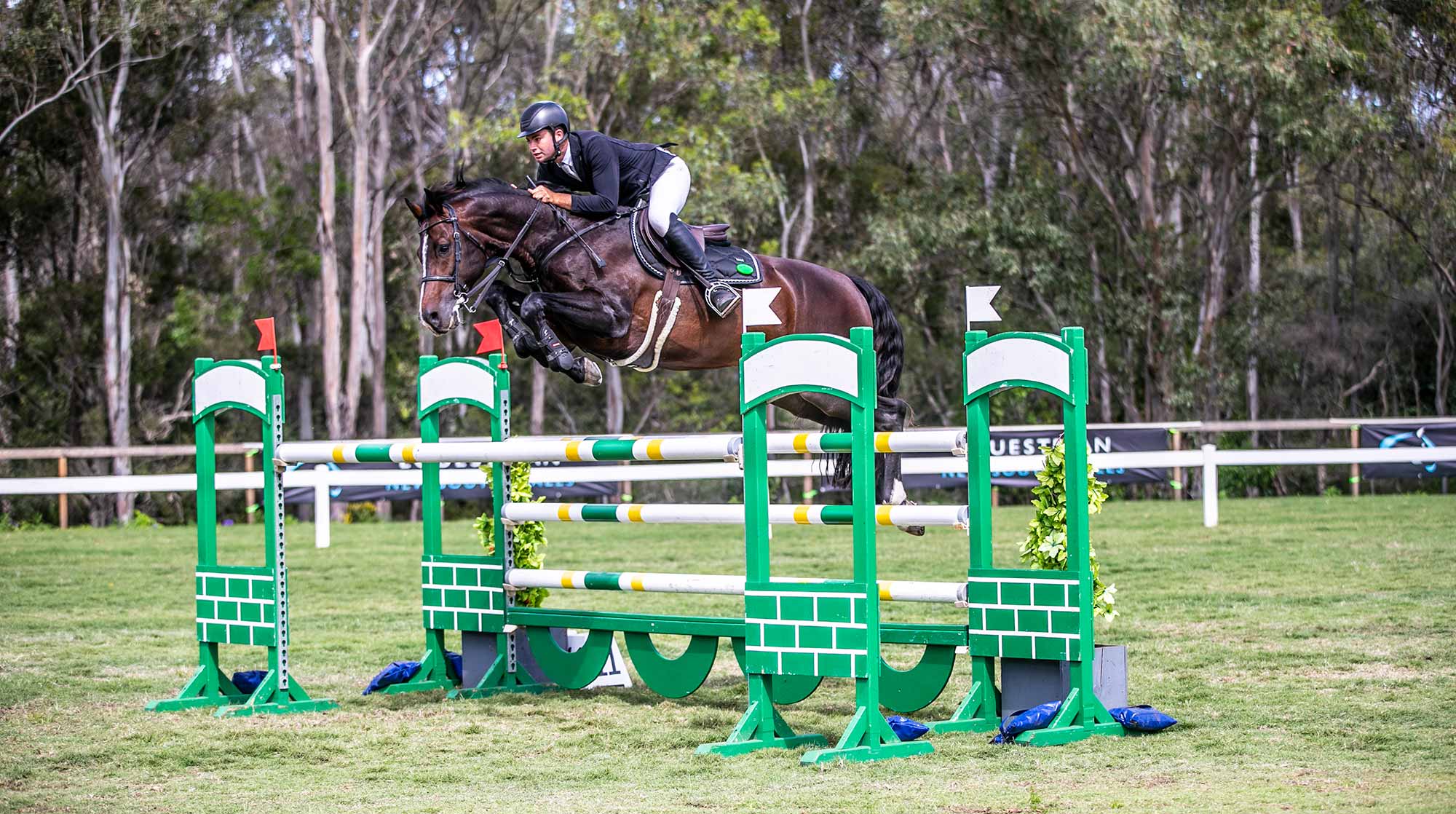 Tom McDermott and Cachassini II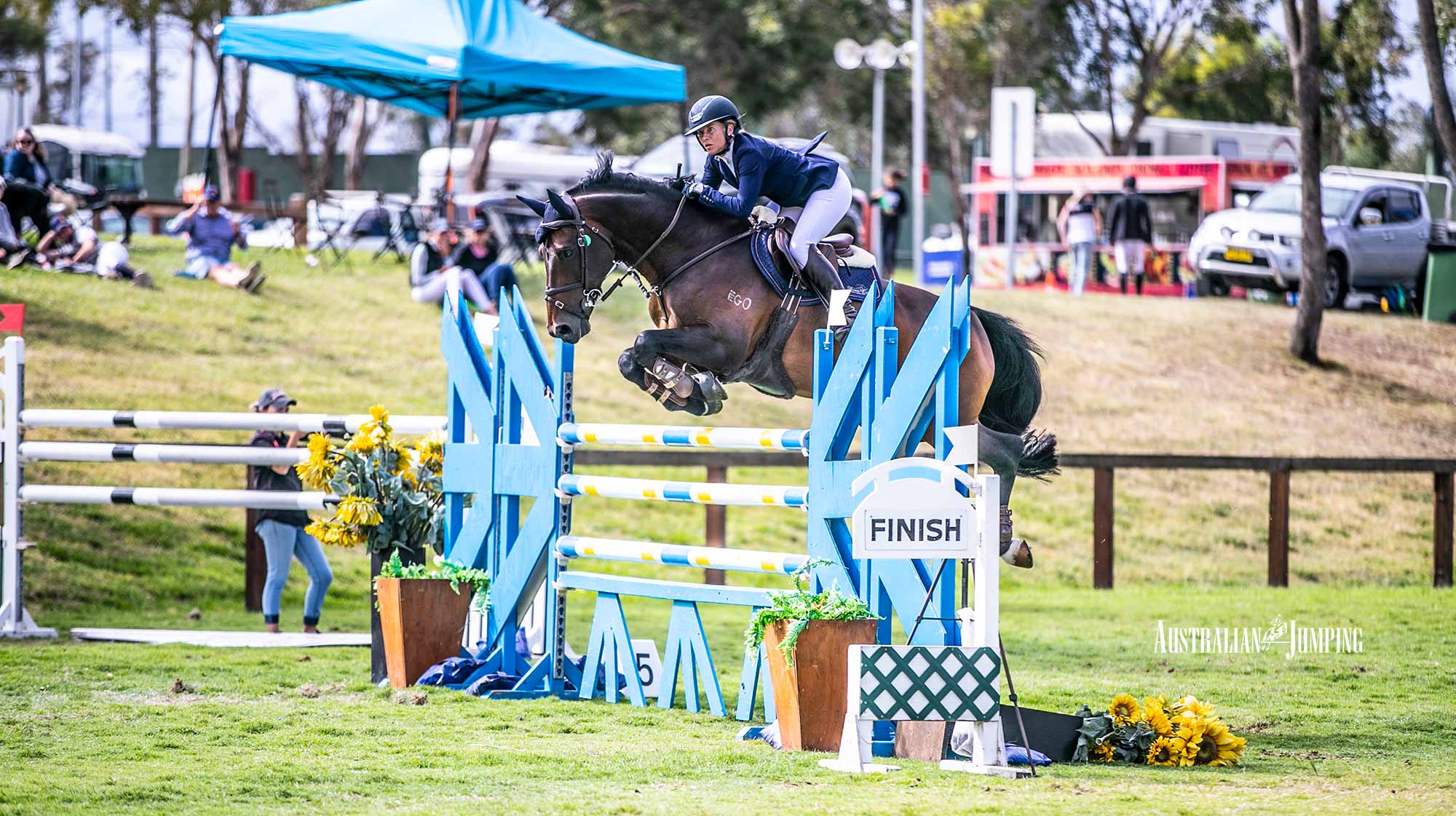 Third place went to Jennifer Wood and Cocaine Ego Z
It was a fantastic day's entertainment and we look forward to more of the same tomorrow when the show concludes.
Congratulations to all the winners and placegetters on the day
See below for a full listing of all today's results for both arenas.
GRASS ARENA
CLASS 11: EMCO – (A2) – Junior Riders – 1.20m-1.25m
The first twelve placings in this class were:
| | | |
| --- | --- | --- |
| PLACE | RIDER | HORSE |
| 1st | Lucy Locke | Quero Quero |
| 2nd | Lucy Locke | Diamont |
| 3rd | Sarah Noonan | Peace Dreams |
| 4th | Clemency Hughes | Nicolette |
| 5th | Alexandra Gostelow | Caitano |
| 6th | Alexandra Gostelow | Tulara Cristo |
| 7th | Tylah Studdert | Noonamah Valentina |
| 8th | Jack Haynes | ES Ella |
| 9th | Leila Wyrill | Jadan Park Acapella |
| 10th | Phoebe Riordan | Diamond B Versailles |
| 11th | Olivia Chambers | Picobella |
| 12th | Aria Baker | That's Limo |
CLASS 12: Winning Group – (273.3.3 4.3) – Open – 1.30m
The first twelve placings in this class were:
| | | |
| --- | --- | --- |
| PLACE | RIDER | HORSE |
| 1st | Andrew Inglis | Alillie |
| 2nd | Izabella Stone | Tulara Stolzette |
| 3rd | Jessica Spence | Clasique Andor |
| 4th | Olivia Hamood | Sundance GHP |
| 5th | Jessica Spence | Fiorella 104 |
| 6th | Jess Stones | Riverton Red Balou |
| 7th | Sarah-Louise McMillan | Rafiki |
| 8th | Shimona Fraid | Bonaire |
| 9th | Rhys Stones | Connollys Blu Diamant |
| 10th | Tesse Cook | Rimfire Park Vogue |
| 11th | Samuel Fasher | Furst Fiachra |
| 12th | Tom McDermott | Coolie Down Under |
CLASS 25: Caliera – Futurity (6,7,& 8yos) – 1.35m
The first twelve placings in this class were:
| | | |
| --- | --- | --- |
| PLACE | RIDER | HORSE |
| 1st | Kate Hinschen | Yalambis Jadore |
| 2nd | Brook Dobbin | Velvet Cate |
| 3rd | James Arkins | Joevaro R |
| 4th | Rhys Stones | Oaks Carmine |
| 5th | Emma Smith | Cera Charisma |
| 6th | Vicki Roycroft | Converse |
| 7th | Bridget Berry | Dakota NZPH |
| 8th | Luke Brown | Misty Blue Ego Z |
| 9th | Brook Dobbin | Miranda MVNZ |
| 10th | David Goodwin | Yalambis Ikon |
| 11th | Kaden Weaver | KPH Carousel |
| 12th | Sarah Duggan | Yandoo Honolulu |
CLASS 13: EMCEE Apparel – (A2) – Young Riders – 1.30m
The first twelve placings in this class were:
| | | |
| --- | --- | --- |
| PLACE | RIDER | HORSE |
| 1st | Anneliese Wansey | Kolora Stud St Patrick |
| 2nd | Clemency Hughes | Diamond B Corvina |
| 3rd | Madeline Sinderbery | Checkin Charlie |
| 4th | Kate Crauford | Oaks Cairo |
| 5th | Madeline Sinderbery | Keilor Bamboo |
| 6th | Milly Fisher | Laurel Glen Brandy Man |
| 7th | Anneliese Wansey | Aveden Indigo |
| 8th | William Dight | Thea |
| 9th | Cade Hunter | Vasari NZPH |
| 10th | Tori Cureton | Double The Bank |
| 11th | Isabella Du Plessis | Monte Carlo MVNZ |
| 12th | Lucie Aldridge | Ollie Olae |
CLASS 14: Camden Equine Centre – (273.3.3 4.3) – Mini-Prix – 1.40m
The first seven placings in this class were:
| | | |
| --- | --- | --- |
| PLACE | RIDER | HORSE |
| 1st | Tom McDermott | Yalambis Harvard |
| 2nd | Tom McDermott | Cachassini II |
| 3rd | Jennifer Wood | Cocaine Ego Z |
| 4th | Billy Raymont | YPH Capulet |
| 5th | Sarah Duggan | Dublin |
| 6th | Josh Collins | Anssioso Z |
| 7th | Kate Hinschen | Oaks Ventriloquist |
| 8th | Isobel Guiness | Copabella Verdi |
| 9th | Olivia Hamood | Alan 111 Z |
| 10th | Amber Fuller | Nopal Van Tallaert |
| 11th | Jamie Priestley | Oaks Diamantina |
| 12th | Vicki Roycroft | Dynamite Bay |
SAND ARENA
CLASS 15A: Sterling Park – (AM7) – First Year Competitors – 0.90m
The first six placings in this class were:
| | | |
| --- | --- | --- |
| PLACE | RIDER | HORSE |
| 1st | Alyssa Ho | Cha Ching Be |
| 2nd | Kaden Weaver | KPH Calisto |
| 3rd | Chris Chugg | CF Edelweiss |
| 4th | William Hodgekiss | Grand Zulu |
| 5th | Maddie Plant | Foxground Kahtia |
| 6th | Michael Lucas | Tetris |
CLASS 15B: Cavalli Park – (AM7) – Open – 0.90m
The first six placings in this class were:
| | | |
| --- | --- | --- |
| PLACE | RIDER | HORSE |
| 1st | Ashley Cutler | Fairlight R |
| 2nd | Lochie Colquhoun | Tarampa View Patterson |
| 3rd | Nathan Williams | Spannerkop |
| 4th | Emerson Stuchbery | Fern |
| 5th | Emily Gobbe | Sterling's Cortessa Bellarosa |
| 6th | Anne Maree Godfrey | Champez |
CLASS 15C: Breednet – (AM7) – Thoroughbreds – 0.90m
The first six placings in this class were:
| | | |
| --- | --- | --- |
| PLACE | RIDER | HORSE |
| 1st | Charly Robinson-Smith | Pure Obsession |
| 2nd | Rachel Peel | Who Knew |
| 3rd | Lily-Rose Baxter | Foxhill Cruise |
| 4th | Lori James | Restauranter SHP |
| 5th | Stephanie Barudzija | JP Clown Prince |
| 6th | Jessica Acheson | Lamasery |
CLASS 16: Tumut Freight Service – (274 5.6) – Open – 1.00m
The first six placings in this class were:
| | | |
| --- | --- | --- |
| PLACE | RIDER | HORSE |
| 1st | Charly Robinson-Smith | Pure Obsession |
| 2nd | Shannon O'Meara | CP Starlights Murphy |
| 3rd | Emmerson Stutchbury | Fern |
| 4th | Emmerson Stutchbury | Indiana Goodtimes |
| 5th | Lily-Rose Baxter | Foxhill Cruise |
| 6th | Melanie Heygate | Oaks Quebec |
CLASS 17: Willow Wood Stables – (A2) – Amateur Riders – 1.15m
The first six placings in this class were:
| | | |
| --- | --- | --- |
| PLACE | RIDER | HORSE |
| 1st | Sienna Weir | Carisma |
| 2nd | Eva Rasmussen | Devil Wears Prada |
| 3rd | Charlotte Chambers | Amaretto MVNZ |
| 4th | Romany Lee | RK Luna |
| 5th | Sarah Cork | Yalambi's Invictus |
| 6th | Stephanie Mackillop | TM For Your Eyes Only |
Results sourced from Global Entries Online
View Comments