Competition heats up on Day 2 of Aus Champs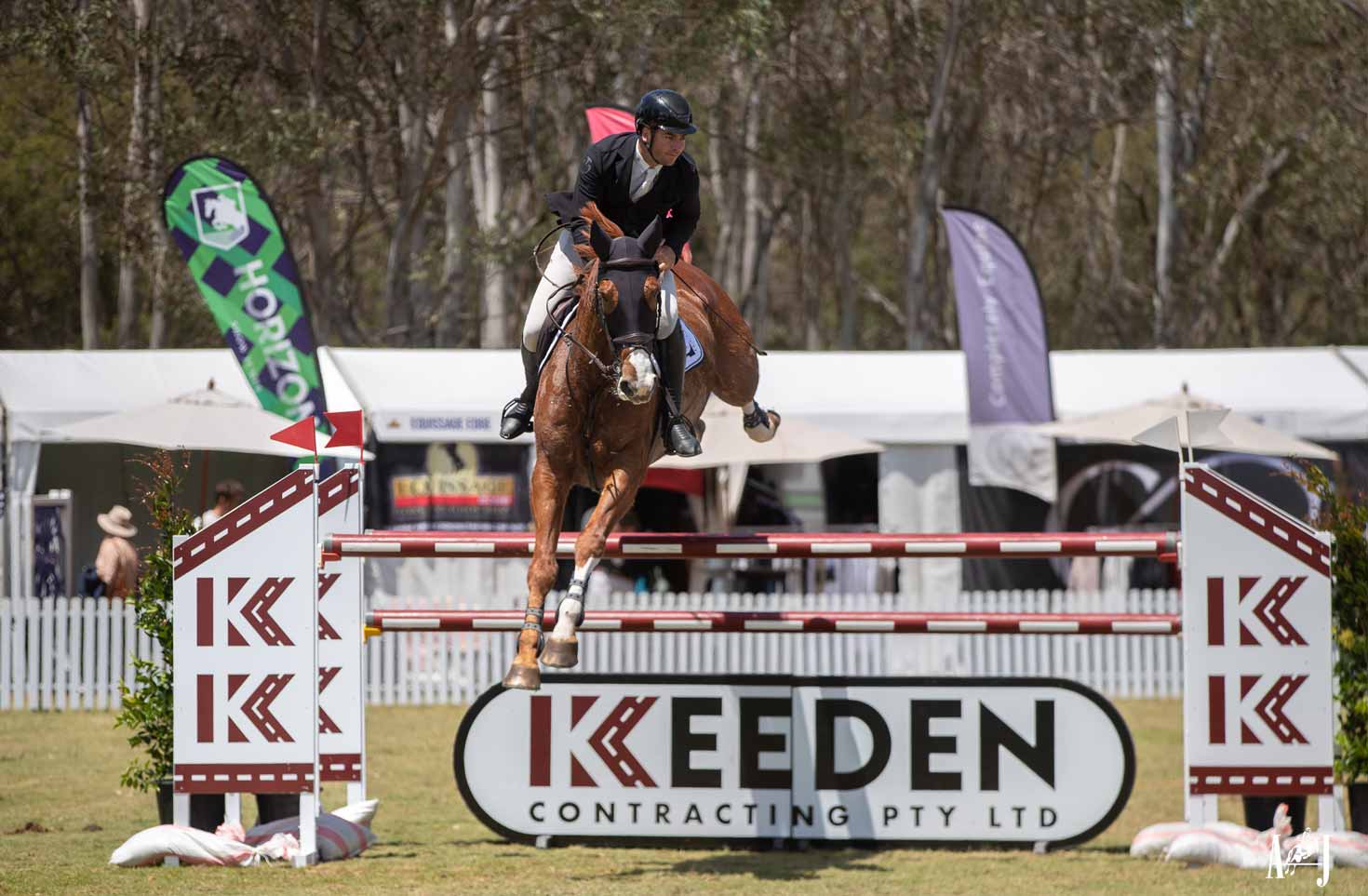 Australian Jumping
Above: Tom McDermott and Cadenza NZPH.
The second day of competition at the 2023 Australian Jumping Championships has concluded with the weather much kinder than it was on the opening day. While there were only five classes held, there was no shortage of quality jumping to be seen.
There were just two classes scheduled in the main arena, being the first round of the Futurity Series sponsored by Coolmore Australia and the first round of the Rider's Cup Series. The day belonged to Tom McDermott who took wins in both classes with horses which are relatively new to his truck.
In the first round of the Futurity Series, there were 16 clear rounds out of the 36 combinations making up the start list, so it came down to times to sort out the placings. The fastest combination were Tom and Krescendo. Their time of 68.24 seconds was enough to knock Samantha Dernee and Laurel Glen Quintessence into second place by just 0.21 seconds. Third place, with a time of 70.89 seconds went to James Arkins and Braveheart R. It was a great class to start the day and set the tone for what was to follow.
Advertisement


The Riders' Cup first round was scheduled as a speed class, where so often, Tom does well. He combined with Cadenza NZPH to produce a scintillating round, going clear in just 71.50 seconds. In second place, also clear, in a time of 72.91 seconds were Rebecca Jenkins and mare Incredible C. Finishing third, in what would have been a winning time if it wasn't for the rail they knocked down were Queenslanders Tom Sedger and Elmo. Their adjusted time was 75.27 seconds. It was an exciting way to both end the day on the main arena and to kick off the Riders' Cup Series, which promises to deliver further top class jumping over the coming days.
The Pryde's EasiFeed Arena 2 had three classes set down for decision. The first of these, saw the Australian Children's Championship get underway. The first round of the Championship, sponsored by Tom McDermott, saw 34 youngsters tackle the course in what was a single round competition. There were 18 clear rounds and in what turned out to be an all-Queensland podium, the fastest of these was achieved by James Hosie and mare Aces Tulara Devine. Their time of 59.61 seconds just pipped Lily Short and Finch Farm Delto for top spot on the podium, with the second placed pair recording a time of 59.78 seconds. Holly Taunton and Celerity Park Regal Jester filled third place, having stopped the clock in 62.71 seconds. With many wonderful performances in this class, we can be assured that the future of our sport in this country is in good hands and in particular in Queensland!
The next class was the first round of the Sapphire Series. With rail heights ranging from 1.20m to 1.30m a total of 42 aspiring combinations made up the field and after all had come and gone, there were 19 clears and a large jump off ensued. After the jump off, there were still 11 combinations with a perfect record, so the placings had to be sorted out based on times. The fastest double clear was by William Wood and Powerhouse Park Ego Rock with a time of 38.92 seconds. Queensland's Courtney Scott and Second Chance were second after completing the jump-off in 39.48 seconds. In third place was a lady who we have not seen competing at the Australian Championships for a couple of years, Erin Buswell. She and Oaks Quickstep were home in 41.39 seconds. It was a highly competitive class with the next seven placings only being separated by less than five seconds and all going well, it will be an exciting series.
Advertisement


The day's competition concluded with the first round of the Opal Series for Young Horses. With the rails set at around the metre mark, and the horses all six years or younger, we saw the equine future of Jumping in Australia on display. The class was dominated by one rider, who filled first and second places. Ella O'Neill, from Bellbrook, near Kempsey on the NSW Mid North Coast is still a teenager, but she showed many older riders how it is done. Ella won the class with KR Krillings, completing the course clear in a very rapid 59.42 seconds. Her time with Kyan Versace of 66.19 seconds was enough to secure second with Jennifer Wood and mare Ballinagore Maxime filling third in a time of 68.08 seconds. There were a further 10 clear rounds making a total of 13 from 26 combinations on the start list, which means this will most likely be a very interesting class to keep an eye on as the show progresses.
So, with two days of the six-day program completed, just about all of the Championships and Series have had Round 1's completed. The competition will really start to heat up from today as riders strive to achieve positions as high up the rankings as possible, to set themselves up to carry as few penalties as possible into the Final rounds over the weekend.
Congratulations to all the winners and placegetters on day 2 of the Championships, all of which are listed below
DAY 2 – WEDNESDAY RESULTS
MAIN ARENA
CLASS 7: COOLMORE AUSTRALIA – FUTURITY SERIES (ROUND 1) – 1.30-1.40m
| | | |
| --- | --- | --- |
| PLACE | RIDER | HORSE |
| 1st | Tom McDermott | Krescendo |
| 2nd | Samantha Dernee | Laurel Glen Quintessence |
| 3rd | James Arkins | Braveheart R |
| 4th | Phillip Lever | Bonita |
| 5th | Tom Sedger | Check It Out |
| 6th | Aaron Hadlow | Yalambis Kandy Ripple |
| 7th | James Paterson-Robinson | Oaks Evergreen TS |
| 8th | Jamie Winning-Kermond | Yandoo Honolulu |
CLASS 8: THE RIDERS' CUP SERIES (ROUND 1) – 1.40-1.50m
| | | |
| --- | --- | --- |
| PLACE | RIDER | HORSE |
| 1st | Tom McDermott | Cadenza NZPH |
| 2nd | Rebecca Jenkins | Incredible C |
| 3rd | Tom Sedger | Elmo |
| 4th | Olivia Hamood | Knock Out 111 |
| 5th | Aaron Hadlow | Cera Stiletto |
| 6th | Jamie Winning-Kermond | Bossanova NZPH |
| 7th | Sarah Duggan | Diamantina |
| 8th | Tom McDermott | Mr Lincoln B |
CLASS 9: TOM McDERMOTT – AUSTRALIAN CHILDREN'S CHAMPIONSHIP (ROUND 1) – 1.05-1.15m
| | | |
| --- | --- | --- |
| PLACE | RIDER | HORSE |
| 1st | James Hosie | Aces Tulara Devine |
| 2nd | Lily Short | Finch Farm Delto |
| 3rd | Holly Taunton | Celerity Park Regal Jester |
| 4th | Jake McEvoy | Volador |
| 5th | Jessie Gui | Courage |
| 6th | Zenniah Albonetti | Sorento |
| 7th | Harley McNaughton | Glenbrooke Archie Bunker |
| 8th | Alexa Garcia | Spannerkop |
PYRDE'S EASIFEED ARENA 2
CLASS 10: JPR EQUESTRIAN – SAPPHIRE SERIES (ROUND 1) – 1.20-1.30m
| | | |
| --- | --- | --- |
| PLACE | RIDER | HORSE |
| 1st | William Wood | Powerhouse Park Ego Rock |
| 2nd | Courtney Scott | Second Chance |
| 3rd | Erin Buswell | Oaks Quickstep |
| 4th | Tallara Cameron | KPH Campari |
| 5th | Jamie Winning-Kermond | Embrook Stables Charlie |
| 6th | Isabella Hughes | TCG Savvy |
| 7th | Sarah Duggan | Bellhaven Toulon Blue |
| 8th | Tom McDermott | Laracas |
CLASS 18C: OPAL SERIES (YOUNG HORSES) – (ROUND 1) – MINIMUM 0.95-1.05m
| | | |
| --- | --- | --- |
| PLACE | RIDER | HORSE |
| 1st | Ella O'Neill | KR KRILLINGS |
| 2nd | Ella O'Neill | KYAN VERSACE |
| 3rd | Jennifer Wood | BALLINAGORE MAXIME |
| 4th | Ned Calcraft | GLENARA STATELY |
| 5th | Zachary Boland | SURPRISE B |
Results sourced from equipe.com
View Comments