Dobbins Dominate at Werribee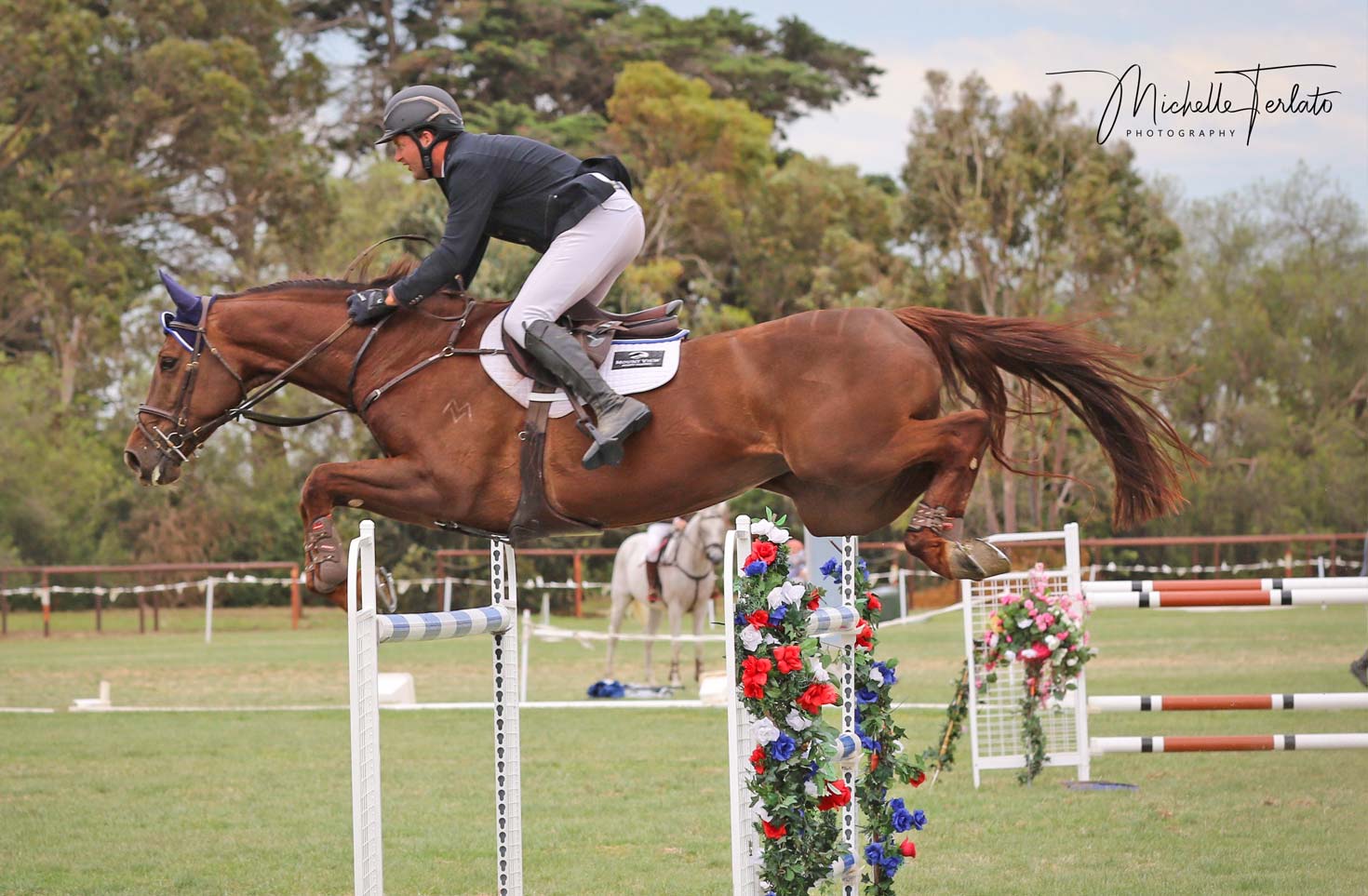 Michelle Terlato Photography
Above: Brook Dobbin and Miranda MVNZ. Photo Credit Michelle Terlato Photography.
The Jumping Victoria Glenwood Park Spring Classic was held at the Werribee Park National Equestrian Centre last weekend. After all the lockdowns of recent weeks, it was great to see many Victorian riders take the opportunity to get out and compete once again.
The Dobbin Family were not only instrumental in organising the show but demonstrated their prowess by winning a number of classes. Of the 15 classes decided over the weekend, three were won by Brook and another three by young gun Charlee. Mum Angela also appeared on the podium with a third placing in the Open 1.05m class on Saturday pairing with Narrado MVNZ.
Advertisement


The feature event on Saturday was the Open 1.35m class which was won by Brook Dobbin and Gina MVNZ. Dobbin also took second place pairing with Gabriel MVNZ, while Ally Lamb and Eagle Rock completed the podium.
Other results from Saturday included Charlee Dobbin and Dreamtime Invader taking wins in both the Junior 1.05m class and the Open 1.15m, where she relegated her father Brook into second place, a result which no doubt will be mentioned around the family dinner table in the weeks to come. Meantime on the Petstock Arena 2, honours went to Jumping Victoria Development Squad member Zara Adnams who won both the Open 0.75m and Open 0.85m classes with Elcarium Starlight and also snared second in both classes in combination with Dingmac Disco King. All this was achieved while leaving every rail undisturbed.
The feature event on Sunday was going to be an Open 1.40m class, however strong and dangerous winds meant that the class could not be conducted safely and had to be abandoned. This left the Open 1.30m as the feature event on Sunday and it was Brook Dobbin and Miranda MVNZ who took the win. Second place went to Jim Richards and Foreign Secret, while Andrew Lamb and Spartava DP came third.
This came after Sam Williams Equestrian Arena 1 action had seen Charlee already wrap up the Junior 1.10m Championship with Dreamtime Invader and Brook Dobbin take out the 1.20m Championship with Velvet Cate. In fact, the only winner from Arena 1 on Sunday that was not returning to the Dobbin household on Sunday night was eventer Rebecca Barling and On Your Mark, who won the Open 1.10m Championship.
Advertisement


Winners from the Petstock Arena 2 on Sunday were Jack Barker and Genteel Mischief Above in the 0.80m Championship, Amelia Tsilfidis and Pride Of Gold in the 0.90m Championship and Victorian Interschool representative Nellie Rogers and Rocket Rod in the 1.00m Championship.
Congratulations to all the winners and placegetters.
See below for a full listing of all the results from the weekend.
SATURDAY RESULTS
Sam Williams Equestrian Main Arena
CLASS 1A: Open – 1.05m
The first five placings in this class were:
| | | |
| --- | --- | --- |
| PLACE | RIDER | HORSE |
| 1st | Elissa Stephens | Quick And Lively |
| 2nd | Louise Abey | Sail On By |
| 3rd | Angela Dobbin | Narrado MVNZ |
| 4th | Robert Palm | Honey Steels Gold |
| 5th | Athena Williamson | Vivarchi RM |
CLASS 1B: Junior – 1.05m
The first five placings in this class were:
| | | |
| --- | --- | --- |
| PLACE | RIDER | HORSE |
| 1st | Charlee Dobbin | Dreamtime Invader |
| 2nd | Tanner Robinson | Shady Creek Blue Fire |
| 3rd | Amelia Tsilfidis | Pride Of Gold |
| 4th | Tanner Robinson | Bringmoore |
| 5th | Charlee Dobbin | Lovegrove |
CLASS 2: Open – 1.15m
The first five placings in this class were:
| | | |
| --- | --- | --- |
| PLACE | RIDER | HORSE |
| 1st | Charlee Dobbin | Dreamtime Invader |
| 2nd | Brook Dobbin | Obelix MVNZ |
| 3rd | Rachel Lyon | Kingfield Ricochet |
| 4th | Louise Abey | Sail On By |
| 5th | Suzie Willis | Commander |
CLASS 3: Open – 1.25m
The first five placings in this class were:
| | | |
| --- | --- | --- |
| PLACE | RIDER | HORSE |
| 1st | Amanda Ross | RLE Cavalier Vivendi |
| 2nd | Brook Dobbin | Carrado MVNZ |
| 3rd | Isabel Houghton | Tulara Diarangol |
| 4th | Brook Dobbin | Gina MVNZ |
| 5th | Jamie Ellis | Centaur MVNZ |
CLASS 4: Open – 1.35m
The first five placings in this class were:
| | | |
| --- | --- | --- |
| PLACE | RIDER | HORSE |
| 1st | Brook Dobbin | Gina MVNZ |
| 2nd | Brook Dobbin | Gabriel MVNZ |
| 3rd | Ally Lamb | Eagle Rock |
| 4th | Frida Lindgren | Ashleigh City Lights |
| 5th | Shimona Fraid | Bonaire |
PETSTOCK ARENA 2
CLASS 5: Open – 0.75m
The first five placings in this class were:
| | | |
| --- | --- | --- |
| PLACE | RIDER | HORSE |
| 1st | Zara Adnams | Elcarium Starlight |
| 2nd | Zara Adnams | Dingmac Disco King |
| 3rd | Sadie Powers | Sylvester |
| 4th | Joel Lamb | Napoleon |
| 5th | Ivy Bailey | Mr Flash |
CLASS 6: Open – 0.85m
The first five placings in this class were:
| | | |
| --- | --- | --- |
| PLACE | RIDER | HORSE |
| 1st | Zara Adnams | Elcarium Starlight |
| 2nd | Zara Adnams | Dingmac Disco King |
| 3rd | Charli Adams | Drummer |
| 4th | Jack Barker | Genteel Mischief Above |
| 5th | Joel Lamb | Napoleon |
CLASS 7: Open – 0.95m
The first five placings in this class were:
| | | |
| --- | --- | --- |
| PLACE | RIDER | HORSE |
| 1st | Nellie Rogers | Rocket Rod |
| 2nd | Stuart Walker | Exaggeration |
| 3rd | Amelia Tsilfidis | Pride Of Gold |
| 4th | Zara Yunghanns | Snowy River Nutwood |
| 5th | Tanner Robinson | Shady Creek Snickers |
SUNDAY RESULTS
Sam Williams Equestrian Main Arena
CLASS 8A: Open Championship – 1.10m
The first five placings in this class were:
| | | |
| --- | --- | --- |
| PLACE | RIDER | HORSE |
| 1st | Rebecca Barling | On Your Mark |
| 2nd | Jack Barker | Mighty Tosca |
| 3rd | Maddie Haugh | TP Cansas |
| 4th | Sam Conway | Denison Park Arnie |
| 5th | Kathy Minchin | Lara Pinta County Judge |
CLASS 8B: Junior Championship – 1.10m
The first five placings in this class were:
| | | |
| --- | --- | --- |
| PLACE | RIDER | HORSE |
| 1st | Charlee Dobbin | Dreamtime Invader |
| 2nd | Tanner Robinson | Bringmoore |
| 3rd | Mikayla Hogg | Bellhaven Coringa |
| 4th | Tansy Sagar | Kolora Stud Snap Chat |
| 5th | Nellie Rogers | Rocket Rod |
CLASS 9: Open Championship – 1.20m
The first five placings in this class were:
| | | |
| --- | --- | --- |
| PLACE | RIDER | HORSE |
| 1st | Brook Dobbin | Velvet Cate |
| 2nd | Shimona Fraid | Dancing Queen HP |
| 3rd | Isabel Houghton | Tulara Diarangol |
| 4th | Cassie Lowe | Koko Story |
| 5th | Caitlin Clarke | Wyuna Park Stella T CH |
CLASS 10: Open Championship – 1.30m
The first five placings in this class were:
| | | |
| --- | --- | --- |
| PLACE | RIDER | HORSE |
| 1st | Brook Dobbin | Miranda MVNZ |
| 2nd | Jim Richards | Foreign Secret |
| 3rd | Andrew Lamb | Spartava DP |
| 4th | Brook Dobbin | Carrado MVNZ |
| 5th | Rhett Oliver | Finch Farm Columbus |
CLASS 11: Open Championship – 1.40m – (Was Not Conducted)
PETSTOCK ARENA 2
CLASS 12: Open Championship – 0.80m
The first five placings in this class were:
| | | |
| --- | --- | --- |
| PLACE | RIDER | HORSE |
| 1st | Jack Barker | Genteel Mischief Above |
| 2nd | Jacqui Van Bree | Danyiera Park Secret Faith |
| 3rd | Joel Lamb | Shelley |
| 4th | Abigail Zammit | Fleur De Soleil |
| 5th | Kaylee Stephens | Van Wilder |
CLASS 13: Open Championship – 0.90m
The first five placings in this class were:
| | | |
| --- | --- | --- |
| PLACE | RIDER | HORSE |
| 1st | Amelia Tsilfidis | Pride Of Gold |
| 2nd | Zara Adnams | Dingmac Disco King |
| 3rd | Abigail Zammit | Fleur De Soleil |
| 4th | Zara Farouque | Lushious Lola |
| 5th | Whitney Hurst | Windarra Willow |
CLASS 14: Open Championship – 1.00m
The first five placings in this class were:
| | | |
| --- | --- | --- |
| PLACE | RIDER | HORSE |
| 1st | Nellie Rogers | Rocket Rod |
| 2nd | Zara Yunghanns | Snowy River Nutwood |
| 3rd | Sam Williams | Oaks Kiribati |
| 4th | Robert Palm | Honey Steels Gold |
| 5th | Robert Palm | Phantom Bronte |
Results sourced from Global Entries Online and the Jumping Victoria Facebook Page
View Comments