FEI Eliminates the World Championship Top Four Final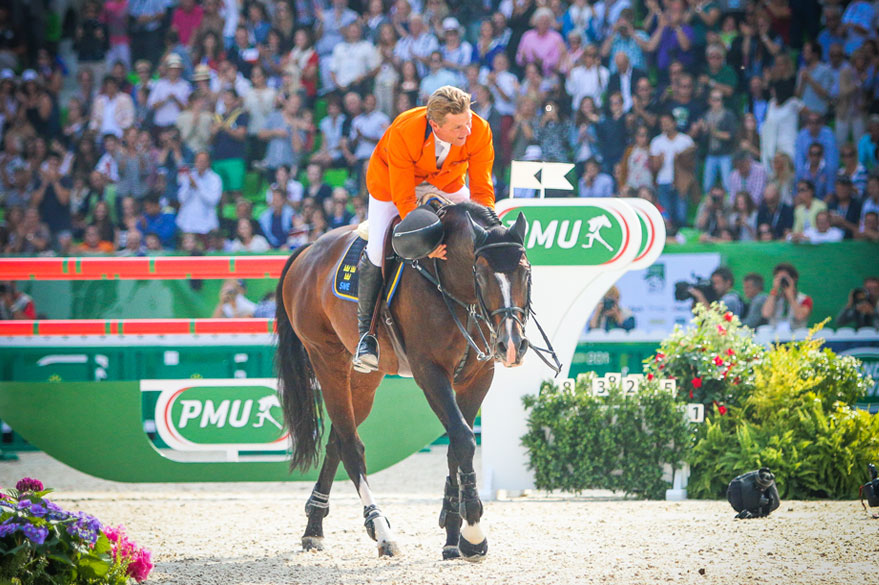 Noelle Floyd
Source: Noelle Floyd
Following its General Assembly last week in Tokyo, Japan, the Federation Equestre International has quietly released its updated and amended Jumping Rules 2017, posted online at this link.
Included, or rather excluded in the new Jumping Rules, effective January 1, 2017, is the complete red-lining of the Final/Top Four Individual Championship that had been held in every FEI Show Jumping World Championship since at least 1978 [the modern day WEG was christened in 1990 at Stockholm; prior to that year the Show Jumping World Championship was held singly, and featured the Top Four Final to determine the world champion.]
The Top Four competition brings together the four best individual riders of the World Equestrian Games and in a round robin style final, sees each rider jump a shortened course on the back of his competitor's horse to determine Individual medals. With a warm up area constructed inside the main arena, all preparation for each round is visible to the riders and spectators.
This format produced nailbiting moments of sport throughout the years; during the 1978 Championships in Aachen, Germany when Michael Matz's famous Thoroughbred Jet Run was ridden perfectly by the strong German rider Gert Wiltfang, helping him win the World Championship. Or during the 2010 WEG in Lexington, Kentucky, when a wide-eyed Abdullah al Sharbatly took the reins of the legendary Hickstead—and jumped clear to earn Individual Silver.
And of course in 2014, in a competition that was between four absolute masters of the sport, The Netherland's Jeroen Dubbledam rode his own and his three competitors' horses to clear rounds in order to be named World Champion. Watch all four of his Top Four rounds in the video below.
However, during the next World Equestrian Games, scheduled for 2018 in Tryon, North Carolina, USA, the Top Four competition will no longer be held, as the FEI has eliminated it completely from its rules and regulations outline for championships.
Individual championships will now be determined over two rounds of competition that follow a rest day after two rounds of Team competition. The top 25 riders (rather than top 30) as determined by cumulative penalties over the first and second rounds of the team competition will move on to compete for the individual world championship. All 25 riders will compete in Round A of the individual competition, with the top 12 moving on to compete in Round B.
Riders will not start on a clean slate in the Individual competition, rather, their penalties from the Team competition will carry over to their overall placing. After Round A and B of Individual competition, a jumpoff will be held in the case of of equal penalties.
Follow this link to read the complete amended FEI Jumping Rules 2017.
View Comments