Four Aussies competing in LGCT at Valkenswaard this weekend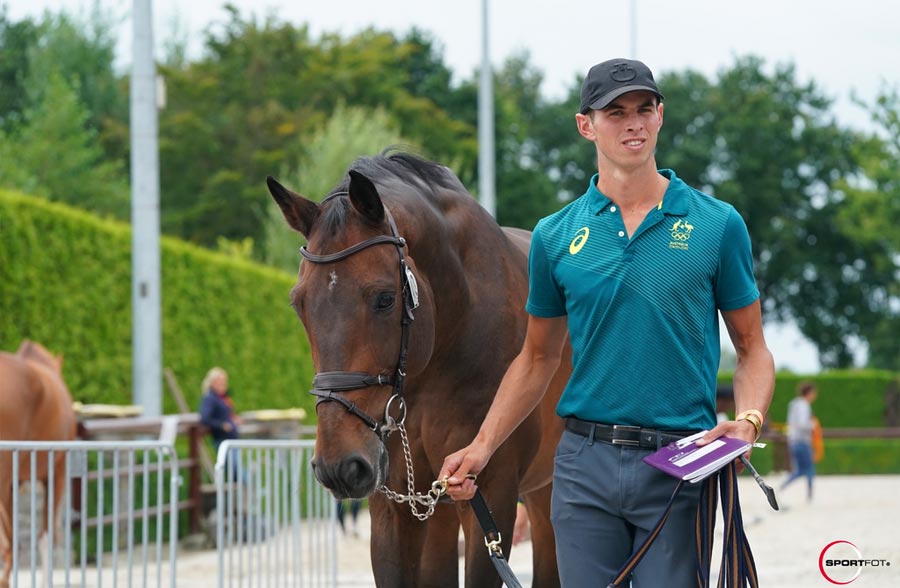 Sportfot
Above: Jacob Wells with Edwina Tops-Alexander's Inca Boy van T Vianahof at the vet check yesterday. Photo credit Sportfot.
The incredible season at Tops International Arena culminates in the 12th leg of the prestigious Longines Global Champions Tour and GCL team series which has come to Valkenswaard this weekend, from 20 – 22 August.
CSI2*, CSI1* and YH classes will also take place at this incredible equestrian facility, allowing the 5* riders to make the most of fantastic facilities by bringing along some of their less experienced horses, whilst also giving the opportunity for other riders to measure themselves against the world's best riders.
Advertisement


We are excited to follow four of our Aussie riders this weekend as they compete at this incredible facility. We have of course Edwina Tops-Alexander, along with Evie Buller, Shimona Fraid and Jacob Wells.
Keen to regain her lead in the overall season Championship, Edwina Tops-Alexander who sits 10 points behind Peder Fredricson will no doubt be hoping to take advantage of him not competing in the Championship this weekend.
This weekend will see knife-edge battles in the spectacular grass arena with motivation high to win the Longines Global Champions Tour Grand Prix of Valkenswaard for one of the few remaining qualifying spots for the LGCT Super Grand Prix at the GC Prague Playoffs in November. Those in action this weekend and still hungry to qualify to include world number one Daniel Deusser, Marcus Ehning, Olivier Philippaerts, Kent Farrington, Harrie Smolders, Gregory Wathelet, Alberto Zorzi and Eric van der Vleuten.
Valkenswaard, The Netherlands, is the spiritual home of the Longines Global Champions Tour, and has always been a favourite with riders, owners and fans alike. For the 15th season of the world's premier show jumping series, the world-class, state-of-the-art Tops International Arena will host its second LGCT event of the year from 20 – 22 August. The superb facilities at the epicentre of equestrianism in Europe, were created by Founder and President Jan Tops and have raised the bar in equestrian sport to new heights.
Designed with the horse as the top priority, this venue features a exceptional arenas featuring top-class footing, world-class wash areas and facilities for grooms to provide top standard care and over 500 beautifully designed stables available for visiting competitors.
We wish our Aussie riders all the best for the weekend! Follow the results HERE.
View Comments