Showjumpers smash Eventers at Wallaby Hill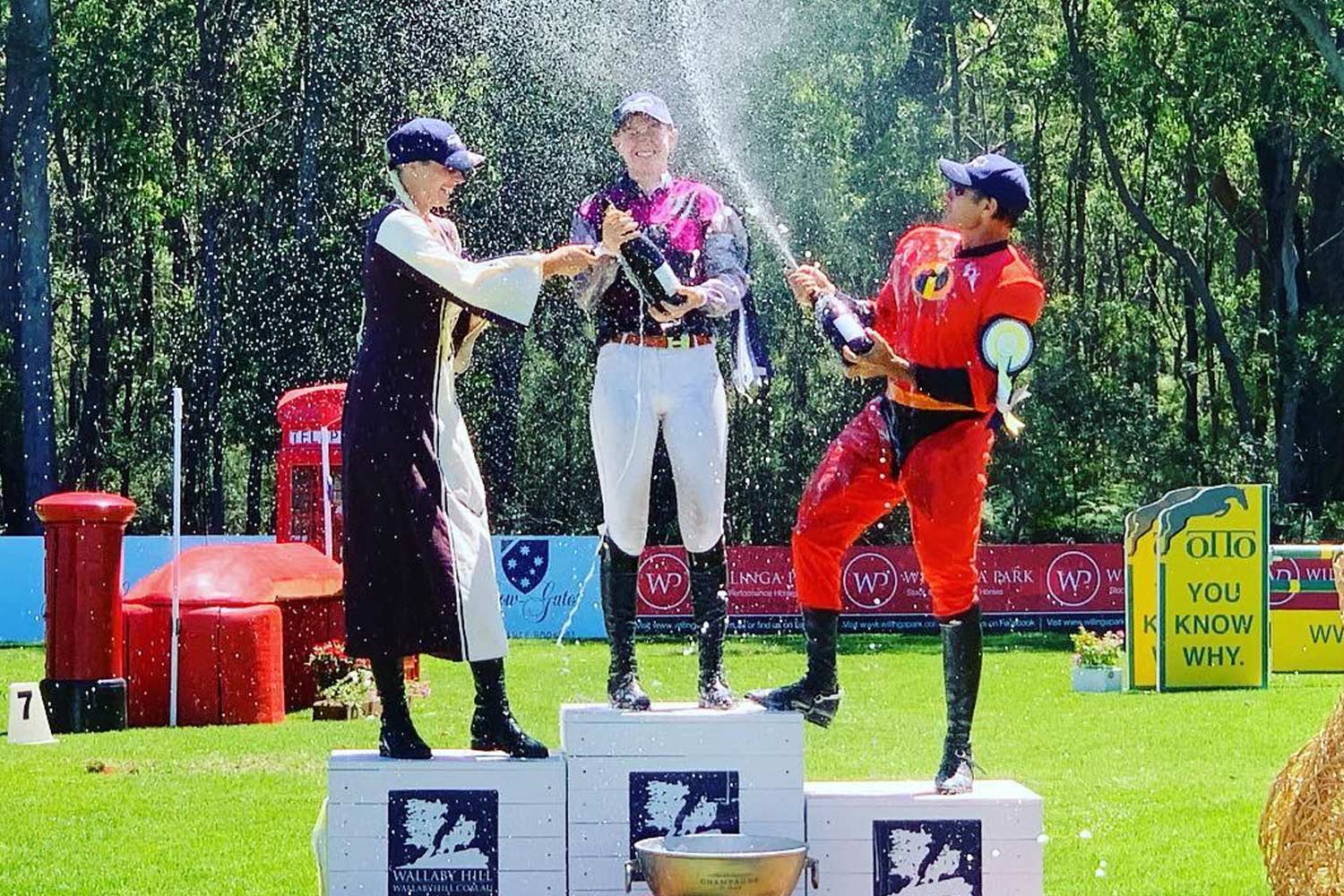 Bernadette O'Regan
Under perfect blue Southern Highland skies, the hotly contested and highly entertaining Eventers vs Showjumpers competition at the Gow-Gates Insurance Equestrian Extravaganza at the stunning Wallaby Hill certainly did not disappoint. Combining wild costumes, great music, rarely seen rainbow coloured Grand Prix and Olympic horses and even a zebra – this was one event that will not be soon forgotten!
It wasn't all about looks though – this was one tough competition which attracted some of Australia's top riders from both the jumping and eventing worlds, including Olympic greats, Stuart Tinney and Shane Rose. The 1.25m Brad Longhurst track certainly presented some challenges with a mix of show jumps and eventing jumps to provide combinations with the opportunity to 'do it their way'.
The highly contested Table C speed class attracted 38 combinations, with time being the key. Stuart Tinney went back to his youth in his 70's outfit (we are not convinced he ever had that much hair though!) and posted the first clear on Wanda in a time of 76.82.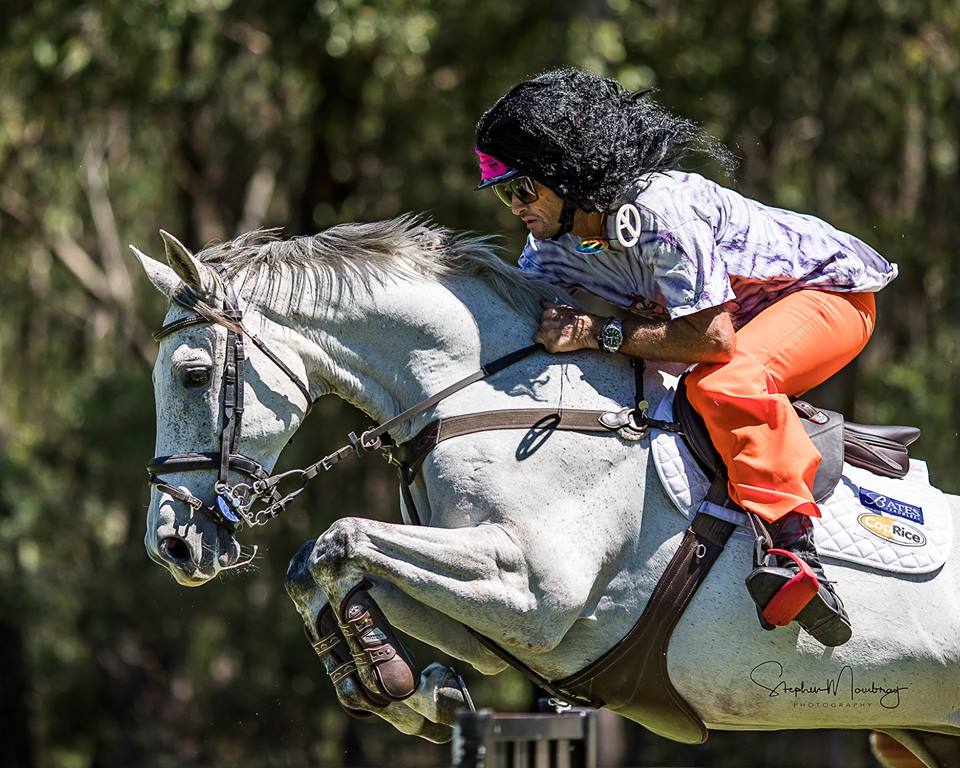 Photo Credit: Stephen Mowbray
The sixth rider out, Cruella de Vil (aka James Arkins), layed down the gauntlet by posting a super fast time of 75.12 (even accounting for a rail down). Arkins also managed what we thought was the top style score possible (50/50) as a result of morphing Glenhill Bounce into a Dalmatian!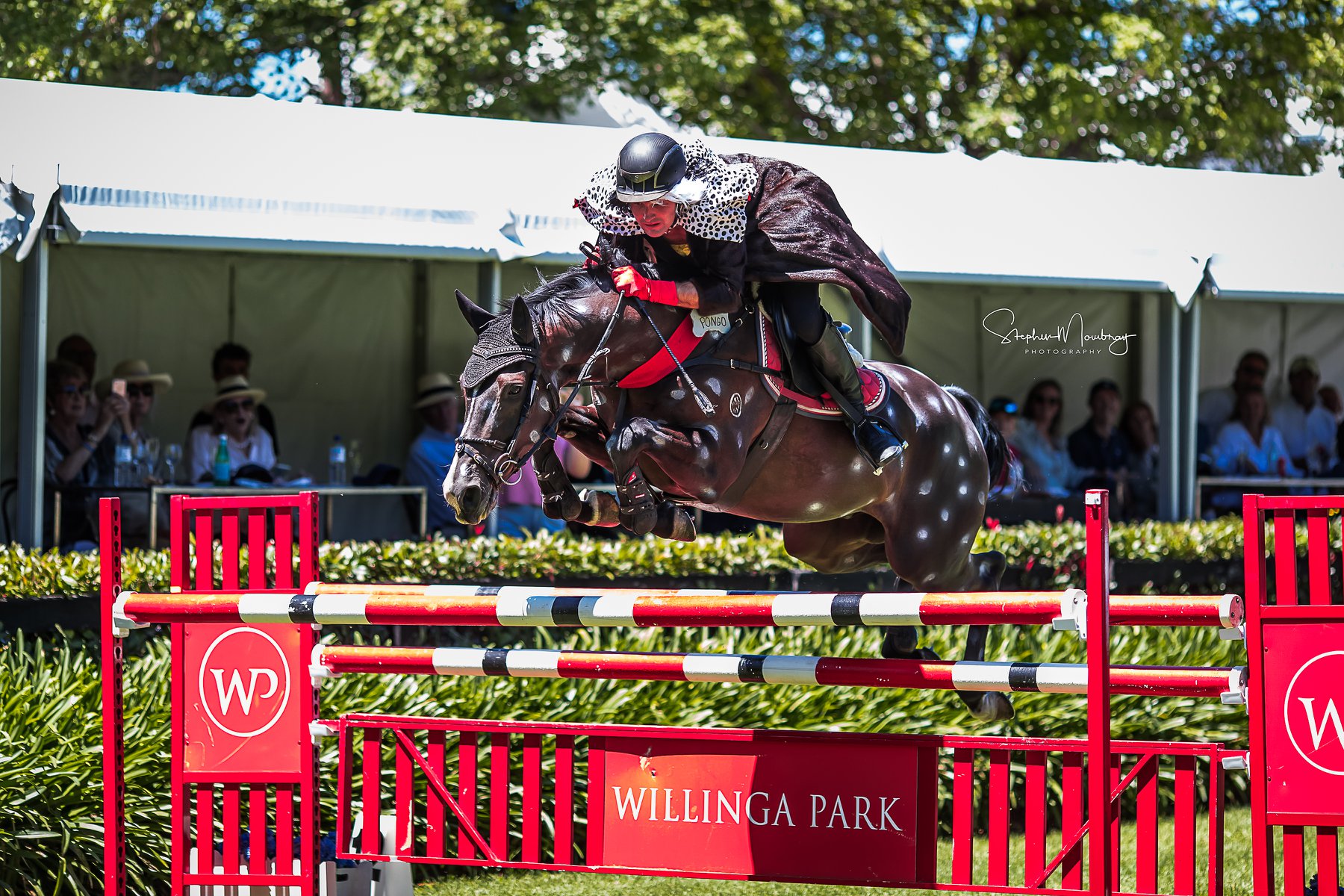 Photo Credit: Stephen Mowbray
As the class progressed it was Sophie Hatch who, wearing Gai Waterhouse colours, brought out Glenara Mudslide's inner racehorse to post what was going to be the winning time of the day (70.11).  Mr Incredible (apparently Sam Lyle), the next out on BF Valour gave her a run for her money though – coming in at 73.09 and providing a pit of resistance against the dominating showjumpers.
We were treated to some great challenges by a Cheeseburger, Captain America, the Grim Reaper and a couple of fairies, then watched as the Queen jumped over a telephone and through a handbag.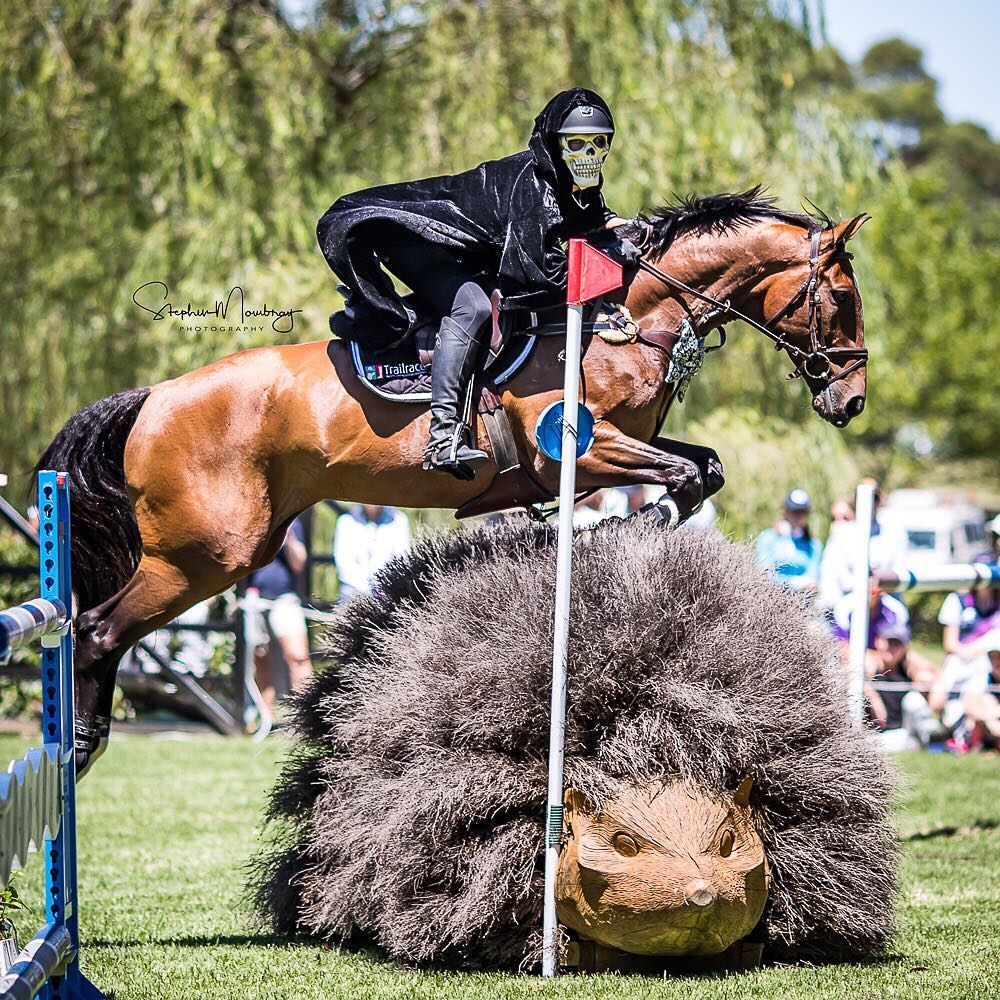 Photo Credit: Stephen Mowbray
Style scores were high, until out came a zebra ridden by Kirsty Douglas to show all the horses how it was done and post a great time of 80.87, whilst scoring an impressive (and we believe mathematically impossible) 102/50 for style!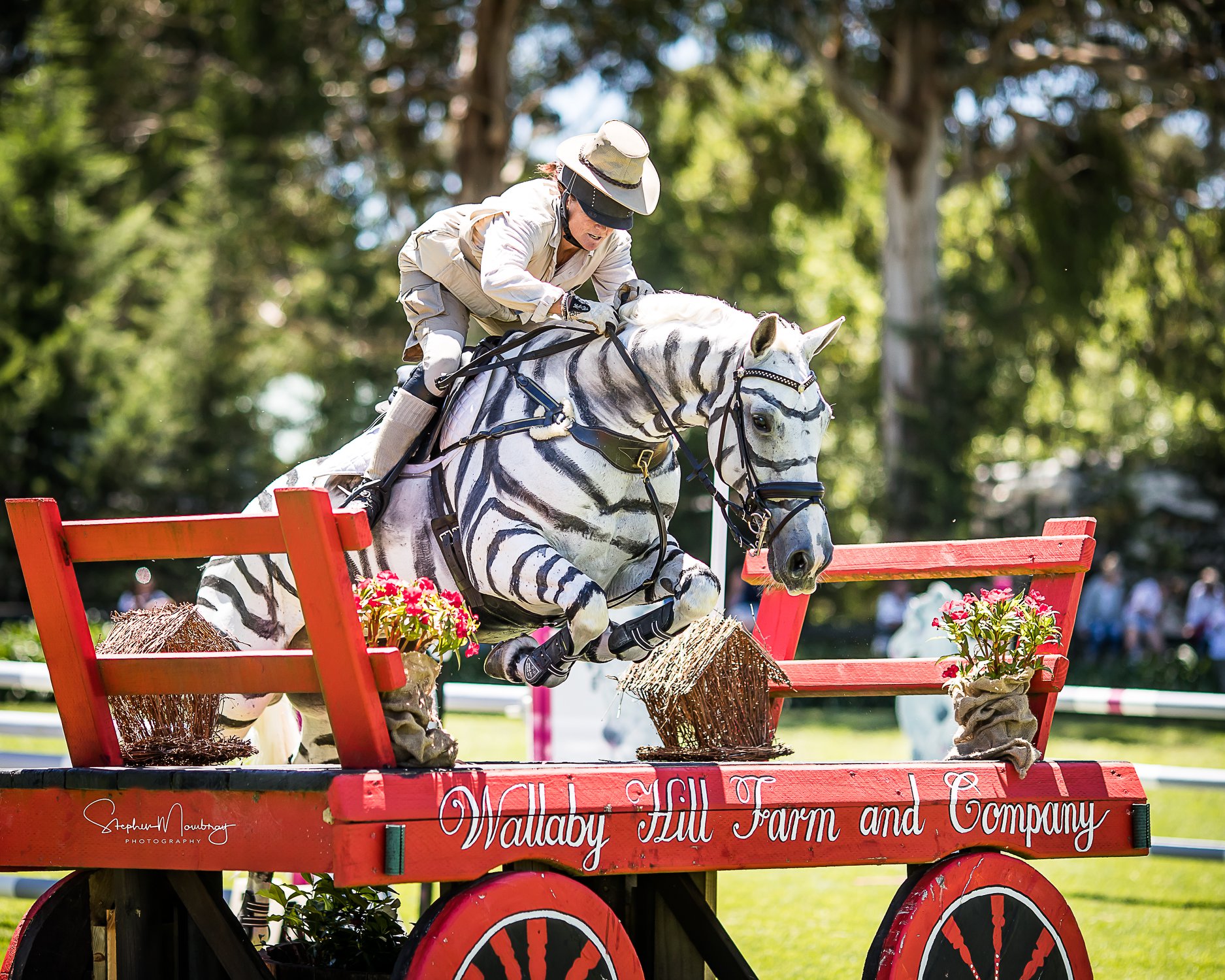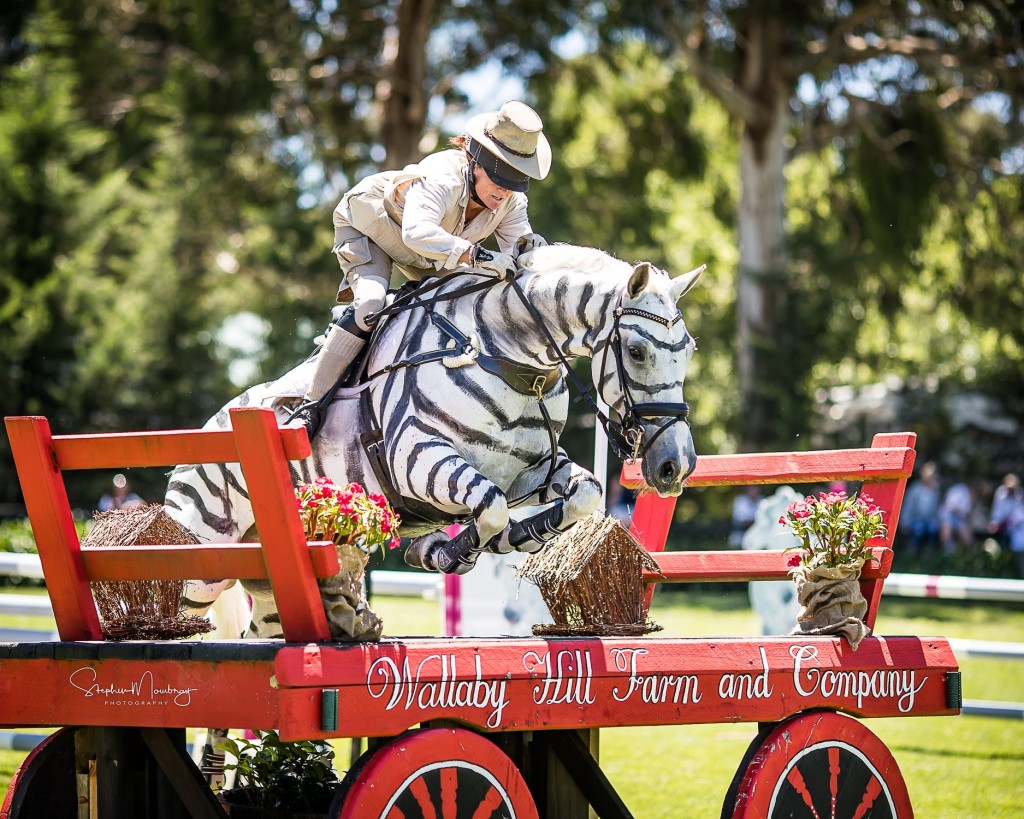 Photo Credit: Stephen Mowbray
Right towards the end of the class, to the beats of Imagine Dragon, Melanie Heygate on her OTT dragon Pacific Odyssey, delivered a fantastic round to put her  firmly into second place.
So there it was – showjumpers took the win 4th year in a row!  The top 8 places were as follows:
| | | | |
| --- | --- | --- | --- |
| PLACE | RIDER | HORSE | SJ/E |
| 1st | Sophie Hatch | Glenara Mudslide | SJ |
| 2nd | Melanie Heygate | Pacific Odyssey | SJ |
| 3rd | Sam Lyle | BF Valour | E |
| 4th | Victoria Doak | Blackall Park Rap | E |
| 5th | James Arkins | Glenhill Bounce | SJ |
| 6th | Stuart Tinney | Wanda | E |
| 7th | Emily Baldwin | Twins Ava | SJ |
| 8th | Clare Anderson | Soberup | E |
View Comments