Stonewall: world-class venue hosts world-class riders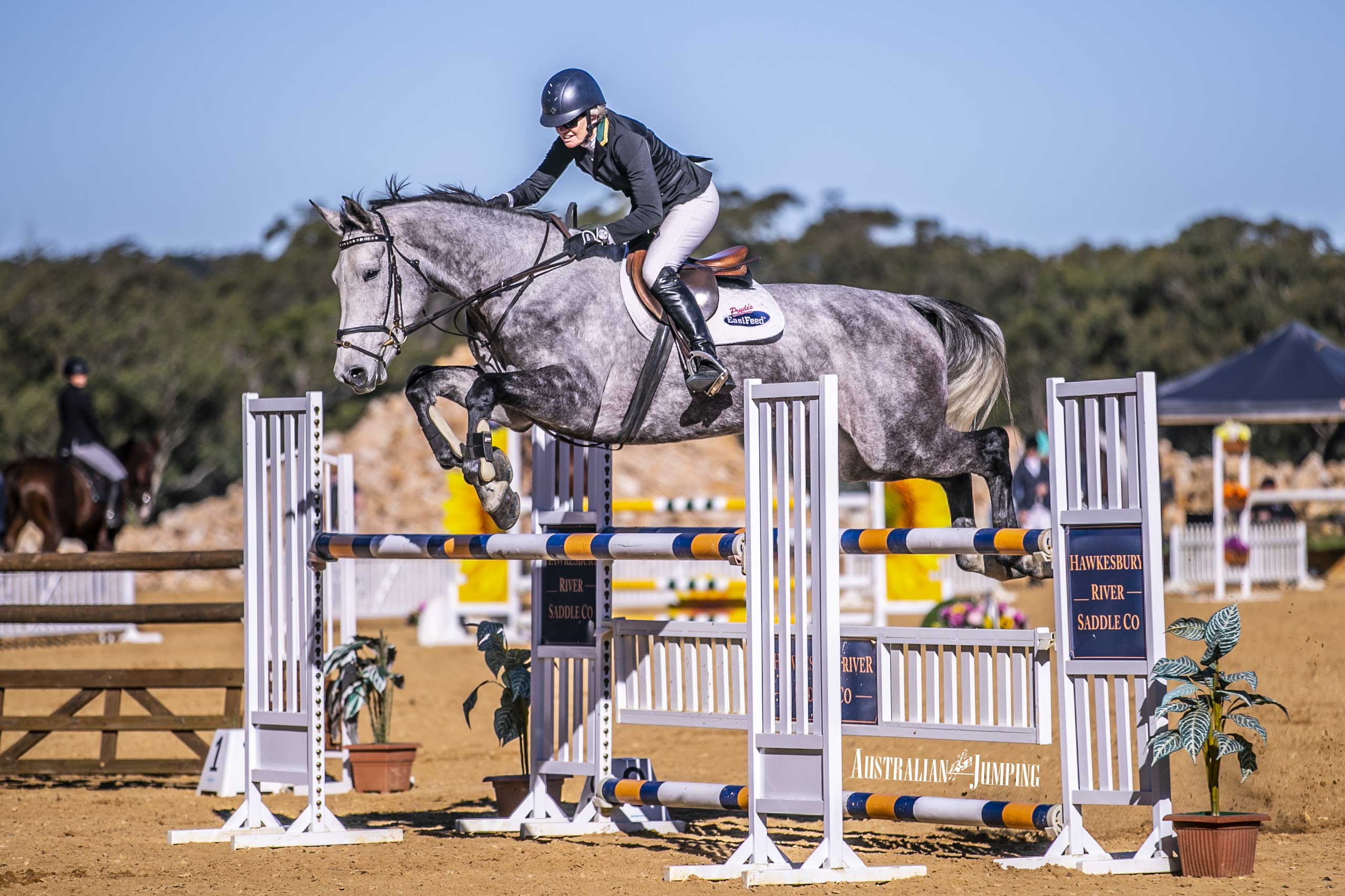 Australian Jumping
Above: Vicki Roycroft and Tulara Wat Coblensky
Stonewall Equestrian, on the Central Coast of NSW, once again hosted a first class competition at their superb equestrian facility. Over 200 riders attended over the two days, amongst them Australian Olympians and World Cup Final representatives.
Advertisement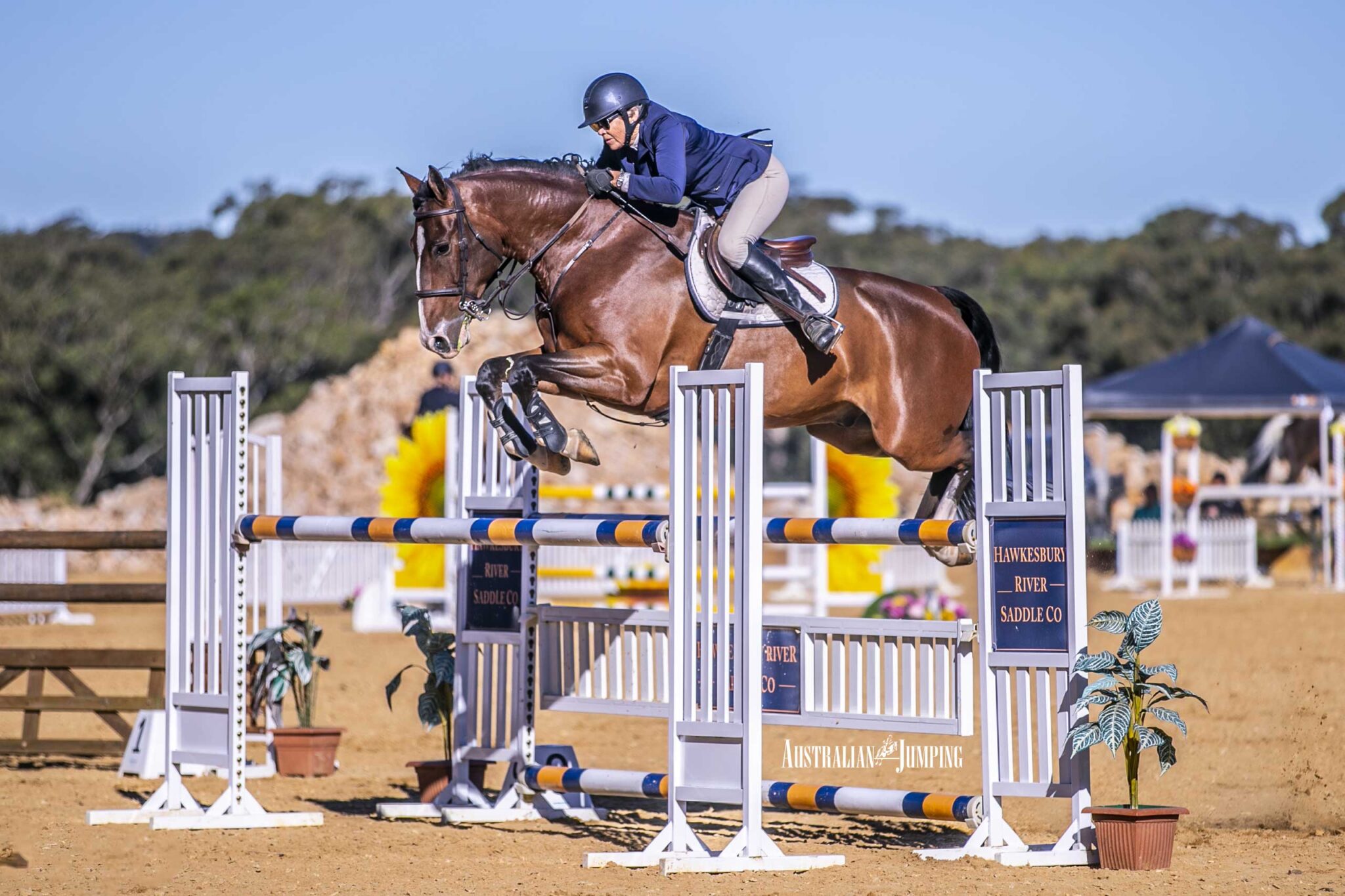 Above: Colleen Brook and Connoly's Karachi
Each time we attend this lovely venue, we are welcomed by proprietors Heath and Krissy Harris and can see the significant progress made towards their ultimate vision for the property.
Advertisement

Congratulations to all the winners and placegetters. Below are the first six placegetters in all classes over the two days of competition.
FRIDAY
CLASS 1: Greengrove Stud Farm – Open – 1.05m
| | | |
| --- | --- | --- |
| PLACE | RIDER | HORSE |
| 1st | Vicki Roycroft | Tommy |
| 2nd | David Robertson | Queno 4 |
| 3rd | Andrew Barnett | Oscar Park Deluge |
| 4th | Natalie Mohr | Talbot Cece |
| 5th | George Johnson | Callie |
| 6th | James Mooney | JB Delightful |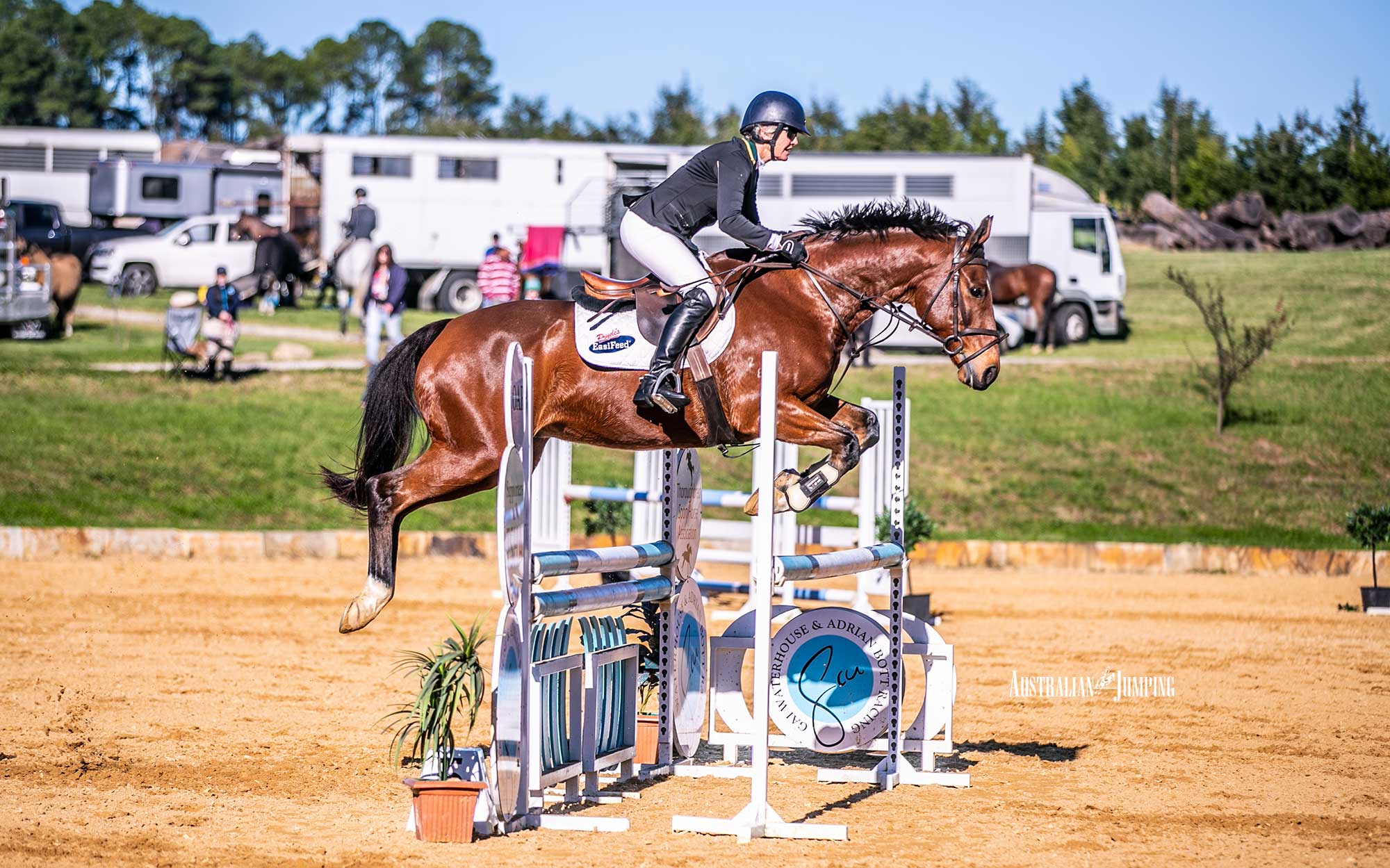 Vicki Roycroft and Tommy
CLASS 2: Kallaroo Park Equestrian Centre – Open – 1.10-1.15m
| | | |
| --- | --- | --- |
| PLACE | RIDER | HORSE |
| 1st | Andrew Inglis | Indiana Goodtimes |
| 2nd | Cade Hunter | Vasari NZPH |
| 3rd | Andrew Inglis | Laracas |
| 4th | Vicki Roycroft | Tulara Wat Colblensky |
| 5th | James Mooney | JB Delightful |
| 6th | Monique Barrett | Dusky Farm Duncan |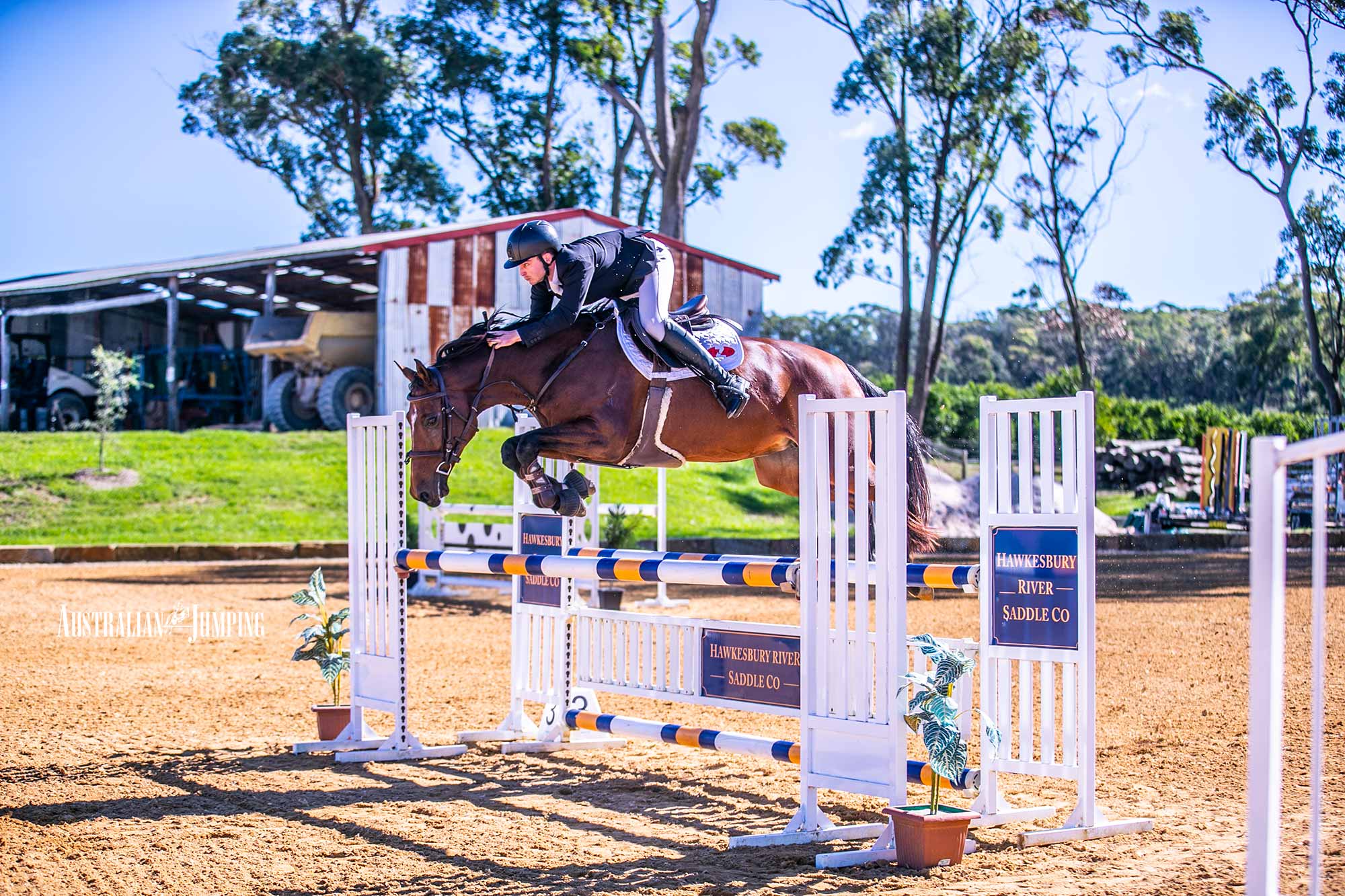 Cade Hunter and Vasari NZPH
CLASS 3: Hawkesbury River Saddle Company – Open – 1.20-1.25m
| | | |
| --- | --- | --- |
| PLACE | RIDER | HORSE |
| 1st | Andrew Inglis | Indiana Goodtimes |
| 2nd | Vicki Roycroft | Converse |
| 3rd | Andrew Inglis | Laracas |
| 4th | Tess McInerney | Yalambi's Fair Diamond |
| 5th | Vicki Roycroft | Kenny Casino |
| 6th | Jessica Bott | Raise An Angel |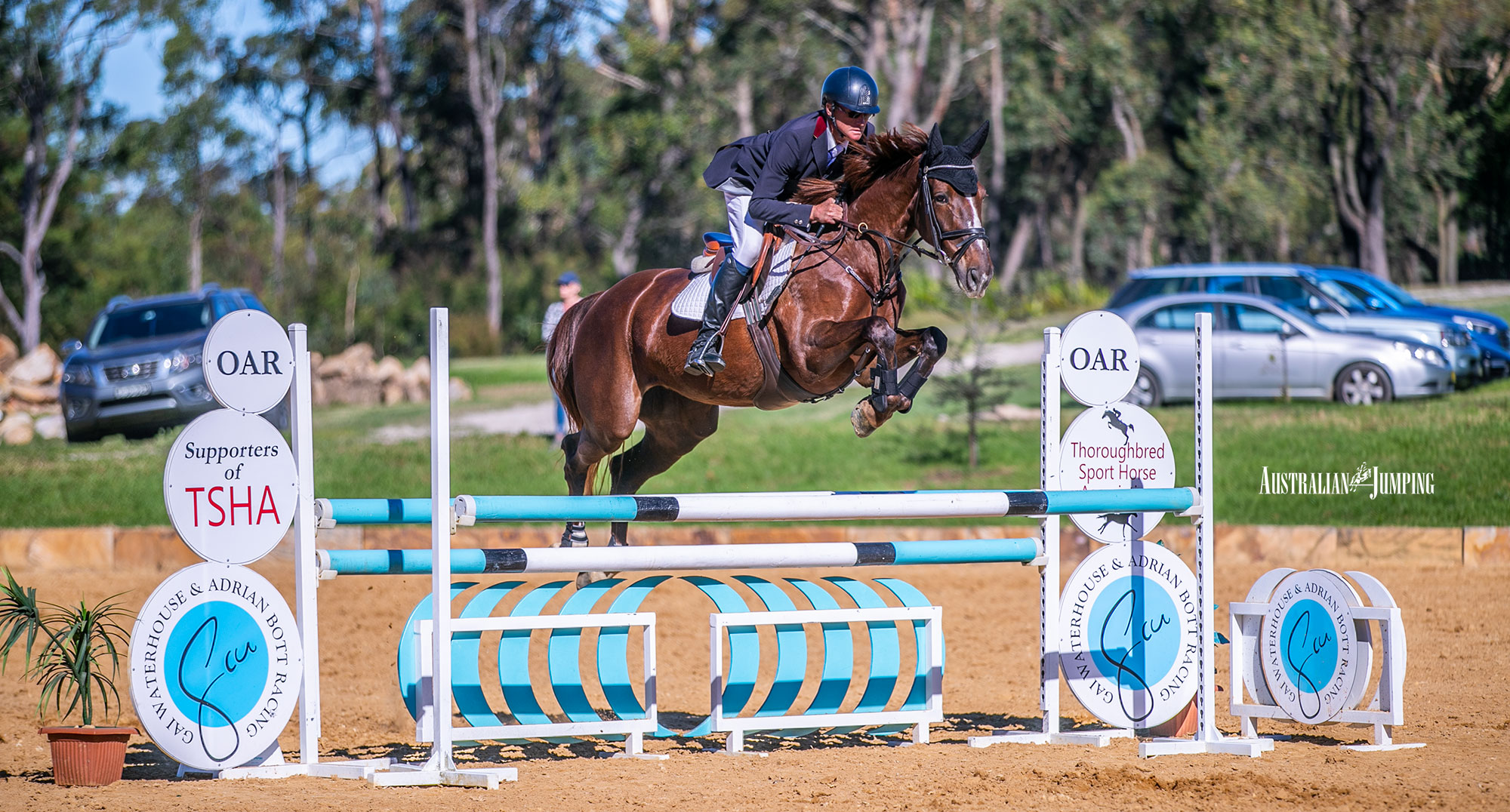 Andrew Inglis and Indiana Goodtimes
SATURDAY
CLASS 4A: Demek Pty Ltd – Open – 0.80m
| | | |
| --- | --- | --- |
| PLACE | RIDER | HORSE |
| 1st | Chantell Thorpe | Bronson |
| 2nd | Molly Mooney | LC Texas Ranger |
| 3rd | Liam Mackenzie-Smith | Viv |
| 4th | Belle Lambeth | Lottie |
| 5th | Nathan Carswell | Alice |
| 6th | Shelley Topham | Belle |
Advertisement


CLASS 4B: Cairn Bespoke Transition Solutions – TSHA – 0.80m
| | | |
| --- | --- | --- |
| PLACE | RIDER | HORSE |
| 1st | Rachael Murray | Mr Pumblechook |
| 2nd | Courtney Byfield | Ziggy |
| 3rd | Samantha-Kate Harris | Strategic Response |
| 4th | Madeleine Thornton | Detective S |
| 5th | Nelson Smyth | Twice As Nice |
| 6th | Ruth McMahon | Granite Belt |
CLASS 5A: Honeycombes – Open – 0.90m
| | | |
| --- | --- | --- |
| PLACE | RIDER | HORSE |
| 1st | Liam Mackenzie-Smith | Viv |
| 2nd | Teigan Matthews | Equus Hooroo |
| 3rd | Laura Munt | Blue Bell |
| 4th | Molly Mooney | LC Texas Ranger |
| 5th | Emma Sharp | King Julien |
| 6th | Ming Gui | Rainwood Park Thomas |
Advertisement


CLASS 5B: Jadar Park – TSHA – 0.90m
| | | |
| --- | --- | --- |
| PLACE | RIDER | HORSE |
| 1st | Vicki Roycroft | Tommy |
| 2nd | Nelson Smyth | Stella Artois |
| 3rd | Gabrielle Johnston | Arma Son |
| 4th | Gabrielle Johnson | Winterbottom |
| 5th | Jessica Bott | Braeside Hugo |
| 6th | Angelica Pickup | Paratai Finn |
CLASS 6A: Stonewall Equestrian – Open – 1.00m
| | | |
| --- | --- | --- |
| PLACE | RIDER | HORSE |
| 1st | Emma Brauer | Romac Pepe |
| 2nd | Bronte Webb | Ace |
| 3rd | Laura Munt | Blue Bell |
| 4th | Rae-Louise Kelly | Verdelho RJ3 |
| 5th | Nelson Smyth | Oh So Hip APH |
| 6th | Eva Heron | Jasper |
CLASS 6B: Newcastle Racecourse – TSHA – 1.00m
| | | |
| --- | --- | --- |
| PLACE | RIDER | HORSE |
| 1st | Vicki Roycroft | Tommy |
| 2nd | Vicki Roycroft | The Dood |
| 3rd | Jessica Bott | Braeside Hugo |
| 4th | Sarah-Grace Jones | Captain Kirk |
| 5th | Nelson Smyth | Stella Artois |
| 6th | Gabi Johnston | Winterbottom |
Results sourced from Global Entries Online
View Comments